The Ultimate 3 Day Rio De Janeiro Itinerary (2023)

Rio de Janeiro is one of my favorite cities of all time. I will never forget first flying into Rio and taking in the breathtaking views of the mountains meeting the beautiful beaches found throughout the city. I have since visited twice more and grow move in love with the city each time I visit. Rio is an enchanting city, where vibrant culture, breathtaking landscapes, and infectious energy converge in perfect harmony. Nestled along the stunning southeastern coast of Brazil, Rio de Janeiro captivates visitors with its iconic landmarks, golden beaches, and a rich history that spans centuries. Whether you're seeking the pulsating rhythms of samba, the awe-inspiring vistas from atop Corcovado Mountain, or the exhilaration of Carnival, Rio de Janeiro promises an unforgettable experience. In this Rio de Janeiro Itinerary, you'll learn why Rio is the one of the most visited cities in South America, and the most visited in Brazil – rivaling nearby São Paulo. Keep reading to embark on a journey through this tropical paradise, uncovering hidden gems, indulging in delectable cuisine, and getting insight into the captivating spirit of Cidade Maravilhosa, the Marvelous City.
Brief History | Rio De Janeiro
Before the arrival of the Europeans, Rio de Janeiro and its surrounding region were inhabited by indigenous tribes who lived in harmony with the abundant natural resources. The land was teeming with lush rainforests, pristine rivers, and stunning coastlines. Native tribes, such as the Tupinambá and the Temiminó, called this region their home, relying on hunting, fishing, and agriculture to sustain their communities. They had a deep connection with the land, respecting and cherishing its beauty. The indigenous peoples of Rio de Janeiro possessed rich cultural traditions, which included vibrant art, music, and spiritual practices. Their presence and heritage laid the foundation for the city's future, leaving an indelible mark on the cultural fabric of Rio de Janeiro.
The arrival of European explorers in the 16th century marked a turning point in Rio de Janeiro's history. Portuguese explorer Gaspar de Lemos, captivated by the natural beauty of the region, christened it "Rio de Janeiro" or "River of January" due to the mistaken belief that Guanabara Bay was the mouth of a large river. The Portuguese eventually established a settlement in the area, which became the nucleus of the city that would flourish in the centuries to come.
Throughout the colonial era, Rio de Janeiro served as a strategic port for the export of Brazil's vast wealth, including precious metals and sugar. In 1763, the city became the capital of Brazil, consolidating its importance as a center of political and economic power within the Portuguese empire. The construction of grand architectural landmarks, such as the Candelária Church and the Royal Palace, showcased Rio de Janeiro's growing prominence as a cosmopolitan city.
The 19th century brought monumental changes to Rio de Janeiro as Brazil gained independence from Portugal in 1822. The city became the capital of the newly formed empire, and a wave of urbanization and modernization swept through its streets. The iconic Botanical Garden and the São Cristóvão Palace were built during this period, reflecting the city's commitment to scientific and cultural advancements.
In the 20th century, Rio de Janeiro solidified its reputation as a global metropolis, and a leader in Latin America. The city witnessed significant social and cultural transformations, from the influx of migrants during the industrial boom to the vibrant celebrations of Carnival, which became an emblematic event known worldwide. Hosting the 2016 Summer Olympic Games further elevated Rio de Janeiro's international stature, showcasing its natural splendor and the resilience of its people.
Know Before You Go | Rio De Janeiro
Getting to Rio De Janeiro
Air: The most common and convenient way to reach the city is by plane, and the city is serviced by two airports:
The Galeão International Airport (GIG) serves as the main gateway for those visiting the city – particularly for international flights. However, you will find domestic flights departing from this airport as well.
The Santos Dumont Airport (SDU) is the second major airport in the city, and it serves domestic flights throughout the country.
Car: Traveling by car is another popular choice, especially for those exploring Brazil's diverse landscapes. Highways and well-maintained roads connect Rio de Janeiro to neighboring cities and regions, allowing travelers to embrace the freedom of the open road while enjoying captivating scenery. If you prefer to travel by car, get your car rental today.
Bus: If you prefer the scenic rout, but don't care to drive, FlixBus is a good option to travel between cities in Brazil via bus.
Where to Stay in Rio
There are a few areas that I recommend you consider when visiting Rio. The beachside neighborhoods of Copacabana and Ipanema are among the most popular choices, offering stunning ocean views, a vibrant atmosphere, and a plethora of accommodation options. Here, visitors can find luxury hotels, charming boutique guesthouses, and stylish apartments, all within walking distance of the iconic beaches and an array of dining and entertainment establishments. This is the area that I have stayed for all of my visits to Rio. I love waking up by the water and this is the best place to do that.
Copacabana Hotel recommendation
This hotel is situated right on the oceanfront of Copacabana. It features a rooftop swimming pool, spa, gym, and several restaurants and bars. I have stayed here multiple times because the service is great, and the rooms are quite comfortable. The buffet breakfast here is wonderful as well.
For those seeking a bohemian and artsy vibe, Santa Teresa provides a unique experience with its cobblestone streets, colonial architecture, and eclectic boutiques. This hilltop neighborhood is home to charming bed and breakfasts and boutique hotels that exude charm and offer breathtaking views of the city.
Santa Theresa Hotel recommendation
This boutique hotel features an outdoor swimming pool, a garden, bar, and terrace. Guests have noted the spectacular views it provides of the city, as well as comfortable beds, and excellent service.
Alternatively, the upscale neighborhood of Barra Tijuca offers a more exclusive and residential feel. This area was made to resemble like Miami, and is best known for the luxury hotels and high-end shopping you find here.
barra tijuca Hotel recommendation
This hotel offers panoramic view of Lagoa de Jacarepaguá, just a few minutes away from the Olympic Park. This hotel offers an outdoor pool, private parking and an onside fitness center and restaurant. In addition the hotel offers a buffet breakfast every morning.
When to Go to Rio
The best time to visit Rio de Janeiro largely depends on personal preferences, as the city enjoys a tropical climate, with warm temperatures year-round. However, there are a few factors to consider based on your personal preferences. The high season for tourism falls between December and March when the city is bustling with visitors and the famous Carnival takes place. This period offers a lively atmosphere, vibrant street parties, and sizzling summer temperatures.
If you prefer a more relaxed and less crowded experience, consider visiting during the shoulder seasons of spring (September to November) or autumn (March to May). During these months, the weather remains pleasant, and you can explore the city's attractions and beaches with relative ease. Additionally, traveling during these off-peak times may result in lower accommodation rates. Keep in mind that Rio de Janeiro experiences occasional rainfall throughout the year, but that usually doesn't hinder outdoor activities.
How to Get Around Rio
Public transportation in Rio includes options for the metro, bus, ride-sharing and tram. The backbone of the public transportation system is the metro, known as the Rio Metro. With multiple lines covering different parts of the city, it provides a convenient and reliable mode of transportation for both locals and tourists. The metro network connects major areas such as Copacabana, Ipanema, Centro, and Barra da Tijuca, making it easy to explore popular tourist sites, attend events, or simply get around the city. It's quite easy to purchase train tickets inside the metro stations as well.
Rio also has an extensive bus network that reaches every corner of the city. Buses offer a more flexible option for getting around, with numerous routes and frequent service. They provide access to neighborhoods not directly served by the metro, allowing visitors to delve deeper into the local culture and discover hidden gems.
In addition to the metro and buses, Rio de Janeiro also offers alternative modes of public transportation. The iconic Santa Teresa Tram, known as the "bonde," provides a nostalgic and scenic journey through the charming Santa Teresa neighborhood. This tram offers a unique way to explore the area's winding streets and admire its colonial architecture while enjoying panoramic views of the city.
Additionally, Rio has an extensive network of taxis and ride-sharing services, which provide a convenient and comfortable option for traveling within the city. Taxis can be easily hailed on the streets or booked through mobile apps, while ride-sharing services like Uber and Lyft are widely available. I usually opt for Uber in Rio, as the fares are very cheap, and this is the most safe way to get around, particularly at night.
Language Considerations in Rio
The language spoken in Rio is Portuguese, which is the official language of Brazil. While English is spoken and understood to a minimal extent in tourist areas, it's advisable to have a basic knowledge of Portuguese or carry a translation app or phrasebook to facilitate communication, especially when venturing into local neighborhoods. Interacting with locals in their native language can enhance your experience and make it easier to navigate daily activities such as ordering food, asking for directions, or engaging in conversations. Brazilians appreciate efforts made to speak Portuguese, even if only a few basic phrases.
Money in Rio
When it comes to money in Rio de Janeiro, the official currency is the Brazilian Real (BRL). At the time of writing this post $1.00 = 4.82 BRL. I recommend that you pull cash from ATMs for the best rate, or exchange currency at banks or authorized exchange offices for the next best rate. Know that credit and debit cards are widely accepted in most establishments, including hotels, restaurants, and shops, especially in tourist areas. For the most current exchange rate, click here.
Where to Eat in Rio
Keep reading for some excellent recommendations on where to eat in Rio!
Best Rio City tour Recommendation
⭐️⭐️⭐️⭐️⭐️
This comprehensive tour will take you to all the post popular sites in Rio, including Copacabana, Sugarloaf Mountain, Christ the Redeemer, the Seleron Steps, Maracanã, and more! It includes all transportation between sites, so all you have to do is go along for ride with your very helpful guide.
The Itinerary | 3 Days in Rio De Janeiro
Day 1 | Get to Know Rio
Morning / Afternoon
On your first day in Rio, spend time getting to know the city. This means starting by seeing many of the most famous sites around the city. I recommend doing this with a local guide so that you can learn as much as possible while you explore. The tour that I recommend is Full Day in Rio experience, as it covers all the bases. The sites that you will visit on this tour include:
Avenida Atlântica: This vibrant and bustling thoroughfare stretches along the iconic Copacabana Beach. This palm-lined avenue serves as a hub of activity, where locals and visitors alike gather to soak up the sun, enjoy beachside cafes, and take in the captivating ocean views.
Strolling along Avenida Atlântica, you can admire the mosaic-patterned sidewalks known as "calçadão" and revel in the lively atmosphere of street vendors, musicians, and beachgoers. The avenue is also home to numerous hotels, restaurants, and shops, offering a variety of options to indulge in local cuisine, shop for souvenirs, or simply savor a refreshing caipirinha while basking in the beachfront ambiance.
Corcovado Mountain / Christ the Redeemer Statue (Cristo Redentor): The Christ the Redeemer statue, one of the world's most iconic landmarks, proudly stands atop Corcovado Mountain, overlooking Rio. It is one of the main attractions of Rio, and one of the modern wonders of the world.
Towering at 98 feet tall, with its arms outstretched, it welcomes visitors with a sense of warmth and tranquility. The statue, constructed in the Art Deco style, serves as a powerful representation of faith, unity, and peace. Try to get here as early as possible, as like me, you will have to fight a lot of crowds to get a good picture.
Maracanã Stadium: Known as one of the world's most legendary football stadiums, Maracanã has witnessed countless memorable moments and hosted major sporting events, including the FIFA World Cup and the Olympic Games. With a seating capacity of over 78,000 spectators, the stadium radiates an electric atmosphere on match days, as fans fill the stands with chants and cheers. Its impressive architecture, featuring a distinctive circular design and towering roof, adds to its grandeur and allure. Beyond football matches, Maracanã also serves as a venue for music concerts and cultural events.
Sugarloaf Mountain (Pão de Açúcar): Sugarloaf Mountain is a natural marvel that stands proudly at the entrance of Guanabara Bay in Rio de Janeiro. This popular tourist destination offers breathtaking views of Rio. To reach the summit, visitors embark on a thrilling cable car ride that transports them to two different cable car stations, providing panoramic vistas of the city, the sparkling waters of the bay, and the lush surrounding landscapes.
At the top, you will find places to buy and enjoy refreshments, and to do a little light souvenir shopping as well. I think that this is the best place to take panoramic views of the city – and trust me – there are many great places to do this in the city!
Metropolitan Cathedral of Saint Sebastian: Also known as the Rio de Janeiro Cathedral, this cathedral is a remarkable architectural masterpiece that stands as an emblem of faith in Rio. Designed by Edgar Fonseca and constructed between 1964 and 1979, the cathedral's unique modernist design is inspired by Mayan pyramids, featuring a conical shape and striking stained glass windows.
Its interior is equally breathtaking, with towering arches and an expansive space that can accommodate up to 20,000 people. The serene atmosphere inside the cathedral invites visitors to reflect and find solace amidst the soaring columns and the resplendent light streaming through the stained glass. As an important religious and cultural landmark, the Metropolitan Cathedral holds regular religious services, but it also hosts various concerts and events that showcase the city's vibrant arts and music scene.
Selaron Steps (Escadaria Selarón): Another well-known landmark in Rio, this vibrant and captivating masterpiece is nestled in the bohemian neighborhood of Santa Teresa. The steps were designed by the late Chilean artist Jorge Selarón. He build the steps over a number of years with brightly colored tiles that were collected from over 60 countries. Each tile tells a story, reflecting the diversity and cultural richness of different nations. Be sure to get a good snapshot on the stairs before you go! I found this easier to do at the top of the stairs vs. the bottom.
A cool thing about this tour is that it includes lunch at a Churrascaria, or Brazilian steakhouse, which is an amazing experience!
Check Rates for the Full Day in Rio Tour Here!
Evening
To conclude you day, I recommend heading to Beco das Garrafas to listen to live music. I went to this spot the last time I was in Rio and loved it! They serve appetizers and drinks, in a very intimate setting. See the video below for a good idea of what the experience is like here.
Day 2 | Explore Centro & Santa Theresa
Morning
On your second day in Rio, I recommend getting to know the less touristy area of the city – Centro, or the city center. I recommend taking the Rio Free Walking Tour in the morning to explore the following sites:
Theatro Municipal: Located in the city center, this magnificent theater is a striking example of neoclassical architecture, adorned with ornate details and a majestic façade. Since its inauguration in 1909, the Teatro Municipal has been a hub for world-class performances, including opera, ballet, classical music concerts, and theater productions.
The interior of the theater is equally impressive, featuring a lavish foyer, opulent chandeliers, and a grand auditorium adorned with gold accents and plush seating. The acoustics of the theater are renowned for their exceptional quality, attracting renowned artists and ensembles from around the globe.
Cinelandia Square: Also known as Praça Floriano Peixoto, this historic and vibrant public square located in the heart of downtown Rio de Janeiro. Surrounded by notable buildings such as the Municipal Theater, the National Library, and the Fine Arts Museum, Cinelandia Square serves as a hub of cultural and architectural significance. The square features a central garden area with beautiful landscaping, fountains, and statues that add to its charm.
Lapa Neighborhood: This is a vibrant and eclectic neighborhood that is known for its lively atmosphere, rich cultural heritage, and vibrant nightlife. This historic district showcases a blend of architectural styles, ranging from colonial architecture to modern structures, adding to its unique charm. Lapa is famous for its iconic Carioca Aqueduct, also known as the Arcos da Lapa, which serves as a striking backdrop to the neighborhood.
The area is a hub of cultural and artistic expression, with numerous music venues, nightclubs, and live music bars that come alive with samba, choro, and other traditional Brazilian rhythms. The streets of Lapa are lined with charming establishments, including restaurants, cafes, and antique shops, offering a glimpse into the local culture and providing opportunities to sample traditional Brazilian cuisine.
Carioca Square: Also known as Praça XV de Novembro, this square is a historic and bustling public square in the city center. Named after the date of Brazil's Proclamation of the Republic, Carioca Square holds significant historical and cultural importance. The square is surrounded by architectural landmarks, including the Palácio Tiradentes, which houses the State Assembly, and the Imperial Palace, once the residence of Brazilian emperors.
It serves as a central transportation hub with ferry terminals that connect the city to nearby islands and neighborhoods. Carioca Square is a vibrant meeting point where locals and tourists converge, with bustling street vendors, cafes, and shops that offer a variety of goods and local delicacies.
Confeitaria Colombo: This is a historic and iconic establishment has been delighting locals and visitors in Rio de Janeiro since 1894. Located in the city center, this charming café and bakery is renowned for its exquisite architecture, elegant ambiance, and delectable culinary offerings.
Stepping into Confeitaria Colombo is like stepping back in time, as the interior boasts stunning art nouveau decor, high ceilings adorned with intricate moldings, and beautiful stained glass windows. It is a popular spot for breakfast, afternoon tea, or a leisurely lunch, offering a delightful culinary experience in a truly enchanting setting. You can even try the famous Portuguese custard tarts here! (Which was my personal choice)
Afternoon:
I recommend grabbing a bite to eat at one of the restaurants located in the area, or even going back to the Confeitaria for a quick lunch. Following lunch, I recommend taking some time on your own to explore these sites that are in or nearby to the city center:
Museum of Tomorrow: Known as the Museu do Amanhã, is a futuristic and groundbreaking institution that stands as a symbol of innovation and exploration in Rio. Located in right by the the Praça XV, this striking architectural marvel designed by Santiago Calatrava is a testament to sustainable and environmentally conscious design. Through interactive exhibits, immersive experiences, and cutting-edge technology, the Museum of Tomorrow invites visitors to contemplate the complex issues of climate change, sustainability, and the impact of human activity on the planet.
The museum encourages visitors to think about how their choices and actions can shape the future, fostering a sense of responsibility and environmental consciousness. I spent a few hours here and found the exhibits both enlightening and thought-provoking.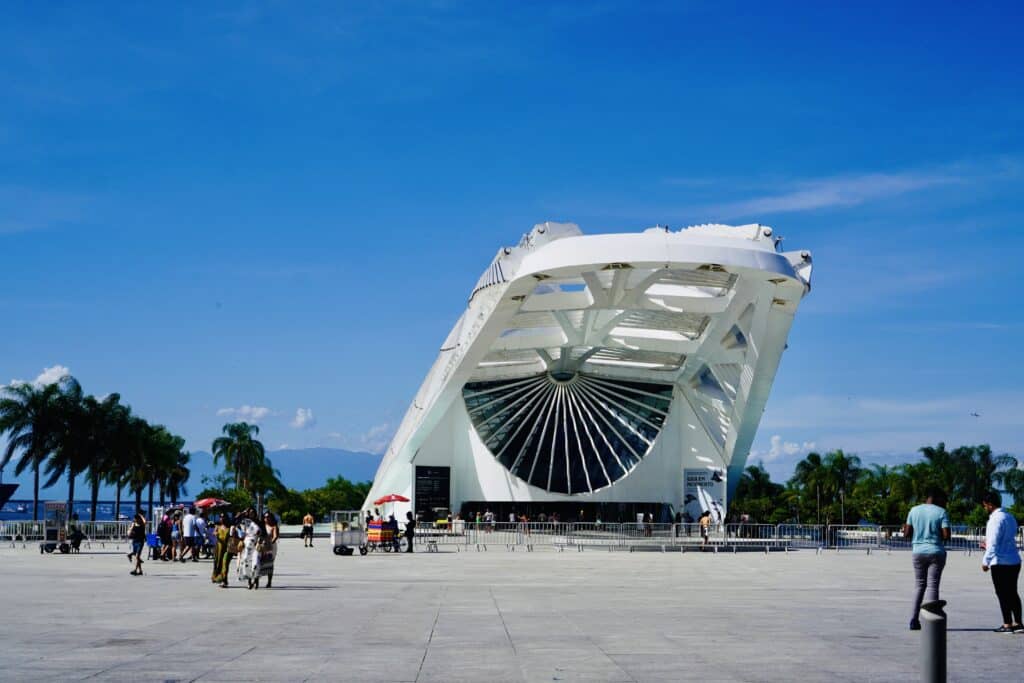 Royal Portuguese Cabinet of Reading (Real Gabinete Português de Leitura): This magnificent library is also located in Rio's city center. Its awe-inspiring architecture, reminiscent of a neoclassical palace, houses one of the largest collections of Portuguese literature outside of Portugal.
The library's interior is adorned with ornate details, grand chandeliers, and towering shelves filled with centuries-old books, making it a haven for book lovers and history enthusiasts. For those of you who like Disney movies, this site reminded me of that library that the Beast gifted Belle.
Palacio de Catete: Palácio do Catete, or Catete Palace, is a historic landmark located in the Catete neighborhood of Rio de Janeiro. Once serving as the presidential palace, it is now home to the Museu da República, a museum dedicated to Brazil's republican history.
The palace's architectural style is a blend of neoclassical and eclectic influences, featuring beautiful gardens, grand halls, and ornate details. Visitors can explore the museum's exhibits, which showcase historical artifacts, artworks, and documents that shed light on Brazil's political and social development.
Late Afternoon/ Evening
After you see all that you can in the Centro, I recommend you take the historic yellow tram to the Santa Teresa Neighborhood. This charming and bohemian neighborhood is perched on a hilltop in Rio de Janeiro, offering a unique and enchanting atmosphere.
Known for its narrow, winding streets, colorful colonial houses, and stunning views of the city below, Santa Teresa exudes a nostalgic charm that captures the essence of old-world Rio. The neighborhood is a haven for artists, musicians, and creatives, with numerous art galleries, studios, and live music venues scattered throughout its picturesque streets. It's a place where you can stumble upon hidden gems, such as quaint cafes, local handicraft shops, and vibrant street art.
Inside this neighborhood you will find the Parque das Ruínas, which is a park that is built on the grounds of a ruined mansion. The mansion was once home to Laurinda Santos Lobo, who often invited local intellectuals to her mansion in the early 1900s.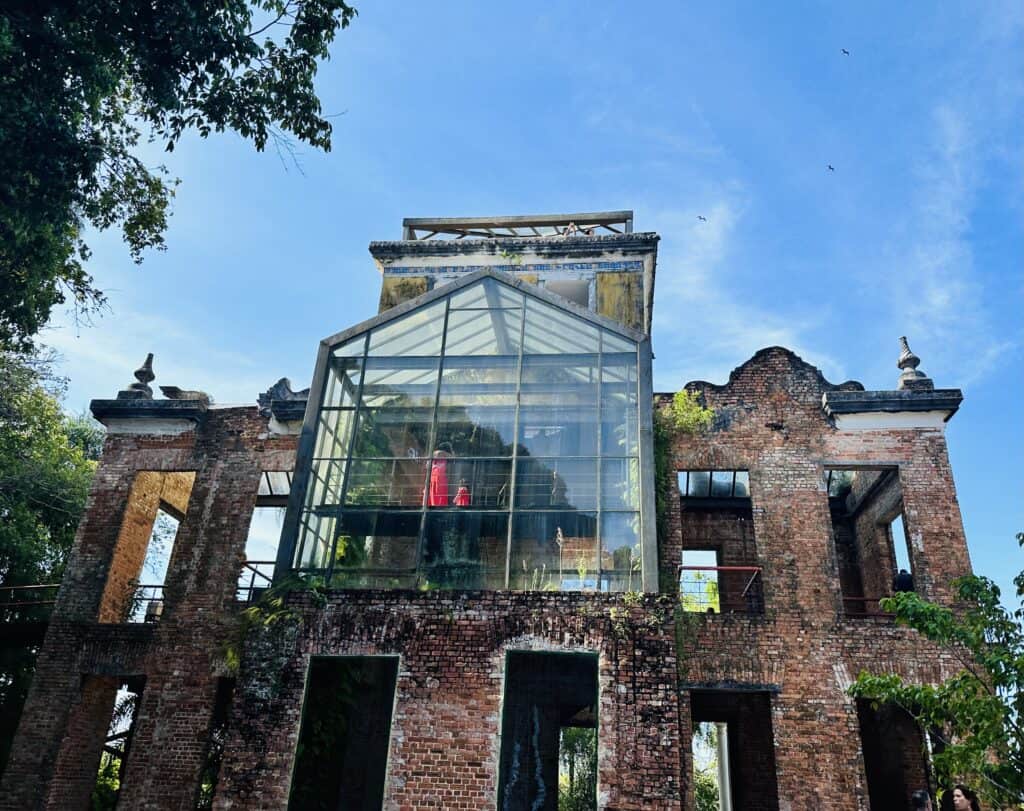 If you stay here in the evening, I recommend having dinner at Aprazível. I have eaten here twice now, and cannot get enough. From the spectacular food to the incredible ambiance, this is one restaurant you must do while here. The restaurant is partially open to the air and offers impressive views of the city. In addition, the service here is impeccable.
Day 3 | Experience the Favelas & Chill at the Beach
Morning
If you are not aware, Favelas in Rio de Janeiro are vibrant and densely populated informal settlements that dot the city's landscape. These neighborhoods, characterized by their hillside locations and colorful houses, are home to a significant portion of Rio's population. While favelas face challenges such as poverty and limited access to basic services, they also exhibit resilience, community spirit, and cultural richness.
If you'd like to learn more about these "cities within the city", you can take a favela tour to learn more about the people and the way of life there. I like this Favela Tour because it approaches favelas with respect, is led by a local tour guide, and gives back to the local favela community. I speak more about my favela tour experience here if you'd like to learn more.
Check rates for your Favela Tour now!
Early Afternoon
Parque Lage: This stunning public park is located at the foot of the Corcovado Mountain in Rio de Janeiro. This enchanting green oasis is renowned for its lush gardens, scenic trails, and a historic mansion that now houses an art school. The park's centerpiece is the beautiful Lage Mansion, an early 20th-century mansion with striking architecture and surrounded by botanical gardens.
The mansion's interior is open to the public, allowing visitors to appreciate its grandeur and the artwork displayed within. You can stop here for an afternoon snack or coffee while you enjoy the beautiful views above. One note, know that the line to get in may be long, so plan accordingly.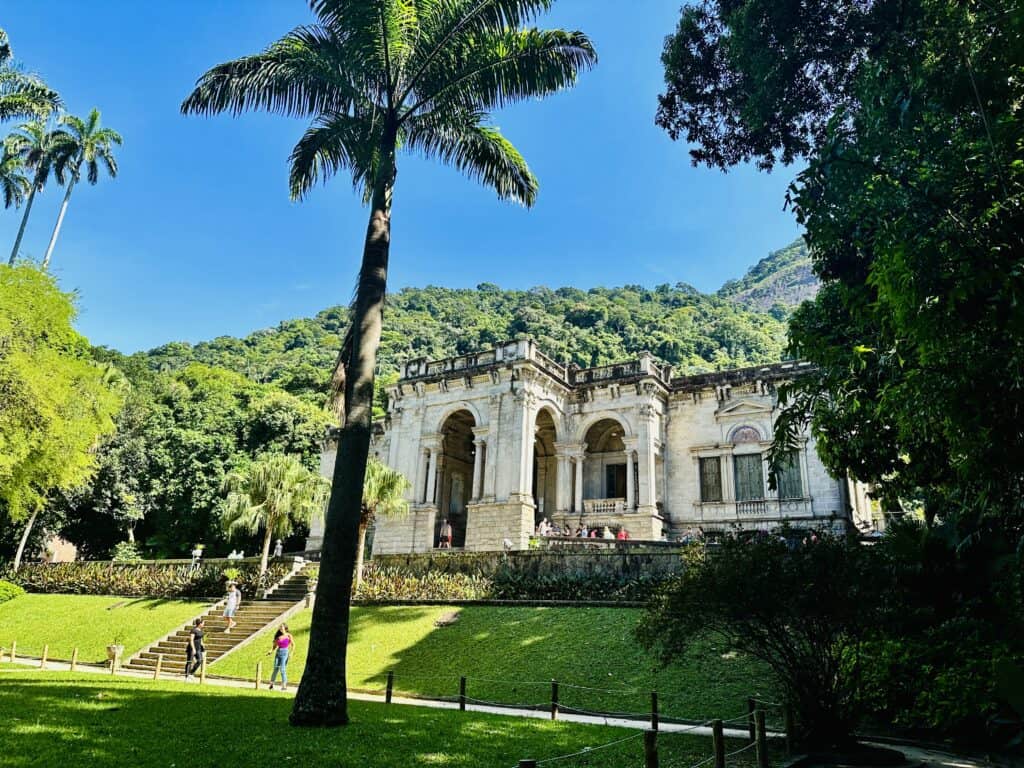 Afternoon / Evening
Now that you've seen all the top sites in Rio, it's time to spend the rest of your last day in Rio at the beach! Your most popular options will of course be Copacabana beach and the Ipanema beaches, but there are others in the vicinity as well.
While at the beach, be sure to keep an eye on your valuables at all time. For the full experience, bring some cash to purchase from the vendors who walk the beach to buy the grilled cheese or other local beach food.
Additional Things to Do in Rio
If you have more time in Rio, here are a few additional activities you may want to consider:
Visit Tijuca National Park and the Botanical Gardens (Jardim Botânico): The Tijuca National Park is a rainforest located in the middle of the city! As one of the largest urban forests in the world, this ecological gem covers an expansive area of over 3,000 hectares. The park is a haven for nature lovers, offering lush greenery, cascading waterfalls, and diverse wildlife.
On this tour, you can visit both this park and the Botanical Gardens, a botanical paradise that showcases the rich biodiversity of Brazil. Spanning over 140 acres, the gardens are home to an impressive collection of over 6,000 species of plants, including exotic orchids, towering palm trees, and rare Amazonian flora. I visited both sites on this tour and had a really great time.
Go Shopping: If you like to shop, I recommend venturing out to the shops in Leblon or driving out to Barra da Tijuca to spend time in one of the larger shopping malls.
Helicopter Tour of Rio: For a truly incredible viewing experience, I recommend you take a helicopter tour of Rio. In this experience, you can get panoramic views of the city and a close up of Christ the Redeemer. I loved my experience flying above Rio. If you'd like to learn more, click here for my review of the Best Rio Helicopter Tour.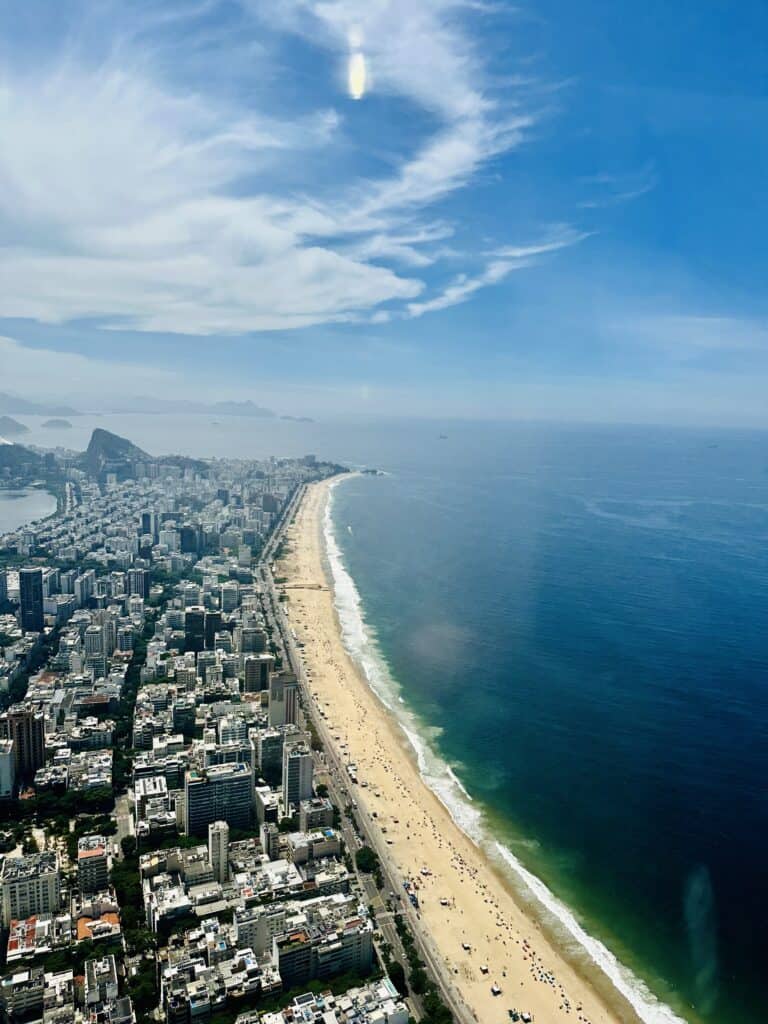 Rio De Janeiro City Map
See below for all of the main locations mentioned in this Rio Travel Guide:
Christ the Redeemer
Maracanã Stadium
Sugarloaf Mountain
Metropolitan Cathedral of Saint Sebastian
Escadaria Selarón
Teatro Municipal
Cinelandia Square
Lapa Neighborhood
Confeitaria Colombo
Museum of Tomorrow
Royal Portuguese Cabinet of Reading
Palacio de Catete
Parque das Ruínas
Aprazível
Rocinha Favela
Parque Lage
Copacabana Beach
Ipanema Beach
Leblon Beach
Barra da Tijuca
Best Day Trips from Rio De Janeiro
Rio de Janeiro offers a plethora of exciting day trip options that allow visitors to explore the diverse natural and cultural wonders of the region. Here are a few of the best options to consider:
One popular choice is a visit to the historic town of Petropolis, known as the Imperial City, where you can explore the former summer residence of the Brazilian emperor and stroll along charming streets lined with colonial architecture.
Another must-visit destination is the coastal town of Búzios, famous for its stunning beaches and vibrant nightlife, offering a perfect blend of relaxation and entertainment.
For nature enthusiasts, a trip to Ilha Grande is highly recommended, with its pristine beaches, lush forests, and crystal-clear waters, providing opportunities for hiking, snorkeling, and sunbathing.
Additionally, the picturesque town of Paraty beckons with its well-preserved colonial architecture, cobblestone streets, and boat tours that explore the nearby islands and secluded beaches. These day trips from Rio offer a diverse range of experiences, allowing visitors to delve into history, soak up the sun on breathtaking beaches, and immerse themselves in the natural beauty of the region.
Rio De Janeiro FAQs
How many days is enough in Rio?
While three days is enough for a taste of Rio, 4 to 5 days is best to fully experience Rio de Janeiro's iconic attractions, beaches, and vibrant culture. This timeframe allows you to visit landmarks like Christ the Redeemer and Sugarloaf Mountain, indulge in local cuisine, and explore the historic center.
Is Rio friendly for tourists?
Yes, Rio de Janeiro is generally friendly for tourists. The city welcomes visitors with a warm and welcoming atmosphere, and the locals are known for their hospitality. While standard safety precautions are advised, tourists can enjoy a vibrant and enjoyable experience in Rio de Janeiro.
Is Rio or São Paulo better to visit?
Choosing between Rio de Janeiro and São Paulo depends on your preferences. Rio offers breathtaking natural beauty, iconic landmarks, and a relaxed beach culture, making it ideal for a mix of relaxation and cultural experiences. São Paulo, a bustling metropolis, is known for its urban exploration, diverse cultural scene, and vibrant nightlife, making it perfect for those seeking a cosmopolitan experience.
Is Rio dangerous for tourists?
While Rio de Janeiro has some safety concerns, most tourists visit without incident. Standard safety precautions, such as being mindful of belongings and avoiding certain areas, can help ensure a safe trip. Staying in well-traveled areas and using reputable transportation services can further mitigate potential risks.
In Summary | The Best Rio De Janeiro Itinerary
That concludes this 3 Day Rio De Janeiro Itinerary. I hope that you can see that Rio is a wonderful place to consider for your next vacation destination. I think that any city that features both cities and mountains is amazing, and Rio is one of those that is at the top of the list for me. If you have visited Rio below, let me know in the comments below!
Looking for more posts on Brazil?
Latin American Travel Guides