Is Sao Paulo Worth Visiting? A Travel Guide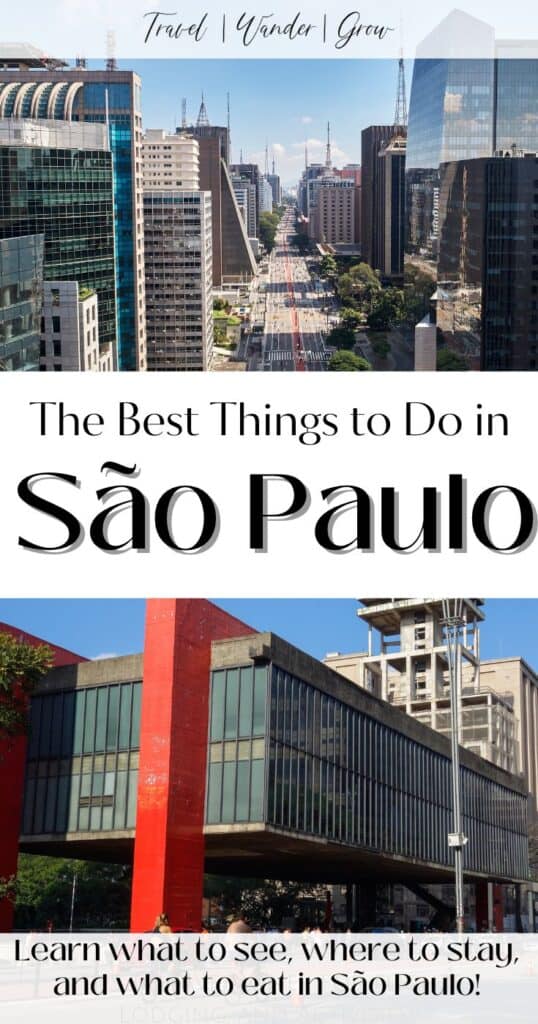 Are you contemplating a trip to the bustling Brazilian city of São Paulo? I visited this massive city recently, and in this post will aim to shed light on whether this metropolis is truly worth a visit. São Paulo is a vibrant and dynamic city that offers an unparalleled cultural experience. Nestled in the southeastern region of the country, São Paulo is a city that pulses with energy, diversity, and a relentless drive for progress. Boasting a population of over 12 million inhabitants, it is not only Brazil's largest city, but also the most populous in the entire Latin America. São Paulo is a captivating blend of modernity and tradition, where towering skyscrapers and historic landmarks coexist, and a melting pot of cultures and cuisines thrives. In this post, we will cover such topics as things to do in São Paulo, where to eat in the city, city safety, and more. By the end of this post you will be able to successfully answer the question: Is Sao Paulo Worth Visiting?
History of Sao Paulo
The history of São Paulo is a fascinating journey that dates back to its humble beginnings as a small village in the 16th century. The region was originally inhabited by indigenous tribes, but it was the arrival of Portuguese explorers in 1532 that marked the establishment of the settlement of São Paulo de Piratininga. The village initially served as a base for Jesuit missionaries, who sought to convert the local Tupi-Guarani population to Christianity. Over time, the village grew and evolved, becoming an important center for trade and agriculture.
In the 17th and 18th centuries, São Paulo experienced growth and prosperity due to the cultivation of sugar cane and the discovery of gold in nearby regions. The city became a crucial hub for the transport of goods and a strategic gateway to the interior of Brazil. During this period, São Paulo faced several conflicts and invasions, including attacks by indigenous tribes and disputes between Portuguese settlers and Spanish forces. However, it managed to maintain its position as an influential economic and political center.
The 19th century brought profound changes to São Paulo's landscape and society. The decline of the sugar industry and the abolition of slavery prompted a shift towards coffee production, which quickly became the backbone of the city's economy. Immigrants from Europe, particularly Italy, began arriving in large numbers to work on the coffee plantations. Their influence contributed to the cultural diversity and development of the city. The coffee boom also led to infrastructure improvements, such as the construction of railroads and the establishment of banks and industries. São Paulo's transformation into a modern metropolis was underway, setting the stage for its rapid growth in the 20th century.
The 20th century witnessed a remarkable transformation in São Paulo, propelling it from a bustling coffee economy to a modern metropolis of global significance. The city experienced an unprecedented wave of industrialization, attracting immigrants from various parts of the world who sought opportunities in the growing manufacturing and services sectors. The influx of people from Italy, Japan, Lebanon, and other countries enriched São Paulo's cultural fabric, leaving an indelible mark on its cuisine, architecture, and traditions. Throughout the century, São Paulo became a hub for artistic and intellectual movements, nurturing renowned writers, musicians, and artists. Additionally, urban development projects brought forth iconic landmarks such as the São Paulo Museum of Art and the São Paulo Cathedral, solidifying the city's architectural legacy.
Today, São Paulo stands tall as a vibrant cosmopolitan hub, boasting a thriving economy, world-class cultural institutions, a dynamic culinary scene, and a spirit of innovation that has cemented its status as one of Latin America's most influential cities. In addition, São Paulo has become an increasingly popular tourist destination, attracting over 2 million foreign visitors each year.
On this three hour tour, you will get to know the massive city of São Paulo with a local guide. You will spend three hours getting familiar with sites such as:
Batman Alley
Paulista Avenue
Casa das Rosas
Parque Ibirapuera
Liberdade
Teatro Municipal de São Paulo
Estaçao da Luz
…and much more!
The 13 Best Things to Do in Sao Paulo
1 | Visit the Historical Center of the City
Located in the heart of São Paulo, the district of Sé is a captivating blend of history, culture, and architectural splendor. At its center stands the iconic São Paulo Cathedral, a stunning neo-Gothic masterpiece that dominates the skyline and serves as a symbol of the city. Walking through Sé, you can explore the colonial architecture that lines its streets, including the impressive Pátio do Colégio, the site where the city was founded. This historic district offers a glimpse into São Paulo's past, with its charming squares, quaint cafes, and museums that delve into the city's heritage. As a history buff myself, I found this part of the city really interesting.
The Sé District in São Paulo is home to several notable attractions that showcase the rich history and cultural heritage of the city. Here are some of the top attractions in the Sé District:
Sé Cathedral (Catedral da Sé): This grand neo-Gothic cathedral is a must-visit landmark, known for its impressive architecture and breathtaking interior. It is one of the largest Gothic cathedrals in the world. It is located within Praça da Sé, a bustling public square and one of the main landmarks in the city.
Pátio do Colégio: Located at the site where São Paulo was founded, Pátio do Colégio is a historic complex that includes a museum, church, and garden. It offers insights into the city's colonial past and the founding of the Jesuit mission.
Solar da Marquesa de Santos: This historic mansion was once the residence of the Marquise of Santos, a prominent figure in Brazilian history. Today, it houses a museum showcasing period furniture, artwork, and exhibits related to the Marquise's life.
São Paulo City Hall: The City Hall of São Paulo is an impressive building featuring neoclassical architecture. Outside, you can admire its grand facade and explore its interior, which houses historical artifacts and art exhibits.
Viaduto do Chá: A historic bridge that spans over the Vale do Anhangabaú, the Viaduto do Chá is an architectural gem and offers a picturesque view of the surrounding area. It is named after the tea shops that once lined the bridge.
What you may note about this section of the city is that Unlike Salvador or even Rio de Janeiro, there are not many historical buildings. Despite being a large concrete jungle today, the city only had ~31,000 inhabitants in the late 1800s. So this area is relatively small compared to other Latin American colonial cities.
2 | Visit the First Skyscraper in Latin America: Edifício Martinelli
Edifício Martinelli, located in São Paulo's city center was constructed in the early 20th century. At the time of its construction, it was the tallest skyscraper in South America by far. It was so tall, that many people in the city were scared to move in. To help allay fears, the designer Guiseppe Martinelli moved in, and others soon followed. Soon afterwards, it became a top meeting point for high society in São Paulo.
This magnificent building combines elements of Neoclassical and Art Nouveau styles, boasting ornate details, elegant balconies, and an impressive tower. Today, Edifício Martinelli houses a mix of residential apartments, offices, shops, and even a small museum on the top floor. If you visit at the right time, you may have the ability to take a guided tour to explore its interior, gaining insight into the rich history and significance of this architectural masterpiece in São Paulo's urban landscape.
Note: Since COVID, tours inside the building are not held frequently, something that will hopefully change in the near-term.
​3 | Attend a Performance at the Municipal Theatre Opera House
The Municipal Theatre, located in the city center, is a grand opera house that showcases stunning architectural elements inspired by the French Renaissance and Art Nouveau styles. The interior is adorned with intricate details, majestic chandeliers, and lavish decorations that create a truly captivating ambiance. The Municipal Theatre is renowned for its world-class productions, including opera, ballet, symphony concerts, and theater performances, attracting renowned artists and performers from around the globe.
I took a tour that led us to explore the entryway and exterior and it is very beautiful to behold. If you have time and enjoy the arts, I recommend attending the opera, ballet, or other performance while in São Paulo. In addition, you can also take tours offered by the city, which can give you more information into its history, opulent halls, and backstage areas.
4 | Stroll Down Avenida Paulista (Paulista Avenue)
Avenida Paulista is an iconic and vibrant thoroughfare that serves as the beating heart of São Paulo's financial and cultural scene. This bustling avenue stretches over 2.8 kilometers and is flanked by towering skyscrapers, upscale shops, renowned cultural institutions, and bustling street vendors. Avenida Paulista is a symbol of São Paulo's modernity and progress, with its bustling sidewalks filled with a diverse mix of people from all walks of life.
The avenue is home to prestigious museums such as the São Paulo Museum of Art (MASP) and the São Paulo Museum of Contemporary Art (MAC). It also hosts vibrant cultural events, street performances, and protests, making it a true reflection of the city's dynamic and ever-evolving spirit. Avenida Paulista is not just a road; it is a vibrant and energetic hub that captures the essence of São Paulo's cosmopolitan allure and serves as a must-visit destination for locals and tourists alike. Given how well-known it is, it is also a place where many stop to grab portraits. You can find many tours offering this service as well.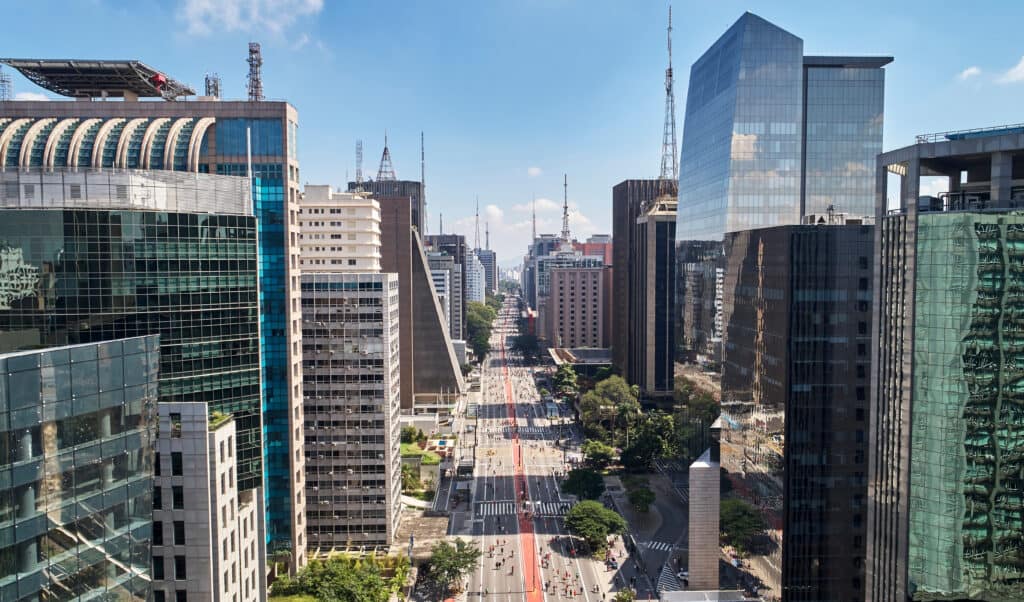 5 | Explore the Galeria do Rock (Gallery of Rock)
The Galeria do Rock, or Rock Gallery, is a vibrant and iconic destination in the heart of São Paulo that has become a mecca for music lovers and alternative culture enthusiasts. Located in the bustling República neighborhood, this multi-story building is a haven for music, fashion, and counterculture. Inside the Galeria do Rock, you'll find an eclectic mix of independent record stores, vintage clothing shops, tattoo studios, and underground music venues.
The walls are adorned with graffiti and posters, creating a unique and edgy atmosphere. The Galeria do Rock has played a crucial role in shaping São Paulo's music scene, serving as a platform for local bands, DJs, and street artists. Whether you're searching for vinyl records, unique fashion pieces, or simply want to soak up the vibrant energy of the alternative scene, the Galeria do Rock offers an immersive experience that celebrates the city's rebellious spirit and embraces diverse subcultures.
I went here with a tour guide who grew up in São Paulo, and he did a great job of weaving in stories of how he essentially grew up going there at the time of Computer / Internet cafes when Rock was at its peak.
6 | Visit Edifício Copan (Copan Building)
The Copan Building is a residential building that has become an iconic symbol of São Paulo's skyline. Designed by renowned Brazilian architect Oscar Niemeyer, this colossal residential building is a testament to modernist design and urban innovation. Its distinctive sinuous shape and curvaceous facade make it a standout structure in the city center. The Copan Building houses a mix of residential apartments, offices, shops, and restaurants, creating a vibrant and bustling community within its walls. The sheer scale of the building is awe-inspiring, with over 1,160 units spread across its 38 floors.
Below the apartments, there is literally a whole micro-town. You can find plenty of restaurants, options for grocery shopping, dry cleaning, and more of the stores that folks need on a day-to-day basis. As a resident of this building, you can literally do all of your errands right downstairs. One thing that my tour guide noted is that there is a wide range in apartment prices as well, meaning that folks from all walks of life live here too.
7 | Relax in Ibirapuera Park
Ibirapuera Park in São Paulo is a sprawling urban oasis spanning over 1,500 acres. Designed by architect Oscar Niemeyer and landscape designer Roberto Burle Marx, this beloved park seamlessly combines nature, culture, and recreation. You can think if it somewhat akin to Central Park in New York City. It offers a wide array of outdoor activities, including jogging paths, cycling routes, sports facilities, and serene lakeside spots for picnics and relaxation. The park is also home to notable cultural institutions such as the São Paulo Museum of Modern Art (MAM) and the Afro-Brazil Museum. With its regular cultural events and spacious green spaces, Ibirapuera Park is a must-visit destination for those seeking a refreshing escape.
8 | Mercado Municipal
Mercado Municipal, also known as Mercadão, is a bustling food market in the heart of São Paulo. Located in the historic district, this iconic market has been a gastronomic institution since its opening in 1933. Its stunning architecture, featuring stained glass windows and a grand central dome, adds to the market's charm and allure.
The market is famous for its vast array of fresh produce, including tropical fruits, vegetables, and spices, which showcase the richness of Brazilian flavors. Sample the mouthwatering delicacies on offer, such as the renowned mortadella sandwich or traditional pastel, a savory pastry filled with various fillings. Local vendors also offer a wide selection of cheeses, meats, seafood, and other gourmet products, making it a paradise for food enthusiasts.
Mercado Municipal is not just a place to shop for ingredients; it is a cultural experience. Explore the market's aisles, marvel at the lively atmosphere, and engage with the friendly vendors who are passionate about their products. The market also houses specialty shops that offer a range of gourmet products, from artisanal chocolates to fine wines and spices, providing you with an opportunity to take a piece of Mercado Municipal home with them. As a sweet lover, my favorite part of the market was the sweets – I took home a few Brazilian specialities before heading out.
9 | Spend a Day in the Vila Madalena Neighborhood
Vila Madalena is a vibrant and bohemian neighborhood in São Paulo known for its artistic flair, colorful streets, and lively atmosphere. Beco do Batman, an alleyway adorned with vibrant graffiti, street art and murals, showcases the neighborhood's creative spirit. This open-air gallery has become a must-visit spot for art enthusiasts, providing an ever-changing canvas that reflects the neighborhood's creative spirit. It is an amazing place to grab pictures as you will see the murals literally EVERYWHERE!
Vila Madalena truly comes alive at night when its numerous bars and live music venues fill the air with a lively ambiance. Here, you have the option to indulge in a wide range of dining options, from cozy cafes to trendy restaurants serving both Brazilian and international cuisines.
During the day, Vila Madalena offers a unique shopping experience. Its streets are lined with boutiques and artisanal shops that showcase the works of local designers, craftsmen, and independent brands, offering a treasure trove of one-of-a-kind finds.
At night, the neighborhood comes alive with its bustling bars and live music venues, offering a vibrant nightlife scene. Vila Madalena's unique blend of art, culture, and nightlife makes it a beloved destination that captures the dynamic spirit of São Paulo.
Beyond its vibrant cultural scene, Vila Madalena also hosts street fairs, art festivals, and cultural events that showcase the neighborhood's creativity and community spirit. I can honestly say that this was my favorite part of the city. It truly feels like a distinct city within Sao Paulo, and should be close to the top of your list of places to visit while you are here. Check out some of the really cool pictures my tour guide captured of me in Vila Madalena below!
10 | Take in Japanese Culture in the Liberdade Neighborhood
Did you know that there are over 1.6 million Japanese-Brazilians in São Paulo? Liberdade is a direct reflection of this fact, as it clearly demonstrates its strong ties to the Japanese community in both architecture and local offerings. This vibrant district is a reflection of Japan's influence, featuring architectural elements, shops, and restaurants that evoke the charm of Japanese culture. Strolling through the streets of Liberdade, visitors are greeted by iconic red torii gates, colorful lanterns, and intricate Japanese-style architecture.
The neighborhood is home to numerous shops and markets that offer a wide range of Japanese goods, including traditional clothing, crafts, and unique culinary delights. The Galeria Liberdade is a bustling shopping center filled with small stores selling everything from anime merchandise to intricate Japanese ceramics.
Liberdade truly comes alive during its lively street fair, which takes place on Sundays. The fair showcases a vibrant mix of Japanese street food, handicrafts, cultural performances, and traditional ceremonies, providing an immersive experience into Japanese culture – in Brazil!
11 | Check the View from Banespa Tower
Banespa Tower, also known as Altino Arantes Building, is an iconic skyscraper that graces the São Paulo skyline with its imposing presence. Standing at a height of 161 meters, this architectural gem was inspired by the Empire State Building in New York City and served as the headquarters of the Bank of São Paulo. Built in the 1940s, the tower showcases a stunning Art Deco design, complete with intricate details, a grand entrance, and a beautiful observation deck.
The observation deck, located on the 35th floor, offers impressive views of the city's sprawling landscape, allowing for awe-inspiring views of skyscrapers, urban neighborhoods, and the bustling streets below. On clear days, the view extends as far as the Serra do Mar mountain range, providing a unique glimpse of the city's natural surroundings.
You can visit the observation deck for free, you just need to show identification to enter.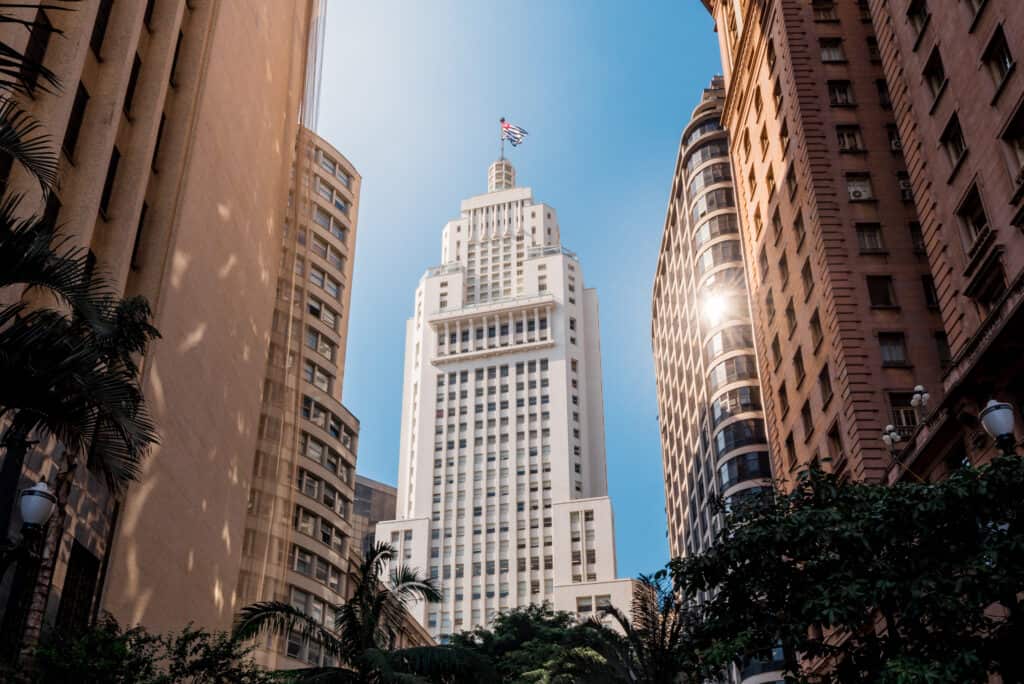 12 | Shop at Rua 25 da Março
Rua 25 de Março is a bustling shopping street located in the heart of São Paulo, Brazil. Renowned as one of the busiest commercial areas in Latin America, it is a paradise for shopaholics and bargain hunters. The street stretches for several blocks and is lined with a myriad of shops, boutiques, and market stalls, offering a wide array of merchandise at affordable prices. From clothing and accessories to electronics, toys, and household items, Rua 25 de Março has it all, making it a go-to destination for those seeking a shopping spree or searching for unique souvenirs.
13 | Visit one of São Paulo's Museums
São Paulo is home to a rich and diverse cultural scene, boasting a number museums that cater to various interests. Here are some of the best museums that art and culture enthusiasts should not miss when visiting the city.
The São Paulo Museum of Art (MASP) is an architectural marvel that houses an extensive collection of artworks from various periods and styles. Designed by Lina Bo Bardi, the museum's bold and iconic structure is as much a work of art as the masterpieces it holds. With works by renowned artists like Van Gogh, Rembrandt, and Picasso, MASP offers a comprehensive overview of Western art history.
The Pinacoteca do Estado de São Paulo is another must-visit museum for art lovers. Located in a beautiful historic building, the Pinacoteca features an impressive collection of Brazilian art, showcasing works by influential artists such as Candido Portinari and Tarsila do Amaral. The museum also hosts rotating exhibitions that highlight different aspects of Brazilian and international art, offering a well-rounded artistic experience.
For those interested in science and natural history, the Museum of Contemporary Art of the University of São Paulo (MAC USP) is a captivating destination. Situated in the lush grounds of Ibirapuera Park, this museum offers a diverse range of contemporary artworks across various mediums. It also boasts a collection of more than 10,000 pieces, showcasing the evolution of Brazilian art from the 20th century to the present day.
Museum of the Portuguese Language, which explores the history and richness of the Portuguese language through interactive exhibits
Afro-Brazil Museum dedicated to preserving and promoting African and Afro-Brazilian culture and heritage. Located in a beautiful historic building, the museum showcases a vast collection of artifacts, artwork, and historical documents that trace the history, traditions, and cultural expressions of Afro-Brazilians. Through its exhibitions, you can explore the diverse aspects of Afro-Brazilian culture, including music, dance, religion, and social movements, gaining a deeper understanding of the resilience, creativity, and contributions of this vibrant community.
The Football Museum in São Paulo is a shrine dedicated to Brazil's deep passion for the beautiful game. Located in the Pacaembu Stadium, one of the city's iconic football venues, the museum showcases the rich history and heritage of Brazilian football. It takes you on an immersive journey through interactive exhibits, historical artifacts, and multimedia presentations that highlight the country's football legends, memorable matches, and the impact of the sport on Brazilian culture.
If you like museums at all, I recommend you spend some time at least at one of them while you are in the city.
14 | Take a Walking Tour of the City
Taking a walking tour in São Paulo is a fantastic way to truly immerse yourself in the vibrant energy and cultural richness of the city. As you explore the city streets on food, you are able to get a true feel for the city. In addition, getting to know the city with a knowledgeable local guide can offer valuable insights into the city's history, pointing out significant landmarks and sharing fascinating anecdotes along the way.
Walking tours also allow you to engage with the local culture firsthand. As you stroll through lively neighborhoods like Vila Madalena or Liberdade, you can interact with residents, browse through unique shops, and sample local cuisine at charming street stalls or hidden eateries. The city's street art scene is also a highlight of walking tours, with vibrant murals and graffiti adorning many walls, providing a glimpse into the artistic spirit of São Paulo.
Furthermore, walking tours offer the freedom to discover hidden gems and lesser-known corners of the city that may not be easily accessible by other means of transportation. From exploring quaint alleys lined with art studios to stumbling upon cozy cafes or vibrant markets, you can uncover the authentic essence of São Paulo that may not be found in guidebooks or tourist brochures.
I took a few walking tours while in São Paulo, and feel that they are the ONLY reason why I was able to get acquainted with the city in a short amount of time. I recommend you try the São Paulo History Guided Tour, which covers many of the sites mentioned in this post in just 4 hours!
Click here to check rates for your São Paulo History Guided Tour today!
15 | Spend Time at the Centro Cultural Banco do Brazil (CCBB)
Centro Cultural Banco do Brasil (CCBB) is a renowned cultural institution located in the heart of São Paulo, Brazil. Housed in a magnificent historic building, the CCBB is dedicated to promoting arts, culture, and education, offering a diverse range of exhibitions, performances, film screenings, and educational programs. The institution's mission is to foster creativity, inspire dialogue, and provide access to a wide range of cultural experiences for all.
CCBB São Paulo stands out not only for its impressive architectural beauty but also for its extensive and dynamic cultural offerings. While here, you can explore a wide range of art exhibitions that span various genres and periods, showcasing both Brazilian and international artists. From classical paintings to contemporary installations, the CCBB provides a platform for artistic expression and creativity.
In addition to visual arts, the CCBB also hosts an array of performances, including theater, dance, music, and multimedia presentations. These performances reflect the diversity of Brazilian and international cultural expressions, attracting audiences from all walks of life.
The CCBB São Paulo also serves as a hub for educational programs, workshops, and lectures, providing opportunities for learning, artistic development, and cultural exchange. These initiatives aim to engage visitors of all ages and backgrounds, nurturing a deeper appreciation and understanding of the arts.
The Best Day Trips from São Paulo
People often wonder if there is a beach in São Paulo. Unfortunately not, but you can find beach options nearby (and other cool destinations), that can be accessed on day trips:
Campos do Jordão: Located about 180 kilometers from São Paulo, Campos do Jordão is a charming mountain town that offers a refreshing escape from the bustling city. Known as the "Brazilian Switzerland," it boasts stunning alpine architecture, picturesque landscapes, and a cool climate. Explore the beautiful Horto Florestal state park, indulge in delicious chocolate treats at local shops, and take a leisurely stroll along the charming streets of Vila Capivari, filled with restaurants, cafes, and boutiques.
Santos: Situated on the coast, Santos is a popular day trip destination from São Paulo, easily accessible by car or public transportation. This coastal city is renowned for its beautiful beaches, including the famous Santos Beach, where you can relax, swim, and enjoy water sports. Santos is also home to the largest port in Latin America, offering interesting maritime history and a range of museums and cultural attractions to explore, such as the Museum of Coffee and the Pelé Museum, dedicated to the legendary football player. I spent some time in Santos as well, and found it to be quite charming.
Ilhabela: A tropical paradise located about 200 kilometers from São Paulo, Ilhabela is a stunning island known for its pristine beaches, lush rainforest, and crystal-clear waters. It offers a tranquil and idyllic setting for a day trip, where you can swim, snorkel, and soak up the sun on beautiful beaches like Curral and Bonete. Hiking enthusiasts can explore trails through the island's protected areas, such as the Parque Estadual de Ilhabela, which boasts breathtaking viewpoints and stunning natural scenery. The island also offers a vibrant culinary scene, with a variety of restaurants and beach bars serving delicious seafood dishes.
The Best Restaurants in São Paulo
As a multicultural city, São Paulo features world-class restaurants a food from all over the world. Some of the best restaurants here include:
Bar do Dona Onça: Bar do Dona Onça is a beloved establishment in the heart of São Paulo that embodies the city's culinary scene and vibrant atmosphere. Located below the Copan Building, this iconic bar and restaurant is known for its delicious traditional Brazilian dishes and cozy retro ambiance. Dona Onça, the charismatic owner and chef, has created a menu that celebrates the flavors of Brazil, offering a delightful array of appetizers, main courses, and desserts. From feijoada, a classic Brazilian black bean stew, to coxinha, savory chicken croquettes, the menu is filled with delectable options that showcase the country's culinary heritage. The bar also boasts a well-stocked drink menu, featuring craft cocktails and an extensive selection of cachaças, Brazil's beloved sugarcane spirit.
Espaço Kazu: This restaurant is nestled in the vibrant neighborhood of Liberdade in São Paulo, is a true gem for lovers of Japanese cuisine. This charming eatery captures the essence of Japanese culture, providing an authentic dining experience that combines traditional flavors with modern twists. With its intimate and cozy ambiance, Espaço Kazu offers a warm and inviting atmosphere for guests to savor their delectable dishes. The menu features a wide variety of Japanese delicacies, including sushi, sashimi, tempura, and mouthwatering grilled specialties.
Bar Dos Arcos: This restaurant and bar is build in the foundations of the historic Theatro Municipal de São Paulo, and features a diverse food menu and innovative cocktails. It is build as "surreal" and a "step above the usual theatre bar", and is featured on the list of the 50 best restaurants in São Paulo.
The Best Places to Stay in São Paulo
There are a few neighborhoods (some mentioned above) that are worth considering when traveling to Sao Paulo:
Jardins is a popular upscale neighborhood known for its luxurious boutiques, high-end restaurants, and stylish nightlife. It offers a vibrant and cosmopolitan atmosphere, with tree-lined streets and beautiful architecture. I stayed in this neighborhood while in São Paulo and really enjoyed my time here.
Jardins Hotel recommendation
This hotel is located just a 20 minute walk from Ibirapuera Park, Paulista Ave, and many other shops and museums. It offers a delicious continental breakfast and very friendly and helpful staff. This is the hotel I stayed in while in the city and I loved the decor and the ambiance as well.
Vila Madalena is a bohemian neighborhood with a lively arts scene, filled with colorful street art, trendy bars, and cozy cafes. It is a hub for artists and musicians, and its bustling nightlife makes it a great choice for those seeking a vibrant and energetic atmosphere.
Vila Madalena Hotel recommendation
Noon Vila Madelena offers a stay in upscale apartments that are all updated in the latest modern style. The property offers a pool and each apartment has a fully equipped kitchenette.
For a more historic and cultural experience, consider staying in the City Center. Here, you'll find iconic landmarks such as Sé Cathedral, the Municipal Theatre, and the bustling Rua 25 de Março shopping street. This central location provides convenient access to the city's cultural attractions and offers a glimpse into São Paulo's rich history. Ultimately, the best neighborhood to stay in São Paulo depends on personal preferences, with each offering a unique experience and easy access to the city's vibrant energy.
City Center Hotel recommendation
This hotel is located in the City Center near the Luz metro station, so it is well connected to the city. It features an onsite restaurant, free WiFi, and a 24-hour front desk. There is also continental provided daily as well.
Language in São Paulo
The official language of Brazil is Portuguese. While Portuguese is the dominant language spoken in the city, English is also often understood in many tourist areas, hotels, restaurants, and larger establishments. However, it's important to note that proficiency in English may vary among the local population, so having some basic Portuguese phrases and expressions can be helpful for navigating everyday situations and engaging with locals. Learning a few common greetings and phrases such as "hello" (olá), "thank you" (obrigado/obrigada), and "excuse me" (com licença) can go a long way in establishing a positive rapport and demonstrating respect for the local culture.
Another thing to note is that São Paulo is a multicultural city with a diverse population, which includes communities of different ethnic backgrounds, such as Italians, Japanese, and Lebanese. As a result, you may also encounter other languages spoken within certain neighborhoods and cultural enclaves. For example, in the Liberdade neighborhood, which has a significant Japanese community, you may come across signs and conversations in Japanese.
How to Get to Sao Paulo
Getting to São Paulo is relatively straightforward due to its status as a major international travel hub. The city is served by Guarulhos International Airport (GRU), located approximately 25 kilometers northeast of downtown São Paulo. The airport welcomes flights from numerous international destinations, making it accessible for travelers from around the world. From the airport, various transportation options are available, including taxi services, ride-hailing apps (like Uber), and airport shuttles that can take you directly to your accommodation in the city.
Another option is Congonhas-São Paulo Airport (CGH), situated closer to the city center and primarily handling domestic flights. This airport is a convenient choice for domestic travelers or those connecting from other Brazilian cities.
If you are arriving by bus, São Paulo has a central bus terminal, the Terminal Rodoviário Tietê, which serves as a major transportation hub. The terminal connects the city with various cities and states in Brazil, making it an accessible and cost-effective option for regional travel.
For those already in Brazil, São Paulo can also be reached by train. The city has several train stations, including Luz Station, which connects to other major cities within the state and neighboring regions.
How to Get Around Sao Paulo
The city offers an extensive public transportation network that includes buses, metro lines, and suburban trains. The metro system is a convenient and efficient way to travel within the city, with multiple lines connecting different neighborhoods and major attractions. In my opinion, it is definitely the best way to get around. I used it several times on my trip and found the metro stations to be be clean, and all the trains to be new and clean as well. Buses also cover a wide range of routes, providing access to various areas of the city. It's advisable to check bus schedules and routes in advance to plan your journey effectively.
For shorter distances or to explore specific neighborhoods, taxis and ride-hailing services like Uber and 99 are readily available. However, it's important to keep in mind that traffic jams can occur often during rush hour, so travel times may vary.
If you prefer a more active and eco-friendly approach, São Paulo has an expanding network of bicycle lanes and bike-sharing programs. Renting a bicycle or using shared bikes can be a great way to explore certain areas while enjoying the city's pleasant weather.
When traveling to more distant locations or exploring the outskirts of São Paulo, renting a car can provide flexibility and independence. However, it's important to note that traffic in the city can be congested, and parking may be limited and expensive in certain areas.
Best Time of Year to Visit São Paulo
The best time of year to visit São Paulo, Brazil, largely depends on personal preferences and the kind of experience you seek. The city has a tropical climate, characterized by hot and humid summers and mild winters. The high season for São Paulo is during the summer months from December to February when the city experiences high temperatures and occasional rainfall. This period coincides with school holidays, resulting in larger crowds and higher prices. If you enjoy vibrant street festivals and cultural events, such as the São Paulo Carnival in February, this is an exciting time to visit.
Alternatively, the shoulder seasons of spring (September to November) and autumn (March to May) offer pleasant weather with mild temperatures and lower tourist numbers. These periods are ideal for exploring the city's attractions and enjoying outdoor activities without the intense heat of summer or the crowds. Additionally, São Paulo hosts numerous cultural events and art exhibitions throughout the year, providing enriching experiences for visitors regardless of the season.
Is São Paulo Safe?
When it comes to safety, Sao Paulo, like any large city, has its own considerations. While the city does have some areas with higher crime rates, the majority of tourist destinations and upscale neighborhoods are generally safe. It is essential for visitors to exercise common sense precautions such as staying aware of their surroundings, avoiding displaying valuable items openly, and using well-lit and populated areas.
Additionally, it is advisable to take reliable transportation options, like registered taxis or ride-hailing services, especially at night. Engaging in organized tours or seeking local advice on safe areas and places to avoid can further enhance personal safety. Most issues you find in the city are related to petty theft and not violent crime. Cell phone theft is common for those who do not pay attention, so just remember to keep your eyes on your valuables at all times. But overall, you will find the city similar to most large cities in the US, from a safety perspective.
São Paulo FAQs
How many days is enough for São Paulo?
Three days in São Paulo would allow you to explore some of the city's main attractions, such as Paulista Avenue, and the São Paulo Museum of Art. You can also experience the vibrant atmosphere of neighborhoods like Vila Madalena and Liberdade, offering unique cultural experiences and culinary delights. While longer stays allow for more exploration, three days is a good starting point to get a taste of the city.
Is São Paulo good for tourists?
Yes, São Paulo is an excellent destination for tourists. With its rich cultural scene, diverse neighborhoods, and vibrant nightlife, the city offers a dynamic and engaging experience. From museums and art galleries to unique culinary delights, São Paulo has something to offer for every type of traveler.
Is Rio or São Paulo better to visit?
Choosing between Rio de Janeiro and São Paulo depends on your preferences. Rio offers stunning natural beauty and a beach-centric experience, while São Paulo is a bustling metropolis with rich arts and culinary scenes. Both cities have their unique appeal, so consider your interests to make the best choice for your visit.
Is Uber safe in São Paulo?
Uber is generally considered safe in São Paulo, as drivers undergo background checks and follow safety protocols. The app provides features like GPS tracking and real-time trip monitoring for added security. It is a great option for anyone traveling alone, especially at night.
Is São Paulo safe?
São Paulo, like any large city, has areas with varying levels of safety. While many tourist destinations and upscale neighborhoods are generally safe, it's essential to exercise common-sense precautions and stay aware of your surroundings. Using registered taxis, ride-hailing services, and reliable public transportation can enhance personal safety during your visit.
In Summary | Is São Paulo Worth Visiting?
I hope that after reading this post you can now see that São Paulo is worth visiting. As a recap, some of the main attractions to this city include:
Culture and Art: With it's rich heritage, diverse neighborhoods, and vibrant art scene, it is a haven for art enthusiasts and culture aficionados.
Amazing Culinary Landscape: The city's culinary landscape is a culinary delight, with a vast array of flavors and influences from around the world.
Nightlife: São Paulo is also known for its energetic nightlife, with numerous bars, clubs, and live music venues where you can dance the night away.
Distinct Architecture: The city's architectural marvels, from historic landmarks to modern skyscrapers, provide a visual feast for architecture enthusiasts.
​Despite its size and fast-paced nature, São Paulo has a unique charm that is sure to leave a lasting impression on any traveler. So, if you're seeking an urban adventure filled with art, culture, gastronomy, and an electrifying atmosphere, São Paulo is definitely worth a visit.
Related Posts on Brazil:
Additional Posts on Latin America: