Mobile Passport vs. Global Entry | Which is Best in 2023?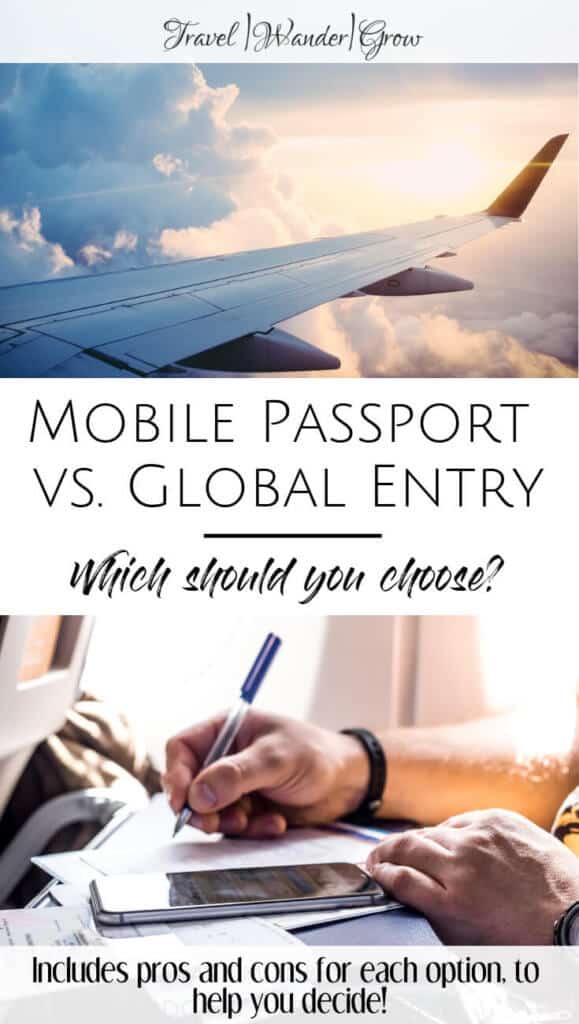 Global Entry and Mobile Passport are two programs offered by the U.S. Customs and Border Protection that offer a fast track to going through Customs when returning to the US from an international trip. Mobile Passport is definitely the lesser-known benefits of the two, and is actually completely free. There are a few considerations to keep in mind when deciding on Mobile Passport vs. Global Entry, and I will walk you through those in this post. I'll start with an overview of the Mobile Passport program and then cover specifics on the Global Entry program as well. I'll then go into the pros and cons of each program to inform your decision on which is best for you.
Overview of Mobile Passport
Mobile Passport is a program offered by the U.S. Customs and Border Protection (CBP), available to both U.S. and Canadian citizens. This program allows electronic submission of the traditionally paper customs forms to CBP. There is no requirement for pre-approval in this program as there is for Global Entry, the user simply has to download the app.
This program is currently available for use at the following locations:
US Airports:
Atlanta (ATL)
Baltimore (BWI)
Boston (BOS)
Chicago (ORD)
Dallas (DFW)
Denver (DEN)
Fort Lauderdale (FLL)
Honolulu (HNL)
Houston (IAH + HOU)
Kansas City (MCI)
Los Angeles (LAX)
Miami (MIA)
Minneapolis (MSP)
New York (JFK)
Newark (EWR)
Oakland (OAK)
Orlando (MCO)
Philadelphia (PHL)
Phoenix (PHX)
Pittsburgh (PIT)
Portland (PDX)
Raleigh Durham (RDU)
Sacramento (SMF)
Salt Lake City (SLC)
San Diego (SAN)
San Francisco (SFO)
San Juan (SJU)
San José (SJC)
Seattle (SEA)
Tampa (TPA)
Washington DC Dulles (IAD)
US Seaports of Entry:
Miami Seaport
Palm Beach Seaport
Port Everglades Seaport
San Juan Seaport
This program is also available at the following international airports:
Aruba (AUA)
Bermuda (BDA)
Calgary (YYC)
Edmonton (YEG)
Halifax (YHZ)
Montreal (YUL)
Nassau (NAS)
Ottawa (YOW)
Toronto (YYZ)
Vancouver (YVR)
Winnipeg (YWG)
***For the most current updates on where the program is offered, see the Mobile Passport website.
RELATED: Applying for a US Passport for the First Time
How to Use the Mobile Passport App
To use the Mobile Passport, you must first download the FREE CBP MPC (Mobile Passport Control) app, available at the App Store and Google Play.
It's a good rule of thumb to download the app before you depart on the last leg of your journey to the U.S. You are now ready to add your profile to the app – be sure to have your passport(s) ready for this :). Note, you can add profiles for you whole family in the app too! After your profiles are established, you will be asked the standard 5 questions usually found on the paper customs form. Be sure to review all your information for accuracy at this point!
Once you arrive at your port of entry, you are now ready to submit your information to CBP. Just make sure you have an internet connection to do this! After submission, you receive a confirmation code that is valid for four hours. When you get to the customs lines, you will go through a special Mobile Passport line. Here you'll show the CBP officer the confirmation code and then be on your way!
Here is a short video on how to get set up on the Mobile Passport app:
Pros and Cons of Mobile Passport
Pros:
This program is free for everyone!
This program is not very widely adopted at this point, so the Mobile Passport lines are always short. I've traveled with Global Entry while friends/family have traveled with Mobile Passport, and we have always cleared customs in about the same timeframe
There is no need to go through an application or interview process to participate
You can add information for you whole family in your profile
Cons:
The program is expanding, but there are some limitations on availability across the nations airports
There is no offer of TSA Pre-Check with Mobile Passport
As adoption increases, the time to clear customs will increase as well
This program is not available to international customers outside of Canadian citizens
Airport Arrival with Mobile Passport
Before you get to the Mobile Passport Control line, you will use the MPC App to complete your customs declaration form in the app. This entirely replaces the standard paper customs declaration form (similar to Global Entry). I recommend that you do this as soon as you land / have service again in your home country.
Once you get to customs, you will then move through the MPC line, which typically has very few people in it. You'll go through a similar process as the other passengers, but given the specific processing lane, the entry will be streamlined.
I'll note, families can also use MPC, as you can create up to 12 profiles in the app for all your family members.
Overview of Global Entry
Global Entry is a program that allows those who sign up to essentially pre- clear for all travel into the U.S. for five years at a time. This program is for low-risk travelers, and means that you require less "investigation" upon arrival. The main selling point for the program is that those who are enrolled are able to quickly move through customs when returning to the U.S.
So instead of waiting behind hundreds of people to hand your passport to a CBP agent, you can scan your fingerprints at kiosks in a separate line with little to no wait time. From my personal experience, I have never waited in line and often do not see more than a handful of folks using the kiosks with me.
An added benefit to this program is that once you qualify for the program, you also receive TSA Pre-Check benefits as well. This means that you can access the TSA Pre-Check line when going through security for domestic U.S. travel.
With TSA Pre-Check you have shorter waiting times in the security line, and fewer requirements at the end of the line. For example, you can keep your shoes on and don't have to remove your computer from your bag. Global Entry is really the best deal if you are thinking about just TSA Pre-Check as it is $85 for 5 years for this program, but only $15 more for 5 years of Global Entry access. That's almost as good as two for the price of one!
Eligibility Requirements
Contrary to popular belief, this program is not just for U.S. citizens! It is open to the following groups:
U.S. citizens
U.S. lawful permanent residents
Citizens of the following countries:

Argentina
Brazil
Bahrain
India
Colombia
United Kingdom
Germany
Netherlands
Panama
Singapore
South Korea
Switzerland
Taiwan
Mexico
Additionally, Canadian citizens and residents are eligible through the NEXUS program.
Check out this page on the CBP website to get more details on eligibility requirements.
RELATED: 12 Steps for Planning the Perfect Trip
How to Get Global Entry
The first part of the process is completing the online application. To access the application, you must first create a Trusted Traveler Programs (TTP) Account on this page. Once your account is set up, you will follow the prompts to complete the application. This application requires you to provide information such as the following:
Address history
Employment history
Travel history
Phone number
Email address
After your application is complete, you will need to pay the $100 fee. After that your application will be submitted for conditional approval. This approval usually takes about 1-2 days, after which you will receive your CBP PASSID or known traveler number. At this point you are ready to interview to complete the enrollment process. You have two options for going through the interview, which we will discuss next.
The Global Entry Interview Process
Scheduling the Interview
For the more standard interview process, you must schedule your interview appointment via the TTP Appointment Scheduler. Here, you can select the date and location that works best for you. This page lists all locations that offer interviews for your convenience. If there are no locations near you that offer interviews, think about scheduling one in a location that you plan to travel to. This a good option as there are several locations inside of airports, so you can do it once you arrive or before you leave.
One additional thing to note – You can try to complete the interview without an appointment if you are short on time before your next trip. Do this at your own risk, but I have friends who were successful in walking up and getting interviews on the spot.
At the Interview
You must take your passport and an additional form of identification (such as a Driver's License) to the interview. If you don't already have a passport, check out this post for more information! If you are a U.S. permanent resident, you must also bring your permanent resident card as well.
During the interview they may ask you a few questions to validate the answers you provided in your application. You will also get fingerprinted so that you may use the Global Entry kiosks once approved. As a final step, your interviewer will take your picture – beware you may not get much warning. This picture will be on your Global Entry Card, which is used for entry at U.S. land and sea ports of entry.
Global Entry Enrollment on Arrival Process
If you select Enrollment on Arrival for Global Entry, you will not have to schedule an interview after completing your application. You will just need to validate on this website that the airport that you are arriving at has this option, and follow the signs to the appropriate office once you land in the U.S.
You will only need the documentation required for your entry into the U.S. when you select this option. Also, the interview will follow the same process as the standard interviews. The only real downside to this option is the limited locations that offer this service.
Global Entry Approval
If everything goes smoothly in the interview you will be fully approved on the spot! This means that if you have a trip out of the country the day after your interview you will be eligible to use the Global Entry exit lines upon your return.
Note that it may take a week or two for you to see the TSA Pre-Check benefits come through. But while you wait you should add your CBP PASSID or known traveler number to all your airline mileage programs and tickets so that you have the benefit every time you fly. Your Global Entry Card will come to you in the mail a few weeks after your interview is complete.
RELATED: The Best Resources for Travel
Getting Global Entry for Free
As I mentioned above, the cost for 5 years of enrollment in Global Entry is $100. It is possible to completely waive that costs if you purchase Global Entry with the right credit card, however. Currently there are a number of credit cards that offer this benefit to their card holders, such as the Chase Sapphire cards and certain American Express cards. With this benefit, you'll get a direct statement credit as soon you make the purchase.
I will talk to you about the credit card that I have experience with: the Chase Sapphire Reserve. This card has a number of amazing benefits, one of which is no cost of Global Entry. There are a number of additional benefits that this card offers such as travel insurance, no international fees and airport lounge access, but I'll get into that in a later post :). If you are currently in the market for a new travel credit card, you should certainly check out the Chase Sapphire Reserve!
Pros and Cons of Global Entry
Pros:
Includes added benefit of TSA Pre-Check, which speeds up boarding for the majority of U.S. airlines when flying domestically
This program is available at over 60 U.S. airports, vs. ~20 for Mobile Passport
In addition to clearing the initial customs lane more quickly, Global Entry customers also have a special line for existing after picking up their luggage
Global Entry comes with additional land and marine ports of entry through the NEXUS program
This program is available to citizens of several countries outside of the U.S.
Cons:
The program costs $100 for every 5 years. BUT as mention above, you can get it for free with certain credit cards
There is an application and interview process that you must go through, and not all states have Enrollment Centers available
If you have a family, it can be costly as each member requires his/her own membership
Airport Arrival with Global Entry
There have been significant updates to the experience when you arrive back in the US and have Global Entry. When you get to border control you'll head to the Global Entry lane step up to a kiosk that takes a picture of your face (it is fast, so be ready), then you will (mostly likely) get a green check and will move to the final processing line. You then just show your passport and will be on your way. Usually it takes less than 5-10 minutes for the whole Global Entry Line. which is great. And even better if you don't check any luggage.
Something worth noting is that if you have kids, it is important to make sure they have enrolled in Global Entry as well. I have seen actual babies be turned away from the line for not being a part of the program like their parents.
Global Entry vs. Mobile Passport | Which is Faster?
Speed is very important when considering both options as it is the main reason why you'd consider either one. From my personal experience, the time to get through customs is pretty much the same for both options.
For two brief case studies, I've tested this with my sister when coming back from Iceland and with my parents when coming back from London. In both instances my family members used Mobile Passport and I used Global Entry. In the first example I got through the line about 5 minutes ahead of my sister. In the second, my parents actually beat me through the line!
The main driver between the speed of either option is how long the line for Mobile Passport is. The good news is that many people don't use Mobile Passport, so long lines appear to be very far off, thankfully.
Frequently Asked Questions on Global Entry & Mobile Passport
How long is Global Entry good for?
As of my last update in September 2021, Global Entry is typically valid for 5 years. For the most current information on its validity period, please refer to the official U.S. Customs and Border Protection (CBP) website or relevant government sources.
Is the Mobile Passport App better than Global Entry?
Mobile Passport and Global Entry serve different purposes and cater to different traveler needs. Mobile Passport allows U.S. citizens and Canadian visitors to expedite the customs process through a smartphone app, and it is free to use. On the other hand, Global Entry offers a broader range of benefits, including expedited customs and TSA PreCheck for eligible U.S. citizens and lawful permanent residents, but it requires an application process and a fee. Whether one is better than the other depends on individual preferences and travel frequency.
Should I use Mobile Passport if I have Global Entry?
If you already have Global Entry, you might not necessarily need to use the Mobile Passport app for customs clearance. Global Entry already provides expedited entry benefits, including access to the Mobile Passport Control (MPC) lanes at certain airports, making the app redundant for Global Entry members.
Is Global Entry worth it?
Yes, Global Entry is worth it for frequent international travelers who value time-saving and streamlined customs clearance. With Global Entry, you can expedite the entry process when returning to the United States by using dedicated kiosks, which often leads to significantly shorter wait times. Additionally, Global Entry also includes TSA PreCheck benefits, offering expedited security screening at participating U.S. airports.
What is faster: Global Entry or Mobile Passport?
In general, Global Entry tends to be faster than Mobile Passport. With Global Entry, travelers can use dedicated kiosks to expedite the customs process upon re-entering the United States, reducing wait times significantly. While Mobile Passport can also speed up the process, it may not offer the same level of efficiency and benefits as Global Entry, which includes TSA PreCheck and a more comprehensive program.
Mobile Passport vs. Global Entry | Which Should You Choose?
As you can see there are a number of pros / cons to either program, and both are geared towards frequent international travelers. The choice between Mobile Passport vs. Global Entry is really up to you. Both offer shorter wait times at customs, which can feel like a godsend after a long flight. I personally use Global Entry as I love the added benefit of TSA Pre-Check, but you can't beat the fact that Mobile Passport is 100% free. (Note, there is the option to get Global Entry for free too, but it does take more time to get approved). I think that frequent travelers may benefit most from Global Entry, as TSA Pre-Check is available at practically every major airport across the states for domestic flights.
I hope this content has given you all the information you need to make an informed decision! Are you enrolled in either program? If so, let me know in the comments below!
Want more travel tips? Check out these posts:
---
---