4 Day Puerto Rico Itinerary | The Perfect Caribbean Getaway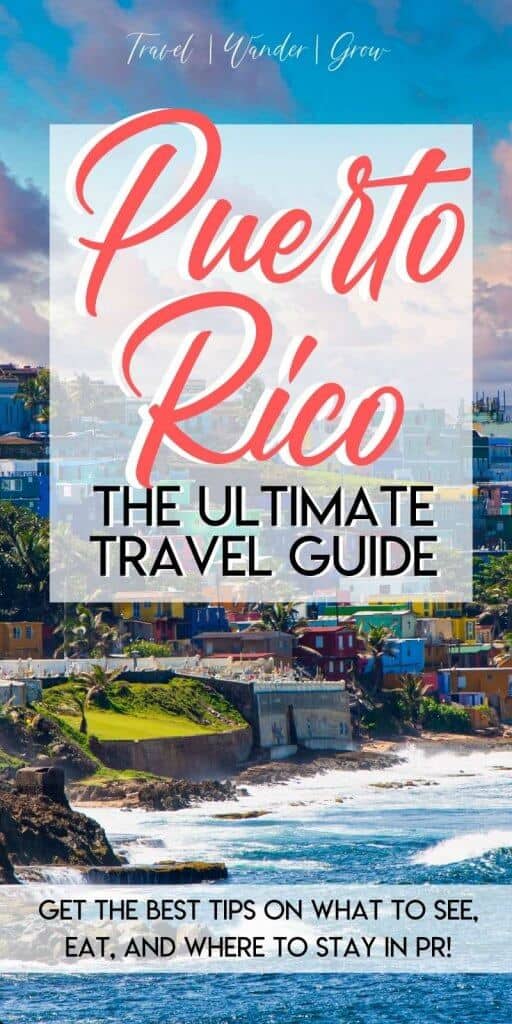 One of the best ways to escape to a tropical paradise if you live in the United States is to take a flight down to Puerto Rico. As a U.S. Territory, entry requirements are nearly the same as visiting one of the contiguous states, making it a location that should certainly be on your vacation bucket list. Now, when you think of Puerto Rico, the first thing that comes to mind is likely the beautiful beaches. We'll certainly cover those, but there are many other natural and historical sites that you should explore while you visit this lovely island as well. Keep reading for the ultimate 4 day Puerto Rico Itinerary, and get all the information you need to have the best long weekend getaway to this Caribbean gem.
Brief Island History | Puerto Rico
The island now known as Puerto Rico was originally inhabited by the Ortoiroid peoples as far back as several thousand years. Subsequently, the Saladoids came and displaced the original inhabitants around 400 – 250 BC. The Arawak are then thought to have settled in the island, bringing their Taíno culture with them. They called the island Borikén, which means "the great land of the valiant and noble Lord". The Spanish (with Columbus) arrived in 1493, at a time when the Taíno were in conflict with the Carib peoples as well.
The Spanish came and began to subjicate the native islanders, using them for slave labor. Despite rules known as repartimento, enacted to stop exploitation of the natives, within 50 years of the arrival of the Spanish, most of them had died from disease, violence, or suicide. Some of their numbers do survive today in their descendants, the current Puerto Rican inhabitants.
Over the centuries that followed, many European powers of the time fought for control of Puerto Rico because of its strategic position in the Caribbean. The English, French, and Dutch all tried to take the island from Spain but were not successful. Change came towards the end of the 1800s, when the Puerto Rican people began to revolt against Spain and seek independence, primarily due to the poor care that Spain gave the island. The fight took several years, but finally in July 1898, Puerto Rico began to operate autonomously, but this did not last.
In that same month, the US launched the Spanish-American War, taking the fight to Spain in Puerto Rico and Cuba. By the end of the war that September, Puerto Rico became a US territory. The fight for both independence and/or full statehood have been under discussion since this time, but there have been no major changes to-date.
Know Before You Go | Puerto Rico
Lodging and Logistics
Getting There
When traveling to Puerto Rico you are most likely to fly into San Juan, which is serviced by the Luis Muñoz Marín International Airport. This airport is relatively easy to navigate, but when flying home, I recommend that you get to the airport at least 2 hours early – especially if you are checking luggage. There are always deals to fly to Puerto Rico cheaply, at least from the US, so I'd just keep my eyes on tickets for at least 2-3 months before you plan to make the trip.
Where to Stay in Puerto Rico
Where to stay will depend on what you prefer to do during your vacation. Here are a few options for a variety of interests:
Old San Juan
I recommend staying in Old San Juan if you like being in very walkable places, and are a history buff. There are many old historical sites in Old San Juan, and the architecture in this central area is quite lovely.
Casa Blanca Hotel – This hotel is right in the heart of Old San Juan, but La Fortaleza, one of the most known locations in the city.
Hotel El Convento – Highly-rated hotel in Old San Juan with 2 restaurants, and walking distance to the cruise pier.
Condado Beach or Isla Verde
If you are traveling primarily to get some beach time, but don't want to be too far away from the city, I recommend considering Condado Beach or Isla Verde.
AC Hotel Marriott Condado – This hotel is a three minute walk to the beach, and is perfect for a few nice beach bum days.
TRYP by Wyndham Isla Verde – This is another hotel right on the beach, except this one is at Isla Verde.
Getting Around
Walking: If you stay in Old San Juan, it's very easy to get around the whole area by foot. It's honestly the best way to travel in this area as the streets are narrow and the roads are quite bumpy.
Uber: For shorter trips, Uber is a very straightforward option. You'll find the ubers are affordable and can take you around San Juan easily.
Car Rental: If you plan to travel to Vieques or Rincon, or anywhere else in the island, you should certainly rent a car. Some islands have a more "challenging" driving culture, but it is not that way in Puerto Rico.
RELATED: The Best Montego Bay Excursions
Daily Considerations:
When to Go
The weather in Puerto Rico is always nice and warm, what you'll need to consider is hurricane season. As such, the best time to visit is during the late fall to springtime. Hurricane season hits from late June to November, with most storms coming in September.
Language Considerations
The official language of Puerto Rico is Spanish. You won't have any trouble with English in the touristy areas (except in Ubers, perhaps), but you should learn some Spanish if you plan to venture out. Check out my post on Spanish for Travel to get all the phrases you need to survive!
Money Situation
The currency used in Puerto Rico is the US Dollar, so if you live in the US, there is no need to change money.
The 4 Day Puerto Rico Itinerary | All the Details
Day 1 | Old San Juan
As you will most likely start your trip by landing in Puerto Rico, you should plan to start your trip here. There are a lot of interesting historical sites, great restaurants, and beautiful architecture, so it's a great way to start a short trip to the island.
Breakfast
I recommend you start your day with breakfast at Caficultura. They have nice outdoor seating and delicious affogatos. On my first trip to Puerto Rico, we stopped for breakfast here twice to enjoy their delicious food. Another break spot I'd recommend is Chocobar Cortés, where chocolate is used in every dish in some way. While there, try the classic puerto rican hot chocolate – they add in cheddar cheese for a savory touch.
Morning
There are a few sites you must absolutely see while you are in Old San Juan:
Castillo San Felipe del Morro – This fortress citadel is also known simply as El Morro. As mentioned above, Puerto Rico had the eye of many European states during the colonial period, so El Morro was built as a way to protect the island from would-be conquerors. It was built between the 1500s – 1700s, and is huge. From this point, you can get great ocean views and inside, many details are provided on what it was like to live there for the soldiers who guarded the island.
Casa Blanca – This house (now museum) was to be the home for Juan Ponce de León. He passed away before being able to live in the house, but it did serve as the home for his family from the 1500s to the 1700s. It is styled with colonial furniture and is another site that offers impressive ocean views.
Catedral de San Juan – This Roman Catholic cathedral is the oldest cathedral in the United states, and the second oldest in the Americas. It is beautiful in both the interior and exterior, and also houses the tomb of the aforementioned Ponce de León.
La Fortaleza – This structure, which means The Fortress in English, was built as the home to the governor of the island and as the first defensive fortification built for the island. In front of the building you'll find the Calle de la Fortaleza, which displays umbrellas in different colors / themes depending on current events, holidays, etc. At Calle de la Fortaleza, there is a delicious gelato place called Anita. If you love ice cream, you have to make a stop here.
For the best experience in getting to know the history of the island while you explore, I recommend that you take a city tour. This San Juan Walking Tour is a great way to learn more about the sites listed above and others like La Casa Estrescha, one of the narrowest houses in the Northern Hemisphere.
Sunset / Evening
If you're looking for a magical experience, I recommend that you take a San Juan Sunset Cruise. On this two hour experience you'll sail around the historical city center and watch the sunset on the water. The experience also comes with provided beverages and the music selection of your choice. My friends and I did this on our last trip to Puerto Rico, and had a great time.
Dinner
For your first night, head to Barrachina for delicious standard Puerto Rican fare. This restaurant is very close to La Fortaleza, and is most famously known for originating the Piña Colada.
For more tips on things to do in the city, see my post on the Best Things to Do in Old San Juan.
Day 2 | El Yunque National Forest
On your second day in Puerto Rico, I recommend keeping your Old San Juan stay as your home base, as you venture out to explore El Yunque National Forest and more of the island. El Yunque is the only tropical forest within the U.S. Nationals Park system, and includes beautiful waterfalls, lush greenery, and the opportunity to spot the tiny Coquí frog, also known as a symbol for Puerto Rico.
There are two ways to get to El Yunque: (1) drive yourself or (2) take a tour. I recommend taking the tour, unless you truly enjoy driving.
The tour that I'd recommend is the San Juan Scenic Puerto Rico Instagram Tour. This tour will take you to the following locations:
Old San Juan Historical Sites (Highlights)
El Yunque National Forest
Secret Locals-Only Beach
Dinner at the Beach
Once you get back from exploring El Yunque, I recommend heading to bed early to get ready for an early day.
Click here to book the San Juan Scenic Puerto Rico Instagram Tour!
Day 3 | Day Trip to Vieques
Vieques is a lovely little island off the coast of Puerto Rico that is well known for having some of the best beaches in the whole of the Caribbean. There are white and black sand beaches there and plenty of opportunities for excellent snorkeling. Some of the beaches worth exploring include Playa Negrita (the black sand beach) and La Chiva Beach, which is most known for great snorkeling opportunities. There are also historical sites to check out here as well.
Once in Vieques, you can get around by car rental or get around by taxi (carros publicos) (which is what we did). This is probably the best option if you are short on time.
Getting to Vieques from San Juan
Option 1 : Drive to Vieques
On the morning of your 3rd day in Puerto Rico, rent a car and head for a drive to Vieques. The trip to Vieques has a few layers. First, you'll need to drive to Ceiba (~a 2 hour drive) where you'll then buy your ticket for the ferry for the trip over to the tiny island of Vieques.
Departures from Ceiba to Vieques can be as early as 4:30AM, so you'll need to think through how long you'd like to stay at the island before you head there. Note that the last ferry back to Ceiba from Vieques leaves before sunset. For the most current travel schedule, visit the Puerto Rico Ferry website.
Costs: It is roughly $8/day to park at the Ferry station, and the tickets are $4 round trip.
When to Book: Know that there are online tickets available, but they run out quickly. You'll need to book at least several weeks out. The good news is that there are tickets they hold for in-person booking. But note, you'll need to stand in line to obtain these tickets. This is something you'll have to factor in when driving over to Ceiba.
Option 2: Take a Tour to Vieques
This From San Juan: Vieques Snorkeling Tour includes pickup from your hotel in San Juan and all the coordination needed to get to the island. It is certainly a pricier island, but can be helpful for those who like "easy travel".
After spending the Day at Vieques, head back to San Juan for your last night staying in your hotel by the beach.
RELATED: Where to Eat in Havana
Day 4 | Beach Day in San Juan
On your last day in Puerto Rico, stay in a hotel by one of the local beaches. I recommend staying in either Condado or Isla Verde as there are many amenities in both areas. Relax by the beach, shop, or eat during your last hours of vacation.
If you have time before your flight, I recommend eating dinner or lunch at Mario Pagán. It's a more high-end restaurant, but has delicious food options, and is a great way to top off the trip. Note: This is a pretty popular restaurant, so you should plan on making reservations at least a week early.
What to Do if You Have More Time
If your 4 day Puerto Rico itinerary gets (happily) extended, I recommend exploring in Vieques for more time, and doing a Bioluminescent Bay Tour while there.
In addition, you should also consider traveling to the west coast of the island, and stopping at wonderful sites like Gozalandia (local waterfall hangout) and Rincon, which is known for some of the best surfing beaches. If you prefer to travel areas where there are fewer tourists, this is the best part of the island for you.
Old San Juan City Map
For your reference, here is a map of key locations in Old San Juan. The city is quite walkable, but do plan to have water on hand for a few hours of strolling around.
San Juan National Historic Site
San Felipe del Morro Castle
Casa Blanca
La Fortaleza
Catedral Bascilica Menor de San Juan Bautista
Calle de la Fortaleza
Castillo de San Cristobal
Final Tips | 4 Day Puerto Rico Itinerary
That wraps this 4 day Puerto Rico itinerary. Here is just a quick recap of tips to keep in mind when you visit the island:
Don't visit during Hurricane season to avoid rainy weather (and worse). Consider traveling between late November to April
If staying in Old San Juan, don't rent a car until you are planning to travel outside of the area, as parking in this area is very challenging
See more of the island than just San Juan. San Juan is such a small part of the island – there is much more beauty to explore, even if you do not have a lot of time to travel there
Book your ferry tickets early if you plan to Vieques (or Culebra); the online tickets go fast, and no one enjoys waiting in line for the in-person tickets
I hope you enjoy your trip to Puerto Rico. If you have already been there, let me know of any other places you'd recommend people check out in the comments below!
Related Posts: