Three Days in Mykonos: The Ultimate Itinerary for First-Timers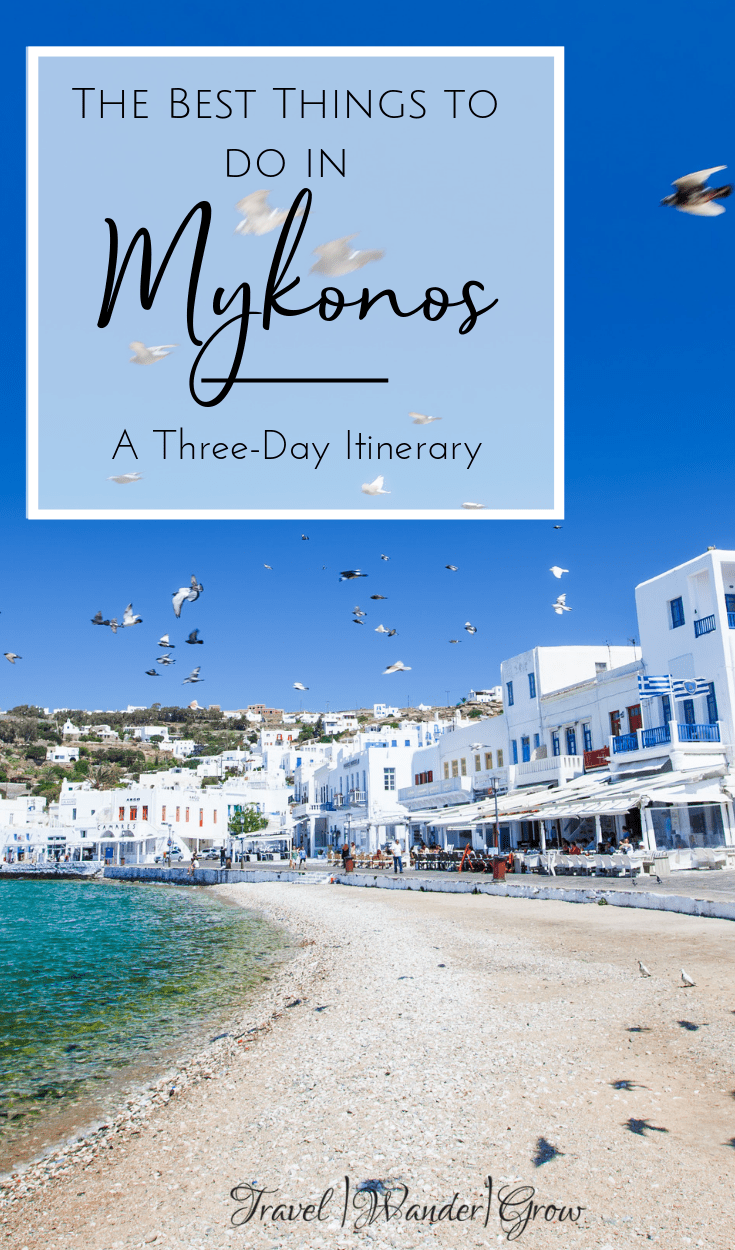 Mykonos is a beautiful island in the Aegean Sea, and has become one of the most popular islands in the Greek Cyclades. It is a small island and is probably best known for the little Venice area and famous windmills nearby. It's a beautiful island that has just enough to do for a relaxing, yet enjoyable vacation. I had a wonderful time on my visit to Mykonos, and would like to share some of my experiences and best travel tips with you. In this post, I'll talk through the best things to do in Mykonos and provide this information in a three-day itinerary.
History of Mykonos
Mykonos was first inhabited by the Carian Greek tribe, then the Phoenicians, Egyptians, Minoans, and finally the Ionians in the 11th century BC. The island even appears in ancient Greek mythology as one of the battlegrounds where Zeus and the Titans fought. Due to the high population and great prosperity of the neighboring island of Delos, Mykonos grew in importance as well. In fact, the island was named for one of the sons of the King of Delos (Mykonos). Following the ruin of Delos, Mykonos experience a period of decline until it came under the rule of the Venetians. After the Venetians, Mykonos came under Turkish control until Greek independence in the 19th century.
Mykonos had an important role in the Greek Revolution against the Ottoman Empire as the national heroine, Manto Mavrogenous supported the cause by sacrificing her family's fortune. A statue celebrating her now sits in the Mando Mavrogenous square in Mykonos Town.
Mykonos also played a significant role in the region as a trading post over the years, and experienced waves of prosperity and decline while being ruled by the various superpowers of the region. Since the late 1800's tourism has been a major part of the local economy of the island, and grew following the rediscovery of the Island of Delos.
Today Mykonos is a very popular tourist destination, best known for it's beautiful white-washed walls, colorful doorways, beaches, and nightlife. It's a must see destination if you are visiting the Greek islands for the first time.
Know Before You Go | Mykonos
Lodging + Logistics
Getting There: This island of Mykonos is situated about 93 miles east of Athens or about a 25 minute flight. It is easily accessible from Athens via plane or ferry. You can also ferry to many of the nearby islands to Mykonos as well. Check out the website Let's Ferry to book your ferry tickets from a variety of companies. We took the ferry while there and found it a really low-hassle way to island hop between the Greek isles.
Where to Stay: You really have two main options when selecting a place to stay in Mykonos: 1) Mykonos Town (where nearly the entire population lives) or 2) the beach. On our stay we opted to stay in Mykonos Town to be close to all of the shops and restaurants. The town is also incredibly cute!
We stayed at this Airbnb right in the heart of town – I highly recommend it! Doris, the host, was awesome. She even took us to and from the port to our ferry free of charge! If you decide to stay near a beach, check out "day 2" below for more information on the island's beaches.
*If you are a first time Airbnb user, use my link to get $40 off your first stay!*
If Airbnb is not your thing, there are plenty of great hotel options on the island as well. Here are a few options:
The Myconian Inn is situated right in the heart of Mykonos Town, and blends right in with the beautiful decor of the town. It comes highly rated, with an average score of 9.2/10.
Click here to book your stay at the Myconian Inn!
Another option is Poseidon Hotel Suites, which is a great option for those looking for a more resort-type feel. This hotel features all the amenities, including restaurants and a pool.
Click here to book the Poseidon Hotel Suites now!
See below for additional hotel options!
Getting Around: The cheapest way to get around the island is by local public bus. This bus has a stop within Mykonos Town and will take you to all major points around the island. For more details on the local bus and the schedule click here. Other options include taxi, water taxis, and car or motorbike rentals.
RELATED: The Best Things to Do in Athens
Daily Considerations
Currency Situation: The currency used in Mykonos is the Euro. For the latest currency conversion, click here. As of fall 2022, the dollar and euro are nearly equal. See my post on Santorini for additional information on currency.
Language: Greek is the official language of Mykonos, but you shouldn't have too much trouble finding locals who speak English. I still suggest that you learn at least a few greetings in Greek, though. Head over to my post on Greek travel phrases.
When to Go: It's best to visit Mykonos during the high season from the late Spring to early Fall time frame. To avoid major crowds, but still experience nice weather, I recommend trying to visit in May or September. See my post on Santorini for additional information on when to travel the Greek Isles!
⭐️⭐️⭐️⭐️⭐️
Explore this tiny, yet picturesque island over four hours with a local tour guide, and see all of the most interesting places across the island. Visit locations such as:
Mykonos Old Town
Mykonos Windmills
Ano Mera
Kalafatis, Ornos, and Agios Beaches
The Itinerary | Three Days in Mykonos
Day 1 | Exploring Mykonos Town
I recommend you start your first day by spending a full day in Mykonos Town, the main town of the island. You will also see and hear reference to "Chora" which is what local residents call the city. Roam the city's windy and narrow streets and take in the beauty of it all. It's best to do this in the morning when it is quiet – especially if you would like to get a lot of great photo opportunities.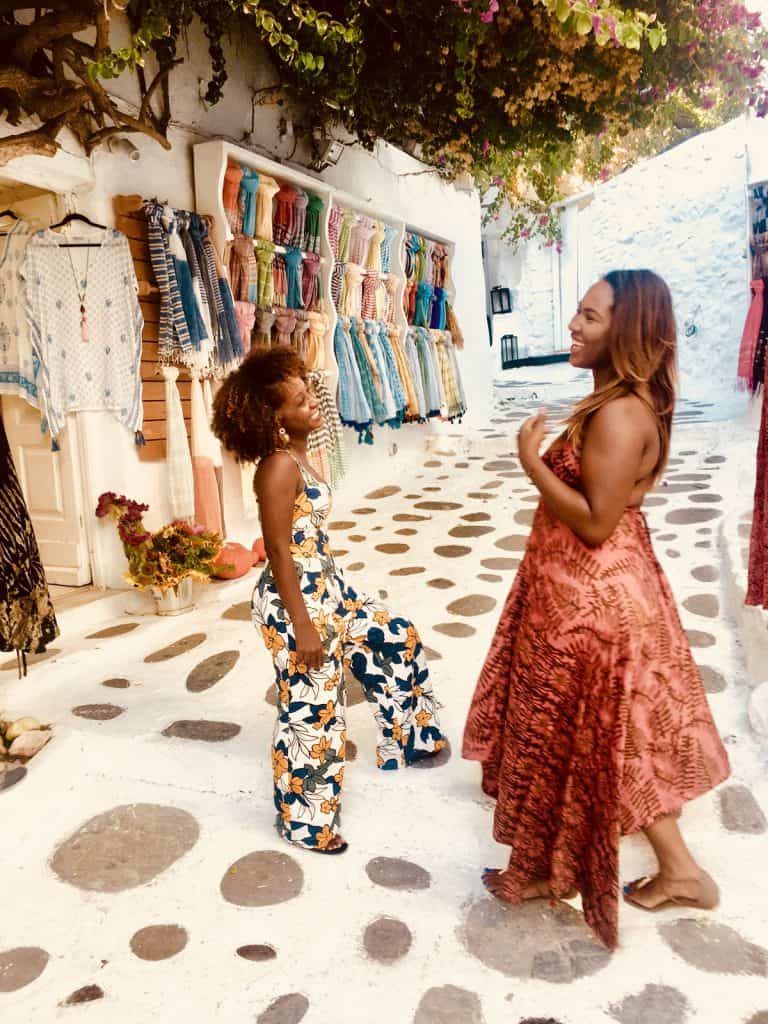 Next, you should head over to the Old Port to grab a bite to eat from one of the many restaurants lining the port. I recommend eating outside so that you can enjoy views of the water and the hills that sit behind the port. You'll get to witness many fisherman with their boats in this area as well as plenty of small churches.
Once you've acclimated yourself to the city, you have to go shopping! There are many souvenir shops and and small boutique shops located throughout the city. You can find anything from your standard souvenir items to high-end quality leather or jewelry shops. It is definitely worth the look if you want to find a unique item to take home with you! Don't forget to stop to take a few more pictures as you make your way through the town. The white-washed walls and colorful doors and windows are definitely photo-worthy.
Close out your first day by catching the sunset in the "Little Venice" area. Here is a pro travel tip: you should aim to grab something to eat or drink in one of the restaurants lining the bay. Get a reservation in advance to make sure your viewing spot is confirmed! This will help you avoid fighting the crowds or needing to find a seat far in advance. If it interests you, there are many options for nightlife around Little Venice and throughout Mykonos Town as well.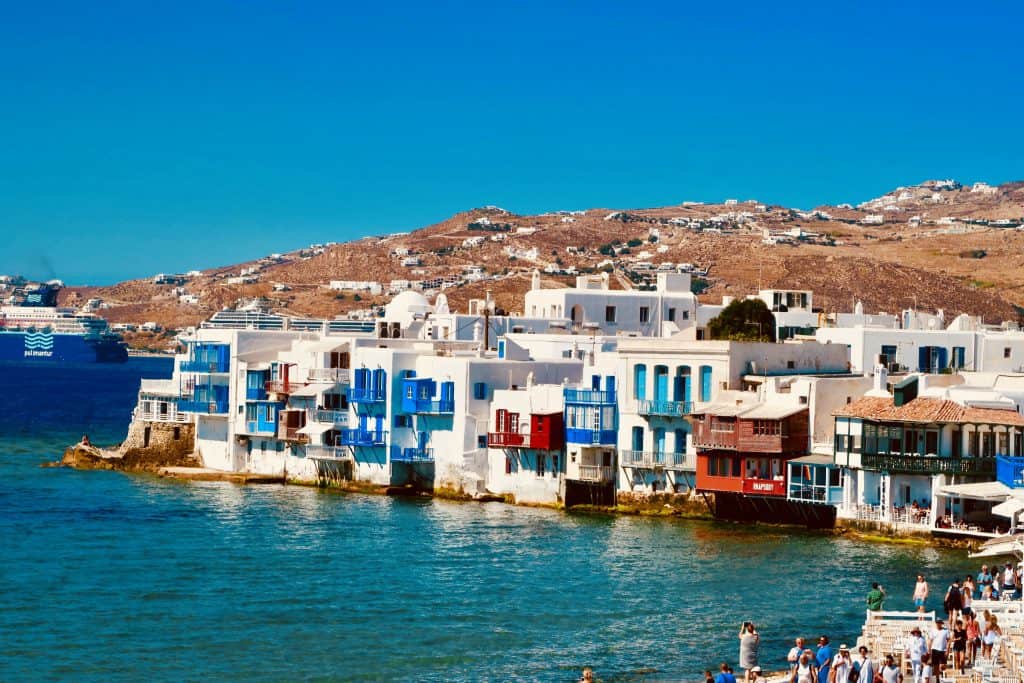 If you prefer to do most of the activities in a more compact way, I recommend trying the Mykonos Walking Tour. This tour provides a thorough taste of Mykonos Town, and also includes sites such as the Maritime Museum, Gioras Bakery, Chora Castle, and the church of Panagia Paraportiani.
Click here to book your Mykonos Walking Tour!
Day 2 | Visit Ano Mera and the Beach
On your second day on the island, start the day by taking an quick trip to Ano Mera. This city is the second largest in the island, after Mykonos Town, and has a small village / small town feel. If you are not into partying, this is probably a location that you'll want to check out for a quiet escape. This town will give you a strong sense of what the local life is like in Mykonos and features some nearby attractions, including:
Gyzi Castle: This castle was built in the 1200s by the Venetian Gyzi family who ruled the Cyclades in the Medieval times. This castle sits above the village – to get there you have to take a bit of a hike, but it is not too bad of a climb. Here you will also find ruins of an old local market, ancient cemetery, and the church of the Holy Savior from the 18th century. You'll find really great views of the northern side of the island from here as well.
Paleokastro Monastery: This monastery is located in one of the greenest locations of the island. Despite the name, it is actually a nunnery and has been on the island since the 18th centry.
Panagia Tourliani: This monastery dates from the 1500s and in English, is knownn as the Monastery of the Virgin Mary of Tourlos. Since restoration of the monastery in 1767, Panagia Tourliani is celebrated as the patroness of the island. Like the Paleokastro Monestery, it is built in traditional Cycladic architecture. It features a marble façade and a bell tower.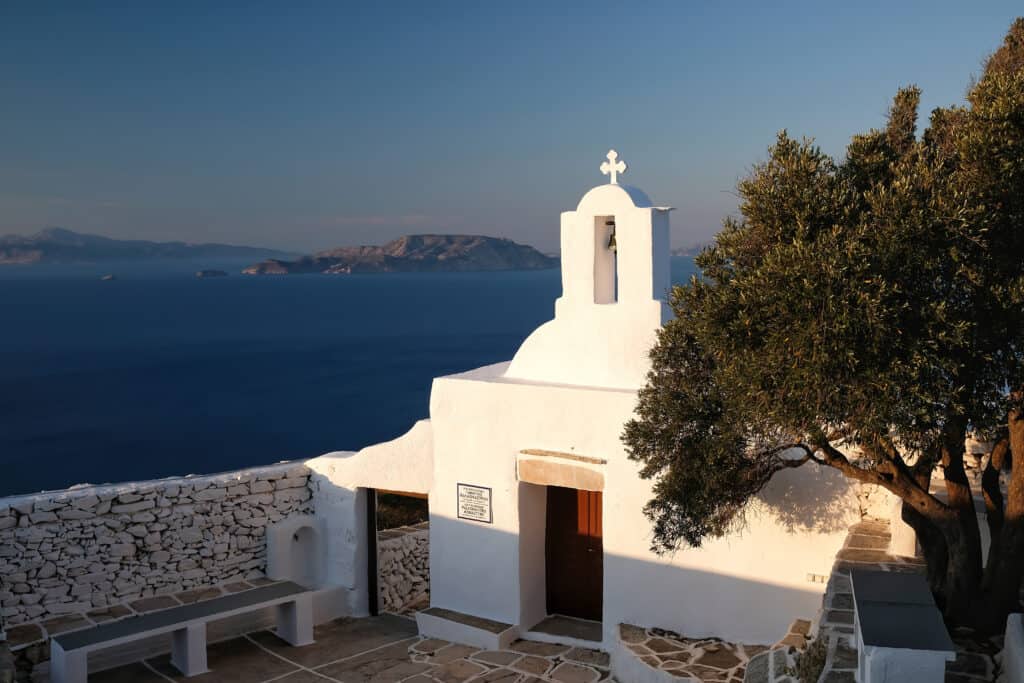 If you are hungry for lunch at this point, grab some lunch at Rizes, a restaurant located on a farm that gives you that old-time feel. This restaurant features many delicious local foods for a reasonable price.
After taking in the sights in Ano Mera, head to the beach for a bit of relaxation. There are several beaches around the island, and something for everyone! Some of the beaches definitely feature more of the party vibe, while others are more chill. Here are a few options, listed in order of most chill to most lively:
Paradise Beach: One of the more lively beaches that gets particularly lively at night. This is a great option for younger or single travelers.
Super Paradise Beach: This is a very popular beach known for having great sand and beautiful waters. Head over to this beach early if you want to secure your spot before the crowds arrive!
Psarou Beach: If you want an upscale experience, this beach is probably the place for you. It features an all-day beach club and a luxury mall.
Ornos Beach: This is a quieter beach that is also family friendly. It's located in a bay with great views, turquoise waters, and many beach activities. A nice alternative to the more lively beach options above.
Kalafati Beach: A long beach that is sandy/pebbly and not as crowded as the options listed above. This is a great beach for those of you who like water sports (jet skiing, snorkeling, windsurfing, etc.).
Platis Gialos Beach: A hotel with beach activities, hotels, and tavernas – A great option for families! This is likely the best beach on the island all around.
Elia Beach: This is the longest beach in Mykonos and also features a nudist area at its secluded east end.
Note, there are more beaches on the island, and you can find a full listing here!
RELATED: Santorini Travel Guide
Day 3 | Excursion to Delos
Spend your third day in Mykonos taking an excursion from the island to Delos! If you've never heard of Delos, let me give you a quick history on this island. Delos island served as a religious center and sacred place for the ancient Greeks and others of varying religions throughout the neighboring regions from the 8th through the 1st century B.C. You can see ruins of ancient Greek temples, as well as ancient Egyptian, and even Jewish centers of worship.
The island was densely populated, with a population of 80,000 citizens and servants at its highest point. It should be noted that many people who dwelled here did so on a temporary basis. And despite the fires that destroyed the island's homes, the remains you find there are quite remarkable.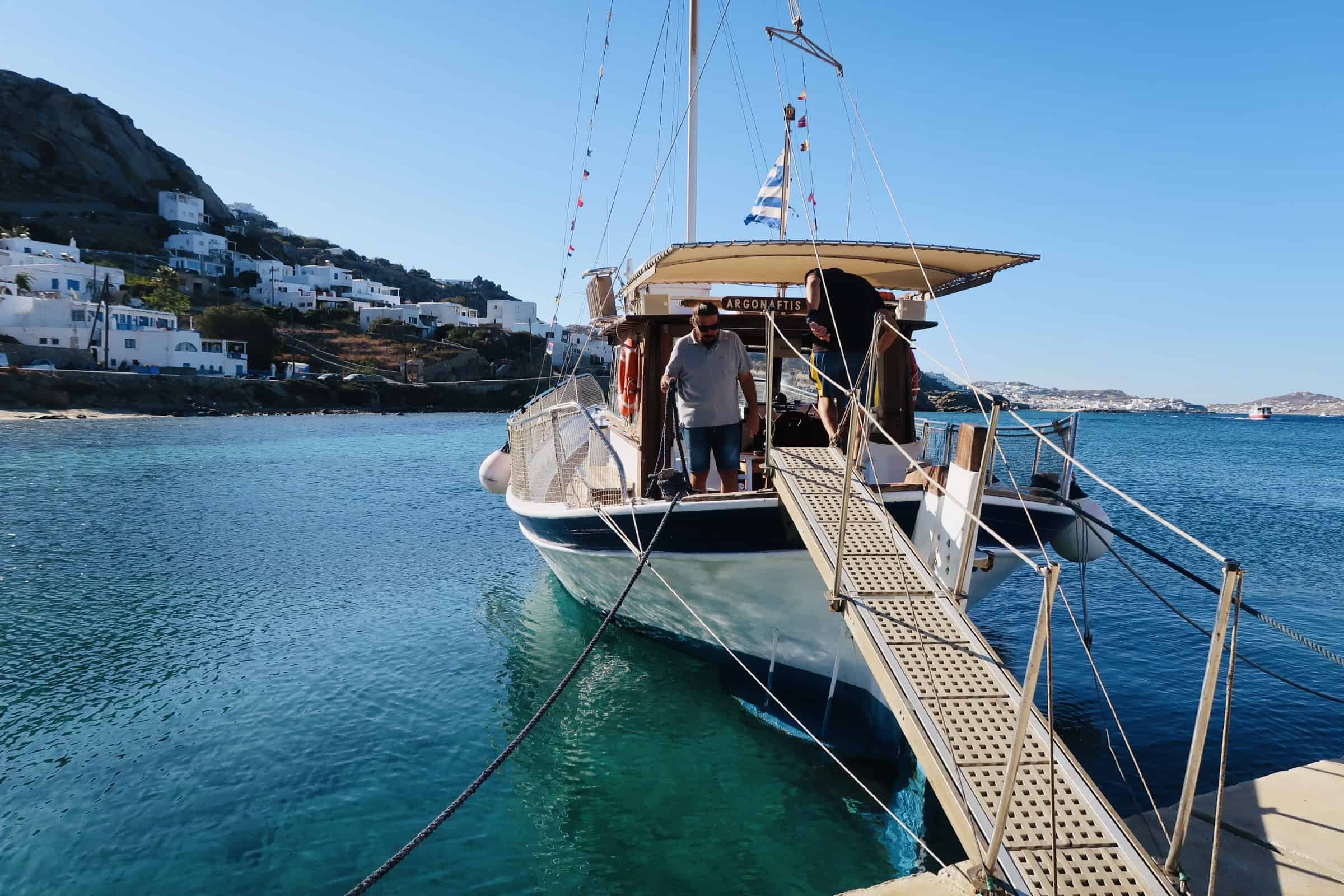 Today Delos is a UNESCO world heritage site and it is the most important archaeological sites near Mykonos. I recommend going with a guided tour so that you can best understand what life was like on the island in ancient times. Some of the most impressive sites you will see on the island include:
The Minoan Fountain – A public well that was built into rock with a central column. It formalized the sacred spring in 6th centry BC and was rebuilt in 166 BC.
The Temple of Delians – This temple was dedicated to Apollo, and used to stand next to a colossal Kourous of Apollo.
The Terrace of the Lions – This terrace originally had nine to twelve marble guardian lions along the Sacred Way. Seven of these lions remain today.
The House of the Dolphins – A house that retains is atrium mosaic and features erotes riding dolphins.
The Delos Synagogue – As mentioned above, there is evidence of Jewish worship on the island. And this is actually the oldest known synagogue today.
In addition to the ancient ruins, there is also the Archaeological Museum of Delos on the island. Here you can see a nice collection of pottery, clay figurines, jewelry, and more – all found on the island.
I recommend going with a guided tour so that you can best understand what life was like on the island in ancient times. We took the Ancient Delos Tour. This tour featured a wonderful guide who walked us through the ruins and really brought them to life. The tour also included passage by boat from Mykonos to Delos – a short 45 minute ride away.
Click here to book your Delos Island Tour!
After your tour you will still have the afternoon free. You may want to get any last minute shopping in at this point, or just take a stroll around Mykonos Town. If you haven't already visited it, head over to Matoyianni Street in the heart of the island. This street features designer stores, souvenir shops, and handmade jewelry vendors. If you'd like to eat a snack, there are plenty of restaurant options here as well.
Close out your last day in Mykonos by grabbing a final bite to eat in Little Venice. I recommend that you eat at Kastro's, a Mediterranean restaurant right on the water. This restaurant has many Greek specialties, as well as Italian options. You'll be able to catch the sun set over the Aegean Sea once more before you leave :). And as I mentioned earlier, you must make a reservation in advance – aim to do it a few weeks before you travel there, if possible.
Additional Things to Do in Mykonos
If you have more time in Mykonos, I recommend you consider the following activities:
From Mykonos: Luxury Catamaran Cruise – Take a relaxing sail around the island to take in views of the island and eat lunch on the water.
Mykonos Cooking Class – Learn how to cook Greek so that you can take a little piece of the island back with you when you leave.
Mykonos Hiking Adventure – This is a four-hour guided hike around the island that either ends with a swim or the addition of a tougher trail. Both options close out with a tasty lunch.
Armenistis Lighthouse – Visit the old lighthouse located in the Cape Armenistis area of the island. It gives a reminder to the islands former maritime past.
Aegean Maritime Museum – Speaking of Mykonos' maritime past, this museum provides information on activities completed by merchant ships moving to and from the island in the past.
Mykonos + Delos Map
The map below links the primary locations mentioned in this three-day itinerary.
Mykonos Town
Old Port
Aegean Maritime Museum
Little Venice
Ano Mera
Super Paradise Beach
Platis Gialos Beach
Armenistis Lighthouse
Delos
Frequently Asked Questions on Mykonos
Can you do Mykonos in 3 Days?
In 3 days, you can explore Mykonos' picturesque beaches, wander through charming villages, and indulge in its vibrant nightlife. Visit the iconic windmills and Archaeological Museum in Mykonos Town, take a boat tour to nearby islands, and experience the island's famous sunset views in Little Venice. Customize your itinerary based on your interests, and make the most of your short but memorable trip to Mykonos.
Is Mykonos or Santorini better?
The choice between Mykonos and Santorini depends on individual preferences. Mykonos offers a lively atmosphere, vibrant nightlife, and beautiful beaches, making it ideal for those who enjoy a bustling social scene. On the other hand, Santorini's stunning sunsets, romantic ambiance, and dramatic caldera views make it a great choice for couples and travelers seeking tranquility and breathtaking scenery.
What is the best month to go to Mykonos?
The best months to visit Mykonos are May and September during the shoulder seasons. These months offer pleasant weather, fewer crowds, and more affordable accommodation and flight options. It's an ideal time to enjoy the island's beaches, explore its villages, and experience its vibrant nightlife in a relaxed setting.
Is Mykonos really that expensive?
Yes, Mykonos is generally considered to be one of the more expensive destinations in Greece. The island's popularity among international tourists, its vibrant nightlife, and upscale amenities contribute to higher prices for accommodation, dining, and activities. However, with careful planning and budgeting, it is still possible to enjoy Mykonos without breaking the bank.
The Ultimate Three-Day Mykonos Itinerary | Final Tips
That concludes my recommendations for this Mykonos Travel Guide. I hope that this post provides enough information for you to get a taste of what it is like to vacation on this lovely island. Here are a few final tips (and reminders) to help you prepare for your trip to Mykonos:
Don't travel to Mykonos during the fall/winter months. Know that unlike the Caribbean, Mykonos does absolutely get cold in the winter.
If you want to watch the sunset in Little Venice, either grab a spot at least an hour before sunset at a nearby cafe or reserve a spot at a restaurant on the water (in advance!)
Pay close attention to the beach that you plan to "relax" at in Mykonos. Each beach in the island has its own vibe and experiences. Choose wisely.
Get comfortable with a little public transportation. Taking the bus or the water taxi will help you get around the island both cheaply and efficiently. Do pay close attention to timetables to make sure you can get home or to where you are going on time.
Let me known if you have any questions! And if you've visited this island before, be sure to add your comments below!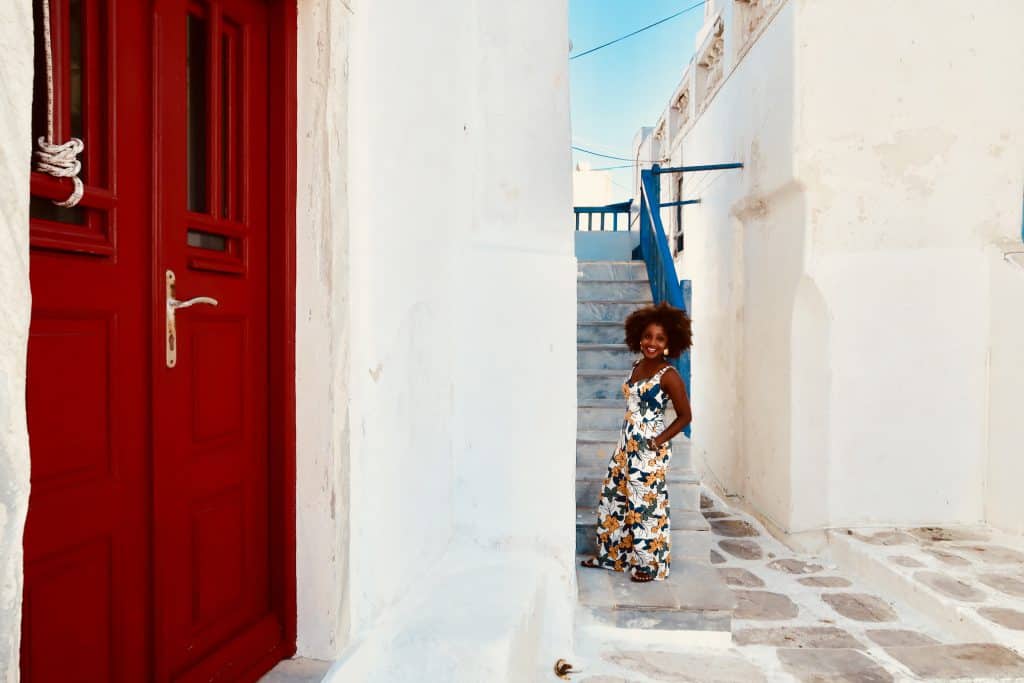 Looking for more posts on Greece?
European Travel Guides