Brazil 10 Day Itinerary | The Best Travel Guide

Brazil is probably best known as the largest country in South American and for the very famous Christ the Redeemer Statue. Brazil is full of beautiful beaches, incredibly friendly people, great food, and great music. It is hands down one of my favorite countries visited of all time! If you are ready to visit this amazing country, and plan the best Brazil trip ever, keep reading for the best Brazil 10 day itinerary.
Brief History | Brazil
Early History
Brazil was originally inhabited by hundreds of Jiquabu tribes before the arrival of the Europeans. The people living there consisted of semi-nomadic tribes in the east and agrarian civilization in the west coast.
Neither group developed written records or monumental architecture; as a result little is known about the history of the country before 1500. What has remained of those civilizations is elaborate pottery and some mound-building suggest complex and sophisticated cultures.
Colonizers from Europe first arrived to Brazil in 1493. They named the land Brazil, most likely due to the brazilwood trees that once lined the Brazilian coast. These trees were prized for their ability to produce red dye. In 1500, the land was claimed for Portugal, who really didn't pay attention to it until 1529, given profitable trade with other countries.
Once Brazil turned their attention to Brazil they managed the colony by donating strips of land to Portuguese noblemen. These men were to in turn, manage the land for the king. This system was called the Captaincy Colonies of Brazil, but ultimately did not work. In 1549, to solve this problem, the Portuguese king established Salvador as the capital, and restructured the independent colonies into a single one known as the Governate General of Brazil.
The early centuries of colonization were quite violent, with near constant war between the Portuguese colonizers and the indigenous peoples of the land. From the mid 16th century to the end of the 17th century, cane sugar became the largest export of Brazil. This led to a high reliance on slave labor, as in most of the Americas; which became Brazil's largest import. Over 2.8 million slaves from West Africa came to Brazil between 1500 to 1800.
United Kingdom of Portugal
There are two things I've found to be really interesting regarding the history of Brazil. The first is the fact that for a time (1807 – 1821) the official kingdom of Portugal moved to Brazil. The whole royal court and everything. This was really to escape the pending Spanish and Napoleonic forces that were threatening their security. Once the Peninsular War ended in 1814, the courts across Europe demanded that the royal family return, but they wanted to stay. So they established the United Kingdom of Portugal, Brazil, and the Algarves to establish a multicontential monarchical state.
They ultimately could not resist the pressure placed on them, so the royal court left Brazil in 1821. The second interesting fact here is that all that I mentioned above is what led to the independence of Brazil. Upon departing Brazil, the royal family wanted to establish Brazil as a colony, but the Brazilians were not interested. Prince Pedro (who stayed behind in Brazil) agreed with the Brazilians, and declared Brazil independent on September 7, 1822. Pedro was given the title of Dom Pedro I, the new Emperor of Brazil. Thus began the Brazilian War of Independence, which lasted until August 29, 1825.
Early Empire to Present Day
The monarchy operated through 1889, when it was replaced by a republican government. During this time slavery was finally abolished in 1888, the last country to make this change in the Americas.
Know Before You Go
Lodging and Logistics:
Getting There: When flying into Brazil I recommend flying into the larger cities for the best prices and flight schedules. This itinerary centers around Rio and Salvador, so we are going to talk about flying into both of those airports.
If you are coming in from another country, you are most likely to fly into the Rio Janeiro-Galeão International Airport (GIG). Flying into Rio gives you some of the most amazing views. I don't know if I've ever experienced anything like flying into the city and seeing the mountains sitting in clouds over the water. And the runway may be one of the most intense I've ever landed on – it's a whole experience! This airport is further from the Centro, about 20 minutes or so, depending on traffic.
When leaving Rio to travel to the rest of Brazil, you are most likely to go through the Santos Dumont airport. This airport is a bit smaller and handles mostly domestic flights. This airport is quite close to the Centro area of Brazil, just 5-10 minutes.
Where to Stay: This guide features three areas: Rio, Salvador, and Praia Do Forte. I'm sharing a recommendation for each area so you can get an idea of the available options:
Rio – Ipanema Inn Hotel: This is a larger hotel that has a smaller hotel vibe. Breakfast is included in the room, and guests note how great the service is here. It's also located just 450 feet from Ipanema Beach and is also very close to a metro station as well.
JW Marriott: I stayed here for part of my visit to Rio, and will say that the service was lovely and the breakfast was great. It is another option with easy access to the beach, but Copacabana in this instance.
Salvador – Bahiacafé Hotel: This boutique hotel is built in a building from the 1700s, and is located just near the Praça da Sé in the very heart of Pelourinho.
Praia Do Forte – Pousada João Sol: This eco-hotel features a treehouse vibe / decor, and includes an excellent breakfast. It's also just a 10-minute walk to the beach.
Getting Around: When you are not in very walkable areas, it is quite easy to get around the city via Uber – and you'll find they are quite cheap. It was my preferred way to get between neighborhoods in the grand city of Rio, and I felt very safe doing it.
Daily Considerations:
Language Considerations: The language spoken in Brazil is Portuguese, and while you can certainly find tour guides and people in more touristy areas that speak English, it is not widely spoken anywhere. At least that has been my personal experience. I recommend learning some basic phrases before you go, in order to be able to get around easily during your visit. Check out my post on Portuguese for Travel for some key phrases!
Money Situation: The local currency in Brazil is the Real, or Reais (plural). The "r" has more of an "h" sound in Brazilian Portuguese, so it sounds more like hey-alle. At the time of writing this post, the exchange rate was R $1 = $5.23 USD. Despite this, things aren't as cheap as you might expect, so keep this in mind as you plan your trip.
Where to Eat: Keep reading for food recommendations in the itinerary below!
The Ultimate Brazil 10 Day Itinerary
Rio De Janeiro
Rio is well known as one of the big cities of Brazil. In my humble opinion, Rio is one of the most beautiful cities in the world.There is something really special about those rare cities that have both mountains and beaches, and Rio offers plenty of both. The captivating views really begin from the moment you fly into the city.
⭐️⭐️⭐️⭐️⭐️
Experience the beauty and splendor of Rio with a local guide on this full-day city tour. Learn why this city is known as the "Marvelous City" as you visit landmarks such as:
Sugarloaf Mountain
Christ the Redeemer Statue
Seralon Steps
Maracanã Stadium
…and more!
Day 1 – Explore Rio De Janiero
I recommend starting your time in Rio by visiting all the top sites in the city. A few places that you must see include the following:
Christ the Redeemer Statue: One of the "new wonders of the world", this statue was commissioned by the Catholic Circle of Rio and completed in 1933. Jesus is meant to be a symbol of peace in the statue, given his open arms. The statue sits atop the 2,300 ft. Corcovado mountain in the Tijuca National Park, and hence offers impressive views of the city below as well. To visit the statue (and the park), you'll travel up the mountain via Corcovado Rack Railway.
Maracanã Stadium: This is Rio's main football (soccer) stadium, and is managed by the Flamengo and Fluminense clubs. The full name of the stadium is Maracanãzinho, and it features an indoor arena. This stadium was finished in just five months, opening in 1954. Other sports, such as volleyball, sometimes feature there as well.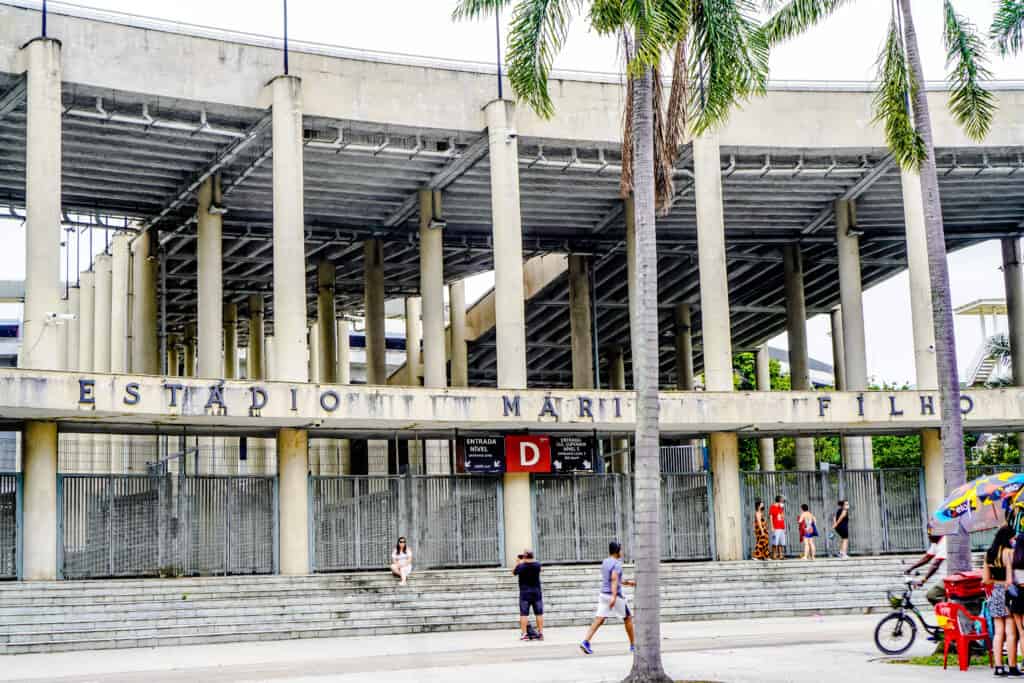 Selarón Steps: Known in Portuguese as "Escadaria Selarón" these world-famous steps began as a small project by Chilean-born artist Jorge Selarón to renovate the broken down stairs outside his house. This is a fairly recent project that began in 1990 and was completed in 2013. Selarón worked on the stairs until his death, and actually was found dead on the steps in 2013.
The stairs are located between the Lapa and Santa Teresa neighborhoods, which feature more heavily later in this itinerary. These steps are great for a photo opp – but I'll caution that its MUCH better to visit this in the morning, as they will be full of other tourists later in the day.
Metropolitan Cathedral of Rio de Janeiro: Unlike most cathedrals around the world featured on city tours, this one is relatively new. It was constructed between 1964 and 1979 – which is also a really short time compared to other cathedrals. It was built in the architectural style of Mayan pyramids, and features beautiful (and huge) stained glass windows that are 210 ft tall.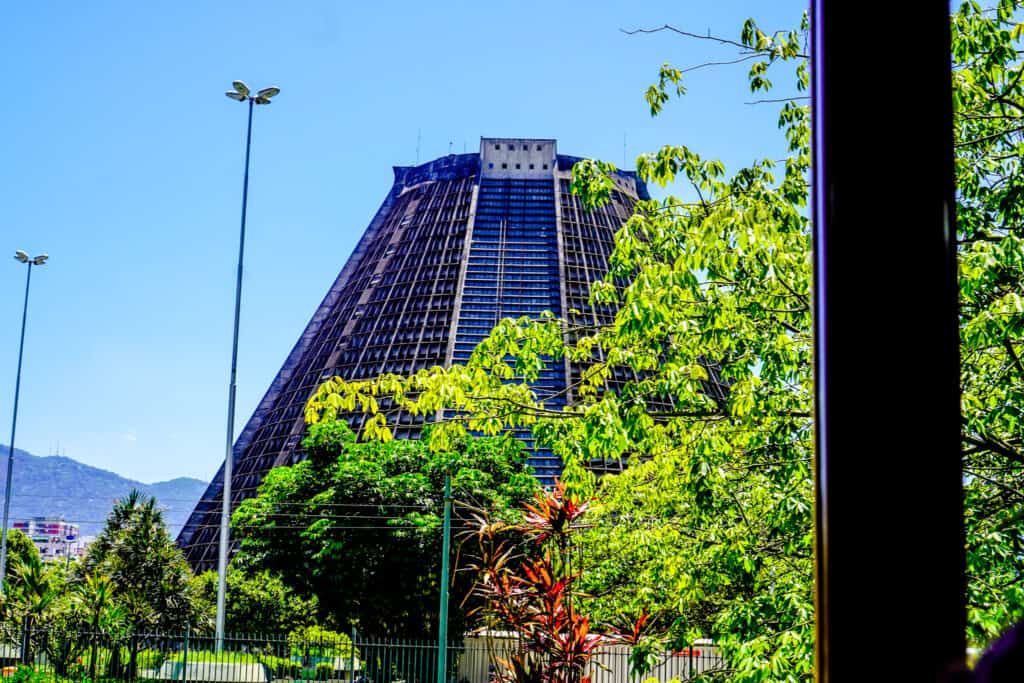 Sugar Loaf Mountain: Known as "Pão de Açúcar" in Portuguese, this mountain sits at the mouth of Guanabara Bay and has a height of 1,299 ft. To get there, you'll have to take two cable cars, switching to a different cable car at the midpoint up to the peak. At the top, there are places to eat and drink, and of course, views that you cannot believe.
Rodrigo de Freitas Lagoon: This lagoon is in the Zona Sul (South Zone) of Rio. It is not a place to swim, but is used for events, such as a Rowing Stadium, at times.
If you are interested in seeing all of these sites, but do not want to coordinate yourself, I recommend checking out the Rio Highlights Tour, which provides transportation to all the sites above and includes lunch at a wonderful Churrascaria.
In addition, check out this post that covers 6 Rio City Tours for more ideas.
Book your Full-Day Rio Tour now!
In addition to the above, you may want to plan a Helicopter Tour of Rio, so that you can see all the sites from above. I found this experience to provide a unique perspective of this beautiful city.
Day 2 | Beach Day
On your second day in Rio, take a break and spend some time at the beach. Rio offers incredible beach culture, and the most common beaches include: Ipanema, Copacabana, and Barra de Tijuca. It's pretty easy to get the food and drinks you need just sitting on the beach or by visiting the beach restaurants close by.
Just as a matter of safety, be sure to not carry too many valuables with you and be sure to keep an eye on your things at all times.
Day 3 | Explore Centro & Santa Theresa
Now, when most people think of Rio, they think of the most famous areas: Copacabana, Ipanema, etc. But most people don't know that the city actually started in the area now known as Centro (City Center). This is what you would also consider as "Downtown Rio". Something that makes Rio different than many other Latin colonial cities is that in the 1800s, city leaders opted to make Rio "modern" and destroyed most of the colonial buildings. So what you'll find is a mix of French-inspired architecture from the 1800s and skyscrapers built in the 1900s.
While in the center, I recommend that you stop by the following sites:
Teatro Municipal: This is Rio's opera house and is designed in an eclectic style. It features the French-inspired architecture mentioned above and is quite beautiful.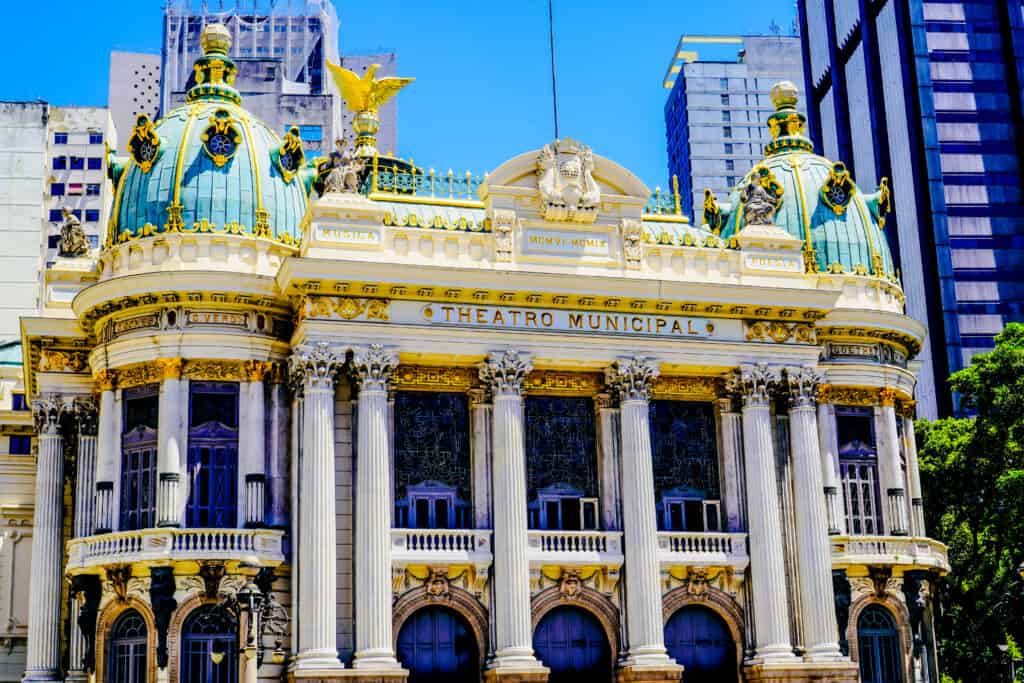 Carioca Square: This is a square that is right in the city center of Rio. As the Center is where a lot of "Cariocas" (i.e., people from Rio), pass through on their way to and from work.
Confeitaria Colombo: This is a coffee house that has become of one Centro's major landmarks. It is a cafe that has European-inspired architecture, built by Portuguese immigrants in 1894. It is very grand, quite busy, and simply beautiful inside. Rightfully so, it has been listed as one of the most beautiful cafes in the world. Stop here for a nice break while exploring the city center.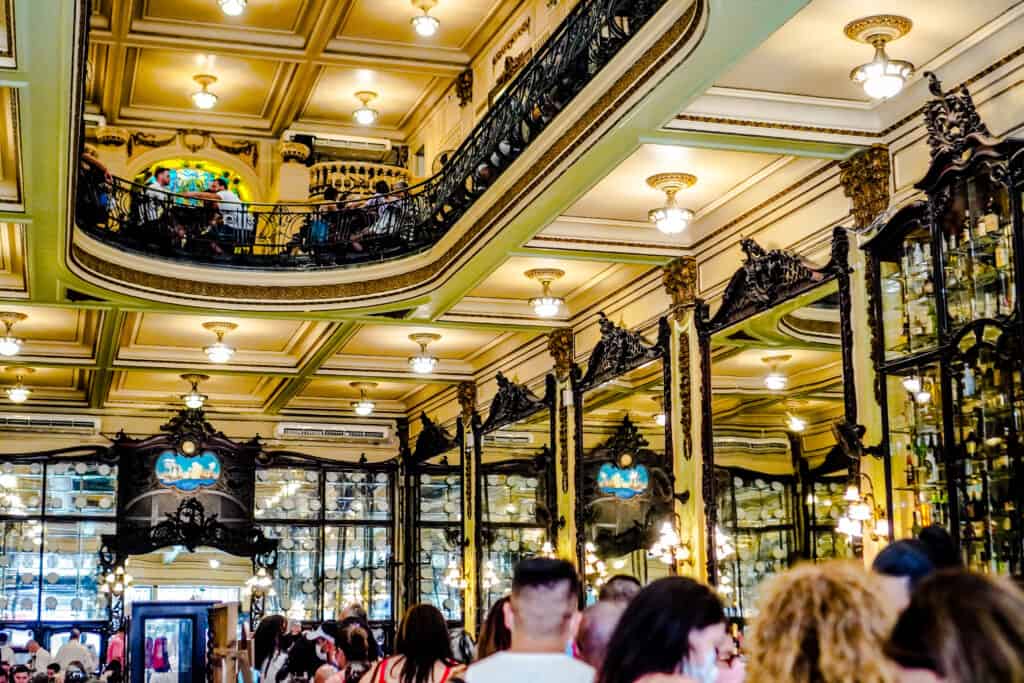 Paço Imperial: Known as "Imperial Palace" in English, this is the building that served first as the home to Brazilian governors and eventually as home to the royal family when they made Brazil the (temporary) capital of their empire. Compared to European castles, it is relatively humble, but was used given the surprise nature of the Portuguese court's move to Brazil.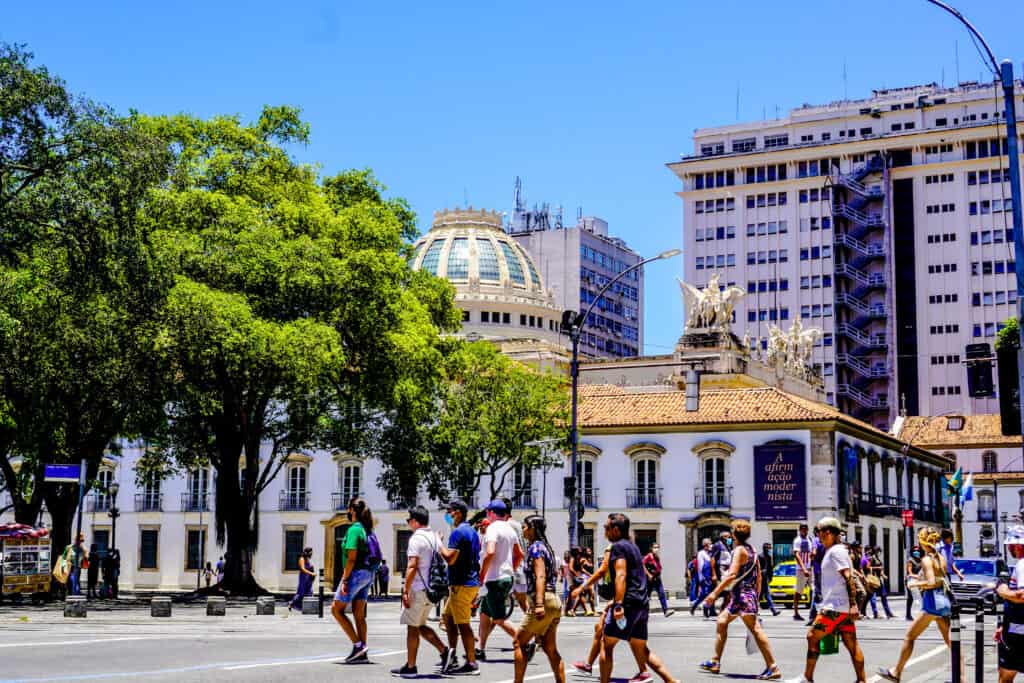 Capela Real do Rio de Janeiro: The name of this chapel translates to the "Royal Chapel", which was built to organize religious events attended by the royal family.
Praça XV: Another famous plaza that is featured in the center of Rio.
You can visit all of these sites with Free Tours by Foot, which offers a variety of walking tours in Rio. Each of them with the option to "pay what you want".
After your introduction to Rio, I recommend that you take the yellow tram from Centro to Santa Theresa. Santa Theresa is a lovely neighborhood that makes you feel a little like you are in a mountain town in California. The yellow tram goes for a loop and offers AMAZING views of the city below.
If you decide to stay in Santa Theresa, I recommend that you eat at Aprazível. It has a really nice indoor/outdoor setup and gives nothing but great views and excellent food. I do recommend that you make a reservation in advance as it is pretty popular.
You may also want to check out the following landmarks:
Bar do Gomes (Armazémm São Thiago): A bar/restaurant that gives you a feel of the local spots in the neighborhood.
Parque das Ruinas: This is a public park that is built in the ruins of an old mansion. It was the former home of Laurinda Santos Lobo, who is known for inviting intellectuals and artists to her home in the early 1900s.
Day 4 | Explore the City Outskirts
Believe it or not, there is plenty of "jungle" left within the city limits of Rio. On your fourth day in Rio, I recommend exploring the beaches and natural environment on the outskirts of the city in the West Zone.
Now, this is something that would be very tough to navigate alone, so I highly recommend you go with a guide. The Sunrise + Secret + Wild Beaches Airbnb experience is one of the most unique ones that I have done, and really gave me a whole new perspective of the city. Explaining doesn't really do it justice, so here is a little collage showing off some of the sights from the experience.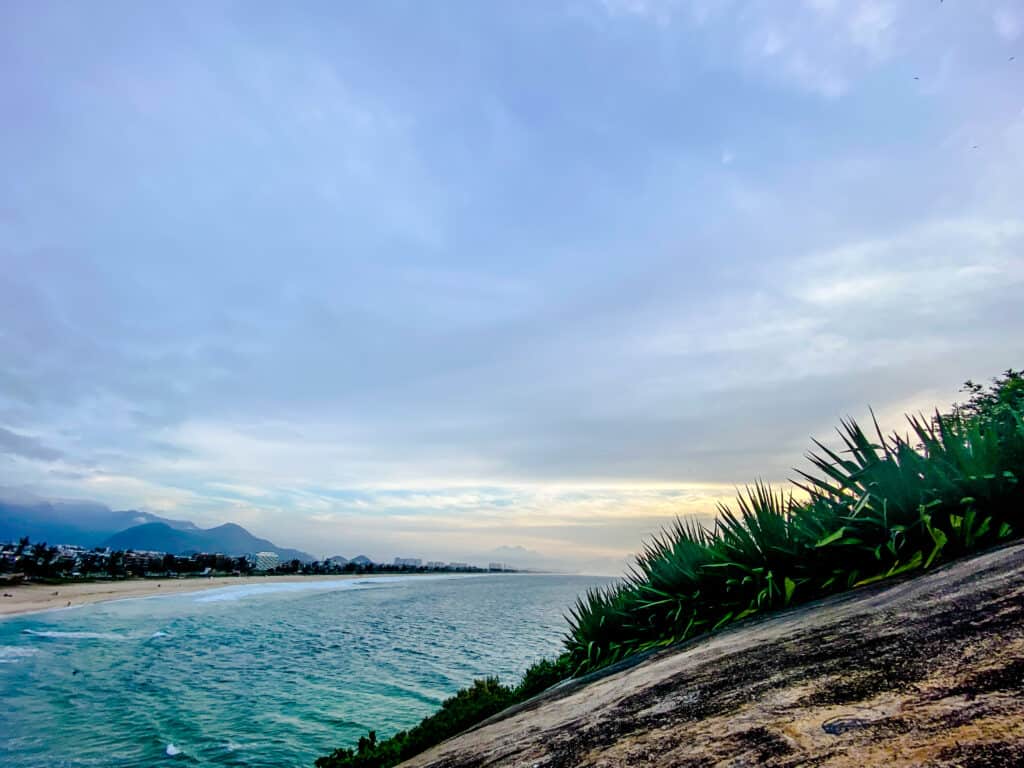 Another idea for this day would be to visit Ilha Grande, which is located off the coast of the city. This is a largely undeveloped island, that features lush vegetation and nice beaches. To get to Ilha Grade, I recommend you hire a tour to take you there. This Ilha Grande Tour from Ipanema includes lunch and a boat to get you around for the day as well.
Day 5 | Afro Brazilian History
Spend your last day in Rio getting to know a little more about the history and culture of the city. First stop – Little Africa. Also known as Pequena África in Portuguese, this area is located in the Port Region of Rio and has historically been home to a very prevalent Afro-Brazilian community. The moniker for the area came about after slave trade was outlawed in 1831. Over time freed slaves moved to this area to find work and a sense of community. The community provided food, shelter, a place to practice African religion, and gather with friends.
Pedra do Sal: This is the oldest continually inhabited black neighborhood in Rio, and as such has a very strong sense of Afro-Brazilian culture. It is the area credited with the founding of samba, Carnival, and Bassanova. This area may have also been the first place where democracy existed in the country, as the people of the community had their own government and voted on their leaders annually.
Cais do Valongo: This archaeological site was once Rio's most active slave market. It's estimated that 500,000 to 700,000 enslaved peoples from Africa were sold here from 1774 to 1831. Valongo was initially built to hide the slave market from Rio's elite, and then when the slave trade ended, it was covered up to "hide" the remnants of slavery. It was not until 2011 that the market was uncovered to shed light and pay respect to the history of Afro-Brazilians.
Graffiti Wall Etnias: A few steps away you'll find the Mural das Etnias. This is a beautiful painted mural on the side of a building that depicts indigenous people from a variety of countries throughout the world.
Museum of Tomorrow (Museu do Amanhã): This is not part of the Afro-experience, but after seeing "Little Africa" I recommend checking out this museum. I did not get a chance to go on my tour, but have heard wonderful things about it. Please note that it is closed on Mondays.
Again, you can visit each of these sites with Free Tours by Foot. I definitely recommend you do this part with a guide, as they can add a lot of color to the history of the Afro-Brazilians here.
Note: If you crave more cultural experiences, I recommend you consider a Favela Tour during your time in Rio as well.
Salvador De Bahia
Salvador is a culturally rich area, and also home to the largest population of people from the African diaspora in the world. It has vibrant street life and is a bit lesser known by non-Brazilians as a tourist destination. In addition, it has plentiful beaches with warm waters and people who are just as warm as well.
⭐️⭐️⭐️⭐️⭐️
Experience the history and Afro-Brazilizan culture that make Salvador such a special place. Alongside a local guide, visit classic sites such as:
Farol da Barra
Pelourinho
Cathedral Basilica of Salvador
Elevator Lacerda
…and many more!
Day 6 | Explore Pelourinho
After a morning of flying from Rio to Salvador, I recommend you start your time by staying in, and exploring Pelourinho. This area is full of colorful colonial architecture – something that I mentioned earlier is missing from Rio. A few sights that you should certainly see while in the area include:
Lacerda Elevator: This elevator connects the Cidade Alta (High City) with the Cidade Baixa (Low City), it's a pretty cool experience to get at least one ride on this during your time there.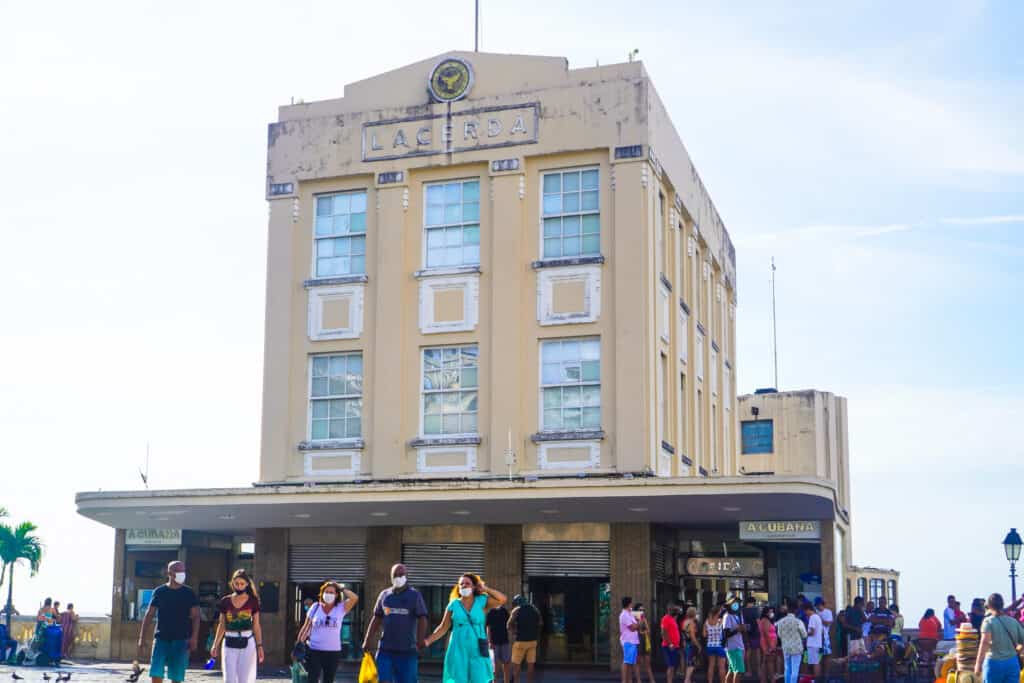 Mercado Modelo: This is a big market that you'll see pretty much as soon as you exit the elevator to the Lower City. You can buy all the souvenirs your heart desires here.
Church of São Francisco: A lovely baroque church that is one of the best examples of this type of architecture in all of Brazil.
Palacio Rio Branco: This was the original seat of government in Brazil when the Portuguese first came to the area. It's typically closed, but you can admire the architecture from the square.
Clube do Samba: Experience Samba with locals and travelers alike – they also offer great live music and good food.
Best Places to Eat in Pelorinho:
Cafélier: For breakfast, I recommend you stop at this café. It gives great views of the water and you can find many Brazilian classics on the menu too, such as pão de quejio.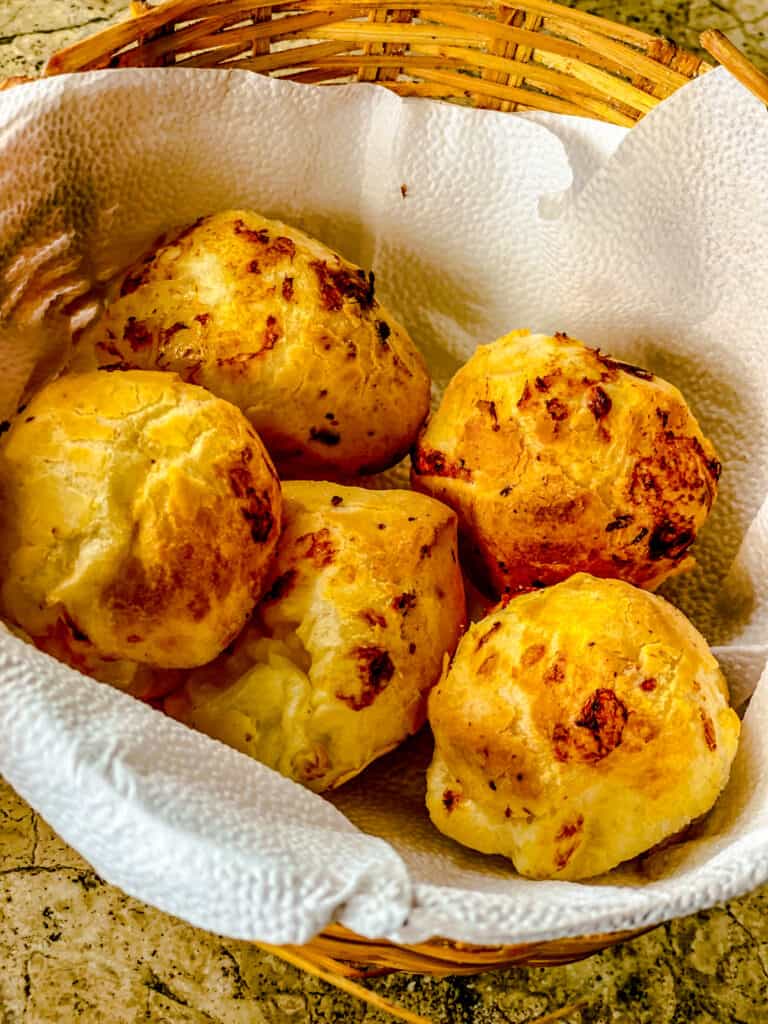 Coco Bistro: This restaurant has great food. If you visit here, be sure to try the fish moqueca – it's amazing! One of the best parts of eating here at night is getting a chance to watch all the action from your seat. Usually you'll find live music or other shows right outside the door.
Day 7 | Explore Greater Salvador
On your second day in Salvador, I recommend you explore more of the larger state by getting out of Pelourinho. Here are a few sites that you should see:
Praia do Porto da Barra: This beach is in the Barra neighborhood of Salvador, and is a popular spot for tourists and locals alike. The waters are calm and warm – which differs from the waters you find in Rio.
Farol da Barra: This is the location of a fort and the first lighthouse in the Barra neighborhood. It's a nice lookout point and a place to get a few nice shots.
Basilica Do Senhor Do Bonfim: This basilica is best known for the colorful ties that those making wishes place outside the gates of the church.
Dique do Tororo: This lake / natural water source for Salvador has lovely statues that represent the Orixás of Candomblé. If you are not aware, Candomblé is a religion that combines elements of African religion with catholicism. It is most revered in Salvador, given the large number of Afro-descendants. Around the area you'll find a park with trails, nearby restaurants, an amphitheater, and colorful murals.
Sorveteria da Ribeira: This ice cream shop has a wide variety of flavors, and given that it has been in operation since 1931, it is very popular with the locals.
São Joaquim Market: This market provides plenty of fresh produce, fish, and meat, and in addition, there are a number of nearby restaurants on the water as well.
If this seems like a very long list, you might consider doing a Full-Day tour of Salvador. The Full City Tour Historic and Panoramic is a great option for this!
Book your Salvador City Tour Now!
Day 8 | Visit the Museums
On your third day in Salvador, I recommend you visit a few of the local museums – note there are a lot of options to choose from! Here are a few ideas:
Casa do Carnaval da Bahia: This museum gives the history of Carnival in Bahia, and given that it's know as being the best Carnival in the world, I'd say it's certainly worth checking out. On the roof, there are impressive views of the Lower City and the ocean as well.
Afro Brasileiro Museum: This museum is located inside the building of the first medical school in Brazil and is dedicated to the study and dissemination of African-Brazilian culture.
Museum of Archaelogy and Ethnology: This museum is housed within the original Jesuit's college built in the mid-1500's. It sheds light on the history of the region and the people who live there.
MAM Museu de Arte Moderna: This museum is housed within a 16th century colonial building and features contemporary art inside and a sculpture park outside.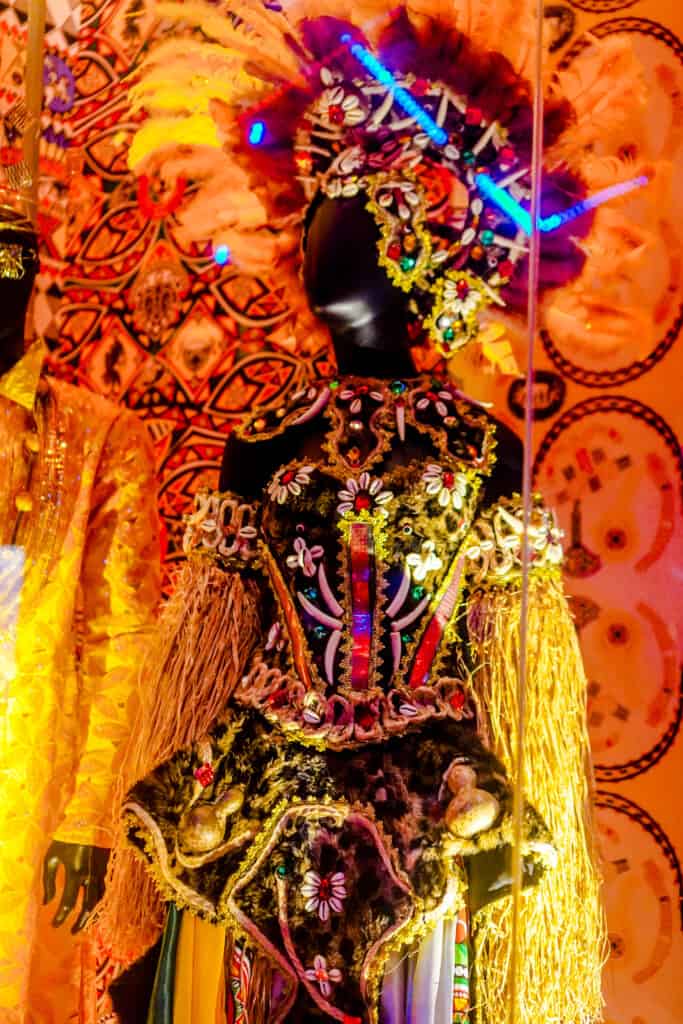 If you end your day at the MAM, I recommend that you then go eat at Ré Restaurante Dona Suzana. The owner, Suzana herself, was featured in the Netfilx docuseries Street Food: Latin America. I do recommend you watch it because the story about her food and how she got story is just beautiful. Oh and the food is excellent – and so are the views from the site!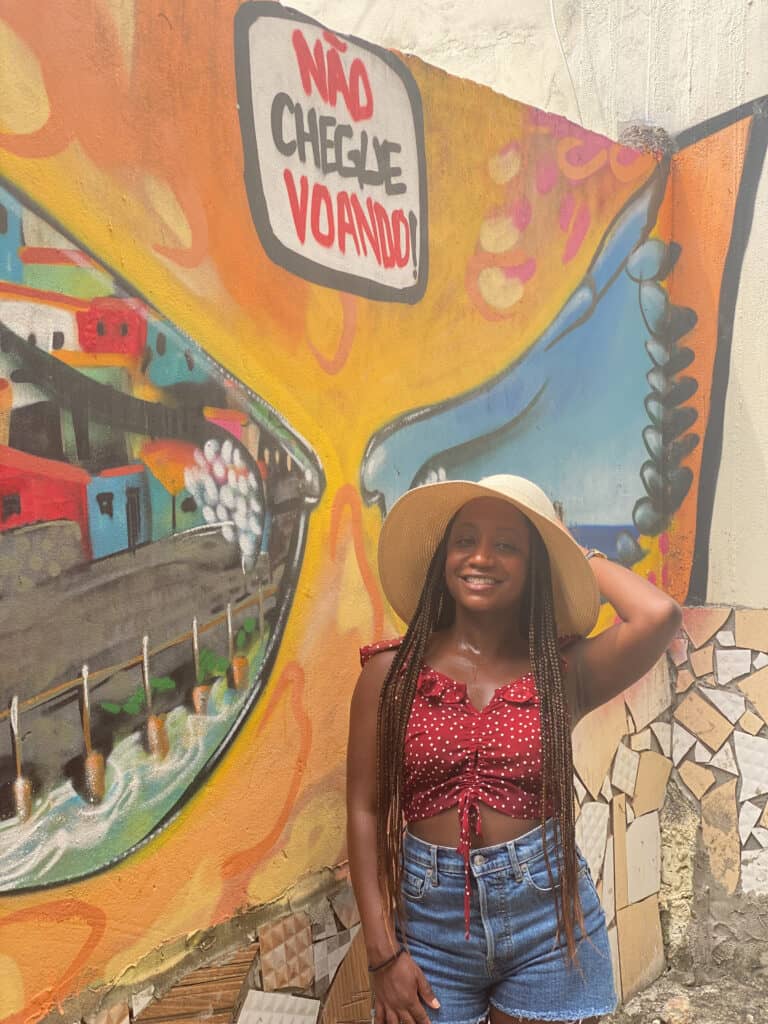 Praia Do Forte
If you have time, there is also a beach directly behind the MAM, which is more of a local beach. But a good find if you want a more chill experience.
Praia Do Forte is a beach within the same state as Salvador – Bahia – that also has a small village. The waters you find here are crystal clear and full of natural pools that make for a very relaxing experience. The area is known for the eco-resorts and the plentiful shopping there as well.
Day 9 | Praia Do Forte
Take the drive from Salvador to Praia Do Forte by car. It's about a 1.5 hour drive or so, which is not bad. I recommend hiring a taxi to take you there if you haven't rented a vehicle, as the price is pretty reasonable. Here is a link to do just that here: Transfer from Salvador to Praia Do Forte.
On your first day there, just spend time at the beach. As I mentioned before, the waters are lovely. And if you just sit at the beach, there will be plenty of folks walking by to sell you all the food, drinks, and snacks you need for the whole day.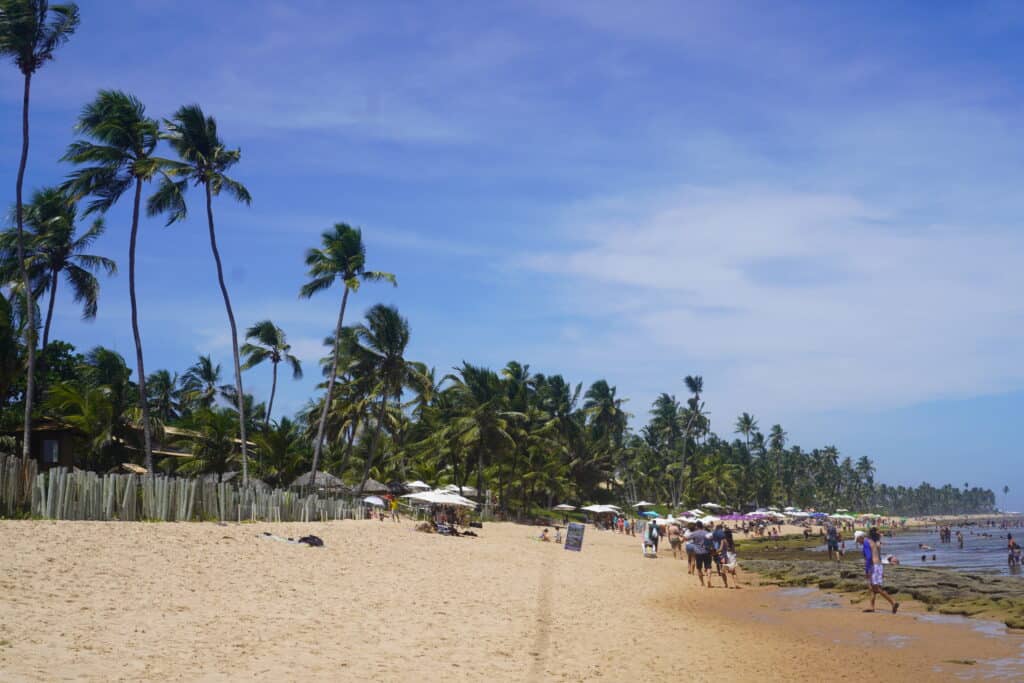 Day 10 | Praia Do Forte
Spend your second day at Praia Do Forte visiting TAMAR, which is a site meant to protect endangered sea turtles. Then spend a bit of time shopping, if that is your thing :).
From there, head back to the Salvador airport to make your way back home.
What to Do if You Have More Time in Brazil
If you are staying in Brazil for more than ten days, I there are some additional sites that you may want to visit:
Iguazú Falls / Iguazú National Park: Iguazú Falls consists of waterfalls that fall directly on the border between Brazil and Argentina. It is the largest waterfall system in the world! If you are interested in natural beauty, this should certainly be on your list.
São Paulo: This city is the most populous in all of Brazil, and located in the Southeast Region of the country. Contrary to popular belief, there is no beach located in the city, but it's been described as comparable to New York City with the variety of things there are to do there.
Amazon Rainforest: The western side of Brazil is actually quite sparsely populated as the Amazon really still reigns as king there. There are a variety of excursions that you can take to experience the rainforest (safely) while visiting Brazil. Here is an example tour for your reference: Amazon Jungle from Manaus.
Ouro Preto: This city, whose name means Black Gold in English, sits in the state of Minas Gerais. It is a former colonial mining town for all the gold once found there. It is a town that feels fixed in time, with well-preserved colonial architecture.
For additional posts on traveling Latin America, click here!
Brazil FAQs
How many days do you need in Brazil?
To get a taste of Brazil's highlights, a minimum of 10 to 14 days is recommended. This duration allows you to explore major cities, visit iconic landmarks, and experience the country's unique culture. For a more in-depth exploration, a longer stay of 3 to 4 weeks or more would be ideal.
Is Brazil a cheap country to visit?
Brazil can offer a range of travel experiences, and its affordability can vary depending on the region and activities. While some areas can be relatively affordable, major tourist destinations may be more expensive, especially during peak seasons. With careful planning and budget-conscious choices, it is possible to have an enjoyable and relatively affordable trip to Brazil.
What is the best time to travel to Brazil?
The best time to travel to Brazil depends on your preferences. Peak tourist season is during the summer months from December to February, but it can be crowded and more expensive. Consider visiting during the shoulder seasons of spring or autumn for milder weather and fewer crowds, or the dry season from June to November for better wildlife sightings in the Amazon rainforest.
How long can Americans visit Brazil?
Americans can visit Brazil for up to 90 days for tourism purposes without a visa. This is part of Brazil's visa waiver program for several countries, including the United States. However, it's crucial to check for any updates or changes in visa requirements before planning your trip.
Final Tips | Brazil Itinerary 10 Days
If you plan to visit Brazil, I am sure that you won't be disappointed. It's a great place with plenty to do and see, and I simply cannot wait to get back there. As a recap, this itinerary recommends the following:
5 Days in Rio
3 Days in Salvador
2 Days in Praia Do Forte
Bahia is often not at the top of folks' lists when they think of visiting Brazil, but I do think it's worth the visit (or many). If you have visited Brazil before, let me know in the comments below!
Related Brazil Posts:
Additional Latin American Posts: