The Ultimate One-Week Ghana Itinerary

I had the wonderful pleasure of visiting Ghana over the New Year and loved my time there! I've always wanted to get a little closer to my roots, and I feel that in addition to learning a lot about a part of my history, I learned a lot about myself. If you are interested in taking a trip to Ghana soon, but don't know where to start (like me), then keep reading! This one-week Ghana itinerary will tell you which cities to visit, provide recommendations on where to stay, and general tips on getting around the country.
A Brief History | Ghana
The land that Ghana currently inhabits was first settled by the Akan people in the 5th century AD. Various kingdoms emerged in the region over the centuries that followed, and the most influential of these was the Ashanti kingdom. Pre-European contact, the economy in the country was primarily based on the trade of gold with other neighboring countries on The Continent. This is what led to the region being called the "Gold Coast" by the Portuguese when the arrived there.
Contact with Europeans began when the Portuguese first came to Ghana in the 15th century, primarily interested in the trade of gold. Soon others from Europe followed, including the Germans, Dutch, Swedes, Norwegians, and much later, the British. Things took a turn for the ultimate worse with the beginning of the Atlantic Slave trade, which started in the region around the same time; capturing people from Africa and taking them to Europe, then moving to taking them to the Americas with the start of trans-Atlantic slave trade in the 1600s.
In the 1800s, the British came to Ghana and fought with the local Akan Kingdom of Ashanti for control over the land in the Anglo-Ashanti Wars. This time of battle lasted for 100 years, and ultimately resulted in the defeat of the Ashanti by the British in the early 1900s. Ghana remained under British rule for over 50 years, but finally gained independence through the leadership of Kwame Nkrumah in 1957. I love this quote by Nkrumah, spoken when Ghana declared their freedom:
"My first objective is to abolish from Ghana poverty, ignorance, and disease. We shall measure our progress by the improvement in the health of our people; by the number of children in school, and by the quality of their education; by the availability of water and electricity in our towns and villages; and by the happiness which our people take in being able to manage their own affairs. The welfare of our people is our chief pride, and it is by this that the government will ask to be judged."
Today, Ghana is known for its emerging economy, technological advancements, and recent strong focus on tourism. Ghana has recently become a major part of the conversation when it comes to travel due to last year's marketing for the Year of Return.
Know Before You Go | Ghana
So let's get right into it. There are a few things you should know before heading to Ghana that will make you super prepared for the journey:
Ghana Visa Application Process
If you are a US citizen, you must get a visa to visit Ghana. Visa applications can be filled in two ways: (1) Visit the Ghanaian embassy closest to you or (2) Send your application in the mail. As you fill out the form, make sure you complete all required fills as stated. Also, you'll notice requests for a lot of very personal information, such as bank account information. In my experience those forms weren't even asked for, but I did bring mine with me to the embassy just in case.
One factor that is really important is the timing in which you get your visa. If you're traveling to Ghana in December, the most popular time of the year, I highly, highly recommend that you get your visa at least two months or so out. I did not do this, and had to deal with ridiculous lines to get my visa. Some people even had to deal with misplaced passports and other foolishness, so just try to avoid all of that.
You can find the form and detailed instructions at ghanavisapassport.com. I found this site to be the most useful and intuitive when looking for instructions.
Vaccines Needed for Ghana
It's REQUIRED that you get your yellow fever shot before entering the country. There have been people turned away from entry for not having this ready, so make sure you visit a travel clinic to get the shot and the required proof. In addition to yellow fever, it's also recommended that you take antimalarial while you are there as well. Especially if you'll be venturing outside of the city into the more rural parts of the country.
Getting to Ghana
Ghana is serviced by the Kokota airport, somewhat central to the city. It's a very nice airport, but can be a hassle to get through, so I recommend you get there 3 or more hours earlier than your flight. If you are coming from the US, there are many carriers that will take you to Accra, and some direct, like the South African Airways flight from DC. To get the best price, I'd try buying my ticket around 5 months in advance of your travel plans.
Where to Stay in Ghana – Accra and Beyond
Accra
La Villa Boutique: This adorable hotel is located in what was formerly the Russian Embassy. It features a freshwater pool, a buffet breakfast, and the restaurant "The Soprano", which offers European fare. This hotel is located in somewhat of an oasis, offering tranquility from the hustle and bustle of the Osu neighborhood – a great place to stay in the city.
The Best Western Accra: Oddly enough, this hotel is quite nice, compared to most Best Westerns I've stayed in the US. This one is located near the airport, which is actually a top location for locals given the traffic that you'll find in the city. This hotel features a spa, a few restaurants onsite, and foreign currency exchange. I had a short, but enjoyable stay here during my time in Accra.
Labadi Beach Hotel: If you want a bit more luxury, a full-scale resort, this is your best bet. Stay here for access to a full-service spa, several restaurants and bars, volleyball and tennis courts, and even a beauty salon!
Elmina
Lemon Beach Resort: This resort offers all the amenities that you desire, but at a more affordable price than you'd find in Accra. In addition to a stay in a cute African villa, you'll find a restaurant, bar, and pool. In addition, the resort can help coordinate visits to nearby attractions such as the slave castles, local cooking classes, and even coordination for a safari in the north of Ghana!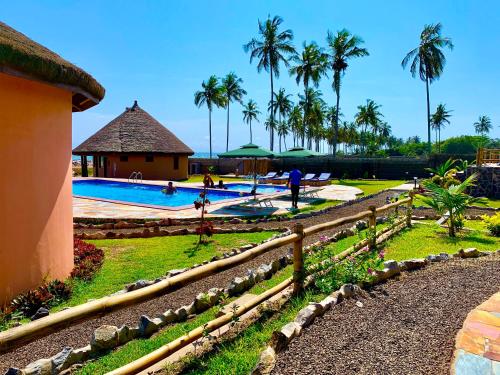 Golden Hill Parker Hotel: This hotel offers a restaurant, a pool, and access to activities, like bike rental, batik cloth-making classes, and even transport from Accra!
Coconut Grove Beach Hotel: This hotel offers peace and tranquilities close to both of the castles. You'll find plenty of coconut trees throughout the property, pool, access to the beach, and activities such as horseback riding.
Getting Around in Ghana
Uber
While in Accra, it's easy to get an Uber to take you around the city. Note, most won't accept your ride unless you are paying in cash, so I recommend that you do carry enough cash on you at all times. And make sure to select the "cash" payment option on your uber app. Note, you may have to restart the app once in Ghana for the option to show up.
Private Driver
When traveling outside of Accra, I honestly think its best for you to hire a driver to take you to your various destinations. We paid about $100/per person to have a dedicated driver for 6 days, which is not bad if you ask me. We used the Sam Car Rental Company, if you are interested.
Car Rental
Renting a car is certainly another option you can pursue, but I'll tell you know that the road situation is VERY bumpy as you venture away from the city. Be prepared to try to maneuver huge potholes on small streets if you decide to go this route.
To compare prices on car rental options, check out kayak.com.
When to Go to Ghana
Ghana experiences two rainy seasons: One from March/April – July, and another, lighter rainy season around October – November. Throughout the year, temperatures range from highs in the 80s – 90s, with lows in the 70s. I recommend spending time in Ghana any time that is outside of monsoon season (unless that is something that you like). The most popular time of year to visit is in December, when a lot of Ghanaians who live elsewhere return home. If you decide to visit during this time, you can expect everything to be poppin', but know that you HAVE to book things early!
Additional Ghana Travel Tips
Language Considerations: English is the official language of Ghana, so you'll have no trouble getting around while you're there. My only recommendation is that you spend time learning a few words of the Twi language, which is pretty widely spoken there.
Money Situation: The local currency in there is the Ghanaian cedi. At the time of writing this post, the exchange rate was $1 USD = $5.40 cedi. Click here for the most current exchange rates.
Health: I highly recommend that you take some pepto bismal and Imodium with you while you're traveling in Ghana. In addition to self medication, avoid drinking the tab and eating any veggies / fruit that you did not wash yourself. Half of my travel party did experience a bit of "bubble guts", so do what you can to not let this happen to you.
The One-Week Ghana Itinerary
Day 1 | Accra
On your first full day in Accra, I recommend that you spend time getting to know the city and its major landmarks.
First up is the WEB Debois Center, the former home of the man himself. Included in admission is a tour of the house, learning the story of WEB, and the impact that he made on the civil rights movement in the early-mid 1900s.
Next, take a short drive to Black Star Square. This huge square features Black Star Gate, one of Accra's most recognizable landmarks, as well as the Independence Arch and the Liberation Day Monument. This square was originally built ahead of Queen Elizabeth's visit to Accra in 1961, to celebrate Ghana's independence from the UK.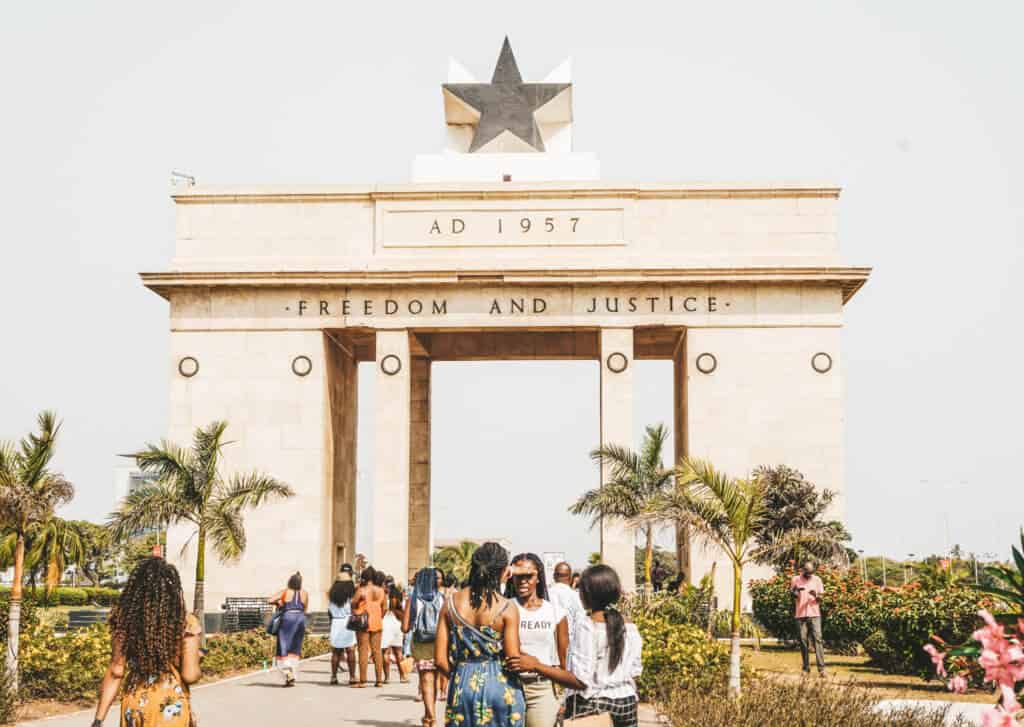 For your last stop of the day, head to Kwame Nkrumah National Park. This memorial was meant to honor the lives of Kwame Nkrumah, the leader of Ghana's independence, and its first president, as well as his wife, Fathia. In addition to the memorial, there is a museum that houses artifacts particular to the independence movement there.
If you aren't interested in coordinating this trip yourself, I recommend that you sign up for the Accra City Tour. It will take you to all the stops mentioned above, and comes with a tour guide too!
Book the Accra City Tour now!
For dinner, I recommend that you head to 805 Restaurant near the airport for delicious Ghanaian and nearby west African fare. If you'd like something a little closer to Osu, I recommend eating at Buka, which serves similar food.
Day 2 | Accra
Start your second day in Accra with a 30-minute excursion out to the Aburi Botanical Garden. These gardens lie in the mountains, giving the area a nice cool breeze. While here, you can take a stroll through the natural beauty of the gardens, or take a bike ride around the area.
Once you head back to Accra, make a trip down to Jamestown, the oldest district in Accra. Here you can get a glimpse of the country's colonial past through the crumbling architecture. I recommend that you stop by the Visitor's center so that you can take a tour of the fishing village that makes up the livelihood of many who live in the area.
Closeout your day with a chill vibe at Skybar. This restaurant and bar offers sweeping views of the city, great food, and good music. Note, if you decide to venture out here, it's imperative that you make a reservation in advance in order to get in.
Day 3 | Accra
Start off your last day in Accra with breakfast at Coco Lounge. This restaurant offers international fare, and is well-known for serving delicious breakfast / brunch foods.
For you last few hours, head on down to Oxford Street in Osu for some quick souvenir shopping. Don't forget to bargain!
In the late afternoon, head out of the city towards the beach in Elmina – this is about a 3-hour drive. I recommend leaving with enough time to arrive in Elmina during the daytime, as streets are poorly lit, and potholes are everywhere.
Day 4 | Elmina
In the morning of your first day in Elmina, travel up to the Assin Manso Ancestral Slave River site. In the context of slave trade on the African continent, this is the place where slaves, after marching hundreds of miles, were forcibly bathed and oiled before their first sale to the slave castle owners. The tour guide will walk you through the experience of what it would have been like for those who went through this, making it a memorable and emotional experience for those who visit.
Next, following the footsteps of the ancestors, travel back down to Elmina Castle, to understand what it was like for those captured as they awaited journey to the Americas on the Middle Passage. If you're anything like me, your emotions will range from rage to extreme sadness as you tour the castle. It's a sobering experience, but it's something that you must do while you're in Ghana.
If you're up for it, head over to Cape Coast Castle next, which is very similar to Elmina, but just on a much larger scale. If you don't mind the crowds, want more souvenir options while you shop, you could also do this castle instead of Elmina.
Day 5 | Elmina
I think that it's important to take a bit of down time while you are traveling, so I recommend that you take the 5th day to spend time hanging at your hotel's beach or pool. If that is too slow of a day for you, take some time to try some of the activities offered by your resort. I'll note that the beaches on the Elmina coast are a bit rocky and very wave-y, making it tough to actually take a nice swim in, but they are still good for cooling down / laying out in the sun.
Day 6 | Elmina to Accra
On your way back to Accra, take an excursion to the Kakum National Park, the most visited attraction in Ghana. Here, you'll have the opportunity to do a canopy walk above the jungle. If you're not scared of heights, it's a very cool experience to check out.
Close to the National Park is the Monkey Forest Resort, where you can see some of the area's native monkeys. It's a good idea for those who love animals, as you won't see really any in Kakum.
Another attraction close to Kakum, is the International Stingless Bee Center where you can learn about and taste the honey of the native stingless bees of the region.
After your touring comes to an end, strap in for the ride back to Accra.
Day 7 | Accra
For your last day in Ghana and Accra, I recommend that you take some time to round out your souvenir shopping. This means stopping at the Center for National Culture, which is the largest craft market in Ghana. I recommend that you be prepared to haggle a lot here, as they are ready for tourists and price things accordingly.
If you're looking for a more local experience, head over to Makola Market, the largest open air market in Accra. It's often very crowded here, but you're likely to get cheaper prices here.
Heading back to the US, your flight home will likely leave pretty late a night. So get all your stuff packed and be sure to head to the airport 3 or so hours early, just in case.
Additional Ghana Tours You Can Try
If you have additional time in the country, here are a few Ghana tours that I might recommend:
Accra Safari Tour: Visit the Shai Game Reserve, and spend time with animals like zebras and antelopes. Travel through caves and hike hills while there. A great idea for anyone who loves spending time with animals.
A Tour to Boti Falls: See the beautiful waterfall from river Pawnpawn and spend time in nature hiking up to see the falls. This tour includes a stop at Umbrella Rock as well.
If you are looking for more things to do within the country, click here!
In Summary | One-Week Ghana Itinerary
That wraps the ultimate one-week Ghana Itinerary! In summary, this itinerary gives you tip for what to do in Accra, as well as what to see out on the Elmina / Cape Coast. Don't forget to review the tips on where to stay and how to get around while in Ghana. Let me know if you think I've forgotten anything!
Related Posts: