The Best Places to Visit in Spain for First Timers

Are you preparing for trip to visit Spain for the first time?
Spain has a special place in my heart. It is the country where I spent a semester studying abroad in college, and one that I return to visit often. Like Portugal, which it shares the Iberian Peninsula with, Spain is another underrated southern European country. This is especially true when compared to Italy or Greece, for example.
Spain is full of some of the most beautiful places in Europe, home to beautiful buildings, and offers great beaches on both the Atlantic Ocean and the Mediterranean Sea.
This post will give you a very detailed list of the best places to visit in Spain for first timers. It is broken down by region, so that you can easily navigate this post.
Short on time? here are our favorites:
Best Cities in Spain for First Timers
Barcelona
Granada
Málaga
Sevilla
Madrid
Map of Spain
This map shows the regions covered in the sections below, for ease of reference:
Click on each of the "pins" on the map for additional information.
The Best Cities for First Timers in the Aragón Region of Spain
Zaragoza
Zaragoza is the capital of the Spanish region Aragón and belongs to the lesser visited cities in Spain. Nevertheless, a visit to Zaragoza is very worthwhile and not only because of its ideal location in the middle between the popular Spanish metropolises Madrid and Barcelona. There are so many great things to see in Zaragoza, and you can easily plan a few days for a visit.
The city's main sight is the cathedral, the Catedral-Casílica de Nuestra Señora del Pilar de Zaragoza, but the locals call it Pilar. Located in the center of the city, the cathedral is hard to miss. Its massive towers overlook the large square in front of the cathedral and enchant visitors from all over the world. It's especially worth taking a look from the back of the cathedral, which many visitors overlook. Walk along to the stone bridge that crosses the Ebro River. From here, you can admire the massive Pilar in its entirety.
But there are also plenty of great places, cultures, and architecture to discover in the rest of the city. Zaragoza is full of influences from different cultures and eras.
As you stroll through the city's alleys and discover exciting places, be sure to take the time to enjoy some delicious tapas. Zaragoza is very proud of its tapas culture, and especially in the afternoon hours, you will find locals and visitors alike on the many terraces in the city center enjoying delicious tapas and a cool drink in the sun.
Download Our Basic Spanish Phrases
Get a PDF of the essential Spanish Phrases for travel to take with you on the go!
The Best Cities for First timers in Basque Country
Bilbao
Bilbao is a city located in the Basque Country of northern Spain, renowned for its unique mix of contemporary architecture, rich cultural heritage, and delectable cuisine. The city has undergone a significant transformation in the past few decades, largely due to the opening of the iconic Guggenheim Museum Bilbao in 1997. The museum has become a symbol of Bilbao's renewal, attracting visitors from all over the world to witness its stunning titanium-clad structure designed by Frank Gehry.
Along with the Guggenheim, Bilbao boasts many other cultural landmarks, such as the Museo de Bellas Artes and the Azkuna Zentroa, a cultural center housed in a converted wine warehouse. Bilbao is also renowned for its gastronomy, with a plethora of restaurants serving delicious pintxos (tapas) and fresh seafood. Overall, Bilbao offers a unique and unforgettable experience for those seeking to immerse themselves in art, culture, and culinary delights.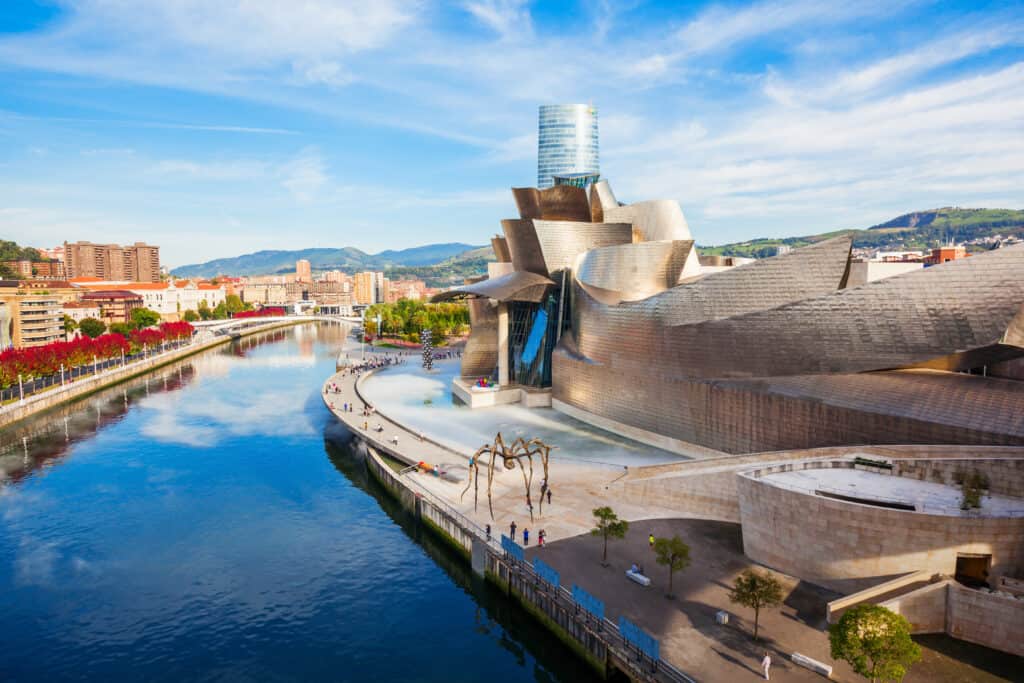 San Sebastián
San Sebastián is a coastal city located in the Basque Country of northern Spain, renowned for its stunning beaches, picturesque bay, and world-class cuisine. The city is nestled between the mountains and the sea, creating a beautiful landscape that attracts tourists from all over the world. San Sebastián is famous for its culinary scene, with a high concentration of Michelin-starred restaurants and traditional pintxo bars serving delicious Basque cuisine.
The city also hosts several cultural events, such as the San Sebastián International Film Festival, Jazzaldia, and the Tamborrada festival, which celebrates the city's patron saint. With its breathtaking scenery, delicious food, and vibrant culture, San Sebastián is a must-visit destination for anyone traveling to Spain.
Below are a few attractions you should consider when you visit San Sebastián:
Parte Vieja – Explore the picturesque Old Town of the city, where you'll find beautiful architecture, plenty of places to try pintxos (tapas), and shopping.
Playa de la Concha – One of the highlights of the city, this beach forms a cresent shape along the city's seaboard.
Monte Igueldo – If you enjoy beautiful city views, catch a funicular ride to the top of this mountain that offers impressive views of the city below.
The Best Cities for First Timers in the Madrid Region of Spain
Madrid
Madrid is the capital of Spain, and probably the best known city in the country. It is also the largest city in Spain, and one of the most wealthy in the entire European Union. It has been occupied since ancient times, so boasts a long history, and is currently the official home of the royal family. Some of the most famous attractions include:
The Royal Palace of Madrid: This palace is built over the Royal Alcázar of Madrid, which was occupied by the Moors until the 11th century. The Palace was constructed in the 18th century, after the Alcázar caught fire. Today it is used primarily for state ceremonies, but is open to the public to tour.
Prado Museum (Museo del Prado): This museum houses what is considered the single best collection of Spanish art in the world. It is a must for any art enthusiast as the collection of European art found here is very extensive.
There are of course way more things to do in this city – I highly recommend you take some time to shop on the Gran Vía, the selection is just amazing!
If you've been to both Madrid and Barcelona, you may have a strong preference for one over the other. Most people I know do, and I honestly prefer Barcelona myself. That is not to say that Madrid is not an awesome city, but to me Barcelona just feels a bit more different than your typical European city. What do you think?
Best Cities for First Timers to Visit in the Castile and León Region
Avila
One of the most incredible places in Spain must be Avila! You'll find this true gem at only an hour-and-a-half's drive from Madrid. Avila is a wonderful medieval fortified town that's quite unique, seeing it's one of only a few medieval cities in the world that is totally enclosed in a nearly intact medieval walls. Avila is well-known for being called ''the town of stones and saints''.
This UNESCO World Heritage City will make you feel as though you have traveled back in time. And that's why many people choose to visit Avila – its history. At Museo de Ávila you'll learn all there is to learn about this historical town. And due to its ideal location, many people choose to stay near Avila for a vacation.
There are many other things to do in Avila, such as:
Walking the city walls
Admiring the Avila Cathedral
Entering the city through Puerta Del Alcazar
Exploring Avila's old town
Learning about the history of Basilica San Vicente
Taking a stroll through the Sephardic Garden Of Moshe De Leon
Avila is small enough to explore the entire town on your own; you won't need to go on a guided tour. After a day of exploring you should get dinner at Los Candiles, a steakhouse with local cuisine. At this restaurant, I enjoyed the best Spanish dinner I've ever had!
So when visiting Madrid, you should go on a day trip to Avila! This town is more than worth visiting!
The Best Cities for First Timers in the Catalonia Region of Spain
Barcelona
Barcelona is not just my favorite city in Spain, it is one of my favorite cities in the world! I love this city because it offers so much its visitors. I mean, how many cities can you visit where you can spend one day visiting the beach AND the mountains? In addition to what you can do in the city, there is also a rich history here, as Barcelona was originally founded by the Romans. There is also no shortage of delicious tapas and sweets to try, at restaurants like Tapeo and Gourmet Sensei.
Some of my favorite attractions in this city include:
La Sagrada Familia: The world-renowned cathedral designed by the whimsical architect Antoni Gaudí. It has been under construction since 1882, but is finally nearing completion. This building is beautiful, with amazing lighting in the interior and a style that is quite unique compared to your standard cathedral. Throughout the city you can see many of Gaudí's other architectural designs. Overall, his contributions to the city give it a unique look that you just have to see!
Tibidabo Mountain: This is the highest point in Barcelona and offers amazing views of the entire city. You can also visit a small theme park and a cathedral while on the mountain.
La Barceloneta: This is one of the most beautiful and popular beaches in Barcelona. There are plenty of hotels and places to eat nearby as well.
I could go on and on about this city – I just love it! In my opinion, Barcelona is the absolute best place to visit in Spain for first timers, as there is simply so much to do there. Please check out my 4-day travel guide for Barcelona for more information.
Figueres
If you're going to be visiting Barcelona, or anywhere in Catalonia, make sure to add a day trip to Figueres to your list. Translating directly to 'town of fig trees', Figueres is a great "off the beaten path" destination. This small town is located less than two hours up the coast, north of Barcelona, and is accessible by car, bus and train (the quickest option). The main attraction here is the fact that it is the birthplace of surrealist artist Salvador Dalí. In fact, the largest attraction in town is the Teatre-Museu Dalí, a museum designed by the man himself, exhibiting the largest collection of his works. You'll also find lesser-known spots like the Sant Ferran Castle and the Toy Museum (Museu Del Joguet De Catalunya) to explore.
Like the rest of Spain, Figueres has several tapas restaurants, such as El Dynamic Bar, about town. You will also find plenty of options for paella at places like Cafeteria Astoria and Iberico at Cafeteria Il Museo. All these options are widely available on many local menus, however. And I always recommend a stop at the local grocery store (Bonpreu) to pick up some snacks for your trip.
Walking tours are available if you prefer a narrated stroll when exploring a new city. You can also spend a whole day wandering the streets and alleyways, discovering plenty of unique architecture, sculptures and murals scattered around town.
Girona
Positioned in the northeastern region of Catalonia, Spain, Girona is truly a hidden gem that feels like another world. You'll feel like you're being transported back in time to medieval Europe, with the city's narrow streets and alleys and Gothic and Romanesque architecture at every corner. It's also conveniently close to Barcelona and can be reached via a quick 30-45 minute train ride from Barcelona-Sants.
Amongst many other things, one city's main draws are its rich history and stunning architecture. From the iconic Cathedral of Girona, which dates back to the 11th century (and is featured in the popular show Game of Thrones), to the ancient walls that protected the city long ago, there's plenty to soak in as you walk through the streets of Girona.
There's also an amazingly delicious culinary scene, with some of the best restaurants in Catalonia serving up traditional and modern dishes. For truly local dining, be sure to try some Catalan specialties including "coca de vidre" (a type of thin and crispy flatbread), "butifarra" (a type of sausage), and that world-famous (and amazingly delicious) paella. If you're a caffeine lover, there are also many coffee shops in Girona to choose from. Federal Cafe is easily one of the best options in the city.
There are many guided tours to choose from in Girona, whether you're more into history, architecture, food, or even exploring the Game of Thrones filming spots.
Overall, Girona is an amazing little city that deserves to be on any (and every) Spain itinerary. With its timeless architecture, amazing Catalan food, and many experiences to soak in, there's something for everyone in this quaint medieval city.
The Best Cities for First Timers in the Murcia Region of Spain
Cartagena
While many sun-seeking tourists to Spain flock to places like Tarrifa, Cadiz, or Malaga to enjoy the Mediterranean sea and sun, not many people know about the hidden beauty of Cartagena in southern Spain. Not to be confused with the city of Cartagena in Colombia, this Spanish coastal destination actually is actually bursting with great beaches, food, and a rich ancient history.
This vibrant port city has been around for millennia which is evident in the several archaeological sites from different eras that can be found around the city. But the most noticeable feature in Cartagena is the Roman theatre of Carthage Nova, which marks the era of Roman domination. Perched right at the entrance to the city, the theatre offers a great visual experience with amazing views of the coast and adjacent mountains. A slightly steep hike up the back of the Roman theatre is a must, as you get to enjoy the amazing view. There is also a Roman Museum of Archaeology that can be visited within the grounds.
Moving from history, another main attraction in Cartagena is its array of beautiful beaches. In fact, it is the city with the most beaches in Spain, and fewer tourists than other places! Other activities that shouldn't be missed include visiting the various museums in the city like the Naval museum, taking a boat ride along the bay, and marveling at the mix of architecture in Calle Mayor.
For an amazing culinary experience, try out the meat and tapas at Abrasame Grill & Tapas. The meals are great and the prices reasonable. Also, be sure to try the delicious street churros!
The Best Cities for First Timers in the Andalusian Region of Spain
Cádiz
A hidden gem in Spain, Cadiz remains a little under the radar compared to Andalusian favorites Seville and Granada, but this seaside city has so much to offer! It's an intriguing mix of history, culture, and stunning scenery.
The beautiful beaches in Cadiz are a huge draw for travelers looking for sand and sea. You'll be spoiled for choice: visit their urban beaches for a convenient day out by the water or take a drive and discover hidden coves and unspoiled beaches. Either way, you're guaranteed stretches of golden sand and warm, clear blue waters. And with year-round sun and mild weather even in winter, this is a beach destination you can visit any time of the year!
But Cadiz is more than just a beach town. It's one of the oldest inhabited cities in Europe and its historic center is full of treasures. Simply wandering down the narrow, cobblestoned streets is a delight and you never know when you might come across an old church or square that's hundreds of years old. Notable landmarks in Cadiz's Old Town include:
Roman Theatre of Cadiz: This one is free to enter and definitely worth a visit
Cadiz Cathedral: The cathedral boasts an impressive interior
Torre Tavira: If you are keen on getting great views, this one provides a bird's eye view of the town
Central Market: This is a great place to sample sample local food
A great way to see the Old Town and learn more about the history of the city is to take a walking tour where you'll get to see the highlights.
Oh, and don't forget to try some seafood while you're in Cadiz! Fish and shellfish are the town's specialty. You can't go wrong with fried fish and prawn fritters but if you want to try something more traditional, then put in an order for papas con choco (a delicious cuttlefish and potato stew).
Córdoba
Córdoba is another city in Andalucía that displays a strong Arab influence. This city is one of the best places to visit in Spain for first timers because it is just so incredibly picturesque. This city is known for the beautifully decorated patios that many residents have in the front of their homes. These patios likely originate from the Roman atrium; and the tradition carried on by the Arab residents in the region. You can find them in the Jewish Quarter of the city, most notably down the Calleja de las Flores.
You should also check out the following sights while in the city:
The Mezquita: This place of worship originally started out as a mosque, constructed in the 8th century. It was converted to a cathedral in the 13th century, but still retains much of its original architecture. This is an absolute must-see if you visit Córdoba.
Roman Ruins: Cordóba offers a few places to check out some ancient Roman ruins. Make a stop at the Roman Temple of Córdoba and the Roman Bridge, which serves as a pedestrian walkway today.
Granada
Granada is the first city I'll mention in the autonomous region of Andalucía. This region constitutes the entirety of southern Spain, and is most similar to the view that people have of Spain. This is especially true if they have not Spain visited before. This city was the final hold of the Islamic Emirate in Spain and marks the location of the Reconquista of Al-Andalus (Andalucía).
The reason why I think Granada is one of the best places to visit in Spain for first timers is that it is quite a charming and romantic city. Another factor that makes it special is how easy it is to see the legacy of Arab influence within the city's architecture. This gives the city a unique vibe that can only be found in southern Spain. Some key attractions include:
The Alhambra: This palace served as the home for the last Muslim Emirs in Granada. Originally constructed as a small fortress over Roman ruins in the 9th century, it was rebuilt as a palace in the 14th century. The palace sits atop a mountain overlooking the city and is well-kept, with beautiful gardens throughout.
Albaicín District: This district was one of the oldest Muslim cultural centers in Granada. Itserved as the Moorish district during the time of Muslim rule in the city. It still displays the winding walkways and beautiful building façades from the middle ages. This area surrounds the Alhambra, so it's any easy addition to your itinerary if you plan to visit the palace. Take some time to stroll around or make a stop at a local Flamenco spot, such as the Cuevas Los Tarantos. Here you can experience this intriguing and artistic form of traditional Spanish dance and music.
The Granada Cathedral: This gorgeous cathedral was constructed after the Reconquista and another beautiful Spanish construction. It is connected to the Royal Chapel, which is the final resting place of King Ferdinand and Queen Isabella. This cathedral is centrally located in Granada, so it is a perfect stop for a day spent in the main part of the city.
Frigiliana
Are you looking for an off-the-beaten track destination that offers a unique combination of culture and natural beauty? Then Frigiliana in Spain is the perfect place for your next holiday. Located just 20 minutes from beautiful beaches in Nerja, this charming white village offers visitors plenty to explore—from its narrow alleys and moorish architecture, to its local tapas bars, wine bodegas and artisanal products. Best of all, it's still relatively affordable compared to other Spanish destinations.
Frigiliana is great for taking photos as well as exploring on foot; you can easily spend hours wandering through the winding streets admiring the quaint houses with their bright flowers cascading over balconies. If you want more than just a walking tour of the town then there are lots of hiking trails within easy reach – such as visiting the Lost Village Acebuchal or one of the many old churches where you can keep an eye out for stunning mosaics hidden in the ancient walls. And if you don't feel like walking around town too much then renting a car will give you access to day trips away from Frigiliana – perhaps up into the mountains or along the coast.
Those looking for more than just sightseeing will be pleased to find that there are a variety of accommodation options in and around Frigiliana, ranging from rustic guesthouses and small hotels, to larger fincas available to rent. So whether it's a romantic getaway you're after or a family holiday, Frigiliana has something to suit everyone.
Málaga
Málaga lies on the Costa del Sol (Coast of the Sun), and as the name suggests, it gets sun nearly every day of the year. The city features history dating back to when it was founded by the Phoenicians as Malaka in 770 BC. It was one of the last strongholds of the Arab rule in Spain, and as such features historical sites from both cultures. Some of the most popular sites to visit in Málaga include:
Alcazaba of Málaga: This fortress was built initially by the Phoenicians in 600BC, but it was greatly expanded by the Arabs from the 8th century AD to the 14th century. It's a long hike to the top, especially on a hot day, but the views make it completely worth it.
Cathedral of Málaga: This cathedral is built in the Renaissance architectural tradition. It has an unfinished south tower and because of this, it is called "La Manquita" by the locals.
Museo Picasso Málaga: This museum offers a comprehensive view of Picasso's work from childhood until death. If you enjoy art, this one is absolutely a must-see.
All of the above sites can be found in Old Town Málaga, which is one of the most popular areas for tourists to spend their time in the city.
Marbella
A lovely and ritzy option, this Spanish city sits on the Costa Del Sol, and is a pretty popular tourist destinations. With its lovely beaches, great restaurants, and high-end shopping options, it's a great place to go for a bit of escape from reality.
If you decide to check it out, here are a few ideas:
Puerto Banús Marina: This area is just lovely for a nice stroll, particularly in the morning or in the evening so you can watch the sunrise / sunset.
Marbella Old Town: Stop here for a taste of 15th century Spain. This street features brightly colored homes with lovely flower boxes.
La Cañada: If shopping is your thing, you will not want to miss this huge shopping mall. It has over 100,000m sq ft, so you can literally shop until you drop.
Sevilla
Sevilla (Seville) is the capital of Andalusia and the forth largest city in Spain. It has a very similar history as Granada and Córdoba, and was actually once part of the Caliphate of Córdoba. It is a yet another architecturally beautiful city, as shown by some of its top attractions:
Alcázar de Sevilla: Originally constructed by Arabs in the 8th century, it was expanded by Spanish royalty in the Middle Ages. This palace still houses the royal family today, and includes lush gardens in addition to the breathtaking edifices.
Plaza de España: Instead of a traditional square, this plaza is shaped as a semi-circle and is surrounded by intricately painted, columned buildings. It's a great place for an evening stroll or for people-watching.
Seville Cathedral: This UNESCO World Heritage Site began as a mosque in the 12th century AD. As Spain retook the area from the Arabs, it was rebuilt as a cathedral in the 16th century. It features a beautiful interior and a 343 ft tall bell tower called the Giralda.
Tarifa
Most people visit Tarifa for the amazing kite surfing opportunities. Located on the southern tip of Spain, where the Atlantic meets the Mediterranean Sea, there is almost guaranteed to be good wind. But the city has so much more to offer, making it attractive to other travelers as well.
The main attraction is the Castillo de Guzman El Bueno. Built in 960, it is strongly fortified. During your visit, you can walk the thick walls, go up to the roof for amazing views of the city and read up on its history in the small but informative exhibition. It overlooks the Strait of Gibraltar with views of Morocco on the other side when the weather is nice.
Tarifa is small and the old town basically car-free, making it the perfect place to explore on foot. You can stroll through the narrow alleys lined with white-washed houses and look at the little boutiques that fill the centre. There are plenty of bars and restaurants around to enjoy the local specialties, many of them based on fish.
I recommend Café Azul for traditional breakfast and El Lola or Los Mellis for lunch or dinner. Both are frequented by locals as well as tourists and the food is fresh and tasty. You should try the local tuna, served in many forms, one better than the next.
If you are staying longer, you might want to consider a day or overnight trip to Tangier in Morocco. There are ferries running almost every hour and Tangier is a fascinating city.
The Best Cities for First Timers in the Valencia Region of Spain
Valencia
Valencia is the third largest city in Spain, and can be found near the coast in eastern Spain. I spent many weekends here during my time in Spain, as I studied just 30 minutes outside of the city. It is a very vibrant city that offers a few unique attractions and experiences to visitors:
City of Arts and Sciences: This is one of Spain's top attractions and features several buildings. These include a planetarium, interactive science museum, and an opera house; to name a few. In addition to being a great center for learning, the buildings themselves are stunning and uniquely designed.
Valencia Cathedral: This is a mostly gothic style cathedral constructed between the 13th and 15th centuries. This cathedral has a bell tower "Micalet", which visitors can climb to witness views of the entire city. Prepare for a bit of a journey via stairs to the top of the tower!
Las Fallas: This is an annual festival that takes place in Valencia every spring. Locals construct massive, cartoon-like floats (fallas) in preparation for the festival. The neighborhoods display these floats in every Valencia neighborhood once the festival begins in March. The end of the festival is most exciting, when every float is set on fire! The festival offers lots of food (e.g., Buñelos), parades, contests, etc., so it is definitely an experience not to be missed.
Sagunto
Sagunto is the city where I lived while studying abroad in Spain as a college student. It's a quaint city with a long history, as it was once occupied by Romans over 2000 years ago. This city is really what made me fall in love with travel, from the friendly residents to strolls in the very walkable city, it just has so much charm.
Here are a few of the best attractions in the city:
Sagunto Castle and Theatre: This castle was built by the Romans as a fortress and was used during battles with the Carthaginians. It sits atop the highest mountain in the city, and provides sweeping views of the area. Nearby is the partially reconstructed theatre that was also built by the Romans. You can sometimes catch the occasional show there too.
Sagunto Beach: A really nice beach on the Mediterranean, this is a nice place to go and unwind. There are plenty of options for eating nearby as well.
As Sagunto is not a popular tourist destination, its most popular to visit this city as a day trip from Valencia. Here is a great option if you'd like to find out more. For more information on this city, see this post on the best 2-day Sagunto Itinerary.
The Best Cities for First Timers in Mallorca, Spain
Mallorca is one of the largest Balearic Islands located off the northeast coast of Spain. Originally settled as far back as the third century BC by the Bell Beaker culture, it was letter occupied by the Phoenicians, Romans, and Arabs. Today the island is probably best known for being a top destination for tourists due to its lovely Mediteranean beaches and attractive climate.
Pollenca
Another of the best places to visit in Spain for first timers is the beautiful town of Pollenca which is located a little inland, in the northwest of Mallorca. Unlike many other towns on the island, Pollenca has retained its charm. You will not be able to find big hotel castles but much, beautiful nature in the surrounding mountains of the Serra de Tramuntana. In the historic old town of Pollenca, with its narrow winding streets, there are delicious restaurants and bars and small shops selling local products such as Sobrasada, a typical Mallorquin sausage.
From the city center, 365 steps lead up to the Calvary Mountain. Each step symbolizes a day of the year. At the top awaits the small baroque pilgrimage church of the 18th century, as well as a beautiful view of Pollenca and its surroundings. On the other side of Pollenca, at 333m.a.s.l., stands the former monastery of Puig de Maria. This climb is a bit more strenuous but absolutely worth it. The fantastic view from the top includes much of the northwest coastline of Mallorca.
Six kilometers away from the city center lays town's port, Port de Pollenca. Here too, in contrast to other seaside resorts, it is rather quiet and tranquil, ideal for a quiet beach vacation. The quite bay offers several kilometers of long fine sandy beaches, which are extremely protected from the wind by the location on the offshore peninsula Formentor and allow sunbathing even on quite stormy days.
Additionally, Pollenca is the perfect location for day trips to the Formentor Lighthouse, the northernmost point of Mallorca and the wild nature of the Serra de Tramuntana. If you are visiting the island of Mallorca, you should certainly add this city to your list.
Soller
Also located on the northwest of the island of Mallorca, Soller is a charming town known for its quaint houses, countless citrus orchards and scenic natural setting. It lies in a lush fertile valley near the island's north coast and is surrounded by the towering peaks of the Tramuntana mountain range. Combining nature, history and culture, it's a unique destination that's definitely worth adding to your Mallorca itinerary.
Soller's historic center is full of old-world charm and boasts a maze of narrow alleyways lined with quaint Modernist buildings. On the town's bustling main square, you can find many bars and cafes as well as the impressive Sant Bartomeu Church. Although the town is small, it offers a variety of great places to eat, which range from the more upscale restaurants like Ca'n Blau and Ca'n Boqueta all the way to budget-friendly tapas bars. Be sure to also taste some freshly squeezed Soller orange juice, for which the town is known.
One of the most famous attractions in Soller is its vintage wooden tram, which connects it to the neighboring town of Port de Soller. The tram journey takes you through picturesque landscapes and orange orchards and brings you to Port de Soller in just about 15 minutes. Once there, you can enjoy the town's beautiful sandy beach and stroll along its palm-tree-lined promenade. Thanks to Soller's mountainous surroundings, it is also an excellent area for hiking and mountain biking. There are numerous trails to choose from with varying lengths and levels of difficulty.
Valldemossa
A vacation in Mallorca is not complete without venturing to the idyllic town of Valldemossa. In contrast to bustling and cosmopolitan Palma, Valldemossa feels worlds apart. Yet, it's an easy twenty minute drive from the capital. The surrounding Serra de Tramuntana cultural landscape is a UNESCO World Heritage site. Valldemossa is tiny, with a population of approximately 2,000 residents. However, what Valldemossa lacks in size, it makes up with character.
The highlights of this quaint village are plentiful. Sightseers can tour the Carthusian Monastery, the Parish Church of Saint Bartholomew, and the Frédéric Chopin & George Sand Museum. The museum is dedicated to the composer and the French writer, who stayed in Valldemossa from 1838-1839.
Yet, Valldemossa isn't a town where you need to pack in the sites and tours. Instead, it's a place to slow down and feel the old world charm. The main draw of Valldemossa is getting lost wandering through tumbled cobblestone streets. Take time to admire stone buildings with brightly colored shutters. Soak up the scenery of mountains dotted with olive trees and citrus groves while you dine at Troya Restaurant. Next visit numerous art galleries and shop on Via Blanquerna for handmade souvenirs. Last but not least, sample Balearic pastries at Forn i Pastisseria Ca'n Molinas.
As you can see, Valldemossa is a must-see destination when you visit the island of Mallorca, Spain. Whether you are a nature lover or prefer to visit shops and restaurants, Valldemossa has something to offer every traveler.
Best Cities for First Timers in Canary Islands Spain
While part of Spain, the Canary Islands are actually located off the coast of Morocco. For similar reasons to the Balearic Islands, this archipelago is well known for being a popular tourist destination. Here you'll find lush greenery, desert landscapes, mountains and volcanoes, and of course, beautiful beaches.
Corrajelo, Fuerteventura
Due to its beautiful weather throughout the year, Fuerteventura is a fantastic place to visit in Spain. Corralejo, the island's largest town and one of the most famous tourist destinations, provides a wide range of activities for visitors. Due to its proximity to Lanzarote or Lobos, Corralejo allows for day trips to neighboring islands. Moreover, getting to Corralejo Dunes Natural Park takes just a few minutes drive from this tourist town.
The Corralejo Natural Park is home to some of the best beaches in Fuerteventura such as El Bajo Negro or Playa del Médano. It is the perfect spot for windsurfing and taking beautiful pictures of sand dunes.
When staying in Corralejo, you should also try some local cuisine. Restaurante Sotavento which overlooks the port of Corralejo is a great place to stop for a meal. There are plenty of other amazing restaurants near Playa Corralejo such as 13 Bistro & Tapas Bar or Bella Napoli.
After a delicious dinner, head to Playa del Medio or Playa El Hierro to watch a beautiful sunset over one of Fuerteventura's popcorn beaches. It is a unique feature of the northern part of the island and Corralejo is the best place to see these unusual white algae fossils on the beach.
Puerto De La Cruz, Tenerife
One of the best places to visit in Spain is Puerto de la Cruz, located in the north of Tenerife, Canary Islands. There are many reasons to visit Puerto de la Cruz – from its incredible natural surroundings to interesting buildings and beaches. The city is perfect for any traveller as it offers a combination of nature and culture.
Some of the best things to do in Puerto de la Cruz include visiting its botanical gardens, home to a wide variety of tropical plants, and going to one of its black sand beaches, like Playa Jardín. Also, wandering the vibrant neighbourhood of La Ranilla is a wonderful experience. There, you can find impressive street art and colourful buildings.
When visiting Puerto de la Cruz, you simply must try the local cuisine. Mesón Los Gemelos is a beautiful restaurant in the centre that offers traditional dishes such as cherne fish, papas arrugadas (wrinkled potatoes), and irresistible desserts like quesillo. The food is good, and the restaurant's décor is rustic and lovely.
Although this city has plenty of things to keep you entertained, you might also want to consider taking a tour. For example, you can visit Garachico, considered one of the prettiest towns in Spain, or Icod de los Vinos, where you can see the oldest dragon tree on the island and visit the banana museum.
Getting Around Spain
Madrid and Barcelona have two major airports that serve as ports to the rest of Europe. This means that flying into the country is relatively easy, no matter where you come from in the world.
Once you are in Spain, depending on the distance you need to travel from point A to point B, one very cost efficient and hassle free way to get around is to take the train. It's pretty easy to buy tickets at the train stations, but if you are a planner like me, you can purchase them in advance at sites like this one: Renfe.com.
When to Go to Spain
Spain has all four seasons, with somewhat mild winters and pretty hot summers (depending on the region, of course). Late spring and the summer months are the busiest months for tourists, but are still great times to go. And honestly, outside of Barcelona and Madrid, Spain hasn't hit the high traffic of tourism you see throughout Italy, Iceland, and the UK, for example.
Currency in Spain
Like most countries in Europe, Spain uses the Euro. As of today, the currency exchange rate is €94 to $1.00. Please check here for the latest exchange rates. Additionally, for the Americans reading this post, I recommend taking more cash around with you than typical as it is still more commonly used that it is in the US.
Language in Spain
As you know, the official language of Spain is Spanish or Castellano as it is called there. Outside of major cities like Barcelona and Madrid, it can be difficult to find people who speak English. I recommend brushing up on the basics before your trip. Note sure where to start? Check out my post on the list of top Spanish phrases for travel.
Frequently Asked Questions for First Timers on Spain
Where should I go for my first visit to Spain?
For your first visit to Spain, consider starting in Barcelona or Madrid, as they offer a mix of traditional and modern attractions, vibrant culture, and excellent cuisine.
What is the nicest part of Spain to visit?
The nicest part of Spain to visit can vary based on preferences; coastal areas like Costa del Sol offer beautiful beaches, while cities like Granada provide rich historical experiences, and regions like Basque Country provide unique cultural insights.
How many days is ideal for Spain?
Ideally, a 10-14 day trip allows you to explore several regions in Spain, including major cities, smaller towns, and coastal areas.
What are the best places to visit in Spain?
The best places to visit in Spain include major cities like Barcelona, Madrid, and Seville, along with historical sites like Alhambra in Granada, the stunning coastal regions of Costa Brava, and unique areas like Valencia's City of Arts and Sciences.
Do you have to spend $100 a day in Spain?
Spending $100 a day in Spain is feasible but can vary widely based on location, activities, and personal preferences; staying in budget accommodations and eating at local restaurants can help maintain this budget, while larger cities and more touristy areas might require more.
Download Our Basic Spanish Phrases
Get a PDF of the essential Spanish Phrases for travel to take with you on the go!
Final Thoughts | The Best Places to Visit in Spain for First Timers
Overall, my favorite parts of Spain are its warm and friendly people, and delicious food! I also really appreciate the way of life in Spain. Things just happen at a slower pace, which is a nice change from my day-to-day in D.C.
Tips for First Time Visitors to Spain
As you prepare for your first trip to Spain, here are a few tips that you should know:
Language Basics: Acquiring a fundamental understanding of Spanish terms and phrases can prove extremely beneficial for any traveler. This is particularly important as not everyone in Spain speaks English, especially in smaller, more rural towns and villages. Carrying a Spanish phrasebook, Spanish phrase PDF or having a language translation app on your phone can greatly aid in communication.
Dining Etiquette: Spaniards follow a unique eating schedule, with meal times typically much later than many other countries. Lunch, which is often the largest meal of the day, usually takes place around 2 pm, while dinner is often not served until after 9 pm. Therefore, it's advisable for visitors to adjust their eating habits accordingly to fully experience Spanish cuisine.
Siesta Time: The traditional 'siesta' is an important part of Spanish culture where many shops and businesses close in the afternoon for a few hours, only to reopen in the evening. This break typically lasts from around 2 pm to 5 pm. As a visitor, being aware of this custom can help you plan your shopping and other activities without any inconvenience.
Tipping: In Spain, tipping isn't as common or as generous as in some other countries. If the service in a restaurant has been good, a tip of 1-2 euros is considered sufficient. However, it's worth noting that tipping is not obligatory, and small change is often left in cafes and bars.
Public Transport: Spain boasts an excellent public transportation system, particularly within its major cities. This makes it both cost-effective and convenient for tourists to navigate their way around the city. From buses and trams to metros and trains, public transport in Spain is a reliable and efficient way to explore.
Have you visited Spain before? What are your favorite places to visit there? Comment below!
Looking for More Posts on Spain?:
More Europe Travel Guides:
---