Now, it's very hard for to pick one city in the world as my ultimate favorite, but Barcelona definitely tops that list. From spending time in the mountains to soaking up the sun at the beach, there is so much that you can do in this city. This travel guide will give you an itinerary for seeing Barcelona in 4 days. I hope that you'll begin to fall in love with the city as much as I have by the end of this post!
Know Before You Go | Barcelona in 4 Days
Getting There: Barcelona is one of the top tourist destinations in Spain, so it is pretty easy to find a direct flight here from many major cities all over the world. If you're leaving from the U.S., it's about a 7-hour flight from the east coast and about an 10-11 hour flight from the west coast. If you are already in Europe, it is easy to find cheap flights for under $200 by booking through RyanAir or EasyJet. Keep in mind that the RyanAir or EasyJet have strict baggage restrictions, so it's always a good idea to evaluate prices against other airlines. I like to use kayak.com, momundo, or google flights to compare ticket costs.
Where to Stay: Barcelona is a huge city that is broken up into several different neighborhoods. I recommend picking a neighborhood based on where you'd like to spend the most time. If you'd like to be in the heart of the city, check out El Born. This neighborhood is near the Gothic Quarter and Barceloneta (the beach), and also connects to most of the city via metro. Stay in Barceloneta if you'd like to spend a lot of time near the beach and get a real feel for the Cataluña way of life. The Eixample neighborhood is a great neighborhood if you are looking for something a bit more cheap, residential, and quiet. This neighborhood is close to the Passeig de Gracia, where you can find a lot of great restaurants and shopping. It is also close to La Sagrada Familia, one of Barcelona's top attractions.
To get a more "local" experience, I recommend staying in an AirBnb. We stayed at this place by the Passeig de Gracia on my last visit to the city, and absolutely loved it!
*If you are a first time Airbnb user, use my link to get $40 off your first stay!*
Getting Around: Barcelona has a great public transportation system, with many metro lines and bus routes. Check out this website for details on the transit system, including information on how to purchase tourist packages. Taxis are also quite easy to find, especially in the more touristy areas.
Currency Situation: Like most places in Europe, Spain uses the euro. At the time that this article was posted, the exchange rate was ' €1.00 = $1.15. This means that prices are a bit higher in general in Barcelona, but thankfully this rate has held steady for the past several years. Click here for the latest exchange rates.
Day 1 | Getting to Know the City
As mentioned in many of my travel guides (like this one!), I recommend starting your trip with walking tour of the city. My family/friends and I took the SANDEman's New Barcelona Free Walking Tour. The tour was informative, but I recommend taking a tour with a company like Tour Barcelona, as it is not a Europe-wide chain and offers a more authentic experience. Many of these tours will take you around the Gothic Quarter and surrounding neighborhoods, but you can find other options as well.
After touring the city, you should head over to La Sagrada Familia, the cathedral designed by Guadí. This cathedral has been under construction since 1882. It is finally nearing completion and is simply breathtaking. There is an incredible amount of work that has been put into every detail in this building. This includes multi-colored lighting in the interior of the cathedral and intricately carved sculptures on the buildings exterior. Pro tip: Purchase your tickets online to avoid long wait times!
At the end of the day, head over the El Born neighborhood. Here you can visit the Textile or Picasso museums, and find a nice spot for a place to eat.
Day 2 | All Things Gaudí
Gaudí's influence in Barcelona's architecture is one of the things that makes it such a unique city. To see his handiwork up close, you should visit Park Güell. This park is full of whimsical and colorful sculptures and buildings, and another one of the city's more recognizable landmarks. Purchase tickets in advance online for cost savings and to avoid long wait times. Casa Museu Gaudí can be found on the property of the park as well. This house is worth a visit if you'd like to see how the famous architect lived back in his day.
After spending the morning in the park, head down to the Passeig de Gracia to visit Casa Batlló. This house was the formerly the home of Spanish aristocrats, and has some of the coolest architecture I've ever seen. All tickets come with a smart guide of the house to make the visit a truly interactive one. Like most attractions on this list, you should purchase tickets in advance to avoid long wait time!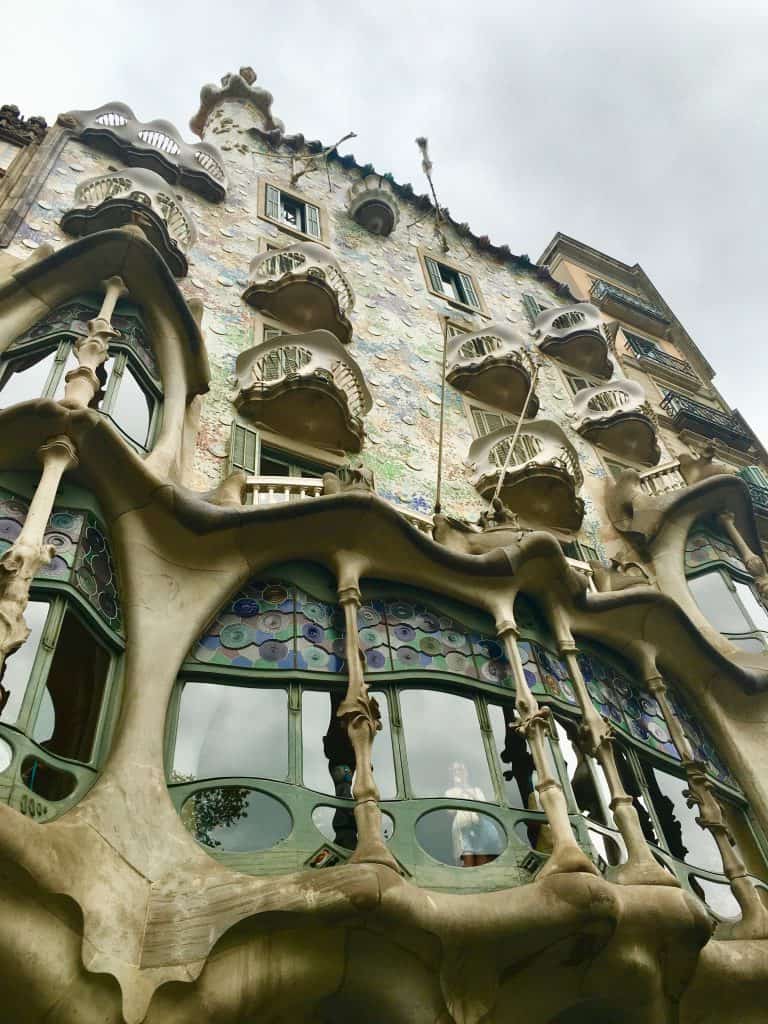 Visit the Las Ramblas neighborhood in the evening to catch sights of street mimes and artists. You can also find numerous options for delicious tapas and drinks throughout the neighborhood.
Day 3 | Taking in the View
Tibidabo Mountain is the highest point of the city, and offers expansive views of Barcelona and some of the nearby countryside. At the top of the mountain you'll find an amusement park as well as the Temple Expiatori del Sagrat Cor. This church allows visitors to travel to the top of the building for the highest views. You can reach the top of the mountain by taking the metro L7 to Avinguda del Tibidabo. Once there, you'll take the Tramvia Blau to the top of the mountain.
In the afternoon, head down to the Passeig de Gracia for a stroll along the tree-lined street. Here you'll find a lot of great options for shopping and/or grabbing lunch.
Visit the Gothic Quarter in the evening to experience the oldest part of the city at dusk. Move through the narrow passageways to get a feel for how people lived there in medieval times. Keep your eyes open for small boutique shops, and delicious gelaterias.
Day 4 | Beach Day
After several days of extensive sightseeing, take a day to relax on Barceloneta Beach. This is one of the most popular beaches in Barcelona, offering cool waters and relaxing views. It's perfect for cooling off on a hot day or just relaxing to the sound of the waves on a cool day. If you are interested in a bit of spa time, the W Hotel at the end of the beach strip does have a Bliss Spa located inside.
Walk over to Port Vell in the evening to take a walk along the boardwalk and find a place to eat. Port Vell is a very picturesque part of the city and offers nightlife, for those interested. It is a great spot to wrap up your visit to this amazing city.
Final Thoughts | Barcelona in 4 Days
Let's be honest – someone could spend over a month in Barcelona and still not cover all it has to offer. Despite this, I think that you can experience Barcelona in 4 days by hitting the highlights mentioned in this post. I hope this post has inspired you to travel to this amazing city!
Have you visited Barcelona before? What are your top recommendations for the city? Comment below!
#travelwandergrow
**Follow my blog in Bloglovin'**