4 Days in Barcelona | A Complete City Guide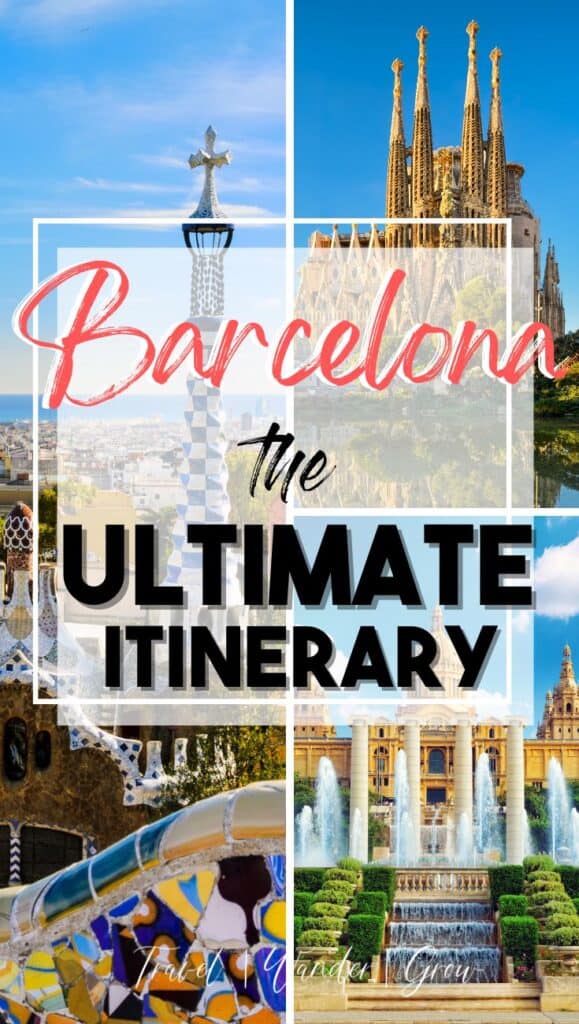 Now, it's very hard for to pick one city in the world as my ultimate favorite, but Barcelona definitely tops that list. Like Rio, Barcelona is one of those rare cities that lets you travel from the mountains to the beach in less than an hour. Barcelona is a beautiful city full of palm trees, green spaces, wonderful restaurants, and a wide variety of things to do. This travel guide will give you an itinerary for spending 4 days in Barcelona. It is a complete guide to helping you see as much as the city as you can in a short amount of time. I hope that you'll begin to fall in love with the city as much as I have by the end of this post!
Brief City History | Barcelona
Little is known about the original inhabitants of Barcelona, but it was inhabited for several thousand years before the arrival of the Romans. The Romans came at around 15 BC and was known as Faventia. Although the Visigoths overtook the city in the 5th century AD, you can still find evidence of the city plans laid by the Romans and ruins scattered throughout the city.
It was ruled very shortly by the Arabs in the 700s, before being conquered by Charlemagne's son Louis. By the 1100's Barcelona was the seat of the Crown of Aragon, which likely sounds familiar to you as this is the same line as Ferdinand II of Aragon. The latter's marriage to Isabella I of Castille united all of Spain under one rule. However, this couple is probably most famous for sending Christopher Columbus to "discover" America.
Barcelona has always been a center for Catalonian pride, with many residents considering themselves Catalonian first before Spanish. Despite suppression of the Catalan language during the Franco period in the early 1900s, this language as well as the cultural identify survived and continue to thrive today.
In recent times, Barcelona has had a period of resurgence, which began with the Olympics in 1992. The city made many efforts to improve the city to prepare for the games, including CREATING a beach from scratch. (Yes, they literally imported the sand and the trees!) This is the transformation that really allowed Barcelona to become the multi-cultural city that it is now.
Today, Barcelona is a city with urban area population of 4.8 million people, which makes it the largest metro in the European Union after Paris, Ruhr, Madrid, and Milan. It is considered a major economic, financial, and cultural center for the whole of Europe, and is the main biotech hub within the country of Spain.
For more information on the city, these quotes and captions about Barcelona provide more color on what you can expect when you visit.
RELATED: Spanish for Travel
Know Before You Go | Barcelona
Lodging and Logistics:
Getting There: Barcelona is one of the top tourist destinations in Spain, so it is pretty easy to find a direct flight here from many major cities all over the world. If you're leaving from the U.S., it's about a 7-hour flight from the east coast and about an 10-11 hour flight from the west coast.
If you are already in Europe, it is easy to find cheap flights for under $200 by booking through RyanAir or EasyJet. Keep in mind that the RyanAir or EasyJet have strict baggage restrictions, so it's always a good idea to evaluate prices against other airlines. I like to use kayak.com, momundo, or google flights to compare ticket costs.
Where to Stay: Barcelona is a huge city that is broken up into several different neighborhoods. I recommend picking a neighborhood based on where you'd like to spend the most time.
Barcelona is a huge city that is broken up into several different neighborhoods. I recommend picking a neighborhood based on where you'd like to spend the most time.
If you'd like to be in the heart of the city, check out El Born. This neighborhood is near the Gothic Quarter and Barceloneta (the beach), and also connects to most of the city via metro. A hotel that I recommend in El Born is the K+K Hotel Picasso El Born. This hotel is located on Passeig Picasso across from Ciutadella Park.
Stay in the Barceloneta neighborhood if you'd like to spend a lot of time near the beach and get a real feel for the Cataluña way of life. A hotel that I'd recommend for Barceloneta is Hotel 54 Barcelona. This hotel is just a three minute walk to the beach, a seven minute walk to the nearest metro station, and a ten minute walk from El Born. There are also plenty of good restaurants in the area as well.
The Eixample neighborhood is a great neighborhood if you are looking for something a bit more cheap, residential, and quiet. This neighborhood is close to the Passeig de Gracia, where you can find a lot of great restaurants and shopping. It is also close to La Sagrada Familia, one of Barcelona's top attractions.
To get a more "local" experience, I recommend staying in an AirBnb. We stayed at an adorable spot in the Passeig de Gracia on my last visit to the city, but unfortunately it is no longer available. But, click here for another lovely recommendation close by that you might want to check out!
*If you are a first time Airbnb user, use my link to get $40 off your first stay!*
Getting Around: Barcelona has a great public transportation system, with many metro lines and bus routes. Check out this website for details on the transit system, including information on how to purchase tourist packages. Taxis are also quite easy to find, especially in the more touristy areas. And although Uber is not in use in Barcelona in 2022, they do have an app that works just as great – Cabify. I recommend downloading it and setting up your profile before your arrival.
Daily Considerations
Language Considerations: Given Barcelona's location in the autonomous community of Catalonia, it has two official languages: Catalan and Spanish. The city is quite international, so English is spoken pretty widely – much more so than other cities in Spain in my opinion. I do recommend that you take the time to learn at least a little Spanish before you arrive as well as some Catalan greetings. This little bit of effort goes a long way. Check out my post on the Essential Spanish Phrases for Travel for more information.
Currency Situation: Like most places in Europe, Spain uses the euro. At the time that this article was posted, the exchange rate was ' €1.00 = $1.15. This means that prices are a bit higher in general in Barcelona, but thankfully this rate has held steady for the past several years. Click here for the latest exchange rates.
Where to Eat: Whatever you eat, you simply must try tapas!! I have provided some of my favorite restaurants in the detailed itinerary below.
With a local guide, explore Barcelona's storied history and experience thousands of years of history in a just 2.5 hours. Learn about the city's Roman and medieval history, while exploring sites such as:
Plaça del Reial
Barcelona Cathedral
Las Ramblas
La Boquería Market
…and much more!
The Itinerary | 4 Days in Barcelona
Day 1 | Getting to Know the City
MORNING
I recommend that anyone in a new city spend time getting to know that city as best as possible. Now, while walkable, Barcelona is a pretty sprawling city. So instead of a walking tour or just metro'ing around on your first day there, the best way to see the city is via the City Sightseeing Hop-On Hop-Off Bus. The key benefit of this bus is that you can travel to all the key sights in the city at a flat fare per person (option for 1 day or 2 days). Note, you will only be able to travel in one direction on this bus.
Start out at 10AM to get key sights in before lunch. On the City Sightseeing bus, start with the Red Route – don't get off on every stop, but I highly recommend you at least stop at and/or take note of the following sites:
Plaça d'Espanya: This plaza is situated near the city center and is located where main roads Gran Via and Paral.lel intersect. It is also home of the Las Arenas De Barcelona mall, which was formerly the old bull-fighting ring. This is one of the largest squares in the city and is easily identified by the 154ft Venetian Towers that flank the entrance to the square.
Poble Espanyol: This is an open air architectural museum that features something for the whole family. It is known to feature a variety of activities, concerts, and exhibitions; and features a handicrafts centre.
Anella Olímpica: This park was the site of the 1992 olympic games and is located on the Montjuïc hill in Barcelona. Nearby you'll see the Communications Tower of which one of the prominent features in the Westworld TV features is modeled from.
Telefèric de Montjuïc / Montjuïc Castle: The Telefèric is a cable car that takes you up the hill to Montjuïc Castle, an old military fortress that has been in place since the 1600s. I do recommend that you take the time to stop here and tour the castle – the views that you get of the city from here are very impressive.
Port Vell: This is the main port (translated as "Old Harbor" in English) for Barcelona. This area was built up quite a bit during the time of the 1992 Olympics. It features a popular mall, a variety of restaurants, and Europe's largest aquarium. We'll visit this port on day 4 of the itinerary, so no need to stop here on your preliminary tour.
Museu d'Història de Catalunya: This museum provides a history of Catalonia from the Stone Age to the present day. This museum is relatively new, opening in February 1996. It is located within Port Vell, and features a large terrace with a café on the roof.
Plaça Catalunya: This plaza is considered to be the heart of Barcelona and is officially the City Center. In this area you'll find many options to eat, shop, and get transport to any area of the city (or out of it).
The Hop On Hop Off bus lines both begin and end here. Once you return, take time to walk over to La Boqueria for lunch (near Las Ramblas). La Boqueria is full of fresh produce and a variety options for eating lunch. Note, I do recommend stopping here for lunch instead of dinner because the shops close before typical dinner time.
AFTERNOON:
After you have had time to grab a bit to eat, switch to the Blue Line to continue your tour of the city at Plaça de Catalunya. As your tour continues, I recommend that you visit and / or photograph the following sites:
Casa Batlló: Antoni Gaudí's footprint is clearly visible throughout the city; his style is clearly noted by nature-inspired colors and shapes and an overall feeling of whimsy. The Casa Batlló was a private home for the wealthy Batlló family, and they had Gaudí completely remodel it at the start of the 20th century. You can purchase your Skip-the-Line Tickets here. If you don't opt for an evening tour or are not in Barcelona for the "Magic Nights", I recommend you stop at this house while on the bus tour.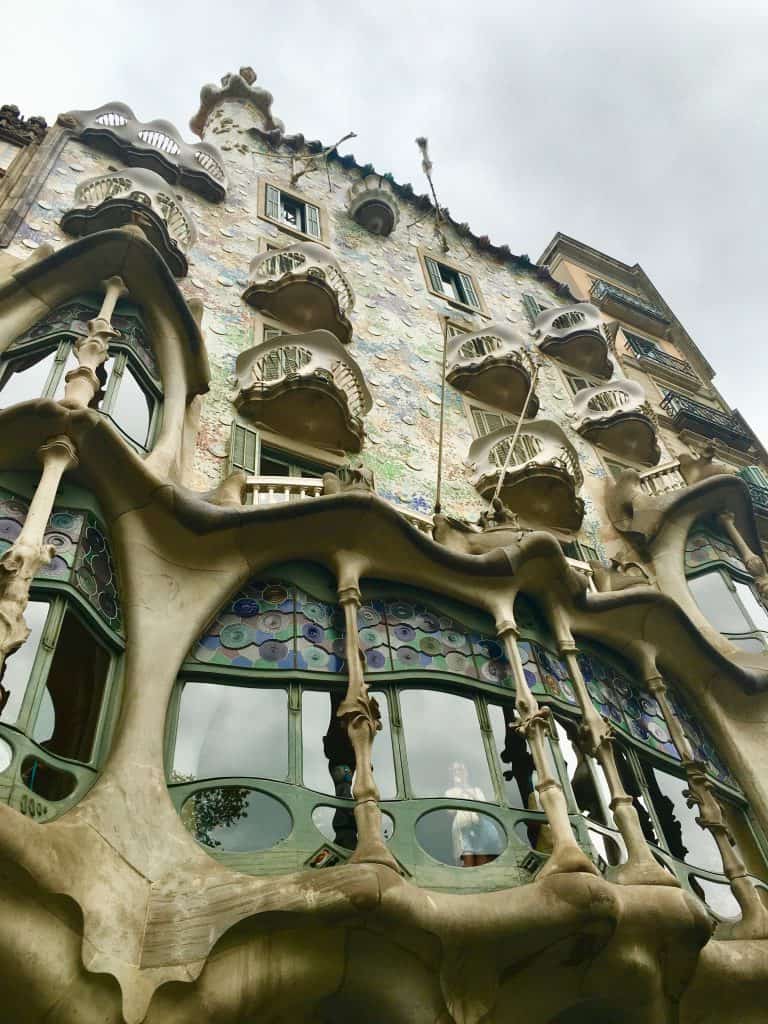 Sagrada Familia: This UNESCO World Heritage site is one of the most famous in Barcelona, and is another Gaudí masterpiece. I don't recommend you visit while on your bus tour – we'll come back here on Day 2. More details to follow!
Park Güell: Yet another Gaudí masterpiece, Park Güell is a privatized park system located on Carmel Hill in Barcelona. The area was originally meant to be a housing site, named for Eusebi Güell, but this was ultimately unsuccessful. The designs in the park are all inspired by nature, as you can likely tell from the images below. In addition to the park, you can also visit Gaudí's home on the site as well – Casa Museu Gaudí. This house is worth a visit if you'd like to see how the famous architect lived back in his day. I do recommend you take the time to visit this park while on your bus tour. All tickets come with a smart guide of the house to make the visit a truly interactive one. Like most attractions on this list, you should purchase tickets in advance to avoid long wait time!
Tibidabo: Mount Tibidabo is a mountain of 512 meters and the highest point in Barcelona, and includes some attractions at the peak. We'll cover this site more on Day 2.
Avinguda Diagonal: This is a major thoroughfare in Barcelona that cuts the city in two diagonally, hence it's name. It is home to some of the city's important buildings such as Casa Serra, Torre Agbar, and the Diagonal Mar shopping center. If you want to do a bit of shopping, I recommend you take the time to get off the bus here to explore.
Eixample: This is a newer district between the old city (Ciutat Vella) and the former small surrounding towns of Sants, Gràcia, and Sant Andreu. It's name literally means "expansion" in Catalan. As mentioned above, this area is a bit more residential than the Gothic Quarter and you'll be able to find cheaper stays here.
EVENING:
For your first evening in Barcelona, I recommend eating at Tapeo. The tapas here are incredible! The space is a bit tight, but the waiters are friendly and the atmosphere is very lively. You can also watch a lot of what is going on in the kitchen – which I personally love. After dinner, visit the Las Ramblas neighborhood in the evening to catch sights of street performers, mimes and artists. You can also find numerous options for delicious tapas and drinks throughout the neighborhood.
Day 2 | Mount Tibidabo and More Gaudí
MORNING:
Tibidabo Mountain is the highest point of the city, and offers expansive views of Barcelona and some of the nearby countryside. At the top of the mountain you'll find an amusement park as well as the Temple Expiatori del Sagrat Cor. This church allows visitors to travel to the top of the building for the highest views. The Parc d'Atraccions Tibidabo is one of the oldest amusement parks in the world at over 100 years old. It gives a bit of a "traveling fair" vibe, and features attractions like a ferris wheel, bumper cars, flying swings, and more. It is certainly a good place to consider for the whole family.
You can reach the top of the mountain by taking the metro L7 to Avinguda del Tibidabo. Once there, you'll take the Tramvia Blau to the top of the mountain. Depending on what you choose to do, you may want to allocate the full morning here. If you don't mind getting up early, you might also want to consider getting here early enough to catch the sunrise, or arriving in time to catch the sunset. Either one of these would be the best time to visit Tibidabo.
AFTERNOON:
Head back to the Eixample neighborhood and grab a bit to eat for lunch. I recommend finding a cafe or something simple nearby La Sagrada Familia, which will be the main event for the afternoon! As an alternative, visit the nearby El Born neighborhood for a more local feel – be prepared to use some of your Spanish skills here!
La Sagrada Família, formally known as Basílica i Temple Expiatori de la Sagrada Familia or (Basilica of the Holy Family) is probably the most popular work by Gaudí, and the main attractions in the city. This cathedral has been in construction since 1882, and is meant to be the second tallest structure in Barcelona, after Mount Tibidabo. Like many of his works, the design is inspired by nature and is simply stunning. It is finally nearing completion and is simply breathtaking as there is an incredible amount of work that has been put into every detail in this building. This includes multi-colored lighting in the interior of the cathedral and intricately carved sculptures on the buildings exterior. When visiting, I highly recommend you purchase skip the line tickets as "day of" tickets go really fast, and the lines to purchase and get in can be quite long. Pro tip: Purchase your tickets online to avoid long wait times!
If you have some time to kill in the afternoon after seeing the cathedral, you may want to visit one of the following museums:
Picasso Museum: For the art lovers out there, this museum features over 4000 of Picasso's works. It was the first Picasso museum built and the only one created during his lifetime. You can find this museum in the La Ribera area of the Ciutat Vella in Barcelona.
Catalunya Museum: Another art museum, this is one of the largest museums in Spain, and has a history dating back to the 19th century. It features art collections from a varity of styles, such as Gothic, Renaissance, and Modern Art.
EVENING:
Spend your evening learning more about the history of Barcelona and its food by going on the Barcelona Tapas, Taverns, and History Tour. I loved my experience on this tour as it wove together two of my favorite things – eating and history – quite perfectly. You'll roam the streets of the famous Gothic Quarter while learning all about how the city was founded and how it has changed over the years.
You will also see sites such as the Cathedral of Barcelona, the Pont del Bisbe bridge, and the Momument als Castellers. While in the Gothic Quarter you'll experience narrow passageways that really provide a feel for how people lived there in medieval times. Keep your eyes open for small boutique shops, and delicious gelaterias.
During the tour there are three stops to eat and drink along the way, and each offers very classic tapas. There is plenty of food and the tour can be adjusted for pretty much any dietary restrictions.
After the tour ends, take a stroll through the popular Plaça Reial for more food/drink or some dancing. If you visit in the summer, you are also likely to find open air concerts here too.
Note, if you prefer not to do a food tour and want to learn about the Gothic Quarter at a lower price, consider doing a walking tour. My family/friends and I took the SANDEman's New Barcelona Free Walking Tour. The tour was informative, but I recommend taking a tour with a company like Tour Barcelona, as it is not a Europe-wide chain and offers a more authentic experience. Many of these tours will take you around the Gothic Quarter and surrounding neighborhoods, but you can find other options as well.
You can learn more about about Barcelona's Old City here, inclusive of information on areas outside of the Gothic Quarter.
Day 3 | Day Trip to Girona/ Costa Brava
MORNING / AFTERNOON
On your third day in Barcelona, I recommend taking a bit of an excursion outside of the city to see a little more of Catalunya. The Girona and Costa Brava Day Trip from Barcelona tour is a great option for this. This tour will take you to the following locations:
Girona: This city was originally founded by the Iberians and known as Gerunda. It then fell under the rule of a variety of conquerors, such as the Visigoths and Moors. Today the city is known for its well-preserved old quarter, and for featuring some filming locations for the Game of Thrones.
Peratallada: This is a tiny medieval village that probably is unknown to most, but it is a charming little place. The tour allows you to stop here for lunch (very delicious) and pass some time exploring the shops on the main street.
Calella de Palafrugell: For a more chill (and more local) beach experience, this is the town for you. Stop here to swim in the coves that line the shore or grab a snack from one of the many restaurants on the waterfront.
The tour includes pickup, a tour guide / driver, and transportation to all the different locations mentioned above.
EVENING
In the evening, I recommend you opt for dinner at Gourmet Sensi. This restaurant features wonderful tapas that have a bit of a flair to them. We set at the bar and the service was impeccable. Bring a friend and try as much food as possible! After dinner stroll nearby to find a spot to hang a bit for the evening. We found a Jazz Club close by and took in the music a bit before finally closing out the night.
Day 4 | Shopping & Beach Day
On your last day in Barcelona you should have two key goals. 1) Go Shopping! and 2) Hang at the Beach!
MORNING:
After a late breakfast, head over to the Passeig de Gràcia for a nice "shopping stroll". This street is one of Barcelona's most popular and even has its own website. This street is known as one of the most important shopping and business areas in the city, and also as the most expensive street in Spain. Passeig de Gràcia is located in the central part of the Eixample neighborhood and features a middle walkway and a line of trees up and down the whole street. Some of the stores you'll find on this street include: Zara, Rolex, Mango, and Louis Vuitton. If you prefer more low-key shopping, there are plenty of options in Plaça Catalunya as well. I think that only Málaga rivals Barcelona in terms of the variety of available shopping options.
AFTERNOON:
After you have had your fill of shopping, take some time to relax on Barceloneta Beach. This is one of the most popular beaches in Barcelona, offering cool waters and relaxing views. It's perfect for cooling off on a hot day or just relaxing to the sound of the waves on a cool day. Know that bathers go in typical "European" style, which means that being topless is fully permitted and there are some fully nude portions of the beach as well. If you are interested in a bit of spa time, the W Hotel at the end of the beach strip does have a Bliss Spa located inside. During one visit to Barcelona, I stopped here for a massage and hot tub time and it was wonderful.
For those of you who like sailing, I recommend taking a mid-day or sunset sail around the Mediterranean. For the water you'll have fantastic views of the city and you can take swim in the middle of the water if you so desire. The boat tour features music, some drinks and a snack (most likely the Spanish potato omelet). Take the Barcelona: Two Hour Midday or Sunset Sailing Cruise for the best experience.
EVENING:
For your final night in Barcelona, stroll over to Port Vell in the evening to take a walk along the boardwalk and find a place to eat. Port Vell is a very picturesque part of the city and offers nightlife, for those interested. It is a great spot to wrap up your visit to this amazing city. Some excellent restaurant ideas include:
Mana 75 – This is the self-proclaimed "best paella restaurant in Barcelona" and provides a variety of paella dishes and offers varieties that will meet most dietary needs.
Makamaka – This is more of a casual, beach hut style restaurant that offers gourmet burgers and salads.
Terazza Ravello – For a change of style, this restaurant serves Italian classics in addition to artisanal pizzas and Mediterranean style food
If you are visiting in the summer, I recommend experiencing the "Magic Nights" at Casa Batlló or if another time of year, go for a Night Visit. Just for a bit more information, the "Magic Nights" experience includes a tour of the house and live music performances on the rooftop by up-and-coming artists. When booking you can select a concert by the genre type of music as well. There are light refreshments served, but I do recommend eating a full meal either before or after a visit here. In contrast the "Night Visit" is really more focused around experiencing the house at night – which is cool to do as well!
RELATED: Best Places to Visit in Spain
Barcelona City Map
This map shows the key landmarks mentioned in the post. Should be helpful as you navigate the city!
Map Key:
Gothic Quarter
El Born
La Sagrada Familia
Park Güell
Casa Batlló
Las Ramblas
Mount Tibidabo
Passieg de Gracia
La Barceloneta
Barcelona Pass Details | Available Options and Value
Now, given that Barcelona is not the cheapest of cities, you may be looking for some additional ways to save money or get the best bang for your buck there. I do recommend opting for one of the cards below if you will be in the city for 4 days. There are a few Barcelona Pass options, and I'll walk you through three of those below:
Barcelona Card: In my opinion, this card provides the best bang for your buck as it offers unlimited public transportation for the duration of the pass, FREE entry to 25 of Barcelona's most popular attractions, and a variety of additional discounts for up to 50% of the regular price. In addition you'll get a guidebook and a free map of the city. Free attractions include the Picasso Museum, National Art Museum of Catalonia, El Born Cultural and Memorial Center, the Ethnological Museum of Barcelona, and many more. Buy your Barcelona Card here!
Barcelona: Go City Explorer Pass: This pass is customizable, allowing you to purchase 2-7 attractions (of your choice) at once for a 35% discount. This pass does not include public transit, but does include the option to book the Barcelona Bus Turistic Hop-On / Hop-Off. In addition, attractions in the list include a guided tour of the Sagrada Familia, La Pedrera, a Barcelona Bike Tour and more. Book your Go City Explorer Pass here!
Barcelona: Hola Barcelona Public Transport Card: This is just a public transit card, but is valuable if you plan to see a lot in the city while you are there. A good idea might be to combine this pass with the explorer pass if the City Pass is more appealing to you than the first option. Book your Public Transport Card here!
What to Do if You Have More Time in Barcelona
If you decide to extend your time in Barcelona, or in Catalonia in general, there are a variety of activities that you can do, from day trips to additional activities:
RELATED: Three Day Lisbon Itinerary
Barcelona FAQs
How many days to you need in Barcelona?
To get a taste of Barcelona's main attractions and culture, three days would be a reasonable amount of time. However, extending your stay to five days allows for a more relaxed experience and the opportunity to explore additional highlights and enjoy the city's diverse offerings, including its beaches, art, and vibrant nightlife.
What is the number one attraction in Barcelona?
The number one attraction in Barcelona is the Sagrada Família, a stunning basilica designed by Antoni Gaudí. Its unique architecture and ongoing construction make it a symbol of the city and a top destination for visitors. A must-visit site for those interested in art and architecture.
What is the best month to travel to Barcelona?
The best months to visit Barcelona are May, June, and September. During this time, the weather is pleasant, and there are fewer tourists compared to the peak summer months. Avoiding the winter months is recommended for those who prefer milder temperatures and more outdoor activities.
Is Barcelona friendly for tourists?
Barcelona is very friendly for tourists with a well-developed infrastructure and English widely spoken. The city offers a variety of attractions, efficient public transportation, and a welcoming atmosphere for visitors. However, as with any destination, it's essential to stay vigilant and mindful of personal belongings to avoid any potential issues.
Is 4 nights in Barcelona too much?
Four nights in Barcelona provides a good balance for exploring the main attractions, experiencing the local culture, and having some relaxation time. It allows for a comfortable sightseeing schedule and the possibility of including day trips to nearby places. Whether it's too much depends on your preferences, but it offers a fulfilling experience for most travelers.
Final Thoughts | Barcelona in 4 Days
Let's be honest – someone could spend over a month in Barcelona and still not cover all it has to offer. Despite this, I think that you can experience Barcelona in 4 days by hitting the highlights mentioned in this post. I hope this post has inspired you to travel to this amazing city!
Have you visited Barcelona before? What are your top recommendations for the city? Comment below!
Related Posts:
---
---