4 Days in Paris | The Perfect First-Timer's Guide
Paris, the capital city of France, has a rich and fascinating history that spans over two millennia. From its humble origins as a small Celtic settlement to its status as a global center of art, culture, and politics, Paris has witnessed numerous transformative events and developments that have shaped its identity and made it one of the most iconic cities in the world.
It seems that someone is always going to Paris, and maybe it's because they are. There are around 40 million (!) visitors to this city each year. And fun fact – France is the #1 most visited country in the WORLD! Paris is an amazingly charming city with a little bit of something for everyone.
In this post I'll give the best guide for how to spend 4 days in Paris. This itinerary is perfect for first-time visitors and will provide tips on the most popular attractions and the best restaurants to visit while you are in this amazing city.
Brief City History | Paris
Paris was first inhabited by the Celtic Parisii tribe who settled there during the 3rd century B.C. on the banks of the River Seine. They named their settlement "Lutetia," which would later become the foundation for the modern-day city. Like many well-known European cities today, Paris was conquered by Rome, becoming part of the Roman empire in 52 BC. The city was known as Lutetia (Parisiorum) then Parisius, before being known by the name we call it today.
In the Middle Ages, the city was ruled by several dynastic kings, who led the city through periods of ups and downs over the years. During this time, the city experienced significant growth and became the political and cultural capital of the Kingdom of France. The construction of Notre-Dame Cathedral began in the 12th century and became a symbol of the city's architectural prowess.
In the 18th century, Paris also played a crucial role in the Renaissance and the Enlightenment, with scholars, philosophers, and artists flocking to the city, making it a hub of intellectual and artistic activity. Surprisingly enough, the cafés that began to pop up in the city aided this time of great thought. They became places where intellectuals gathered to exchange new ideas and news.
The French Revolution began not long after the start of this new Age in 1789. The revolution had a profound impact on Paris and the nation as a whole. The city witnessed the storming of the Bastille, a symbol of royal authority, marking the start of the revolution. Paris became the epicenter of radical political change, and during this period, notable landmarks like the Eiffel Tower and the Arc de Triomphe were constructed, further enhancing the city's iconic skyline.
Ultimately, France one of the first countries not ruled by a monarchy. Following a period of chaos, Napoleon I began rule of the country and actually brought back some normalcy to everyday life there. Following his demise, Paris went through a period of reconstruction. It was during this time that Paris got that classic look that is so well known (cream colored stone, dark blue roofs) by order of Napolean III.
The 19th and 20th centuries saw Paris undergo significant urban development and modernization. Under the leadership of Baron Haussmann, a massive renovation project transformed the city's layout, resulting in the wide boulevards and grand squares that characterize modern Paris. The city became a center for art movements like Impressionism, with renowned painters such as Claude Monet and Pierre-Auguste Renoir finding inspiration in its streets and landscapes.
In the 20th century, Paris endured the horrors of two World Wars. During World War II, the city was occupied by Nazi Germany from 1940 to 1944. The Liberation of Paris in 1944 marked a turning point, leading to the eventual defeat of Nazi forces. In the post-war period, Paris regained its status as a cultural capital, attracting artists, writers, and musicians from around the world.
Paris is also known for its fashion industry, haute cuisine, and as a center for diplomacy and international relations. With its rich history and enduring allure, Paris stands as a testament to the resilience and beauty of human civilization. Today, it is the third most economically powerful city in the world, only behind London and New York.
Today, Paris remains an influential global city, renowned for its iconic landmarks, museums, and vibrant cultural scene. The city's historical sites, such as the Louvre Museum and the Palace of Versailles, continue to attract millions of visitors each year.
The Itinerary | 4 Days in Paris
Day 1 | Getting to Know Paris
MORNING/AFTERNOON
On your first day in Paris, you should start by getting acquainted with the city (something I mention in all of my short travel guides).The best way to this is by guided tour, so that you can get sense of the city's culture and history while you explore. When in Paris, I recommend taking this Paris Sights Walking and Metro Tour.
The tour will take you to the following sites listed below (and more!). I will note, the major landmarks listed do not include inside visits, but we'll cover more of that in the days that follow.
Montmartre: Nestled in the northern part of Paris, the Montmartre neighborhood exudes an artistic and bohemian charm that has captivated visitors for centuries. Famous for its picturesque streets, vibrant cafés, and breathtaking views from the iconic Sacré-Cœur Basilica, Montmartre has long been a haven for artists, writers, and intellectuals. In the late 19th and early 20th centuries, it was the epicenter of the Belle Époque.
It also served as a gathering place for renowned artists such as Pablo Picasso, Vincent van Gogh, and Henri de Toulouse-Lautrec. Today, Montmartre retains its artistic spirit with its numerous galleries, street artists, and the famous Place du Tertre, where painters display their work. Strolling through its narrow, winding streets, one can still feel the echoes of the past and witness the creative energy that has made Montmartre a symbol of the artistic soul of Paris.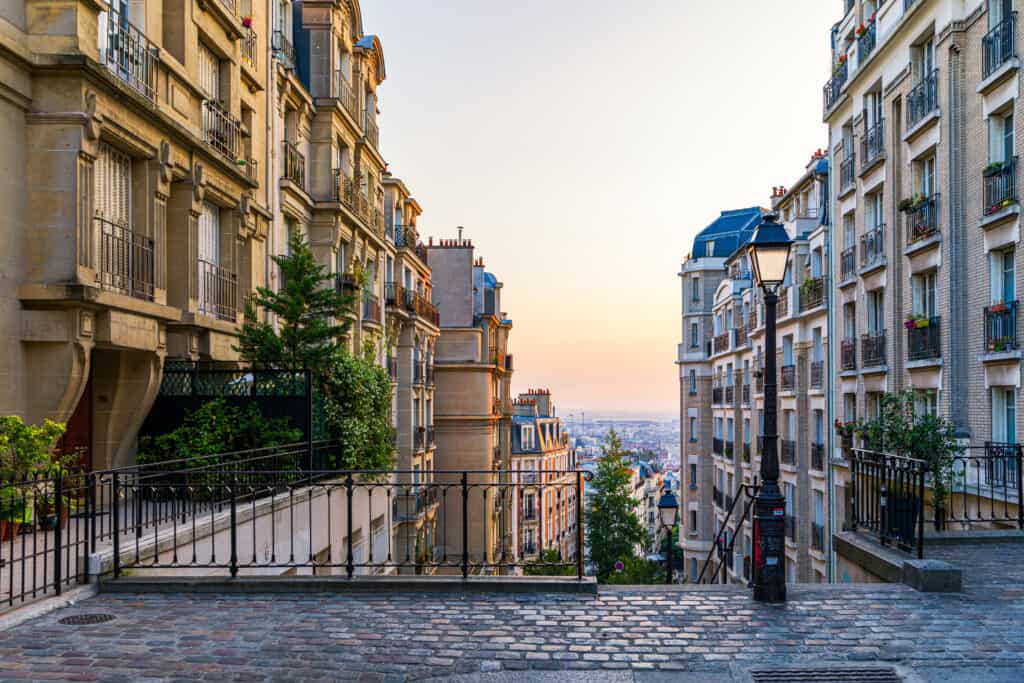 Hotel de Ville: Located in the heart of Paris, this majestic building serves as the City Hall of the French capital. With its grand architecture and rich history, the Hôtel de Ville stands as a symbol of civic pride and governance. Built in the 19th century, the building showcases an exquisite blend of Renaissance and Gothic styles, adorned with intricate sculptures and decorative elements. Its prominent clock tower and elegant façade make it a prominent landmark along the Seine River.
Throughout the years, the Hôtel de Ville has witnessed significant events, including political gatherings, official ceremonies, and even the proclamation of the French Republic. Today, it continues to be a bustling administrative center, housing the offices of the Mayor of Paris and hosting various cultural and social events.
Arc de Triomphe: An iconic symbol of Paris, this structure stands proudly at the western end of the Champs-Élysées. Constructed in the early 19th century, the monument commemorates the victories of the French army, particularly during the Napoleonic Wars.
The Arc de Triomphe is a magnificent architectural masterpiece, with its grand arch and intricate reliefs depicting historic battles and scenes of patriotism. Standing at the center of a bustling roundabout, it offers breathtaking views of the city, including a direct line of sight to the Louvre Museum and the Grande Arche of La Défense.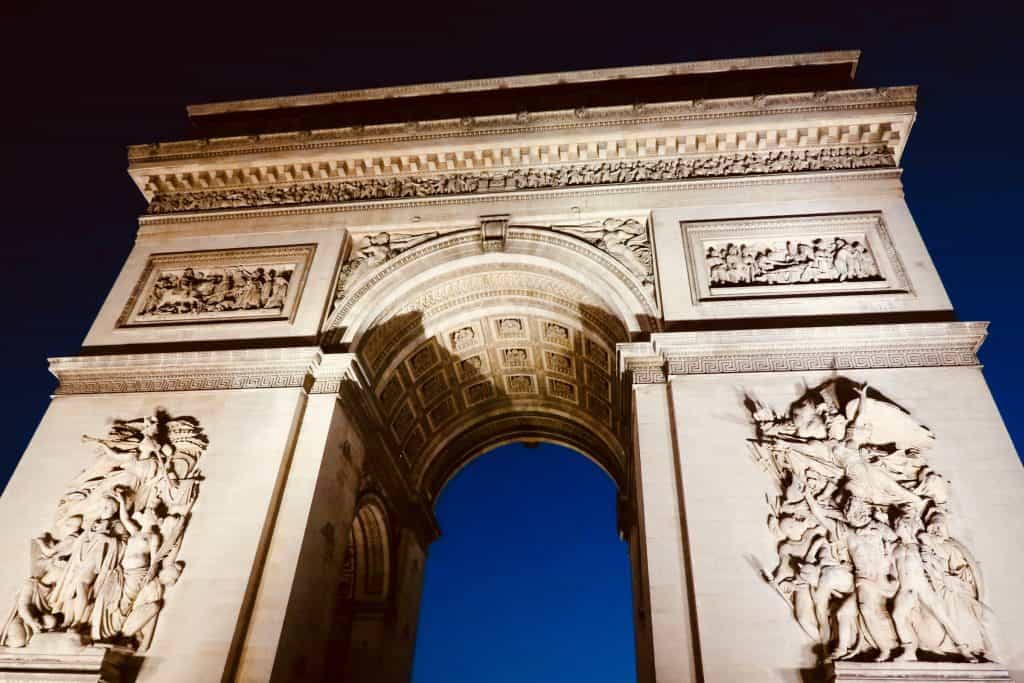 The monument has become a site for national celebrations, such as military parades and the conclusion of the Tour de France. It also serves as a memorial for fallen soldiers, with the Tomb of the Unknown Soldier located beneath its vaults. As visitors pass under its towering arch, they are reminded of France's storied past and the enduring spirit of triumph and resilience.
Champs-Elysees: Often considered the most famous avenue in the world, is a cultural and iconic landmark located in the heart of Paris. Spanning from the Place de la Concorde to the Arc de Triomphe, this grand boulevard is known for its elegance, luxury shops, and prestigious atmosphere.
Lined with majestic trees, upscale boutiques, charming cafes, and theaters, the Champs-Élysées offers a captivating blend of fashion, entertainment, and history. Visitors and locals alike are drawn to its beauty, whether it's for a leisurely stroll, high-end shopping, or simply to revel in the charm and sophistication that the Champs-Élysées exudes.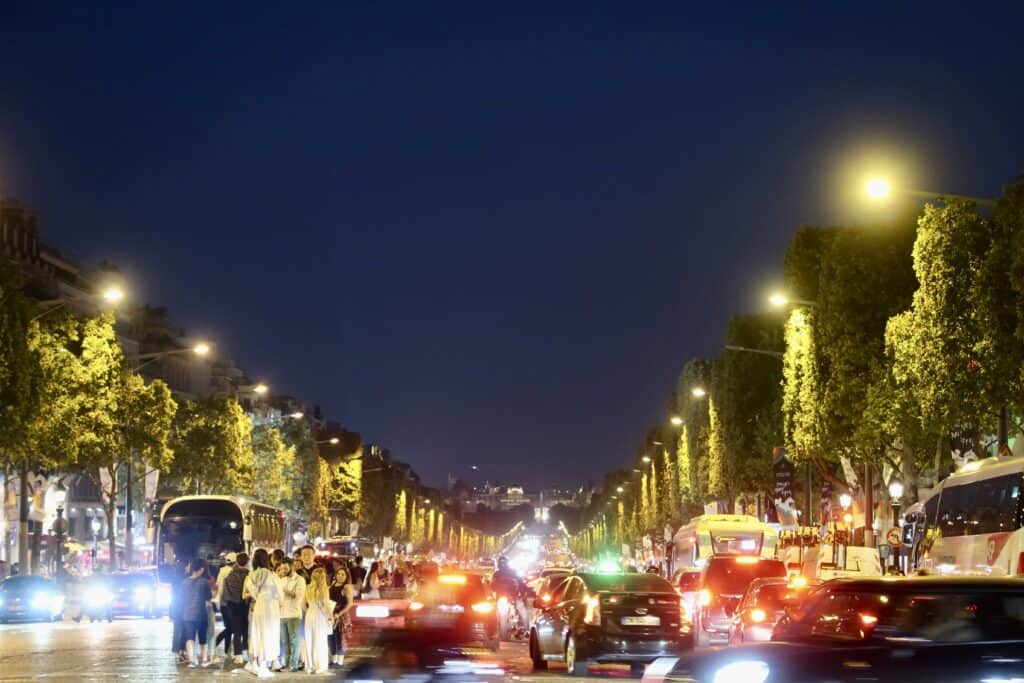 Lourve Museum (Musée du Louvre): This world-famous cultural institution and large museum is renowned for its extensive collection of art and historical artifacts spanning thousands of years. Home to iconic masterpieces like the "Mona Lisa" and the "Venus de Milo," the museum attracts millions of visitors each year.
With its grand architecture, including the striking glass pyramid, the Louvre offers a captivating experience that immerses visitors in the beauty and history of human creativity.
Eiffel Tower: The Eiffel Tower, an iconic landmark in Paris, is recognized globally for its distinctive silhouette and historical significance. Standing at a height of 324 meters (1,063 feet), it offers breathtaking panoramic views of the city from its observation decks.
From its construction for the 1889 Exposition Universelle to its status as a symbol of French ingenuity, the Eiffel Tower continues to captivate visitors with its beauty and charm.
Moulin Rouge: The Moulin Rouge is a world-famous cabaret located in the Montmartre neighborhood of Paris. Established in 1889, it has become an iconic symbol of French nightlife and entertainment.
Known for its extravagant shows, can-can dancers, and vibrant atmosphere, the Moulin Rouge has attracted visitors from all over the world who come to experience its dazzling performances, elaborate costumes, and lively music.
Latin Quarter: Situated on the Left Bank of the River Seine, is a vibrant and historically rich neighborhood in Paris. Known for its bohemian atmosphere and intellectual legacy, the Latin Quarter has been a hub for scholars, artists, and students for centuries.
With its narrow winding streets, charming cafés, bookshops, and iconic institutions like the Sorbonne University, the Latin Quarter offers a unique blend of history, culture, and lively ambiance that continues to attract visitors from around the world.
Musee de L'Homme: Located in Paris, this renowned museum is dedicated to the exploration and understanding of humanity and human societies. Established in 1937, the museum offers a diverse range of exhibits that delve into various aspects of anthropology, ethnography, archaeology, and paleontology. Visitors can explore collections showcasing artifacts from different cultures and civilizations, including ancient civilizations, indigenous peoples, and contemporary societies.
The Musée de l'Homme also addresses thought-provoking topics such as human evolution, cultural diversity, and social issues. Through its interactive displays, educational programs, and temporary exhibitions, the museum aims to foster dialogue and promote a deeper appreciation for the complexity and interconnectedness of human life.
Cathedrale Notre-Dame de Paris (Notre Dame Cathedral): Located on the Île de la Cité in the heart of Paris, is a magnificent example of French Gothic architecture and one of the most iconic landmarks in the city. Construction of the cathedral began in the 12th century and took over 200 years to complete. With its stunning rose windows, towering spires, and intricate stone carvings, Notre Dame is a masterpiece of craftsmanship and artistry.
The cathedral has witnessed numerous historic events, including coronations and religious ceremonies, and has inspired countless works of literature and art. Despite the devastating fire that occurred in 2019, efforts are underway to restore and preserve this cultural and architectural gem, ensuring that the Notre Dame Cathedral remains a symbol of Parisian heritage and a testament to human achievement for generations to come.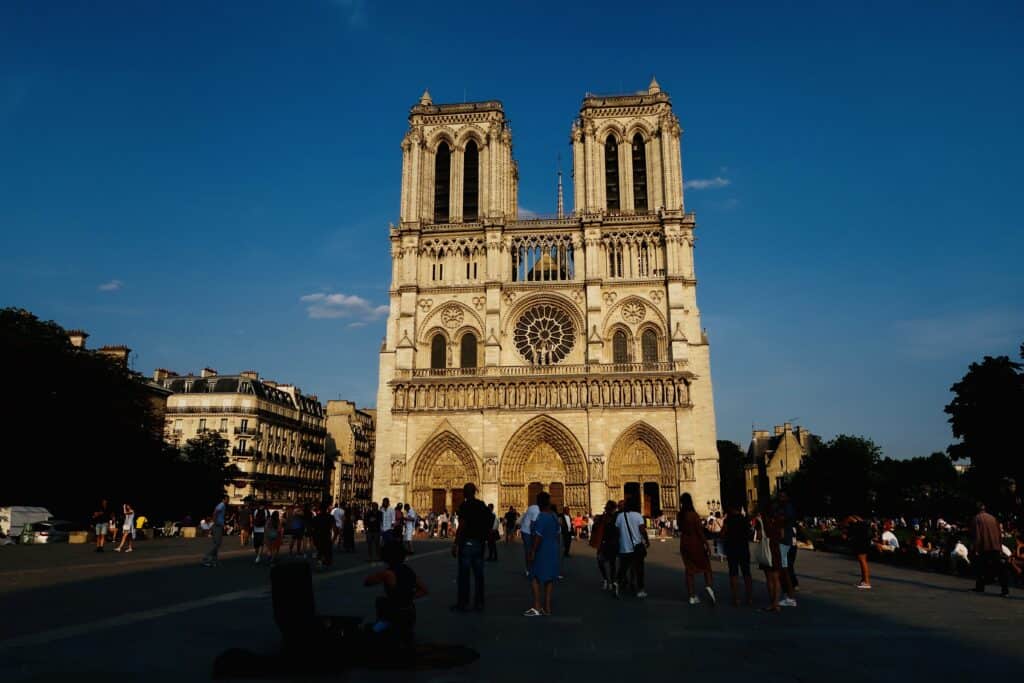 This tour will help you get oriented to city, but note that you won't visit the inside of any landmark during this tour. You will have time to stop for photo ops though :).
Book Your Paris City Tour Now!
EVENING
In the evening, take a Dinner Cruise on the River Seine. A Seine river cruise is a classic experience, and is wonderful for anyone who wants to spend time soaking in the city from a different light. You can enjoy a wonderful meal with a tour like this one, and see the sights from different perspective at night.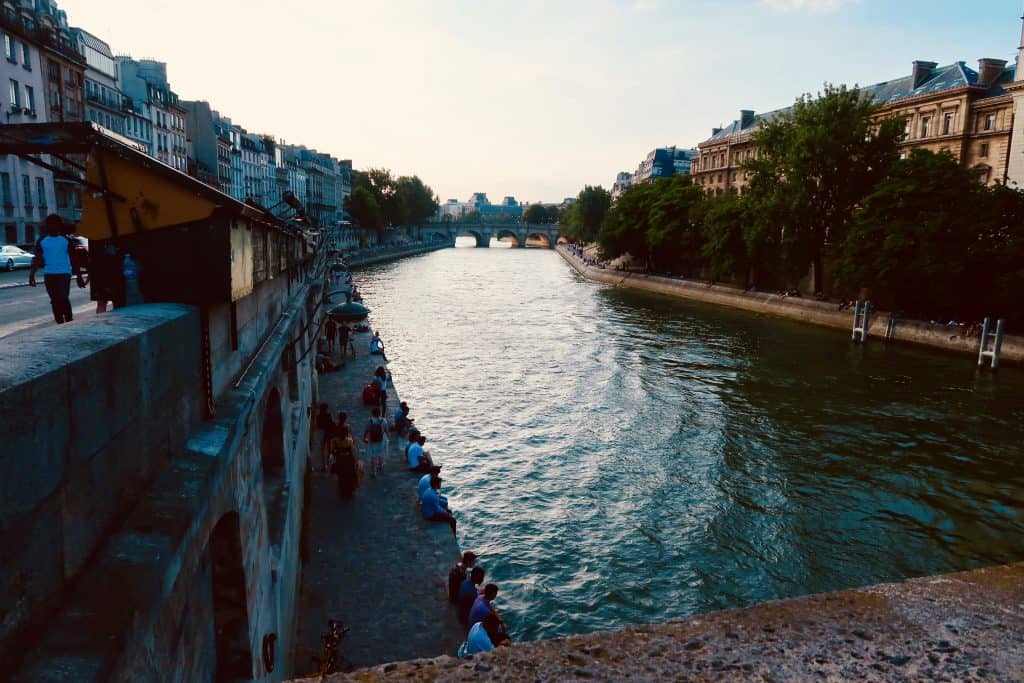 Day 2 | Versailles and the Eiffel Tower
Morning / Early Afternoon
On your second day in Paris, head down to Palace at Versailles. Located just outside of Paris, Versailles is a magnificent palace that stands as a symbol of grandeur and opulence. Built in the 17th century during the reign of Louis XIV, the Palace of Versailles was originally a hunting lodge before it was transformed into a sprawling palace and the seat of power for the French monarchy.
The palace is renowned for its breathtaking architecture, extravagant gardens, and ornate interiors. From the Hall of Mirrors, with its stunning reflections and intricate detailing, to the opulent Royal Apartments, Versailles showcases the luxurious lifestyle of the French court.
The palace and its grounds cover a vast area, providing visitors with an immersive experience as they explore the elaborate halls, expansive gardens, and the iconic Grand Canal.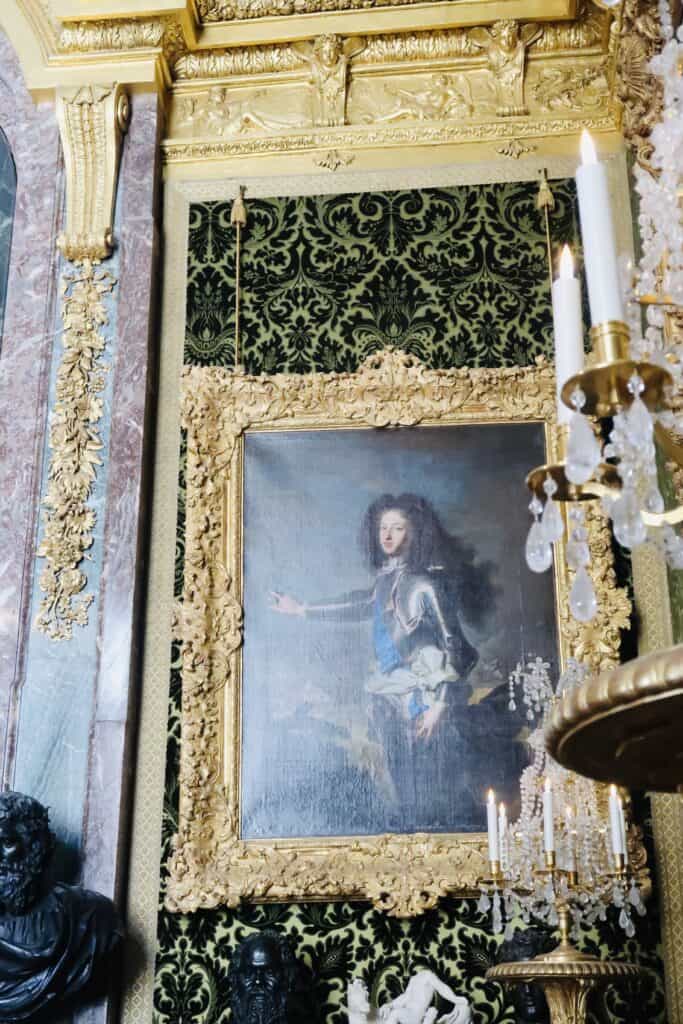 Beyond its architectural splendor, Versailles played a significant role in shaping French history. It served as the backdrop for pivotal events, such as the signing of the Treaty of Versailles in 1919, which marked the end of World War I.
Today, the Palace of Versailles is a UNESCO World Heritage site and a major tourist attraction, drawing millions of visitors each year. The palace offers a glimpse into the extravagant world of French royalty, allowing visitors to marvel at the lavish decorations, learn about the historical significance of the site, and appreciate the meticulous craftsmanship that went into its creation.
The scale of the palace is just ridiculous, I can't even imagine living in a place of that size! I also found the colorful walls and ornate mirrors throughout the palace make it beautiful to see. While most of the original furniture is gone, you can still catch many original royal portraits. And they are really something!
I enjoyed spending time exploring Marie Antoinette's residence, which was located on the same property, but a bit of a walk away from the main palace.
To get there you can transfer from the metro and take the RER C to the end of the line (Versaille – Rive Gauche stop). I highly, highly recommend that you book a skip-the-line tour for Versailles, especially in the summer as the lines can be very long. We booked the tour linked above and could not have been more happy.
Book your Versailles Tour Now!
AFTERNOON
After spending your morning in Versailles, travel to the Eiffel Tower. You can take RER C to the Champ de Mars stop to arrive a short walk away from the tower.
The Eiffel Tower, stands tall on the Champ de Mars. Built in 1889 by Gustave Eiffel, the tower was originally intended as a temporary structure for the Exposition Universelle (World's Fair). However, its striking design and remarkable height of 324 meters (1,063 feet) captured the world's imagination, and it became an enduring emblem of the city. Constructed with over 18,000 individual iron pieces, the Eiffel Tower showcases the architectural prowess of its time. It boasts a lattice-like structure that not only provides stability but also creates an intricate pattern that adds to its aesthetic appeal.
The tower's innovative design and engineering techniques were groundbreaking for their era, making it a testament to human ingenuity and a prime example of the beauty found in industrial structures. The Eiffel Tower offers breathtaking views of Paris from its observation decks, allowing visitors to admire the sprawling cityscape, iconic landmarks, and the meandering River Seine.
If you would like to travel up the tower, you should book a skip-the-line tour to visit here as well. Especially if visiting in the summer. The Eiffel Tower: Second Floor Priority Access tour is a great option for this, if you're interested.
Check Rates for Your Eiffel Tower Tour Here
Day 3 | The Lourve and Notre Dame
MORNING
For your third day in Paris, kick the morning off with a visit to the Louvre. This famous museum is housed in a former royal palace, and is not only a treasure trove of artistic masterpieces but also an architectural marvel in its own right.
The museum's collection spans thousands of years of human history, showcasing art and artifacts from ancient civilizations to the present day. Visitors can marvel at iconic works such as Leonardo da Vinci's "Mona Lisa," the ancient Greek sculpture of "Venus de Milo," and the majestic "Winged Victory of Samothrace."
The Louvre's diverse collections include paintings, sculptures, decorative arts, archaeological artifacts, and Islamic art, among others. In addition to its permanent collections, the museum hosts temporary exhibitions that explore various themes and artistic movements.
The Louvre's expansive galleries, featuring grand halls and intimate chambers, offer an immersive experience, allowing visitors to engage with art on a profound level. Beyond the art, the Louvre's architecture is a masterpiece in itself, with the iconic glass pyramid at its entrance serving as a symbol of modernity juxtaposed against the historic facades.
Try to get here early, before the crowds arrive. That will help you get into the museum quickly without a special pass and view the sights without having to essentially stand on top of people. Note, if traveling by metro, you can access the Louvre by either the Lourve Rivoli or Palais Royal Musée du Lourve stops on Line 1.
Click here to book your Louvre Skip-the-Line Guided Tour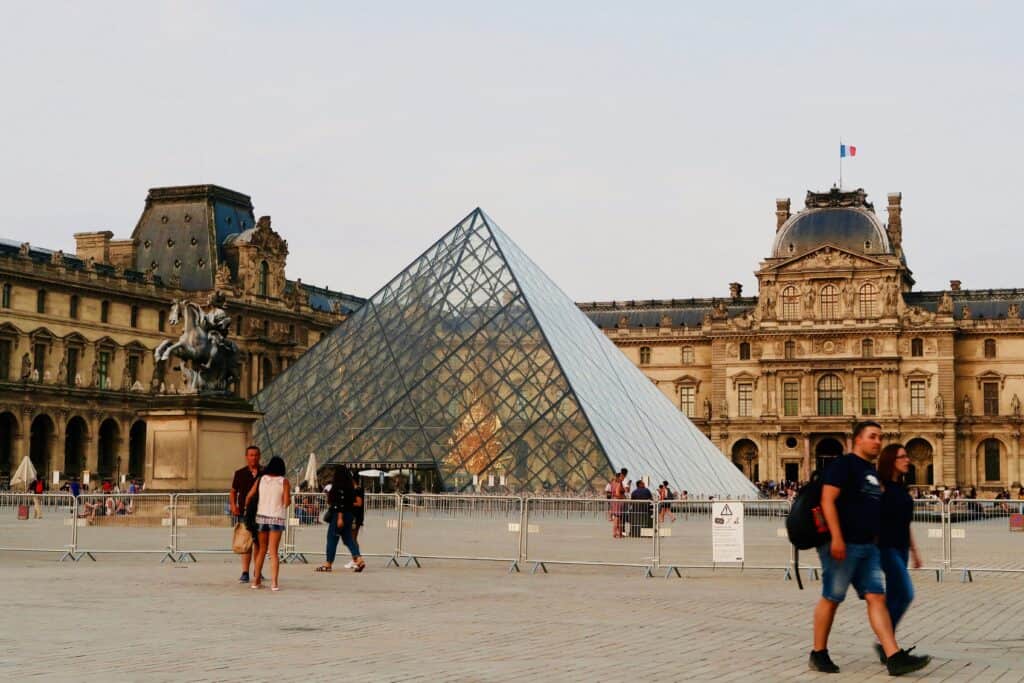 AFTERNOON
Notre Dame
In the afternoon, head over to Notre Dame. This cathedral, constructed between 1163 and 1345 is a prime example of French Gothic architecture. Notre Dame Cathedral holds immense historical and cultural significance. It has witnessed significant events throughout French history, including the coronation of Napoleon Bonaparte and the beatification of Joan of Arc.
The cathedral's interior is equally breathtaking, with its soaring vaulted ceilings, magnificent organ, and beautiful stained glass windows that filter colorful light into the space. Notre Dame remains a site of religious devotion, attracting visitors from all over the world who come to marvel at its architectural grandeur and experience a sense of spiritual awe.
Also, in case you haven't heard, there is a very famous book and maybe even more famous Disney movie centered around this cathedral. I've visited this church a few times and the sculptures on the outside and the stained glass windows on the inside are simply breathtaking.
As mentioned earlier, Notre Dame Cathedral suffered a devastating fire that destroyed much of its roof and spire. However, the tragedy has sparked a renewed commitment to its restoration. The global outpouring of support and the dedicated efforts of experts and artisans have ensured that Notre Dame will be restored to its former glory. The restoration project aims to preserve the cathedral's historical integrity and ensure its continued presence as a symbol of faith, art, and resilience.
Entrance into the cathedral is free, and the interior is just as intricately designed as the exterior. There is also an option to travel to the top of the building by buying a ticket (€8.50) at the kiosk on the left side of the building.
Note: due to the 2019 fire, the interior is currently closed. But it is slated to reopen in December 2024. However, it is still beautiful simply to take in from the outside. You can access Notre Dame via the Cité (Line 4) metro stop.
Latin Quarter
After visiting Notre Dame, return for a slow stroll through the Latin Quarter. This neighborhood is just a few minutes walk from Notre Dame and is known for being home to many students. It's actually called the Latin Quarter because Latin was the language of the educated for many centuries and was commonly spoken there. It's a great place to buy a unique souvenir as there are many shops lining the streets and a perfect place to grab a bite to eat for dinner.
If you have time, here are some places you may want to check out in this neighborhood:
Musée Curie: The Musée Curie in Paris is a fascinating museum dedicated to the life and work of Marie Curie, one of the most influential scientists in history. Located at her former laboratory, the museum showcases her groundbreaking research in the field of radioactivity, as well as her personal belongings, laboratory equipment, and Nobel Prize medals, providing visitors with insight into the life and legacy of this remarkable scientist.
Jardin des Plantes: Located in the heart of Paris, this beautiful botanical garden that has been enchanting visitors since its establishment in 1626. With its lush greenery, meticulously landscaped lawns, and diverse collection of plants, the Jardin des Plantes offers a tranquil oasis in the bustling city, inviting visitors to relax, explore, and immerse themselves in nature.
National Museum of Natural History: This museum is a prestigious institution that showcases a vast array of natural wonders. From extensive collections of fossils, minerals, and taxidermy specimens to impressive exhibitions on biodiversity and evolution, the museum offers a captivating exploration of the Earth's rich flora, fauna, and geological history.
Pantheon: Originally built as a church, the Pantheon was later repurposed as a secular mausoleum to honor notable figures in French history. The Panthéon houses the final resting places of esteemed individuals such as Voltaire, Rousseau, Victor Hugo, and Marie Curie, among others.
Arènes de Lutèce: This ancient Roman amphitheater, dating back to the 1st century AD, is a remarkable testament to the city's rich history. Once capable of accommodating up to 15,000 spectators, the Arènes de Lutèce was the site of gladiatorial contests, animal hunts, and other forms of entertainment during the Roman era. Today, visitors can explore the well-preserved ruins, including the arena itself and the surrounding seating area, which provide a glimpse into the vibrant social and cultural life of ancient Paris.
Day 4 | Shopping and Food Tour
MORNING
Now, we all know that Paris is the fashion capital of the world, so a trip to this city would not be complete without at least a little bit of shopping. To start your forth day in Paris, head over to Boulevard Haussman for shopping in Paris' most prestigious department stores – Galeries Lafayette and Printemps.
The Belle-Epoque style of these buildings will make you feel almost as though you are visiting another palace. I promise you, these are nothing like any department stores you've experienced before! Despite the grandeur, it is possible to find regularly priced items. We spent several hours shopping here, and came away with some really nice finds.
There is a wide variety of boutiques available within each department store. On this same street you'll find outdoor shopping and eating places as well. You can use the Opera station (Line 3) to access this area of the city.
The most famous shopping area of the city is probably the Champs-Élysées. This street and the interecting Avenue Montaigne offer upscale boutique shopping (e.g., Chanel) as well as global retailers (e.g., Zara). If you do happen to be shopped-out by the time you make it here, you can instead just soak in some beautiful views of the Promenade.
While you are in this area of the city, you can get up close to the Arc de Triomphe. Napoleon constructed this arch in the style of the triumphal arches built by ancient Roman emperors. In yet another opportunity for city views, you can climb to the top of the arch for a cool photo opp. A perfect way to close out your trip to Paris.
Another location in the city where you can find landscape views of the city is in the Montmarte area. For information on this part of the city and where to find some of the best photo ops in Paris, check out this post on 15 Instagram Spots in Montmarte, Paris.
AFTERNOON
Close out your experience in Paris by spending time on a French Food Tour. Paris is renowned for their food, with many chefs in the US choosing to be educated in the French style of cooking. So why not spend some time learning more about the place where French food originates?
On this tour, you will try classic French dishes, pastries, and Jewish delicacies in the Marais district of Paris. On the tour, you will also learn about the food traditions of the area and the history of food here.
Check Rates for the Food Tour here!
What to Do if you have More Time in Paris
The is so much to do in Paris, and while four days does get you a good overview of the city, there is still plenty to do inside the city and nearby. Here are a few additional ideas:
Disneyland Paris is a world-class entertainment resort that captures the enchantment and imagination of Disney right in the heart of Europe. With two theme parks, Disneyland Park and Walt Disney Studios Park, visitors can experience a wide range of thrilling rides, captivating shows, and immersive attractions. From exploring the iconic Sleeping Beauty Castle to embarking on exciting adventures like Pirates of the Caribbean or soaring through space on Space Mountain, there's something for everyone at Disneyland Paris. The resort also offers a variety of dining options, from character breakfasts to fine dining experiences, ensuring guests can satisfy their culinary cravings. With its magical atmosphere, beloved Disney characters, and immersive experiences, Disneyland Paris provides a memorable and joy-filled getaway for families, friends, and Disney enthusiasts of all ages.
Moulin Rouge Cabaret Show: Experience the world's most famous cabaret show yourself by catching a performance at the Moulin Rouge. While you watch the beautifully choreographed dances, experience some delicious French food as well.
Visit the Paris Catacombs: This is a unique and fascinating underground attraction that holds a mysterious and haunting allure. Located beneath the streets of Paris, the catacombs were originally ancient limestone quarries that were transformed into an ossuary in the late 18th century. The catacombs now house the remains of millions of Parisians, making it a macabre yet historically significant site. Visitors can descend into the depths of the catacombs and explore the winding tunnels lined with neatly arranged stacks of human bones. The eerie ambiance and the historical context make the Paris Catacombs an intriguing destination for those interested in delving into the darker side of the city's history and experiencing a truly unique underground adventure.
Normandy D-Day Beaches: If you are a World World II History buff, I recommend you consider taking a tour out to visit the D-Day beaches. During this tour, you will learn more World War II history, such as the sacrifices of Allied soldiers and the French citizens impacted by the war. You'll also visit the American Cemetery on this tour as well.
Perfume Workshop: Paris is known as the founder of the modern-day perfume industry. Funnily enough, this industry was powered by the fact that at one point in time, it was a very smelly city. So perfumes were a way to mask the various scents and even personal smells the existed before modern plumbing and bathing rituals. During this workshop, you will have the chance to make your own special perfume blend while working with a professional. At the end of the tour, you'll be able to take your own special blend home!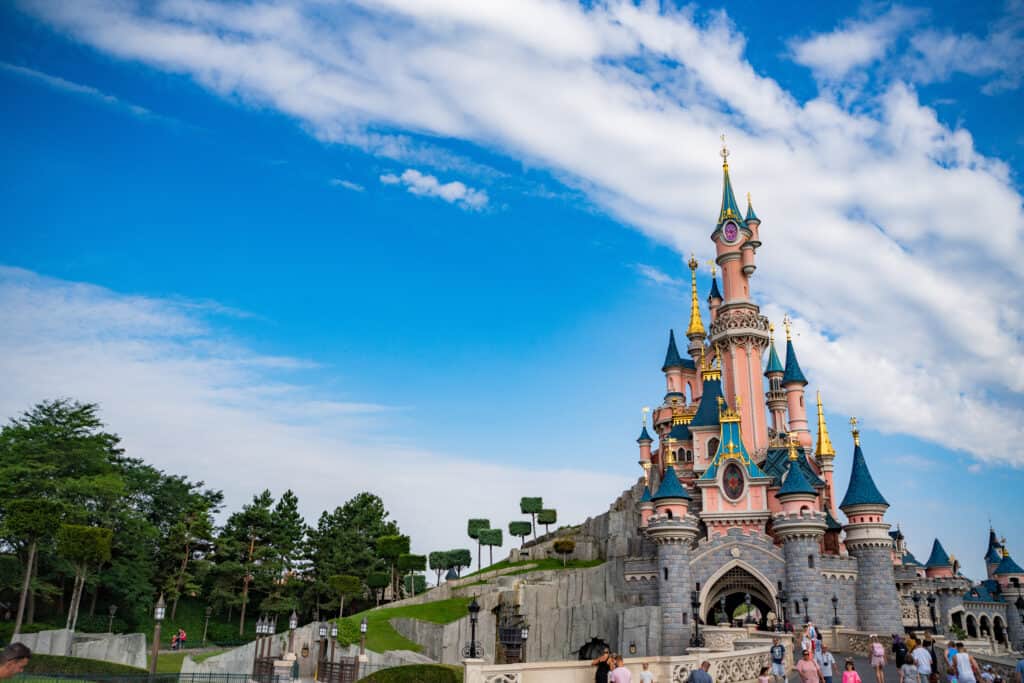 Getting to Paris
There are two international airports that service Paris: The Charles de Gaulle Airport and Orly Airport.There are a few other airports that serve the city, but it is most likely that you will fly out of two mentioned here. If you are visiting from neighboring European city or from another city in France, you may arrive by train.
There are 7 major train stations that take you to different cities/ countries and you can find them all listed here. I recommend comparing costs / travel time when considering how you'll plan to arrive in the city before purchasing your ticket.
Getting Around Paris
The metro system and bus routes in Paris are very efficient and cost-effective. I highly recommend that you use them as your primary method of transportation while you are in Paris. When traveling to the suburbs of Paris, you can take one of the RER trains. These trains will take you to/from the airports and out to major destinations like Versailles.
You can use the same tickets for the metro/bus, and once you arrive in the city you should buy a carnet (10-pack) of tickets at a time to save you money as you travel around the city. Click here to download a metro map! One additional thing to note – Uber is available in Paris as well.
Language in Paris
The official language of France is French, as you likely are well aware. Many people in the major cities, like Paris will speak at least some English. However, I do think the residents value seeing others take some time to learn the basics of French as a sign of respect. Check out my post on Common French Phrases to get some practice in before you go.
Where to Stay in Paris
Paris is broken up by districts, so that's how I'll point out popular stay locations. Here are a few recommendations:
District 1: This is the district around the Lourve, which features luxury hotels and trendy boutiques.
Arr. 1 Hotel recommendation
This charming hotel is built into a 17th century residence, so you really get a feel for the history of the city while staying here. It has been an hotel for over a century, and features stone walls, historic statues, and exposed beams. This hotel is located right in the heart of the city, and is close to such attractions as the Musée d'Orsay and Jardin des Tuileries. The rooms are both comfortable and clean, although they may be on the smaller side.
District 5: This is the Latin Quarter, the section of the city that houses many students. Here you'll find affordable accommodations in a central location
Arr. 5 Hotel recommendation
This hotel is located in the heart of the Latin Quarter and features decor that seamlessly blends history and modernity. There are six room categories in the hotel, each featuring a warm and cozy feel. Onsite amenities include a bar, interior garden, and conference room. In addition, a nice breakfast is served there everyday.
District 8: This is the upscale neighborhood near the Champs-Élysées – a beautiful promenade full of shops and restaurants. We stayed in this district on our visit to Paris and loved it here! We stayed at this AirBnb near the Monceau metro stop and we absolutely loved it. It was perfect for our large party of six. *If you are a first time Airbnb user, use my link to get $40 off your first stay!*
District 18: This neighborhood offers excellent (and free!) overhead views of the city.
Arr. 18 Hotel recommendation
This hotel is located on Rue Tholozé, noted for being one of the prettiest streets in Montmartre. The hotel offers excellent views of the city, and the ability to stroll through a charming neighborhood as you like. This hotel offers free breakfast and the rooms and apartments here are decorated in a modern style.
The Paris Museum Pass is a convenient and cost-effective way to explore the rich cultural heritage of the city. This pass provides access to over 50 museums, monuments, and landmarks in and around Paris, allowing visitors to skip the ticket lines and make the most of their time. With the Paris Museum Pass, you can visit iconic attractions such:
Louvre Museum
Musée d'Orsay
Palace of Versailles
Musée Rodin
Musée de l'Orangerie
Centre Pompidou
The pass is available in different durations, typically ranging from 2 to 6 days, allowing visitors to choose the option that best suits their itinerary. It provides unlimited entry to the included sites, enabling you to explore at your own pace and revisit your favorite places. Additionally, the Paris Museum Pass often includes special privileges such as access to temporary exhibitions and audio guides, enhancing your museum experience.
Using the Paris Museum Pass is straightforward: simply present the pass at the entrance of participating museums and landmarks, and you will be granted admission. The pass also comes with a guidebook that provides information about each site, including opening hours, location, and highlights, making it easier to plan your visits. Whether you're an art enthusiast, history buff, or simply curious about Parisian culture, the Paris Museum Pass is an excellent investment that offers both convenience and a wealth of cultural exploration opportunities.
Book your Paris Museum Pass now!
Paris City Map
Here is a map of key landmarks in Paris, all mentioned in this post:
Key:
Versailles
Eiffel Tower
Lourve Museum
Notre Dame
Latin Quarter
Boulevard Haussmann (Shopping)
Champs-Élysées
Arc de Triomphe
Montmarte
Frequently Asked Questions About Paris
Is 4 days in Paris enough?
While four days in Paris can provide a wonderful taste of the city's highlights, it may feel a bit rushed for some travelers. With so much to see and do, it's best to prioritize the attractions and experiences that interest you the most. If you have the opportunity to extend your stay, it can allow for a more immersion into the city's rich culture and history.
What is the best month to visit Paris?
The best month to visit Paris largely depends on personal preferences. Spring (April to June) and fall (September to November) are generally considered ideal times to visit, as the weather is mild, and the city is adorned with blossoms or fall foliage. Additionally, the tourist crowds are not as overwhelming as during the peak summer months.
How much would an average trip to Paris cost?
The cost of a trip to Paris can vary significantly based on factors such as travel preferences, accommodation choices, dining options, and activities. On average, a moderate budget for a week-long trip to Paris for one person can range from $1,500 to $2,500, excluding international airfare. This estimate includes mid-range hotel accommodations, meals at restaurants or cafes, public transportation, and entrance fees to attractions.
Four Days in Paris | Final Thoughts
If I didn't say it earlier, I'll say it here – I LOVE Paris! I recently returned from a visit to this city for the first time in 10 years and had a wonderful time. It was honestly even better than I remembered, or maybe I just appreciate it more in my older age :).While you certainly can't cover everything in a few days, this 4-day Paris Itinerary will help you to cover a lot of ground. I hope that you have found this itinerary helpful in planning your next trip to this enchanting city!
If you've visited Paris before, let me know – what have I missed? Just jot it in the comments below!
More European Travel Guides:
Don't forget to pin this for later!