Three Days in Lisbon | A Complete City Guide
Before I first traveled to Lisbon, I had pretty much had no expectations for this city. Little did I know that I would be spending time in one of most picturesque and charming places I have ever visited. Lisbon, the Portuguese capital, has a rich history which seeps out into the city's architecture and the Lisbonian way of life. The city also boasts a multi-ethnic population, which you don't often see in European cities. As a traveler of color, this was another pleasant surprise – it made it feel like home. Also, given its proximity to Spain, it is worth stopping here too if you plain on exploring the rest of the Iberian Peninsula. Keep reading for a short guide that walks through everything you should do over three days in Lisbon.
A Brief City History | Lisbon
Lisbon has been settled for millennia, and the first inhabitants were pre-Celtic tribes. It is one of the oldest cities in the world, coming in as the second-oldest European capital city after Athens. There is evidence of Phoenician settlements from around 1200 BC, and not too much later, Celtic tribes arrive here as well. During the pre-Roman period, the city was known as Olissipo and Lissoppo. The area was inhabited by various tribes, including the Phoenicians, Greeks, and Carthaginians, before it was conquered by the Romans in 205 BC. Lisbon became an important port and trade center during the Roman era, and its strategic location at the mouth of the Tagus River made it a vital link between Europe and the Mediterranean. For the Romans, the city also enabled one of the primary goals of hurting the Carthaginians,
In the 5th century AD, Lisbon was invaded by the Germanic tribes, including the Visigoths and the Suevi. The city's decline began during this period, and it remained a small and relatively insignificant town for several centuries. In the 8th century, Lisbon was conquered by the Moors, who ruled the city for over four centuries. Under Muslim rule, Lisbon became a prosperous center of commerce and culture, and its name was changed to Al-Ushbuna.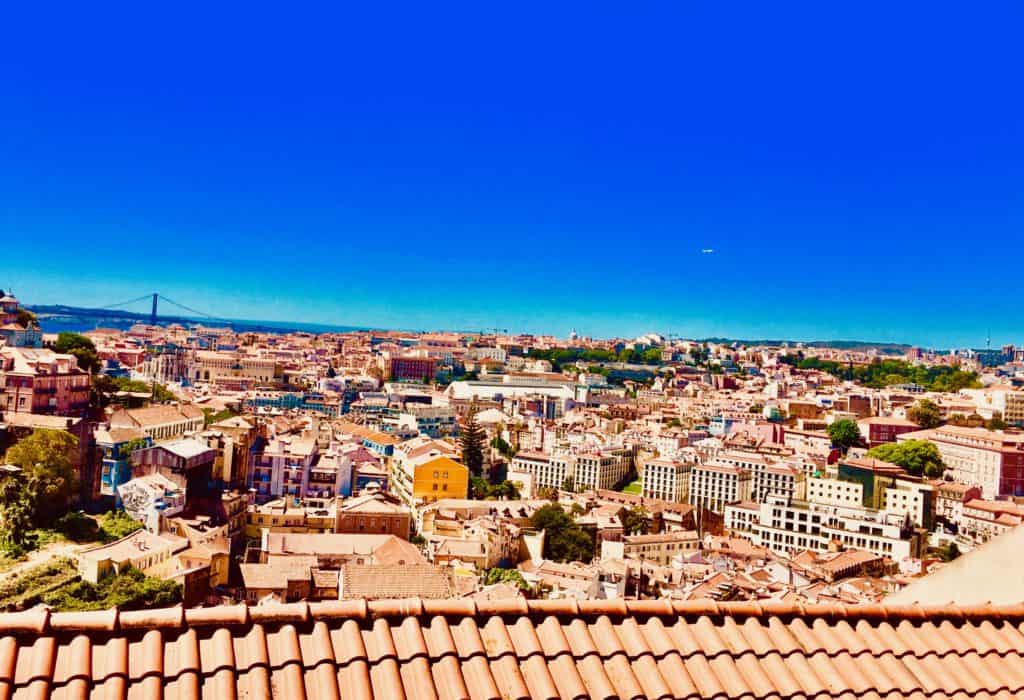 The reconquest of Lisbon by Christian forces in 1147 marked a turning point in the city's history. The city was incorporated into the Kingdom of Portugal, and its strategic location made it a vital hub for trade and exploration during the Age of Discovery. Lisbon became the center of a vast maritime empire, which spanned the globe from Brazil to Japan. The city flourished during this period, and its wealth and power were reflected in its grandiose architecture and public works. These include the famous Tower of Belem and the Jeronimos Monastery. This wealth was unfortunately driven by the trade of slaves, something that Portugal pioneered throughout the so-called "New World".
In 1755, Lisbon was devastated by a massive earthquake, which destroyed much of the city and killed tens of thousands of people. This quake was so strong that it was felt as far off as Greenland and the Caribbean! The disaster led to a massive rebuilding effort, and Lisbon was transformed into a modern, neoclassical city under the guidance of the Marquis of Pombal. As a result of these efforts, Lisbonians proudly call it "the first modern city" in Europe. New styles in architecture were formed as the city was rebuilt, given it a consistent and distinct look. I think that this is why it is really one of the most beautiful cities that I have ever visited.
The city continued to grow and develop throughout the 19th and 20th centuries, and today it is a known for being a popular tourist destination. It is also one of the most livable cities in the world and one of the wealthiest in the EU.
⭐️⭐️⭐️⭐️⭐️
Explore the historic city center of Lisbon on this tour, led by a local guide. This is the best tour for anyone who wants to understand the local culture as well as visit important landmarks. During this tour, explore sites such as:
Elevador de Santa Justa
Baixa-Chiado neighborhood
Alfama neighborhood
Praça do Comercio
Rossio Train Station
…and more!
The Itinerary | 3 Days in Lisbon
Day 1 | Exploring Lisbon & Learning the City's History
MORNING TO AFTERNOON
As I've mentioned in several of my other travel guides, I think one of the best ways to start any trip to a new city is to start with a walking tour. So you your first day, get out there and get to know the city! I recommend trying the Lisbon Guided Walking Tour, which will take you to the following locations: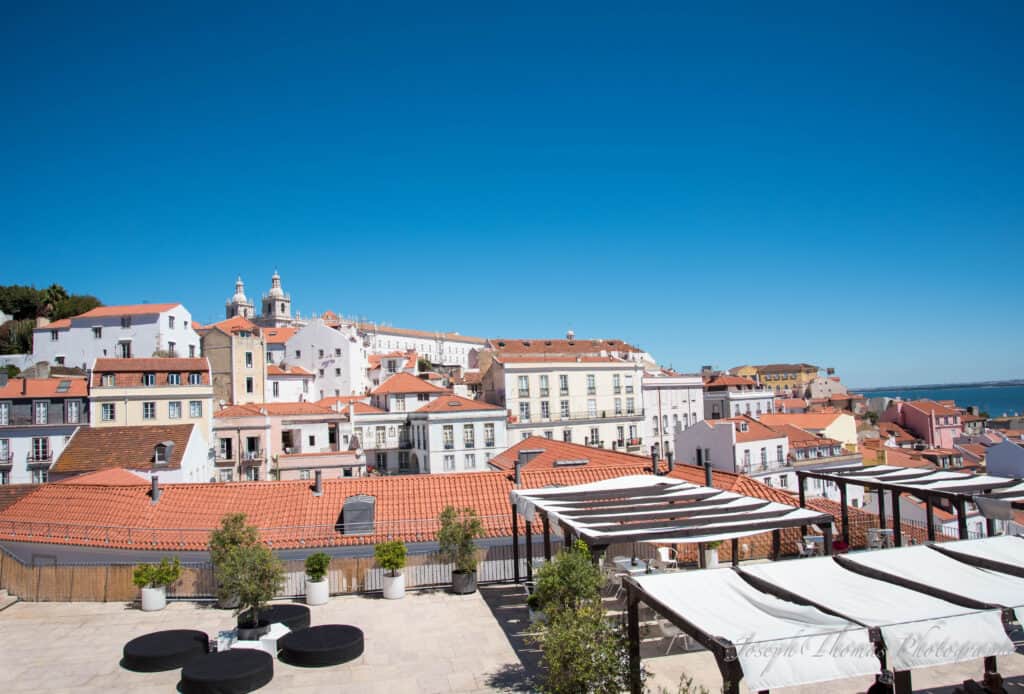 Rossio Square: Rossio Square, also known as Praça Dom Pedro IV, is a vibrant and historic square located in the heart of Lisbon's city center. With its distinctive cobblestone pavement, grand architecture, and lively atmosphere, Rossio Square has served as a focal point for the city's cultural and social life for centuries. While in the square you can enjoy street performers, musicians, and vendors, as well as explore the numerous cafes, restaurants, and shops located in the surrounding area.
Igreja de São Domingos: Igreja de São Domingos, also known as the Church of Saint Dominic, is a historic church located in the heart of Lisbon. Originally built in the 13th century, the church has a long and complex history, having been damaged and rebuilt several times over the centuries, including being severely damaged in the Great Lisbon Earthquake of 1755. Despite the numerous renovations and reconstructions, the church retains a haunting and atmospheric quality, with its dark and dramatic interior features such as the baroque altar and elaborate wood carvings that have survived centuries of wear and tear.
Avenida da Liberdade: Liberty Avenue in English, is one of the most iconic and elegant streets in Lisbon. Built in the late 19th century, the avenue was modeled after the grand boulevards of Paris, with its wide tree-lined sidewalks, ornate fountains, and impressive mansions. It is home to some of the most exclusive shops, hotels, and restaurants in Lisbon, as well as numerous cultural and historic landmarks. These include the beautiful Monument to the Fallen of World War I. Visitors to the avenue can stroll along its charming promenade, admire its stunning architecture and design, and enjoy its vibrant and cosmopolitan atmosphere.
Praca dos Restauradores: This large historic square is named after the Restauradores monument, which commemorates Portugal's independence from Spain in 1640. The monument is a prominent feature of the square, with its large statue of Victory holding a wreath and waving a Portuguese flag. The square is surrounded by grand buildings, including the iconic Eden Theatre and the luxurious Hotel Avenida Palace, both of which date back to the 19th century.
Rossio Train Station: Also known as Estação de Caminhos de Ferro do Rossio, this is a historic train station located in central Lisbon. Built in the late 19th century, the station is known for its grand Neo-Manueline architecture, featuring ornate detailing and intricate carvings. Today, the station serves as a major transportation hub for commuters and tourists alike, offering connections to a range of destinations throughout Portugal.
Largo do Carmo: This square in downtown Lisbon is dominated by the ruins of the Convento do Carmo, a Gothic-style church that was severely damaged in the Great Lisbon Earthquake of 1755 and has since been preserved as a monument to the disaster. The ruins offer a striking contrast to the surrounding buildings, with their towering arches and columns providing a dramatic backdrop to the square.
Elevador de Santa Justa: The Santa Justa Lift is a historic elevator located in central Lisbon. Built in the late 19th century, the elevator is known for its stunning Neo-Gothic design and panoramic views of the city. The elevator provides a convenient link between the Baixa district and the Largo do Carmo, making it a popular destination for tourists and locals alike. Visitors can ride the elevator to the top for a bird's-eye view of Lisbon's charming streets and landmarks, including the Castelo de São Jorge and the Tagus River.
Chiado: Mentioned above as the latter part of "Baixa-Chiado" this neighborhood was revitalized following a great fire that occurred in 1988. Despite this, there are several historical shops that still exist in the neighbood today, such as the Bertrand Bookshop that opened in 1747.
Rua Augusta: This vibrant pedestrian street located in the heart of the city centre. The street stretches from Praça do Comércio to Rossio Square and is lined with shops, restaurants, cafes, and street performers. One of the highlights of Rua Augusta is its ornate archway, known as the Arco da Rua Augusta, which marks the entrance to the street from Praça do Comércio. The archway is adorned with statues representing the country's various historical figures, and visitors can climb to the top for panoramic views of the city. Along the street, visitors can also enjoy a range of cultural and historical landmarks, including the Lisbon Cathedral and the Carmo Convent.
Lisbon Baixa: The former part of Baixa-Chiado, this part of the city received a significant upgrade after the 18th century upgrade, making it a gorgeous area to simply just walk around in and enjoy the architecture.
Miradoura Chao do Loureiro: This is a beautiful viewpoint located in Lisbon's Alfama district. The viewpoint provides stunning panoramic views of the city, including the Tagus River, the Castle of São Jorge, and the iconic red rooftops of Lisbon. It is a popular destination for tourists and locals alike, and offers a peaceful escape from the bustling streets below. Visitors can relax on the benches provided and soak in the breathtaking views, or enjoy a picnic while taking in the fresh air and sunshine.
Alfama: During the time of the Moorish rule of the city, this area was the whole of the city. Because of this, you'll see many traces of Arabic influence here, such as the beautiful blue and white tiles. The Lisbon Cathedral is located in this neighborhood – it is the oldest church in the city and dates back to the 12th century.
Monument to King Jose I: This is a majestic statue located in the Praça do Comércio, one of Lisbon's most iconic squares. The statue was erected in the late 18th century as a tribute to King José I, who ruled Portugal from 1750 until his death in 1777. The statue depicts the king on horseback, with his hand outstretched as if to greet his subjects. The base of the monument is adorned with allegorical figures representing Portugal's colonies, as well as the rivers Tagus and Douro.
Praça do Comercio: Also known as Commerce Square, this is one of the most iconic and historically significant squares in Lisbon. As mentioned above, the Monument to King Jose I is the main attraction of this square. I found this to be just a wonderful place to stroll around the city and take it all in. I found myself here quite often while in Lisbon.
As mentioned above, if you want to learn about the history of the city while exploring these city highlights, you need to do a walking tour. It is also the most effective way to see everything in a shorter amount of time. I started my time here with a walking tour like this one and had the best experience. Our guide gave us great tips on where to eat and what experiences to have in Lisbon and other close by cities. Really helpful to help you get your bearings while in the city.
Book your Lisbon Walking Tour Now!
Also, if you prefer to pay as you desire, I recommend taking the Lisbon Chill Out free walking tour. This tour features local guides who provide a very authentic experience for all who join.
AFTERNOON/ EVENING
While visiting this area of the city, check out the Lisbon Story Center. Here you can literally walk through the history of the city in a very interactive way. The storytelling is really done well – I still vividly remember what I learned about the impact of the 1750 earthquake on the city due to what I learned here.
Close out your first day by grabbing a bite to eat in one of the many wonderful restaurants you'll find in the Praça do Comercio area of the city.
Day 2 | Classic Tram Ride & Experiencing Fado
MORNING
On your second day in Lisbon, get to know the city in a different light. A very "Lisbon" way of getting around the city is via yellow trams – specifically Tram 28. Tram 28 is a historic streetcar line that has been operating in Lisbon since 1914. The tram route covers a distance of 10 kilometers and passes through some of Lisbon's most historic neighborhoods, including Graça, Alfama, and Bairro Alto. Originally, the trams were used mainly by locals to travel around the city, but over the years they have become a popular tourist attraction, offering visitors a unique way to experience the city's charming streets and neighborhoods.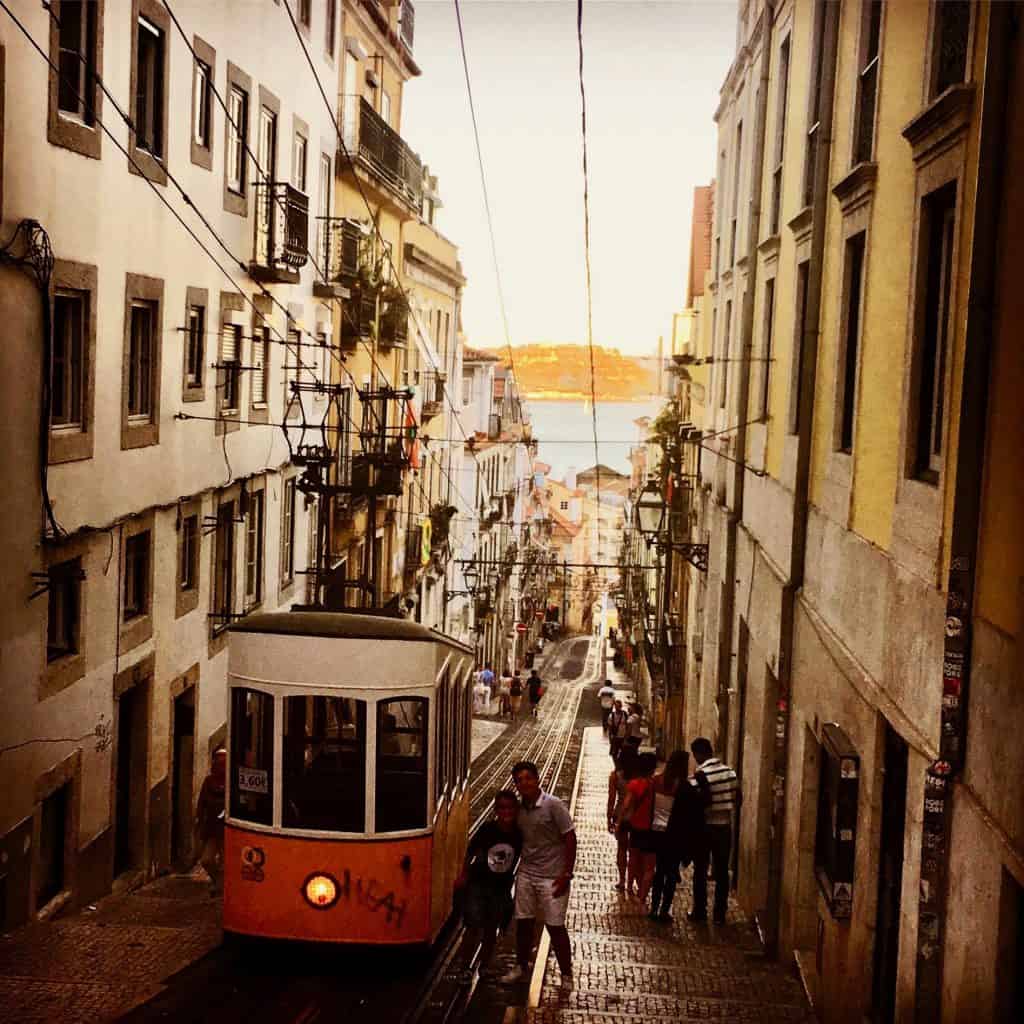 The history of Tram 28 has not been without challenges. In the past, there were threats of closure due to financial constraints and a lack of maintenance. Nonetheless, tram 28 has survived and has been restored and renovated over the years, ensuring that future generations can continue to enjoy this beloved Lisbon tradition. Today, riding the tram 28 is not only a fun and nostalgic experience but also a great way to discover the city's history and architecture.
If you take the tram, I recommend you go early in the morning over later in the evening to avoid major crowds (and pickpockets). This tram will take you to several tourists sites you may not have seen on your first day, such as Sao Bento (the Portuguese parliament) and the Estrela district.
AFTERNOON
If you didn't get to shop on your first day, I recommend stopping in the Bairro Alto and/or Baixa Chiado districts for some good shopping. You'll be able to find anything from small tourist shops to luxury shops and malls. One major shopping street is Avenida de Liberdade, where you can find several luxury brands such as Burberry or Gucci. Throughout Baixa Chiado you will be able to find more standard brands such as Zara and Mango, usually at lower prices than you'll find in other major cities in Europe.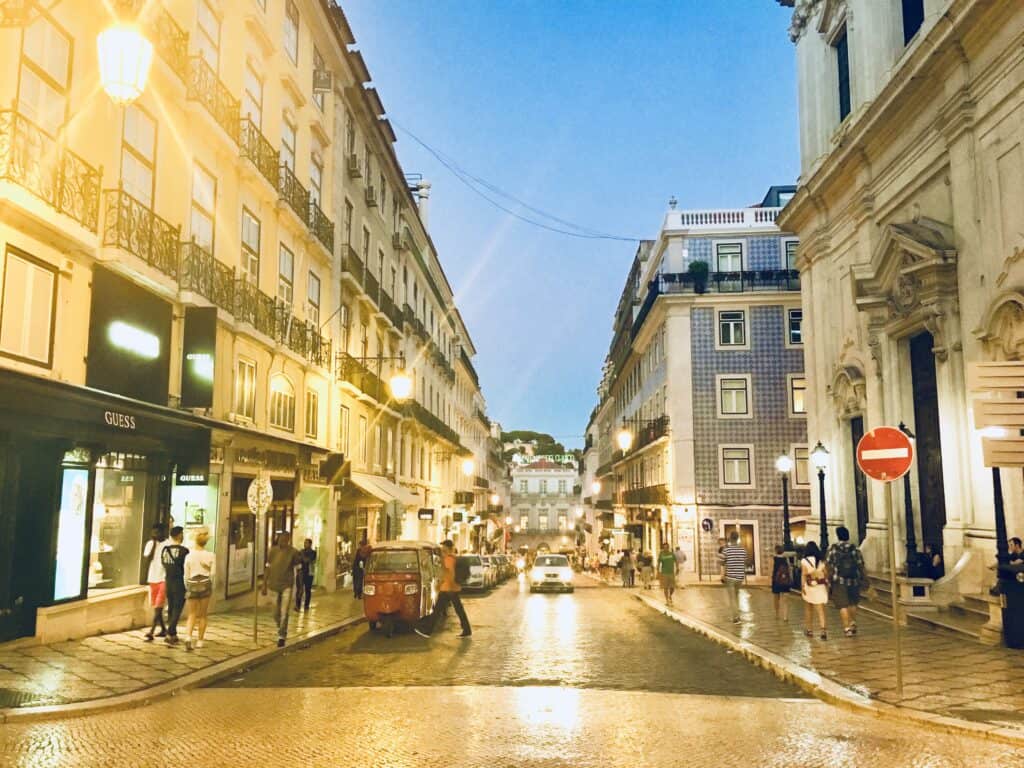 EVENING
A trip to Lisbon is not complete without at least one Fado show. For some context, Fado is a music genre that originated in Portugal, particularly in Lisbon, during the early 19th century. It is characterized by its melancholic and emotional melodies, often accompanied by the distinctive sound of a Portuguese guitar. The lyrics of Fado songs are typically about love, longing, loss, and the struggles of everyday life. In some ways it reminds me of the Flamenco shows in Granada / throughout Andalucía, but without dancing.
Fado has become an integral part of Portuguese culture and identity, with numerous Fado houses and music festivals held throughout the country. The most famous Fado singers include Amália Rodrigues, Carlos do Carmo, and Mariza. Fado has also been recognized as a UNESCO Intangible Cultural Heritage of Humanity, highlighting its importance and cultural significance not only in Portugal but also around the world.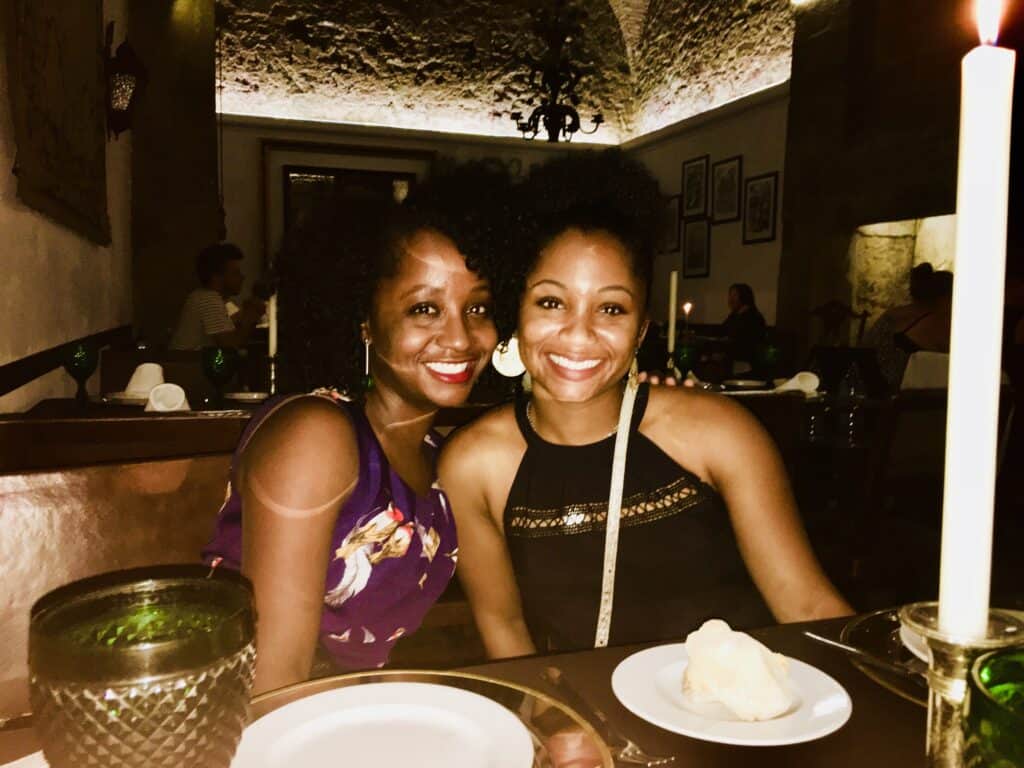 On my trip to Lisbon we went to Casa de Linhares in the Alfama district. The artists were spectacular and the food was delicious – we couldn't have asked for a better experience at our first Fado show. If you plan to go when visiting Lisbon, I recommend that you book a show in advance, as these tend to fill quickly.
To get a feel for the music, check out the video below:
Day 3 | Excursion to Belem
MORNING/AFTERNOON
For your third day in Lisbon, I'm going to recommend that you take a quick excursion to the Belém district of Lisbon. To get there, you can take Tram 15 or Tram 27 from Praça de Comércio or Praça de Figuera to Belem (~37 min ride). The main attractions in this town include the following:
Monasteiro de Jeronimos (Monastery de Jeronimos): This a grand religious complex located in the Belem district of Lisbon, Portugal. It was built during the 16th century, in the Manueline style of architecture, to celebrate Vasco da Gama's successful voyage to India. The monastery is known for its ornate façade, intricate carvings, and grand interior spaces. The church, which is part of the monastery, contains the tombs of some of Portugal's most famous historical figures, including Vasco da Gama and the poet Luís de Camões.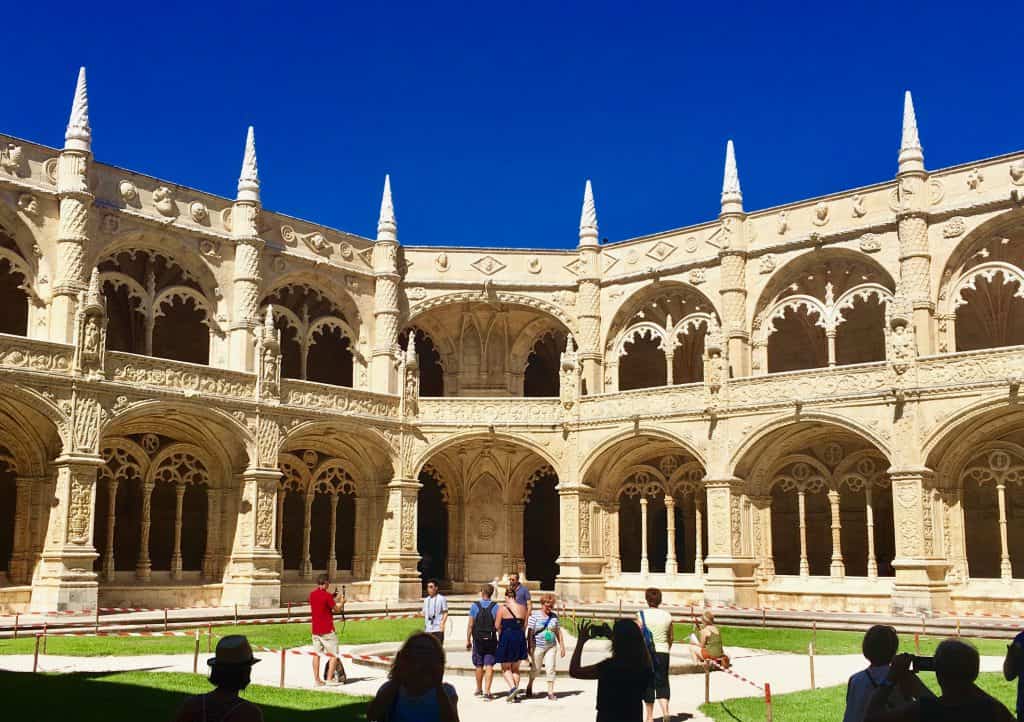 The Monastery of Jerónimos is an important cultural and historical monument in Portugal and attracts thousands of visitors every year. It is also recognized as a UNESCO World Heritage Site, as it is a remarkable example of the Portuguese art and architecture from the Age of Discovery. The monastery is surrounded by lush gardens, and it is located next to the famous Belém Tower and the Monument to the Discoveries.
Torre de Belém (Tower of Belém): This is a fortified tower that was built during the early 16th century, during the Age of Discovery, to protect the entrance of the Tagus River and to serve as a ceremonial gateway to the city. The tower is a masterpiece of the Manueline style of architecture, with intricate carvings, turrets, and maritime symbols that reflect Portugal's seafaring history.
This tower is also recognized as a UNESCO World Heritage Site, as it is an outstanding example of the Portuguese art and architecture from the Age of Discovery. Visitors can explore the interior of the tower, which includes the governor's room, the king's chamber, and the chapel, all of which are adorned with beautiful sculptures and carvings. The tower is also surrounded by a park, providing visitors with a scenic view of the Tagus River and the city of Lisbon.
Antigua Confetaria de Belém (Pastéis de Belem Café): Stop by this pastry shop to enjoy one of the well-know Portuguese sweets, the egg custard tart (aka Pastéis de Belem or Pastéis de Nata). You may see these tarts in many other places, including bakeries in America, but these tarts were actually invented by the monks at Jeronimos. These scrumptious tarts are served with powdered sugar and cinnamon, and in my personal opinion are actually a bit more tasty cold. There are so tasty, so proceed with caution when you try them.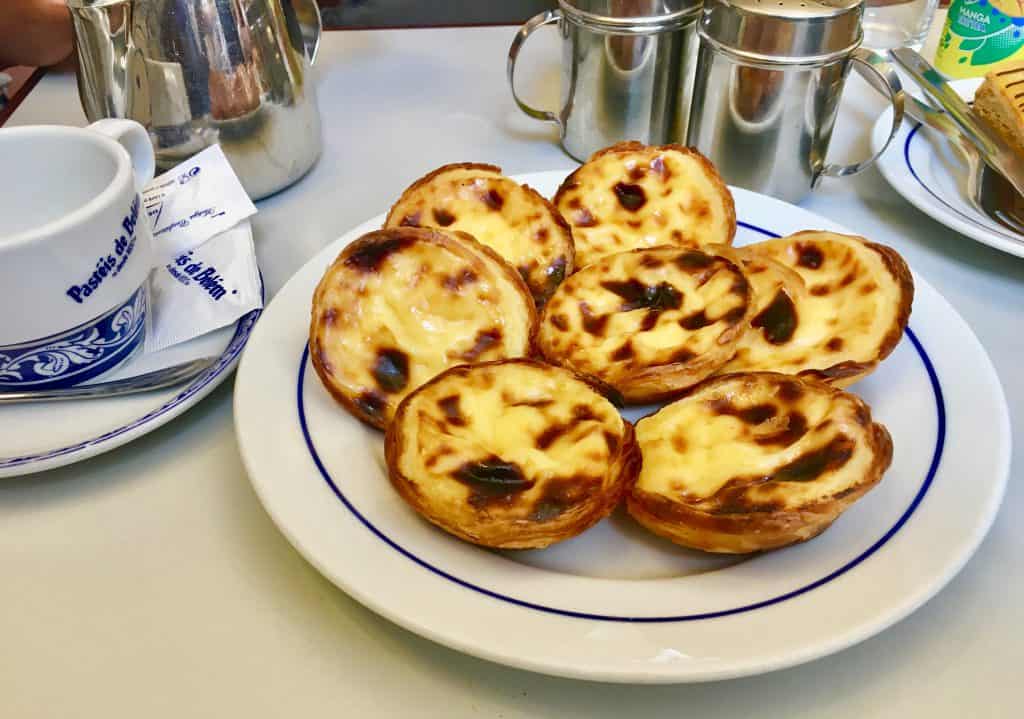 EVENING
Once you are done exploring Belem, head back towards Lisbon, but first take a stop at the Cais de Sodre metro station to visit the Time Out Mercado da Ribeira. This market has an amazing selection of options for places to grab a bite to eat. It may not sound delicious, but I had one of the best sardine toast dishes I've ever tried. In fact, if you like fish, you should definitely opt for seafood here. It is a Lisbon specialty. While at the market, you will see several souvenir shops as well, in case you need to pick up a few last things before your time in the city ends. You won't regret stopping to eat here, and may find yourself going back a few times while in the city :).
The Lisboa Card
If you are looking for the most cost-effective way to see Lisbon, you should take a look at the Lisboa Card (Lisbon Card). This card includes free public transportation, free access to deals to 26 museums and attractions, as well as discounts on things like shopping and tours.
Some of the attractions covered by the Lisboa Card include the Belem Tower, the Jerónimos Monastery, the National Museum of Ancient Art, and the Lisbon Oceanarium. In addition to providing access to these popular sites, the card also offers discounts at select restaurants and shops in Lisbon. The Lisboa card is a great option for saving money on your trip and can be purchased for a 24, 48, or 72 hour timeframe. Click here to learn more.
Lisbon City Map
Here is a map of key landmarks inside and nearby Lisbon, all mentioned in this post:
Key:
Baixa Chiado Neighborhood
Lisboa Story Centre
Praça do Comércio
Alfama District
Bairro Alto
Mosteiro dos Jerónimos
Pasteis de Belém
Avenida Torre de Belém
Time Out Market
Getting to Lisbon
Lisbon, can be easily accessed by several modes of transportation. If you are traveling by air, Lisbon has a major international airport, Lisbon Portela Airport, which is located just 7 km from the city center. From the airport, you can take a taxi, a shuttle bus, or the metro to reach your destination. I took the metro in from the airport and it was a pretty quick and easy ride, and the system was easy to navigate.
If you are traveling by train, Lisbon has two main train stations, Santa Apolonia and Oriente, which connect to other cities in Portugal and Spain. If you prefer to travel by bus, Lisbon has a modern bus terminal located in Sete Rios, which offers both national and international connections. Additionally, Lisbon is also accessible by car via several highways that connect to other parts of the country. Click here to check out car rentals.
Where to Stay in Lisbon
When looking for a place to stay, I recommend these two neighborhoods:
Baixa Chiado: This is one of Lisbon's most iconic and beloved neighborhoods, offering a blend of history, culture, and modernity. It is also the historical city center. The neighborhood is characterized by its stunning architecture, wide boulevards, and elegant buildings that reflect Lisbon's rich history and cultural heritage. It is a bustling district that attracts both locals and tourists alike, drawn to its vibrant atmosphere, excellent shopping and dining options, and proximity to some of Lisbon's most significant landmarks and cultural institutions.
At the heart of Baixa-Chiado lies the Chiado district, which has long been associated with the arts and intellectual life. It is home to numerous theaters, museums, and cultural institutions, making it a hub for arts and culture. The district is also known for its upscale fashion boutiques, designer stores, and trendy cafes and restaurants.
Alfama: Located on a hill overlooking the Tagus River, Alfama's winding streets and alleys are lined with charming, colorful houses that give the area a distinctly Old World feel. This area is known for the traditional Fado music, which can be found in many locations there. In addition to its unique atmosphere, Alfama is home to several significant landmarks, including the Castle of Sao Jorge and the Lisbon Cathedral. The castle dates back to the 11th century and offers panoramic views of the city, while the cathedral is a magnificent example of Romanesque architecture and features stunning stained-glass windows and intricate stone carvings. Despite its historic roots, Alfama has a vibrant contemporary culture, with trendy cafes, bars, and restaurants that cater to a diverse range of tastes and preferences.
Some of my specific recommendations on where to stay in Lisbon are below:
B&B recommendation
Booking a bed & breakfast is a great way to get to meet and spend time with some of the city's locals. We stayed at a very cute B&B called Artbeat Rooms, in the Baixa Chiado district. Each room there is thoughtfully designed to suit the style of one artist (e.g., Picasso). The owners were extremely nice and the rooms came with some free breakfast options that could be eaten whenever preferred. This is also a great option if you are on a budget.
---
Hotel recommendation
This hotel is noted for it's beautiful blend of old world charm with modern interiors. The continental breakfast provided is top tier and the rooms are impeccable. In addition, this hotel is close to many of the most popular attractions in Lisbon, making it a perfect place to stay on your trip.
---
Hotel recommendation
This 4-star hotel features a restaurant and a bar and is located just a 10-minute walk from the Miradoura da Senhora do Monte. Guests have noted that this hotel provides an excellent breakfast. In addition, the staff are very helpful, friendly, and welcoming.
---
Getting Around Lisbon
The best ways to get around the city are via tram, metro, or simply walking on foot. You can buy tickets for the tram while on the tram and metro tickets at any metro station. If you are in Lisbon for more than a few days, consider getting a Viva Viagem metro card. This is a rechargeable electronic card used for public transportation throughout the city. It can be used on buses, trams, metros, and trains and can be purchased at various locations, including metro stations.
It can also be loaded with credit for multiple trips or for a period of time, such as a day or week. The Viva Viagem card offers users discounted fares compared to purchasing individual tickets for each trip, and it is a convenient option for those who use public transportation frequently. The card can also be shared among family members or friends, making it a cost-effective solution for groups
Also, many places in the city are very walkable, but just know that the city can be quite hilly in places and is covered in tile, so walking is not for the faint of heart. But it will be good for the body!
Currency in Lisbon
As a member of the European Union, the Euro is the currency in Lisbon. At the time of writing this post, the current exchange rate was $1.00 = €0.90. You can check here for the latest exchange rates. Although the Euro is valued higher than the dollar, Lisbon is one of the cheaper European cities.
Language in Lisbon
Portuguese is the primary language spoken there, although it is not too difficult to find people that speak English. I do still recommend that you practice a few phrases on your own before you travel. Check out my post on Portuguese phrases for travel for more on this.
What to Do If You Have More Time in Lisbon
If you have more time in Lisbon, I recommend learning more about the culture and exploring some of the surrounding areas. These include:
Visit Sintra and Pena Palace: Sintra is a symbol of Portugal's romantic period, and featues the lovely Pena palace. This was the former residence of the Royal Family and is well known for the bright colors that adorn the castle walls.
Lisbon Food and Wine Walking Tour: Learn about the wonderful culinary history of Portugal and eat your way through the city for a few hours.
Lisbon Sunset Cruise: Sail the Tagus River to enjoy a panoramic view of the city while getting more information on the history and culture of the city.
FAQs About Travel to Lisbon
Is 3 days enough to see Lisbon?
Three days in Lisbon can be enough for a brief overview of the city's main attractions, such as the Belém Tower and Alfama district, but it might feel rushed if you want to explore in depth. For a more relaxed and comprehensive experience, a longer stay is preferable. Consider prioritizing key sites if your time is limited.
Which is better, Porto or Lisbon?
Choosing between Porto and Lisbon depends on personal preferences; Lisbon is larger and offers a wide range of historical sites and nightlife, while Porto is known for its charming riverside, port wine cellars, and a slightly more laid-back atmosphere. Both cities have unique characteristics, so the choice would depend on your interests and what you want from your trip. It may be ideal to visit both if time allows.
What is the best month to visit Lisbon?
The best month to visit Lisbon is often considered to be May or September when the weather is pleasant, but not too hot, and the tourist crowds are less overwhelming. These months offer a good balance between enjoyable temperatures and the opportunity to explore without heavy congestion. Of course, personal preferences in weather and crowds may lead to different choices.
Final Recommendations | Lisbon in Three Days
I hope that you found this 3-Day Lisbon Itinerary helpful. If you are considering visiting Lisbon, stop thinking and book your travel there today! I think Lisbon is still a bit underrated, but has certainly gained momentum in recent years. So here is your cue to check it out before it becomes too popular.
Have you been to Lisbon before? If so, what was the best thing that you did while there? Let me know in the comments below!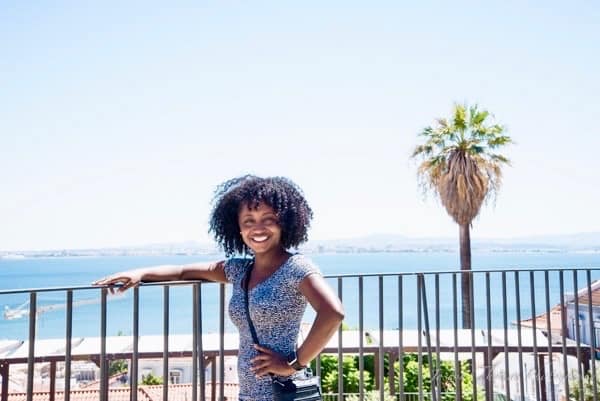 Related Guides for the Iberian Peninsula:
---
---