The Best Cities to Visit in Italy
Of the countries that I have visited to date, Italy tops my list. What I love most about the country in general are the welcoming people, plethora of history and ruins, and amazing food. Additionally, you can also find beaches, ridiculously beautiful countryside scenery, and great shopping.
As you can see, there is no shortage of reasons why Italy continually tops the list of most-visited international destinations in the world. In this article I will cover the best cities to visit in Italy, from my perspective. As I have not seen the entire country yet, I will add / modify as I have new experiences there.
Know Before You Go | Italy
Getting Around: If you are traveling to multiple cities in Italy, the best way to see the country (by far!) is by train. This is mainly because the train system is just so efficient and affordable. Also, as I mentioned above, the Italian countryside is beautiful and you can easily observe it while on the train. What I like best about train is the fact that its just much less hassle than taking a plane. You don't have to arrive far in advance of your departure and don't have to worry about long security lines. If the train interests you, head over to trenitalia.com to find your ticket!
When to Go: As Italy is a really popular destination, it tends to have large crowds – especially in the summer. I recommend visiting towards the end of spring or early fall. That will allow you to avoid massive groups of tourists, but still have great weather.
Currency Situation: Italy uses the Euro, like many European countries. The current exchange rate is €1 = $1.16. Click here for the latest exchange rate. Although credit cards are accepted in many places, I recommend that you take out some cash while there. I found that it was just easier to make many purchases with cash on hand.
Language Considerations: The language of Italy is Italian (as I'm sure you know). English is spoken by many in the larger cities, but you will often encounter those who don't speak it, even in cities as large as Rome.
It is really helpful to know some basic phrases before your visit so that you can greet locals correctly. It never hurts to use the local language when you can! Check out my guide on Italian sayings for tourists to make sure you're prepared!.
The 6 Best Places to Visit in Italy
1 | Rome
When most people think of Italy, they first think of Rome. Rightfully so, as this was the center of the massive Roman Empire that dominated most of Europe, Northern Africa, and the Middle East in ancient times.
It is one of my all-time favorite cities in the world, and fun fact about me, my most visited foreign city. There is a very interesting mix of the ancient, the old, and the new throughout the city. This gives it a feel that you really won't find anywhere else in the world. Top attractions in Rome include:
I get really into the details on what to see/do in Rome in this post. Check it out if you want to learn more!
RELATED | 4 Days in Rome
2 | Florence
Florence is known as the city where the Renaissance began. An interesting fact about Florence is that the dialect spoken here is the one chosen above all others in Italy as "standard" Italian.
As the birthplace of the Renaissance, Florence is full of art from that time period, and is known as one of the most beautiful cities in the world. While visiting Florence, you should see the following main attractions:
3 | Venice
Venice is well-known for being situated in the sea, with water ways, water taxis, and gondolas featuring as the primary methods of transportation. The fact that this city is built in the water allowed it to become a very wealthy trading hub during the middle ages.
Because of this, Venice the first international financial center in that region of the world, hitting its peak in the 1300s. The city has many beautiful buildings and bridges, and has a really romantic vibe to it. Some top attractions in Venice include:
Note that Venice is occasionally hit by some flooding. This is something that I experienced on my visit several years back. Just watch the weather before your trip and pack appropriately!
4 | Milan
Milan is known as one of the fashion and design capitals of the world (not sure who is ahead between Paris or Milan – ha!). It has an interesting history as it was founded by Celts who came down to the region in the 6th century BC, but of course was eventually conquered by the Romans.
Like Florence, Milan is noted for its culture as the city is full of museums, art galleries, and centers for the performing arts. Some key attractions include:
5 | Amalfi
I've listed Amalfi here as just one of the cities the make up the Amalfi Coast, but I'd recommend visiting any of them. I had always heard about the Amalfi Coast being great, but couldn't really appreciate this until I went for myself.
The views are breathtaking and there are colorful flowers everywhere. There are mountains that appear to touch the sky full of colorful houses but also beaches for swimming. I personally which I could have stayed longer myself, so I want to head back soon. Amalfi does get a bit of flack for being touristy, but I think its still worth the visit!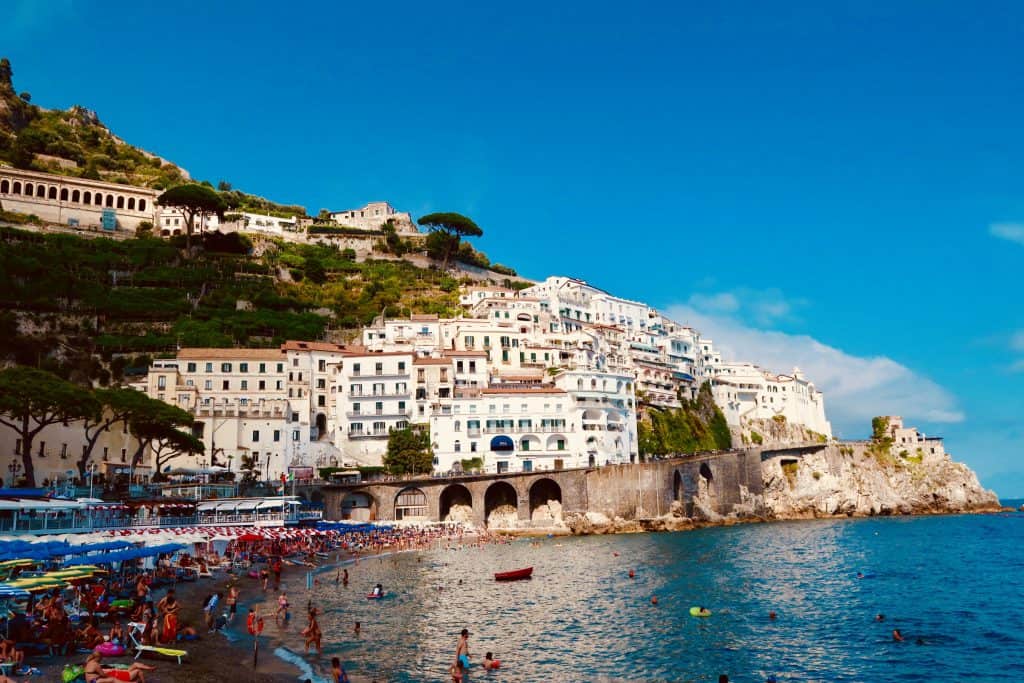 If you are interested in exploring more beach towns in Italy, check out this post: The Best Beaches in Italy.
6 | Pompeii
Oka yes, Pompeii is not a currently inhabited city (although it is within the modern city of Pompei), but it is amazing! I just returned from a trip to visit these ruins, and I was in awe of the scale of the ancient city.
You could spend a day exploring the streets of the city and probably still not see everything. For me personally, I felt as though I could really understand life in an ancient city for the first time, as the city is still amazingly intact. If you are a history buff, you cannot miss this one!
To get to Pompeii you can take a short ride from Naples. My family and I took this tour (also shown below) from Naples to Pompeii and the Amalfi Coast; which is a great option if you are short on time.
Final Thoughts | The Best Cities to Visit in Italy
That wraps my list of the best cities to visit in Italy – for now at least! Overall, I think that one thing that ties all of these cities together is the relaxed culture and delicious food (similarly to Spain).
You probably noticed that I mentioned Naples above, but did not give many details. This is because while I stayed there in one night, I actually saw nothing in that city. All of that to say, I will update this post further as I explore more of Italy :).
How about you? What are you favorite places to visit in Italy? Let me know below!
Related Posts:
#travelwandergrow
**Follow my blog with Bloglovin**