The Ultimate Guide to Climbing Machu Picchu Mountain (Yes, it's Worth It)

Are you thinking about climbing Machu Picchu Mountain on your visit to the Andes Mountains? Should you do it? Is it even worth it? Well before you make your decision, there are a few things that you NEED to know. All things that I wish I knew before making the attempt – they would have saved me from lots of struggles on the way to the top. I'll cover all you need to know about climbing Machu Picchu Mountain in this post, and also provide details on visiting Machu Picchu in general. Note that this post is pretty long, so if you want to jump to just the details on climbing the mountain, click the line titled "Climbing Machu Picchu Mountain" in the table of contents below.
Brief Overview | Machu Picchu
Machu Picchu is an archaeological site and is one of those über – popular tourist destinations, and has been for quite some time. This can be seen by the large number of tourists that visit this site annually – topping over 1,400,000 visitors per year today. For this reason, its name is pretty much synonymous with the country of Peru and South America, writ large. The reason for this boom in tourism is likely due to the incredible views the citadel of the Machu Picchu ruins offers to its visitors, the fact that it was hidden in the jungle for 500 years but remains intact, and the mysterious nature of the site.
There are theories that the site acted as a small city, or possibly a royal residence of Inca emperor Pachacuti. Some of the other mysterious surrounding the site are 1) Why did the Spanish never find it and 2) Why did the inhabitants leave? No one can be 100% certain as there are no written records of the site. Although we may never know the answer it makes for a great story for visitors.
There are two mountains that you can directly access from the ruins: Machu Picchu Mountain and Huayna Picchu Mountain. Machu Picchu Mountain is the taller of the two, which means a longer hike, BUT much more impressive views. To help you get a sense of things, Huayna Picchu is typically featured in pictures of Machu Picchu. But, Machu Picchu Mountain is not typically seen in photos as it sits behind the citadel.This typical view of Machu Picchu shows Huayna Picchu in the background. (It's the highest peak in the shot).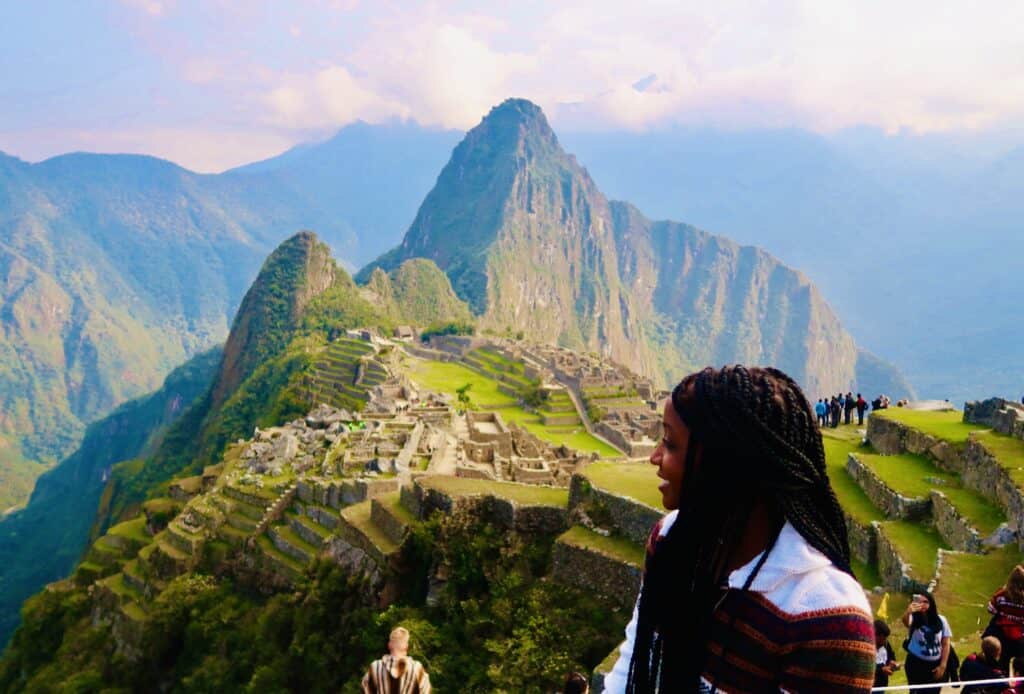 If you have decided to opt for the Machu Picchu hike or just want to know more, keep reading! Details on tickets, preparing for the climb, and level of difficulty are all below.
#1 Machu Picchu experience
This comprehensively planned trip will take you from Cusco to Machu Picchu using several modes of transportation (car, train, bus).
Included in this 2-day experience is the following:
Private transfer to and from Cusco to Ollantaytambo
Overnight accomodation in Aguas Calientes
Guided tour of Machu Picchu
Machu Picchu Mountain ticket
Breakfast on the second day of your trip
This experience makes getting to Machu Picchu a breeze!
Booking Your Ticket
Your Machu Picchu Mountain ticket should be purchased along with your entrance ticket to Machu Picchu. Only 400 people are permitted to climb the mountain each day, so spaces are limited. This means you should book your ticket as early as you can to make sure you can get in. I recommend doing this at least 2 months in advance, if not earlier.
Note, Huayna Picchu is even more popular, so a Huayna Picchu ticket will likely run out even faster. Also, you can only opt to do one climb or the other, not both.
There are two entrance times for the mountain: 7:00 – 8:00AM or 9:00 – 10:00AM. No afternoon entrance times are available so that personnel can ensure all visitors are off the mountain by the time the park closes. The cost for adding this excursion to your ticket will about $20, in addition to the standard entrance fee you pay.
If booking yourself, I recommend this 2-day tour from Cusco to Machu Picchu + Machu Picchu Mountain. Note that general admission tickets are either for the morning or afternoon, so you'll be purchasing a morning ticket that is timed to expire by around noon. It is important to note that you should definitely add your ticket to climb the mountain when you purchase your general Machu Picchu entrance tickets, as it is unlikely that you will be able to add the option to climb the mountain after you book your trip.
If you book the 2-day tour mentioned above, know that it includes the following:
Day 1
Drive from Cusco to Ollantaytambo train station (about 1.5 hours away)
Travel by 2-hour train from Ollantaytambo to Aguas Calientes
Stay overnight in Aguas Calientes
Day 2
The following morning, wake very early to catch the bus to Machu Picchu
Tour the citadel with your guide
Hike the mountain with your guide
Click here to book your tickets to the Citadel of Machu Picchu and Machu Picchu Mountain trek!
I think that this is the best and easiest way to get to Machu Picchu (and this is the way that I traveled there). This tour is led by a proper travel agency, and includes train tickets, lodging, and tickets to the park, so everything is taken care of for you.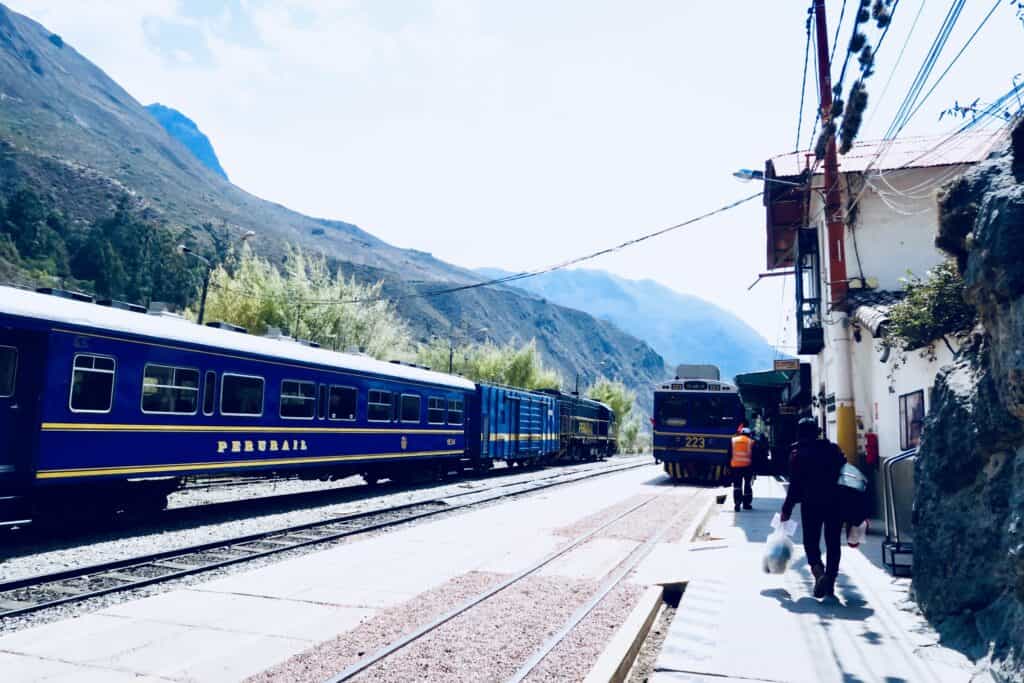 Touring Machu Picchu
Guided Tour of the Ruins
You'll most likely start your day with a tour of the ruins, given time constraints. Expect to get up really early (with the rest of the tourists) for the morning entrance to Machu Picchu. For those of you with a set tour, you will likely take the first bus from Aguas Calientes early in the AM. If you don't have a guide (which I highly recommend), you can hire one right before you enter the site.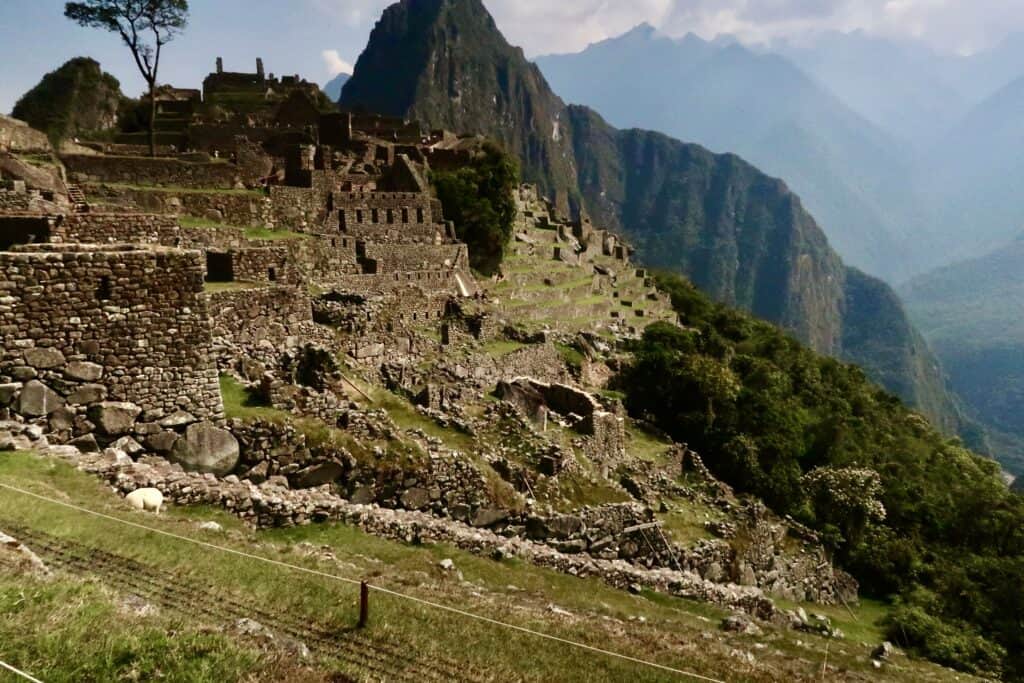 Going with a tour guide will allow you time to learn more about the way of life on the mountain and information on the history of the site, from a few different perspectives. Note that you will scale shorter flights of stairs the entire time you are on the site. Those Incas must have had no problem being active!
Machu Picchu was even more incredible than I imagined. The skill required to build a site like this so high in the mountains makes the site just so impressive. Also, can you imagine waking up to views like the one below every day?
There are several key structures you will likely visit while you are touring Machu Picchu:
Temple of the Three Windows: The Temple of Three Windows is an iconic feature of Machu Picchu, located in the Sacred District. This impressive structure stands out with its perfectly carved trapezoidal windows. It is believed to have held significant religious and ceremonial importance, potentially serving as a place of worship or a royal residence. The strategic positioning of the temple offers breathtaking panoramic views of the surrounding mountains and valleys, adding to its allure and spiritual ambiance.
Temple of the Sun: The Temple of the Sun, also known as the Torreon, is one of the most remarkable structures within Machu Picchu. It is a semicircular building constructed with meticulously carved stones, showcasing the exceptional Inca stonemasonry techniques. This sacred site is dedicated to Inti, the Inca sun god, and is believed to have served important astronomical and ceremonial purposes in the ancient Inca civilization.
Sacred Rock: The Sacred Rock is a large, prominent boulder that holds deep cultural and spiritual significance at Machu Picchu. This natural rock formation, carefully integrated into the architecture of the site, is believed to have played a central role in Inca rituals and ceremonies, possibly associated with fertility and agricultural practices.
Self-Exploration
Depending on the entrance time that you have selected for the mountain, take a little bit of time for a self-guided tour. This will give you time to take some pictures and hang out with the llamas, who are surprisingly agile on the steep mountain slopes.When your you entrance time starts, start heading to the trail head to get things started!
Climbing Machu Picchu Mountain
What to Expect | Altitude, Difficulty, and Duration
Okay, so let's get into the meat of this post – the climb! Here are a few basic facts about the mountain that you should know before you start:
Altitude – The summit is at 10,111 ft (3,082 meters). If you haven't quite adjusted to the high altitude yet, it will make the journey more difficult.
Height from Machu Picchu – The journey up is 2,139 ft (652 meters). So if you have a fear of heights, you should certainly skip this trek.
Number of Stairs – Okay, so I couldn't find an exact stat on this, but there are A LOT of very steep stone steps. Much harder than scaling a mountain, in my opinion.
Duration – I would give yourself ~3 full hours to climb and descend the mountain.
Level of Difficulty – On a scale of 1-10, I would put it at an 8.5 – it's tough! You need a high level of stamina to be able to climb the mountain with relative ease.
Safety – There are a few places with steep drop offs / narrow walkways, so you need to stay focused the whole time. It probably goes without saying, but if you are afraid of heights, this journey is not for you.
Weather – The weather on the mountain will start at about 45º in the morning, but will be at around 75º by late morning. So wear layers that you can remove throughout the day.
How to Prepare
Physical Condition
As I mentioned above, this is a tough hike. I recommend that you prepare by getting in great cardiovascular shape before making the climb. Also, you should consider incorporating stair exercises in your routine to get your knees in good condition.
RELATED: Spanish Phrases for Travel
Altitude Sickness Considerations
To combat altitude sickness, you should definitely start your time in the area in Cusco and stay there for at least 2 days. Cusco actually has a higher altitude than Machu Picchu Mountain, so its great for getting your body used to being so high above sea level.
I found consuming coca tea or coca candies very helpful for adjusting to the altitude. If you want a more clinically proven remedy, you can get your doctor to prescribe you a diuretic, such as diamox. Also, be sure to rest often and take it slow on your first day in high altitudes. Keep your first couple of meals light as well, to reduce the chance of nausea.
The more adjusted your body is to the altitude, the better your experience climbing the mountain will be!
What to Pack
Bring a light-weight backpack along with you on the journey, so you can bring the following items:
Passport – Required for entrance to Machu Picchu and separately for the mountain.
Camera – Get ready to capture some great shots!
Small Snacks – Bring something along to give you an energy boost, like a protein bar.
Water – You will be hot and walking for hours – this is a necessity! Bring at least one full bottle along.
Folding Walking Stick – Believe me, you need this. Scaling stairs for hours is much easier if you can take some weight off of your legs. Keep it folded until you start climbing in case the staff try to stop you from taking it along.
Lightweight Hiking Shoes – Don't try to be cute like me and take non-hiking boots haha.
Lightweight Rain Coat – The weather there can be a little unpredictable, so take this along just in case.
Starting the Trail
To find the entrance to the trail you'll need to walk the upper trail in the direction of the Guardhouse. Once there, you'll find plenty of signs pointing you to the hiking trail up the mountain. It will take you about 20 minutes to walk from the park entrance to the head of the mountain trail.
Once you reach the start of the trail, you will have to check in. Be sure to have your ticket and passport ready for the attendant at the gate. You will likely be provided with a number to remember for when the trek ends. This is how they keep track of who has / hasn't finished the trek. Don't forget that number!
You are now ready to start your journey! Also – Check out the video below to get an idea of how hight the Machu Picchu summit is:
Along the Way
As I mentioned above, the whole trail is stairs – and they start off right away. There were some who got so discouraged by the stairs that they simply turned around – don't let this be you!
As you ascend the mountain, I caution against asking too many people how long it is to the top. We had such wildly different answers, it actually was quite discouraging. For example, after walking 20 minutes we were told we only had 40 minutes to go. After walking another 40 minutes, another individual told us we still had 40 minutes to go.
That being said, it will take you longer to climb than to get back down. Estimate 1.5 hours – 2 hours for the initial climb, depending on how in shape you are. Take breaks as you climb so that you don't exhaust yourself. Also, there are plenty of great shots of Machu Picchu on the way up, so take some time to take a look.
Views from the Top and the Descent
So in full disclosure – we did not make it to the top of Machu Picchu Mountain. The reason for this being that we had to get back down the hill to our lunch reservation at the onsite restaurant. So we stopped about 1.5 hours into the journey – we were almost there! I did absolutely no research before attempting the climb, so did not do a great job at timing our visit. Don't let this be you!
If you do make it to the top of the mountain, you'll be treated to awesome views like this (shared with us by a kind traveler coming down the mountain ):
While the journey up is hard on your lungs, the journey down is really hard on your knees. Especially if you are on the shorter side / have short legs like me. It takes about half the time to come down as it takes to climb up, so that makes going through it a bit easier.
The Aftermath
Even though we didn't make it all the way up, we felt a great sense of accomplishment for what we did. I readily admit that we weren't in the best shape before the trip, so it was harder on us than it may be on others.
On the way down, my knees started to lock up a bit from fatigue. Thankfully I made it though! But by the end of the day, my legs were complete jelly – walking any distance was just painful. The pain did subside after a day or two, but I could have avoided this by training first. Hopefully you can learn from my missteps.
What Else to Know Before You Go | Machu Picchu
Getting There
As I mentioned in my Cusco travel guide, there are a number of ways that you can get to Machu Picchu. Cusco is typically the start of the journey (although you will likely arrive to Peru via Lima first), as that is the closest airport, but the paths diverge from there. Here are three of the post popular methods for getting to Machu Picchu:
By Train – This how we made our journey. I imagine that if you are climbing Machu Picchu Mountain, you are probably taking the train too. There are a number of different options available that fit all price ranges. I took the Vistadome and had a lovely experience. The train has windows that go to the roof, allowing inspiring, panoramic views for the whole 1.5 hour ride. This is the tour that I suggest taking, which includes the train ride as part of the experience.
Inca Trail – This is the most famous of the trails to Machu Picchu. The standard trek is about a four-day hike from Cusco to Machu Picchu. Due to its popularity, spaces fill up fast. Book early if you want to take this option. Learn more here.
Salkantay Trek – This trek is not as popular as the Inca Trail, but a more affordable and available option. Like the Inca Trail, it offers breathtaking views along the way. Learn more here.
Your "base camp" for visiting the mountain is the cute city of Aguas Calientes. This is where the train and the treks will take you before you visit the park. Getting from Aguas Calientes to Machu Picchu is either a 2-hour hike OR you can take a bus ride to the top. If booking yourself (and not using one of the tours above), you can buy tickets here at GetYourGuide.
RELATED: Cartagena Travel Guide
Overview of Aguas Calientes
Where to Stay:
You can find a range of hotel and hostel types in Aguas Calientes. If you have a tour, it is likely that your lodging is included in the price. Here are a few ideas, if you don't have lodging planned:
Gringo Bill's Boutique Hotel: $$ This highly-rated hotel includes breakfast, and amenities like a hot tub.
Waman Hotel: $$ This very modern hotel is close to the city's hot springs, and also includes breakfast.
Inkaterra Machu Picchu Pueblo Hotel: $$$$ If you are a big spender, this tree-house inspired hotel is for you. It comes with both breakfast and dinner included in the price.
Getting Around:
This town is very small – you could probably walk the whole thing in less than an hour. The train station is right by the town's center, where most hotels and restaurants are located. The only time you need any other transportation is when heading up to Machu Picchu.
Where to Eat:
Aguas Calientes is not a foodie destination by any means, but there are some decent restaurants in town. We ate at Mapacho Craft Beer & Peruvian Cuisine and enjoyed delicious local fare. Check Tripadvisor for some more ideas.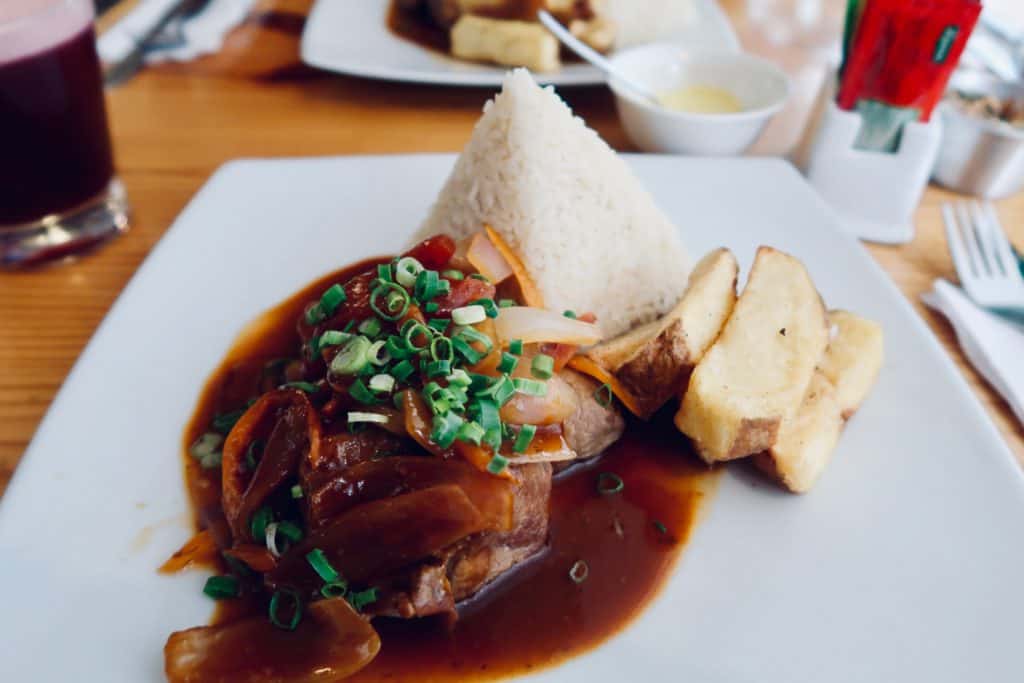 What to Do:
There is not a lot to do in the town itself, but here are a few options:
Visit the Hot Springs: The springs aren't the best out there, but great for relaxing after a long day of hiking.
Museo de Sitio Manuel Chavez Ballon: This museum has artifacts and information on Machu Picchu.
Plaza Manco Capac: This is the central city square – a great place to hang out at an adjacent café and people watch.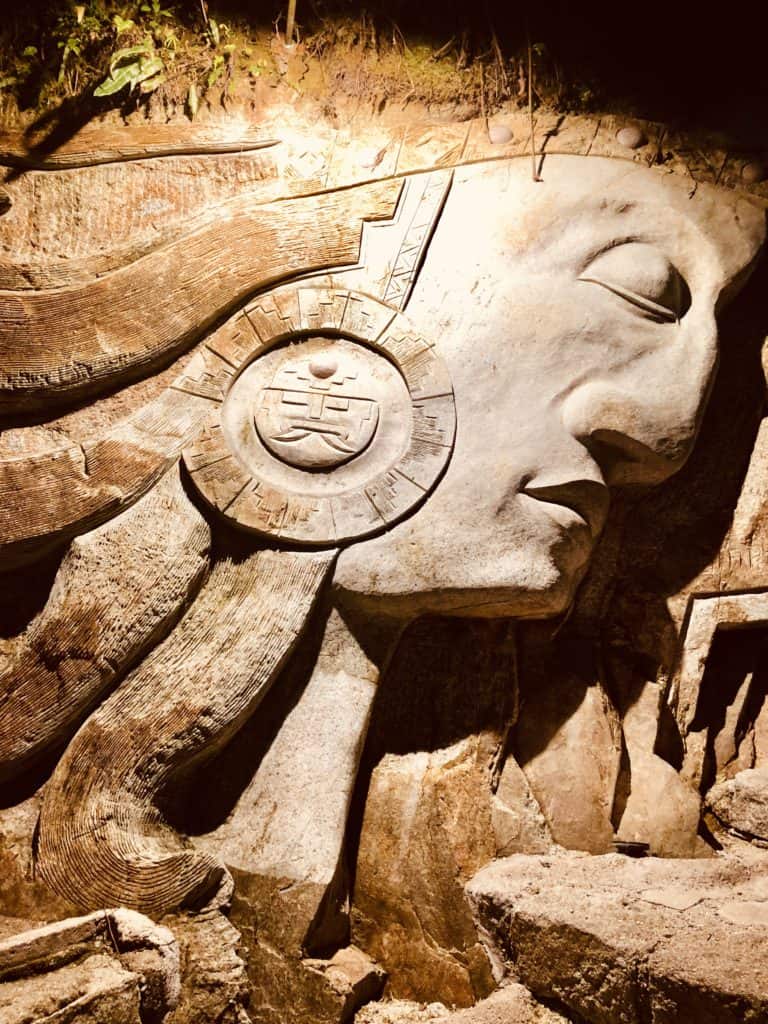 When to Go
The best time to visit Machu Picchu, is during the dry season, which spans from May to October. This period offers pleasant weather with minimal rainfall, allowing visitors to explore the ruins and the surrounding landscapes comfortably. The months of June to August are particularly popular, as they coincide with the peak tourist season, providing a vibrant atmosphere and a higher chance of clear skies.
However, it is worth noting that these months can also be crowded, so planning ahead and booking tickets in advance is advisable. The shoulder months of May and October offer a balance between favorable weather conditions and fewer people, making them an excellent alternative for a more tranquil experience.
The temperature typically stays about the same all year long. About 65º at the hottest part of the day and in the low 40s in the evenings. What you have to watch out for is the rain, and the rainy season lasts from about November through March. I recommend that you avoid the rain if you plan to do the trek as climbing slippery stairs can be quite difficult, no to mention dangerous.
Machu Picchu Onsite Considerations
Money: If you plan to purchase anything while on site, bring all the cash you think you'll need in advance. There won't be ATMs around for you to cash out.
Bathrooms: The bathrooms are located outside of the park, below the main entrance. If you are making the trek, I recommend that you head out to use the facilities before you start the climb.
Eating: No eating is permitted in the park, but you can eat a boxed lunch outside the entrance. There is a restaurant on site, Tinkuy, (the one I mentioned above). I don't really recommend it as it is $40/pp but the food is not so great. The Mapi Snack Bar is the only other option for eating in the area.
Entrances / Exits: You can re-enter the park several times, as long as your ticket time hasn't expired. You will need to have your passport to gain entrance to the site.
Machu Picchu Mountain FAQs
What is Machu Picchu Mountain?
Machu Picchu Mountain is one of the mountains overlooking the ancient Inca citadel of Machu Picchu in Peru, along with Huayna Picchu. It offers stunning panoramic views of Machu Picchu and the Andean mountains. Access to the mountain requires a separate ticket with daily visitor limits in place to protect the site.
How long does it take to climb up Machu Picchu Mountain?
On average, the ascent to the summit takes around 1.5 to 2.5 hours. The hike involves a steep and challenging trail, with several sections of stairs and uneven terrain. However, the effort is well rewarded with breathtaking panoramic views of Machu Picchu and the surrounding mountains.
Is the hike to the top of Machu Picchu Mountain difficult?
Yes, the hike to the top of Machu Picchu Mountain is considered difficult. The trail is steep and challenging, with many sections of stairs and uneven terrain. The ascent can be physically demanding, especially for those who are not accustomed to hiking at high altitudes.
Is it worth climbing Machu Picchu Mountain?
Climbing Machu Picchu Mountain is worth it for those seeking a physical challenge and breathtaking views of the ancient citadel and the Andean mountains. The hike is considered difficult, but offers a rewarding experience. However, if you have mobility issues or limited time, exploring the main archaeological site or climbing Huayna Picchu might be more suitable alternatives.
Can a beginner climb Machu Picchu?
Climbing Machu Picchu Mountain is not recommended for beginners due to its difficult and steep terrain, requiring a good level of physical fitness and hiking experience. Altitude considerations may also pose challenges for inexperienced hikers. For beginners, exploring the main archaeological site or less strenuous activities would be more suitable at Machu Picchu.
Final Thoughts | Climbing Machu Picchu Mountain
Is the hike up Machu Picchu Mountain worth it? I 100% say "YES", but with the proper preparation. If you don't make it though, Machu Picchu is quite amazing by itself! I hope these tips help you as you consider taking on this journey yourself. Have you climbed Machu Picchu Mountain before? Let me know your thoughts in the comments below!
Looking for More Posts on Peru?
Additional Posts on Latin America:
#travelwandergrow
---
---