The Ultimate Guide to Climbing Machu Picchu Mountain (Yes, it's Worth It)
Are you thinking about climbing Machu Picchu Mountain on your visit to this site? Should you do it? Is it even worth it? Well before you make your decision, there are a few things that you NEED to know. All things that I wish I knew before making the attempt – they would have saved me from lots of struggles haha.
I'll cover all you need to know about climbing Machu Picchu Mountain in this post, and also provide details on visiting Machu Picchu in general. Note that this post is pretty long, so if you want to jump to just the details on climbing the mountain, click the line titled "Climbing Machu Picchu Mountain" in the table of contents below.
Brief Overview | Machu Picchu
Machu Picchu is one of those über – popular tourist destinations of the moment. This can be seen by the large number of tourists that visit this site annually – topping over 1,400,000 visitors per year today. For this reason, its name is pretty much synonymous with the country of Peru.
The reason for this boom in tourism is likely due to the incredible views the citadel offers to its visitors, the fact that it was hidden in the jungle for 500 years but remains intact, and the mysterious nature of the site. There are theories that the site acted as a small city, or possibly a royal residence of Inca emperor Pachacuti. Some of the other mysterious surrounding the site are 1) Why did the Spanish never find it and 2) Why did the inhabitants leave?
No one can be 100% certain as there are no written records of the site. Although we may never know the answer it makes for a great story for visitors.
There are two mountains that you can directly access from the ruins: Machu Picchu Mountain and Huayna Picchu Mountain. Machu Picchu Mountain is the taller of the two, which means a longer hike, BUT much more impressive views. To help you get a sense of things, Huayna Picchu is typically featured in pictures of Machu Picchu. But, Machu Picchu Mountain is not typically seen in photos as it sits behind the citadel.
If you have decided to opt for the Machu Picchu hike or just want to know more, keep reading! Details on tickets, preparing for the climb, and level of difficulty are all below.
RELATED: 2 Days in Cusco
Booking Your Ticket
Your Machu Picchu Mountain ticket should be purchased along with your entrance ticket to Machu Picchu. Only 400 people are permitted to climb the mountain each day, so spaces are limited. This means you should book your ticket as early as you can to make sure you can get in. I recommend doing this at least 2 months in advance, if not earlier.
Note, Huayna Picchu is even more popular, so tickets for this mountain tend to run out even faster). Also, you can only opt to do one climb or the other, not both.
There are two entrance times for the mountain: 7:00 – 8:00AM or 9:00 – 10:00AM. No afternoon entrance times are available so that personnel can ensure all visitors are off the mountain by the time the park closes. The cost for adding this excursion to your ticket will about $20, in addition to the standard entrance fee you pay.
If booking yourself, you can purchase tickets here via GetYourGuide. My favorite tour booking site :). When using a tourist agency, it is possible that they will increase the cost a bit (oh, commercialism :)). Note that general admission tickets are either for the morning or afternoon, so you'll be purchasing a morning ticket that is timed to expire by around noon.
If you are visiting Machu Picchu via one the popular treks or using a travel agency to coordinate your visit in general, clarify that you would like to select this option at the time of your booking. It is unlikely that you will be able to add the option to climb the mountain after you book your trip.
We booked our excursion through the agency Tierras Vivas. If you are looking for an easy way to get to Machu Picchu, it's the perfect way to go, as everything was planned out for us! This includes train tickets, lodging, and tickets to the park.
Touring Machu Picchu
Guided Tour of the Ruins
You'll most likely start your day with a tour of the ruins, given time constraints. Expect to get up really early (with the rest of the tourists) for the morning entrance to Machu Picchu. If you don't have a guide (which I highly recommend), you can hire one right before you enter the site.
Touring with a guide will allow you time to learn more about the way of life on the mountain and information on the history of the site, from a few different perspectives. Note that you will scale shorter flights of stairs the entire time you are on the site. Those Incas must have had no problem being active!

Machu Picchu was even more incredible than I imagined. The skill required to build a site like this so high in the mountains makes the site just so impressive. Also, can you imagine waking up to views like the one below every day??
Self-Exploration
Depending on the entrance time that you have selected for the mountain, take a little bit of time for a self-guided tour. This will give you time to take some pictures and hang out with the llamas, who are surprisingly agile on the steep mountain slopes.When your you entrance time starts, start heading to the trail head to get things started!
Climbing Machu Picchu Mountain
What to Expect | Altitude, Difficulty, and Duration
Okay, so let's get into the meat of this post – the climb! Here are a few basic facts about the mountain that you should know before you start:
How to Prepare
Physical Condition
As I mentioned above, this is a tough hike. I recommend that you prepare by getting in great cardiovascular shape before making the climb. Also, you should consider incorporating stair exercises in your routine to get your knees in good condition.
RELATED: Spanish Phrases for Travel
Altitude Sickness Considerations
To combat altitude sickness, you should definitely start your time in the area in Cusco and stay there for at least 2 days. Cusco actually has a higher altitude than Machu Picchu Mountain, so its great for getting your body used to being so high above sea level.
I found consuming coca tea or coca candies very helpful for adjusting to the altitude. If you want a more clinically proven remedy, you can get your doctor to prescribe you a diuretic, such as diamox. Also, be sure to rest often and take it slow on your first day in high altitudes. Keep your first couple of meals light as well, to reduce the chance of nausea.
The more adjusted your body is to the altitude, the better your experience climbing the mountain will be!
What to Pack
Bring a light-weight backpack along with you on the journey, so you can bring the following items:
Starting the Trail
To find the entrance to the trail you'll need to walk the upper trail in the direction of the Guardhouse. Once there, you'll find plenty of signs pointing you to the mountain. It will take you about 20 minutes to walk from the park entrance to the head of the mountain trail.
Once you reach the start of the trail, you will have to check in. Be sure to have your ticket and passport ready for the attendant at the gate. You will likely be provided with a number to remember for when the trek ends. This is how they keep track of who has / hasn't finished the trek. Don't forget that number!
You are now ready to start your journey! Also – Check out the video below to get an idea of how hight the Machu Picchu summit is:
Along the Way
As I mentioned above, the whole trail is stairs – and they start off right away. There were some who got so discouraged by the stairs that they simply turned around – don't let this be you!
As you ascend the mountain, I caution against asking too many people how long it is to the top. We had such wildly different answers, it actually was quite discouraging. For example, after walking 20 minutes we were told we only had 40 minutes to go. After walking another 40 minutes, another individual told us we still had 40 minutes to go. Huh??
That being said, it will take you longer to climb than to get back down. Estimate 1.5 hours – 2 hours for the initial climb, depending on how in shape you are. Take breaks as you climb so that you don't exhaust yourself. Also, there are plenty of great shots of Machu Picchu on the way up, so take some time to take a look.
Views from the Top and the Descent
So in full disclosure – we did not make it to the top. The reason for this being that we had to get back down the hill to our lunch reservation at the onsite restaurant. So we stopped about 1.5 hours into the journey – we were almost there! I did absolutely no research before attempting the climb, so did not do a great job at timing our visit. Don't let this be you!
If you do make it to the top, you'll be treated to awesome views like this (shared with us by a kind traveler coming down the mountain :)):
While the journey up is hard on your lungs, the journey down is really hard on your knees. Especially if you are on the shorter side / have short legs like me. It takes about half the time to come down as it takes to climb up, so that makes going through it a bit easier.
The Aftermath
Even though we didn't make it all the way up, we felt a great sense of accomplishment for what we did. I readily admit that we weren't in the best shape before the trip, so it was harder on us than it may be on others.
On the way down, my knees started to lock up a bit from fatigue. Thankfully I made it though! But by the end of the day, my legs were complete jelly – walking any distance was just painful. The pain did subside after a day or two, but I could have avoided this by training first. Hopefully you can learn from my missteps :).
What Else to Know Before You Go | Machu Picchu
Getting There
As I mentioned in my Cusco post, there are a number of ways that you can get to Machu Picchu. Cusco is typically the start of the journey, as that is the closest airport, but the paths diverge from there. Here are three of the post popular methods for getting to Machu Picchu:
By Train – This how we made our journey. I imagine that if you are climbing Machu Picchu Mountain, you are probably taking the train too. There are a number of different options available that fit all price ranges. I took the Vistadome and had a lovely experience. The train has windows that go to the roof, allowing inspiring, panoramic views for the whole 1.5 hour ride. You can book tickets directly from PeruRail here. If you want to spend less, you can take the Expedition train. If you want to live large, consider the Hiram Bingham train – one of the most highly-rated trains in the world.
Inca Trail – This is the most famous of the trails to Machu Picchu. The standard trek is about a four-day hike from Cusco to Machu Picchu. Due to its popularity, spaces fill up fast. Book early if you want to take this option. Learn more at Inca Trail Peru.
Salkantay Trek – This trek is not as popular as the Inca Trail, but a more affordable and available option. Like the Inca Trail, it offers breathtaking views along the way. Learn more at Salkantay Trekking.
Your "base camp" for visiting the mountain is the cute city of Aguas Calientes. This is where the train and the treks will take you before you visit the park. Getting from Aguas Calientes to Machu Picchu is either a 2-hour hike OR you can take a bus ride to the top. If booking yourself, you can buy tickets here at GetYourGuide.
RELATED: Cartagena Travel Guide
Overview of Aguas Calientes
Where to Stay:
You can find a range of hotel and hostel types in Aguas Calientes. If you have a tour, it is likely that your lodging is included in the price. Here are a few ideas, if you don't have lodging planned:
Gringo Bill's Boutique Hotel: $$ This highly-rated hotel includes breakfast, and amenities like a hot tub.
Waman Hotel: $$ This very modern hotel is close to the city's hot springs, and also includes breakfast.
Inkaterra Machu Picchu Pueblo Hotel: $$$$ If you are a big spender, this tree-house inspired hotel is for you. It comes with both breakfast and dinner included in the price.
Getting Around:
This town is very small – you could probably walk the whole thing in less than an hour. The train station is right by the town's center, where most hotels and restaurants are located. The only time you need any other transportation is when heading up to Machu Picchu.
Where to Eat:
Aguas Calientes is not a foodie destination by any means, but there are some decent restaurants in town. We ate at Mapacho Craft Beer & Peruvian Cuisine and enjoyed delicious local fare. Check Tripadvisor for some more ideas.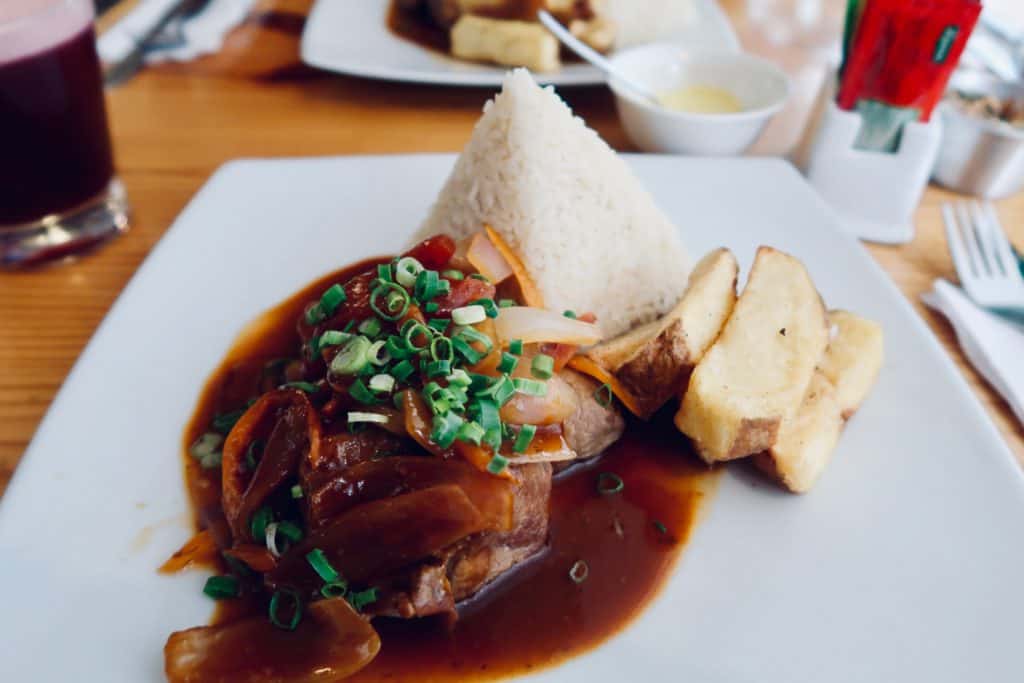 What to Do:
There is not a lot to do in the town itself, but here are a few options: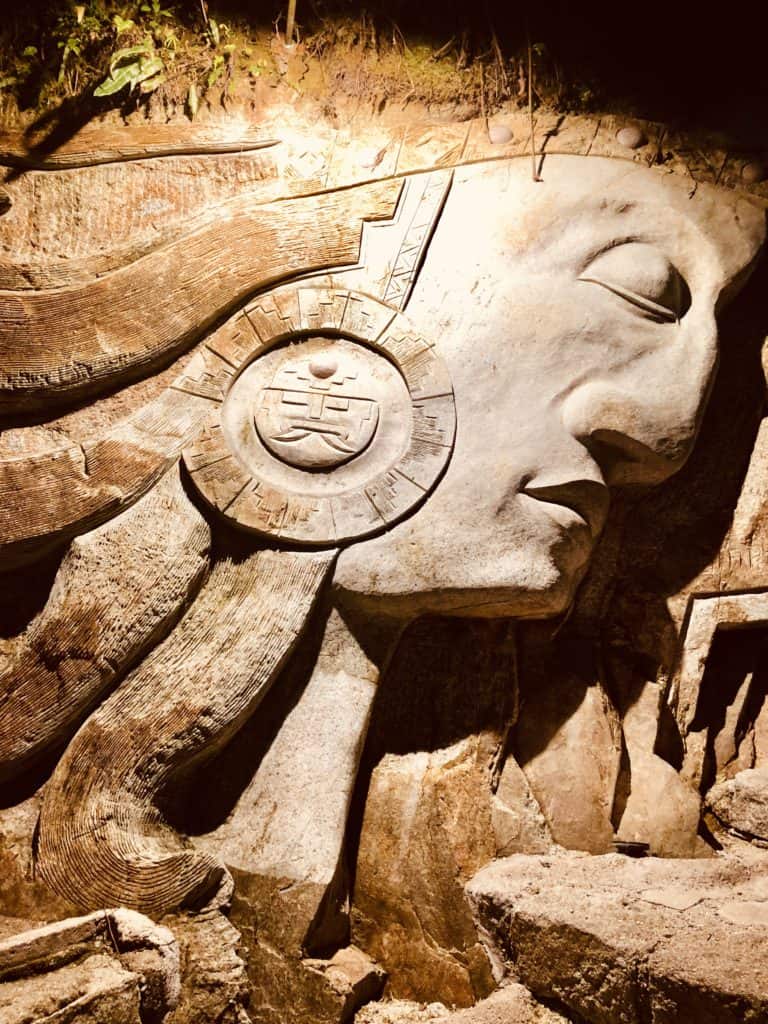 When to Go
The temperature typically stays about the same all year long. About 65º at the hottest part of the day and in the low 40s in the evenings. What you have to watch out for is the rain, and the rainy season lasts from about November through March. I recommend that you avoid the rain if you plan to do the trek as climbing slippery stairs can be quite difficult, no to mention dangerous.
Machu Picchu Onsite Considerations
Money: If you plan to purchase anything while on site, bring all the cash you think you'll need in advance. There won't be ATMs around for you to cash out.
Bathrooms: The bathrooms are located outside of the park, below the main entrance. If you are making the trek, I recommend that you head out to use the facilities before you start the climb.
Eating: No eating is permitted in the park, but you can eat a boxed lunch outside the entrance. There is a restaurant on site, Tinkuy, (the one I mentioned above). I don't really recommend it as it is $40/pp but the food is not so great. The Mapi Snack Bar is the only other option for eating in the area.
Entrances / Exits: You can re-enter the park several times, as long as your ticket time hasn't expired. You will need to have your passport to gain entrance to the site.
Final Thoughts | Machu Picchu Mountain
Is the hike up Machu Picchu Mountain worth it? I 100% say "YES", but with the proper preparation. If you don't make it though, Machu Picchu is quite amazing by itself! I hope these tips help you as you consider taking on this journey yourself.
Have you climbed Machu Picchu Mountain before? Let me know your thoughts in the comments below!
Related Posts:
#travelwandergrow
---
---