Hakone Green Plaza Hotel Onsen Review: The Best in Hakone

A trip to Japan is not complete without an excursion to Hakone with a trip to an onsen. Before I visited Hakone and stayed in the Green Plaza Hotel, I had lots of questions on what an onsen is and how to experience one while visiting the city. I hope to answer all of those questions for you in the description below. This Hakone Green Plaza Hotel Onsen review will cover all the details on what to expect at the hotel and what you should know before your first onsen visit.
⭐️⭐️⭐️⭐️⭐️
This 5-star hotel offers an enchanting retreat from the business of cities like Tokyo and Kyoto. The rooms offered here can be found in both the traditional and western styles.
Key Hotel Amenities Include:
Onsen with views of Mt. Fuji!
All-Inclusive Buffet
Private onsen (in certain rooms)
Why wait, book your room today!
About Hakone and the Hotel Green Plaza
Hakone City Overview
Hakone is a mountain city located in the shodows of Mount Fuji. It is a short trip from Tokyo (many take day trips there), and is noted for being a major tourist destination for both Japanese and international visitors. The reason for this being that Hakone is located within the volcanically active Fuji-Hakone-Izu national park, which make it the perfect location for experiencing the local onsens.
What is an Onsen?
An Onsen is a Japanese hot spring, and that term is used to define both the hot spring itself, as well as the inns that often house these hot springs. Hotel Green Plaza is one of these onsen inns, as both private and public onsens are the main attraction of the hotel.
Hotel Green Plaza Overview
Hotel Green Plaza is well known as a premier resort the provides a traditional onsen experience to its guests. This hotel is highly rated by previous guests (on sites such as Tripadvisor) for its amenities and high-quality rooms.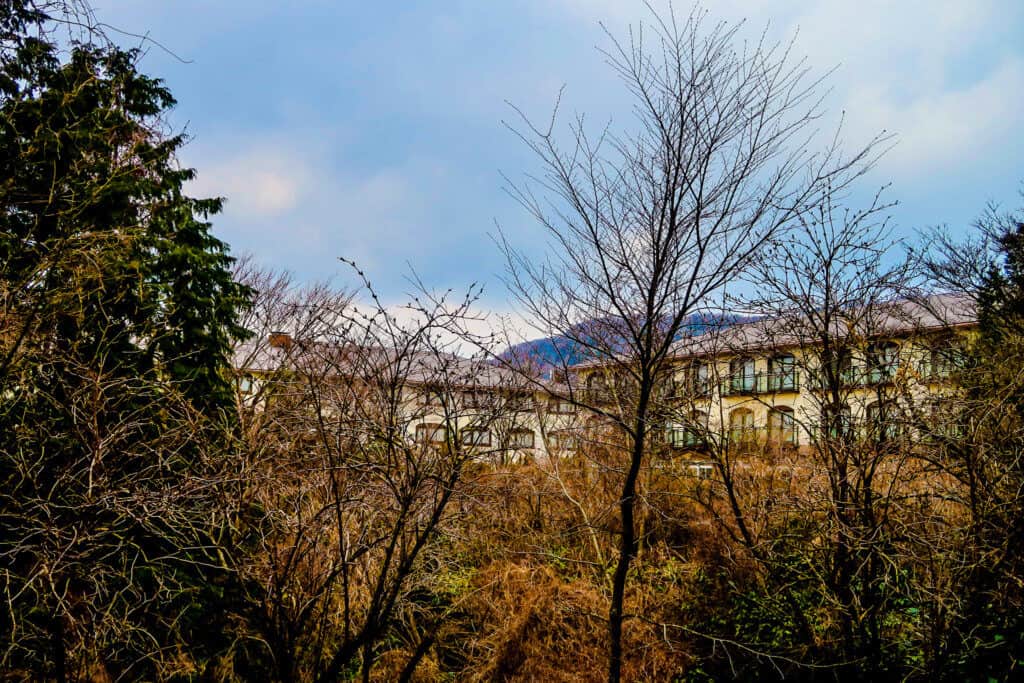 Read more about the hotel below!
Hakone Green Hotel Amenities
Hotel Green Plaza Onsen
The main attraction at this hotel is the onsen! There are a few things that you should know before your first time at an onsen:
You have to be nude if you visit the public onsen (the onsens are divided by sex)
You must shower before and after entering the onsen – there is plenty of shower gel and shower booths available to help you get the job done
There are no photos allowed (obviously because of #1)
At this hotel, there are two pools available – one inside and one outside. Personally, I found it more enjoyable to switch between the indoor and outdoor pools, especially in the cooler months. This is becuase it gets very steamy in the indoor pool. Switching to an outdoor pool in cool weather allows for easier breathing. An added bonus with the outdoor pool is the view – visit on a clear day and you'll be treated to views of Mount Fuji!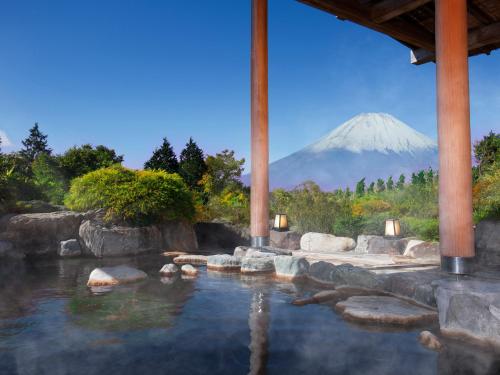 The water is wonderfully hot in both pools and, as with most places in Japan, it is kept immacutately clean. To help you further relax, there is a massage chair and foot massager inside the womens' changing area. If you want a more personalized experience, there are full time meseuses available as well – for a charge, of course :).
Overall, I found the onsen extremely relaxing, and visited the baths here three times in the 1.5 days that I spent in Hakone since I liked it so much.
Hotel Green Plaza Hakone w/ Private Open Air Bath
If a public bath / public nudity is really not your thing, or if you just prefer to relax in a hot spring yourself, you can stay in a room that has a private open air bath. I actually did stay in such a room, but ultimately chose to spend my time going the traditional route.
As you may expect, the room with the private open air bath is more expensive, but worth it if you meet the criteria above. In additon to the private bath, you get a very spacious room with a large screen TV, and a separate sink and shower. One thing that I found interesting is that all of the shower stuff (soap / conditioner / shampoo) is stored at the outside rinsing area instead of in the bathroom. The reason for this being that you likely won't need to take a "normal" shower since you're bathing before and after each onsen visit.
Hotel Green Plaza Hakone Buffet
The next best thing about the hotel was the food! Your reservation comes with a breakfast and dinner buffet – and let me tell you – the food is great! Both meals consist of traditional Japanese food, as well as a few western options (like french fries). The spread is really something else, from soup bars, to tempura bars, to dessert tables – you can just eat your heart out!
I recommend expanding your comfort zone a bit and trying something you would not typically eat. I ate rice porridge for breakfast for the first time and found it to be really tasty. And of course, you can never go wrong with fried chicken or vegetable tempura!
How to Book Your Stay at Hakone Green Plaza Hotel
When booking your stay at the Green Plaza hotel, you should know that you have three options on the type of room:
Japanese-Style Room – These room features futon beds in traditional Japanese fashion, and each day the room is converted from a bedroom to a sitting room – and back again!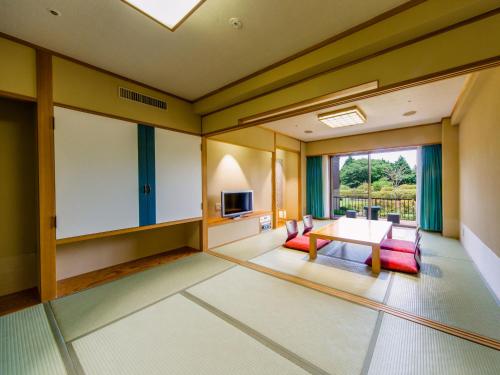 Room with Tatami Area – This type of room features standard double-sized beds and a sitting area towards the window.
Room with Open Air Bath – As mentioned above, this room comes with your own, private outdoor onsen. There are beautiful garden and nature views surrounding each one.
Regarding pricing, the Japanese-Styel Room and the Room with Tatami Area typically cost about the same amount. The Room with the Open Air Bath is priced a bit higher – usually around $100 – $150 more per night.
Click here to book your stay at the Hotel Green Plaza Hakone now!
How to Get to Hotel Green Plaza Hakone
The hotel is located off of the Ubako bus stop and the Ubako ropeway stop. You can, of course, arrive at these stations by ropeway or bus, and the hotel can provide a shuttle to pick you up. Alternatively, you could take a taxi to the hotel, but know that the cost will be much higher.
Know Before You Go | Hakone
The absolute best way to get around Hakone is by using the Hakone Free Pass. This pass has a number of benefits, which I'll cover in a later post, but you should know that it covers ALL of your transportation costs! This means that the local train ropeway, cable car, and Sightseeing Cruise are all a part of the ticket cost. Note, if you are coming from Tokyo, your transportation to and from Tokyo are included as well!
When to Go to Hakone
In my opinion the season that you choose to visit the area depends on which season you prefer. Do you like colorful leaves? Choose fall. Interested in seeing blossoming trees? Choose spring. The only other consideration is that it does tend to rain more from May – July, so you may want to avoid the late spring / early summer timeframe. Due to the heat of the hot springs, you may want to consider if you want to be in hot water when it is also hot outside. It's all a matter of preference.
Language Considerations for Hakonke
The language of the region is Japanese, and while you will encounter many folks who speak English at tourist attractions in the area, it's always a good idea to learn the local language before visiting a new country. While the language seems difficult (particularly due ot the different script), the basic greetings and pleasantries really aren't hard to pick up. Check out my post on Key Japanese Phrases for Travelers to learn more!
RELATED: Best Samurai Experience in Kyoto
Money in Hakone
Like the rest of Japan, you'll use the Japanese Yen while in Hakone. Note that vendors typically prefer cash in Japan, so you'll always want to have some at your fingertips. As of writing this post, the exchange rate was 145¥ to $1. Click here for current exchange rates.
The Best Things to Do in Hakone
If just staying in the onsen all day everyday is not for you, don't worry – there are plenty of things to do in Hakone:
In Summary | Hakone Green Plaza Hotel Onsen Review
I hope that you have found this review of the Hakone Green Plaza Hotel and Onsen helpful! I really enjoyed my stay there, and cannot wait until I go back.
Additional Information on the Green Plaza Hotel
You'll be provided a bathing robe that you can wear at any time on the property – including during dinner! The robe looks a bit similar to a kimono, as you can see in the image below:
If you just want to visit the onsen, you can do so without being a guest at the hotel for a price of '¥1600 (~$14) per person. You can just pay at the counter upon your arrival to the hotel, unless you have a party of 10 on more. (You'll have to make a reservation in advance in that case)
Know that you can't visit this onsen if you have tattoos (which is the case in about half of all onsens in Japan). This is due to the link of tattoos with Japanese gangs.
Now that you are well versed on the Hotel Green Plaza Hakone onsen, buffet, and other amenities, I think you are ready to book your stay! Feel free to reach out with any questions you may have on the hotel or Hakone in general.
Book your room at the Hotel Green Plaza Hakone now!
Looking for More Posts on Japan?
Don't forget to pin this for later!