2 Days in Kyoto (The Ultimate Itinerary)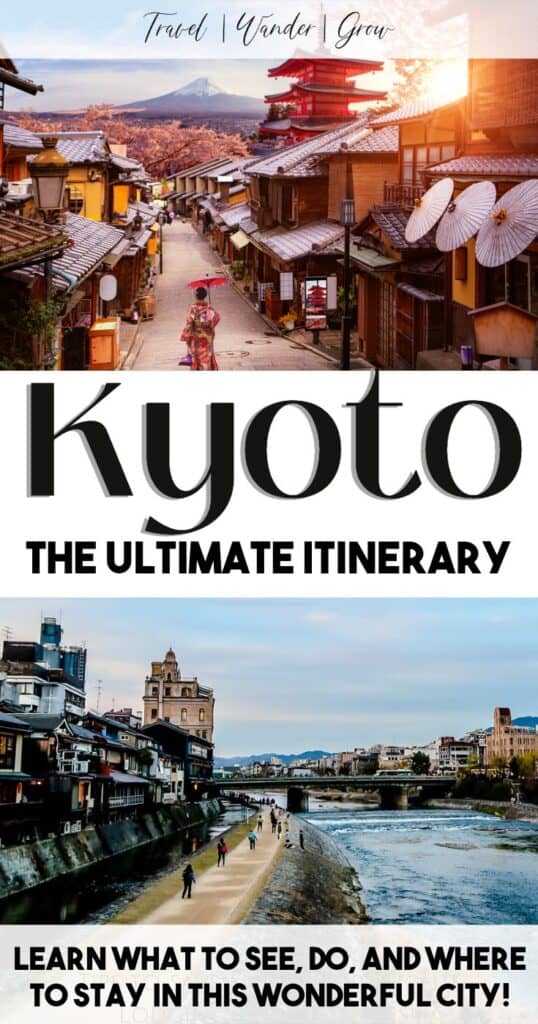 On my trip to Japan, no city stood out to me like Kyoto. The prevalence of historical buildings and of Zen Buddhism in the city give it a really relaxing vibe. It's one of the few places left in the world where you can see real geishas and the food is simply spectacular. It is a beautiful city, and because it was not damaged during World War II, the older part of the city makes you feel as though you are traveling back in time. A benefit to traveling here is that it does have fewer tourists than cities like Tokyo, so major sites are often less crowded. There are plenty of things to do in this former capital of Japan, and many world heritage sites. So if you only have two days to visit, you must plan ahead. This travel guide will walk you through your 2 days in Kyoto, so that you can maximize your short visit.
Brief City History | Kyoto, Japan
The length of time that Kyoto has been inhabited is not fully certain, but their are archeaological reigns in the area dating from the before the Bronze age. Recorded history in the area begins in the 500 A.D. timeframe, when the famous Shimofamo Shrine was established.
This city rose to prominence during the 8th century when Emperor Kanmu relocated the capital of the island there. The city took on the name Heian-kyo at that time, which means "tranquility and peace capital." The city remained the capital for over 1000 years! It was not changed until 1869 when the Tokyo was named as such during the Imperial Restoration.
Like any city, Kyoto went through periods of growth and decline. The most destructive time took place during the Onin War, a civil war that took place from 1467 – 1477. The city stayed in a state of disarray until the late 1500,s when the Imperial Regent Japan at the time, Toyotomi Hidyoshi, reconstructed and modernized the city.
The city began to flourish at that time, and continued to do so throughout the Edo period. This was a time that is marked by great internal growth and stability within Japan, but also of isolationism from the rest of the world.
One little known fact about Kyoto is that it was one of the original targets of the atomoic bombs during WWII, as it was an important intellectual center in Japan. The U.S, Secretary of War ultimately convinced the presendential administration to elect Nagasaki instead. Since the city was saved, today it is one of a few Japanese cities that have prewar buildings. This make it a great place to visit if you love learning about history, like me.
Know Before You Go | Kyoto
Lodging & Logistics
Getting There:
The two primary methods of traveling to Kyoto are: 1) Train and 2) Plane. The reason why I've listed travel by train first is because the city does not actually have its own airport.
Train: Kyoto Station is the major train station of the city that can pretty much connect you to the rest of the country. On the speedy Japanese bullet trains, it is about a 3 hour ride to/from Tokyo, and only about a 20-40 minute ride to nearby Osaka. If you will be in Japan for at least a week, I do recommend getting the Japan Rail Pass. It will save you money as you travel to different locations throughout the country (instead of buying many individual tickets). As mentioned above, this is the best way to get to Kyoto as you will arrive right inside the city. We took the bullet train here from Hakone, and we got to Kyoto in no time.
Air: The closet airport to Kyoto is the Osaka Itami Airport (ITM), also referenced as the Osaka International Airport. This is a domestic airport, which many airlines offer free fare to if you fly with them to the Narita airport in Tokyo. To get from this aiport to Kyoto, you have a few options:
There are two other airports that are relatively close to Kyoto:
Kansai International Airport (KIX) – The main International airport of Osaka
Chubu Centrair Japan International Airport (NGO) – This is the main airport for Central Japan (the Chubu region of the country).
Both airports are about 90 minutes away from Kyoto by train, so the Itami airport is the best bet if you want to save travel time. I will note, what's cool about both of these airports are that they are based on man-made islands!
Where to Stay:
There are a few neighborhoods in Japan that are certainly worth your exploration if you plan to visit the city:
Gion – This neighborhood has been made famous as the "geisha district" and houses many traditional homes and historical sites. It was my absolutely my favorite part of the city, and gave off some Westworld Season 2 vibes ;). This is the area of the city where we stayed, and we were fortunate enough to stay within an old and beautiful geisha home.
Gion Hotel recommendation
This is a full-apartment rental property that is a 12 minute walk away from the Gion Shijo Station, and features rooms with "western" style beds and some with typical floor bedding. This is a great option if you are looking for a more traditional stay.
Photo Credit: Booking.com
---
City Center – This area of Kyoto is great for having easy access to both metro and bus transportation. It is close to Kyoto Station, TKP Garden City Kyoto, and the Sanjusangen-do Temple.
City Center Hotel recommendation
This four star hotel features an onsen, an onsite restaurant, and a full spa. In addition, breakfast and Wifi are included with the price of the room. If getting around easily is your main objective, this may be a great option for you.
Photo Cred: Booking.com
---
Arashiyama – This area is located on the outskirts of the city, and is a really cool place to explore. Here you can visit the bamboo forests, hang out with local monkeys, and experience many of the other tourist delights that have been set up here.
Arashiyama Hotel recommendation
This is a 4-Star hotel in the Arashiyama area of Kyoto. It is a 13-minute walk from the Bamboo Grove, and features rooms with a clean an modern aesthetic.
Photo Cred: Booking.com
---
Fushimi – Situated in southern Kyoto, this area is most famous for the Fushimi Inari Shrine, which you will likely know by the Torii gate, or the rows and rows of orange gateways. As this area is situated on a hill, you can catch awesome views of the city here.
Fushimi Hotel recommendation
This one is a vacation home that is designed in the traditional style. It is a 3-star property that features a 24/7 front desk and security. It is located just a short walk of six minutes away from the Fushimi Inari Taisha Shrine.
Photo Cred: Booking.com
---
---
Getting Around:
Kyoto, like most major cities in Japan, is well-connected by both metro and bus. The great thing about transportation throughout the country is that you just need to buy one IC Card (the transportation card), and that works on all trains, metros, and buses – in EVERY city! You can purchase your card at any train station – it's a reloadable card, so you can just fill it as you go. I'll note, that Uber is readily available in the city as well, making it easy to get around if you need another option besides the metro.
Access the Kyoto metro map here.
When to Go:
The weather in Japan is more or less similar to what you'd experience in most of the US. This means that you get all four seasons. For the best weather, it's advised to go in Late spring (March – May) and late autumn (September – November), to experience the changing of the seasons and avoid heavy rainfall, winter snow, or summer heat.
If you want to visit during cherry blossom season, of course you'll need to make your way to Kyoto during the spring months. I'll note that catching the cherry blossoms can be tricky, as timing is everything. And the bloom never happens at exactly the same time every year.
Daily Considerations
Language Considerations:
The official language of Japan is – you guessed it – Japanese. English is not as widely spoken here as in some other tourist-friendly countries, so it is helpful to learn a few basic phrases while visiting. This list of Japanese phrases provides everything that you should know in advance of traveling to anywhere in Japan.
Money Situation:
At the time of writing this post, the exchange rate from USD to Japanese yen was $1 = 132.78¥. For the latest exchange rates, click here. Something that surprised me was that Japan does use cash more frequently than here in the states. For this reason, I do recommend pulling out at least some currency while traveling.
Health:
Have no fear about drinking any of the water here! Japan is one of the cleanest countries in the world, and that applies to the quality of the tap/drinking water as well.
Electricity Socket:
Japan uses Type A plugs that have flat and straight prongs. These are the same prongs that you see in the US, and additionally they run on 100 volts, like in the US as well. As such, a power adapter is not necessary, but may be helpful to have on hand in case your hotel does not have many outlets.
The Itinerary | Kyoto in 2 Days
Day 1 | Getting to Know Kyoto
Morning / Afternoon
As I've mentioned in nearly everyone of my posts, its best to start your first day in a new city with a city tour. My recommendation is to take the Kyoto: Top Highlights Full Day Trip, as it really does hit all the most famous sites that you will want to see in the city. It, of course, comes with a local guide who will share the history and background of each location so you can get the best understanding of each one. The tour will take you to all the following sites over the span of about 8 hours:
Fushimi Inari Taisha (Fushimi Inari Shrine): This site is one of the most famous aesthetics of Kyoto, as you may be able to see in the pictures below. This Shinto shrine is located in southern Kyoto, Japan, and is known for its thousands of torii gates that line the mountain trails leading into the forest of Mount Inari. The shrine was founded in the 8th century and is dedicated to Inari, the Shinto god of rice, agriculture, and prosperity. Visitors can hike through the shrine's network of trails and pass through the torii gates, which are donated by individuals and companies as a form of gratitude for their success. The shrine is also home to several sub-shrines and is a popular spot for traditional Japanese weddings and festivals. Fushimi Inari Taisha is one of the most visited shrines in Kyoto, attracting millions of visitors each year.
Kiyomizu-dera: This UNESCO World Heritage Site is a historic Buddhist temple located in eastern Kyoto, Japan. It is best known for its unique architecture and beautiful views of the city. The temple was founded in 778 and is dedicated to the Bodhisattva of compassion. The main hall of the temple is built on a steep hillside and is supported by 139 pillars. Visitors can also explore several other buildings on the temple grounds, including a pagoda, a shrine, and a beautiful garden. One of the most popular features of Kiyomizu-dera is the Otowa waterfall, where visitors can drink from one of three streams of water, each said to have a different benefit, such as longevity or academic success. If you travel here during the tour, you will stop here for lunch as well.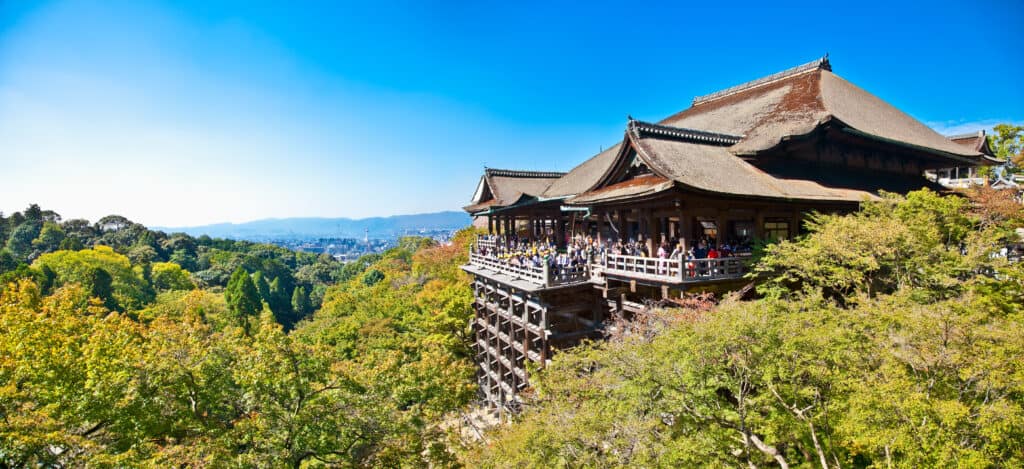 Golden Pavilion: Next, you'll head to the Golden Pavilion, also known as Kinkaku-ji Temple or the Golden Temple, is a Zen Buddhist temple located in northern Kyoto, Japan. his temple dates back to the 14th century, when it served as a villa for the Saionji family. It was purchased by shogun Ashikaga Yoshimitsu in 1397 and transformed into a temple after his death. The temple's main attraction is a three-story building covered in gold leaf, which is one of the most iconic structures in Japan.
The first floor is built in the Shinden style, the second floor in the Bukke style, and the third floor in the Chinese Zen style. The temple is surrounded by beautiful gardens featuring a large pond with several islands and bridges. The Golden Pavilion and its grounds are a UNESCO World Heritage Site and are visited by millions of tourists every year. I found the temple very beautiful and the surrounding area a very relaxing environment.
Arashiyama: The last stop on the tour is the Arashiyama area of the city. This area of the city is located on the outskirts, west of the city. It is worth a visit due to the number of attractions you'll find here. The most famous attractions of the area is the Arashiyama Bamboo Grove– it's truly beautiful and otherworldly to explore. The bamboo forest is known for its towering bamboo stalks that create a peaceful, serene atmosphere for visitors. The grove covers an area of about 16 square kilometers and is one of the most popular tourist destinations in Kyoto. Here you can take a leisurely stroll through the grove on a path that winds through the towering bamboo, creating an awe-inspiring experience. I found the grove to be very peaceful, and is particularly nice for those who like natural environments.
After visiting the forest, you can spend time walking the area around the forest as there are many restaurants to try, a variety of shops, temples, and other attractions. Another famous attraction in this area is the Iwatayama Monkey Park, a unique and charming attraction where visitors can interact with wild Japanese macaque monkeys. The park is home to over 120 monkeys that roam freely throughout the area, and visitors can feed them from inside a protected building while enjoying panoramic views of Kyoto. To reach the park, visitors must climb a steep hillside trail that takes around 20-30 minutes, making the journey an adventurous and scenic experience are several temples and shrines in the area, as well as delicious eating spots.
Note: If you don't visit Arashiyama during the tour, it is easy to visit by first traveling to the Omiya Metro Station. From there, you'll see the Shijo-Omiya Tram Station pretty much across the street. At the tram station you will be on the first stop on the line going to Arashiyama. You'll ride for 13 stops and land right in the middle of all the things happening at Arashiyama.
Check Prices for your Kyoto: Top Highlights Full Day Trip Now!
Late Afternoon
Nishiki Market – The Kyoto Nishiki Market, also known as the "Kyoto Kitchen," is a bustling indoor market located in the heart of Kyoto, Japan. The market is known for its array of vendors selling traditional Japanese food, snacks, and souvenirs. The market has been operating for over 400 years and is a popular destination for both tourists and locals. Visitors can sample various Japanese delicacies such as sushi, mochi, and pickles, as well as purchase traditional Japanese ingredients and souvenirs.
The market is also home to many food stalls and restaurants, making it an excellent spot for lunch or a quick snack. are a few sit down restaurants where you can try out many different types of food. In addition to food, you'll find various shops selling clothing and souvenirs too. Note, this is not a late night market, and is open from 9AM to about 6PM. Additionally, the market is mostly closed on Wednesdays and Sundays.
Evening
After you are done shopping head to Musoshin for some excellent Ramen. This small restaurant is set up like a food bar, and you place your order by machine when you come in. It's a uniquely Japanese dining experience and the fried chicken is AMAZING here!
Day 2 | Become a Samurai and Learn about Geishas
Morning
On your second day in Kyoto, I recommend that you head to the Tofukuji Temple grounds. Tofukuji Temple is a large Zen Buddhist temple located in the southeastern part of the city. it is best known for its beautiful autumn foliage and unique architectural style. The temple was founded in 1236 and is home to several buildings and sub-temples. These include the impressive Sanmon Gate, which is the oldest Zen gate in Japan. The temple also has a stunning garden featuring a pond, rock formations, and several picturesque bridges. The garden is particularly famous for its autumn colors, which attract visitors from all over the world.
After visiting the temple, you should then go to the Gion District to explore the neighborhood by foot. This is a historic and culturally rich area located in eastern Kyoto, Japan. It is famous for its traditional teahouses, geisha culture, and historic architecture. You will feel like you are walking back in time or in an old Japanese samurai movie due to the architecture found there. The district is divided into two main areas: Gion Shirakawa and Gion Kobu.
Gion Shirakawa is known for its charming streets lined with traditional wooden buildings and is home to several high-end restaurants, teahouses, and boutiques. Gion Kobu is the larger of the two areas and is where the majority of the geisha and maiko (apprentice geisha) live and work.
Visitors to the district can enjoy walking through the streets, admiring the architecture and experiencing the traditional culture of Kyoto. The Gion district is particularly lively during the Gion Matsuri festival in July, which is one of the most famous festivals in Japan. The festival features a colorful parade of floats and is a highlight of the summer season in Kyoto.
Afternoon
Samurai Experience: One thing that you must do in Kyoto, if you do nothing else, is an go to an authentic Samurai Experience. If you are not aware, the samurai were a class of highly skilled warriors in feudal Japan. They served the nobility and fought in battles. The history of the samurai dates back to the 12th century when the first shogun, or military ruler, emerged in Japan. Samurai warriors played a significant role in Japanese history, and their code of conduct, known as bushido, emphasized honor, loyalty, and self-discipline.
The samurai were officially abolished in the 19th century during the Meiji Restoration, which marked the end of the feudal era in Japan. However, their legacy and influence on Japanese culture and history continue to be celebrated and studied to this day. If you opt for the Samurai Experience, you'll learn how to use a REAL Samurai Katana (sword), using the proper grip, posture, and form. You'll also learn how to wield the sword by practicing on a wet bamboo mat. Why a wet bamboo mat? Apparently this does a good job of representing the density of cutting through a person from shoulder down to their abdomen. After your lesson, take in some tea and then practice Zen meditation, just as the samurai's did to calm their minds during battle.
I did this experience while in Japan and loved it. Although I will note that using a samurai sword was just a little bit unnerving. I think experience is a great way to learn more about Japanese culture as the Samurai was deeply embedded in Kyoto and other Japanese cities for hundreds of years
To get there, you'll have to visit the Hankyu Railway Omiya (大宮) Station. The tour guide will meet you at exit #1 to walk you to the entrance of the Samurai house (> 5 minute walk).
Book your Kyoto Samurai Experience here!
Evening
Spend your final evening by experiencing some Japanese Wagyu – which is the most delicious steak that you will ever try! I recommend eating at Ryu-An, it was sooo good! It's a bit different than your regular steak, as it is cut very thin, and served very similar to Korean barbecue.
RELATED: Bangkok Travel Guide
Kyoto 2 Day Itinerary Map
To easily navigate the city and get bearings on your surroundings, here is a city map of Kyoto, with each of the location mentioned above called out:
Higashi-Honganji Temple
Gion
Zen Tokufuji Temple
Fushimi Inari Shrine
Kinkaku-ji Temple
Nishiki Market
Samurai Experience (Meeting Point)
Arashiyama
How Many Days in Kyoto is Enough?
I spent two days in Kyoto, not realizing that it would be my favorite city in Japan, and really wish I spent at least another day or two here. With an additional day you can add to your agenda, or just slow down your travels a bit to soak in the city more. But I will say that with two days, you do get a really nice taste of what the city has to offer, and hey, it's better than just one day, right?
Additional Ideas if You Have More Time
If you do have additional time in the city (lucky you!) here are a few additional activities you could check out:
Final Tips | Kyoto Itinerary 2 Days
That concludes this two day Kyoto itinerary. I hope that you have found it insightful and that you can see why this city is a great city to visit in Japan. The two main reasons I suggest seeing this city is because of the history and all the food options. If you are thinking about a trip here, I hope you can visit soon! In summary, I'd like to close with a few final tips for visiting Kyoto / Japan:
Hope you found this guide helpful! If you've visited Kyoto before, let me know if I've forgotten anything in the comments below :).
Related Posts: