2 Days in New Orleans: The Coolest City in the US

New Orleans brings to mind images of jazz and big band music, beautiful buildings, and delicious creole-style food. While these things do not fully define the city (nothing is that simple, right?), these are what make New Orleans the "coolest" and most unique city in the US.
While a large part of this country was influenced by English colonialism, New Orleans has a great deal of French, Spanish, and African influences, giving it a truly distinct feel. This guide provides provides all the details that you need for 2 days in New Orleans, so that you can soak up as much of the city's charm as possible while there.
Brief City History | New Orleans
The area now known as New Orleans was first inhabited by the Mississipian Native American culture, as early as 400 AD. In the late 1600s, French fur trappers found their way to the area, and the city was officially founded in 1718 as La Nouvelle-Orléans. It was an important French colonial city, becoming the capital of of French Louisiana by 1722. The city remained under the control of the French until 1763, when it was ceded to the Spanish.
While the Spanish were in control, the city was devasted by two major fires, causing most of the French colonial architechture to be replaced by the Spanish style (which is what you see today). Spain controlled the city (more or less) until 1802, when France took it back. This control only lasted temporarily however, because in 1803, Napolean sold the area as part of the Louisana Purchase to the US.
RELATED: 4 Days in NYC
It's interesting to note that, unlike most of the US, African influences can be seen in the local culture, even today. The reason for this being that slavery in New Orleans did not involve the separation of families. Slavery was different than in many parts of the country – not better, but different nontheless. Compared to most of the US, there were more free, land-owning black people here, than anywhere else in the world. Which is why I think black culture has influenced the city differently than anywhere else.
The city grew rapidly in the early 1800s, largely due to the insurgence of immigrants from Haiti. These folks came over while fleeing from the Haitian Revolution that was taking place during that time. The city to grow with settlers from Germany and Ireland, and by 1840, it was the third largest city in the US. As with most of the country at this time, the city was impacted by the changing norms around slavery.
During the civil war, the city was captured by the Union without a battle, thus avoiding the destruction that many other cities faced during this time. Once reconstruction began, race relations continued to be a struggle in the city. For example, the government abolished French instruction in schools, and momentary victories of having elected black officials, were all rolled back.
This tough period also brought with it the dawn of Jazz, which is birthed from a variety of African-influenced music (e.g., ragtime, spiriturals, and blues). This was a time (late 1800s – early 1900s) of cultural enlightenment for the city, making the city alluring to travelers throughout the country. The city has had periods of grown and decline throughout the years, and was most notably impacted by Hurrican Katrina in 2005. The has recovered since this time, being a top tourist destination in the country. It is known for the many festivals that take place in the city (e.g., Mardi Gras and Essence Festival), and is noted for its rich foods, lively music, and sports culture.
Know Before You Go | New Orleans
Lodging & Logistics
Getting There: New Orleans is serviced by the Louis Armstong International Airport (MSY), a relatively small airport that does offer some flights out of the country. The airport is about a 30-minute drive from the city center. It also features the New Orleans Union Passenger Terminal, a major Amtrak hub.
Where to Stay: Where you stay in New Orleans depends a little on what you're looking for. I have a few neighborhood recommendations that you should check out:
Jackson Square / French Quarter: The French Quarter is the image that most folks have when they think of New Orleans. It is probably the most picturesque area of the city, full of colorful buildings, cute balconies, and decorative flowers. It does tend the be more on the expensive side, but worth it if you'd like to splurge a bit. I do recommend that you avoid Bourbon Street, however – this area can just get wild (unless you're really into that). Hotel Mazarin is a good option for this neighborhood, as it's affordable and full of that New Orleans charm :).
The Garden District: This area developed as the area for English residents of the city. It is full of large mansions, cute cottages, and beautiful churches. If you're looking for a slower pace than what you'll find in the French Quarter, this is the spot for you. The Henry Howard Hotel gives you a taste of that mansion life for an affordable price and is certainly worth checking out!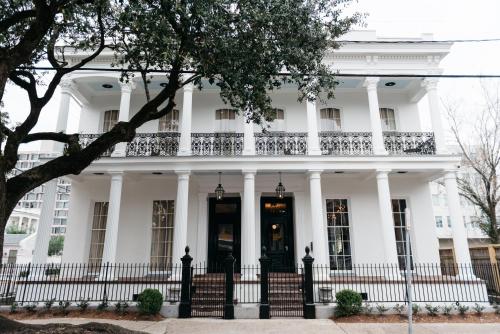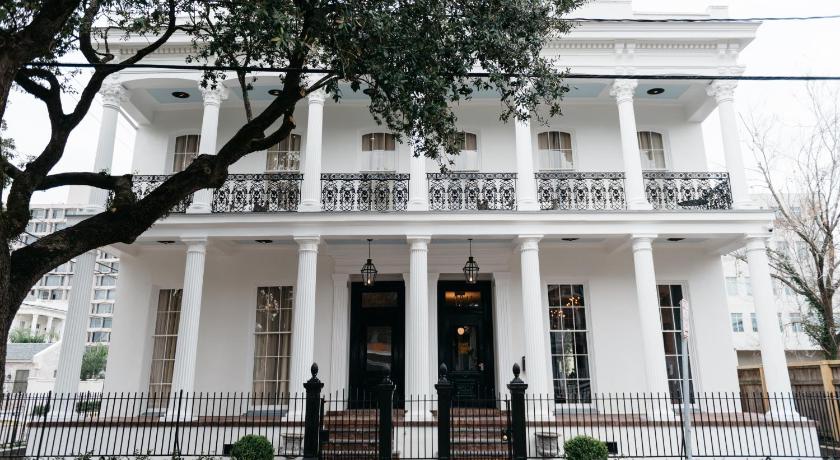 Marigny: This largely residential area is full of shotgun-style homes, jazz clubs, and Cajun bistros. You get a nice taste of the real New Orleans here. On my most recent visit to this neighborhood, we stayed in an absolutely adorable Airbnb. If you haven't stayed in and Airbnb before, you can use my link to get $40 off your first stay!
Canal Street: This street is the breaking point between the French Quarter and the more modern style buildings near the financial district. It is full of shops and theaters, and provides easy access to many areas of the city by the trolley. The Saint Hotel, Autograph Collection offers more of that new and posh vibe you'll feel in this area of the city.
Getting Around: If you aren't staying in the French Quarter, or not too far from Canal Street, I recommend either being prepared to uber around most of the city, or actually renting a car. There is the New Orleans Regional Transit Authority (RTA), but it is not very efficient, in my opinion.
When to Go: New Orleans can get really, really hot in the summer. If you are looking for reasonable temperatures, I recommend visiting during the spring or the fall.
Daily Considerations
Language Considerations: English is the language spoken here, of course, with very few French speakers remaining anywhere in the state. However, you will notice a distinct Louisiana accent in the city – one that's very different than found in the rest of the south.
Money Situation: Prices in New Orleans tend to be lower than in many other major cities in the US, but the cost of your stay will increase dramatically during times such as Mardi Gras, Essence Fest, Jazz Festivals, or any other time there is a big event happening in the city. If you plan to visit during one of those times, just plan to book as early as possible.
Where to Eat: See my recommendations in the itinerary below!
The 48 Hour Itinerary: New Orleans
Day 1 | Exploring the French Quarter
Morning
Start your day by getting some great food. I recommend Café Amelie for an absolutely delicious breakfast. This restaurant is located in the French Quarter, and is known best for its lovely courtyard and French-style building. The food here is classic New Orleans fare, and just delicious.
Afternoon
Get to know the heart of the city by exploring the French Quarter. Some key sights to see/visit include:
Café Du Monde – You can't go to New Orleans without getting some of the world-reknowned biengets that they serve here.
Bourbon Street – I personally don't like spending a lot of time here, but you have to do it at least once. This street is just as lively as they say, full of performers / mimes, open air drinking, and live music.
The French Market – This market is full of all the standard souvenir fare as well as plenty of places to grab a quick bite to eat for lunch. If it's summer, it's a good idea to pick up one of the fancy fans they sell here – believe me, you'll need it!
If you'd rather have someone show you around the French Quarter than do it alone, I recommend booking the French Quarter Walking and Storytelling Tour, which goes deep into the history of this fascinating section of America.
Evening
No trip to New Orleans is complete without a little bit of spook, right? The Ghosts, Vampires and Voodoo Tour will have you scared in all the best ways, while teaching you a little of the city's history (real or maybe not) along the way.
After the tour, head to Muriel's Jackson Square for a bit of an upscale dinner. The food here is a mix of classic New Orleans food with French influence, and is well worth the higher price you may pay for the meal.
RELATED: Star Wars Galaxy's Edge: Disneyland
Day 2 | Touring the Treme Neighborhood and Experiencing Jazz in Frenchman's
Morning
For breakfast on your second day, grab a bite to eat at St. Roch's market. This marketplace has several vendors who sell food from a variety of cultures – Middle Eastern, Haitian, Asian, and more. I like this place so much that I tried out three different places while there, and all the food I ate was just perfect.
Afternoon
After you eat, head to the Treme neighborhood for a tour of this district, known for its rich African American history. I'll say that the tour guide on this one is an AMAZING storyteller, and will have your attention captured throughout the tour. You'll learn the history of the slaves who originally inhabited this area, and how the experience has changed for black residents in recent times. It is really the perfect way to spend your afternoon in the city.
Click here to book your tour now!
Evening
For some amazing creole food, take a drive over to Neyow's Creole Café for dinner. This place is always busy, so get there early to avoid long lines / wait times. Know that they don't accept reservations or allow takeout, so plan accordingly.
As your time in New Orleans comes to a close, you must make one stop for a local Jazz performance in Frenchmen Street. There are several good options on this street, including the Spotted Cat Music Club, The Maison, and Blue Nile. On Frenchmen Street you'll also find a really cool art market, full of unique jewelry, handicrafts, and paintings. I definitely recommend stopping by if you have the time.
If You Have More Time…
If you do have more time in New Orleans, I recommend exploring a few more of the nearby areas, neighborhoods and museums in the city. A few ideas include:
New Orleans City Map
The map below pinpoints all the locations discussed in this guide:
New Orleans Locations:
Cafe Amelie
Cafe Du Monde
Bourbon Street
French Quarter Market
Muriel's Jackson Square
St. Roch Market
Tremé
Neyow's Creole Cafe
Frenchmen Street
Final Tips | Two Days in New Orleans
The completes this 48 hour itinerary for New Orleans! I'd like to leave you with a summary of my top tips for visiting this city:
Avoid visiting in the summer, if possible – It is incredibly hot and humid in the summer, and things can smell…a bit swampy
If you have dietary restrictions, do research on where to eat first. There are places that cater to vegans and vegetarians, but it is still not as popular as it is in many other major cities yet
To save money and avoid the crowds, don't visit during major city fests. If you just can't get away, be sure to book your hotel early
Don't leave without tasting beignets, you will be missing out greatly if you do!
New Orleans allows open air drinking…I know someone out there is happy about that. But don't go too crazy!
Related Posts: