The Ultimate 3-Day Chiang Mai Itinerary
Chiang Mai is a very special place. Situated in the lush mountains of northern Thailand, it gives off a unique allure – something that has made it quite popular with the ex-pat community. I have a very hard time ranking the places that I go in terms of which I liked best, but I will very easily say that Chiang Mai is my favorite city in Thailand. What made this city stand out for me is that while it is a mountain city, it gave off beach town vibes too. I know this might not make sense if you haven't been there before, but just trust me.
The city has a very different feel to it than Bangkok, as the pace of life here is just slower. For those of you history buffs out there, Chiang Mai was not a part of the same country as Bangkok until 1939. This may explain the differences in Thai culture you see here vs. southern Thailand. In this 3-day Chiang Mai itinerary, I'll cover the top things to do in here, so you can experience all the city highlights over a weekend.
Our Top Chiang Mai Recommendations
BOOK NOW W/ THE LINKS ABOVE!
Brief History | Chiang Mai
Chiang Mai, situated in the mountainous region of northern Thailand, boasts a rich history that dates back over seven centuries. The city was founded in 1296 by King Mangrai of the Lanna Kingdom, who saw its strategic location as an ideal capital for his expanding realm. Named after the city of Chiang Rai, which means "new city," Chiang Mai quickly became a flourishing center of trade, culture, and religion. It served as a vital hub for the Lanna Kingdom's interactions with neighboring civilizations, including the Mon, Khmer, and Burmese.
Over the centuries, Chiang Mai experienced both periods of independence and times of foreign influence. The city was a prominent part of the Lanna Kingdom until 1558 when it fell under Burmese control. After almost two centuries of Burmese rule, Chiang Mai was finally liberated by King Taksin the Great of Thonburi in 1775, who incorporated it into the emerging Kingdom of Siam, now known as Thailand.
During the 19th century, Chiang Mai's role as a cultural and religious center flourished under the Chakri Dynasty, which further enhanced its status as a pivotal city in northern Thailand. The city's distinctive architecture, including its ornate temples and ancient city walls, reflects the influence of Lanna, Burmese, and Siamese styles.
In the 20th century, Chiang Mai continued to thrive, gradually transforming into a modern urban center while still preserving its historical heritage. Today, Chiang Mai is a vibrant and diverse city, attracting visitors from all over the world with its captivating blend of ancient traditions and contemporary charm. Its rich history and cultural significance make it a must-visit destination for those seeking to experience the true essence of northern Thailand.
With a local guide, see all the major sites on this top-rated tour of Chiang Mia. Learn about the city's storied history while you explore sites such as:
Wat Phra That Doi Suthep
Wat Chedi Luang
Local Markets
…and much more!
The Itinerary | 3 Days in Chiang Mai
Day 1 | Exploring Chiang Mai and its Temples
In many of my travel guides, like this one on Bangkok, I mention that the best way to see any new city is by taking a city tour. As Chiang Mai is spread out and not connected by public transportation, a guided tour is a great option for your first day in the city. We used Viator to book the Half-Day Chiang Mai City and Temples Tour. While centered on the most popular temples found in the city, it provides a great lay of the land due to the spread out location of the temples.
MORNING:
Start out your morning on the tour with a drive up the mountains to Wat Phra That Doi Suthep. Perched atop the Doi Suthep mountain, overlooking the city of Chiang Mai, stands the majestic Wat Phra That Doi Suthep, a sacred and revered Buddhist temple. This iconic landmark is one of the most cherished and visited sites in northern Thailand, drawing pilgrims and tourists alike with its spiritual significance and breathtaking panoramic views.
Legend has it that the temple was founded in the 14th century when a white elephant, carrying a relic of the Buddha, ascended the mountain and trumpeted three times before peacefully passing away. This miraculous event was interpreted as a divine sign, prompting the construction of the temple to enshrine the revered relic.
To reach Wat Phra That Doi Suthep, visitors must ascend a grand staircase of 306 steps adorned with intricately carved mythical serpent balustrades, or they can take a cable car for a more convenient journey. Once at the top, travelers are rewarded with a sight to behold – the gleaming golden chedi, or stupa, that houses the sacred relic.
The temple's architecture showcases a blend of Lanna and Theravada styles, with elaborate carvings, gilded decorations, and an impressive collection of Buddha images. Besides its religious significance, Wat Phra That Doi Suthep also offers awe-inspiring vistas of Chiang Mai and the surrounding countryside, making it a truly unforgettable destination for spiritual seekers and admirers of natural beauty alike.
Warorot Market
After descending from the mountain, we stopped at Warorot Market. Fondly known as Kad Luang by the locals, this market is an enchanting labyrinth of sights, sounds, and scents situated in the heart of Chiang Mai. With a history spanning over a century, this bustling market has been a vibrant hub of commerce and culture, attracting both residents and tourists seeking an authentic Thai experience.
As you explore the market's vibrant chaos, you'll find a kaleidoscope of goods, from fresh produce and aromatic spices to handmade crafts, textiles, and traditional souvenirs. The market is a treasure trove for food enthusiasts, offering an array of delectable local delicacies and street food stalls. Here you can savor flavorful dishes such as khao soi, a beloved northern Thai noodle soup.
Warorot Market isn't just a place to shop; it's a glimpse into the daily life and traditions of Chiang Mai's inhabitants. While strolling through its narrow alleys, visitors can witness the warm smiles and friendly exchanges of the vendors, who take immense pride in their offerings.
The market's authentic ambiance makes it an ideal spot for cultural immersion and a chance to interact with the locals. When visiting, be sure to get your bargaining skills ready. I found this an excellent place to buy Thais spices and teas as well.
Wat Chedi Luang
Next, we went to Wat Chedi Luang, which is located in the heart of the Chiang Mai old city, is a significant and historically-rich Buddhist temple. The temple's name, which translates to "Temple of the Great Stupa," references the massive chedi (stupa) that once stood at its center. Built in the 14th century during the reign of King Saen Muang Ma, the original chedi soared to an impressive height, making it one of the tallest structures in ancient Chiang Mai.
Throughout its history, Wat Chedi Luang has undergone various restorations and alterations, with natural disasters like an earthquake in the 16th century impacting its structure. Today, the chedi stands at about 60 meters (197 feet) tall, offering a glimpse of its former grandeur. The temple complex also includes a viharn (assembly hall) and several other structures adorned with intricate carvings and art, showcasing a blend of Lanna and classical Thai architectural styles.
As one of Chiang Mai's must-visit historical sites, Wat Chedi Luang not only provides insights into the region's past but also remains an active center of worship and religious practice. Visitors can marvel at the temple's ancient beauty, soak in its serene atmosphere, and even take part in traditional Buddhist rituals and ceremonies.
One pretty cool activity that you can do here is have a conversation with a monk (monk chat) to learn more about Buddhism in general. This is a great way to learn even more about the culture and religion of the region.
Wat Phra Singh
The last temple we visited was Wat Phra Singh, which is located within the walls of the old city. Also known as the "Temple of the Lion Buddha," it houses a highly venerated Buddha image called Phra Buddha Sihing. The temple's history dates back to the 14th century when it was constructed to enshrine the sacred image, believed to have been brought from Sri Lanka.
The temple complex boasts a striking blend of Lanna and classic Thai architectural styles, adorned with intricate carvings and decorative elements. Visitors can explore various structures within the temple grounds, including the viharn (assembly hall), chedis (stupas), and beautifully landscaped gardens. One of the most notable features is the elegantly adorned Lai Kam assembly hall, showcasing delicate stucco work and golden accents.
Wat Phra Singh remains an active place of worship, attracting both locals and tourists who come to pay their respects and immerse themselves in the spiritual ambiance. Its central location and historical importance make it a significant cultural landmark in Chiang Mai, where visitors can not only appreciate the temple's architectural beauty but also experience the living traditions of Thai Buddhism. In fact, we saw many active monks and worshipers on our visit there.
Somphet Market
We closed out our tour at the Somphet Market, near the old city walls and Chiang Mai Thapae Gate. This market is best known for its fresh fruits, vegetables, and flowers!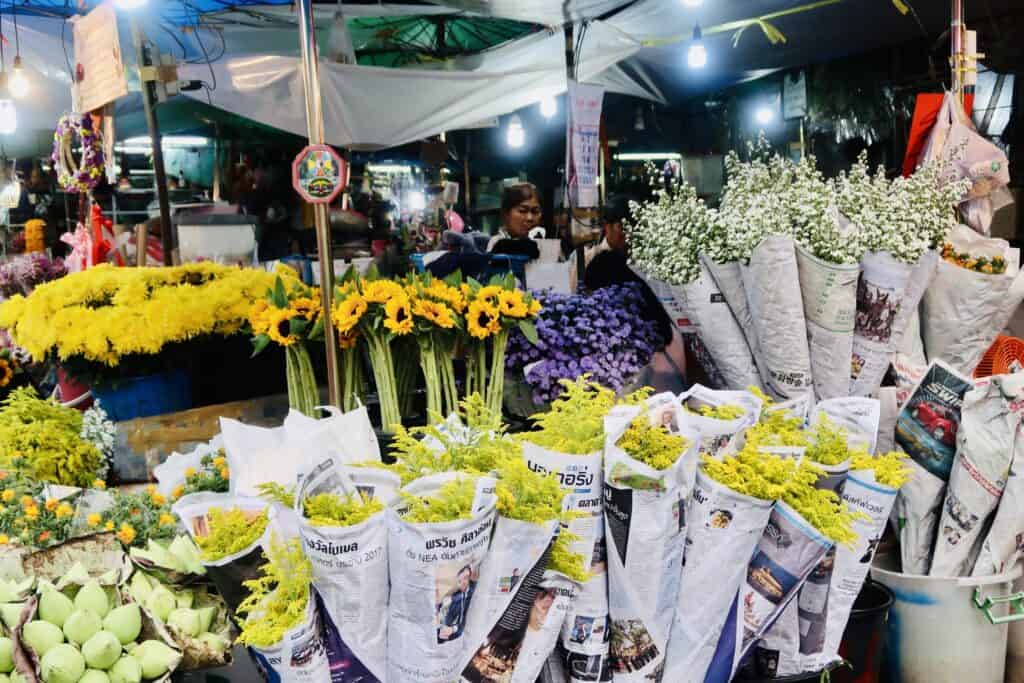 Book Your Half-Day Chiang Mai City and Temples Tour Now!
AFTERNOON/EVENING
After your very eventful morning, head back to your hotel for a nice little break over the afternoon. For dinner, head over to Tong Tem Toh for authentic Northern Thai food. If you like chicken, you must try the fried chicken here. Seriously some of the best I've had anywhere in the world!
Day 2 | Elephants the Night Market
MORNING:
When in Thailand, you really have no choice but to spend a little time at an Elephant nature park. Elephant sanctuaries are nearly ubiquitous with Chiang Mai, and there are many options for your to choose from. These sanctuaries have been created to fund the care for elephants who would otherwise be put to work – often in unpleasant environments.
We decided to spend the morning doing the Chiang Mai Elephant Sanctuary Small Group Ethical Tour at the Lanna Kingdom Elephant Sanctuary. Let me tell you guys – this was the one of the best things we did the whole time in Thailand.
Note: If you are heading to Phuket, you'll find many options for Elephant Sanctuaries there too.
The tour picked us up from our hotel and drove us about an hour outside of the city to the sanctuary.
Once we changed and received instructions for the day, we got to feed, bathe, and play with the elephants! They really are just as sweet as you'd imagine. After spending we finished our "work", we were provided with delicious pad Thai and snacks for a very delicious lunch.
AFTERNOON:
I recommend either going for a Thai massage in the afternoon, or seeing another historical site in the city. If you opt for the latter, a good place to visit is Wat Sri Suphan. Also known as the Silver Temple, is a unique and striking Buddhist temple located in Chiang Mai, Thailand.
What sets this temple apart is its mesmerizing silver-coated exterior, which shimmers brilliantly in the sunlight, making it a true architectural marvel. The intricate silver detailing adorning the temple's walls, pillars, and roof showcases the impressive craftsmanship of local silversmiths, creating a sight that is both awe-inspiring and culturally significant.
Apart from its captivating exterior, Wat Sri Suphan also features beautiful interior decorations, including handcrafted silver statues and ornate murals depicting Buddhist teachings.
EVENING:
After taking a break for a Thai massage and a nap :), head over to the Chiang Mai Night Bazaar. This vibrant and bustling market that comes to life after the sun sets, offering a mesmerizing shopping and dining experience in the heart of the city. Located along Chang Khlan Road, this iconic market has become a favorite destination for locals and tourists alike, drawing in crowds with its lively atmosphere and diverse array of goods.
As dusk falls, the Night Bazaar transforms into a colorful spectacle, with rows of stalls stretching along the street, selling everything from clothing, handicrafts, and souvenirs to artwork, jewelry, and electronics. Visitors can immerse themselves in the cultural richness of Chiang Mai as they browse through traditional Thai products and interact with friendly vendors who are always ready for a good-natured bargain.
The market isn't just a shopper's paradise; it also offers a delightful culinary journey. Amidst the maze of stalls, there are numerous food vendors offering a wide selection of delectable Thai dishes and international cuisines. From sizzling street food like skewered meats and savory snacks to aromatic Thai curries and refreshing tropical fruit shakes, the Night Bazaar caters to every taste bud.
This Chiang Mai Night Market is not just about shopping and dining; it's a vibrant social gathering where visitors can witness the city's lively nightlife and experience the energy that radiates from its vibrant street performances and cultural shows. On my visit, I spent three hours here, and honestly could have gone longer – there was just so much to see/buy!
Day 3 | Cooking and a 3D Art Experience
MORNING:
Spend the morning of your third day, I highly recommend taking a Chiang Mai cooking class.. We booked this Half Day Cooking Class through Viator at the Mama Noi Thai Cookery School. This class started with a stop at a local market to learn about Thai ingredients, followed by a visit to the school to get started. The school is on a small farm with beautiful grounds and a few small animals running around :). After you get to the school, you have the option to select what you want to cook and what type of protein you want to use. Note, there is tofu available for the vegetarians out there.
For each course you cook, the instructor takes you through each step in a very methodical manner. This allows everyone to cook at a quick pace, despite level of expertise. The coolest thing about this class in my opinion is that you cook everything from scratch -even curry paste. Oh, and you get to eat everything you make too :). Thai food is delicious, so if you have the opportunity to learn how to make it, you should to do it!
Book your Cooking Class Experience Now!
AFTERNOON:
After a morning of cooking and eating, head over to Art in Paradise 3D Museum. This museum is an innovative and interactive art museum that brings imagination to life through captivating 3D paintings and optical illusions. Situated in the Nimman area, this museum offers a unique and entertaining experience for visitors of all ages, making it a popular attraction in the city.
Spanning over several themed zones, Art in Paradise features a wide array of stunning and immersive artworks created by talented artists. Each painting is cleverly crafted to create a three-dimensional illusion, inviting visitors to step into the scenes and become a part of the artwork itself.
From walking on a floating bridge in the sky to escaping from the jaws of a giant creature, the museum offers a plethora of creative and whimsical photo opportunities, ensuring a fun-filled day of exploration and discovery.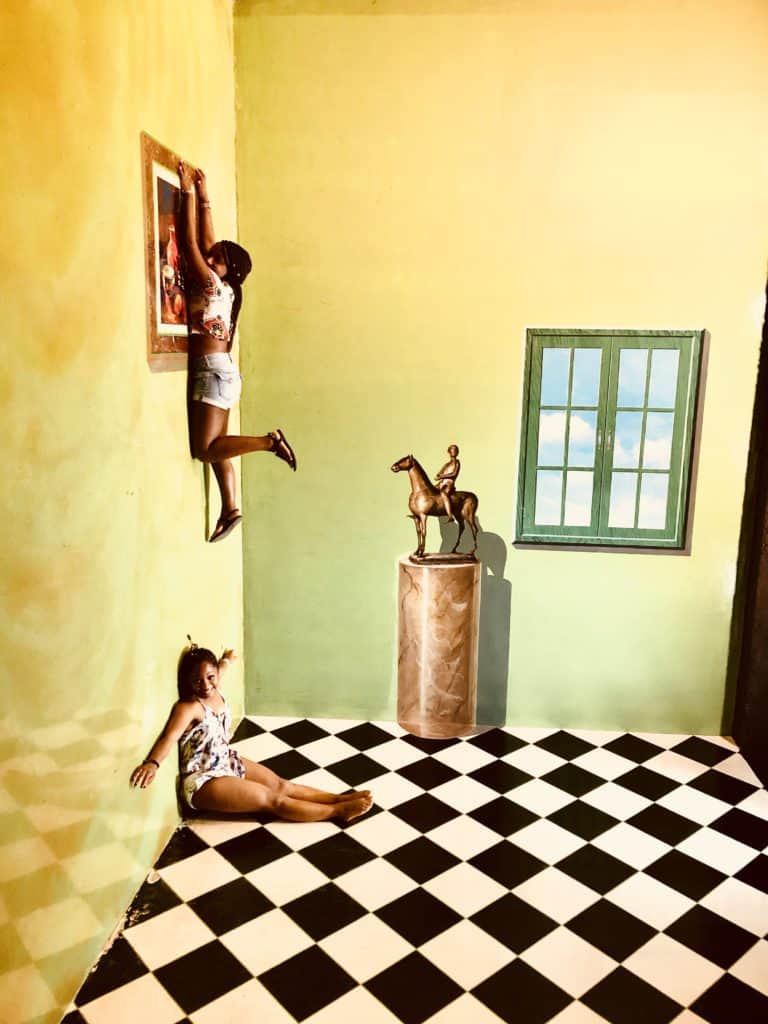 Whether traveling solo, with family, or with friends, Art in Paradise promises a delightful adventure as visitors interact with the artwork and pose for optical illusion photos. The museum's interactive nature allows for creative storytelling and playful poses, making it an ideal place to capture memorable and shareable moments.
Now, I'll be the first to admit, this museum is a bit kitschy, but so much fun! You have the chance to be a part of the art, and take really fun pictures, like these below:
EVENING:
Wrap up your final day in Chiang Mai by grabbing a bit to eat or hanging out on Nimman Road. I really loved this part of the city – it's just busy enough to be trendy, but still has a relaxed vibe.
---
Chiang Mai City Map
The map below highlights the key locations mentioned in this post:
Day Trips from Chiang Mai
Chiang Mai serves as an excellent base for exploring the surrounding areas, offering a variety of exciting day trips. Here are five of the best day trips you can take from Chiang Mai:
Doi Inthanon National Park: Embark on a journey to the "Roof of Thailand" by visiting Doi Inthanon, the highest peak in the country. This national park boasts breathtaking landscapes, including lush forests, waterfalls, and terraced rice fields. Explore the two pagodas built to honor the King and Queen, stroll along nature trails, and experience the unique flora and fauna of the region.
Chiang Rai and the Golden Triangle: Discover the northernmost province of Thailand and visit the White Temple (Wat Rong Khun), an extraordinary contemporary masterpiece. Explore the Golden Triangle, where Thailand, Laos, and Myanmar meet, and take a boat ride along the Mekong River to explore the ancient town of Chiang Saen.
Bua Tong Waterfalls: Also known as the Sticky Waterfalls, is a unique natural wonder near Chiang Mai, Thailand. Unlike regular waterfalls, the mineral-rich limestone formations create a non-slip surface, allowing visitors to climb and explore the falls safely. Surrounded by lush greenery and offering a magical ambiance, Bua Tong Waterfalls is a hidden gem suitable for families, nature lovers, and adventure seekers, providing a refreshing and unforgettable day trip from Chiang Mai. Just wear sturdy shoes for climbing, and be prepared to have a fantastic time connecting with nature in this enchanting destination.
Doi Suthep and Hmong Hill Tribe Village: Journey to the revered Wat Phra That Doi Suthep, perched on a mountain overlooking Chiang Mai. Marvel at its golden pagodas and enjoy panoramic views of the city below. Continue the day trip by visiting a traditional Hmong Hill Tribe village to gain insights into their unique culture and way of life.
Mae Hong Son and Pai: Venture to the picturesque town of Pai, known for its laid-back vibe, hot springs, and scenic landscapes. En route, you can visit the Tham Lod Cave with its impressive limestone formations. From Pai, travel further to Mae Hong Son, a charming town surrounded by mountains and renowned for its cultural diversity and serene atmosphere.
Each of these day trips offers a distinct experience, allowing you to delve into the natural beauty, cultural heritage, and local charm of northern Thailand while based in Chiang Mai.
Getting to Chiang Mai
The city is serviced by one small airport, the Chiang Mai International Airport. Most flights are to/from Bangkok, other Northern cities in Thailand, and some cities in neighboring Asian countries. This means that if you are flying in from any other region of the world, you will likely transfer through Bangkok to get there. The great thing about the airport is that it is very close to the city; less than 20 minutes by taxi.
This city is also connected to Bangkok and Northern Thailand by bus and train, but note that the journeys will be much longer. For example, a train from Bangkok to Chiang Mai is about 12-15 hours. There are night train options available to you, if that interests you.
Where to Stay in Chiang Mai
Where to Stay: There are four areas in Chiang Mai that are popular with tourists:
Old City – Located within the old walls, this is a popular location in the city for first-timers. It is one of the most walkable parts of town, and close to many attractions such as the Lanna Folklife Museum and many well-known temples.
Nimmanhaemin – This is the trendy section of town, known for good nightlife. In this area of town, you are also close to the Maya mall and the Museum of World Insects and Natural Wonders.
Santitham – This neighborhood is not a popular with tourists, giving it more of a local vibe. Some nearby attractions include the Chiang Mai National Museum and the Thanin Market.
Mountainside – This area is good for families as it is quieter and has a village-like feel. You are close to the Chiang Mai Zoo here as well as the Doi Suthep Temple.
We stayed in the Nimmanhaemin area at the Art Mai hotel. This small hotel features an Art gallery, a wonderful staff, and delicious breakfast (which is included!). Each floor has a different art theme, which is carried into each room. You can walk to numerous shops, restaurants, and massage places in a matter of minutes from the hotel. It's a great hotel in the perfect location. As in the rest of Thailand, it is easy to find nice hotels at a low price, and there are many nice options throughout the city.Butterfly Pea tea – A delicious drink served for free everyday at Art Mai.
Public Transportation in Chiang Mai
There is limited public transportation in Chiang Mai, so you will need to rely on taxis, tuk-tuks, or ubers to get around. Taking a tuk tuk is usually the cheapest option, but honestly the least safe. We found the ubers to be usually really nice cars, with very affordable prices.
When to go to Chiang Mai
This will vary based on weather preference. Chiang Mai has three seasons: Cool, Hot, and Rainy. The cool season lasts from December through February, and is the most popular tourist season. Expect highs in the mid 80s (F) and lows in the 50s – the weather is dry and very pleasant during this time. The hot season starts in March and ends in June, and is marked by hot and humid weather.
Temperatures can get as high as 100º, with not much relief at night. The rainy season is from July through November, bringing cooler temperatures. The rain does not typically last all day though – there are typically afternoon showers, and clear mornings / evenings. I went at the start of the hot season in March, and thankfully full humidity hadn't hit yet :).
Language Considerations for Chiang Mai
​As I mentioned in my post on Bangkok, Thai is quite different from English. This does not mean that learning a few key phrases is impossible though! Check out my post on the essential Thai phrases you need for your trip.
Frequently Asked Questions on Chiang Mai
Is Chiang Mai Worth Visiting?
Absolutely! Chiang Mai is worth visiting for its rich cultural heritage, stunning temples, vibrant markets, and the picturesque natural beauty of the surrounding mountains. It offers a perfect blend of traditional charm and modern amenities, making it a captivating destination for travelers seeking an authentic Thai experience.
What is a good month to visit Chiang Mai?
The best time to visit Chiang Mai is during the cool and dry season, which typically falls between November and February. During these months, the weather is pleasant with cooler temperatures, making it ideal for exploring the city, outdoor activities, and enjoying various festivals.
Which is better, Chiang Mai or Phuket?
It depends on your preferences and travel interests. Chiang Mai is known for its cultural attractions, temples, and serene mountain landscapes, while Phuket offers beautiful beaches, vibrant nightlife, and a more resort-oriented experience. Both destinations have their unique charm, so it's a matter of personal preference.
How many days in Chiang Mai is enough?
To experience the highlights of Chiang Mai, a stay of 3 days days is the perfect amount of time to see the city highlights. This allows enough time to explore the city's temples, markets, and cultural sites, as well as to venture into the nearby countryside for activities like visiting an elephant sanctuary or exploring the scenic Doi Inthanon National Park.
Is Chiang Mai safe to walk around?
Yes, Chiang Mai is generally considered a safe city for walking around. It has a reputation for being one of the safer destinations in Thailand. However, like any other place, it's essential to stay vigilant and take standard precautions, such as keeping belongings secure and being aware of your surroundings, especially in crowded areas or tourist spots.
---
Final Thoughts | 3 Day Chiang Mai Itinerary
That wraps this 3 Day itinerary for Chiang Mai. I hope you find this useful as you plan your trip to this awesome city! Here are some tips you should keep in mind when planning to visit Chiang Mai:
Respect Local Culture and Customs: Chiang Mai is deeply rooted in its cultural traditions, so it's important to show respect to local customs and beliefs. When visiting temples, dress modestly by covering your shoulders and knees, and remember to remove your shoes before entering. Additionally, be mindful of your behavior during religious ceremonies and avoid touching or pointing at religious objects.
Bargain Wisely at Markets: Chiang Mai's markets, like the Night Bazaar and Warorot Market, offer a plethora of goods, and bargaining is a common practice. When haggling for prices, do so with a friendly attitude and a smile. It's all part of the fun, but remember to be reasonable and respectful in your negotiations.
Stay Hydrated and Wear Sun Protection: Chiang Mai's tropical climate can be quite hot and humid, especially during the dry season. Stay hydrated by drinking plenty of water, and protect yourself from the sun's rays with sunscreen, a hat, and lightweight, breathable clothing.
Try Local Cuisine and Street Food: Chiang Mai is a food lover's paradise, offering a wide array of delicious dishes and street food delicacies. Embrace the local flavors and venture into street food markets to sample traditional dishes like khao soi, sai ua (northern Thai sausage), and mango sticky rice. Be adventurous, but also exercise caution by choosing vendors with clean and busy stalls.
Plan for Weather and Festivals: Chiang Mai's weather can vary throughout the year, so plan your visit accordingly. The cool and dry season from November to February is popular among travelers, but the rainy season (June to October) can offer lush greenery and fewer crowds. If you're interested in experiencing local festivals, consider timing your visit to coincide with events like the Yi Peng Lantern Festival or the Songkran (Thai New Year) water festival. Just be sure to book accommodations and activities well in advance during peak festival times.
If you have visited Chiang Mai before, what did I miss?? Let me know in the comments below!
Related Posts on Thailand:
Additional Asian Travel Itineraries: