The Ultimate India Packing List – Female Edition

Packing for India can be a bit of a challenge given cultural norms, as well as weather. On my visit to India, I kept a few things in mind in order to keep my packing list thorough, but efficient. There are also special considerations that one must keep in mind as a woman as well.
This Ultimate India Packing List: Female Edition, will provide a comprehensive list of the items that you need to take with you on your trip, and provide relevant tips for travel to India as well.
Note, this packing list is organized by category, so feel free to click to the section most applicable in the Table of Contents below.
Key Considerations for Packing for India for Women
You should know that there are a four guiding principles to keep in mind when traveling to India:
Conservative Dress – Compared to styles in the US, or Europe, for example, dress in India is more conservative than what you may be used to. You should keep your knees and your arms covered at all times to be respectful of the local culture and avoid any unwanted attention. You should not view this as a hinderance, however – it's just an opportunity to be more creative in your dress!
Weather – The time of year that you visit will have a a definite impact on what you bring with you, and I'll cover this in more detail throughout this post. Just for general reference, in Mumbai, the daily highs average from the upper 80s to the lower 90s every month of the year. The time of year that you'll likely want to avoid when visiting India is June – September, during the monsoon (extremely rainy) season.
Light Packing – I've mentioned this in other posts, but whenever you pack, it's always important to keep things light. It's likely that you'll need to carry your luggage from place to place, so it's best to avoid lugging unnecessary weight around.
Health – There are vaccine and medicine requirements that you should certainly follow before your travels. In addition, you'll likely run into some stomach issues on the journey, so you must keep your "medicine bag" full of the important stuff at all times.
The India Packing List Female Edition
Travel Essentials for India
I must start this list with the items that you CANNOT leave home without when visiting India:
Sunscreen – The sun is brutal in India, and even skin as dark as mine can burn (it happened to me, I should know). Be sure to bring your high-SPF sunscreen along on your trip.
Stomach Medications – As I mentioned above, you are unlikely to escape India without some sort of stomach troubles. To avoid / mitigate this issue, I recommend packing the following:
Immodium – For moderate to more serious diarrhea
Probiotics – These a great for keeping things regular, I like to use this brand
Anti-Malarials – Visit your doctor to get a prescription for anti-malarials, to prevent the onset of malaria. And while we are talking malaria, don't forget to bring your mosquito-repellant too!
Toilet Paper – Toilet paper is often not available in public spaces, so I recommend packing travel-size rolls with you. However, if you are comfortable with just spraying yourself off instead, you may be find.
Sale
Sunglasses – Bring along your favorite pair to keep those eyes protected.
Hat – Yet more protection from the sun, I recommend bringing a straw hat along to keep it out of your face.
RELATED: Away Luggage Review [The Bigger Carry-On]
Clothing | Everyday Wear
Your clothing should be lighweight, but as I mentioned above, it should cover your shoulders, cleavage, and knees. Don't bring any of your really expensive clothing options, unless you don't mind them getting nice and sweaty.
Here are a few clothing examples that may inspire you:
Linen Pants – These are an old go-to for hot weather, but there is a reason why the Egyptians swore by Linen! Take a pair or two of dark and light colored linen pants.
Harem Pants – These pants are comfortable, lightweight, and cheap :). I wear a pair I got in Thailand often because I love them so much!
Lightweight Skirt – Skirts like the one shown below are another great option for keeping yourself cool in the hot weather.
T-Shirts – Bring a few of these along with you to coordinate with your pants and skirts. I like to buy mine from H&M Basics.
Pajamas – I like to travel with sleep T-shirts, bring what you like, but be sure to avoid any synthetic fabrics like satin. Those will make you sweat more at night.
Hotouch Night Shirts Womens Nightgowns Cute Round Neck Short Sleeve Printed Sleep Shirts Soft Sleepwear XS-XXL
Colors/Size *:Sleep shirt have black,gray,green,blue,navy blue,wine red,purple,orange colors,and size have S,M,L,XL,XXL...
Fabric *:nightgown made in 95% Rayon ,5% Spandex,extremely soft and skin-friendly.
Salwar Kurta – This is a more traditional Indian style of dress, and it is so light and breathable. I bought one while in India (as you can see below), and really understood why these are so popular in the country. This over jeans in the heat any day!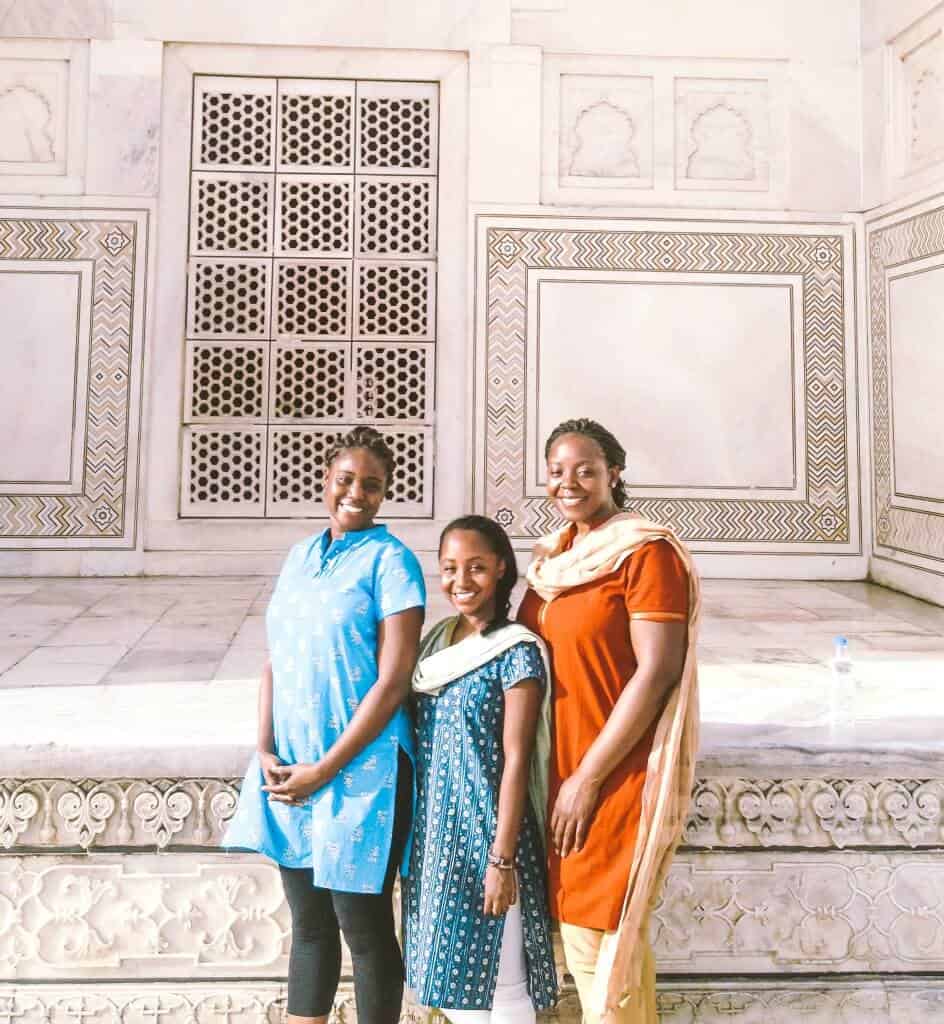 Undergarments
Pack cotton panties and bras (if you can) – This will keep things nice and fresh (or as fresh as possible), despite the heat.
Shoes
The shoes that you bring will depend on the activities that you plan to do on your trip to India. If you are going to be doing a lot of walking, bring a comfy pair of sneakers or sandals. I personally don't like to have my feet covered in hot weather, so I hang on to some older, but very comfortable ALDO sandals that are really easy to walk in.
What to Wear for Business in India
If you are visiting India for business, you may be wandering what to wear while in the office. When I visited India, I was traveling for a Consulting project, and spent several days at the company we supported. My attire consisted of the following:
Light Dresses – I recommend wrap dresses, and those made out of breathable fabric, like this one below.
Sale
Salwar Kurta – I found that many of the women wore this more traditional Indian outfit at work too – you will find many options for purchasing one once in the country. You can also purchase ahead by clicking this link (or the image below).
Linen Pants / Suits – Same as above, keep any pants or jackets you wear in light fabrics like linen.
Linen Blouses – You probably get the picture now, ha! But linen is your friend :).
Toiletries
As you pack toiletries, keep the heat in mind. For example, if you have oily skin or other conditions impacted by hot weather, bring the products you use to combat these issues. I also recommend that you bring all travel-size toiletries with you, and I'll cover the reason why a bit later in this post.
Face
Face Wash
Face Lotion
Mini Toner
Mouth
Toothpaste
Toothbrush
Floss
Mouthwash
Chapstick with sunsreen protection
Body
Lotion
Deoderant
Perfume / Essential Oil
Tampons / Pads / Menstrual Cups / Pantiliners
Razor
Shaving Cream
Other
Cotton Swabs
Band-Aids
Nail Clip
Laundry Bag
RELATED: Long Haul Flight Essentials
Medicines to Take to India
I've mentioned a few of these in the travel essentials, but here is a comprehensive list of OTC medicines to take with you to India:
Anti-Inflamatories (e.g., Advil, Aleve, Tylenol) – For use with any aches, pains, headaches, etc.
Melatonin – This is great to bring along to help with regulating your sleep as you adjust to the new time zone
Prescription Medicines – Including anything you take regularly, such as Birth Control
Antihistamines – You will be exposed to allergens that you are not used to, so it's best to be prepared if you have allergies
Pepto-Bismal – For nausea, mild diarrehea
Immodium – For moderate to more serious diarrehea
Probiotics – These a great for keeping things regular, I like to use this brand
Charcoal Tablets – For gas and mild stomach discomfort
Anti-Malarials – Visit your doctor for a prescription for these
Beauty Items
As you pack your beauty items, keep in mind that you should keep them to a minimum, if possible. You'll probably be sweating
Makeup
Since it is so hot, you are likely to sweat off makeup throughout the day. I recommend just packing the essentials:
Hair Essentials
The basics include:
Comb
Brush
Bobby Pins
Hair Ties
Shampoo
Conditioner
Hair Styler
If you have curly hair like me, you should bring a few additional items:
Leave-In Conditioner – Kinky-Curly Knot Today is still my go-to
Hair Gel – I LOVE this one by Uncle Funky's Daughter
Edge Control – I typically use Design Essentials' version
For more tips, check out my post on Traveling with Natural Hair.
Electronics
Cell Phone – This goes without saying. You may also want to look into getting a local SIM card if you are staying in the country for an extended period of time.
iPad or Laptop – Depending on what you need to do while there, you may bring your iPad or Laptop (or both).
Headphones – So you can have a jam session whenever you need one ;).
Travel Adapter – I LOVE this one by Conair and have used it for years.
Sale
Chargers – Bring your iPhone / iPad / Laptop chargers and whatever else you need to bring with you that needs charging.
Steamer – Not absolutely necessary, but a steamer will definitely keep you from having to iron (can you tell that I hate ironing?)
Travel Documents / Money
Passport – This goes without saying, but don't forget your passport! It's also a good idea to bring along photocopies of your passport in the event that it gets lost.
Visa – You will need a visa to visit India if you're coming from the United States. Check this site to determine how to get your visa. Be sure to do this at least 3 weeks before your departure.
Credit Card / Debit Card – Don't forget your money! I recommend traveling with credit/debit cards that do not charge any international fees. I use the Chase Sapphire Reserve and Sofi Money and never pay a cent on international or ATM fees!
A Few Packing Tips
Packing Your Toiletries
First things first, all of your toiletries should be in travel size containers. There is NO reason to take anything full size, unless it is something that you know you can't buy in India and you plan to stay for several weeks or more.
Keep things organized by using a hanging toiletry bag. I use one by BAGSMART, and it's really handy.
Packing Your Personal Item Bag
You'll be taking a long-haul flight to get to India, most likely, so use your personal item bag to store all of the stuff you need on hand while traveling. Some essentials to keep close include your personal in-flight entertainment, a travel pillow, and baby wipes. I've actually dedicated a whole post to Long-Haul Flight Essentials, so check it out to learn more!
My favorite personal item bag at the moment is the Tortuga Setout Laptop Backpack – check out my review to get more information.
Packing Your Suitcase
If you can't tell so far, I'm really into light and efficient packing. So along those lines, I recommend that you don't travel in anything than a carry-on bag. For some folks, I know this sounds crazy – but it really does make a difference. This is especially true if you are traveling to multiple cities. Know that you can always wash clothes and pack items that you can easily mix and match.
To keep things organized, use packing cubes like these. What I love about this set is that it also comes with a few pouches that can be used to organize other small things you carry with you, like bobby pins.
Note, you can also use compression bags as well.
Once you have everything organized into a packing cube / compression bag, pack it up in your carry-on size suitcase. What I use is the Bigger Carry-On by AWAY, which I've written about here.
The India Packing Checklist
To make things easy for you, I've put all of these items in a printable India Packing Checklist, which you can download below:
Tips for Planning Your Trip
If you have not already booked your travel, here are a few of my favorite travel resources:
Booking Your Stay: I recommend checking out hotels on Booking.com to find stay options in India. If you prefer to stay more local, check out Airbnb.
Also, if you are new to Airbnb, you can use my link ​to​​​ get $40 off your first stay!
Booking Your Flight: My favorite sites for finding great fares include Momundo and Skyscanner. Both help with comparing the cost between airlines and travel dates.
Planning Activities: I love to use Get Your Guide to find affordable tours and activities in destinations across the globe. See below for a few examples of activities you could do in Mumbai!
For more tips, check out my post on How to Plan a Trip in 12 Simple Steps.
RELATED: The Best Travel Resources
In Summary | India Packing List Female Edition
I hope you've found this post useful as you plan for your trip to India! India is full of such a rich culture, friendly and curious people, as well as great food. It is an experience not to be missed.
Have you been to India? If so, let me know if my packing list is missing anything!
#travelwandergrow
Related Posts:
Last update on 2023-01-28 / Affiliate links / Images from Amazon Product Advertising API