Bangkok Travel Itinerary | A 3-Day City Guide
This past spring I had the chance to visit Bangkok with my sister and cousin. This bustling city is a tourist's dream, as there is so much that you can do here without spending a great deal of money. I'm sure this is one of the reasons why Bangkok tops the list of the most visited cities in the WORLD!
In this Bangkok travel itinerary, I'll provide you with a list of things to do in Bangkok in three days as well as what to do in few nearby suburbs. I'll also give you a few tips to make your visit to Thailand go as smoothly as possible!
Know Before You Go | Bangkok
Lodging + Logistics
Getting There: Bangkok is serviced by two airports, Suvarnabhumi Airport (BKK) and Don Mueang Airport (DMK). Suvarnabhumi is the newer and larger international airport, which services the major airlines that fly into the city. This airport is about an hour drive from central Bangkok, but note that this time may vary based on when you arrive.
The cost for a taxi should be around 1000 baht. Pro Tip: To save money, avoid booking a taxi from one of the stands near the baggage claim area. Just hail one outside – it will be much cheaper. There is also a train (the Airport Rail Link) that connects the airport to Bangkok's BTS Skytrain system. The cost for taking this train to the Phayathai Station is 45 baht.
The Don Mueang Airport is the older and smaller airport, that serves the lower cost airlines (e.g., Air Asia, Nok Air). The best way to get to this airport is via taxi. As this airport is closer to the city center, it will only be about 300 or so baht to the airport.
In addition to traveling around the country via airplane, you may also consider traveling via Thai Railway, for a more scenic experience.
Getting Around: Bangkok is only walkable to a certain point as it is spread out over many, many miles. It is serviced by two train lines, the MRT and BTS. The MRT (Mass Rapid Transit network) is the underground metro, that has 18 stops through the city.
The BTS (Bangkok Skytrain) is the most used transit system by locals. It has two lines: 1) Silom, which goes west to south and 2) Sukhumvit, which runs north through east. You can find the map for the Bangkok transit systems here.
Taxis, Tuk Tuks, and Ubers are also readily available in the city and are very cheap. These were our primary modes of transportation during our visit to Bangkok.
Where to Stay: There are eight areas in Bangkok that are popular with tourists:
Khao San/ Banglamphu Area: Popular with backpackers / young travelers
Bangkok Riverside Area: Scenic and historic area of the city, with many temples and the Royal Palace
Sukhumvit Area: Located in central Bangkok, this area is close to many restaurants and shops
Silom Area: Close to Lumphinin Park, also full of many shops and restaurants
Siam Area: The shopping center hub of the city, full of huge malls. Stay here if you plan to shop your heart out
Pratunam Area: This area is close to Siam, but feels more authentic Thai as it is full of markets and street vendors
Chinatown Area: One of the oldest parts of Bangkok, where you can purchase many Chinese goods
The International Airport Suvarnabhumi Area: Not much to see here, but a good idea if you have an early flight to catch
We stayed in the Silom Area at the Mandarin Hotel, which we loved. The room was great and the hotel was located in walking distance to everything we needed. Also, on a random note, our room had the fanciest toilet that I have ever used haha.
Generally in Bangkok it is not hard to find a really nice hotel for a low price (by US standards). If you prefer to really stay like a local, there are many great Airbnb options as well. *If you are a first time Airbnb user, use my link to get $40 off your first stay!*
Daily Considerations
When to Visit: While, the temperature in Bangkok is essentially the same all year round (highs in the 90s and lows in the 70s), the high season for tourism is November through April as this is the dry season. If you want to miss the crowds, you could be brave and face the rainier months from May through October, you can avoid larger crowds.
Language Considerations: The official language of Thailand is Thai, also known as Ayutthaya or Siamese. As it is quite different from English, gaining fluency would take some time. Many people in the city speak English, so you should have no trouble getting around. That shouldn't stop you from learning some basic phrases in the language, though! Check out my post Thai for Travel to get some practice in before you go.
Currency Situation: If you are coming from the US, know that your dollar will go FAR here. So far, you may be tempted to spend more than you should. So just watch yourself :). At the time of writing this post, the exchange rate is $1 = 32.72 Bhat. [Click here for the latest rates.] Cash is much more widely accepted than credit card, so be sure to pull out enough to last you for your time in this city.
A 3-Day Bangkok Itinerary
Day 1 | City Highlights & Unique Markets
In my travel guides, I usually mention that the best way to see any new city is by doing a city tour. As I stated above, it is difficult to walk the whole city as it is spread over such a great distance. But with the help of a planned tour, you can get around without any problem! We opted to use the agency Tour with Tong to book our Floating Market & Bangkok Tour.
On the Floating Market & Bangkok Tour, you'll start your day early at Maeklong Railway Market, which is located directly on train tracks that are still in use today. If you get there at the right time, you can watch the vendors move their stands to accommodate the train coming through. Truly an experience that you can only get here! The market offers fresh fruits, veggies, and meats; so a great place to stop if you'd like to do your own cooking on vacation.
Next up is the well-known Floating Market, which is about an hour drive outside of central Bangkok. You should know that this market is a bit touristy, but a cool experience nonetheless. Here you'll find a variety of souvenirs and knick-knacks for sale, as well as cooked food options. Know that everything here is overpriced though, so I recommend that you save your money until you can go to a less touristy area.
After the Floating Market, head back into the city to see the Grand Palace. This palatial complex is probably the most popular tourist attraction in the city. It is especially well-known for the Royal Temple of the Emerald Buddha. The palace has been used as the official residence of the Kings of Siam (which became Thailand) since 1782.
One interesting thing about this complex is that you'll find some of the only buildings in the world that have a mix of European and Thai building styles, like the Chakri Maha Prasat Hall. The Palace complex is quite large – being roughly 135 sq miles (!) in area. Quite a bit of the palace is open to visitors, but at least half is closed off at all times, due to the fact that this is still a fully functional royal residence for King Rama X.
Your final stop is Wat Pho, home to a giant reclining Buddha. The exact date of which this temple was constructed is unknown, but it has been in existence since before Bangkok was declared the capital of Siam in 1782. This temple was meant to be a place for education for the general public. Because of this, you'll see a pictorial encyclopedia on granite slabs around the temple.
After the conclusion of the tour, take time for a rest before heading out for dinner. Bangkok has a really impressive skyline, and for this reason I recommend experiencing a rooftop dinner. We ate at Vertigo, which is located on the 61st floor of the Banyan Tree hotel. (This hotel is in the Silom Area of the city.) Prices are a bit on the higher side, but the impressive views make it all worth it! To guarantee your spot, call ahead and secure a reservation.
If you consider yourself a more adventurous traveler, check out this post on the best non-touristy things to do in Bangkok.
Day 2 | Ayutthaya Excursion
On your second day in Bangkok, head out of the city to explore the ancient city of Ayutthaya. One easy way to do this is to by booking a tour, like the From Bangkok: Ayutthaya Day Tour by Bus & Boat tour.
This tour first takes you to the beautiful Bang Pa-In Summer Palace. The grounds here are absolutely gorgeous, full of beautiful flowers and interesting sculpted greenery. It was once used as a royal residence, as mentioned, but today mainly serves as a museum for the public.
Next up is Ayutthaya, one of the largest and wealthiest cities in the world during the Middle Ages. This city was the center of a Siamese Kingdom that existed from 1351 to 1767, until it faced war with Burma, ultimately leading to its end.
In the ancient ruins you can visit Wat Mahatat, the ruins of an ancient Buddhist temple, know for the head of Buddha that has become overcome by the roots of a tree. If you've ever visited or seen pictures of Angkor Wat in Cambodia, you can get a feel for what the ruins look like here.
After Wat Mahatat it's time to see Wat Lokayasutharam, where there is a huge outdoor reclining Buddha. If you want to do a bit of shopping, there is a small market right across the street that has pretty great prices. Finally, you'll board your bus to head down the Chao Phraya River on a lunch cruise that offers impressive views of Bangkok and its suburbs on the 2 hour ride.
For dinner, head over to Condoms and Cabbage, located in the Sukhumvit area. The name of the restaurant is a bit odd, but reflects the mission of the restaurant. The profits received go to The Population & Community Development Association (PDA) and its programs to reduce teen pregnancy and the spread of sexual diseases. The decor of the restaurant is quite interesting, as condoms are featured everywhere. In addition to this, the food is excellent, and this place is certainly worth a visit!
Day 3 | Market Hopping and Shopping Centers
So I wouldn't normally recommend you devote an ENTIRE day to shopping, but this city is really well-know for its markets and shopping centers that you gotta do it. A few well-known markets include:
Sampeng Market (Yaowarat): Located in Chinatown, one of the most popular parts of the city. The best way to get here is by the Chao Phraya River Express boat to Ratchawong Pier
Chatuchak Weekend Market (JJ Market): Probably the most famous market in Bangkok and certainly one of the largest. This market is located by Chatuchuk Park; you can get here from the Mo Chit station (BTS) or the Chatuchak Park station (MRT)
Khlong Toey Fresh Market: Visit here for all the fresh produce and meats your heart desires. You can visit any time of day – it's open 24hrs! You can take the MRT to Khlong Toey station to get here
Paptong Night Market: This market is known for selling a lot of off-brand items for cheap. The closest station is the Sala Daeng station (BTS)
If you are more interested in clothing and/or upscale shopping, you should head over to the Siam area of the city (via the BTS Siam station). Here you'll find massive shopping malls such as:
MBK: Bangkok's oldest shopping malls and a tourist favorite; It reminded me of an indoor market
Siam Discovery Center: Upscale shopping mall with high-quality brands
Siam Square: Trendy shopping mall, catering more to the younger crowd
In any place that you'll stop at you'll find excellent food options from street food to sit down restaurants (there are several of these in MBK).
Final Thoughts | Bangkok Travel Itinerary
That wraps my 3-day Bangkok travel itinerary! As I'm sure that some of you reading this have traveled there before, what else would you recommend folks see on their visit to Bangkok? Drop some recommendations (or questions) in the comment box below!
Looking for More Posts on Thailand?
#travelwandergrow
**Follow my blog on Bloglovin'**
---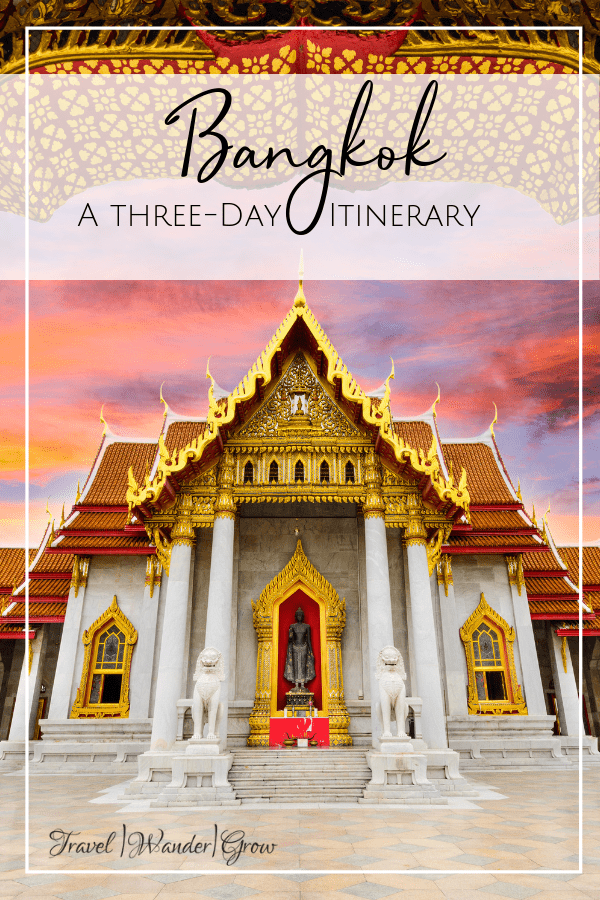 ---