3 Days in Bangkok | A Guide for First Timers

Known for its vibrant street life, rich cultural heritage, and mouthwatering cuisine, Bangkok is a captivating destination that never fails to leave a lasting impression on its visitors. In this comprehensive travel guide, I will take you on a virtual journey through the vibrant streets, enchanting temples, and bustling markets of this incredible city. Get ready to immerse yourself in the sights, sounds, and flavors of Bangkok as we uncover its hidden gems, must-visit landmarks, and insider tips to make the most of your trip. This bustling city is a tourist's dream, as there is so much that you can do here without spending a great deal of money. I'm sure this is one of the reasons why Bangkok tops the list of the most visited cities in the WORLD! In this post, I'll show you have you can maximize 3 Days in Bangkok, and still see all the city highlights in a short amount of time. Whether you're a first-time traveler or a seasoned explorer, let's embark on an unforgettable adventure in the "City of Angels" and discover why Bangkok is a city like no other.
Brief City History | Bangkok
The history of Bangkok, the capital city of Thailand, is a tapestry woven with centuries of cultural and political evolution. The city's origins can be traced back to the 15th century when it was a small trading post during the Ayutthaya Kingdom. However, it wasn't until 1767, following the fall of Ayutthaya to the Burmese, that General Taksin established Thonburi as the new capital. The city grew rapidly under his rule, and in 1782, King Rama I moved the capital across the river to its present location, naming it Krung Thep, which later became known as Bangkok.
During the 19th century, Bangkok underwent significant transformations as it opened up to Western influence and modernization. King Rama IV and King Rama V played pivotal roles in modernizing the city, introducing Western technologies, infrastructure, and education. The Grand Palace and many iconic temples were constructed during this period, showcasing the architectural splendor and royal heritage of Bangkok.
In the 20th century, Bangkok continued to flourish as Thailand's political, economic, and cultural center. The city's growth accelerated with the development of transportation systems, international trade, and a booming tourism industry. Bangkok embraced modernity while preserving its rich heritage and traditions, making it a vibrant and cosmopolitan metropolis.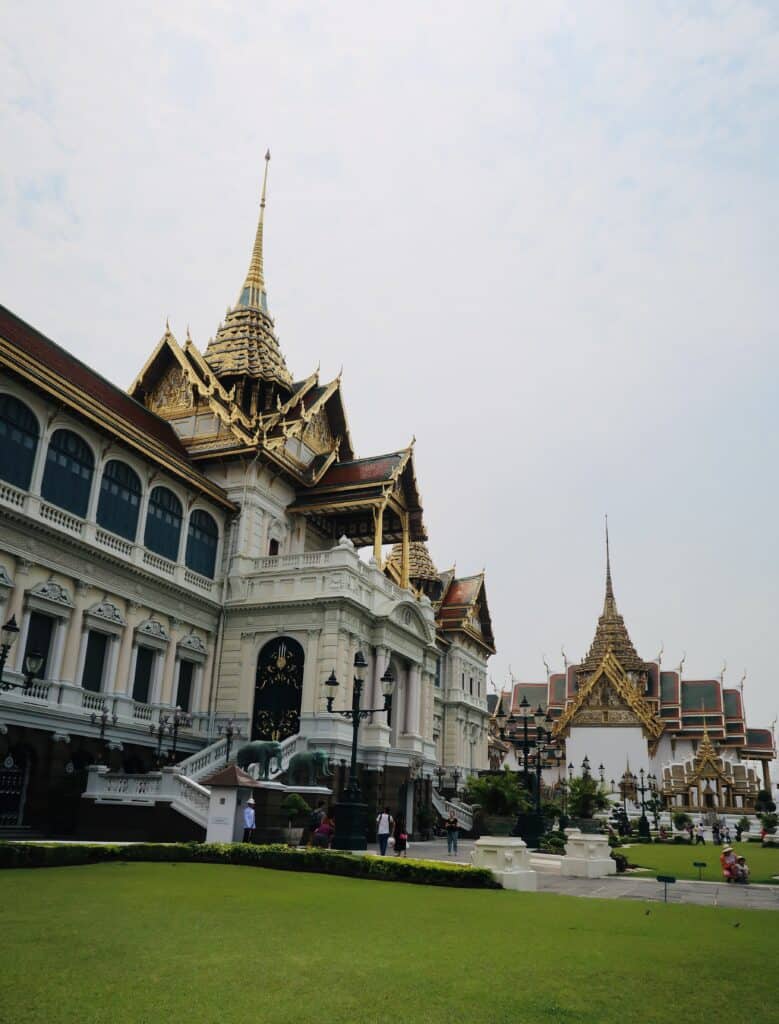 In recent decades, Bangkok has faced challenges of rapid urbanization and population growth. The city has become a dynamic hub of commerce, finance, and tourism in Southeast Asia, attracting millions of visitors each year. Its skyline is dotted with towering skyscrapers, luxurious shopping malls, and bustling markets, while its streets are alive with street food stalls, tuk-tuks, and a vibrant nightlife.
The history of Bangkok is a testament to the resilience and adaptability of its people, who have transformed it from a small trading post into a thriving global city. Today, Bangkok stands as a cultural melting pot, blending ancient traditions with modernity, and serving as a gateway to Thailand's rich cultural heritage and natural beauty.
Know Before You Go | Bangkok
Lodging + Logistics
Getting There: Bangkok is serviced by two airports, Suvarnabhumi Airport (BKK) and Don Mueang Airport (DMK). Suvarnabhumi is the newer and larger international airport, which services the major airlines that fly into the city. This airport is about an hour drive from central Bangkok, but note that this time may vary based on when you arrive.
The cost for a taxi should be around 1000 baht. Pro Tip: To save money, avoid booking a taxi from one of the stands near the baggage claim area. Just hail one outside – it will be much cheaper. There is also a train (the Airport Rail Link) that connects the airport to Bangkok's BTS Skytrain system. The cost for taking this train to the Phayathai Station is 45 baht.
The Don Mueang Airport is the older and smaller airport, that serves the lower cost airlines (e.g., Air Asia, Nok Air). The best way to get to this airport is via taxi. As this airport is closer to the city center, it will only be about 300 or so baht to the airport.
In addition to traveling around the country via airplane, you may also consider traveling via Thai Railway, for a more scenic experience.
Getting Around: Bangkok is only walkable to a certain point as it is spread out over many, many miles. It is serviced by two train lines, the MRT and BTS. The MRT (Mass Rapid Transit network) is the underground metro, that has 18 stops through the city.
The BTS (Bangkok Skytrain) is the most used transit system by locals. It has two lines: 1) Silom, which goes west to south and 2) Sukhumvit, which runs north through east. You can find the map for the Bangkok transit systems here.
Taxis, Tuk Tuks, and Ubers are also readily available in the city and are very cheap. These were our primary modes of transportation during our visit to Bangkok.
Where to Stay: There are eight areas in Bangkok that are popular with tourists:
Khao San/ Banglamphu Area: Popular with backpackers / young travelers
Bangkok Riverside Area: Scenic and historic area of the city, with many temples and the Royal Palace
Sukhumvit Area: Located in central Bangkok, this area is close to many restaurants and shops
Silom Area: Close to Lumphinin Park, also full of many shops and restaurants
Siam Area: The shopping center hub of the city, full of huge malls. Stay here if you plan to shop your heart out
Pratunam Area: This area is close to Siam, but feels more authentic Thai as it is full of markets and street vendors
Chinatown Area: One of the oldest parts of Bangkok, where you can purchase many Chinese goods
The International Airport Suvarnabhumi Area: Not much to see here, but a good idea if you have an early flight to catch
We stayed in the Silom Area at the Mandarin Hotel, which we loved. The room was great and the hotel was located in walking distance to everything we needed. Also, on a random note, our room had the fanciest toilet that I have ever used haha.
Hotel recommendation
⭐️⭐️⭐️⭐️⭐️
This full-service hotel comes equipped with comfortable beds, clean rooms, and technologically advanced toilets. Onsite amenities include:
Outdoor swimming pool
Onsite spa
Fitness Center
2 Restaurants
Generally in Bangkok it is not hard to find a really nice hotel for a low price (by US standards). If you prefer to really stay like a local, there are many great Airbnb options as well.
Daily Considerations
When to Visit: While, the temperature in Bangkok is essentially the same all year round (highs in the 90s and lows in the 70s), the high season for tourism is November through April as this is the dry season. If you want to miss the crowds, you could be brave and face the rainy season from May through October, you can avoid larger crowds.
Language Considerations: The official language of Thailand is Thai, also known as Ayutthaya or Siamese. As it is quite different from English, gaining fluency would take some time. Many people in the city speak English, so you should have no trouble getting around. That shouldn't stop you from learning some basic phrases in the language, though! Check out my post Thai for Travel to get some practice in before you go.
Currency Situation: If you are coming from the US, know that your dollar will go FAR here. So far, you may be tempted to spend more than you should. So just watch yourself :). At the time of writing this post, the exchange rate is $1 = 34.56 Bhat. [Click here for the latest rates.] Cash is much more widely accepted than credit card, so be sure to pull out enough to last you for your time in this city.
⭐️⭐️⭐️⭐️⭐️
Explore some of the best attractions close to Bangkok: The Railway Market and the Floating Market. This is a cultural experience that will open your eyes to local Thai customs. This tour includes:
Free Hotel Pickup
Travel in a comfortable Air Conditioned Car
Boat Ride through the floating market
A 3-Day Bangkok Itinerary
Day 1 | City Highlights & Unique Markets
MORNING
In my travel guides, I usually mention that the best way to see any new city is by doing a city tour. As I stated above, it is difficult to walk the whole city as it is spread over such a great distance. But with the help of a planned tour, you can get around without any problem!
I recommend the Half-Day Railway Market and Floating Market Tour to start out your first day in Bangkok.
Your first stop will be the Maeklong Railway Market. What sets this market apart is its extraordinary setting along an active railway track. Visitors are treated to a thrilling experience as they navigate through the narrow aisles, surrounded by vendors selling fresh produce, seafood, clothing, and various local goods. However, the true spectacle occurs several times a day when a train approaches, and the market springs into action. In a perfectly choreographed routine, vendors swiftly retract their stalls, clearing the way for the passing train. Once the train has passed, the market reassembles just as quickly, resuming its vibrant and bustling atmosphere.
I found watching this setup and take down of the market in advance of the arriving train to be fascinating to watch, if not slightly nerve-racking. This is truly an experience that you can only get here! Check out a preview of the experience in the video below.
As mentioned above, the market offers fresh fruits, veggies, and meats; so a great place to stop if you'd like to do your own cooking on vacation.
Next up is the well-known Damnoen Saduak Floating Market, which is about an hour drive outside of central Bangkok. This market is situated on a network of canals, and showcases a unique and charming scene where local vendors sell a wide array of goods from their boats. As you walk through the market, you can sample delicious local delicacies, browse handicrafts, and observe the lively interactions between buyers and sellers. The colorful fruits, vegetables, and spices displayed on the boats create a picturesque sight, while the friendly atmosphere and the gentle paddling of the vendors make for a truly immersive and memorable experience.
You should know that this market is a bit touristy, but it is a really cool experience nonetheless. In addition to the variety of souvenirs and knick-knacks for sale, there are plenty of cooked food options as well. As you get close to the afternoon, it may be a good idea to grab some lunch before returning to Bangkok. And when it comes to buying souvenirs, know that everything here is overpriced though, so I recommend that you save your money until you can go to a less touristy area. I made the mistake of buying a highly overpriced gold outfit. Cute – yes. But did I wear it one time – no.
AFTERNOON
After the Floating Market, head back into the city for a quick break. In the early afternoon, I recommend taking the Three Temples Bangkok City Tour with the Royal Grand Palace. This tour will take you to all the most famous religious sites around the city as well as the Grand Palace – all are breathtakingly beautiful.
On this tour, your first stop will be Wat Arun or the Temple of Dawn. This iconic landmark is situated on the banks of the Chao Phraya River in Bangkok. With its distinctive spires reaching towards the sky, Wat Arun stands as a strong example of Khmer-influenced architecture. The temple's intricate details and ornate designs, adorned with colorful porcelain tiles, create a mesmerizing sight, especially when illuminated during sunset or at night.
Climbing the steep steps of the central prang offers visitors breathtaking panoramic views of the river and the surrounding area. From the top, one can admire the grandeur of Bangkok's skyline and witness the bustling activity on the Chao Phraya River. Inside the temple complex, visitors can explore various structures, including the ordination hall and the statue of the Hindu god, Indra.
Your second stop on this tour will be Wat Phra Chetuphon, or the Temple of the Reclining Buddha. This is one of the oldest and largest temples in the city, dating back to the 16th century. The exact date of which this temple was constructed is unknown, but it has been in existence since before Bangkok was declared the capital of Siam in 1782.
The temple complex is home to the famous Reclining Buddha, a massive golden statue measuring 46 meters long and adorned with intricate mother-of-pearl decorations. Like many others I was amazed by the sheer size and exquisite craftsmanship of this iconic statue. The temple grounds are also adorned with numerous other ornate structures, stunning pagodas, and beautifully manicured gardens, offering a serene and peaceful atmosphere for contemplation and exploration.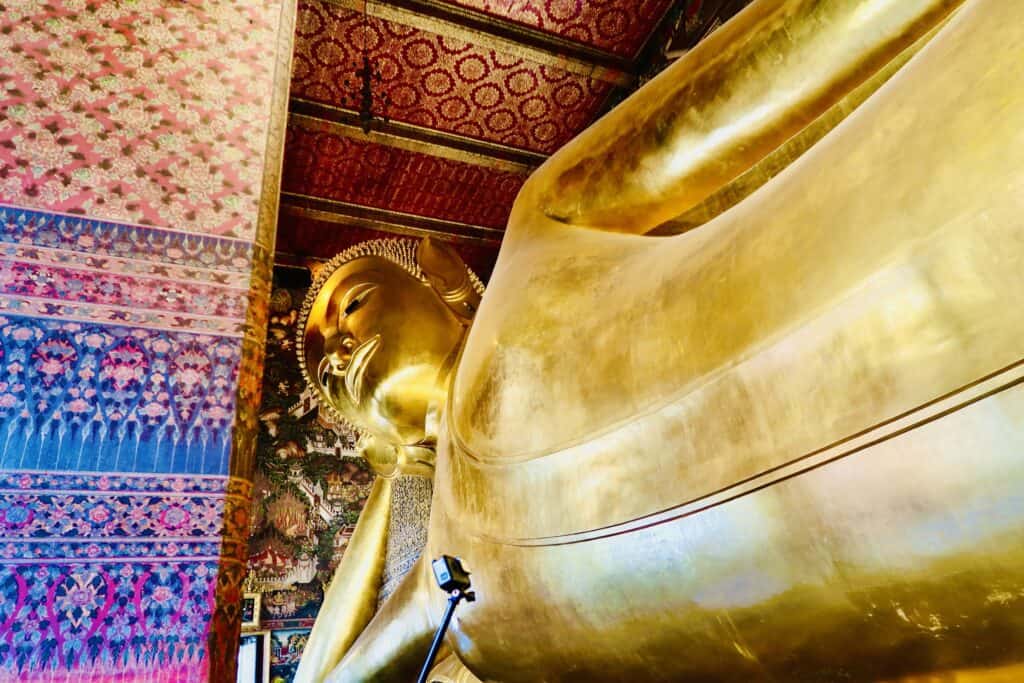 Aside from its architectural beauty, Wat Pho is also renowned as a center of traditional Thai massage and medicine. Within the temple complex, there is a renowned Thai massage school where visitors can receive authentic and therapeutic treatments from skilled masseurs. As this temple was meant to be a place for education for the general public, you'll see a pictorial encyclopedia on granite slabs around the temple.The temple's tranquil ambiance combined with the healing art of Thai massage provides a unique opportunity for relaxation and rejuvenation.
Next, head to The Grand Palace. Built in 1782, it served as the royal residence for over a century and is now a popular tourist attraction. The palace features stunning architecture, intricate detailing, and vibrant colors, with the Royal Temple of the Emerald Buddha being its most revered site. Within the complex, there are opulent buildings, serene courtyards, and meticulously crafted artworks that reflect a fusion of Thai, European, and Chinese influences.
A visit to the Grand Palace requires respectful attire, covering the shoulders and knees. From the Chakri Maha Prasat Throne Hall to the exquisite Phra Mondop library, each building showcases Thailand's cultural heritage. The Palace complex is quite large – being roughly 135 sq miles (!) in area. Quite a bit of the palace is open to visitors, but at least half is closed off at all times, due to the fact that this is still a fully functional royal residence for King Rama X.
Your final stop is Wat Traimit or the Temple of the Golden Buddha. The highlight of this temple is the aforementioned statue, which is the largest solid gold Buddha statue in the world. Weighing approximately five and a half tons and standing at a height of nearly five meters, the statue is an incredible masterpiece of craftsmanship and devotion. Its creation dates back to the 13th century, and it was discovered in the 1950s when a plaster covering revealed the dazzling golden treasure hidden within.
Visitors to Wat Traimit are greeted by the magnificent sight of the Golden Buddha, its radiant golden hue gleaming in the temple's serene surroundings. The temple complex itself is very peaceful, featuring beautiful architecture, intricate carvings, and peaceful courtyards.
EVENING
After the conclusion of the tour, take time for a rest before heading out for dinner. Bangkok has a really impressive skyline, and for this reason I recommend experiencing a rooftop dinner. We ate at Vertigo, which is located on the 61st floor of the Banyan Tree hotel. (This hotel is in the Silom Area of the city.) Vertigo is an iconic rooftop restaurant and bar situated on the 61st floor of Bangkok's Banyan Tree Hotel. Their tagline is "Bangkok's Ultimate Rooftop Dining Experience". With its open-air terrace and mesmerizing panoramic views of the city skyline, Vertigo offers a truly unforgettable dining experience.
The restaurant serves a delectable range of international dishes, from succulent grilled meats to fresh seafood, complemented by a selection of premium wines and creative cocktails. Whether it's a romantic evening or a special celebration, Vertigo provides a sophisticated ambiance and stunning vistas that make it a popular destination for locals and tourists seeking an elevated dining experience in Bangkok. As you might imagine, prices are a bit on the higher side, but the impressive views make it all worth it! To guarantee your spot, call ahead and secure a reservation.View of Bangkok from the rooftop at Vertigo.
If you consider yourself a more adventurous traveler, check out this post on the best non-touristy things to do in Bangkok.
Day 2 | Ayutthaya Excursion
MORNING/AFTERNOON
On your second day in Bangkok, head out of the city to explore the ancient city of Ayutthaya. One easy way to do this is to by booking a tour, like the From Bangkok: Ayutthaya Day Tour by Bus & Boat tour.
This tour first takes you to the beautiful Bang Pa-In Summer Palace. Nestled along the Chao Phraya River in Ayutthaya province, this Summer Palace showcases the fusion of Thai, Chinese, and European architectural styles. Originally built in the 17th century, the palace was restored and expanded under the reign of King Rama IV in the 19th century. The sprawling complex encompasses lush gardens, serene lakes, and an impressive collection of ornate buildings, pavilions, and royal residences.
Each structure within the palace grounds boasts unique characteristics, from the grand Aisawan Dhiphya-Asana Pavilion sitting gracefully on a small island to the elegant Chinese-style Wehart Chamrun residential hall. The Bang Pa-In Summer Palace offers a peaceful escape from the urban bustle, allowing visitors to explore the regal past of Thailand and marvel at the architectural beauty set against the picturesque backdrop of the river.
Beyond its architectural splendor, the palace is steeped in historical significance. It has served as a retreat for Thai royalty for centuries, providing respite and inspiration for the royal family. Walking through the manicured gardens and tranquil pathways, visitors can admire the intricate details of the structures, from the delicate murals to the exquisite craftsmanship of the decorative elements. I found the grounds here to be absolutely gorgeous, full of beautiful flowers and interesting sculpted greenery. It's a great place to get a few nice photo ops!
Next up is Ayutthaya, one of the largest and wealthiest cities in the world during the Middle Ages.
This city was the center of a Siamese Kingdom that existed from 1351 to 1767, until it faced war with Burma, ultimately leading to its end. Founded in 1350, the city flourished for over four centuries and played a pivotal role in shaping the nation's history. Ayutthaya was a major trading hub, attracting merchants from across Asia and Europe, which contributed to its economic prosperity and cultural diversity. The city boasted magnificent palaces, ornate temples, and a sophisticated infrastructure, earning it the reputation as one of the most magnificent cities in the world at the time.
However, Ayutthaya's grandeur was not immune to external threats. In 1767, the city fell victim to a devastating invasion by the Burmese army, leading to the downfall of the Ayutthaya Kingdom. The invading forces ransacked the city, leaving it in ruins and forcing its inhabitants to abandon it. The historical significance of Ayutthaya, however, has endured throughout the centuries. Today, the Ayutthaya Historical Park stands as a UNESCO World Heritage Site, preserving the remnants of this once-majestic city and offering visitors a glimpse into its glorious past. Exploring the ruins of Ayutthaya provides a fascinating journey back in time, where one can marvel at the ancient temples, crumbling Buddha statues, and architectural remnants that stand as a testament to the city's former magnificence and its enduring legacy in Thai history.
In the ancient ruins you can visit Wat Mahatat, the ruins of an ancient Buddhist temple. Constructed in the 14th century, it served as a major religious center and the royal monastery of the Ayutthaya Kingdom. The temple was a renowned institution for Buddhist teachings and meditation practices. One of the most iconic features of Wat Mahatat is the famous Buddha head entwined in the roots of a Bodhi tree. This mesmerizing sight has become an emblematic symbol of Ayutthaya's rich heritage. The temple complex also houses various structures and artifacts that offer insights into the spiritual and cultural practices of ancient Thailand. If you've ever visited or seen pictures of Angkor Wat in Cambodia, you can get a feel for what the ruins look like here.
After Wat Mahatat it's time to see Wat Lokayasutharam, where there is a huge outdoor reclining Buddha. The temple dates back to the Ayutthaya period and is known for its cultural and historical significance. The highlight of Wat Lokayasutharam is the massive reclining Buddha, stretching an impressive 37 meters in length and towering at a height of 8 meters.
The reclining Buddha, adorned in golden robes, lies serenely on its side, with one hand supporting its head. The statue exudes a sense of tranquility and grace, inviting visitors to admire its sheer size and remarkable craftsmanship. If you want to do a bit of shopping, there is a small market right across the street that has pretty great prices.
At the end of your tour, you'll board your bus to head down the Chao Phraya River on a lunch cruise that offers impressive views of Bangkok and its suburbs on the 2 hour ride.
EVENING
For dinner, head over to Condoms and Cabbage, located in the Sukhumvit area. The name of the restaurant is a bit odd, but reflects the mission of the restaurant. The profits received go to The Population & Community Development Association (PDA) and its programs to reduce teen pregnancy and the spread of sexual diseases. The decor of the restaurant is quite interesting, as condoms are featured everywhere. In addition to this, the food is excellent, and this place is certainly worth a visit!
Day 3 | Market Hopping and Shopping Centers
So I wouldn't normally recommend you devote an ENTIRE day to shopping, but this city is really well-know for its markets and shopping centers that you gotta do it. Shopping in Bangkok is an exhilarating experience that caters to all tastes and budgets. The city is renowned for its diverse shopping options, ranging from luxurious malls to bustling street markets. At the heart of Bangkok's shopping scene is the famous Siam Square, where visitors can explore a labyrinth of trendy boutiques, international brands, and cutting-edge fashion.
Just a stone's throw away, the sprawling MBK Center offers a maze of shops selling everything from electronics to fashion, while the nearby CentralWorld presents a vast array of high-end designer labels and lifestyle brands. For a taste of traditional Thai shopping, a visit to the Chatuchak Weekend Market is a must. With thousands of stalls offering an incredible variety of goods, from fashion and accessories to handicrafts and antiques, this vibrant market promises a unique and eclectic shopping experience.
Sampeng Market (Yaowarat): Located in Chinatown, one of the most popular parts of the city. The best way to get here is by the Chao Phraya River Express boat to Ratchawong Pier
Chatuchak Weekend Market (JJ Market): Probably the most famous market in Bangkok and certainly one of the largest. This market is located by Chatuchuk Park; you can get here from the Mo Chit station (BTS) or the Chatuchak Park station (MRT)
Khlong Toey Fresh Market: Visit here for all the fresh produce and meats your heart desires. You can visit any time of day – it's open 24hrs! You can take the MRT to Khlong Toey station to get here
Paptong Night Market: This market is known for selling a lot of off-brand items for cheap. The closest station is the Sala Daeng station (BTS)
If you are more interested in clothing and/or upscale shopping, you should head over to the Siam area of the city (via the BTS Siam station). Here you'll find massive shopping malls such as:
MBK: Bangkok's oldest shopping malls and a tourist favorite; It reminded me of an indoor market
Siam Discovery Center: Upscale shopping mall with high-quality brands
Siam Square: Trendy shopping mall, catering more to the younger crowd
Siam Paragon: This is the first and biggest world-class shopping location in Thailand – it attracts millions of visitors a year!
In any place that you stop at you'll find excellent food options from street food to sit down restaurants (there are several of these in MBK).
What to do with More Time in Bangkok
If you wind up with more time in Bangkok than three days, here are a few additional activities you may want to consider:
Bangkok Midnight Food Tour by Tuk Tuk: Get a truly Bangkok-only experience by taking a midnight food tour! You'll try classic dishes like Pad Thai and Rice Noodles with Chicken. You will also learn how all these tasty treats are made and get to see famous temples and city landmarks after dark.
Elephant Haven Kanchanaburi: If you love animals and are not planning to head to Chiang Mai, I recommend going to a nearby Elephant Sanctuary. Here, you can learn how the elephants are cared for and get to spend some time up close to the elephants. This one is for all the animal lovers out there.
Visit the Jim Thompson House: The Jim Thompson House is a museum and cultural attraction, showcasing the traditional Thai-style teakwood residence of Jim Thompson, an American entrepreneur and silk enthusiast. The meticulously preserved house, surrounded by lush gardens, offers visitors a glimpse into Thompson's passion for Thai art and architecture, with beautifully decorated rooms filled with priceless artifacts and Southeast Asian art.
Wat Saket: Known as the Temple of the Golden Mount, is a revered Buddhist temple. Perched atop an artificial hill, it offers panoramic views of the city. The highlight is the golden chedi of the Golden Mount, which visitors can reach by climbing 318 steps. Within the temple grounds, intricate Thai architecture and a tranquil courtyard await, making Wat Saket a popular destination for spiritual seekers and those seeking panoramic vistas of Bangkok's skyline.
Tips for Visiting Bangkok
​If you are visiting Bangkok for the first time, here are a few tips that you should consider as you plan for your trip:
Dress Appropriately: When visiting temples and other religious sites, it's important to dress respectfully. Make sure to wear clothing that covers your shoulders and knees. Avoid revealing or tight-fitting outfits. Carrying a lightweight scarf or shawl can come in handy to cover up if needed.
Stay Hydrated: Bangkok's tropical climate can be hot and humid, so it's crucial to stay hydrated. Carry a refillable water bottle with you and drink plenty of fluids throughout the day. You can easily find bottled water at convenience stores or local street vendors. Additionally, be cautious of consuming ice or uncooked food from questionable sources to avoid any potential stomach discomfort.
Plan Your Transportation: Bangkok is known for its notorious traffic congestion, so it's wise to plan your transportation accordingly. Utilize the efficient public transportation system, such as the BTS Skytrain, MRT subway, and river boats, to avoid getting stuck in traffic. Taxis and tuk-tuks are also popular modes of transportation, but be sure to negotiate the fare or request the meter to be used before starting the journey.
Explore Street Food: Bangkok is a food lover's paradise, and sampling the diverse street food is a must-do experience. Try local favorites like Pad Thai, Tom Yum Goong, and Mango Sticky Rice from street vendors or night markets. Look for busy stalls with a high turnover of customers, which is often an indicator of delicious and freshly prepared food. However, exercise caution and prioritize hygiene by choosing vendors who handle food with clean utensils and maintain proper cleanliness.
Embrace the Culture: Immerse yourself in the rich Thai culture by visiting temples, attending traditional performances, and interacting with locals. Remember to be respectful when entering temples by removing your shoes and keeping noise levels to a minimum. Learning a few basic Thai phrases like "hello" (sawasdee-kha/khap) and "thank you" (kop-khun-kha/khap) can go a long way in showing your appreciation and respect for the local culture. Engaging with the locals and experiencing their warm hospitality will enhance your overall experience in Bangkok.
Bangkok FAQs
Is 3 days enough for Bangkok?
Three days is enough to get a taste of Bangkok's cultural heritage, vibrant street life, and famous attractions like the Grand Palace, Wat Pho, and Chatuchak Weekend Market. You can also enjoy delicious Thai cuisine and a boat tour along the Chao Phraya River. While it won't cover everything, a three-day visit allows for a delightful introduction to the city's charm and highlights.
How much money for 3 days in Bangkok?
For a three-day trip to Bangkok, a mid-range budget traveler can expect to spend around $150 to $300 on accommodation, meals, local transportation, and sightseeing. Expenses can vary based on the type of accommodation, dining preferences, and activities planned. Creating a rough itinerary and budgeting for specific expenses will help calculate a more personalized budget for your trip.
How many days is ideal to visit Bangkok?
For an ideal visit to Bangkok, plan to stay for 4 to 5 days to explore its highlights, cultural offerings, and vibrant markets. With this timeframe, you can visit iconic landmarks like the Grand Palace and Wat Pho, enjoy the city's street food, and take a boat tour along the Chao Phraya River. For a more immersive experience, consider extending your stay.
Final Thoughts | 3 Days in Bangkok
That wraps this Bangkok 3-day itinerary! As you can see, Bangkok is full of beautiful architecture and unique experiences. If you are just considering a trip to Bangkok, now is your time to start booking your trip.
As I'm sure that some of you reading this have traveled there before, what else would you recommend folks see on their visit to Bangkok? Drop some recommendations (or questions) in the comment box below!
Looking for More Posts on Thailand?
---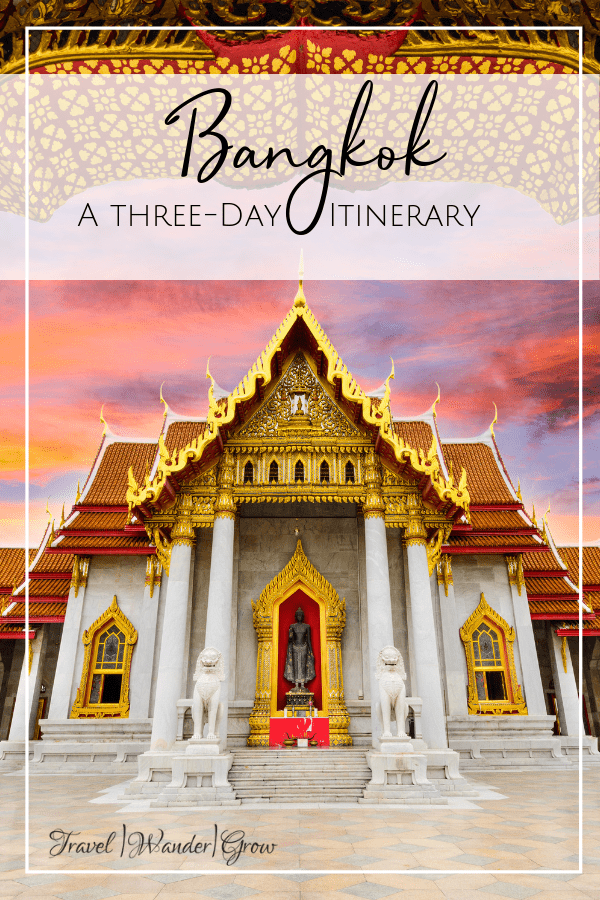 ---