The 13 Best Restaurants in Accra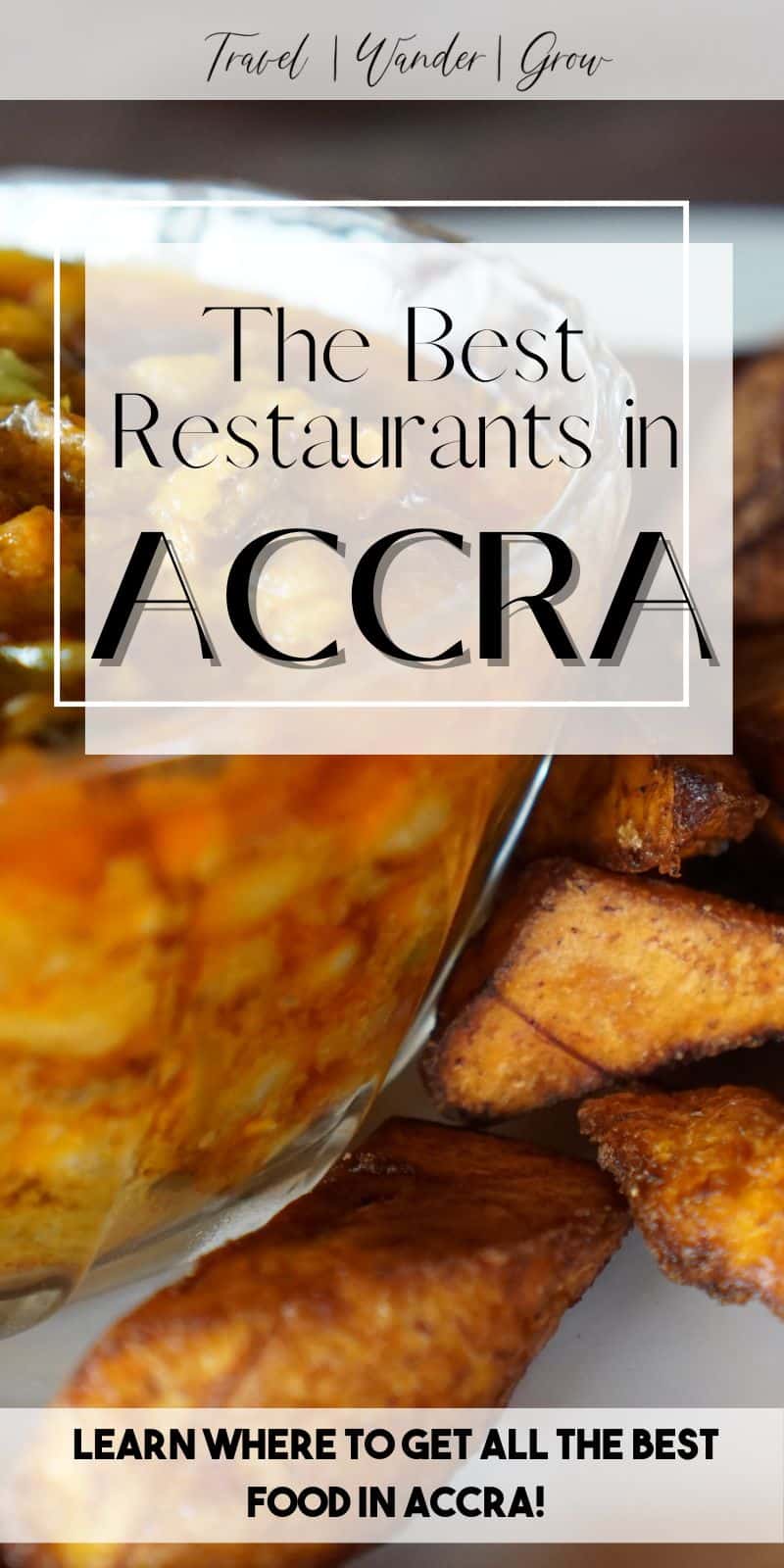 Are you planning to travel to Accra and wondering where to satisfy your taste buds? Worry no more because Accra is one of the most exotic places where you can try out different cuisines from all over Africa. The city has a lot to offer, from cozy dining spaces to rooftop bars with a fascinating view. On my recent trip to Accra, I ate very well, and will show you how you can too on your trip to this cool city in Ghana. This post provides a detailed list of the 10 best restaurants in Accra to give you a delightful culinary experience during your visit.
The Culinary History of Accra
Accra, the capital city of Ghana, possesses a rich and diverse culinary history that has evolved over centuries. Rooted in its African heritage, the city's cuisine boasts of traditional delicacies primarily based on corn and cassava, such as Banku and Kenkey, often savored with hot pepper sauce and fish.
However, the culinary landscape of Accra has been influenced by a plethora of cultures, including the Portuguese, British, Dutch, and the Arab traders who traversed the coast of West Africa, introducing new spices, flavors, and cooking techniques.
In recent decades, global influences have further added to the unique gastronomic tapestry of Accra. The increasing presence of foreign restaurants and the growing popularity of international cuisine among the locals have contributed to an exciting fusion of flavors, presenting a delightful blend of traditional and contemporary dining experiences.
From roadside food stalls serving spicy kebabs and fried plantains to upscale restaurants presenting gourmet dishes, there is plenty of variety to satisfy nearly any tastebud.
Popular Ghanaian Dishes
Ghanaian cuisine is renowned for its variety and rich flavors, with a few standout dishes that have gained popularity both domestically and internationally. One of the most well-known Ghanaian dishes is Jollof Rice, a one-pot rice dish cooked in a blend of tomatoes, onions, and various spices, often served with meat or fish.
Another Ghanaian staple is Fufu, a dough-like food made by boiling and pounding a mixture of cassava and plantains or yams. This dish is typically served with a variety of soups like groundnut or palm nut soup. Also, it is often eaten with the hand!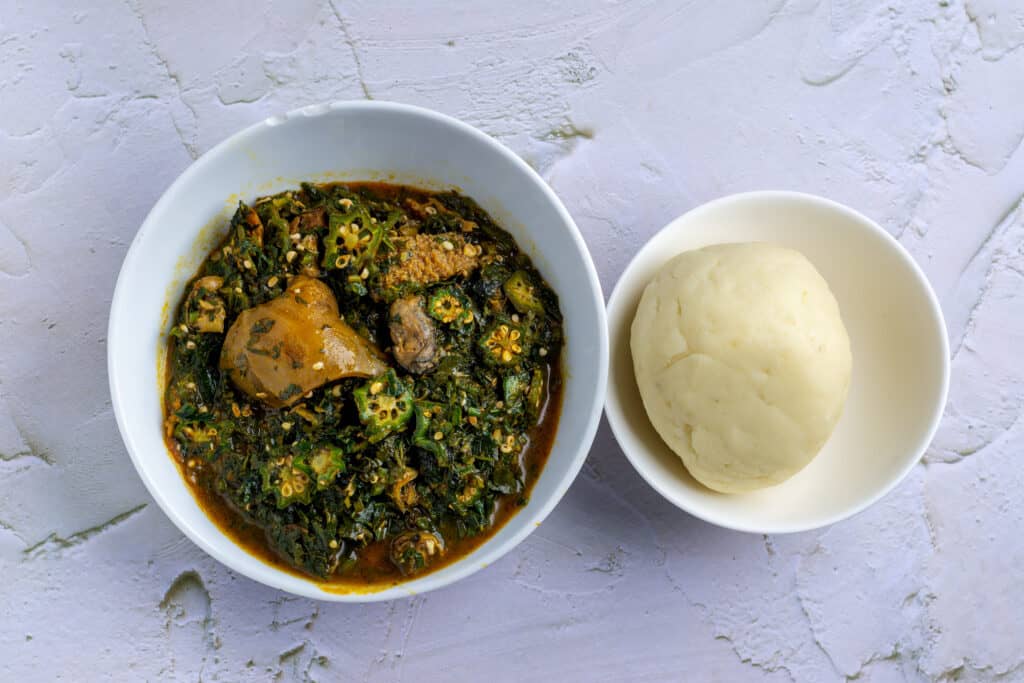 Red Red, a flavorful bean stew made with palm oil and ripe plantains, is another favorite. These dishes, among others, reflect Ghana's culinary heritage and the use of locally sourced ingredients.
The 13 Best Restaurants in Accra, Ghana
1 | Buka Restaurant
If you are looking to indulge in the rich flavors of traditional Ghanaian cuisine, Buka Restaurant is the perfect destination. This restaurant was built to serve the international traveler, and introduce the concepts of Ghanaian foods to those who are less familiar.
Step into the warm and inviting ambiance of this cozy eatery and prepare to embark on a culinary adventure. Buka features a diverse menu featuring authentic Ghanaian delicacies such as fufu, banku, and waakye, prepared with love and expertise.
You don't miss the opportunity to savor the mouthwatering spicy jollof rice, perfectly paired with tender chicken or succulent fish.
This restaurant is one of the most popular places in Ghana, so I highly recommend you set up reservations in order to secure your spot.
BUKA RESTAURANT DETAILS
Price Range: $$
Location: 10th Street, Osu, Accra, Ghana
Hours: 12PM – 9PM
Email:

[email protected]
2 | 805 Restaurant
805 Restaurant, situated in the heart of Accra, is another must-visit destination for food enthusiasts craving a taste of Ghana. Offering a delightful fusion of West African and continental cuisine, this restaurant promises an unforgettable gastronomic experience.
The moment you step foot in 805, you're greeted by a chic, modern interior that contrasts beautifully with the traditional dishes on the menu. This eatery is best known for its array of seafood dishes, rich, spicy stews, and the delectable jollof rice, making it a paradise for food lovers.
Don't forget to try their famous grilled tilapia, complemented with spicy pepper sauce and a side of banku. The friendly service, robust menu, and relaxing atmosphere all contribute to the unique dining experience at 805 Restaurant.
Speaking from experience, the food here is wonderful! We liked it so much that we went back twice. Given the restaurant's popularity, making a reservation is a wise move.
805 RESTAURANT DETAILS:
Price Range: $$
Locations (There are 2 in Accra):

No. 3 Adomi Street, Off Volta Street, Airport Residential Area
10 Mission Street, Accra, Ghana

Hours: 12PM – 11PM
Phone: +233 206 805 805
3 | Sky Bar Lounge
Sky Bar Lounge, located in the heart of Accra, is a perfect blend of upscale sophistication and casual elegance. It is also one of the best places to visit in the city. This rooftop bar and restaurant offers an unparalleled dining experience with its diverse culinary offerings, breathtaking city views, and an atmospheric setting that is both inviting and exciting.
When you step into Sky Bar Lounge, you're greeted with a panoramic skyline view, stylish modern decor, and a vibrant ambience that resonates with the pulsating energy of the city. Among the bar's culinary highlights are their fresh seafood dishes, flavorful pizzas, and an extensive selection of cocktails and wines. This is the place to come to try international culinary delights and the feeling of an intimate terrace.
The vibe here is just perfect, particularly at sunset and leading into the evening. I spent a nice night here with friends, soaking in the views and the delicious food.
The menu here does change from time to time, but I really enjoyed the pizza and the lamb sliders that I ate on my visit. In addition to wonderful food, Sky Bar also features exclusive events, live traditional music, and exceptional service.
I highly, highly recommend that you make reservations before going, and to do so at least several weeks in advance. It is a great place for both the nightlife and a for a delicious dinner. This is also a great place for romantic dinners and superb customer service.
SKYBAR DETAILS:
Price Range: $$
Location: 10th Street, Osu, Accra, Ghana
Hours:

M-TR: 4PM – 12AM
F-Sa: 4PM – 2AM
Sun: 3PM – 12AM

Phone: +233 (0) 56 082 4725
Email: [email protected]
4 | Chez Afrique
Tucked away in East Legon, Accra, Chez Afrique is a hidden gem renowned for its rich cultural ambiance and authentic African cuisine. A local favorite, Chez Afrique boasts an impressive menu of traditional dishes, throwing you into a whirlwind of flavors that encapsulates the African culinary experience.
Upon entering Chez Afrique, the warm, earthy atmosphere immediately sets the tone for an immersive dining experience. The restaurant's open-air setup, elevated by vibrant African artworks and a live band playing rhythmic highlife music, complements the traditional meals served. The menu boasts a wide array of local dishes, including savory banku and tilapia, fufu with light soup, and the much-loved jollof rice.
CHEZ AFRIQUE DETAILS
Price Range: $$ – $$$
Location: Awulen Kojo Street Near the French School, East Legon, Accra Ghana
Hours:

Sun-Thurs: 11AM – 10PM
Fri-Sat: 11AM – 1AM

Phone: +233 55 374 0577
5 | Breakfast to Breakfast
Breakfast to Breakfast, situated in the bustling city of Accra, is a great place to stop for breakfast and beyond. This chic café, renowned for its exquisite breakfast, brunch, and lunch offerings, serves as an idyllic spot to start (or end) your day.
The name of this restaurant references the fact that it stays open 24/7, so you can get your fill of breakfast options at any point in time.
Stepping into Breakfast to Breakfast, you are welcomed by an atmosphere of warmth and comfort, and the aroma of freshly brewed coffee and baked goods. The café takes pride in its mouthwatering menu that features an array of breakfast classics like pancakes, waffles, and omelettes, alongside favorites such as burgers, french fries, and sandwiches.
The ambiance here is relaxed and casual, as is the service. On my visit, I was particularly taken by their avocado toast and their signature Eggs Benedict. I found this to be a cool place to meet people as well – many of us chatted with the people at the tables around ours while there.
Take a look at their menu here!
B2B DETAILS:
Price Range: $
Location: Osu Oxford Street 6th Street, Accra, Ghana
Hours: 12AM – 11:59PM (always open)
Phone: +233 30 277 3567
7 | Cafe Kwae
Situated in the heart of Accra, Cafe Kwae stands as a testament to Ghana's vibrant café culture. This chic cafe, with its minimalist yet inviting decor, offers more than just a cup of coffee – it's an intimate retreat from the city's bustling rhythm.
Upon stepping into Cafe Kwae, you're greeted with a warm, laid-back vibe and a distinctly modern design. The menu at Cafe Kwae is a delightful blend of local and international flavours, offering everything from classic Ghanaian dishes to hearty sandwiches and indulgent desserts. The star attraction, of course, is their wide range of artisanal coffees that are sure to please even the most discerning coffee connoisseurs.
What I like about this restaurant is that it offers locally sourced ingredients. It's founder, Yvette N Kwae Anash, is dedicated to providing patrons with wonderful food. She lives by the phrase "Good food does not have to be complicated". And you can sense that in every sip and bite.
Cafe Kwae is not just a place to eat and leave. It's a serene niche where you can lose track of time, plugging into work with their reliable Wi-Fi, or simply enjoying a quiet read. With a consistent stream of events such as live music and culinary workshops, Cafe Kwae is a dynamic space that keeps its patrons coming back for more.
Find out more about their menu here!
CAFE KWAE DETAILS:
Price Range: $$
Location: One Airport Square, Airport City, Accra, Ghana
Hours:

M-F: 8AM – 6PM
Sa – Sun: 9AM – 4PM

Phone: +233 59 870 1346
8 | Azmera Restaurant
Located in the cultural hub of Accra, Azmera Restaurant is a jewel in Ghana's culinary scene. They bill themselves as "Ghana's Best Traditional Buffet Restaurant". Which essentially means that you can go there and eat your heart out!
As you walk into Azmera Restaurant, you're welcomed by a heartwarming ambience and an impressive interior design that pays homage to Ghana's cultural roots. The menu encompasses a spectrum of authentic Ghanaian dishes, ranging from familiar comfort food to exotic flavors that invite curiosity.
As this is a buffet, there are great options for family meals. These meals consist of the following options: Soup, Stew, Sides, Dessert, Grill, Local Drink. The quantities of each changes with the size of your party (as does the price).
Find out more on their menus here!
AZMERA RESTAURANT DETAILS
Price Range: $$ – $$$ (you get a better deal if you bring more people)
Location: No. 6 North St, Roman Ridge, Accra, Ghana
Hours: M-Sun: 9AM – 9PM
Phone: +233 302 996 332
Email: [email protected]
9 | Rehab Beach Club
Situated along the serene coastline of Accra, Rehab Beach Club infuses the vibrant energy of Ghanaian culture with the leisurely atmosphere of a beachside retreat. Acknowledged as "Accra's Top Beach Party Destination", this place is an absolute must-visit for those seeking a delightful mix of entertainment, relaxation, and culinary indulgence.
Upon entering Rehab Beach Club, guests are treated to a stunning view of the ocean, coupled with a lively ambience punctuated by rhythmic music. The menu offers a diverse selection of local and continental dishes, complemented by an array of refreshing beverages, perfect for a beachside feast. Notable events include live music, beach sports, and their famed weekend parties.
This is not just a place for a party though, this is a good place to try the local cuisine too. In fact, they bill themselves as having the best seafood in Accra. If you love fish, this may be a place that you want to keep at the top of your list.
REHAB BEACH CLUB DETAILS:
Price Range: $$ – $$$
Location: South Labadi Estate, Accra, Ghana
Hours:

Thurs: 4:30PM – 12AM
Fri: 4:30AM – 12AM
Sat. – Sun.: 1:30AM – 12:00AM

Phone: +(233)05557773422
10 | The Republic Bar & Grill
Located in the heart of Osu, The Republic Bar & Grill is a staple of Accra's vibrant nightlife scene. This bustling bar is known for its live music, energetic atmosphere, and "good vibes".
On stepping into The Republic Bar & Grill, guests are greeted by a rustic, yet modern, decor that harks back to Ghana's cultural heritage. The bar is renowned for its signature palm wine cocktails and an impressive array of local beers.
The menu boasts a delectable range of Ghanaian dishes, providing a true gastronomic adventure for locals and tourists alike. You can try dishes like Yeye Goat or Cassava Havana, and eat very well here.
Regular events at the bar include vibrant live music acts, karaoke nights, and DJ sets, ensuring a dynamic and entertaining experience for the patrons. Whether you are seeking an immersive cultural experience or a lively night out, The Republic Bar & Grill offers a unique blend of both.
REPUBLIC BAR & GRILL DETAILS:
Price Range: $$ – $$$
Location: Asafoatse Tempong St, Osu, Accra, Ghana
Hours:

Mon – Fri: 12PM – Late
Sun: 5PM – Late

Phone: +(233) 024 631 4044
11 | La Chaumière
Tucked away in the vibrant city of Accra, La Chaumière offers a culinary retreat into the heart of French cuisine. This upscale French restaurant is celebrated for its authentic French dishes, meticulously crafted by experienced chefs.
The ambience exudes elegance, with a romantic undertone that makes it a perfect destination for couples seeking a gourmet dining experience or business meetings. It is also a good place to visit for special occasions.
The menu includes famed French classics like escargot, french onion soup, coq au vin, and crème brûlée. Visitors laud La Chaumière for its refined cuisine, excellent wine selection, and impeccable service.
LA CHAUMIÉRE DETAILS:
Price Range: $$$$
Location: Liberation Rd, Shangri-La Hotel, Airport Residential Area, Accra, Ghana
Hours:
Phone: +233 24 480 2013
12 | Santoku
Located in the heart of Accra, Santoku is a Japanese restaurant known for its innovative approach to traditional sushi and teppanyaki dishes. With a warm, sophisticated interior, Santoku offers a contemporary dining experience where patrons can enjoy an array of skillfully prepared dishes such as the signature Santoku Sushi Roll, Teriyaki Glazed Salmon, and the not-to-be-missed Black Cod Miso.
The restaurant also houses an exceptional sake and cocktail bar, perfect for enjoying a leisurely drink before or after your meal. Critically acclaimed for its unparalleled service and exquisite food, Santoku provides a culinary journey into the depth of Japanese cuisine in Ghana.
Visit the Santoku website here!
SANTOKU DETAILS:
Price Range: $$$
Location: VM Commercial Centre, 19 Sir Arku Korsah Rd, Accra, Ghana
Hours:
Phone: +(233) 54 431 1511
13 | Sai Wine & Champagne Café
Situated in the vibrant city of Accra, Sai Wine & Champagne Café is a unique gastronomic haven for wine connoisseurs and gourmet food enthusiasts alike. This upscale café boasts an extensive wine list that spans across continents, featuring an array of premium wines from renowned vineyards and boutique wineries.
The food menu, crafted with an artistic flair, complements the wine selection impeccably, featuring a variety of dishes that fuse local Ghanaian ingredients with global culinary techniques. In addition to wine, you will find options such as tapas, meat, and dessert to try.
Sai offers a stylish yet cozy setting, making it a popular choice for casual wine tastings, celebratory events, or simply a relaxing evening with friends. Sai does offer a variety of events, and these are listed on their website.
The staff here are knowledgeable and aid patrons in navigating the extensive wine list, contributing to an overall memorable dining and wine tasting experience.
SAI WINE & CHAMPANGE CAFÉ DETAILS:
Price Range: $$
Location: H/No.8 Koi Road Ext., Osu, Ako-Adjei, Accra
Phone: +(233) 030 279 8482
FAQs About Restaurants in accra
What is the food of the people of greater Accra?
The cuisine of the Greater Accra region in Ghana is diverse, characterized by a wide array of dishes including Kenkey, a staple made from fermented corn, served with hot pepper and fish. Other popular dishes include Waakye, a rice and beans combo, Jollof rice, and Banku with Tilapia, offering a delightful blend of local spices and flavors. Street food is also popular, with items such as Kelewele (fried, spicy plantain) and grilled Suya being common sights.
What is the most popular restaurant in Ghana?
Determining the most popular restaurant in Ghana is subjective and can depend on various factors such as personal taste, budget, and location. However, one place that consistently ranks highly among locals and tourists alike is Azmera restaurant. Known for its sumptuous local dishes served buffet-style in a cozy, welcoming setting, Azmera has earned its reputation as a go-to spot for a true taste of Ghanaian cuisine.
In Summary | The Best Restaurants in Accra
I hope this list of the best restaurants in Accra gives you a nice taste of what the city has to offer. As you can you hopefully now see, food in Accra features many fresh and local ingredients. In addition, the spices and flavor profiles are really something special. Accra is well known for its culinary diversity, and the above restaurants are just a tip of the iceberg.
One thing I will note is that most likely due to the economy some favorites such as Urban Grill and Coco Lounge have unfortunately closed their doors. However, you can see that there are still plenty of options to choose from for the best food in the city.
Whether you are a foodie looking for a gastronomic adventure, or a traveler looking to taste the local flavors, these different restaurants will leave you satisfied and happy as you experience new types of African food. Be sure to try out as many as you can and enjoy the best of Accra's cuisine. Happy eating!
Looking for More Travel Guides on Ghana?
Check out our Other African Travel Guides