The 17 Best Places to Visit in Accra | 2023
Accra is a vibrant city, and often the starting point of any trip to Ghana. And with a population of 2.6 million people, it is also the largest city in the country as well. Accra is a city that beautifully blends tradition and modernity, offering an array of sights that'll leave you awestruck.
From bustling markets bursting with color, historical landmarks standing tall against the test of time, to the tranquil beaches offering a serene escape — there's something for every kind of traveler. In this guide, you'll learn about the best places to visit in Accra so that you can make the most of your time in this city. I promise that if you visit, you will fall in love with the city and the welcoming locals just as much as I have.
Don't forget to pin this for later!
Accra Overview
History of Accra
The history of Accra stretches back centuries, tracing its roots to the Ga people who settled in the area around the 15th century. Over time, the town evolved into a significant trading center, mainly due to its strategic location along the Atlantic coast and its proximity to rich gold mines.
In the 19th century, the British declared it the capital of the Gold Coast Colony, marking a fundamental shift in the city's development. As a center of colonial administration, Accra witnessed rapid infrastructural growth and expansion.
Post-independence in 1957, Accra has continued to grow and is now a significant political, economic, and cultural hub in Ghana and, indeed, the entire West African region.
Accra Today
Accra is located the Greater Accra Region in the country, it is also the capital of Ghana. It is home to a diverse population that speaks English, as well as various local languages such as Ga, Twi, and Ewe. Accra's residents, known for their warm and welcoming nature, reflect the country's cultural richness and hospitality.
This lively metropolis is not only a bustling hub of activity but also a melting pot of cultures. Accra showcases a harmonious blend of traditions and modernity, where historical landmarks coexist with contemporary architecture. From the iconic Independence Square to the bustling Makola Market, Accra offers a tapestry of sights, sounds, and flavors that captivate visitors.
In addition to its vibrant markets and vibrant nightlife, Accra boasts stunning natural attractions. The city is blessed with beautiful beaches, including the popular Labadi Beach.
Accra, with its rich history, friendly locals, and diverse attractions, offers a glimpse into the heart and soul of Ghana. Whether you are exploring its historical landmarks or immersing yourself in the local culture, Accra is a captivating destination that should not be missed by any traveler to the region.
⭐️⭐️⭐️⭐️⭐️
This top-rated tour will take you to all the highlights within Accra. Over four hours, the tour will provide transportation in an comfortable car with AC. In addition, you will have a local guide that will provide history and background information at the following destinations:
National Museum
Black Star Square
W.E.B. Dubois Center
Makola Market
Gold Coast Restaurant (for Lunch)
The Best Places to Visit in Accra
1 | Independence Square
Independence Square, also known as Black Star Square, is one of the most significant landmarks in Accra, signifying Ghana's quest for autonomy and the country's historical journey towards independence. This vast public space, marked by an imposing arch, is where the country's Independence Day parade takes place every year on March 6th. The square is adorned with monuments and statues that pay homage to Ghana's freedom fighters, making it a symbolic focal point of national pride.
The central monument of Independence Square is the iconic Black Star Gate, built in the style of a triumphal arch and inscribed with the words "Freedom and Justice, AD 1957". Another striking feature is the Independence Arch, flanked by two statues of soldiers symbolizing the Ghanaians who lost their lives fighting for the country's freedom.
If you are in Accra, this is one place where you definitely need to stop for a photo opp!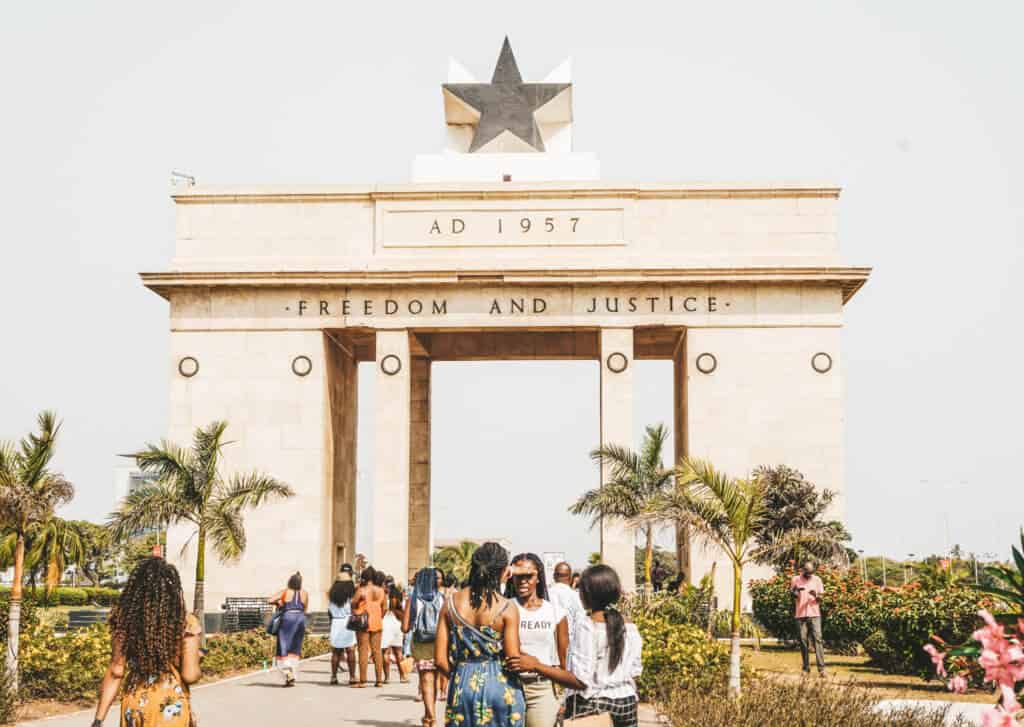 2 | Oxford Street
Oxford Street is the shopping and entertainment epicentre of Accra. This vibrant strip of shops, restaurants, bars and clubs is buzzing with life throughout the day and night. Visitors will find a wide array of products to suit every taste, from local Ghanaian artisanship to international designer brands.
On weekends Oxford Street transforms into a bustling street market packed with vendors selling everything from fruit and vegetables to electronics, accessories and souvenirs. I was personally surprised by how busy the street got later into the night.
Oxford Street also features an array of dining options ranging from global fast food chains to local eateries serving up delicious Ghanaian dishes. For an evening out, the strip is home to a wealth of bars, pubs and nightclubs that stay open late into the night.
3 | The Accra Art Museum
The Accra Art Museum is the oldest art museum in Ghana and houses an impressive collection of contemporary art from across the continent. Here you can explore the museum's galleries dedicated to African sculpture, painting, photography and mixed media.
The museum also hosts a variety of workshops and programs that bring together local artists, curators and scholars to discuss the latest trends in African arts.
The Accra Art Museum is an inspiring place for creative minds of all ages. From school field trips to private tours, the museum offers educational programmes designed to engage visitors with the wonders of art and culture from across Africa.
4 | Kwame Nkrumah Memorial Park
Kwame Nkrumah Memorial Park, situated in downtown Accra, is a significant landmark dedicated to Ghana's first Prime Minister and President, Kwame Nkrumah. The park, spanning over several acres, is home to the mausoleum that houses the remains of this influential leader. Given Nkrumah's importance to the country, it is a very popular tourist attraction.
The grandiosity of the marble mausoleum and its accompanying statue of Nkrumah reflect the respect and admiration the nation holds for his efforts towards achieving Ghana's independence.
A lesser known fact is that this park is meant to represent peace, as its design is meant to reflect that of an upside down sword. This is a symbol that means peace in the native Akan culture.
The park also features a museum, offering visitors a deep dive into Nkrumah's life and his pivotal role in Ghana's journey to freedom. The museum showcases personal items, photographs, and manuscripts, providing an intimate perspective on his personal and political life.
The tranquil surroundings of the park, complete with beautiful botanical gardens and fountains, make it a peaceful oasis in the midst of the bustling city, and a must-visit for anyone wishing to understand Ghana's rich history.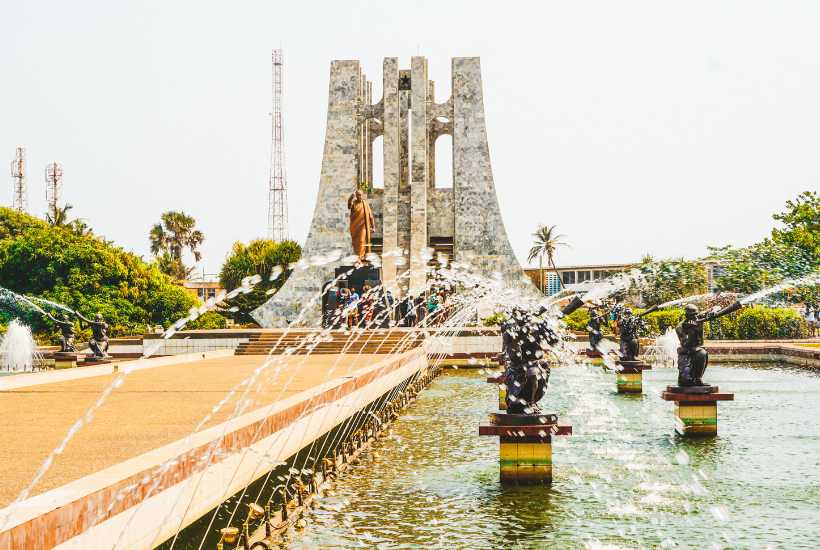 5 | Jamestown
Jamestown is one of the most historic neighborhoods in Accra, known for its vibrant cultural scene and rich colonial history. It's one of Accra's oldest districts, presenting a stark contrast to the modern cityscape with its colonial-era architecture and bustling fishing harbor.
For history enthusiasts, Jamestown offers a glimpse into Ghana's colonial past, where you can visit sites like the James Fort and Ussher Fort, both built during the 17th century.
The neighborhood is also famous for its lively cultural festivities, notably the annual Chale Wote Street Art Festival that attracts artists from all around the globe, transforming the streets of Jamestown into an open-air art exhibition.
Despite the challenges of urban poverty, the community in Jamestown exudes a vibrant spirit, visible in the brightly painted fishing boats at the port, the energetic boxing gyms, and the children playing football in the streets.
And off the shore by Jamestown, you'll encounter an active fishing town. I found the people there are friendly and very willing to share tidbits about their way of life with you.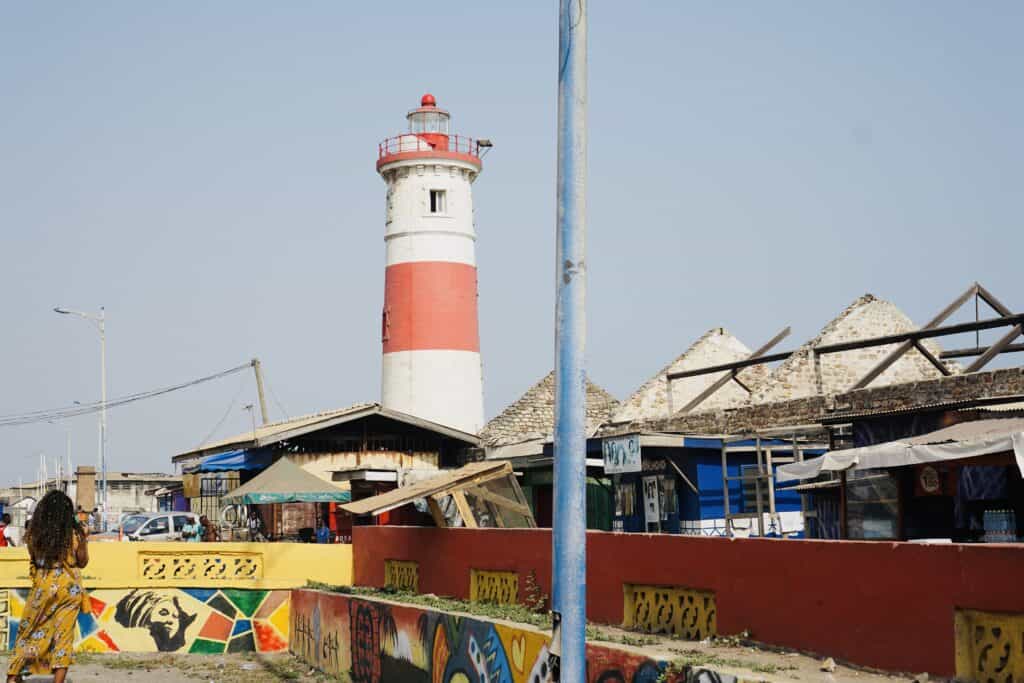 6 | Aburi Botanical Gardens
Aburi Botanical Gardens is a beautiful green space that provides a serene escape from Accra's bustling city center. Established in 1890, the garden spans over 64.8 hectares, showcasing a diverse range of tropical flora and providing a habitat for several bird species, making it a haven for nature lovers.
The garden's exquisite array of plants features rare tree species, beautiful orchids, and medicinal plants. Standout attractions include the Palm Avenue, lined with royal palm trees, and the Rock Garden, a sanctuary of peace and tranquility. The garden also provides breathtaking views of Accra and the sea from its elevated position on the Akuapem Hills, especially striking at sunset.
Aburi Botanical Gardens is not just a place to appreciate nature's beauty; it also serves as an educational center for ecological and horticultural learning.
7 | Osu
Osu, an energetic district in Accra, is renowned for its bustling nightlife, eclectic restaurants, and vibrant shopping scene. However, the crown jewel of Osu is undoubtedly Osu Castle, a historical monument that stands as a stark reminder of Ghana's colonial past. Constructed in the 17th century by Denmark-Norway, the castle has served as the governmental seat for many years, witnessing a rich tapestry of historical events.
The whitewashed castle, with its robust stone walls and heavy wooden doors, narrates a tale of power, conflict, and liberation. While it's not open all-year-round for the public, its exterior is still a sight to behold. Osu is a place of juxtaposition, where the echoes of history and the rhythms of modern urban life come together.
8 | National Museum of Ghana
The National Museum of Ghana is a great place to gain an appreciation for Ghanaian culture, history, and art. Housed in a beautiful colonial building dating back to 1957, the museum proudly displays indigenous artifacts from across the country including pottery, tools, masks, musical instruments, weapons and textiles.
At the museum you can also visit a replica of a traditional adobe dwelling with a grass-thatched roof. The museum provides a unique insight into the culture and history of Ghana and is an essential stop for those wanting to learn more about the country.
9 | Golden Jubilee House
The Golden Jubilee House, also known as the Presidential Palace, is one of Accra's most distinguished landmarks. This modern edifice sits on 160 acres of verdant lawns and meticulously manicured gardens in the heart of the city, serving as the seat of the nation's presidency.
Built to commemorate Ghana's 50th year of independence, the structure is a spectacular blend of futuristic design and traditional elements, marked by its iconic glass-domed roof and uniquely crafted eagle emblem.
The interior of the Golden Jubilee House is just as impressive as its exterior, housing an array of state-of-the-art facilities including an impressive banquet hall, a chapel, a mosque, and multiple lush gardens.
Visitors are often captivated by the grandeur and sophistication of the building, making it a must-see for anyone interested in Ghana's political history and architectural prowess. Although, access to the interior is restricted, onlookers can still admire the structure's awe-inspiring façade from the outside.
10 | W.E.B. Dubois Center
The W.E.B. Dubois Center, located in Accra, is a highly significant site dedicated to the esteemed Pan-Africanist and sociologist William Edward Burghardt Du Bois. Born in the United States, Du Bois spent the last two years of his life in Ghana and his home is now a museum and research center preserving his legacy.
The center comprises the original house, a guesthouse where Dr. Du Bois hosted luminaries such as Kwame Nkrumah, and an administrative building. I personally found this to be one of the most interesting sites that I visited in Ghana. I learned so much about the story of Du Bois that you don't hear much in the States.
On your visit you can explore a plethora of thought-provoking exhibitions on Du Bois's life and work, as well as broader African history. The center also houses his library and mausoleum, making it an essential destination for anyone seeking a deeper understanding of African history and the civil rights movement.
11 | Legon Botanical Gardens
Located in the city of Accra, the Legon Botanical Gardens are a lush, tropical oasis that provide a tranquil escape from the hustle and bustle of the city. Established in 1961 by Ghana's first president Kwame Nkrumah, the gardens were intended to be an ideal spot for leisure and recreation. Today, visitors can explore over 50 hectares of lush greenery and vibrant flora, including exotic plants, flowers, and trees.
The gardens are also home to a wide variety of birds as well as mammals such as antelope and warthogs. It's the perfect spot for an afternoon stroll or picnic, with many areas designated specifically for recreational activities like croquet.
And for those looking to learn more about the flora and fauna of the region, guided tours are available as well.
12 | Labadi Beach
Labadi Beach is one of Accra's most beautiful beaches. Located in the Labadi district, this beach offers stunning views of the Atlantic ocean and a great opportunity to take in some sun and sand. With its white-sand beaches, crystal clear waters, and relaxed atmosphere, it's no wonder Labadi Beach draws visitors from all over the world.
The beach has plenty of amenities to offer, including restaurants and beach bars for visitors looking to grab a bite to eat or enjoy an evening drink. There are also vendors selling items like souvenirs and other local crafts. For those who want some exercise, there's the option of renting a paddleboard or kayak.
Probably most popular is the Labadi Beach Hotel. This luxury resort has all the amenities you could want and a beach club. I spent New Year's Eve here recently, and honestly, it was THE best time I've ever had ringing in the new year.
13 | Accra Zoo
Accra Zoo, also known as The Accra Zoo and Gardens, is a sanctuary of wildlife nestled in the heart of Ghana's bustling capital. The zoo is home to a diverse range of animals native to Africa, offering visitors an opportunity to witness the continent's diverse wildlife up close.
From primates like monkeys and baboons to majestic predators such as lions and leopards, Accra Zoo houses an impressive assortment of species.
The zoo focuses on conservation and education, providing visitors with ample information about the animals and their natural habitats. It also holds several interactive sessions and live feeding shows, allowing visitors to learn about and engage with the animals in a controlled and safe environment.
Its commitment to animal care, conservation, and education makes Accra Zoo a must-visit for animal lovers and families alike.
14 | Sky Bar
Sky Bar, located in the heart of Accra, is a sophisticated and stylish restaurant and bar that offers breath-taking views of the vibrant cityscape. Known for its chic décor and unparalleled service, Sky Bar is the go-to place for locals and tourists seeking a luxurious night out.
The bar's extensive menu boasts a wide range of world-class cocktails and gourmet dishes, expertly crafted by seasoned professionals. The awe-inspiring panoramic view of the city, combined with the lively atmosphere, makes Sky Bar an essential stop for anyone wanting to experience Accra's lively nightlife.
15 | Accra Mall
Accra Mall, the city's premier shopping destination, offers a one-stop shopping and entertainment experience that's second to none. With an assortment of local and international brands to choose from, visitors can indulge in a shopping spree unlike any other.
The mall also houses a variety of restaurants, offering a gastronomic journey with cuisines from around the world. For entertainment, the mall features a state-of-the-art cinema, providing movie enthusiasts with a world-class viewing experience.
16 | Makola Market
Makola Market, a bustling marketplace in Accra, is the beating heart of the city's local commerce. Renowned for its vibrant atmosphere and seemingly endless array of goods, you can find everything from traditional textiles and jewelry to fresh produce and local spices.
The market is brimming with local vendors, each keen to share their wares, making it not only a shopping destination but also a cultural immersion into the everyday life of Accra.
The hum of bargains being struck, the colorful displays, and the diverse array of products make Makola Market an essential experience when exploring the dynamic city of Accra.
If you visit this market, be sure to bring your bargaining skills! It is definitely part of the fun.
17 | National Theatre
The National Theatre, located in the heart of Accra, stands as an architectural masterpiece and a hub for Ghana's vibrant performing arts scene. Since its inauguration in 1992, the theatre has been home to countless performances, showcasing the country's rich culture and artistic talent.
Its unique structure, reminiscent of a ship at full sail, makes it a remarkable landmark in Accra. Inside, the auditorium accommodates a large audience, equipped with state-of-the-art sound and lighting systems to enhance the theatre experience.
The National Theatre hosts a variety of events, from drama and ballet to musical concerts, featuring both local and international artists. It also houses three resident companies: the National Dance Company, the National Symphony Orchestra, and the National Theatre Players.
17 | Ghana National Mosque
The Ghana National Mosque is a stunning landmark located in the heart of Accra, and one of the most sacred sites in the city. Completed in 1988, it stands out with its prominent golden dome and two slender minarets standing tall against the skyline.
The interior features intricate decorations as well as Islamic calligraphy. It is also home to a large library dedicated to Islamic studies, offering a unique opportunity to learn about the culture and history of the local Islamic community.
The mosque also hosts various religious ceremonies, including the annual Eid prayers, and welcomes visitors from around the world.
19 | The Most Holy Trinity Cathedral
The Most Holy Trinity Cathedral is a stunning landmark in Accra and one of the oldest churches in Ghana. Located on the same square as the National Museum, it stands out with its unique neo-Gothic architecture and two spires that reach up to 75 meters high.
Inside, visitors can admire the stained glass windows and other ornate decorations that adorn the walls and ceiling. As one of the most iconic symbols of the city, the Most Holy Trinity Cathedral is a must-see for any visitor to Accra.
It also serves as an important center for religious activities in Ghana, attracting large crowds during major holidays such as Easter and Christmas.
The Best Day Trip from Accra
Cape Coast: While in Ghana, one of the best things to do is to travel from Accra to Cape Coast, where you can visit sites such as Ghana's slave castles (Cape Coast Castle and Elmina Castle) and Kakum National Park. The aformentioned castles are both a UNESCO World Heritage Site, and they provide a powerful experience to anyone who visits. While there, you will learn about the history of the slave trade from the other side of the world. I found these tours incredibly insightful, and the experience very moving overall.
Shai Hills Resource Reserve is also a great destination for nature lovers, as it offers up close views of various wildlife species and breathtaking scenery. The reserve is home to over 50 species of mammals, including monkeys, antelopes and warthogs. Birdwatchers can admire more than 200 species of migratory birds that frequent the park throughout the year.
In Summary | The Best Places to Visit in Accra
That concludes this post on the best places to visit in Accra. I hope you can now see that there are plenty of things to do in Accra, and that you will need time in the city to properly see all of the major sites here. From historical sites, to major monuments, to wonderful restaurants, Accra has plenty to offer to anyone who visits.
Planning Your Trip to Accra
Want more ideas for planning your trip to Accra? Check out the following posts:
More Posts on Ghana
More African Travel Guides