The 7 Best Boutique Hotels in Accra for the Perfect Stay

Are you looking for the best boutique hotels in Accra? Look no further – we have it all covered for you here!
Accra, Ghana's capital city, is a wonderful place to visit. However, what I personally found most challenging when planning my trip to Ghana was finding the right hotel.
Why is this you ask? Accra has only recently become a popular tourist destination, which has been driven by the "Year of Return" campaign that was front and center a year back. Because of this the tourist infrastructure is not as developed as you might see in other nearby countries, like Morocco.
This is where I can help! I spent many hours researching the best boutique hotels in Accra before traveling and staying there recently. An in addition to the list of hotels, I've also provided some tips on how to book with the best success and what do while you are visiting.
My Top 3 Picks: The Best Boutique Hotels in Accra
⭐️⭐️⭐️⭐️
✅ Beautiful Rooms
✅ Continental Breakfast
✅ Onsite Fitness Facilities
The Top 7 Boutique Hotels in Accra
RATING: ⭐️⭐️⭐️⭐️ | 📍 LOCATION: No. F856 / 1 Nii Saban Atsen Road, 13th Lane, Osu Ringway | ✅ Book it!
La Villa Boutique is one of the most popular and trendy hotels in Accra, and rightfully so! It is a perfect blend of modern and classic African design.
The hotel is located just a 6-minute drive from Kinbu Gardens, and is also close to Crescent Beach.
The rooms feature hardwood floors, and crisp and clean interiors – some even feature private balconies. The continental breakfast is included in the price. And for an additional fee you can have a massage onsite and can also plan for airport shuttle service.
There is an onsite restaurant that comes highly rated from the guests who have stayed here. You will find onsite fitness facilities as well here.
"A lovely, cozy and well located hotel … seemed an oasis within the bustle of central Accra. The attentive and welcoming staff made our stay more than comfortable, with thoughtfully appointed and cared for rooms, an on-site restaurant offering delicious food, and staff that truly looked after us. Highly recommended."

Elena (Read more reviews)
RATING: ⭐️⭐️⭐️⭐️ | 📍 LOCATION: 21 Mankata Ave., Airport Residential Area | ✅ Book it!
Billed as "Ghana's Leading Boutique Hotel", this 16-room boutique hotel prides itself on offering a luxury experience to guests.
The rooms are decorated with a modern feel. What is cool about this is that they have taken inspiration from and you'll find rooms that are decorated for different cities across Africa, such as Marrakech, Cape Town, Elmina, and even locales around the world, like Manhattan and Cape Town. No two rooms are the same, which makes this hotel quite unique.
Additional amenities that you can expect here include their onsite restaurant – The Brasserie, which offers a variety of international dishes, and their luxury service "The Koncierge". The latter is provided to help you book experiences around Ghana, Spa trips, Valet laundry and more.
With several onsite conference spaces, this is an excellent option for business travellers.
You will also have access to their free airport shuttle, 24-hour reception, and a free car park.
"The staff…the staff …the staff…I cant over emphasize how much the staff made our stay very memorable. They were helpful, they assisted with every single request with a smile. they were polite, they went out of their way to make us comfortable."

Yeside (Read more reviews)
RATING: ⭐️⭐️⭐️⭐️|📍 LOCATION: Cotton Ave 9, Kokomlemle | ✅ Book it!
This small boutique hotel has a focus on sustainability and being friendly to the environment, and is a great choice for those who prioritize these features. The style of the rooms is distinctly Ghanaian, and the property is well maintained.
This property hopes to provide more than just a place for you to stay – they also encourage connections between locals and travelers so that they can learn from each other. They do this by coordinating onsite events.
Each room has a private terrace or balcony, and the rooms are decorated in a uniquely rustic design. This hotel features air-conditioned rooms as well. Also, there is an onsite restaurant that provides a continental or vegetarian breakfast.
Additionally, this is the perfect hotel for those of you looking for an affordable stay option.
"Breakfast was a delight. The rooms are quite aesthetically beautiful. With a well functioning air-con. The rooms were also good at keeping any noise out. Staff were wonderful. Wifi was good."

Pelonomi (Read more reviews)
RATING: ⭐️ ⭐️ ⭐️ ⭐️ | LOCATION: 83 Akosombo Street, Airport Residential Area | ✅ Book it!
This beautiful hotel in Accra is a luxury boutique hotel that is the largest of those on this list with 28 rooms. The rooms are designed in a modern and colorful design, and is noted for being kept up immaculately.
There are three types of rooms on this property: Standard, Deluxe, and the Executive Suites. All rooms come complete with continental breakfast, daily housekeeping, and a kitchenette.
Onsite amenities include airport shuttle service, an ironing service, a safe deposit box, and car park. It is just a 10 minute drive to the airport and a 20 minute drive to the central business district.
There is a 24-hour front desk as well as an in-house concierge. Both are available to help out with any needs that might arise during your stay.
"The hospitality . Beatrice and the rest of the stuff were great through out my stay."

John-Paul (Read more reviews)
RATING: ⭐️⭐️⭐️⭐️ |📍 LOCATION: Dadebu Rd. No. F333/4 Osu, Osu, 10000| ✅ Book it!
This 10-room boutique hotel is located in the Osu District in Accra – one of the best areas to stay in the city. The hotel is located on a lovely property that features beautiful landscaping and plenty of flowers.
This hotel is noted in particular for its very helpful and friendly staff and superb location, which is in the very heart of Accra. The popular Oxford Street is just a few minutes away as well.
Onsite, you can expect amenities such as WiFi, rooms with a pool or garden view, and laundry room.
"The staff extremely accommodating and assisting. Clean and very comfortable. Breakfast was awesome."

Sarel (Read more reviews)
RATING: ⭐️⭐️⭐️⭐️ |📍 LOCATION: Dadebu Rd. No. F333/4 Osu, Osu, 10000| ✅ Book it!
This hotel, located conveniently in the Airport Residential District, has a distinct "home" feel to it. The rooms are decorated in a cozy style, which will make you feel like a guest in a family member's home (at least one that you like).
Despite the smaller size of the hotel, you can expect amenities such as an outdoor swimming pool, onsite minigolf, a garden, onsite care rental, free parking, and a playground.
In terms of eating well, you can get continental breakfast onsite, room service, and an onsite restaurant.
"I usually never write reviews but I really wanted to for the Winford. I was visiting Ghana for work and Joseph, Catherine (hope I spell your name right!) and the rest of the staff went out of their way to make me feel at home. And I did! Looking forward to staying with you guys again next time I visit Ghana. Highly recommend staying here."

Dorine (Read more reviews)
RATING: ⭐️⭐️⭐️⭐️ |📍 LOCATION: 7 Jasmine Street, Accra, Ghana | ✅ Book it!
This 5-star boutique hotel is located just a 30-minute drive from the Kotoka International Airport. It is also just walking distance away from tourist sites such as Legon Botanical Gardens and the St. Thomas Aquinas Catholic Church.
This hotel features unique amenities, such as an onsite barber shop. In addition, there is entertainment for children, and on onsite French and African restaurant – the Yellow Door Restaurant.
There is a 24-Hour reception, as well as an outdoor pool, and hot tub. In addition, you can purchase the daily buffet breakfast for a fee.
"This is an exceptional hotel. The area is quiet and the hotel feels brand new. Areas, rooms and facilities are absolutely spotless. The bed was very soft with luxury linens. Refreshing rainfall shower in the bathrooms. The dining experience is scary good. I complimented the chef at every meal. Sunday brunch was amazing too. Gym was small but well equipped with modern high quality new equipment. The staff are amazing. Judith was especially helpful on several occasions taking care of requests for housekeeping. Check in was professional and efficient. Great hotel. Small boutique 5 star experience. I will definitely go back and would recommend to anyone traveling to Accra."

Coleman (Read more reviews)
The Best Tips for Booking a Hotel in Accra
There a few things you should certainly keep in mind as you prepare to book your Accra hotel:
BOOK EARLY!: To ensure availability, it is advisable to book your hotel in Accra at least 2 to three months in advance, especially during the peak tourism season between November and March. However, for those traveling during off-peak times, a 2 to 3 weeks advance booking should suffice. Always consider the city's event calendar, as large events can significantly impact hotel availability and prices. I cannot state this enough – me and my group could have had a better experience in finding a place to stay if we had booked early.
Consider Your Needs: Different hotels cater to different needs. Some travelers prioritize luxury and comfort, others location, and some the cost. Identify your needs and choose a hotel that aligns with them. You might also want to consider the hotel's proximity to the places you plan to visit during your stay in Accra.
Check Reviews: The best way to get a feel for a hotel's quality is through reviews from previous guests. Platforms like TripAdvisor and Booking.com offer comprehensive reviews on almost every hotel in Accra. Pay attention to comments about cleanliness, service quality, and value for money.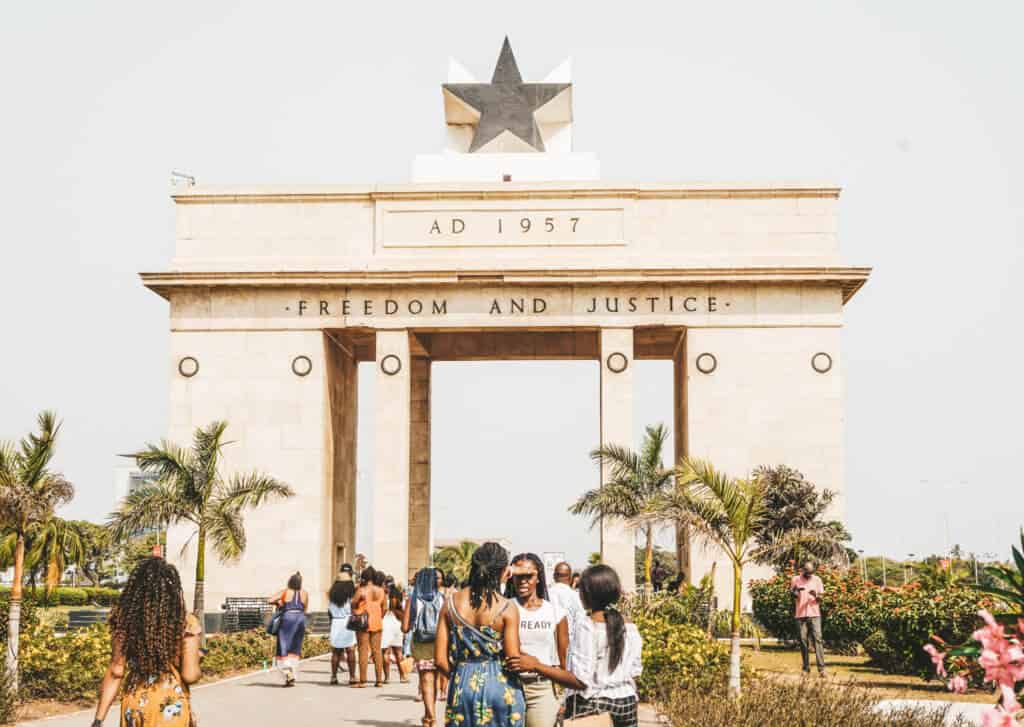 The Best Things to Do in Accra
While you are in Accra, there are several tourist destinations in the city that you simply cannot miss! Below are a few of the main sites:
Independence Arch: The Independence Arch in Accra is a significant monument representing Ghana's liberation from colonial rule. It's part of the Independence Square, a site for national ceremonies, with the Eternal Flame of African Liberation nearby.
National Museum of Ghana: Offering an extensive insight into Ghana's history, the National Museum houses artifacts from prehistoric times to modern day. It showcases ethnographic objects, fine arts, archaeology, and a collection of Ghanaian currency.
St. Thomas Aquinas Catholic Church: Named after the influential philosopher, Thomas Aquinas, this vibrant Catholic church prides itself on its inclusive community and active parish life. Located in the heart of Accra, it offers a serene space for reflection amidst city life.
Legon Botanical Gardens: A paradise for nature lovers, the Legon Botanical Gardens boast beautiful plant species and an adventure playground for children. Located on the outskirts of Accra, it's a tranquil retreat offering canoe rides and bird watching opportunities.
W.E.B. Dubois Centre: This centre is dedicated to the life and works of W.E.B. Dubois, a prominent African-American sociologist and Pan-African advocate. The complex houses Dubois's personal library, a museum dedicated to his life, and a research center for Pan-African history.
Kwame Nkrumah Mausoleum: The final resting place of Ghana's first president, Kwame Nkrumah, this mausoleum is an essential part of Ghana's political history. The site also includes a museum showcasing Nkrumah's personal effects and photos of significant moments in his life.
Panafrican Culture History Museum: This museum is a treasure trove of Pan-African history, highlighting the shared experiences and cultures of African diaspora. It offers a unique collection of arts, crafts, and historical documents.
Accra Mall: The Accra Mall is a premier shopping destination offering an array of international and local brands. With its modern architecture and vast range of dining options, it's become a buzzing social hotspot in Accra.
Memory Lane Art Park: Nestled in the heart of Accra, the Memory Lane Art Park features works from local artists and provides an idyllic space for relaxation. The park is also home to a restaurant serving traditional Ghanaian cuisine.
Accra Sports Stadium: An architectural marvel in Accra, the stadium is a hub for sports, particularly football, the country's most beloved sport. With a capacity of 40,000, it frequently hosts matches of the Ghanaian national team and major local clubs.
FAQs About Hotels in Accra
What are the best areas to stay in Accra?
The best areas to stay in Accra include the centrally located and vibrant neighborhood of Osu, known for its vast array of dining options and nightlife. Alternatively, Labone and Airport Residential Area offer an upscale living experience with close proximity to shopping centres and recreational facilities. For a more tranquil environment, travelers can consider East Legon, a serene residential area dotted with restaurants, boutiques, and plush accommodations.
How much is it to stay in a hotel in Ghana?
Hotel prices in Ghana vary greatly based on location, amenities, and the level of luxury offered. Budget accommodations can start as low as $20 USD per night, while mid-range hotels often range from $60 to $120 USD per night. Luxury hotels and resorts in prime locations can cost upwards of $200 USD per night.
How early should you book your hotel in Accra?
To ensure availability, it is advisable to book your hotel in Accra at least 4 to 6 weeks in advance, especially during the peak tourism season between November and March. However, for those traveling during off-peak times, a 2 to 3 weeks advance booking should suffice. Always consider the city's event calendar, as large events can significantly impact hotel availability and prices.
OSU Hotel recommendation
Stay in style in this luxurious and wonderfully decorated hotel in the trendy Osu District of Accra. Get access to amenities such as an onsite fitness center, continental breakfast, and an onsite pool.
Final Thoughts: The Top Boutique Hotels in Accra
I hope that you found this list of the top boutique hotels in Accra informative!
If you are like me and are interested in the culture of a city, I do think that staying in a boutique hotel gives you an excellent chance to have that culture embedded in the whole of your stay. The hotels on this provide just that – a chance to get to know the people of Ghana better while you are there.
If you are looking for more content to plan your trip to Ghana, check out my 1 Week Ghana Itinerary and the Top Restaurants in Accra!
Looking for More Posts on Ghana?
Read More Posts on Ghana:
Don't forget to pin this for later!