Tortuga Setout Laptop Backpack Review [The BEST carry-on bag]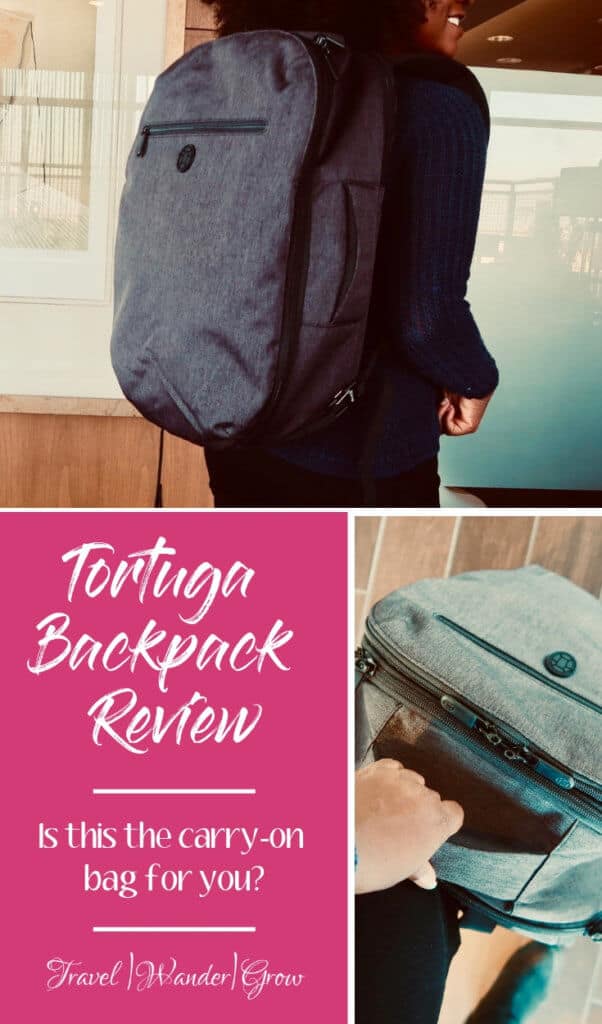 We all know that finding the perfect personal item carry-on bag can be tough. Especially if you are traveling for an extended amount of time and with a laptop. I personally used to never take my laptop with me, but since I started blogging – that's a whole different story!
I struggled with carrying a side strap bag on my two-week trip to Colombia and Peru back in September, and vowed never to do that again. So for my most recent trip, I tried out the new Tortuga Setout Laptop Backpack.
In this post I'll provide a Tortuga Setout Laptop backpack review for this laptop bag, one of the newest in their collection. I'll cover the pros / cons of using this bag. I'll also provide general context on the bag itself to inform your purchase decision.
Overview
The Tortuga company offers a variety of backpacks for the traveler that "wants to live on their own terms". I just love that motto! They want to see a future where workers are "location independent". They live up to that model, as their team members live all over the globe. All of Tortuga's products are sold exclusively online.
All of their backpacks are built with the intent that you can use them without checking a bag. As I've mentioned in a few other posts like my Packing Tips for Iceland, I love packing light, so really appreciate anything that helps me do that better.
The Setout Laptop bag is one of the newest members of their backpack collection, and is the smallest of the bunch. As the name suggests, it's meant for lugging around your laptop and also for overnight or weekend trips.
Get Your Tortuga Setout Laptop Bag NOW!
Dimensions:
18.5" x 12" x 6.75"
25L
2.8 lbs
Laptop: up to 15"
Tablet: up to 9.7"
RELATED: Away Luggage Review [The Bigger Carry-On]
Tortuga Travel Backpack | Loves
Let's start with the features that I love about this bag:
Clothing Compartment: This compartment is actually quite spacious. I love how the zippers open, so you that you don't have to fumble around to find things as you do in many traditional backpacks.
Organization Panels and Pockets: There are pockets and panels everywhere! You can fit both a laptop and a tablet in the bag, perhaps even two laptops on the smaller side. The great thing about having all these separate compartments is you'll know exactly where everything is. This is especially helpful if you're using the bag during a flight. If you're not careful, it would be easy to fill this up with so much stuff it would weigh a ton lol.
Interior Mesh Pockets: This ties in with the feature above, but the mesh pockets are great for holding all of your cords. I don't know about you, but tangled cords is one of my top pet peeves when traveling. So anything that helps me avoid that is welcome.
Top and Side Grip Handles: Most backpacks do come with a top handle, but the side grip handle is really clutch too.
As the dimensions of this bag are more like a suitcase than a typical backpack, it is a little more difficult to handle it. So if you do end up putting it in the overhead, this handle with definitely help you lift it with ease. (A great help for shorties like me).
Zip Flat Water Bottle Pocket: This side pocket is great for holding a water bottle OR cell phone(s). I used it to carry my personal and work cell phones. This made it easy to access both for boarding passes and such.
Look / Feel: I'll be honest, I've shied away from backpacks since I started college over 12 years ago. I'm pretty short (4'9″), and have been hesitant to use them to avoid looking younger. I like that this bag has a polished look to it, instead of looking like a school bag :).
Tortuga Travel Backpack | Dislikes
Ease of Access to Contents: Like any backpack, accessing your stuff is more difficult in a backpack vs. a side strap bag. But the benefit of not having to bear all that weight on one shoulder definitely makes up for it. Also, you can leverage the Luggage Handle Pass Through to sit it atop your suitcase, tf traveling with another roller bag. This actually puts this one at the same level as any other bag.
Size: I also typically have this issue with any bag I'm putting on my body. I'm just short guys, so backpacks are always a little bigger on me than the typical user. I can work through it though, just want to inform any others in my situation!
My Experience
As I believe is proper with any review, I made sure to use this bag thoroughly before writing my review. I took a two-week business trip that took me from DC to Dallas to San Francisco and back. So you can be certain that it got some good use during that time.
Unboxing
The bag came nicely packaged in a large ziploc-style bag that features the company's motto "On Your Own Terms". I plan to use this bag for safekeeping of the backpack when I'm not traveling.
Performance
To meet my standards, my key measures for good performance were Portability and Capacity:
Portability – This bag was definitely easier to carry around than my normal side strap bag with my laptop. Additionally, I did not get any back pain while using this bag. Both were major concerns for me, so I was happy to see them be non-issues. This bag did fit under the seat for two flights, but it did not fit in my last one due to the power box under there. This is just something to note – there may be instances where you can't fit this under your seat.
Capacity – This bag far exceeded my expectations for capacity. While the site states that the clothing compartment can fit clothes for 1-2 days, I actually fit about 4 days worth of clothes in here! This bag is more than perfect for a long weekend trip, perhaps more if you are a smart packer.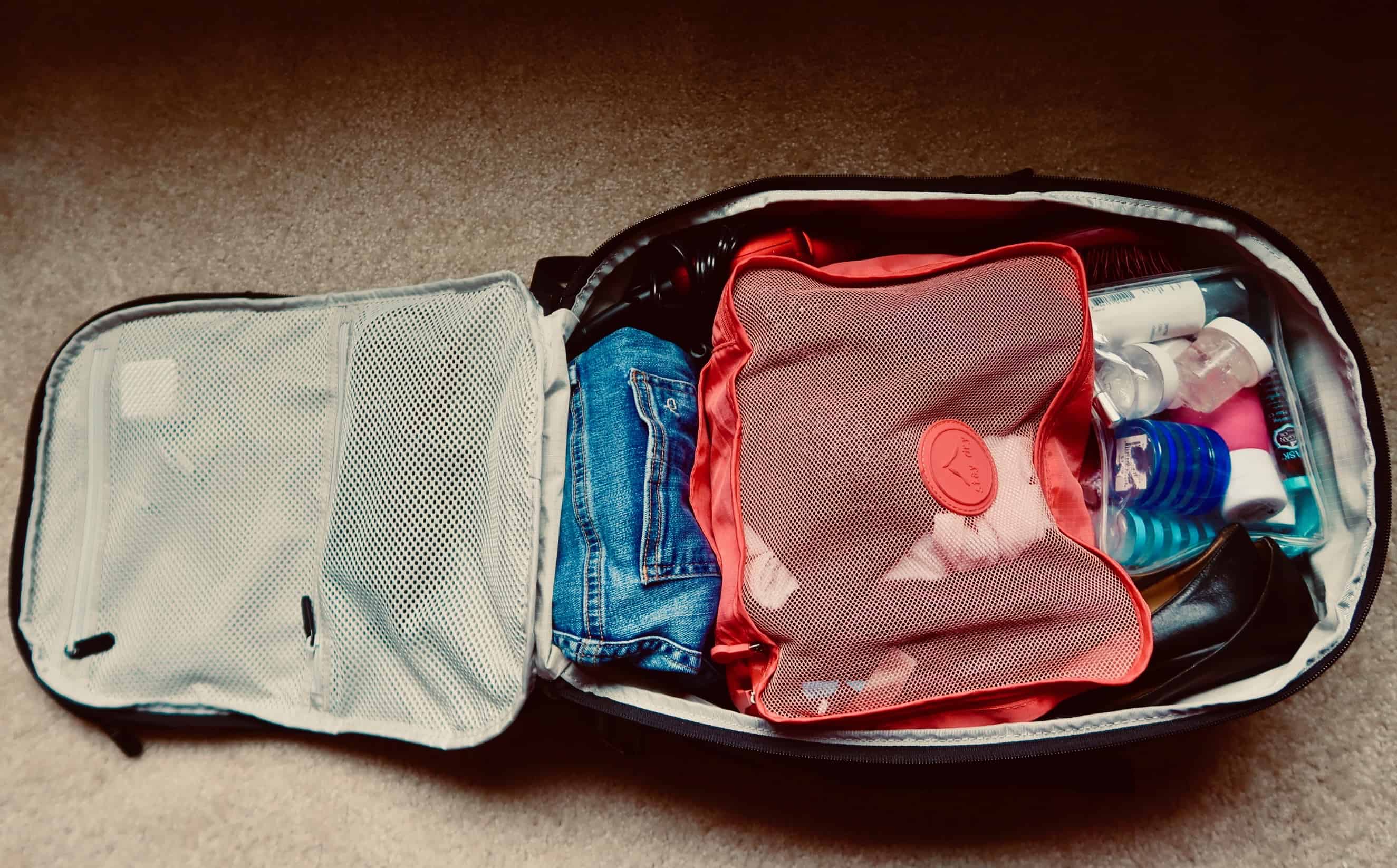 RELATED: Best International Travel Accessories
For a demo of the Tortuga Travel Backpack, see the video below:
Summary | Tortuga Travel Backpack Review
In summary, the Tortuga Setout Laptop Backpack is an excellent choice for a carry-on bag because of the following features:
Capacity of Clothing Compartment
Plethora of Organization Panels and Pockets
Great Portability
Overall Look / Feel
I definitely recommend this bag to anyone looking to buying a new carry-on. I plan to use it frequently in upcoming trips, myself. If you are interested in purchasing this bag, please head over to the Tortuga site to check it out!
Get Your Tortuga Travel Backpack Now!
And that wraps my Tortuga backpack review. Let me know in the comments below – What do you think of this bag?
Related Posts:
#travelwandergrow
Note: I did receive this bag for review, but all thoughts and opinions are my own.
---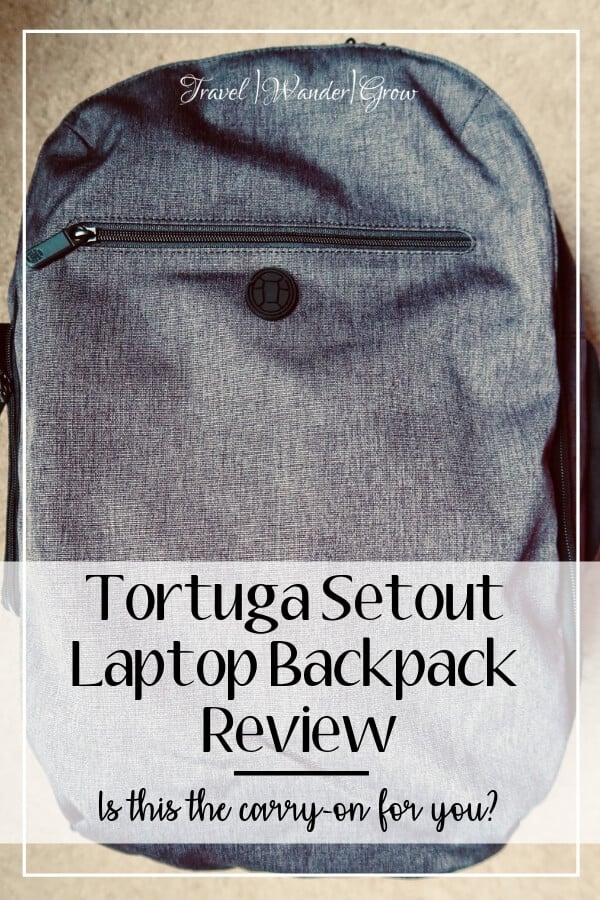 ---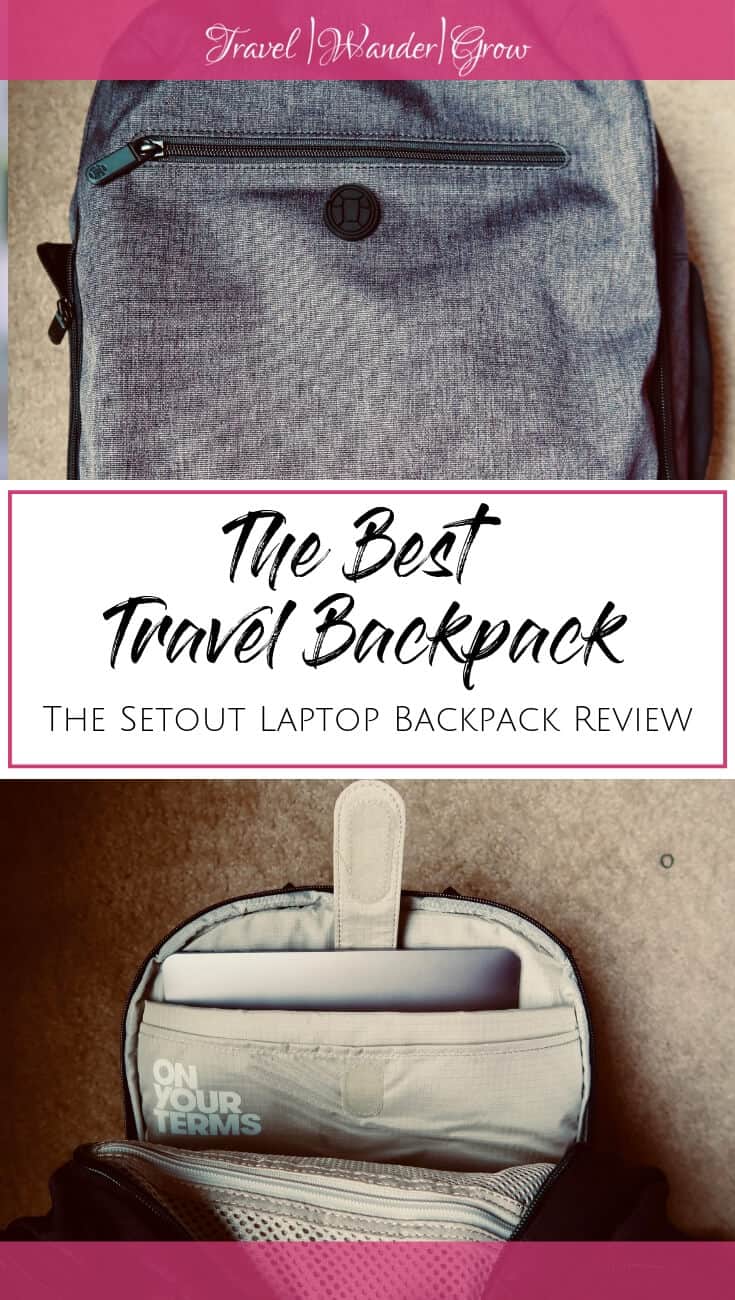 Summary
Reviewer
Review Date
Reviewed Item
Tortuga Setout Laptop Backpack
Author Rating