Away Luggage Review | The Bigger Carry-On
One of the most recent luggage crazes in the US has been Away luggage. After seeing several ads for this luggage pop up in my various social media themes, and doing a bit of research, I decided to take the plunge and buy one for myself.
When making an investment in mid-priced luggage, I think it's best to be as informed as possible before making the purchase. This post will feature my honest away luggage review, and will specifically focus on the Bigger Carry-On.
Overview
Away Luggage Company
Away has is a relatively new company that designs minimalistic luggage pieces. They have a tagline that I love: "everything you need away–and nothing you don't." The luggage pieces are very simple, yet sleek. They offer come in different colors, but stay true to the mantra that less is more. You can get luggage in several sizes:
The Carry-On – Meant for the smallest carry-on size restrictions
The Bigger Carry-On** – Works as a carry-on on most planes, but you many have trouble on low-cost carriers
The Medium – Think of your standard check-in size luggage
The Large – Really big luggage, honestly more than you'd ever need
If you are interested in purchasing Away Luggage, click here!
**I went with the Bigger Carry-On, as I found it to be the most versatile in terms of capacity / size.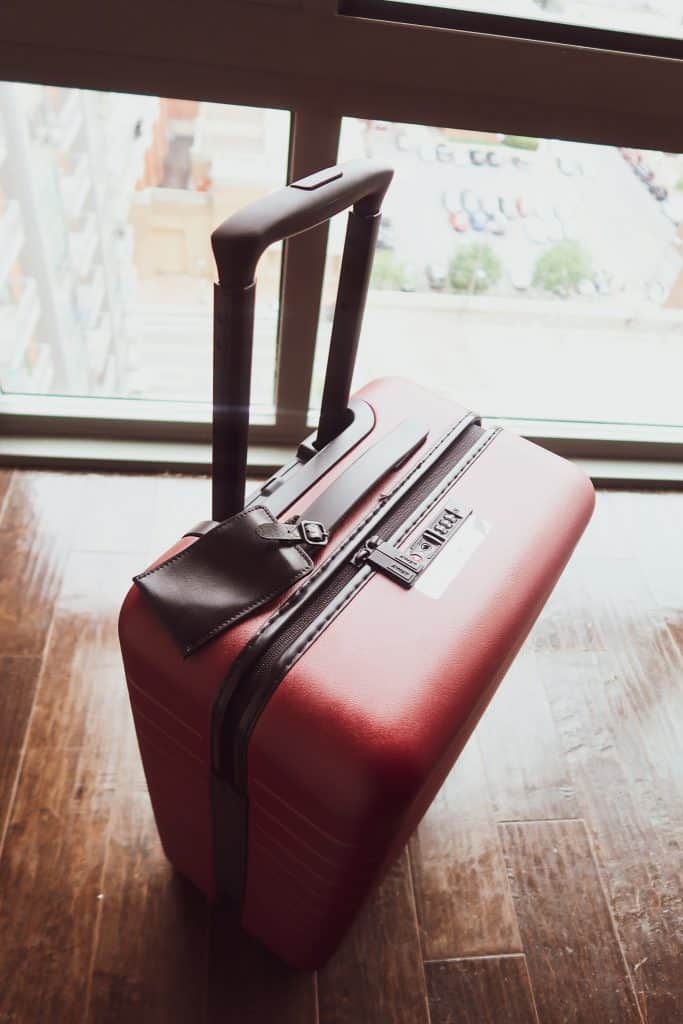 In addition to suitcases, Away also offers several other travel items, such as the following:
The Everywhere Bag – A great accompaniment to the roller suitcase as a personal item
The Signature Garment Bag – Self-explanatory 🙂
The Insider Packing Cubes – Packing Cubes built specifically to fit the dimensions of the Away luggage
Now that you are familiar with what Away has to offer, let's jump right into the review!
RELATED: Tortuga Travel Backpack Review
Bigger Carry-On | Size, Dimensions, and Colors
As I mentioned above this is the larger of the two carry-on sized bags offered by Away. Here are the dimensions:
Exterior: 22.7" x 14.7" x 9.6"
Interior: 21" x 14.5"
Weight: 7.8 lbs
Capacity: 47.9L
This bag fits restrictions for all US Carriers, but may have to be checked at the gate on those smaller planes. If you want a bag to use on low cost carriers in Europe, such as Ryan Air and EasyJet, you should look into "The Carry-On" instead.
Colors:
You can get this bag in 10 different colors! There are a few seasonal colors, but right now the following colors are available:
Black
Navy
Green
Sand (Beige)
Brick Red (The color I have – shown throughout this post)
White
Asphalt (Gray)
Blush (Pink)
Sky (Baby Blue)
Violet
The Review
The Away Bigger Carry-On | Loves
So I'll start with the features that I absolutely LOVE about my Away luggage:
Look/Feel– This bag is very stylish, yet simple. It's hard to find a bag that looks better, in my opinion. I really love the brick-red color, which also makes it easy to identify at the baggage claim.
Charging Port – Both of the carry-on sizes come with a charging port with an electable battery. This is an absolute lifesaver if you are traveling for long periods of time and can't readily access a plug. The battery that comes with the suitcase can charge your phone 3 times over once fulled charged, which is really great for peace of mind. Additionally, the charger comes with international outlets, so you won't have to use your converter to charge it!
Compression System– The interior of the suitcase comes with a compression shelf that can be used to help you fit more into it! It is only on one side, but the opposite side comes with a mesh cover that leaves almost no room for stretching. This helps keeps all your harder items (e.g., blow dryers / shoes) in one place and away from your clothes. Also, this suitcase does not allow for expansion – another great way to keep your stuff neatly packed and compressed.
360º Hinomoto Wheels – The wheels on this suitcase move super smoothly. You can spin this bag in a circle with no problem, which makes it easy to navigate as you travel through the airport of walk through city streets.
Built in TSA-Approved Lock – I typically don't use the locks while traveling, but find them useful when storing luggage in an open area. For example, the hotel reception or inside an Airbnb after checkout.
100-Day Trial + Lifetime Warranty – All Away luggage comes with a 100-day trial. This means you can return the bag after 100-days, no questions asked, and get your money back. Away also provides a lifetime warranty (!), which means they will fix or replace any damaged bag – forever!
If you are interested in purchasing Away Luggage, click here!
The Away Bigger Carry-On | Dislikes
Weight – This bag is a bit heavier than I expected, but that is only due to the fact that it has the charging station. You do have the option to get the carry-on without this option. Removing the charging station will make the suitcase lighter and give you a bit more packing space. It's really up to you to decide what makes the most sense for you.
Scuffability – As this suitcase is made of polycarbonate which makes it very durable, like most hard body suitcases. My only complaint is that it is prone to scuff, and it's most likely to get marked up if you check it. If you want to minimize the visibility of these scuffs and scratches, go with one of the darker colors. I chose brick-red, so can't get around this! haha
RELATED: The Best Purse for International Travel
The Away Bigger Carry-On | My Experience
I wanted to wait until I used this bag on a couple of trips before I wrote a proper review. Since buying this bag back in June, I have traveled for about 2 weeks in Europe and also for 4 days in Louisville, KY for work. During my trip to Europe I traveled in five different planes as well as a train, so it got a good workout.
Unboxing:
The suitcase came nicely packaged in a large box, and within a canvas bag. The company recommends that you keep your suitcase within the bag while it's stored away.
I will also note that the bag shipped pretty quickly. I chose standard shipping and received it in less than a week.
RELATED: Essentials and Tips for Long-Haul Flights
Performance:
The performance categories that I find most important are mobility and capacity, but I've also listed a "bonus" category below:
Mobility – This suitcase performed very well on the cobblestone streets you often find in Southern Europe, with no damage to the wheels.
Capacity – As you'll note, I did fit everything + a few extras into this bag for 2 weeks of travel. For this reason, I'm very impressed with its ability to handle capacity. I'm a firm believer in packing light (as mentioned in this post), so this checks a big box for me! One surprise feature is that the laundry bag included with the suitcase also acts like a compression bag. It's really great for stuffing full of dirty clothes and keeping its size/shape.
Bonus Features – I find that I use the charging port often. This really beats trying to jockey for a spot at a charging station located in the airport, for example. I did keep forgetting that the battery should be removed when checking luggage, so I'm pretty lucky that I still have mine!
Away Bigger Carry-On Video Demo
For a closer look at the Bigger Carry-On in action, check out this video:
Final Takeaway | Away Luggage Review
To close out my away luggage review, I'll conclude by saying I love my away suitcase! It is by far the best suitcase that I have bought before. And on top of the benefits I've listed above, I just really love the look and feel of the AWAY Bigger Carry-On.
If you are interested in purchasing Away Luggage, click here!
Do you have Away luggage or are you considering buying a suitcase from Away? Let me know in the comments below!
Related Posts:
#travelwandergrow
---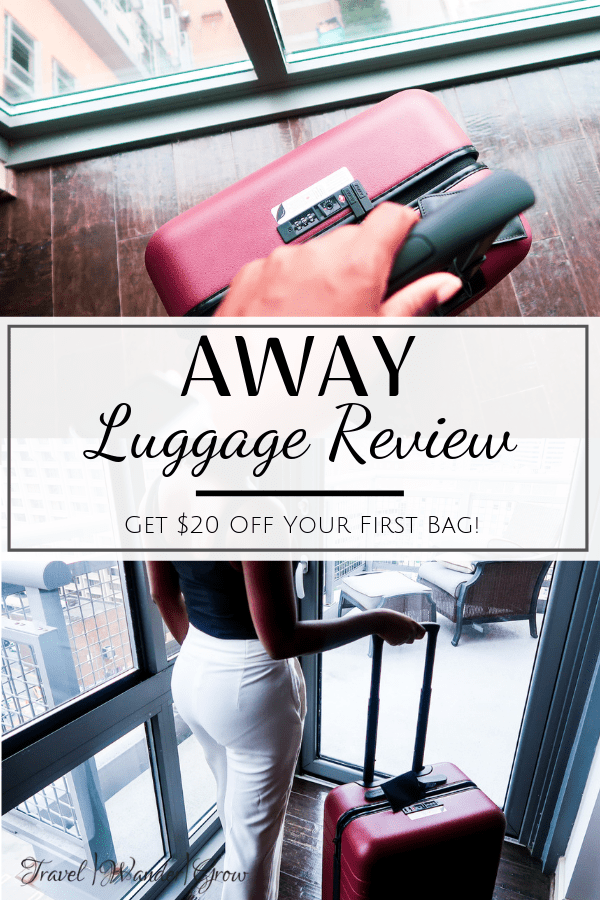 Summary
Reviewer
Review Date
Reviewed Item
Author Rating