Away Luggage Review 2023 | The Bigger Carry-On

When it comes to traveling, finding the ideal suitcase is a game-changer. When you travel, it is important to find suitcases that strike the right balance between functionality, durability, and style. One bag that hits the right notes on this is the Away Luggage Bigger Carry On—a marvel of design and innovation that has taken the travel industry by storm. Seriously, you can't visit any major airport across the globe without seeing travelers who have this back in tow. In this blog post, I will provide an extensive Away Luggage Review, specifically for the Bigger Carry-On. This post will focus on the suitcase's impressive features, practicality, and how it effortlessly adapts to the needs of modern globetrotters. I have been a very happy Away bag owner for many years, and this post will provide my honest perspectives on it. three Away bags at home, so I will be providing my personal experience on this as well.
Luggage recommendation
⭐️⭐️⭐️⭐️⭐️
The most versatile and hard-working piece of luggage out there! This amazing piece of luggage comes with the following features:
TSA-Approved Lock System
Interior Compression System
Telescopic Handle
360º Spinning Wheels
Durable Hardshell Case
100 Day Trail + Limited Lifetime Warranty
Away Luggage Overview
Away Luggage Company Background
Founded in 2015 by Steph Korey and Jen Rubio, Away Travel swiftly emerged as a disruptive force in the travel industry. The New York City-based company has become synonymous with sleek design, exceptional functionality, and a customer-centric approach. Away's mission is to transform the way people travel by offering a range of thoughtfully crafted luggage options that combine style and durability.
From their signature hardshell suitcases to versatile carry-ons and travel accessories, Away has garnered a loyal following of globetrotters who appreciate their commitment to quality and attention to detail. They have a tagline that I love: "everything you need away–and nothing you don't."
Away Luggage Suitcase Details
The luggage pieces are very simple, yet sleek. They offer come in different colors, but stay true to the mantra that less is more. Each piece is crafted with meticulous attention to detail, reflecting the brand's commitment to quality and aesthetic appeal. Away suitcases feature a distinctive hardshell exterior, made with either a hard case polycarbonate shell or with sturdy aluminum. Practicality takes center stage with features like 360-degree spinner wheels that glide effortlessly, making maneuvering through busy airports a breeze. The telescopic handle is sturdy and adjustable, offering comfortable handling for travelers of all heights.
The interior compartment is cleverly designed, featuring built-in compression systems, a mesh pocket, and a laundry bag, allowing for efficient packing and easy organization. Most of the suitcases feature a built-in battery for easy charging on long trips. In addition, the suitcases feature a clamshell design, meaning that the space on each side is equal. This feature also makes it easier to pack and organize your belongings.
Their luggage comes in several different sizes:
The Daily Carry-On w/ Pocket – Best for those who travel for work on short 2-3 day trips
The Carry-On – This carry-on suitcase is meant for the smallest carry-on size restrictions
The Bigger Carry-On – Works as a carry-on on most planes, but you many have trouble on low-cost carriers
The Medium – Think of your standard check-in size luggage
The Large – Really big luggage, honestly more than you'd ever need
There are some additional variations to the options above now as well, including a Carry-On that comes with a pocket, and "flex" which allows you to extend the space in the body of the suitcase.
I first purchased The "Bigger Carry-On" in Brick Red, as I found it most versatile in terms of capacity and size. This is because I personally prefer to only travel with carry-on luggage, whether I'm taking a three day trip or a three week trip on a long haul flight. However, I now also own both the Daily Carry-On and The Away Carry-On as well. All three of these options will fit in most overhead bin sizes.
If you are interested in purchasing Away Luggage, click here!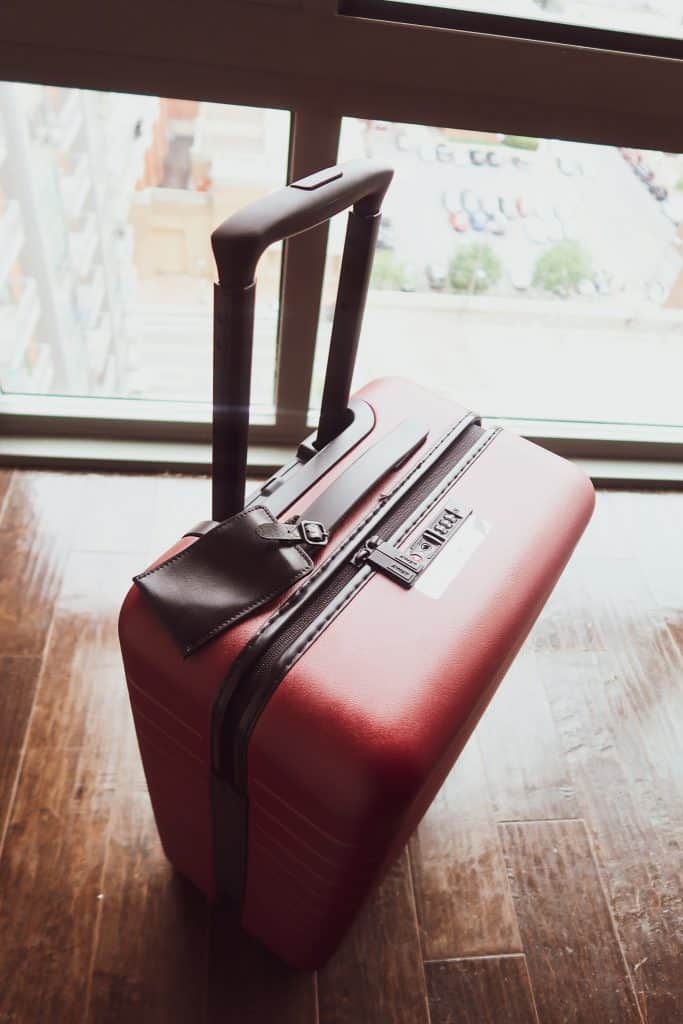 In addition to suitcases, Away also offers several other travel items, such as the following:
The Everywhere Bag – A great accompaniment to the roller suitcase as a personal item
The Signature Garment Bag – Self-explanatory 🙂
F.A.R Convertible Backpack – A more recent addition to their repertoire, this is a backpacker's backpack.
The Insider Packing Cubes – Packing Cubes built specifically to fit the dimensions of the Away luggage. I personally never go anywhere without mine.
Toiletry Bags and Tech Cases – Perfect for packing all your international travel accessories and more
Now that you are familiar with what Away has to offer, let's jump right into the review!
RELATED: Tortuga Travel Backpack Review
Bigger Carry-On | Size, Dimensions, and Colors
As I mentioned above this is the larger of the two carry-on sized bags offered by Away. Here are the dimensions:
Exterior: 22.7" x 14.7" x 9.6"
Interior: 21" x 14.5"
Weight: 7.8 lbs
Capacity: 47.9L
This bag fits restrictions for all US Carriers, but may have to be checked at the gate on those smaller planes. If you want a bag to use on low cost carriers in Europe, such as Ryan Air and EasyJet, you should look into "The Carry-On" instead.
Colors:
You can get this bag in several different colors! The colors offered do vary from season to season, but over time, available colors have included:
Black
Navy
Green
Sand (Beige)
Brick Red (The color I have – shown throughout this post)
White
Asphalt (Gray)
Blush (Pink)
Sky (Baby Blue)
Violet
Now that you are familiar with what Away has to offer, let's jump right into the review!
The Review | Away Luggage
The Away Bigger Carry-On | Loves
So I'll start with the features that I absolutely LOVE about my Away luggage:
Look/Feel– This bag is very stylish, yet simple. It's hard to find a bag that looks better, in my opinion. I really love the brick-red color, which also makes it easy to identify at the baggage claim.
Charging Port – Both of the carry-on sizes come with a charging port with an removable battery. This is an absolute lifesaver if you are traveling for long periods of time and can't readily access a plug. The battery that comes with the suitcase can charge your phone 3 times over once fulled charged, which is really great for peace of mind. Additionally, the portable charger comes with international outlets, so you won't have to use your converter to charge it!
Compression System– The interior of the suitcase comes with a compression pad and compression straps that can be used to help you fit more into it! It is only on one side, but the opposite side comes with a mesh cover that leaves almost no room for stretching. This helps keeps all your harder items (e.g., blow dryers / shoes) in one place and away from your clothes. Also, this suitcase does not allow for expansion – another great way to keep your stuff neatly packed and compressed.
Removable Laundry Bag – The suitcases come with a laundry bag that snaps into place. It's great for keeping your dirty laundry separate from your clean clothes. It is also easy to wash if it starts to smell less than pleasant.
360º Hinomoto Wheels – The 360-degree wheels on this suitcase move super smoothly. You can spin this bag in a circle with no problem, which makes it easy to navigate as you travel through the airport of walk through city streets.
Built in TSA-Approved Combination Lock – I typically don't use the locks while traveling, but find them useful when storing luggage in an open area. For example, the hotel reception or inside an Airbnb after checkout.
100-Day Trial + Limited Lifetime Warranty – All Away luggage comes with a 100-day trial period. This means you can return the bag after 100-days, no questions asked, and get a full refund. Away also provides a lifetime warranty (!), which means they will fix or replace any damaged bag – forever!
If you are interested in purchasing Away Luggage, click here!
The Away Bigger Carry-On | Dislikes
Weight – This bag is a bit heavier than I expected, but that is only due to the fact that it has the charging station. You do have the option to get the carry-on without this option. Removing the charging station will make the suitcase lighter and give you a bit more packing space. It's really up to you to decide what makes the most sense for you.
Scuffability – As this suitcase is made of polycarbonate which makes it very durable, like most hard body suitcases. My only complaint is that it is prone to scuff, and it's most likely to get marked up if you check it. If you want to minimize the visibility of these scuffs and scratches, go with one of the darker colors. I chose brick-red, so can't get around this! haha
RELATED: The Best Purse for International Travel
The Away Bigger Carry-On | My Experience
This bag has gone with me everywhere! Over the past five years, I have taken it to about fifteen different countries and many other destinations across the USA. So you can certainly say that I have given this back an extensive test.
Unboxing:
The suitcase came nicely packaged in a large box, and within a canvas bag. The company recommends that you keep your suitcase within the bag while it's stored away.
I will also note that the bag shipped pretty quickly. I chose standard free shipping and received it in less than a week.
RELATED: Essentials and Tips for Long-Haul Flights
Performance:
The performance categories that I find most important are mobility and capacity, but I've also listed a "bonus" category below:
Mobility – This suitcase performed very well on the cobblestone streets you often find in Southern Europe, with no damage to the wheels.
Capacity – As you'll note, I did fit everything + a few extras into this bag for 2 weeks of travel. For this reason, I'm very impressed with its ability to handle capacity. I'm a firm believer in packing light (as mentioned in this post), so this checks a big box for me! One surprise feature is that the laundry bag included with the suitcase also acts like a compression bag. It's really great for stuffing full of dirty clothes and keeping its size/shape.
Bonus Features – I find that I use the charging port often. This really beats trying to jockey for a spot at a charging station located in the airport, for example. I did keep forgetting that the battery should be removed when checking luggage, so I'm pretty lucky that I still have mine!
Away Bigger Carry-On Video Demo
For a closer look at the Bigger Carry-On in action, check out this video:
Away Luggage FAQs
What Makes Away Luggage Different?
Away luggage sets itself apart with its durable and lightweight design, featuring hardshell exteriors and smooth spinner wheels for easy maneuverability. The built-in battery in their Carry-On models allows travelers to charge their devices on the go, adding to the convenience of their suitcases.
Is Away Better Than Monos?
Both Away and Monos are reputable luggage brands known for their sleek designs and durable materials. To determine the better option, consider your preferences in style, features, and budget. A key difference is that Away offers a portable battery pack while Monos does not. Ultimately, the choice between the two depends on individual needs and priorities.
Do Away Bags Scratch Easily?
No, Away luggage does not scratch easily, due to the durable material that it is constructed from. The bags will scuff, particular if you check them in. But these scuffs can typically be removed with a bit of soap and water.
Does the bigger Away Carry-On fit on Planes?
Yes, the Bigger Carry-On does fit on most planes. However, for smaller jets you will likely need to gate check the bag before boarding. You will, of course, still avoid any luggage fees in this instance.
Final Takeaway | Away Luggage Review
To close out my Away luggage review, I'll conclude by saying I love my away suitcase! It is by far the best suitcase that I have bought before. And on top of the benefits I've listed above, I just really love the look and feel of the Away Bigger Carry-On. Also, I am a very frequent flyer, and have really put this bag to the test over the past several years. After 5 years of use, I can say that I am still a very happy customer! This high-quality luggage is definitely worth the money.
If you are interested in purchasing Away Luggage, click here!
Do you have Away luggage or are you considering buying a suitcase from Away? Let me know in the comments below!
Additional Luggage Reviews:
Packing Posts:
#travelwandergrow
---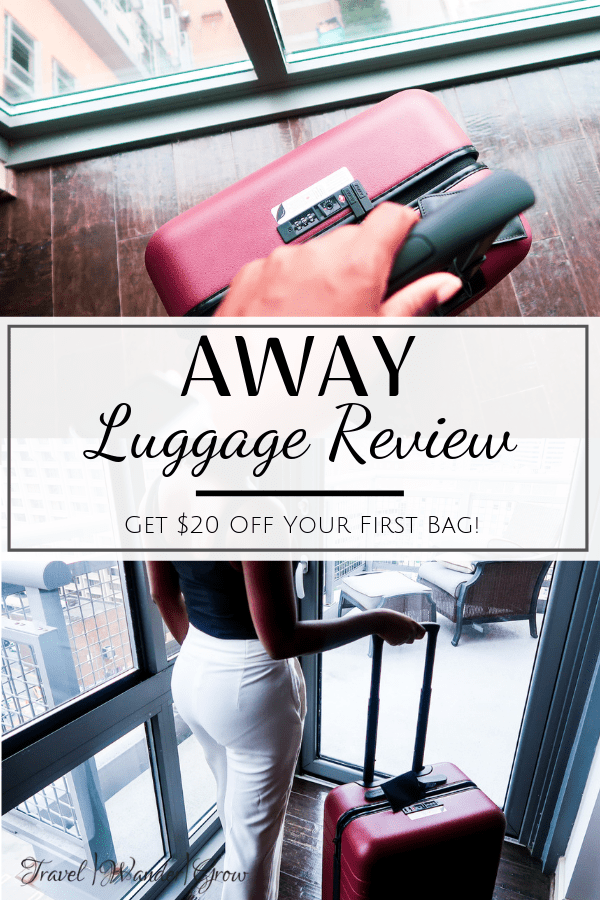 Summary
Reviewer
Review Date
Reviewed Item
Author Rating