The 21 Best Things to Do in Old San Juan

When many people think of visiting Puerto Rico, Old San Juan is often one of the first things that comes to mind. Except for the beaches, of course. Old San Juan is a historical town that feels like a proper city despite being a part of this lovely Caribbean island. It is full of centuries-old structures and colorful buildings, and is a great place to spend a few days while visiting Puerto Rico. If you want to learn more, keep reading for the 21 best things to do in Old San Juan.
Brief History | Old San Juan
Juan Ponce de León, known today as the founder of Old San Juan, originally settled in a settlement known as Caparra in 1508. Ponce de León and his settlers abandoned this site the following year and moved to a site that they called Puerto Rico, or "rich port" in English. In 1521, the new city was specifically named "San Juan Bautista de Puerto Rico", in honor of John the Baptist from the Bible.
The first fortification on the site was Casa Blanca – which was the original home of Ponce de León's descendants. Throughout the 16th century many of the historical sites that are well-known today were constructed as well. Through the time of early European settlement until the 19th century, most inhabitants of the island still lived within the city walls. However, the city experienced pretty rapid growth after the eastern side of the city walls were demolished in 1897.
In the 1940s, many of the original colonial buildings had fallen into disrepair and there was talk of demolishing them to build new contemporary buildings. But Anthropologist Ricardo Alegría fought to change local zoning laws to remodel the existing structures and maintain the architectural integrity of the city. As a result, San Juan is now a major tourist destination because of this local colonial aesthetic.
Know Before You Go
Getting There: If you are from the United States, this city is quite easy to visit, as use of a passport is not required. You are most likely to visit by plane, arriving at the Luis Muñoz Marín International Airport. In addition, Old San Juan is a popular cruise port, so arrival by cruise ship is quite popular as well. If you are looking for a more structured itinerary, visit my 4 Days in Puerto Rico post.
Where to Stay: There are many quaint and unique hotels throughout Old San Juan. I recommend that you consider the following boutique stays while in the city:
Casa Blanca Hotel: This boutique hotel is a top-rated hotel in Old San Juan, and is located on the well-known Calle Fortaleza. It has some old charm, and features very beautifully decorations throughout the property. Guests are typically most pleased with the hospitality, cleanliness, and proximity to major attractions.
Hotel El Convento: This hotel has an interesting history, as it began as a Carmelite convent over 350 years ago. It features rooms that are designed in the Spanish colonial style and is often the choice of world leaders and celebrities when they visit the island. Don't worry – the price is still pretty reasonable though! Guests are quite pleased with the hospitality of the staff, the impressive architecture of the building, and the location of the building.
Getting Around: Getting around Old San Juan is quite easy by foot – in fact, unless you are spending a lot of time outside of Old San Juan, you should plan to primarily get around by walking. Know that Uber is a common method of transportation in the area as well.
The 21 Best Things to Do in Old San Juan
Experience Colonial Historical Sites
1 | La Fortaleza
La Fortaleza was built between 1533 and 1540 to defend San Juan's harbor. It is also known as Palacio de Santa Catalina, and currently serves as the official residence of Puerto Rico's governor. As such, it is the oldest executive mansion in continuous use in the Americas. This site was originally built as as a defense for European settlers against Island Caribs (original island inhabitants) and other European colonizers. You can visit La Fortaleza on a guided tour that covers the on site gardens and the building interiors (when the government is not in session. Click here for more information.
Be sure not to miss La Calle de la Fortaleza right outside the main building, as it is typically lined with umbrellas that change colors throughout the year.
2 | San Juan National Historic Site
The San Juan National Historic site is managed by the National Park Service, and includes the Castillo San Felipe Del Morro (El Morro) and the accompanying Paseo Del Morro. Together with La Fortaleza, this is a UNESCO World Heritage Site – 1 of only 12 in the United States. It is here that you'll find the San Juan Gate, which was once the only way to get inside the fully walled city.
As a history buff, I can honestly say that this is one of my favorite places in Old San Juan. This citadel is huge and you could spend hours there getting lost in the maze of rooms and detailed explanations of daily life for the soldiers who once lived there. The citadel was built between the 16th and 18th centuries, as an expansion of the original fortress (La Fortaleza).
The site served as an active military site for the Spanish until 1898, then transferred to the US when America began their occupation of the island. However, since 1961, it became part of the National Park Service to be preserved as a museum. No pre-booking is necessary to visit, just walk right up and pay a fee to visit the site. For the latest on prices and hours, click here.
3 | Castillo de San Cristóbal
Castillo San Cristóbal is another fortress in Old San Juan that is also part of the larger San Juan National Historic Site. It is located on the eastern side of the city, while Castillo San Felipe is located on the western side. When it reached its largest size in 1783, it was the largest fortification built by the Spanish in the Americas. It covered 27 acres of land!
The size that you see today is about a third smaller than it was during the 18th century, as part of the fortification was demolished in 1897 to improve traffic to and from the walled city. This fortress helped the Spanish stave off attacks from other colonizers in the area such as the Dutch and English. This castillo became part of the National Park Service at the same time as the other did (mentioned above).
4 | La Casa Blanca
As mentioned above, this house was built in 1521 to be the home of Ponce de León, the city's first governor. Unfortunately, he died while on an expedition to Florida without moving it. However, it did continue to serve as the home for his descendants until the mid-18th century. It features period-specific furnishings, gardens, and nice views of the water. Note, it is not open everyday, so be sure to check the online schedule before visiting.
5 | Catedral Basilica Menor de San Juan Bautista
This lovely cathedral was first constructed in 1521, but as it was made of wood, it did not survive a hurricane that hit the island in 1540. It was rebuilt out of more sturdy materials that same year, and has undergone some reconstruction projects over the years since.
This cathedral is the final resting place of Juan Ponce de León and also has a shrine to the first Caribbean-born layperson to be beatified. In addition, it is the 2nd oldest church in the Americas, and the oldest in the US.
Visit this cathedral to see the beautiful interiors, the wax-covered first century mummy of St. Pio, and if you so desire, experience a mass.
6 | Capilla del Santo Cristo de la Salud
This chapel, titled "Chapel of the Holy Christ of Health" in English, is a tiny chapel that sits on a cliff right off of Fortaleza Street. It was constructed in 1753 to celebrate the miracle of a rider on a horse who survived a fall off the cliff in the place where the chapel now sits. Now, many faithful visitors have come to this chapel to pray for healing. Inside you'll find many tiny ornaments that represent a part of the body – all added by believers who have sought their own miracles at the temple.
Note, the chapel is only open to visitors on Tuesday or on religious days.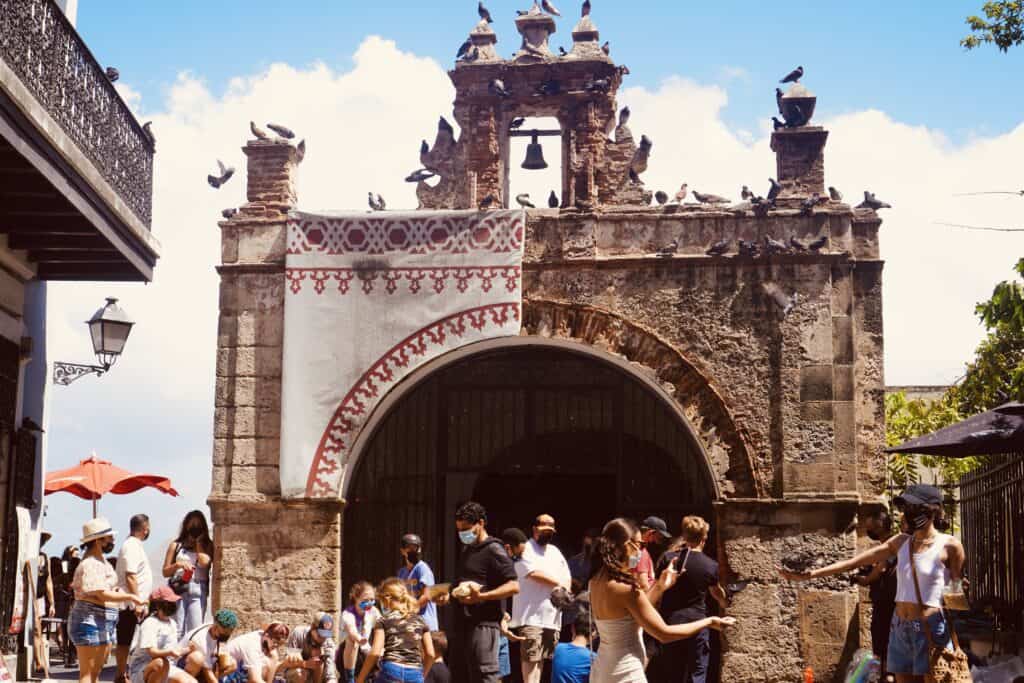 7 | See the City Walls by Sailing Old San Juan
As you can tell from the attractions mentioned prior, the city was very well fortified. The old city walls are very impressive, and maybe best taken in from the water. In order to do this, I highly recommend that you take a sail around the waters that surround the city. My friends and I did a sunset tour around Old San Juan and had a wonderful time! Here are a few options for sailing around the city:
Daytime Sailing Experience – Old San Juan Sailing Tour: This tour allows you to sail aboard the "Amazing Grace" a ship that is built to resemble those used by pirates in the early 19th century. This tour lasts 1.5 hours and gives you an outside look at sites such as El Morro, La Fortalez, and Paseo de la Princesa. Click here to book this tour!
Sunset Sailing Experience – Sunset Sail by San Juan Historical Bay: This tour is similar to the above, but done on a smaller boat just for you and your traveling party. You'll take off a little before sunset to see the relevant sites, and then you'll be able to take in the lovely view as the sun sets over the water. Click here to book this tour!
Whichever option you choose, be sure to check on what is provided by the tour and what is not. I recommend having a few of your own snacks and drinks available (and music if you have speakers on hand).
8 | Tour the Heart of Old San Juan
I think that seeing any city for the first time without learning more about the city's history is a lost opportunity. On your first visit, I recommend taking a walking tour of Old San Juan to learn more about the city's history, local culture, and where the best places to eat are located. Another great thing about local tours is that you have the chance to learn about hidden gems or experiences "off the beaten path" from locals who know the city well and love it.
Here are a few tours that I recommend:
Old San Juan Walking Tour: This is a great tour to experience if you want to get your bearings in Old San Juan. This tour will take you to all the sites previously mentioned in this post, as well as La Muralla, and the Old San Juan Casino. Book the Old San Juan Walking Tour here!
Old San Juan Best Kept Secrets Tour: If you have been to Old San Juan before, or are interested in exploring areas less traveled, then this is the tour for you! This tour will provide background information on how the city was built, and provide an inside perspective by allowing you to visit private residences, convents, and other places that have limited access. Book the Best Kept Secrets Tour here!
9 | Plaza De Armas
This plaza or "square" in English is the oldest in Old San Juan and was originally designed as the main city square. Inside this part of the city you'll see City Hall, and the work of art known as "The Four Seasons". This features four statues representing each season, and all now feature around the fountain found in the middle of the square. These statues were originally found at the four corners of the square, however.
If you are in need of anything pertinent while traveling in Old San Juan, I recommend stopping in this square for you needs. The square features stores like TJ Maxx, a drug store, ATMs, and a cute little pastry kiosk that is perfect for a quick breakfast run.
I'll note this was one of my favorite places to take a stroll while staying in Old San Juan.
Experience the Food, Drink, and Nightlife
10 | Barrachina
Barrachina is a restaurant full of charm that is just one block away from La Fortaleza. It has served patrons for over 50 years, and is known as the official birthplace of the piña colada – first served there in 1963 by don Ramon Portas Mingot. The cuisine served here is very classifically Puerto Rican – you'll find plenty of mofongo and seafood options on the menu.
In addition to serving as a restaurant and bar, Barrachina also offers some additional (and useful) services to visiting tourists. These services include luggage storage, free wi-fi, special service offers for cruise passengers, and a nearby taxi stand.
Click here for more information on Barrachina.
11 | Take a Food Tour
Old San Juan is full of delicious food options, but if you are new to Puerto Rican food, or are just a good 'ol foodie, I recommend you explore the food scene more by going on a food tour. Here are a few options that I think that you should check out:
Old San Juan Walking and Food Tasting: This dinnertime tour will give you the chance to try out many classic Puerto Rican dishes. These include mofongo, local pastries (there are many varieties), local coffee, and hand-churned ice cream. There are two things that make this tour an attractive option: (1) The tour size is kept small so that it feels intimate and you get to know your local guide, and (2) You will get a chance to see many of the city's landmarks while on the tour as well. Book the Walking and Food Tasting tour here!
San Juan Drive Around Lunch Tour: This lunchtime tour will drive you to neighborhoods both inside and outside Old San Juan. You'll need to bring your appetite as the experience includes three full sit-down meals during this three-hour tour! During this experience, you'll be led by an epicurean guide to learn more about how Puerto Rican food incorporates Caribbean, Latin American, African, Taíno Indian, North American, and European food cultures all together. Book the Drive Around Lunch Tour here!
12 | Food Trucks
If you are short on time and want to grab food on the go, food trucks are a popular option with the locals in San Juan. A few trucks that have excellent ratings include:
El Churry – This one is located just a short ride outside the center and is best known for the "mixto" sandwich served there.
El Herradero – This place is located near El Churry, and is best known for their "papas locas". This is essentially something like french fries smothered in a lot of delicious toppings.
Kabanas – This truck is your stop for burgers and tacos, and even provides covered seating.
Miramar Food Truck Park – This is cheating a little bit, but if you drive outside to larger San Juan, you'll find this park that regularly features several food trucks of all types / food tastes.
13 | Mono Stereo Bar
This place, which feel a little like an old house with different rooms of restaurants and bars, is a really cool spot to check out at night. Visit here for the music, really delicious food, and beverages. I do believe the food stands rorate, but while there we ate from this wonderful place called Pincheria Clandestina. The tacos were impeccable!
14 | Birra & Empanadas
This place has more of a "hole in the wall" type of vibe…which means it offers great food for less fuss. The empanadas served here were absolutely delicious! I highly recommend this place if you just want to stop to hang with the locals for a bit or if you want to pick up some food to take on the go.
15 | Chocobar
Chocobar is a very interesting restaurant – what makes it unique is that they include chocolate in some way in all the items on their menu. If you love chocolate and are looking for something a little different, this is a great option for you. As an example of some of the creativity seen here is a grilled cheese sandwich made with "chocolate butter". It was excellent.
In addition, you can buy hot chocolate that comes with a piece of cheddar cheese. It's actually a local speciality – and although it may sound strange, it is quite tasty.
16 | Anita La Mamma del Gelato
Anita's is a gelateria that began in the Mediterranean before expanding with more branches. One of these branches can be found right by La Fortaleza, and as you can imagine, is quite popular.
There are a large variety of unique flavors and options for vegans, and other dietary restrictions as well. After a hot day of touring Old San Juan, this is a great place to cool off with both the ice cream (and the very powerful AC).
17 | Experience Live Music
Puerto Rico is a lively place full of places to experience live music and dancing. If you are looking for a place that provides one or both, here are a few options to consider:
Nuyorican Cafe – This spot features mostly bohemian and salsa music, and is situated in the heart of the historic district.
La Placita del Mercado de Santurce – This area functions as a marketplace during the day, but becomes a hangout spot in the evening. You'll find lots of places to eat and drink area the area.
El Local – This place is open from 8PM to 2AM, and features karaoke nights in addition to live music. You can find out about upcoming performances on their Instagram account.
Carli's Fine Bistro & Piano – This is an upscale restaurant that offers live music from Thursday – Saturday nights each week.
Explore The Nearby Beach
18 | Excambrón Beach
San Juan is probably best known for the very popular and more touristy Condado Beach and Isla Verde. But if you would like to stay closer to Old San Juan and get more of a local feel, I recommend that you head to Excambrón Beach. It's right at the eastern edge of Old San Juan and is pretty family friendly. A really nice place for a quick dip in the Atlantic Ocean.
One note, if you plan to uber here, know that some drivers will note pick you up if you have not fully dried off yet.
Additional Attractions
19 | La Casa Estrecha
The name for this tiny house translates to "The Narrow House" in English. It certainly lives up to the name as it measures about 5 feet from wall to wall. It is literally one of the most narrow houses in the world.
Before it was a house, the area where it sits was an alley. It was subsequently turned into a house when the alley fell out of use. The history of the house is a little hidden, but it is thought that it may have once been used as slave quarters.
Visit the home today to see the art gallery that focuses on the work of local artists and to also experience the impressive views of the San Juan Bay from the building's second story.
20 | San Juan Sound
If you are into music, San Juan Sound is probably the perfect place for you to visit. It was once the home to the first radio station in Puerto Rico (WKAQ)…which as the second in Latin America and the fifth in the entire world! In addition, this is also where artists used to record music as well.
The building became empty for nearly a century, but was then reopened by producer/drummer Matteo Burr in 2015. Today, the site offers live performances, private recording sessions, and partners with schools across the island. San Juan Sound also features a "spooky" jukebox that turns on even if no one is touching it.
To visit, you should plan to make an appointment via Instagram DM (@SanJuanSoundPR). While there you can experience a tour of the building, classes, shows, and other community events.
21 | Old San Juan Cemetery
This cemetery is officially titled "The Santa María Magdalena de Pazzis Cemetery, but has taken on the shorter moniker in the heading. It is now the final resting places of Puerto Rico's most famous citizens, and provides excellent views of El Morro, La Perla, and the ocean.
Throughout the site, you will see beautiful white gravestones and if you face towards the city, you will have a nice backdrop of many of the color buildings there as well.
Old San Juan City Map
To get familiar with the locations of most of the places in Old San Juan mentioned in this post, please see the map below:
Final Tips | The Best Things to Do in Old San Juan
That concludes this list of the Best Things to Do in Old San Juan. Here are a few final tips as you plan your visit:
Be sure to learn some basic Spanish words / phrases before you visit. It goes a long way with the locals. Click here for my post on Spanish for travel
Know that the best times of year to visit are the months from December to March. If you don't mind a little rain, you can plan to visit through May. But be aware that hurricane season lasts from June through November.
With the friendliness of the local Puerto Ricans and the plethora of things to do, I am certain that you will enjoy your time in Old San Juan.
I hope you've found this post helpful! If you are interested in more posts on locations in Latin America, please check out this page.