3 Days in Santorini | A Complete Guide for First-Timers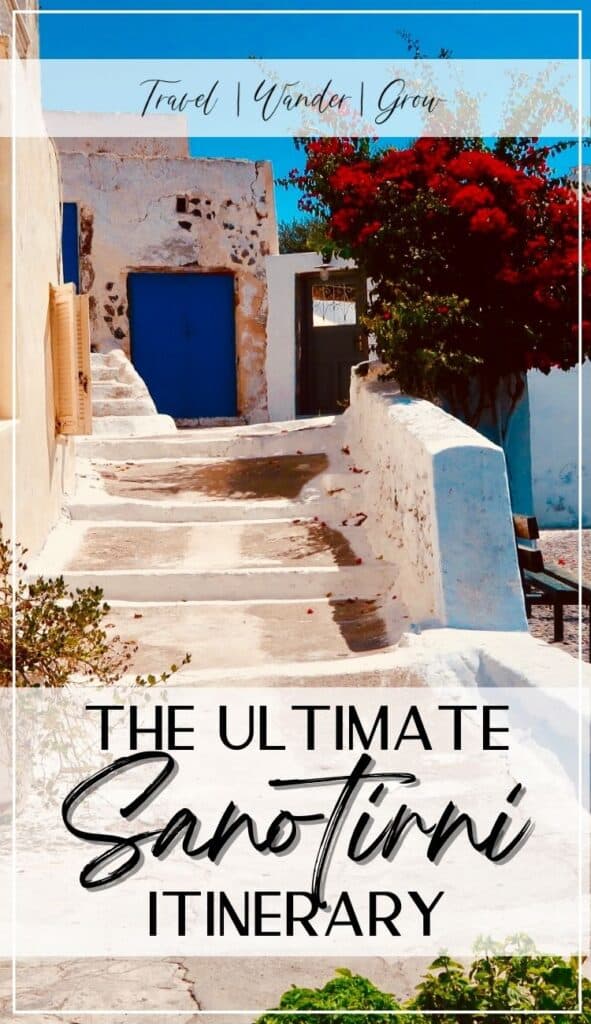 I don't think I can really express to you how much I love Santorini. It the most beautiful island that I have ever visited, and definitely lives up to the hype surrounding it.
The island is full of spectacular caldera views, white-washed walls, and blue-domed churches. Santorini is one of the most popular Greek islands, and once you visit, it is very easy to see why. Although the island is pretty small, there is a lot to see in this tiny island, even if you are short on time.
This post will give you a detailed itinerary for 3 days in Santorini. I'll cover activities you can do from the north of the island to the south so that you have a full picture of what this island has to offer you!
A Brief History of Santorini
Santorini, or Thera as it was known in ancient times, is the best known home to Minoans outside of Crete. Only the southern area of the island has been excavated, but the uncovered ruins represent a complex society that thrived from 3000 to 1630 BC. Ancient Thera was a major trading port, and even had advancements such as running water and working toilets. There was a major volcanic eruption on the island around the mid 1600's BC, which caused the Caldera (or large whole in the center of the island) to develop.
After the explosion, the island remained uninhabited for a time, until it was settled by the Phoenicians, then the Dorians. These Dorians named the island Thera, after their leader Theras. Some interesting facts about the Dorians is that they sided with Spartans during the Peloponnesian War, resulting in the Athenians taking the island for a time. Following this period, the island served as a key naval base for Ptolemaic Egypt.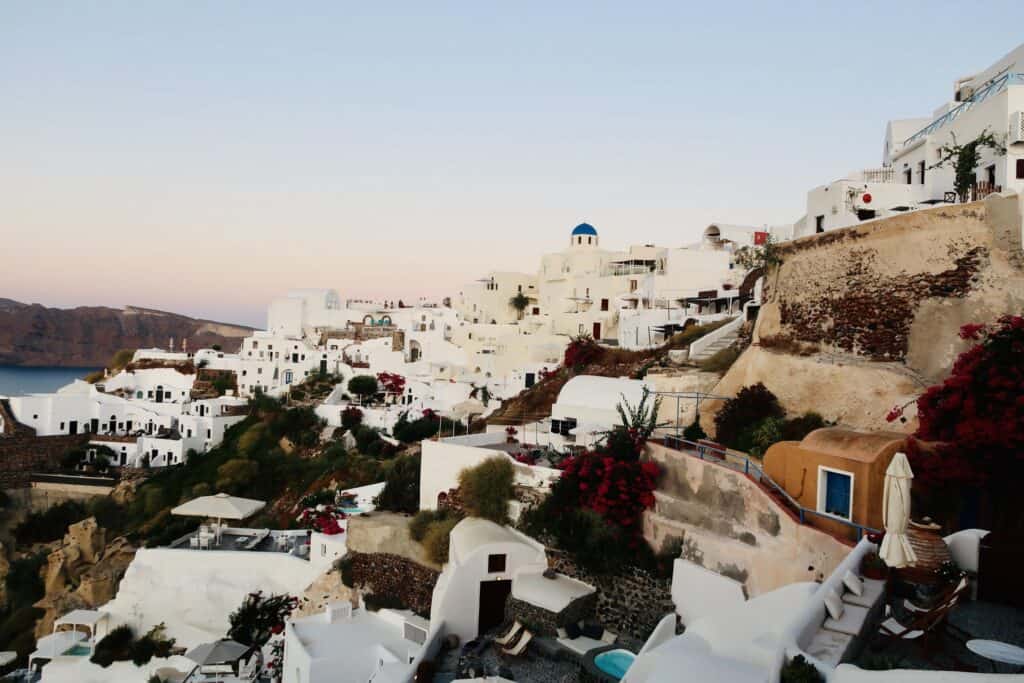 As the Roman Empire grew, the island fell under rule by the Romans, and became part of the Byzantine Empire when it split in two. The island seems to first be called Santorini around the 1100's AD. It was called "Santurin" after the island's patron saint, Saint Irene by a Muslim geographer. Like other areas of Greece, the island passed from Turkish rule to Venetian rule, until finally being freed following the Greek War of Independence.
Today, Santorini is known as a premier tourist destination, which has led to an increase in both the size of the population and the growth of the population. In fact, the island receives over 2 million visitors annually today. This is not too shabby to an island of just 35 square miles and 15,000 residents.
Rating: ⭐️⭐️⭐️⭐️⭐️ Duration: 10 hours Price: $$
Explore all the most famous sites in Santorini and experience the breathtaking views the island has to offer.
During this experience you will:
Visit the Prophet Elias Monstery
Explore the Akrotiri Excavations
Relax at Red Beach
Shop in Fira
In addition, the experience comes complete with hotel pickup and drop off!
Getting to Santorini
The island of Santorini is the southernmost island of the Greek Cyclades. If you are traveling to Santorini from Athens, the most efficient way to get there is by plane. You can find many cheap flight options from Athens to Santorini – We booked our flight with Olympic Air and spent $93 on our one way ticket there.
Outside of air, you can also reach the island by the ferry port. This option may be more affordable, and will be the best way to get there if you are coming from a nearby island like Mykonos. You can buy your ferry tickets at Let's Ferry in advance of your trip.
Where to Stay in Santorini
There are many stay options throughout the island, but my recommendation is to stay in one of the main villages Fira or Oía. Stay in Fira if you want to stay close to the shops and night activities. Stay in Oía if you want to wake to beautiful views everyday and explore this often photographed town. For reference, Fira is located in about the center of the island, so it's a great option if you have plans in the north and south. Oía is located in the north of the island, and above the enchanting Ammoudi Bay.
The Caldera Premium Villas are an excellent mid-tier option Oía. There are villas of different sizes that all face the caldera. In addition, a lovely breakfast is included. I stayed here on my most recent trip to Santorini and loved it. The staff there are lovely as well.
The Mythical Blue Luxury Suites is a luxury hotel that features rooms that have either an outdoor plunge pool or hot tub. The rooms are quite large and again offer impressive views of the Caldera.
The Antonio Hotel is a more budget-friendly option, and is where I stayed during my first trip to Santorini. This one does not offer as many direct views of the caldera as it sits closer to the city center in Fira, but it is a clean and well-kept option. In addition the staff are very nice here and give you that "extended family" feel.
Getting Around Santorini
When you are in one of Santorini's villages, it is very easy to get around by foot. Where you'll need a bit more coordination is when you want to travel in between cities:
Public Bus: There are public buses that that can take you around the island for very cheap fare (~€2 per ride). The only drawback here is that they don't run very frequently, so you'll need to add some time if you're trying to make an appointment. Check this website for timetables!
Four-Wheeler: You will see four-wheeler rentals pretty much everywhere on the island. It is a popular way to get around, but just note that many of the roads on the island are winding and situated beside cliffs. Driving a four-wheeler in those conditions is not for the faint of heart!
Tour Bus: This is the way that we opted to get around most of the time! We selected tours that took us all over the island, so did not have to worry about driving ourselves.
Uber: Uber does exist in Santorini now, and makes it easy to get to those places that are harder to access via public bus, for example.
Language in Santorini
Greek is the official language of Mykonos, but you shouldn't have too much trouble finding locals who speak English. I still suggest that you learn at least a few greetings in Greek, though. Head over to my post on Greek travel phrases.
Currency in Santorini
Like most places in Europe, Greece uses the euro. At the time that this article was posted, the exchange rate was €1.00 = $1.01. The exchange rate right now is wonderful, and the prices in Santorini are about the same as what you might see in the U.S. Click here for the latest exchange rates.
When to Go to Santorini
Unlike Caribbean islands, these islands do experience a bit of cold in the winter, so there is a true tourist season. Visit from late April through early November to be there while most hotels and restaurants are open. If you are interested in swimming while you are there June-September are your best bet – note that July and August are the busiest months. We went in early September and had great weather and average tourist crowds.
RELATED: Athens Travel Guide
3 Days in Santorini | The Complete Itinerary
Day 1 | Get to Know the Island
I recommend spending time getting to know the island on your first day in Santorini. The island is too long to fully walk yourself, so the best way to to this is by taking a guided tour. I recommend this tour: Santorini: Island Bus Tour with Oia Village Sunset.
Here are the sites I recommend you start your time in Santorini by going to the following locations:
1 | Enjoy Panoramic Views of Santorini at the Prophet Elias Monastery
The Prophet Elias Monastery has a long history on the island, being constructed in the 16th century. It is located near the village of Pyrgos on Mount Profitis Ilias. This monastery is situated about 1800 feet above sea level, the highest point on Santorini. Initially, it held a long role in the cultural and educational life who lived in Santorini because it served as a local school. The monastery also led a booming trade business in the Aegean and Mediterranean Seas via private ship.
Unfortunately, the monastery was greatly damaged by the 1956 earthquake and has since served more as a tourist attraction. However, there are a handful of monks who still live there who make wine and other similar goods. You should visit the area around the building to witness breathtaking panoramic views of the entire island of Santorini.
2 | Visit Pyrgos Village or Megalochori Village
Pyrgos: As mentioned above, Pyrgos is a beautiful hillside village that became a protected settlement in the mid-nineties. Pyrgos is known for featuring remains of neo-classical mansions, beautiful white houses, vineyards, and more. There are also plenty of museums to explore here, such as the Icons & Relics Collection. And for a special treat, visit the village during Easter to see the hillside lit with burning fire brands.
Megalochori: This village is a little-known traditional Greek village near central Santorini. It has all the beauty of Oia, but hardly any tourists. Spend a few hours here strolling through the town, visiting one of the local boutique shops, or eating in one of the local restaurants. It is completely car free, so very pedestrian-friendly. If you find yourself needing a break from other tourists, this little gem is perfect for you!
3 | Explore the Akrotiri Archaeological Site
One thing that really surprised me when I was researching the island was finding out Santorini's very own "Pompeii". Like Pompeii, this city was buried in volcanic ash and is also one of the suspected origins of the story of Atlantis. Akrotiri was destroyed about 1700 years BEFORE Pompeii (circa 1627 B.C.), which makes the site even more impressive!
For some additional context, Akrotiri was once a bustling city that grew in strength due to trade with other Aegean cultures. It sat on a strategic route between Cyprus and Crete, and was therefore an important part of the copper trade. In the ruins, archeologists having discovered that the inhabitants had "modern" conveniences such as running water, showers, and flushing toilets. They also were artists, developing intricate murals and frescos and featuring them in major buildings throughout the city. Due to the volcanic ash, the best examples of Minoan art were actually found here. Also, given how advanced this city was, it has been thought that it is at least one inspirations for the Legend of Atlantis.
Something that I found interesting is that it is clear that those who inhabited this city left before the volcano destroyed it. There is evidence of earthquake damage, which probably led to the citizens seeking new shelter via the sea. One sad fact is that there is no evidence of them making it to another location – so it is possible that they were lost at sea due to tsunamis resulting from the earthquakes.
The volcanic eruption forever changed the landscape of the island by literally blowing out the middle of the island, forming the caldera and blowing away the land that was once there. The Minoan Eruption, as it is known today was so massive it is still considered one of the largest volcanic events in human history. Documented effects of this eruption have been seen as far away as the current US.
For the best experience, I recommend visiting Akrotiri guide, who can help bring the ruins to life. It makes all the difference in envisioning how people lived 4000+ years ago.
And if you really like history, I recommend that you try visiting Delos near Mykonos too!
4 | Visit Akrotiri Bay
Take a break from the excitement of the day to have a nice little snack before continuing the tour. Take some time to dip your feet in the water to cool off – especially if it is a hot day.
5 | Visit Firá
Firá is the current capital of Santorini and is named for the alternative pronunciation of Thera, the ancient name of the island. Like most places in the island, it is full of white-washed buildings that sit on the cliffs of the caldera. This city is known for having the best shopping center on the island, nightlife, and museums.
Downtown Fira offers is a great place to do some souvenir shopping. The area really seems to come alive in the evenings as there are restaurants and various venues open into the night too. You'll find many shops here that sell items such as paintings, travel trinkets (e.g., statuettes, key chains), jewelry, and some high end shops as well! If you don't mind facing the crowds of tourists, you should certainly stay here a while.
6 | Watch the Sunset in Oía
Oía is 100% the place that people are thinking about when they think of Santorini. In my opinion, it is the most picturesque of all the cities the certainly worth a nice stroll through town. If you take the tour, your guide will take you to the best place to witness the sunset on your stop here. Sunsets somehow never get old, and are just that much more beautiful here.
As mentioned, if you'd like to do all these things on your first day here, but don't care to drive yourself, I highly recommend you take the Santorini: Island Bus Tour with Oía Village Sunset. You'll get guides at each location and be able to relax in between destinations.
Day 2 | Sailing, Wine Tasting, and Shopping
Take it a little easy on your second day in Santorini by spending time on and in the water.
1 | Swim in the White, Black, or Red Sand Beaches
Santorini offers beaches of many colors. Pick your favorite, or simply the one closest to your hotel. Any of them is a great option for a partial beach day! On my trip, we spent the most time lounging on the black beach (Perissa), but did stop at the red and white beaches on our catamaran cruise (up next).
Some beaches to consider on your trip are:
Perissa Beach – This beach is located about 7 miles south of Fira and is one of the best beaches in Santorini. It is a volcanic beach that is covered with the black volcanic sand mentioned above. It is one of the most touristy beaches there and has plenty of options for eating and going out.
Kamari Beach – This is one of the most popular beaches on Santorini and is close to the Akrotiri archaeological site. It is another one of the black sand beaches and has plenty of options for beach activities such as surfing and windsurfing.
Red Beach – Unlike the two options above, this beach features red sand and is situated near Akrotiri village. You are likely to stop here on the tour mentioned on Day 1, if you opt to do it.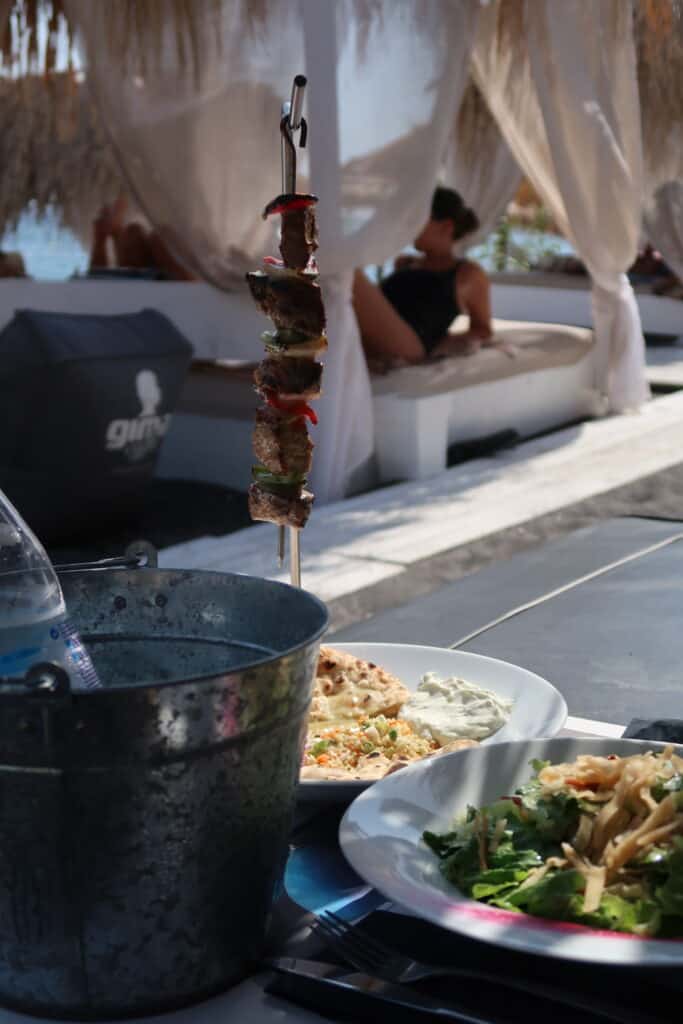 2 | Watch the Sunset on a Catamaran in the Caldera
Following a morning swim, continue your time in the water on a a sunset cruise through the Caldera. These cruises typically begin earlier in the afternoon, and make several stops along the island's beaches. Our cruise made stops at the Red Beach, the White Beach, and the volcanic hot springs near the volcano in the center of the Caldera (also known as Nea Kameni).
At each stop we had the opportunity to swim (or float) around the boat to enjoy the crystal clear waters. While aboard we were provided with some delicious Greek food and drinks and the opportunity to soak in the sun at the front of the boat. The experience concluded with the boat parking in the perfect spot for us to enjoy a beautiful sunset over the water.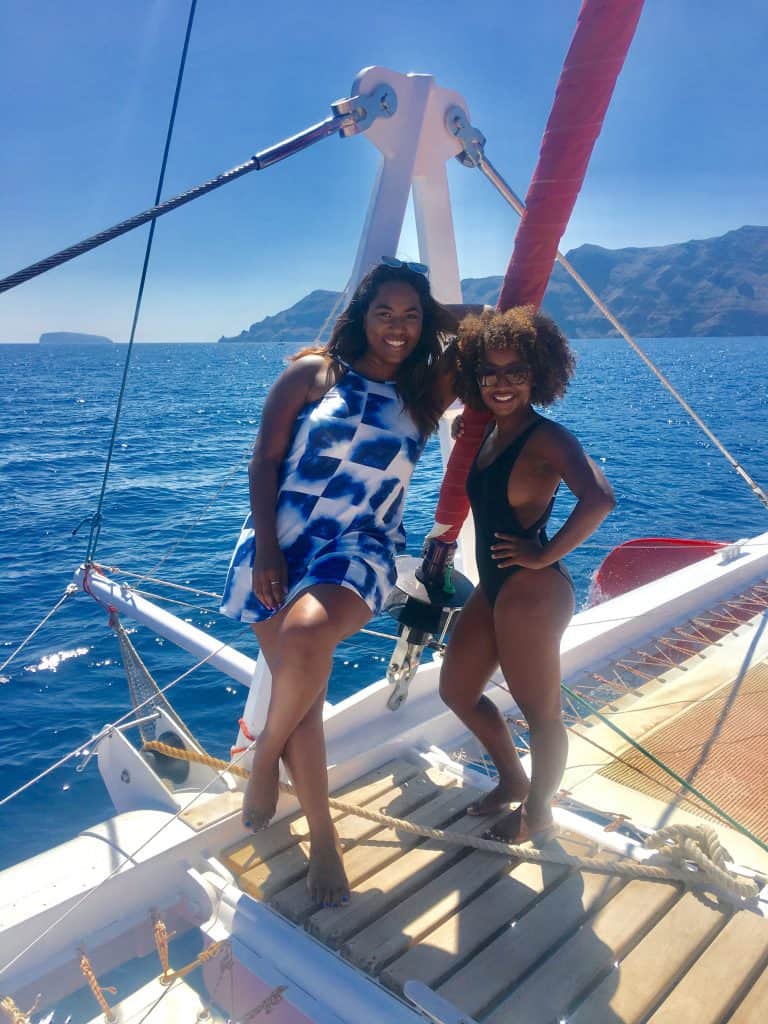 You will likely board in Amoudi Bay, which is a great place to go for a more robust lunch or dinner before or after your cruise.
To get a feel for the experience yourself, checkout the video I captured while there below:
If you are interested having the same experience, here is a link to the tour: Santorini Catamaran Red Cruise with Meal & Drinks.
3 | Go Night Shopping in Fira
If you only spent a short time in Fira on day 1, I'd recommend exploring the area at night. It is full of life at this time so you can explore the many restaurants and shops while there.
Day 3 | Oía Sunrise and Winery Tours
For your third day in Santorini, I recommend you try out a sunrise in place of a sunset, then use the latter part of the day to visit the famous wineries there.
1 | Catch the Sunrise in Oía
Many travel guides will recommend that you catch the sunset at Oia, but I recommend watching the sunrise instead. This will help you avoid the ridiculous crowds that come out at night, but still provide incredible views. To make this happen, I recommend you head out at least 30 minutes before the stated sunrise time so that you can find a good spot. As mentioned, you will not have to fight the crowds, but you should add in a buffer so you have time to find a place.
For some inspiration, take a look at some of the pictures I captured there at sunrise on two separate trips: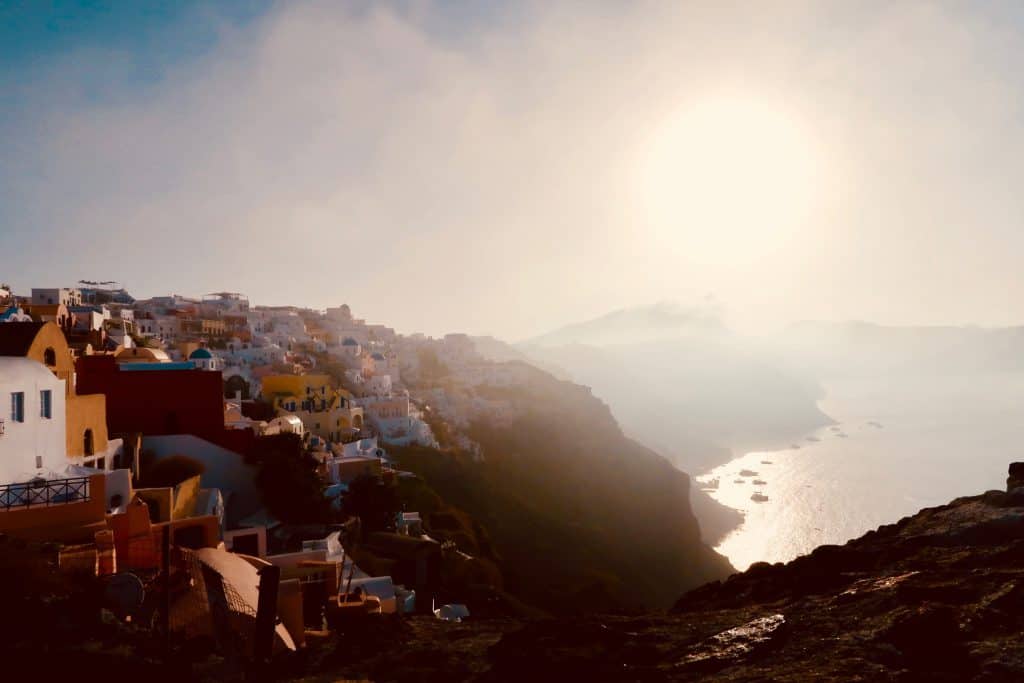 2 | Take a Guided Wine Tasting Tour
On this tour you'll have the chance to visit some of the most prized wineries on the Island. You'll also be able to learn about the 3500-year history of wine-making there and why Santorini is a world heritage site for the production of wine. This tour in particular goes to Argyros, the Soutsoyannopoulos Wine Museum, Venetsanos Winery, or Gavalas Estate Winery. If you don't drink they all offer great non-alcoholic options as well!
The Wine Museum is really quite interesting, and tells the story of wine through a series of large wax figurines.
Santorini Island Map
The map below provides a look into the key landmarks mentioned in this post, so that you can best understand where these are located in relation to one another.
Oía
Ammoudi Bay
Fíra
Pyrgos
Megalochori
Akrotiri
Prophet Elias Monastery
Perissa Beach
Additional Tips for Visiting Santorini
How to Have a Sunset Dinner in Oía
If you prefer dinner in Oía for sunset instead of one of the options above, you should make a reservation at a restaurant a few weeks before you travel there so you can avoid camping for a spot. A few recommendations for restaurants overlooking the caldera include:
FAQs About Santorini
How Many Days in Santorini is Enough?
I think that three days in Santorini is exactly the right amount. I don't recommend you spend more than 3 days in Santorini, unless you really just want to keep things low-key for a while. If you have more time in Greece, I recommend you add places like Athens or Mykonos to your itinerary so that you get some different experiences while there.
Should you rent a car in Santorini?
Considering the geographical layout and the spectacular scenic beauty of Santorini, renting a car can enhance your vacation experience on the island. With a car, you can explore hidden gems and remote beaches at your own pace. However, bear in mind the narrow roads, traffic during high season, and parking limitations in popular areas before deciding to rent a car. Public transportation is a good option if you prefer not to drive.
What is the best month to visit Santorini?
The best month to visit Santorini is September. During this month, the island experiences pleasant weather with fewer crowds, making it an ideal time for exploring and beach hopping. Moreover, the sea temperature remains warm, perfect for swimming and sunbathing.
What to Do in Santorini if you have More Time
1 | Do a Photoshoot: My professional pictures taken in Oía, are still some of my most favorite to-date! The flying dress shoot is an option as well, but this one is more affordable.
2 | Visit the Museum of Prehistoric Thera: This museum was built on the site of an old church that was destroyed in the 1956 earthquake. It features many artifacts from sites such as Akrotiri and and Potamos. The collection is ordered chronologically and has history going back to 3300 BC.
3 | Walk from Fira to Oía: If you like hiking or enjoy long walks, take the time to walk along the edge of the caldera from Fira to Oía. The walk is around 6 miles long and depending on how fast you walk, it will take 3-5 hours to complete.
4 | Hang Out at Amoudi Bay: This incredibly cute area is known for two things: great eats and great foods. You can reach this area by walking down a set up steep stairs from Oía.
5 | Akrotiri Lighthouse: This lighthouse is another popular location to catch the sunrise or sunset. It was built in 1892 by the French, and sits out practically by itself. From here, you can get great views of Aegean Sea and the Volcano of Santorini. For reference, this site is about a 26-mile drive from Fira.
The Best Santorini 3-Day Itinerary | Final Tips
That wraps this three day Santorini itinerary. Santorini definitely surpassed any expectations that I had before visiting this island. Greece was on my bucket list for nearly 10 years before I finally made it, but the wait was worth it. I hope my recommendations for the best things to do on Santorini Island are helpful as you plan your next trip here!
For those of you who have visited Santorini before, what are your favorite things to do for 3 days in Santorini? Let me know in the comments below!
Looking for More Posts on Greece?
Check out our other European Travel Guides: