The Ultimate 7-Day Cuba Itinerary

Cuba is one of my most favorite places in this world. There is something special about the vibe you get there – from the kind and friendly Cuban people to the often poorly kept colonial buildings, Cuba certainly has it's own special charm. Cuba also has a special draw after being a "forbidden" destination for many Americans for a long period of time. If you are interested in exploring this magical place on your own, there is a good amount of planning that you will need to do in advance. This one week Cuba travel itinerary provides not just a detailed overview of what to do while you are there, but also detailed tips on how to plan for your trip.
Brief Country History
Cuba, an island nation located in the Caribbean, has a complex and rich history. The indigenous people of Cuba were the Taíno, but in the late 15th century, the Spanish arrived and began colonizing the island. For centuries, Cuba was primarily used for sugar plantations and as a hub for the slave trade. In 1898, the Spanish-American War ended with the Treaty of Paris, which granted Cuba its independence from Spain. However, the United States maintained a significant presence on the island and exercised considerable influence over Cuban politics and economy for much of the 20th century.
During the early 20th century, Cuba experienced a series of political upheavals, including the rise of President Fulgencio Batista. Batista's authoritarian regime was characterized by corruption, censorship, and human rights abuses. In response, a young lawyer named Fidel Castro led a revolution that overthrew Batista in 1959. Castro established a socialist government and allied Cuba with the Soviet Union, sparking tensions with the United States and leading to the Cuban Missile Crisis and Bay of Pigs incident in 1962.
In the decades that followed, Cuba became a key player in the Cold War, supporting revolutionary movements throughout Latin America and Africa. Despite economic and political challenges, Cuba's government maintained a strong commitment to social programs such as healthcare and education, and achieved high levels of literacy and life expectancy. In the 1990s, the collapse of the Soviet Union led to a severe economic crisis in Cuba, but the government implemented reforms to open up the economy and maintain its socialist system.
Today, Cuba is a socialist state with a planned economy, where the government controls most of the means of production and distribution of goods and services. The country's leadership is headed by President Miguel Diaz-Canel, who succeeded Raul Castro in 2018, and the ruling Communist Party exercises significant influence over all aspects of Cuban society. Despite being a developing country with limited resources, Cuba has a well-developed healthcare system and has made significant strides in education and social welfare.
The tourism industry is a key source of revenue for the country, and recent economic reforms have sought to increase private enterprise and foreign investment while maintaining the socialist system. However, Cuba still faces challenges such as a lack of political freedom, limited access to information, and economic inequality.
Know Before You Go | Cuba
Planning a trip to Cuba requires a bit more preparation than many other places, as internet in Cuba is still relatively limited when compared to most of the western world.
Lodging & Logistics
Getting There: I recommend starting your trip to Cuba by flying into the Jose Marti International Airport. This is the largest and busiest airport in Cuba. It is located approximately 15 kilometers southwest of Havana, the capital city of Cuba. The airport has three terminals, with Terminal 3 being the main terminal for international flights. It serves as a hub for Cubana de Aviación, the national airline of Cuba, as well as several other international airlines.
The airport has undergone significant renovations in recent years to expand and modernize its facilities, including the addition of new duty-free shops, restaurants, and lounges. Immigration and customs processes can sometimes be lengthy, but the airport is generally considered safe and efficient. Ground transportation options include taxis, buses, and rental cars.
Where to Stay: While in Cuba, I highly recommend you stay in a Casa Particular. The Casa Particular is a type of accommodation that is unique to Cuba. It is a private home that is rented out to tourists, providing a more authentic and intimate experience than traditional hotels. The Cuban government began allowing homeowners to rent out rooms in their homes to tourists in the 1990s as a way to boost the tourism industry and provide additional income to Cuban families. Casa Particulars can be found throughout the country, from large cities like Havana to smaller towns and rural areas.
Casa Particulars offer a range of accommodations, from a single room in a family home (which I recommend) to an entire apartment or house. Many are decorated with traditional Cuban furnishings. Amenities such as air conditioning, private bathrooms, and Wi-Fi will vary. Breakfast and other meals may also be available for an additional fee. Staying in a Casa Particular provides a unique opportunity to interact with Cuban families, learn about the local culture, and experience the warmth and hospitality of the Cuban people.
Casa Particulars are typically less expensive than traditional hotels, making them a popular choice for budget-conscious travelers. They are also a way to support the Cuban economy directly, as the income generated from rentals goes directly to Cuban families rather than foreign-owned hotel chains. Here are some options (specific to Havana) below:
Casa particular recommendation
This Casa functions a bit more like a standard boutique hotel. It is beautifully furnished, and is also located in Central Havana, near the landmarks of Plaza Vieja, Plaza de Armas, and the Malecón. Free Wifi is provided in some public areas, and there is onsite laundry and free breakfast as well.
Casa Particular recommendation
Also located in Central Havana, this Casa features traditional decor and comfortable rooms. There is an onsite restaurant and bar, and wifi available in public spaces and rooms. Staff here are noted as being very helpful and friendly, really making you feel at home there.
Casa Particular recommendation
This Casa is the one that I stayed at when visiting Havana. It is located in an old colonial house that has been recently restored and the finishings in the hotel are absolutely beautiful. The hosts here were absolutely wonderful and did a lot to help make sure we were taken care of while staying there. This includes helping us book tours that would have been difficult, given limited wifi access.
In terms of location, I think that Central Havana is a great place to stay as you get to see more of the authentic side of the city and will have so many opportunities to meet and interact with regular locals.
Getting Around: There is no uber in Havana (and you will not have 5G / data on your phone anyway), so you will need to get around via taxi. Just a few things to note here:
Registered Taxis: These come in all shapes and sizes, including vintage cars. You can either hail these in the street or coordinate your pickup through your Casa Particular. You should agree upon a price with your driver before you get into the car to keep the price fair.
Taxi Collectivos: If you are traveling a further distance and are alone or perhaps in a pair, you can buy one seat in a shared car to travel between cities.
Bici Taxi: These are essentially little carriages connected to bicycles where you are manually driven around the streets of the city. You'll find these in every city in Cuba. This option is best for traveling shorter distances.
When to Go: The best time to visit Cuba is between October and April, as you'll experience less humidity and rain during their dry season. However, you will see the most tourists there at this time. I'll note that I went in May, and still found the weather to be nice and it only rained twice over the course of a week.
Daily Considerations
Language Considerations:
As a former Spanish colony, the primary language in Cuba is Spanish. Cuban Spanish has its own unique dialect, with distinct pronunciation, vocabulary, and grammar. The Cuban accent is characterized by a musical and rhythmic quality, and the use of slang and colloquialisms is common in everyday conversation. Cuban Spanish is also heavily influenced by African and Caribbean languages, as well as American English. I will note that it can be hard to find good English speakers while you are there, particularly outside tourist areas. For this reason, I highly recommend you consider learning key Spanish phrases in advance of your trip.
Money Situation:
The Cuban peso is the Cuban currency used in the country. Until 2021, there were two types of currencies – one for foreigners and one for locals, but these merged in 2021. If you are a US citizen, one important thing to note is that you will not be able to use neither your credit card nor debit card while there. This is due to the (still existing) US embargo on Cuba. As such, you will need to pull out ALL the cash you need in advance of your trip and bring it with you.
Bring extra just in case anything surprising comes up, and plan to budget carefully for every day of your trip. As of the time of writing this post, $24CUP = $1USD, but note that actual exchange rates when you get to Cuba may not be the same. And also they may vary based on the city that you are visiting.
Where to Eat:
​There is a misconception that there is no good food in Cuba due to the restaurants owned by the State. But know that there are plenty of good places to eat – you just need to do your research in advance. Click here to learn more about where to eat in Havana for a good representation of the variety of options you might find around Cuba.
The One Week Cuba Itinerary
This Itinerary is centered in Havana and features trips to nearby sites on the western side of Cuba, including Viñales, Varadero, and Las Terrazas.
Day 1 | Explore La Habana Vieja
Morning
On your first day in Havana, I recommend getting to know La Habana Vieja or "Old Havana". This part of the city is the historic district of Havana, Cuba, and is a UNESCO World Heritage Site. The area is home to many beautiful colonial buildings, plazas, and historic landmarks. These include the Cathedral of Havana, the Capitol building, and the famous Malecon seawall.
Old Havana is also known for its vibrant street life, with musicians, artists, and street vendors lining the cobblestone streets. The district has undergone significant restoration efforts in recent years, with many of its buildings and public spaces being restored to their former glory.
The best way to see this part of the city is via walking tour, so that you can learn more about the local culture and history from a local. Some of the sites that are included on this tour include:
Plaza San Francisco: Plaza San Francisco is a historic square located in the heart of Old Havana, Cuba. The square is named after the nearby San Francisco de Asis church and is home to many notable landmarks, including the Lonja del Comercio building and the Havana Stock Exchange.
Plaza de Armas: Another famous square in Old Havana, this one features the Palacio de los Capitanes Generales, which is where the governor resided during colonial times. This square also features the Museum of the City of Havana, which provides information on the local history and culture.
Plaza Vieja: This square is known for its colorful colonial-era buildings and the wide variety of cafes and shops that you'll find here.
Hotel Ambos Mundos: This hotel is well known as it was home to writer Ernest Hemingway for several years in the 1930's. It was a family hotel at that time. Today it is known for it's peachy interior and 20-century style architecture.
Catedral de San Cristobal: Built in the 18th century in the baroque style, the cathedral's striking façade features two towering bell towers and intricate stonework. Inside, the cathedral boasts a stunning interior, with soaring vaulted ceilings, ornate altars, and beautiful stained-glass windows. The cathedral is dedicated to Saint Christopher, the patron saint of Havana, and has played an important role in the city's religious and cultural life for centuries. This cathedral is located in Old Havana in the aptly-named Plaza de la Catedral.
Click here to book your Old Havana Tour!
Afternoon
Heading into the afternoon, take it easy by visiting Parque Central. This is a vibrant and bustling park located in the heart of the city. It is surrounded by some of the city's most iconic landmarks, including the Gran Teatro de La Habana and the Hotel Inglaterra. The park is a popular gathering spot for both tourists and locals, with musicians, artists, and street performers often entertaining crowds. Here you can enjoy a leisurely stroll through the park, relax on one of the many benches, or take in the beautiful views of the surrounding buildings. Parque Central is also a transportation hub, with several major bus and taxi routes passing through the area, making it a convenient starting point for exploring the city.
After spending time in the park, I recommend you head to Museo de la Revolución (Museum of the Revolution) next. The museum is housed in the former Presidential Palace, which was the seat of government until the Cuban Revolution in 1959. The museum's exhibits showcase the history of the revolution, including the life of Che Guevara, Fidel Castro, and other important figures who played a key role in the country's transformation.
Visitors can see artifacts such as revolutionary posters, military equipment, and even the yacht that Fidel Castro and his fellow rebels used to sail to Cuba from Mexico. The museum's most famous exhibit is the Granma Memorial, which displays the boat that transported the revolutionaries to Cuba. I always find it interesting to learn the history from the "other side" as we tend to be quite strong in how we position things in the US history-wise.
If you head a little further out to Vedado, you can visit Plaza de la Revolución, which serves as a public gathering place for political rallies and events. The plaza is also known for its large murals featuring images of Che Guevara and other revolutionary leaders. And it is dominated by the towering Jose Marti Memorial, which honors the national hero of Cuba.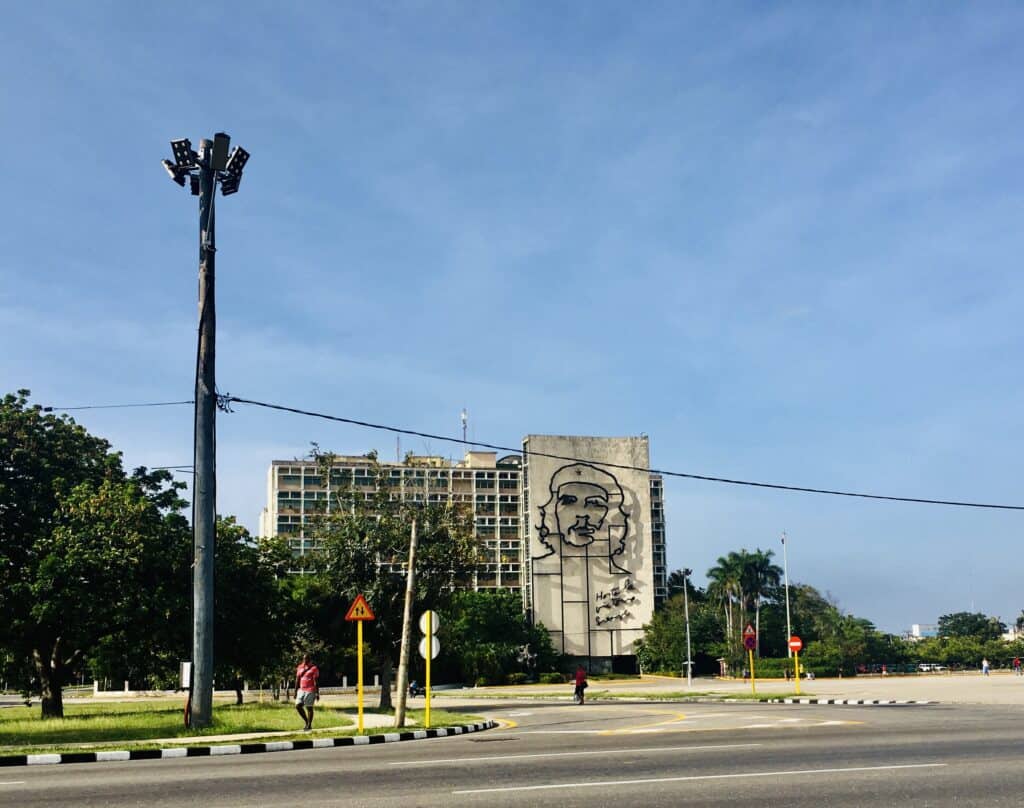 Evening
For dinner you your first night, I recommend eating at O'Reilly 304. This restaurant is owned by a local restauranteur, who makes time to greet and get to know his guests (whenever he is in town). This is one of the trendiest restaurants in Cuba – both the food and the ambiance here are excellent.
Day 2 | Explore Central Havana
On your second day in Havana, get to know Central Havana a bit more.
Morning / Afternoon
Partagas Cigar Factory is one of the most famous cigar factories in Havana, Cuba. This factory has been producing high-quality cigars for over 170 years. Visitors can take a guided tour of the factory to see how the cigars are made, from the sorting of the tobacco leaves to the rolling and packaging process. The factory's skilled workers, or torcedores, use traditional techniques to create some of the world's finest cigars, including the famous Partagas Serie D No. 4.
While on the tour, you will learn about how the cigars are made and the how tobacco leaves are sourced. Something that I thought was interesting is the fact that women who work here get a year-long maternity leave when they have a baby. The factory also has a shop where visitors can purchase cigars to take home as souvenirs. And, if you get lucky like we did, you can buy cigars under the radar from one of the employees for a much cheaper price.
Callejón de Hamel is a vibrant and colorful alleyway located in Central Havana. The alleyway is known for its unique and eclectic artwork, which includes murals, sculptures, and installations created by local artists. The artwork often depicts Afro-Cuban culture and religion, with vibrant colors and intricate patterns.
This area is a popular destination for both tourists and locals, with live music performances and dance shows often taking place in the alleyway. Visitors can also shop for souvenirs and handcrafted items at the market stalls that line the street. When I visited this area (which was around the corner from our Casa), I was able to get a run down of the local Afro-Cuban religion from a local.
This ally features a restaurant and bar, and you can easily spend hours here. You may also be surprised to see many pictures of shots from movies like Fast and Furious 8, as it was partially filmed there.
The Malecón is a picturesque esplanade and seawall that runs along the coast of Havana, Cuba. This five-mile stretch is a popular destination for both locals and tourists alike, with stunning views of the sea and the city's iconic skyline. The Malecón is a lively and bustling area, with people often gathering to enjoy the sea breeze, listen to live music, and watch the sunset.
The area is also a popular spot for fishing and water sports. Along the Malecón, visitors can find a variety of restaurants, bars, and street vendors selling traditional Cuban snacks and refreshments. We spent time here both during the day for a nice stroll and at night just enjoying the view and sounds of the water.
​Evening
As your day comes to a close, I recommend heading to El Floridita for live music, as well as good food and drinks. This place is considered the birthplace of the daiquiri and has been operational since 1817. This is another one of Ernest Hemingway's famous haunts, and as a result, remains a popular tourist attraction today.
Day 3 | Salsa and Ron
Morning
On the third day try to get immersed in the local culture even more by taking a dance class. If you like dancing in any way, salsa is incredibly fun and a must if you plan to go dancing anywhere in Cuba. If you are unfamiliar with salsa, it is a popular dance style that originated in the Caribbean, particularly in Cuba and Puerto Rico, in the mid-20th century.
It is a rhythmic and energetic dance that incorporates elements of Afro-Cuban music, jazz, and swing. Salsa dancing is typically performed to a fast-paced salsa music, with dancers moving in sync to the beat of the music. The dance includes a variety of intricate footwork, turns, and spins, and often involves close partnering and improvisation.
For your lessons, try out La Casa de Son. This Salsa house features lessons on a variety of salsa styles, and classes can be tailored to your level, whether beginner or advanced. We had an amazing experience here with the very experience instructors.
Afternoon
El Museo del Ron Havana Club, or the Havana Club Rum Museum, is a museum and cultural center. The museum is dedicated to the history and production of rum in Cuba, with exhibits showcasing the process of distillation and aging, as well as the cultural significance of rum in Cuban history and society. Visitors can take guided tours of the museum, which include tastings of Havana Club rums and opportunities to learn about the art of cocktail-making. The museum is housed in a historic building in the heart of Havana's Old Town.
Hotel Nacional de Cuba is another must-see destination in Havana. This is a historic hotel located in the Vedado neighborhood of Havana, Cuba. It was first opened in 1930 and has since become a landmark of the city, known for its grand architecture and rich history. The hotel has played an important role in Cuban history and culture, having hosted many famous guests including world leaders, movie stars, and musicians.
It has also been the site of many important events, such as the Havana Conference of 1946 and the Cuban Missile Crisis in 1962. The hotel's lush gardens, art deco architecture, and breathtaking views of the sea make it a popular destination for tourists and locals alike. In addition to its luxurious accommodations, the hotel features a variety of restaurants, bars, and entertainment venues, including the famous Cabaret Parisién.
Late Afternoon / Evening
Leading into the late afternoon, I recommend you consider doing a Classic Car Tour. This two-hour experience will take you across the larger city in style! On this experience, you'll drive by sites such as:
Capitol Building
China Town
Revolution Square
Cristobal Colon Cemetery
John Lennon Statue Park
Nuevo Vedado
Vedado
Melacón
Day 4 | Fusterlandia and Las Terrazas
Fusterlandia is a vibrant and colorful art installation located in the Jaimanitas neighborhood of Havana, Cuba. The installation is the work of Cuban artist José Fuster, who has transformed the neighborhood into a whimsical and imaginative world of mosaic art. Fuster began the project in the 1980s, and over the years, he has transformed his own home and studio, as well as the surrounding streets and buildings, into a vibrant display of mosaic murals, sculptures, and other works of art. The installation has become a popular tourist attraction, with visitors from around the world coming to marvel at Fuster's unique artistic vision.
This is an amazing place to get instagram photos, and we had a great getting the "right shot" while there, as you can see below:
Las Terrazas Ecotourism Center is a sustainable community located in the Artemisa Province of Cuba, about an hour's drive west of Havana. The community was established in the 1970s as an eco-village, designed to promote sustainable development and preserve the surrounding forest ecosystem. Today, Las Terrazas is home to a number of artists, musicians, and writers, and is a popular destination for tourists interested in eco-tourism and sustainable living.
The community offers a variety of activities, including zip-lining, hiking and birdwatching in the nearby forest, swimming in the San Juan River (Rio San Juan), and visiting the studios of local artists and artisans. While here, you can also learn about the history and culture of the area at the local museum, or take a tour of the sustainable farms and gardens that supply the community with fresh, organic produce.
From a logistics perspective, the best way to visit both of these in one day is via tour. I recommend the Private Las Terrazas Tour by Locally Sourced Havana Tours.
Once you get back to Havana, I recommend having dinner at La Guarida. This restaurant has been made a bit famous by visits from celebrities like Beyoncé and the Obamas. The restaurant promises to offer you the "opportunity to travel back in time" as it is located in a partially restored colonial building. The style of food is billed as "new Cuban" and it is a Paladar, or privately-owned restaurant featured in the owner's home. After dinner be sure to head up to the rooftop to take in great views of the city below.
Day 5 | Day Trip to Viñales
On your fifth day, leave Havana again for a full day trip to Viñales. This is a small town located in the western part of Cuba, known for its stunning natural beauty and unique cultural heritage. The town is situated in the heart of the Viñales Valley, a UNESCO World Heritage Site known for its picturesque landscapes, tobacco plantations, and limestone karsts. Viñales is also famous for its traditional Cuban music and dance, which can often be heard in the town's lively cafes and bars.
Visitors to Viñales can explore the surrounding countryside on horseback or by foot, taking in the stunning vistas and learning about the local culture and way of life. The town is also home to several historic sites, including the Mural de la Prehistoria, a colorful mural depicting the history of the region.
​As mentioned above, I recommend exploring this area with the help of a guided tour. This Private Viñales Tour will add the following to your experience:
Visit to Los Jasmines Lookout, where you can get expansive views of Vinales
Guided Walk of Viñales where you'll be able to meet friendly locals and the local farmers, and learn about the way of life here
Lunch at an organic farm
Visit to a tobacco farm and drying house – see the other side of cigar productions
Stop at Mural de la Prehistoria, a hugh mural that is 120 meters wide that was painted by local artist Leovigildo Gonzalez Morillo
Click here to Check Rates for the Viñales Tour
Day 6 | Varadero Beach
On your sixth day, head out for an overnight excursion to Varadero. Varadero is a popular beach resort town located on the Hicacos Peninsula in Cuba. Known for its white sandy beaches and crystal-clear waters, Varadero is a popular destination for tourists looking to relax and enjoy the sun and sea. The town offers a wide range of activities, including snorkeling, diving, fishing, and boating, as well as a variety of restaurants, bars, and nightclubs.
While here , you can also explore the nearby caves and coral reefs, or take a trip to the nearby cities of Matanzas and Havana for a taste of Cuban history and culture.I tell honestly tell everyone I can that this is hands-down the best beach I have ever had the pleasure of visiting. The beautiful waters almost never end here and you can walk out for what seems miles.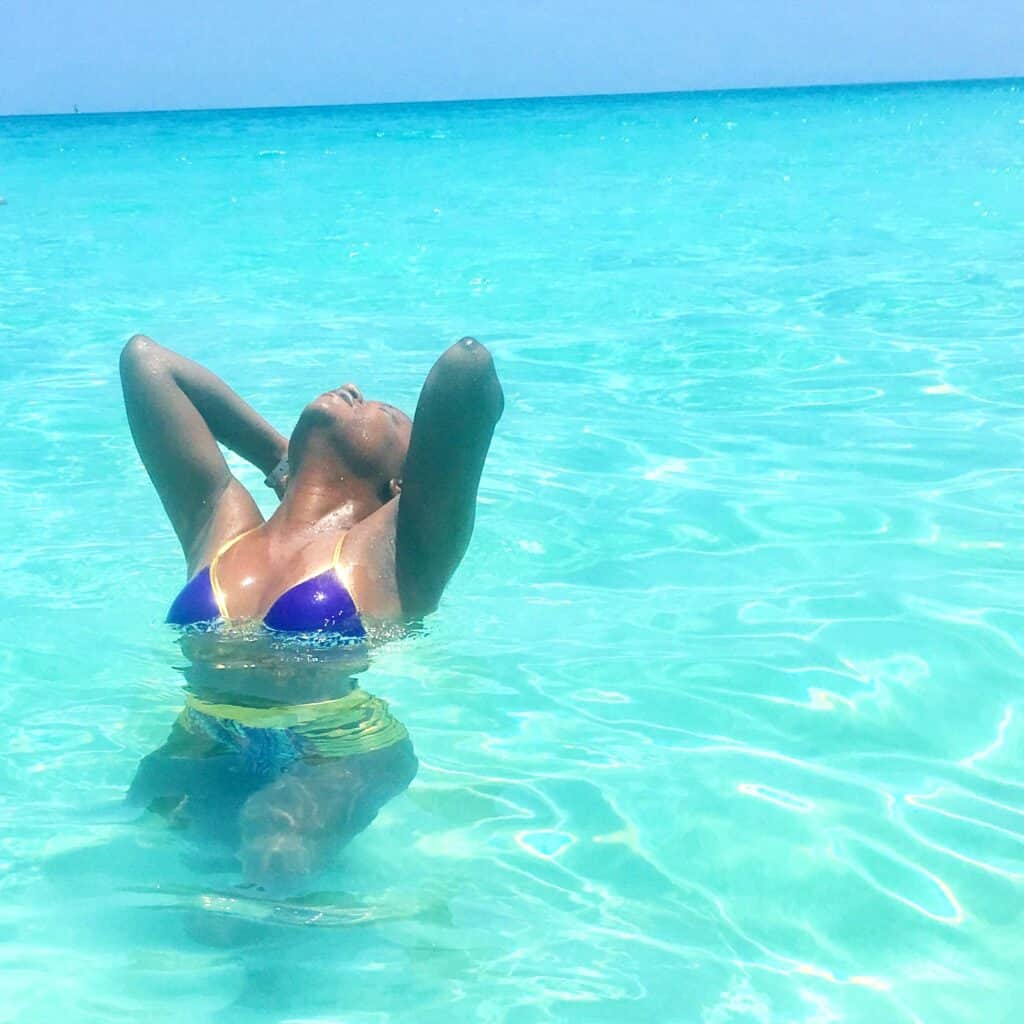 There are several ways to get to Varadero, including travel by classic car. You can work with your Casa Particular or hotel to figure out which option works best for you.
Varadero is a few hours away from Havana, so you should plan to stay the night here in one of the many Casas or Hotels in the area. Here is one recommendation that you might consider: Sunny and Upscale Flat in Varadero Beach.
Day 7 | Return to Havana
After returning back to Havana by the afternoon, you should spend your last day in Cuba having a little fun.
Early Afternoon
If you have not had a chance to pick up many souvenirs, I recommend shopping at Almacenes San Jose Artisans Market. Almacenes San Jose Artisans Market is a lively and colorful market located in the Old Havana neighborhood of Cuba. The market offers a wide variety of handmade goods, including traditional Cuban crafts such as pottery, leather goods, and textiles, as well as paintings, sculptures, and other works of art.
Visitors can browse the stalls and watch as local artisans demonstrate their craft, or purchase souvenirs and gifts to take home. The market is housed in a historic building that was once a warehouse for goods imported and exported to and from Cuba, adding to its charm and character.
Evening
First, head to El Cocinero for dinner. This restaurant is easily recognized by the smokestack outside the restaurant and is known for featuring "world" cuisine and having a lovely terrace. There are four separate dining experiences, but I recommend trying the Terraza-Jardin.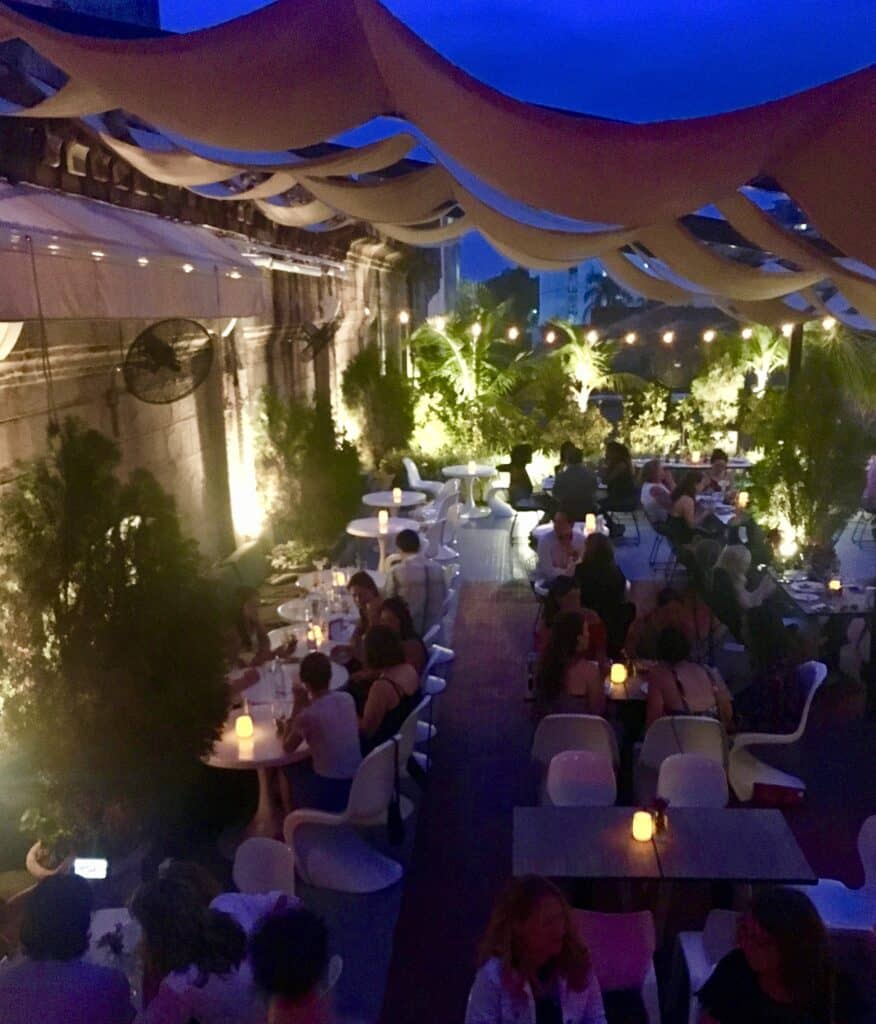 After getting your fill, spend you last night putting your new salsa skills to good use! I recommend heading to Club Jardines de 1830. This club is a historic open-air dance hall and restaurant located on the banks of the Almendares River in Havana, Cuba.
The club was established in 1920, and has a charming outdoor setting, featuring lush gardens and views of the river. It really sets the scene for lively evenings of live music and dancing. The club also hosts regular performances by popular Cuban musicians, including salsa and son bands, and is a popular spot for salsa dancing.
In Summary | 7 Day Cuba Itinerary
That includes this perfect Cuba Itinerary for one week! I hope that you can see that this is really the perfect amount of time to get a true taste of the local culture in Cuba. If you have visited Cuba before and have ideas on what else people should see there, let me know in the comments below.
Related Posts: