The Ultimate 3-Day Chiang Mai Itinerary
I have a very hard time ranking the places that I go in terms of which I liked best, but I will very easily say that Chiang Mai is my favorite new city (of those I visited this year). What made this city stand out for me is that while it is a mountain city, it gave off beach town vibes too. I know this might not make sense if you haven't been there before, but just trust me :).
The city has a very different feel to it than Bangkok, as the pace of life here is just slower. For those of you history buffs out there, Chiang Mai was not a part of the same country as Bangkok until 1939. This may explain the differences in culture you see, at least partially. In this 3-day Chiang Mai itinerary, I'll cover the top things to do in here, so you'll see why I just LOVE this city!
Know Before You Go | Chiang Mai
Lodging and Logistics
Getting There: The city is serviced by one small airport, the Chiang Mai International Airport. Most flights are to/from Bangkok, other Northern cities in Thailand, and some cities in neighboring Asian countries. This means that if you are flying in from any other region of the world, you will likely transfer through Bangkok to get there. The great thing about the airport is that it is very close to the city; less than 20 minutes by taxi.
This city is also connected to Bangkok and Northern Thailand by bus and train, but note that the journeys will be much longer. For example, a train from Bangkok to Chiang Mai is about 12-15 hours. There are overnight options available to you, if that interests you.
Where to Stay: There are four areas in Chiang Mai that are popular with tourists:
Old City – Located within the old walls, this is a popular location in the city for first-timers. It is one of the most walkable parts of town, and close to many attractions such as the Lanna Folklife Museum and many well-known temples.
Nimmanhaemin – This is the trendy section of town, known for good nightlife. In this area of town, you are also close to the Maya mall and the Museum of World Insects and Natural Wonders.
Santitham – This neighborhood is not a popular with tourists, giving it more of a local vibe. Some nearby attractions include the Chiang Mai National Museum and the Thanin Market.
Mountainside – This area is good for families as it is quieter and has a village-like feel. You are close to the Chiang Mai Zoo here as well as the Doi Suthep Temple.
We stayed in the Nimmanhaemin area at the Art Mai hotel. This small hotel features an Art gallery, a wonderful staff, and delicious breakfast (which is included!). Each floor has a different art theme, which is carried into each room. You can walk to numerous shops, restaurants, and massage places in a matter of minutes from the hotel. It's a great hotel in the perfect location. As in the rest of Thailand, it is easy to find nice hotels at a low price, and there are many nice options throughout the city.
If you prefer to really stay like a local, there are many great Airbnb options as well. *If you are a first time Airbnb user, use my link to get $40 off your first stay!*
Getting Around: There is limited public transportation in Chiang Mai, so you will need to rely on taxis, tuk-tuks, or ubers to get around. Tuk tuks are often cheapest, but honestly the least safe. We found the ubers to be usually really nice cars, with very affordable prices.
RELATED: Bangkok Travel Guide
Daily Considerations
When to Go: This will vary based on weather preference. Chiang Mai has three seasons: Cool, Hot, and Rainy. The cool season lasts from December through February, and is the most popular tourist season. Expect highs in the mid 80s (F) and lows in the 50s – the weather is dry and very pleasant during this time. The hot season starts in March and ends in June, and is marked by hot and humid weather.
Temperatures can get as high as 100º, with not much relief at night. The rainy season is from July through November, bringing cooler temperatures. The rain does not typically last all day though – there are typically afternoon showers, and clear mornings / evenings. I went at the start of the hot season in March, and thankfully full humidity hadn't hit yet :).
Language Considerations: As I mentioned in my post on Bangkok, Thai is quite different from English. This does not mean that learning a few key phrases is impossible though! Check out my post on the essential Thai phrases you need for your trip.
The Itinerary | 3 Days in Chiang Mai
Day 1 | Exploring Chiang Mai and its Temples
In many of my travel guides, I mention that the best way to see any new city is by taking a city tour. As Chiang Mai is spread out and not connected by public transportation, a planned tour is a great option here. We used Viator to book the Half-Day Chiang Mai City and Temples Tour. While centered on the most popular temples found in the city, it provides a great lay of the land due to the spread out location of the temples.
Morning:
Start out your morning on the tour with a drive up the mountains to Wat Phra That Doi Suthep. This temple has been around at least since the 14th century, and is considered sacred by many Thai Buddhists. It is said that the location was chosen when a white elephant, possessing a bone from Buddha, trumpeted thrice then dropped dead at that very location. This site offers spectacular views of the city below and plenty of golden-plated domes.
After descending from the mountain, we stopped at Warorot Market. Warorot caters to the local Thais, offering casual clothing and everyday items. If you are interested in purchasing Thai spices or teas, this is a great place to pick those up!
RELATED: Thai Phrases for Travel
Next, we went to Wat Chedi Luang, where you can see the partially reconstructed Chedi Luang stupa, which was badly damaged in an earthquake in 1545. The site remains in use today though, and there are several functioning buildings that remain at this site. One pretty cool activity that you can do here is have a conversation with a monk to learn more about Buddhism in general. This is a great way to learn even more about the culture and religion of the region.
The last temple we visited was Wat Phra Singh, which is located within the walls of the old city. This is a beautiful temple complex, where we saw many active monks and worshipers.
We closed out our tour at the Sompet Market, near the old city walls and Chiang Mai Gate. Warorot is known for its fresh fruits, vegetables, and flowers!
Book your Chiang Mai City & Temples Tour Now!
Afternoon/Evening:
After your very eventful morning, head back to your hotel for a nice little break over the afternoon. For dinner, head over to Tong Tem Toh for authentic Northern Thai food. If you like chicken, you must try the fried chicken here. Seriously some of the best I've had anywhere in the world!
Day 2 | Elephants the Night Market
Morning:
When in Thailand, you really have no choice but to spend a little time with the wildlife! We love elephants, so decided to spend the morning doing the Chiang Mai Elephant Sanctuary Small Group Ethical Tour at the Lanna Kingdom Elephant Sanctuary. Let me tell you guys – this was the BEST thing we did the whole time in Thailand. The tour picked us up from our hotel and drove us about an hour outside of the city to the sanctuary. Once we changed and received instructions for the day, we got to feed, bathe, and play with the elephants! They really are just as sweet as you'd imagine. After spending we finished our "work", we were provided with delicious pad Thai and snacks for a very delicious lunch.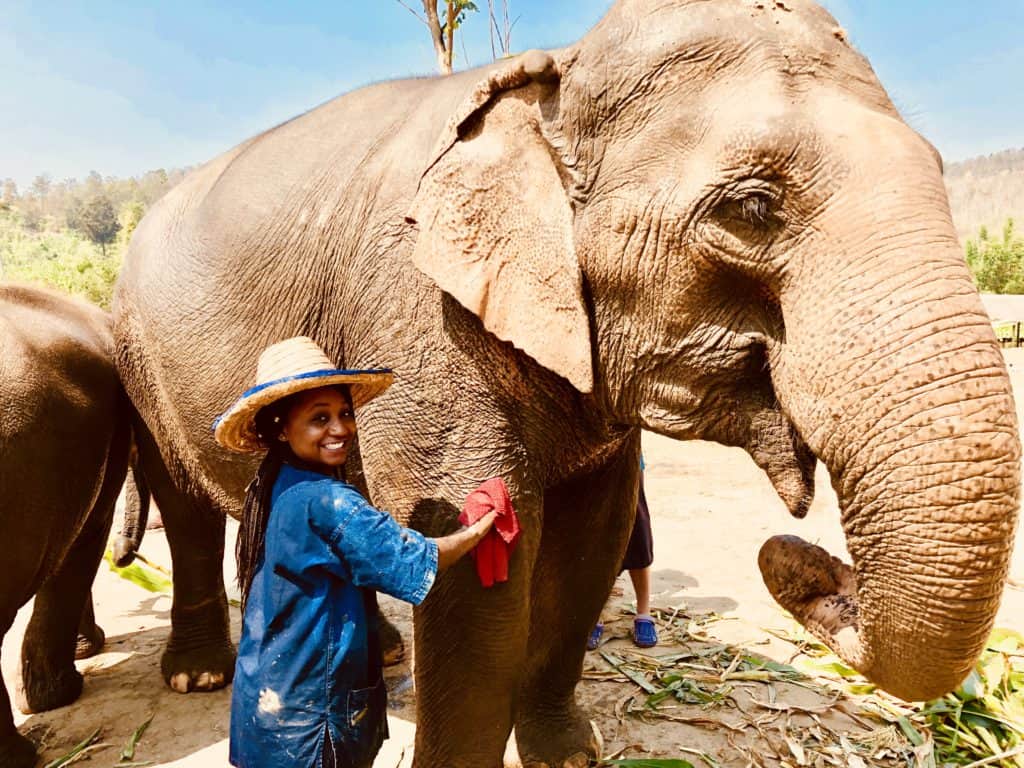 Afternoon / Evening:
After taking a break for a Thai massage and a nap :), head over to the Chiang Mai Night Bazaar. Here you can find plenty of delicious, and unique food to eat. You will also find options for clothing and artisanal crafts / jewelry and other items that are perfect for souvenirs. We spent 3 hours here, and honestly could have gone longer – there is just so much to see/buy!
Day 3 | Cooking and 3D Art
Morning:
Spend the morning of your third day in Chiang Mai learning how to cook Thai food. We booked this Half Day Cooking Class through Viator at the Mama Noi Thai Cookery School. This class started with a stop at a local market to learn about Thai ingredients, followed by a visit to the school to get started. The school is on a small farm with beautiful grounds and a few small animals running around :). After you get to the school, you have the option to select what you want to cook and what type of protein you want to use. Note, there is tofu available for the vegetarians out there.
RELATED: The Best Cooking Class in Chiang Mai
For each course you cook, the instructor takes you through each step in a very methodical manner. This allows everyone to cook at a quick pace, despite level of expertise. The coolest thing about this class in my opinion is that you cook everything from scratch -even curry paste. Oh, and you get to eat everything you make too :). Thai food is delicious, so if you have the opportunity to learn how to make it, you should to do it!
Afternoon:
After a morning of cooking and eating, head over to Art in Paradise 3D Museum. I admit, this museum is a bit kitschy, but so much fun! You have the chance to be a part of the art, and take really fun pictures, like these below: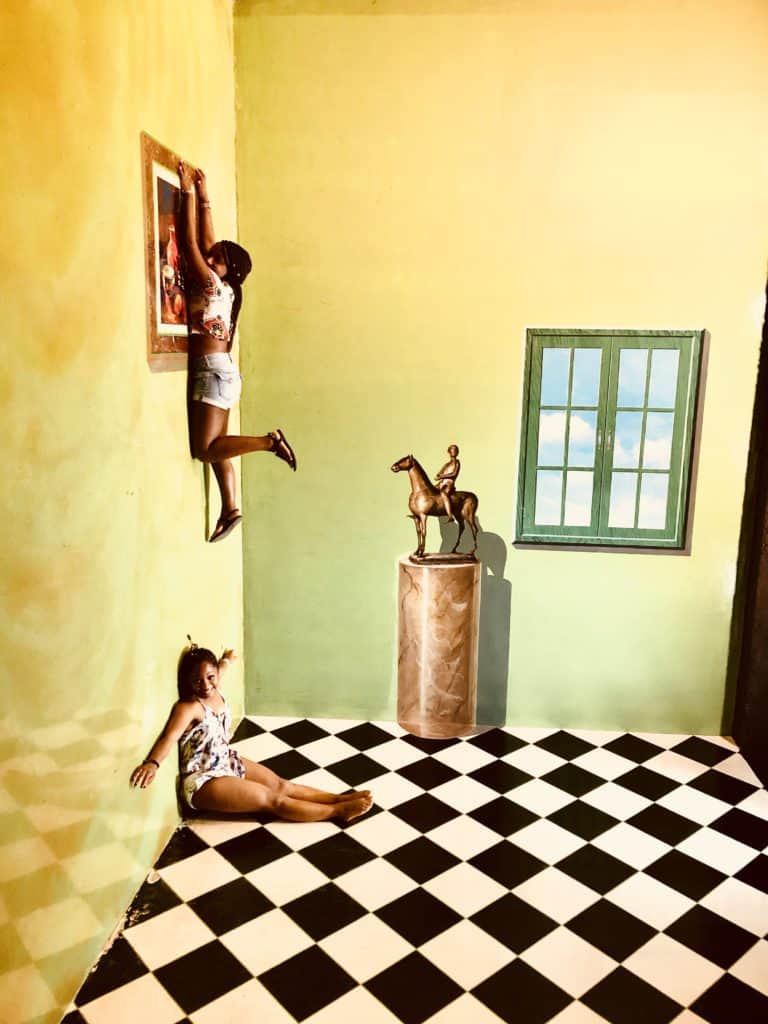 Evening:
RELATED: Phuket Travel Guide
Wrap up your final day in Chiang Mai by grabbing a bit to eat or hanging out on Nimman Road. I really loved this part of the city – it's just busy enough to be trendy, but still has a relaxed vibe.
---
Final Thoughts | Top Things to Do in Chiang Mai
That wraps this Chiang Mai itinerary. I hope you find this useful as you plan your trip to this awesome city!
If you have visited Chiang Mai before, what did I miss?? Let me know in the comments below!
Related Posts:
**Follow my blog on Bloglovin'**
#travelwandergrow
---