Star Wars: Galaxy's Edge – Tips & What to Expect
If you are a Star Wars fan who has been dying to experience life in the Galaxy far, far away, Disney has finally made that possible for you! The recent opening of this new land in Disneyland has brought the world of Star Wars to life in a very real way, and is completely worth visiting. In this post you'll get Star Wars Galaxy's Edge Tips, so you can learn how to make the most of your time there.
Star Wars Galaxy's Edge | An Overview
Background
The new Star Wars Land is set on the planet Batuu, in the Black Spire Outpost. For you real Star Wars nerds out there, this is one of the planets located just before "Wild Space". The feel of the planet is similar to Tatooine (Luke Skywalker's home planet) and Jakku (Rey's home planet), as it has a desert and rustic feel to it. The setting of the land is after the events of The Last Jedi, making it relevant for our time.
Where is Star Wars: Galaxy's Edge Located?
Star Wars: Galaxy's Edge is located in the original Disneyland park in Anaheim, CA. If your more familiar with the park, this new land is located on the northwest corner of the park. Galaxy's Edge is spread out quite a bit, and can be accessed from Critter Country, Frontierland, and Fantasyland.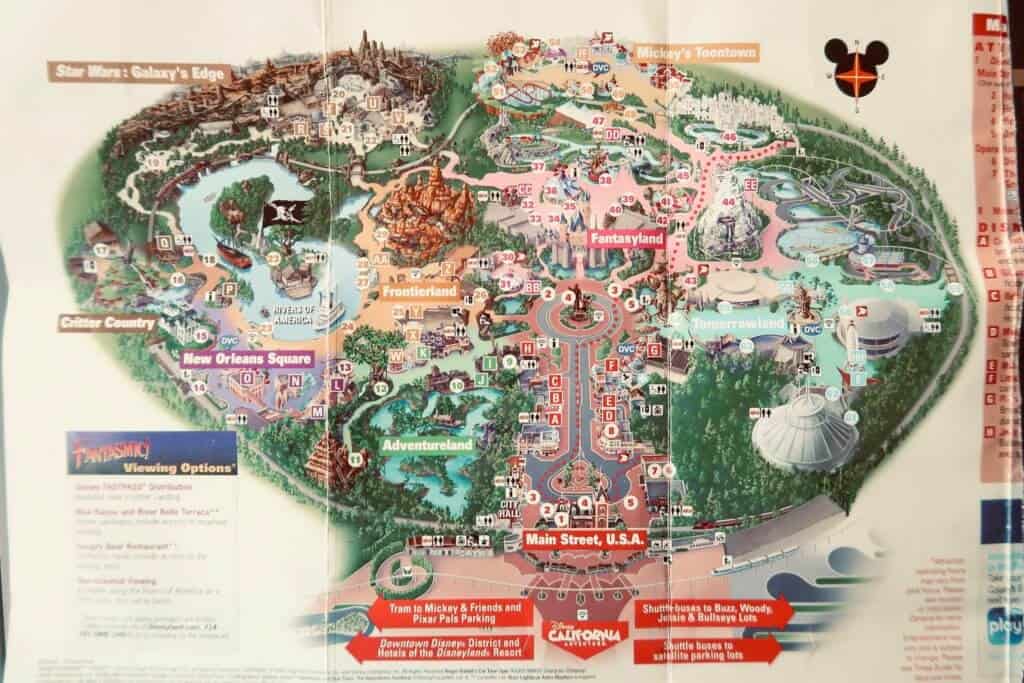 Star Wars Galaxy's Edge Opening Date: Disneyland
This new land in Disneyland officially opened on May 31, 2019 – so yes, you can visit this land now! Note, if you are interested in the Disney World location, that new land will not open until August 29, 2019.
How to Visit Star Wars Galaxy Edge
Getting Your Disneyland Tickets
To get access to Star Wars Land, you must have tickets to Disneyland. Once you have decided on your dates for visiting Disneyland, it is advisable that you purchase your tickets online. This will save you time and hassle on your first day at the park. You can purchase your tickets using this link.
Note, if you are a AAA member, you will get a discount on your tickets, so don't forget to use it!
Star Wars Galaxy's Edge Reservations
From May 31, 2019 – June 23, 2019, reservations are required for those who plan to visit Star Wars Galaxy's Edge. Unfortunately, due to the popularity of the park, there are no more general reservations available. However, you can still secure a reservation through a stay at one of the Disneyland Hotels:
Disney's Californian Hotel
Disney's Paradise Pier Hotel
The Disneyland Hotel
Once you book your stay at one of the above hotels (and have valid Disneyland tickets), you will have a secured reservation for Galaxy's Edge. For more information, check out this page.
While the reservations are in effect, you will have a few steps to take to access Galaxy's Edge once in the park:
Visit the Star Wars Launch Bay in Tomorrow Land to check-in and receive your wrist bands. You must get them scanned before leaving the launch bay for them to be activated. You will also be informed of your point of entry at the launch bay as well.
Head to your designated entry point at the time of your reservation to get your band scanned once more. You are now on your way through space to the Galaxy's Edge!
Entering Star Wars Galaxy's Edge
Upon your entrance into the planet Batuu, you will see familiar sights such as parked fighter jets and pilot suits. You may run into a few familiar characters as well, such as Rey – keep your eyes open! As you wander further into the planet you'll encounter the local marketplace (the Black Spire Outpost Shops), where you can shop for standard Star Wars-style clothing and strange pet animals. See a few of the sights for yourself:
Star Wars Galaxy's Edge Map
See below for a map of Batuu – this will help you get your bearings as you wander this new land. It's spread out quite a bit, offering a lot to explore during your time there:
Star Wars Galaxy's Edge Rides
Millennium Falcon: Smugglers Run
If you've ever wished to pilot the Millennium Falcon, now's your chance! What's cool about this ride is that you get to walk through the ship – which looks just as it does in the movies. When your time comes, you'll get into the ship's cockpit and head off on a mission to help the Resistance get needed supplies. Make sure your piloting and shooting skills are up to snuff as you are actually in control of the ship, so keep your senses sharp!
Here are a few pictures from inside of the ride:
This is currently the only open ride in Galaxy's Edge (as of summer '19).
Star Wars: Rise of the Resistance
This is a coming attraction that is said to be an immersive experience that will total over 20 minutes! You can expect a thrilling attraction that features a battle between the Resistance and the First Order. During the experience you'll be captured by the First Order and have to break out. You'll face being fired at by the huge AT – AT walkers and more!
This ride is expected to open in late 2019.
Additional Star Wars Rides at Disneyland
Don't worry – there is more Star Wars to experience at Disneyland outside of the Galaxy's Edge. There are two rides in Tomorrowland that will fill any remaining void that you have:
Star Tours – The Adventures Continue: This simulator ride is the original Star Wars ride in Disneyland, which opened in 1987. Originally focused on a trip to Endor, the ride was revamped in 2010 and is now a completely randomized adventure where C-3PO is your captain. Since you never know what to expect, the ride never gets old.
Hyperspace Mountain: This is a temporary revamping of the usual Space Mountain that features John William's original soundtrack and focuses on helping General Ackbar and the Rebel Alliance avoid / fight an Imperieal Star Destroyer. Note that this is not a permanent change to Space Mountain, so ride it while you can – it's awesome!
Additional Star Wars Galaxy's Edge Attractions
There are many cool things to experience at the Galaxy's Edge outside of the rides:
Droid Depot
As a visitor to Batuu, you have the privilege of being able to build your own droid! So if you've always wanted your own R2-D2 or BB-8, you can know make that a reality. The shop is completely interactive, and you're given your own workstation to put your droid together:
Savi's Workshop – Handbuilt Lightsabers
Maybe your more into the war aspect of Star Wars, so if that's the case you can build your own lightsaber! There are lightsabers for every budget here, so don't worry about overspending (too much). Unfortunately, there are no "real" lightsabers available yet, but you can get it to look pretty realistic once it lights up.
Milk Stand
Do you remember that blue milk from the original Star Wars movie (A New Hope)? If so, you may have always wanted to taste it – like me :). Stop at the milk stand to try either the blue or green milk options – which are both dairy free and absolutely delicious. How they managed to get them to taste so otherworldly is incredible.
Oga's Cantina
This is the local bar for this city in Batuu, which offers drinks and snacks for travelers of all ages. This is one of the most popular attractions in Batuu, which I think is due to similarities between this cantina and the ones seen in A New Hope and The Force Awakens.
Ronto Roasters
Interested in trying some of the odd animal meats that exist in Batuu, well look no further than Ronto Roasters! Here you can get sausage wraps and beverages to fill your hunger fix.
Kat Saka's Kettle
Stop here to try a variety of popcorn flavors – a nice light snack to fill any case of the munchies.
Docking Bay 7 Food and Cargo
The fast dining option for Galaxy's Edge, you can find food from locations across the galaxy. So bring your appetite and get ready to try a variety of exotic food and drinks.
Making the Most of Your Visit to Galaxy's Edge
Tip 1 – Visiting the Cantina
When visiting during the reservation period, it is important to note that Oga's Cantina can have a line longer than that for the Millennium Falcon ride. So if you'd like to do both, I recommend that you head to the cantina first, grab some grub, then head over to the ride.
Tip 2 – Riding the Millennium Falcon
Speaking of the Millennium Falcon ride, we found that the line got a lot shorter towards the end of our reservation time, and were actually able to ride it twice! So if you wait it out about 2 hours, you probably won't have a line longer than 5-10 minutes.
Tip 3 – Choosing a Side
Are you part of the Resistance or do you want to be part of the First Order? Choose a side before you enter Galaxy's Edge and play along as you go. You can buy gear for either side and have the opportunity to interact with characters from both sides throughout your visit.
Tip 4 – Download the Disney Play App
While you have access to WiFi, download the Disney Play App (you cannot download without WiFi!). With this app, Galaxy's Edge becomes a truly interactive experience. You'll be able to translate the many languages found in Batuu, scan and discover precious cargo, and hack into certain systems and droids. Get more information on downloading the app here.
Tip 5 – Take Lots of Pictures
Did I shamelessly pose in front of the life-size Millennium Falcon? Yes, I did – and you should too! There are MANY photos ops throughout the land, so don't be afraid to jump into the scenery and pose. Extra points for dressing up like a Star Wars character too ;).
In Summary | Star Wars Galaxy's Edge Tips
My top Star Wars Galaxy's Edge tips include:
Making a reservation for the Star Wars Land if visiting before June 23, 2019
Using your AAA discount on Disneyland park tickets if you like saving money
Decide what you want to visit before you enter the park to determine if you should visit the Cantina or the Millennium Falcon ride first.
Download the Disney Play App so that you can have a truly interactive experience
If you are a Star Wars fan / superfan like me, you will be highly impressed at the world that they created here. I am always amazed by Disney's attention to detail when creating new experiences and they certainly did not disappoint! From getting yelled at by Storm Troopers to bantering with milk stand employees, you really feel like you are living the movies. I hope you get to make the journey to the galaxy far, far, away real soon!
If you've visited Galaxy's Edge before, let me know in the comments below! I'd love to hear any additional tips that you have for visiting Galaxy's Edge or Disneyland in general.
Related Posts:
#travelwandergrow