The 27 Best US Cities to Visit

The US is full of a diverse set of people, cultures, and landscapes. For this reason, it is possible to experience so much variety when visiting cities across the country. There is so much variety, where do you even begin? I can help with that!
This post provides a list of the best US cities to visit, and key points that you should know about each. Each city is listed under its corresponding US region (east to west) and includes details on the city's characteristics, popular attractions, and, of course, the best food to try.
New England
New England is the easternmost northern region in the US. This region has been known as New England since John Smith (yes, that John) named it so in 1616. Many of the earliest settlers to this region came from eastern Europe, which has given this region a distinct accent, architecture, and cuisine.
1 | Boston, MA
Boston is the largest city in New England, and one of the oldest in the US. Given the age of the city, it has a lot of really cool older buildings from the 17th century and onward and some cobblestone streets to match. Many of the literary greats that you learned about in school lived in or around the city, giving the nickname as the "intellectual capital of the United States". There is also a great emphasis on the arts and music throughout the city as well.
Popular Attractions:
The Freedom Trail: Walking this trail will allow you to retrace the steps the US founding fathers took when starting the American Revolutionary War.
The New England Aquarium: Visit this aquarium to see over 800 different marine animals, including seals, penguins, and sharks.
Cambridge, Concord, and Lexington: Venture right outside the city to see famous sites from the Revolutionary War and the homes of famous literary greats, like Louisa May Alcott.
What to Eat:
Boston is known for having wonderful seafood, baked beans, and the wonderful Boston cream pie! There are also a lot of great vegan restaurants for those of your veggies out there.
A few restaurants to try include:
The Warren Tavern – Eat all the classic Bostonian foods at this eatery.
Panza: Italian food from the North End area, which is similar to Little Italy in NYC.

2 | Portland, Maine
One of the most underrated cities in the Northeast is Portland, Maine. With so many opportunities to explore the stunning coastline and incredible culinary scene, it has everything else you'd expect in an exciting city like museums, history and culture.
Getting out onto the water is easy in Portland, and this is also one of the best ways to see the city from a unique perspective. There are lots of options for boat tours along Casco Bay that also give you a glimpse of Maine's famous coastline. From cruises on tall ships to lobster boat tours, there's a little something for everyone.
Popular Attractions & Tours:
Old Port: To get a sense of the history of the city, one of the best neighborhoods to stroll through is Old Port. Sitting along the waterfront, you'll find cobblestone streets, historic buildings and unique boutiques in this area.
While in the area, consider the Old Port Culinary Walking Tour. This will help you explore the best local restaurants serving traditional fare.
Visit a Lighthouse: Portland is also home to one of Maine's most iconic attractions, Portland Head Lighthouse. Located in South Portland, this is one of the best spots to take in the dramatic coastline views that the state is known for, without having to leave the city! Also nearby are two smaller, but equally as cool, lighthouses: Spring Point Ledge Light and Bug Light.
What to Eat:
Portland is also regarded as one of the top foodie cities in the country, so during your visit, you'll want to consider taking an expert-guided food tour to find all the best things to eat. Whether it's a donut tour or lobster roll tour, this is the perfect way to get acquainted with the cuisine in the city.
Duckfat: This sandwich shop is best known for frying french fries in duck fat, and has received quite the reputation for delicious fries. In addition you find plenty of paninis, milkshakes, and salads to make a full and delicious meal.
Chaval: This is a brasserie (informal French restaurant) that offers not only French but Spanish-inspired seasonal food. What's cool about this restaurant is that the menu changes daily – you never know quite what you'll get!
Not only is the food scene here world-class, it's also home to the most breweries per capita than any other city in the Northeast. So if you love to sample local brews, you won't run out of options in Portland. A few of the best ones to consider are Bissel Brothers, Goodfire and Rising Tide.
Mid-Atlantic
This region sits below New England, and above the southern US states. It is characterized by large urbanized areas, prestigious universities, and for being the most-affluent region of the country. There are 30 professional sport franchises in this region, and a wide variety of cultures and accents can be found throughout the states in this region.
3 | New York, NY
NYC has an energy that you can't find anywhere else in the world. There is reason why its been called the "city that never sleeps" – you can find something to do at any time of the day, 24/7 and the pace never slows. It is the most populous city in the US, and likely the most diverse ethnically as well. The city has been denoted by some as the cultural capital of the world due to the emphasis you'll find on the performing arts, music, cuisine.
While you are here, don't just get stuck in Times Square. See world-famous skyscrapers, try the best pizza you'll eat anywhere in the country, and get some quiet time in Central Park all in a matter of minutes while you are here.
Popular Attractions: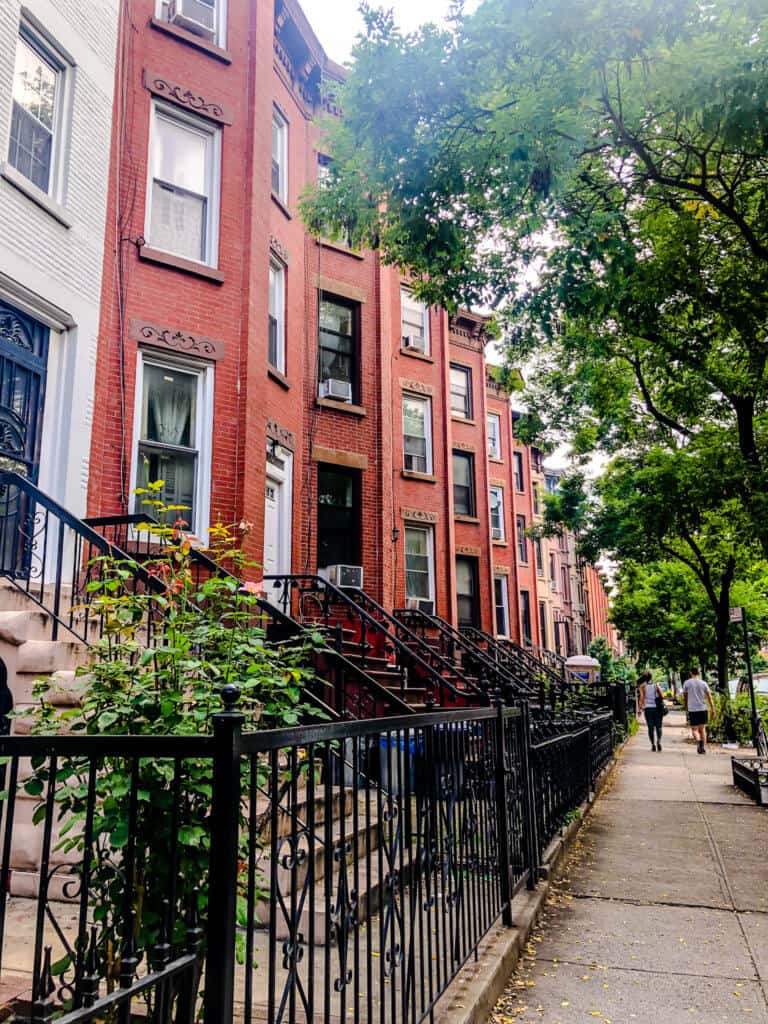 New York One World Observatory: Visit the new World Trade Center building for sweeping view of the city, and visit the nearby memorial to 911.
The Statue of Liberty: This icon of America is rightfully one of the city's most popular destinations. Visit the close by Ellis Island on the same ticket to get a better understanding of the life and experiences of early immigrants to the city.
The Met: See why the Metropolitan Museum of Art is world renowned for its fabulous art collection
What to Eat:
Lombardi's: AKA America's first pizzeria has great pizza pies – simple, yet delicious
Molly's Cupcakes: So not exactly a restaurant, per se, but this place as wonderful cupcakes. I try to stop here every time I come to the city.
4 | Philadelphia, PA
Philadelphia has held on to a lot of its colonial charm, giving it a feel more similar to New England than others in the Mid-Atlantic. This city is full of history, as are many of the others listed here, mostly due to its role as the original capital of the US and the site where the Declaration of Independence was signed. The city has 67 historic landmarks, and 1 UNESCO World Heritage site, just for reference. The city is also home to the iconic steps from Rocky, which you can run up and down too, if so desired.
Popular Attractions:
Founding Fathers Historical Walking Tour: See sites such as the Independence Mall, Ben Franklin's home, the first home of the US Presidents, and more!
Eastern State Penitentiary: Tour what was once the most famous and expensive prison in the world.
Segway Mural Tour: If street art interests you, take this tour to see all of the cities best-known murals. They can be found everywhere and are really quite something to see!
Where to Eat:
Joe's Steaks: Stop here to get the famous Philly Cheesesteak – No trip to Philly is complete without at least one!
Beiler's Doughnuts: So, I'm not a huge doughnut person, but these are everything! Dense and cakey with a variety of toppings – these are just perfect.
5 | Washington, DC
Washington, DC is the city that I call home, and I love it here! Despite being best known for its political scene, the city is (thankfully) so much more than that. Full of great (and free!) museums, parks, and restaurants, this city is one full of heart. Although it is a big(ish) city, the low skyline keeps it having a smaller town feel than NYC or Boston, for example.
The city is home to a diverse population, like many urban areas on the east coast. Unlike many of the other cities, however, there really is no distinct accent here or specific food identified with the city. It's really just a wonderful mix of everything :).
You could go the political route and focus on seeing sites like the White House and Congress, or get lost in the many free Smithsonian museums found along the National Mall.
Popular Attractions:
Mt. Vernon: Head right outside the city to see George Washington's estate and learn a lot about the lives of the slaves who kept it running.
DC Night Monuments Tour: I think that seeing the monuments at night is really the best way to do it (don't worry, they are all well lit :)).
Capitol Hill Walking Tour: Really the best way to see the major sites and understand the history if you're interested in learning about politics in the city, past and present.
Where to Eat:
Midwest
The Midwest is known as "America's Heartland", as it is responsible for the majority of the country's manufacturing and farming sectors. It is known for friendly locals, low-cost real estate, and a low-stress lifestyle (in general). The states covered in this region go as far north as North Dakota / Minnesota and as far south as Kansas and Missouri. This means the temperatures you'll find here will vary widely. But some of the most brutal winters in the states happen in the more northern states in this region.
6 | Chicago, IL
Chicago is a beautiful city, which has a distinct look due to it positioning by Lake Michigan and around the Chicago River. Chicago is known for its massive skyscrapers, brutal windchill in winter, and deep dish pizzas. Chicago is a hugely popular tourist destination, and is the second most visited city in the US, after New York.
Popular Attractions:
Willis Tower: Visit what was once known as the Sears Tower, and the tallest building in the world for 25 years. Here you can stand on "The Ledge" and look down 100 stories at the streets beneath your feet.
Night River Cruise: Marvel at the architecture that has made the city famous while you travel through downtown on an evening river cruise.
Gangsters and Ghosts Walking Tour: Walk the Chicago Loop and learn the fascinating history of the gangsters who once ran the streets of the city and those who may now haunt the city too. (Nothing like a good ghost tour, right?)
Where to Eat:
Bartoli's Pizza: Stop here to grab a bite of that deep dish pizza the city is so well-known. Unless you are a big eater, I recommend sharing these. These pizza's are delicious, but that deep dish is DEEP.
Lula Cafe: For locally-grown food cooked in an artisenal style, stop at this cafe. This restaurant features a vegetarian and vegan options too.
The South
The definition of the south varies according to who you talk to, but for the intents of this post, we'll say it starts as high up as Virginia and goes from the east coast to as far west as Mississippi. This area is characterized by its slow pace of life, sprawling cities, southern charm, and delicious fatty foods.
7 | Savannah, Georgia
If you're looking for the perfect mix of a quaint city, historic sites, beautiful nature, and a quick drive to the beach, Savannah, Georgia is the place for you. Whether you're visiting Savannah with kids, adults, or even by yourself, this city has something for everyone to enjoy.
When visiting Savannah, spend time exploring the city and enjoying each unique square along the way. Marvel at the beauty of the huge oak trees at Forsyth Park and walk along the historic River Street. To learn more about the city's history, take a riverboat and trolley tour.
Once you're done checking out the historic downtown area, take a short drive to Tybee Island. Here, you'll be able to take a break from the city and relax on the beach.
Popular Attractions & Tours:
Savannah Riverboat Cruise & City Tour: This tour includes a guided walkthrough of the city via trolley and then a cruise down the Savannah River. This is a great opportunity to learn more about the history and culture of the city.
Owens-Thomas House & Slave Quarters: This historic home provides a pointed look at the life of the slaves and the proprietors who lived here in the early 1800s.
What to Eat:
When you're ready for a bite to eat, grab lunch at Mrs. Wilkes Dining Room. But make sure to arrive early, as reservations cannot be made, and a line will start to form even before the restaurant opens for the day. Make friends with your neighbors while waiting in line because that's who you'll be sitting with at this family-style restaurant.
For a sweet treat, stop by Leopold's for homemade ice cream. This ice cream shop has been around since 1919 and is a staple in the heart of Savannah.
8 | Orlando, FL
Orlando, known as "The City Beautiful", is probably best known as pretty much the mecca for theme parks in the United States. With its very mild winters, it is great for a visit any time of the year. In addition to theme parks, you'll find good outlet shopping and industrial and hi-tech centers.
Popular Attractions:
Kennedy Space Center: Learn about the history of the space program and what its like to be a real astronaut at KSC.
Walt Disney World: Visit the most visited them parks in the world! The parks include the Magic Kingdom, Epcot, Hollywood Studios, and Animal Kingdom. (There are 2 water parks too!)
Universal Orlando: Ride the movies at Universal Studios, Islands of Adventure, and Universal Bay.
Where to Eat:
Rainforest Cafe: One of my favorite themed restaurants the rainforest has pretty decent food and provides a unique experience to those who dine there. There is one in the Disney Springs area in Orlando.
Tony's Town Square Restaurant: Based on the classic movie "Lady and the Tramp", this Italian spot is one of my favorite restaurants in Disney World. You'll find this one right off of Main Street in the Magic Kingdom.
9 | Miami, FL
When you think of Miami, you likely think of hot weather, white sand, clear waters, parties, and latin-infused culture. Miami offers all of this, plus great food and beautiful views. Miami has the third tallest skyline in the US, and is a major center for finance, culture, commerce, and media/entertainment.
Popular Attractions:
Where to Eat:
Versailles: So much of the culture in Miami is influenced by the Cubans who made this city their home. It's only appropriate that you try at least Cuban while you're in town, and Versailles is one of the best.
My Cupcake World: If you have a sweet tooth, check out this place for some absolutely delicious cupcakes!
10 | Punta Gorda, Florida
Florida's Gulf Coast is home to America's best beaches so it makes perfect sense that we would include Punta Gorda on this list of the best US cities to visit. Why Punta Gorda, you may ask? Because it has it all and without the crowds that you'll find at more popular tourist destinations in the sunshine state.
One of the best spots to play, stay and eat is located along the beautiful Charlotte Harbor. The idyllic Four Points by Sheraton Harborside is a centrally-located place to stay. After you check in, head over to the on-site restaurant. At TT's Tiki Bar, you'll witness stunning sunsets over the water while sipping mouth-watering cocktails accompanied by top-notch cuisine. If you're traveling with athletic types or children, they can jump in on a game of beach volleyball while you relax in one of their colorful Adirondack chairs.
Punta Gorda offers more than beaches and margaritas so get ready to explore. Both the downtown Farmer's Market and Fishermen's Village are ideal places to shop for unique souvenirs. When you're done shopping, hop on a sunset cruise to explore the Harbor by boat. Post-cruise, enjoy dinner at The Captain's Table. Their Lobster Ravioli is truly decadent and a great way to end a day of sightseeing.
Once you're finished with your adventuring for the day, head back to TT's Tiki Bar to enjoy Punta Gorda's best lineup of live entertainment. There's no need to worry about who is driving when you can sip your margarita mere steps from your hotel room.
Popular Attractions & Tours:
Another great spot to explore is the Peace River Botanical & Sculpture Gardens, one of the largest botanical and sculpture gardens in the State of Florida. If you're lucky, you might get to see a butterfly release ceremony. It's a truly memorable experience! Follow up your tour with a visit to Alligator Bay Distillery for a rum tasting with a Hawaiian twist.
Punta Gorda History Park: This park features four local historic homes, three of which are open to the public. You'll also find a weekly Farmer's Market here on Sundays as well.
Where to Eat:
In addition to the recommendations above, here are some additional restaurants you may consider visiting:
Village Fish Market & Restaurant: A riverfront restaurant offering New England style seafood (and great views!)
Carmelo's Italian Ristorante: Situated in a building that looks like home, this restaurant offers a variety of Tuscan-style fare.
11 | New Orleans, LA
New Orleans is a great place to experience a very different culture than the rest of the US – its actually pretty similar to Miami in this aspect. You can really feel how this city was impacted by its French and Spanish settlers, and the African slaves who were able to keep more of their culture than others due to different slave laws there. Most iconic and historic is the French Quarter with its beautiful balconies and colorful buildings, and all the wonderful food!
Popular Attractions:
French Quarter, Cemetery, and Voodoo Tour: Explore the most popular neighborhood in New Orleans, and the neighboring Tremé, and learn all about the history of the city and voodoo culture.
Ghost Tour: If you like being spooked, explore the city at night and learn all about the haunts that supposedly still roam the streets and buildings today.
Whitney Plantation Tour: Learn what life was really like for the slaves that lived in Louisiana back in the day.
Where to Eat:
Muriel's Jackson Square: For an upscale dining experience you can make a reservation here to try classic New Orleans style food with a bit of a French influence.
Cafe Du Monde: Get those world-famous biengets here – they never disappoint!
12 | Charleston, South Carolina
Charleston is probably best known for the colorful colonial architecture found in Rainbow Row. These cities once formed the commercial center of the colonial period – something that has been revived in recent years. What I found quite interesting about this city is that it was once a major slave port for the country. In fact, it is known as the Ellis Island for Black Americans as 80 percent of those in the US can trace an ancestor who arrived through this part. Both an interesting and sad fact about this town.
Popular Attractions and Tours:
Charleston Historical Downtown Tour: See the most popular places in the city, such as Charleston Harbor, Rainbow Row, King Street, and Charleston Battery. All while riding in a traditional horse-drawn carriage.
Aiken Rhett House: This house provides a very poignant look at the lives of slaves in the US. The former owner of this house was quite wealthy, so you just imagine how many lived here back in the day. I really enjoyed the tour here and felt that it was very informative.
Where to Eat:
Sushi-Wa: A high-end sushi spot that offers creative takes on some classic sushi dishes. Definitely reserve in advance if you plan to eat here as it is very popular.
Wild Olive: This restaurant offers many Italian classics, and a very robust menu. You are certain to find something that you like here – even if you are a picky eater.
The Southwest
The southwest is characterized as having influences from both the southern states and the frontier west, and many states in this region have a relatively significant native American influence as well.
13 | Austin, Texas
Austin, the capital of Texas, is known for its vibrant music and arts scene, as well as its laid-back atmosphere and outdoor recreational opportunities. The city's motto is "Keep Austin Weird," which reflects its diverse and eccentric culture.
One of the main draws to Austin is its live music scene. The city is home to a number of music festivals, including South by Southwest (SXSW) and Austin City Limits, and there are numerous live music venues scattered throughout the city. Austin is also home to a thriving food scene, with a range of cuisines available. Some popular restaurants in the city include Franklin Barbecue, a renowned barbecue joint, and Uchi, a sushi restaurant.
Popular Attractions & Tours:
There are a number of tours available in Austin, including food tours, brewery tours, and guided tours of the city's street art and murals.
Another popular activity is a tour of the Texas State Capitol Building, which offers a glimpse into the history and politics of the state.
For outdoor enthusiasts, Austin offers a number of recreational opportunities, including hiking and biking trails at the Barton Creek Greenbelt and Lady Bird Lake, and swimming and stand-up paddle-boarding at Barton Springs Pool.
Where to Eat:
In addition to the restaurants listed above, here are some good dining options to explore:
Con Todo: This food truck offers real Mexican tacos that come "con todo" or everything – that is cilantro, onions, and salsa. It won best food truck of the year in 2022.
Bufalina Due: This pizza joint offers delicious Neapolitan-style pies with recommendations on thoughtful wine pairings.
Overall, Austin is a lively and eclectic city with a lot to offer visitors, including live music, delicious food, and ample opportunities for outdoor recreation. Visit Guide Your Travel for more travel guides.
14 | Dallas, TX
Dallas is known for being the center of the art scene for northern Texas. There are many art museums around the city, including the Dallas Museum of Art and Nasher Sculpture city. It is also known for its wide variety of high-quality restaurants. Dallas residents eat out 4 times a week on average, which is only less than Houston and Austin within the state.
Popular Attractions:
Dallas Uptown Foodie Walk: Explore the uptown neighborhood of West Village and learn about the some of the city's history while you eat delicious food from around the world.
Dallas and JFK Limousine Tour: Visit the city's key monuments and landmarks and then learn all about the circumstances and places involved in JFK's assassination.
Dallas CityPASS: Get a discounted ticket for entry to many of Dallas's top attractions, including the Perot Museum of Nature and Science and the Dallas Zoo.
Where to Eat:
Velvet Tacos: This place has the best tacos you will ever eat. Period. Get tacos inspired by a variety of cuisine, like Nashville hot chicken, tikka masala, and more. I make a point to always stop here whenever I'm in the city.
Gabriella and Sofia's Tex Mex: You can't stop in Texas without tex-mex, and this place is legit.
15 | Houston, TX
Despite being part of the southwest, Houston features one of the most diverse city populations in the country – there are over 90 different languages spoken here! Houston has a lively music culture and a thriving theater scene. Houston is a huge city, both in size and population and spread. The sprawl is real here! In fact, the land area for greater Houston is similar to that of the STATE of Massachusetts!
Popular Attractions:
NASA Space Center Visit: Visit the Johnson Space Center and participate in a guided tram tour around the site. Experience the many interactive exhibits that could be enjoyed by kids and adults alike.
Houston City Tour (w/ Aquarium): Explore the city of Houston by bus and stop at as many of the landmarks as you'd like. Get access to the city's aquarium as well.
Houston City PASS: Save 47% on the city's top attractions, including the Museum of Natural Science, the Houston Zoo, and the Kemah Boardwalk.
Where to Eat:
El Real Tex-Mex Cafe: Like Dallas, this city is well-known for its tex mex – this spot is one of the best in the city!
Gatlin's BBQ: The city is also very popular for its BBQ, so be sure to check out a place like Gatlin's before you wrap up your visit!
16 | San Antonio, Texas
The home of the famous Alamo and the River Walk, San Antonio is a historic city nestled in south-central Texas. With a population of over 1.4 million, San Antonio is the seventh-largest city in the United States, but it still maintains a small-town Southern charm.
San Antonio is filled with unique places to explore that allow you to delve further into its colonial, Mexican and western history. A trip to San Antonio isn't complete without a visit to the Alamo. Located in the heart of downtown, this former Spanish mission and fort was the site of an 1836 battle for Texas independence and is now home to a memorial museum.
Visit River City for fantastic parks and outdoor recreational sites for all ages. Take a romantic stroll along the iconic River Walk, lined with bars, restaurants, and shops, and enjoy some of the best Tex-Mex cuisine in the city.
If you're looking to take in the city's rich cultural history, spring and fall are the best times to visit San Antonio. The weather is mild, and several special events throughout the year, such as the San Antonio Stock Show & Rodeo and the Fiesta San Antonio. Although much more crowded, summer is a great time to visit, with plenty of opportunities for swimming and other outdoor activities.
Popular Attractions & Tours:
City Sightseeing San Antonio offers scenic San Antonio River Walk boat tours with knowledgeable narrations during which you can learn more about the city's history and fun facts. During holidays such as Christmas, carolers also fill the air with cheerful songs to give you a truly magical experience!
San Antonio UNESCO World Heritage Missions Tour: Embark on a journey back in time, experiencing the San Antonio Missions National Historical Park, home to five 18th-century Spanish colonial missions. Wander along Mission Trail and uncover America's captivating history.Visit places such as Mission San José, San Francisco de Espada, and the Mission Riverwalk Hike and Bike Trail.
Where to Eat:
Domingo Restaurante: This cool open-air restaurant offers impressive views of the city below. The restaurant strives to "offer the flavors of South Texas", so expect to try modern takes on classics from the area here.
Brasao Brazilian Steakhouse: If you haven't visited a Brazilian steakhouse before, you are in for a treat. Expect a wide variety of meat cuts cooked to perfection alongside delicious sides.
17 | Santa Fe, New Mexico
Santa Fe, New Mexico is one of the best cities to visit in the US for history buffs, art lovers, foodies, margarita drinkers, chocoholics, and anyone who enjoys the sunshine.
As the oldest capital city in America, Santa Fe boasts many historical sites. The Santa Fe Plaza, a National Landmark, dates back to the 1600's. The Palace of the Governors borders the plaza and is the oldest building in continuous use in the US. A few blocks away you'll find the oldest church in the US, San Miguel Chapel, and a little further, the oldest house in New Mexico which is now a museum.
The historic plaza with its adobe architecture stands at the heart of Santa Fe. Southwest boutiques, art galleries, and eateries surround the grassy square at the center. The Georgia O'Keefe Museum, the New Mexico Museum of Art, and the Museum of Indian Arts & Culture all are worth a stop.
Stay at La Fonda on the Plaza and you'll enjoy being able to walk to most of Santa Fe's best sights and restaurants. The hotel's restaurant, La Plazuela offers a delightful mix of local flavors in traditional and inventive dishes.
Popular Attractions & Tours:
Where to Eat:
Some of the best restaurants in Santa Fe are located on the plaza too. Many, like Tia Sophia's and The Shed, serve delicious New Mexican food specialties. Don't miss the sopaipillas!
Santa Fe is the self-proclaimed Margarita Capital of the World so you know what to drink with your dinner or follow the city's Margarita Trail to sample more. There's also a trail for decadent chocolates made with local ingredients like chiles and prickly pear.
The Rocky Mountain Region
This region includes those states surrounding the great mountain region, towards the west of the US and north of the south western states. In terms of ethnicity, this region of the US is probably the least diverse, but that is slowly changing in cities like Denver, for example.
18 | Boulder, Colorado
Boulder, Colorado is home to the Flatiron mountains, eccentric locals, and Pearl Street, a walking mall full of varied shops. Located just an hour's drive from Rocky Mountain National Park, you can visit the park while staying in Boulder. If you stay in a hotel near Pearl Street, you'll be right in the center of the action for nightlife and the best restaurants.
During the warmer months you can explore the foothills, with hikes only a mile or so from the center of town. Winter is also a prime time to visit Boulder, where you can snowshoe in Rocky Mountain National Park or downhill ski at Eldora. Outdoor activities are also popular during the shoulder seasons, but prepare for muddy trails if you choose to hike near Boulder in March and April.
Popular Attractions & Tours:
If you visit during the summer, spend some time relaxing at Boulder Creek, the small river that runs through Boulder. You can purchase an inner tube and float down the river on a hot day, so long as the water isn't running too quickly.
Every Saturday is the Boulder Farmers Market, a lively affair with stalls from local farms, restaurants, and other vendors.
Cycling enthusiasts may consider joining a tour with Boulder Bike Tours. They offer both a road cycling tour and a mountain biking tour for more serious visitors. Additionally, there is an e-bike tour that covers most of the city's main areas of interest.
Where to Eat:
Have brunch at Lucile's Creole Cafe, a local haunt with freshly baked southern biscuits, homemade strawberry rhubarb jam, and chicory coffee.
For dinner, have a burger and a beer from Mountain Sun, a locally beloved brewery and restaurant.
Afterwards, head to Peace, Love and Chocolate for handmade truffles in vibrant and unique flavors.
19 | Denver, CO
Denver is the largest city in Colorado, and is noted for the beautiful mountains that surround the city. Denver has an active music scene and is known for being a very active/outdoorsy city. Denver has 300 days of sunshine a year, making it a great destination to visit all year.
Popular Attractions:
Denver Like a Local: Get a private walking tour with a local guide who loves the city and hit up the spots that YOU want to see while you travel.
Rocky Mountain Explorer Trip from Denver: Head out the city to explore the mountains, including sites such as Bear Canyon Creek and Red Rocks Amphitheater – maybe find some dinosaur tracks along the way too!
Denver Mile High Culture Pass: Get access to the city's best attractions for a low price. Visit sites such as the Denver Art Museum, the History Colorado Center, and the Molly Brown House Museum.
Where to Eat:
Spuntino: For Italian-inspired fare, stop here to be treated to a wonderful dinner.
Rioja: Grab dinner here for fresh, Mediterrean-inspired cuisine.
20 | Boise, Idaho
Known as the "City of Trees", Boise is a vibrant urban oasis surrounded by mountains and outdoor recreation. It's home to endless opportunities for adventure, from whitewater rafting on the Payette River to skiing in Bogus Basin.
Boise is a great spot for outdoor enthusiasts, with plenty of options for biking, hiking and camping. The city also has its own unique character, with an array of museums, art galleries, and cultural events to explore. Choosing the best places to stay in Boise Idaho is easy, with a variety of options from luxury resorts to budget-friendly motels.
When it comes to leisure vacations, Boise offers the best of both worlds – a bustling urban center coupled with easy access to nature. The city is packed with delicious restaurants and eateries, from farm-to-table cuisine to local craft breweries. For a unique culinary experience, visit the Boise Farmers Market for fresh produce and artisanal goods. There are several great restaurants and cafes downtown, so finding a spot for breakfast or lunch is easy.
Popular Attractions & Tours:
If you're seeking an outdoor adventure, consider signing up for a Boise River Tour. The tour will take you downtown and along the river, giving you a unique perspective on the city's history and culture.
For a more leisurely day, take a stroll along the Boise Greenbelt for breathtaking views of the city skyline and surrounding foothills.
Where to Eat:
Modern Hotel and Bar: A popular option for modern dining in Boise, this restaurant offers a variety of American fare, with a menu that is constantly updated.
Kibrom's Ethiopian & Eritrean Food: Ethiopian food is known for being wonderfully spiced and having options that cater to vegetarians and meat-eaters alike.
The American West
The Western Region of the United States includes those states furthest west in the country. For the intents of this post, this covers the following states: California, Oregon, Washington, Nevada, Utah, and Arizona. It is noted for the Pacific Mountains that run through the area and a generally more relaxed vibe than the eastern US states.
21 | Los Angeles, CA
Los Angeles brings to mind visions of the beach, celebrities, and probably a theme park or two. LA is the second largest city the US after NYC, but unfortunately it does not have the public transit system that NYC does. So traffic is a given. Don't let that deter your visit though! LA offers a little bit of everything for those who choose to make a stop here for vacation.
Popular Attractions:
Disneyland: Now including the California Adventure park and Downtown Disney, it is worth making a stop here if you have kids or are just a big kid at heart (like me :)).
Universal Studios Hollywood: This park is special because it comes with a tour of many famous movie and TV sets, such as Psycho, Desperate Housewives, and King Kong.
Hollywood and Celebrity Homes Tour: See classic Hollywood sites like the Chinese Theater and hunt down the homes of your favorite stars from an open-top vehicle.
Where to Eat:
The Rose Venice: Get local Southern California cuisine with an international influence.
Mizlala: This restaurant features affordable, Middle Eastern small plates and flavors you won't be able to get enough of.
For more ideas on what to do in Los Angeles, check out this 5-Day LA Itinerary!
22 | Monterey, California
One of the best cities in the United States to visit is Monterey, located on the coast of central California. Monterey offers small-town vibes with beautiful sunsets and stunning views.
When visiting Monterey, you can explore the famous Cannery Row area which is home to cute local boutique shops and the world-renown Monterey Bay Aquarium, which houses thousands of marine species in its vast exhibits.
Besides this oceanfront area, Fisherman's Wharf is also a popular tourist spot. Here, you can take a whale-watching tour or explore the many seafood restaurants and shops that line the wharf. Ablonetti's Bar and Grill is an Italian seafood restaurant that serves some of the best gnocchi and clam chowder.
The county of Monterey is also home to a variety of parks and recreational areas located a short drive away in Big Sur. Whether it's visiting Point Lobos State Reserve for a hike, picnicking at Pfeiffer Beach, or stopping at the photographic Bixby Bridge, you'll find no end of nature scenes to explore.
Monterey also hosts a variety of events throughout the year, such as the Big Sur International Marathon, Monterey Jazz Festival, and the Carmel Art & Film Festival. There's always something happening in this amazing California city that you won't want to miss.
With its beautiful scenery, incredible food, and entertaining events, Monterey is a fabulous city to visit in the United States. Make sure to add Monterey to your travel bucket list to experience all that this vibrant coastal community has to offer!
Popular Attractions & Tours:
Where to Eat:
In addition to the restaurants listed above, you may want to try out the following options:
Estéban Restaurant: This Spanish-style restaurant infuses Spanish fare with local food in the Northern Californian coast.
Alvarado Street Brewery & Grill: This brewery and grill that features delicious food options such as Quesabirria Tacos, Mac & Cheese, and Creamy Tomato Soup.
23 | San Diego, California
San Diego is the perfect getaway for anyone looking for a sunny vacation. This Southern California city offers year-round beautiful weather, incredible coastline views and sunsets, and some of the most beautiful beaches in the US.
There are plenty of outdoor activities to take advantage of such as biking, hiking, kayaking, or surfing – all surrounded by the stunning beauty of nature. From the illustrious Mt. Soledad memorial atop a hill to Coronado Island, and from Point Loma to so many other breathtaking places, you'll find something new and exciting at every turn when visiting San Diego.
Popular Attractions & Tours:
Taking a guided tour of the city is highly recommended to ensure visitors don't miss hidden gems and learn about the fascinating history behind these places.
One popular tour includes kayaking in the La Jolla Sea Caves to enjoy the coastal scenery up close, along with the chance to admire the local marine wildlife.
Another unforgettable tour is the San Diego Scenic Tour, where visitors will be able to cross off several San Diego bucket list items while immersing themselves in the city's history.
Where to Eat:
San Diego is also a foodie paradise, offering an exotic blend of culinary treats from around the world. Here you can experience mouthwatering Mexican food as well as exceptional seafood and pizza dishes.
Some of the more popular restaurants include George's at the Cove in La Jolla for prime oceanfront dining and incredible seafood.
Another option is Tribute Pizza in the North Park neighborhood with fresh ingredients and creative pizza specials.
San Diego is a city like no other, and one of the best cities to visit in the US.
24 | San Francisco, CA
San Francisco is probably now best known for its proximity to Silicon Valley and the boom that has had on the tech industry there, and the resulting increases in the area's cost of living. San Francisco does feature some of the weirdest weather in the US, with its cool summers and hot fall, but it is a really interesting place to visit.
Popular Attractions:
Where to Eat:
Beretta: Eat delicious contemporary Italian food at this cute and cozy restaurant.
Nojo Ramen Tavern: No trip to SF is complete without a ramen stop, and I loved this one!
25 | St. Helena, California
St. Helena, California is one of the beautiful towns that make up America's premier wine region, Napa Valley. Located in the northern part of the valley, St. Helena is best known as being home to some of the best wineries in Napa Valley. The city has over 150 wineries to choose from with some fan favorites including Spring Mountain Vineyards, Hall Winey, and Pride Mountain Vineyards.
This quaint town boasts a variety of lovely boutiques and specialty shops. From clothing stores to art galleries to antiques, St. Helena has something for everyone. Plus, many of the shops are located along the town's historic Main Street, making it a great place to take a leisurely stroll and take in the sights.
St. Helena's location just 18 miles from the town of Napa at the south end of Napa Valley and eight miles from Calistoga and the north end of the valley makes it a great location for a home base when planning a wine tasting visit to the Napa Valley.
Popular Attractions & Tours:
Where to Eat:
While wine may be the focus for many visitors to St Helena, the area also has plenty of great food for visitors to choose from.
Stop by Gotts Roadside for a low key roadside diner vibe and one of the best burgers you'll ever taste.
Looking for something a little more upscale? Check out the Farmstead at Long Meadow Ranch. This elegant eatery serves up delicious, locally-sourced dishes in a stunningly beautiful setting. They also offer an extensive wine list featuring some of the best wines from the region
26 | Las Vegas, Nevada
Las Vegas is truly one of the best cities to visit in the US and should be on everyone's bucket list to visit at least once! Whether it's the sun, entertainment, live shows, partying and gambling or even incredible day trips to nearby National Parks, you'll find what you're looking for here!
Las Vegas makes a great holiday destination year-round. It offers warm winters for those looking to escape the cold and explore the outdoors, and it has hot summers – where most people like to take advantage of the indoor and pool entertainment on offer!
Popular Attractions & Tours:
Las Vegas is internationally known for its nightlife, hotels and casinos on the Las Vegas Strip and that's what primarily draws people here, but this city offers so much more! Even if you aren't into gambling or partying, Las Vegas has a lot to offer.
Visit the High Roller Observation Wheel, visit Madame Tussauds, visit the iconic Welcome To Fabulous Las Vegas sign, or go on a gondola ride at The Venetian – the choice is yours!
Alternatively, head into Downtown to visit one of the many fascinating museums: the Mob Museum, the Neon Museum, the Children's Museum or the Las Vegas National History Museum. You can even visit the Las Vegas Arts District: home to many boutique stores and art galleries.
And whilst you're in Las Vegas you must go on some tours – there are lots of incredible places nearby! Check out a helicopter tour of West Rim Grand Canyon, visit The Hoover Dam, go on a tour of Red Rock Canyon, or do a day-trip to the South Rim of the Grand Canyon.
Where to Eat:
The Top Of The World Restaurant at STRAT Tower makes for a great place to have dinner with a view overlooking the iconic Las Vegas Strip!
Vanderpump Paris: This French restaurant inside the Cesar's hotel offers a whimsical dining experience and delicious food. I visited here in the fall of 2022, and every penny spent here was worth it!
27 | Seattle, Washington
When you think of Seattle, the first things that come to mind are Starbucks, the Space Needle, and constant rainy weather, but there's so much more to Seattle than that. Its' proximity to the Pacific Ocean and some of the most stunning mountain ranges in the United States make it an amazing place for outdoor enthusiasts.
To get the most out of your visit, plan your vacation in the summer months when the weather is at its best. The perfect summer day in Seattle consists of grabbing coffee at a local café, spotting whales on a whale watching tour, followed by watching the sunset at the top of the Space Needle, and ending the day with a great meal & unique cocktails.
Popular Attractions & Tours:
Whale Watching Tour – From April through October you can spot whales as they migrate through the waterways near Seattle. Tours depart from Seattle, Port Angeles, or Port Townsend an Puget Sound Express guarantees that you'll see whales or your next tour is free!
Seattle CityPASS – This pass is highly recommended for any first time visitors who are looking to see Seattle's main attractions like the Space Needle, Seattle Aquarium, Museum of Pop Culture, Chihuly Garden & Glass, Woodland Park Zoo, or take a harbor cruise.
Seattle Underground Tour – Learn the history of Seattle on this tour that takes you below street level and through the many underground tunnels in Seattle.
Where to Eat:
The Pink Door – This popular Italian restaurant is located in Post Alley near Pike Place Market and is the perfect place for date night or dinner with friends.
Deep Dive – If you're looking for delicious craft cocktails, head over to Deep Dive which is located at the Amazon Spheres.
Toulouse Petit – Serves up New Orleans-style dishes and is great for brunch or dinner.
In Summary | The Best Cities to Visit in the USA
That concludes my list for the best cities to visit in the US. I hope that you have a good idea for which ones are worth your visit! There are, of course, many more, and I'll keep adding to this list! If you have a favorite city that I haven't included on this list yet, let me know about it in the comments below!
Related US Travel Guides: