The Best Montego Bay Excursions

Montego Bay is one of the most popular destinations in Jamaica, and rightfully so. There are endless beautiful beaches and no limit to delicious local foods, so there is no question why millions of people make their way here for a visit each year.
If you are taking a trip to Montego Bay, but aren't quite sure of what to do in the city you've come to the right place. This post provides a list of the 5 best Montego Bay Excursions so you can plan your trip with ease!
Brief City History | Montego Bay, Jamaica
Montego Bay, like the rest of the island, was originally inhabited by the Arawaks (also known as Tainos), who named the island Xaymaca. This means the land of wood and water, in case you are curious. They cultivated the land, growing a variety of fruits and vegetables, and lived a peaceful existence on the island. This changed, however, upon the arrival of Christopher Columbus to the island in 1494 in Montego Bay (or Golfo de Buen Tiempo as he called it).
The city remained a colony of Spain until the mid 1600s, when the English drove them out. From that time until the early 1900s, the city was a major sugarcane port. For most of that time, this industry did depend on slave labor. Perhaps due to the numerous slave rebellions that took place on the island, slavery was outlawed in 1808 and full freedoms were granted in 1838. Today, the city is primarily known as one of the major tourist cities in the island, due to its lovely coastline.
Know Before You Go | Montego Bay
Lodging & Logistics
Getting There: You will most likely arrive to Montego Bay via Sir Donald Sangster International Airport, the largest in Jamaica. This airport connects directly with European, South American, and North American countries. Many also arrive to the city via the cruise port, as well as driving down from one of the other cities on the island.
Where to Stay: If you are more of a resort person, here are two popular options for you:
Half Moon Montego Bay – This luxury resort has lovely rooms, a variety of restaurants, and fun activities; including water sports, horseback riding, tennis, and squash.
Secrets St. James – This is where I stayed on my visit to the island. The rooms are lovely, the beach is perfect, and the service is great. My only complaint is that the food is hit or miss, depending on the restaurant – the Jamaican patty shop on the beach is great, and the Mexican restaurant is pretty good as well.
If you're like me and resorts really aren't your thing, here are a few unique options you may want to consider:
This Magnificent Villa allows you to get a little bit of that local feel while offering great amenities, such as a private beach, pool, and daily housekeeping.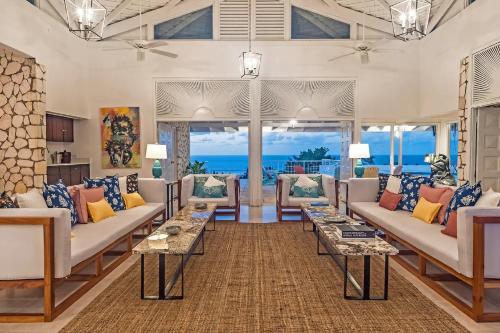 This Oceanfront Condo is perfect for those who like being a little closer to the action in the city as well as the beach. It's right by the "Hip Strip" and it's really the best of both worlds, in my opinion!
Also, if you are new to Airbnb, you can use my link to get $40 off your first stay!
Getting Around: Montego Bay does not have great options for public transportation, in my opinion. If you are staying at a resort, they will likely handle all of your transportation coordination needs. Know that the taxis charge a per person fee, which can be pretty steep – especially if you are not leaving for long. If you are not staying at a resort, you can find out more about the taxis in Montego Bay here.
Note: If you are still undecided on which Caribbean isle to visit, or if you want to confirm that Jamaica is the right destination for your check out this Aruba vs. Jamaica post.
Daily Considerations
When to Go: The weather in Jamaica is nice and warm all year long, but you may want to avoid visiting the island during the rainy seasons which occur during the month of May and again in October/November. Hurricane season typically lasts from June through November, but there is no need to avoid the island during this whole time – you just need to be mindful of alerts as they come.
Language Considerations: English is the official language here, but Jamaican Patios is what you'll hear most often spoken by locals in the area. No need to worry though – everyone is fluent in standard English too!
Money Situation: At the time of writing this post, the exchange from USD was $1 = 135 Jamaican dollars. Many places do accept US dollars, however, and you can use credit card in many places as well.
The Ultimate Montego Bay Excursions
Excursion 1 | Dunn's River Falls
One of Jamaica's national (and natural) treasures is the renowned Dunn's River Falls. This is a beautiful and walkable waterfall that is formed from crystal clear waters. One unique thing about these falls is that they dump out right into the sea, making it one of a kind.
To climb the falls, it is required that you go with a designated guide, and you can book your excursion here. You'll experience a thrilling adventure as you climb against the running water up the falls. I'd rate this as a moderately challenging activity, but the guides are very helpful in making sure you are safe the whole way up. It's a fun activity and a great way to cool down from the hot Jamaican sun!
Pro Tip: Bring your own swim shoes with you if you plan to go – otherwise you'll overspend while you're there. They are an absolute must for this excursion!
Book your visit to Dunn's River Falls Today!
Excursion 2 | Bioluminescent Lake
Close by to Montego Bay is a lake that is full of bioluminescent microorganisms. Which means, you can swim at night and while you disturb the water, it lights up! The water that you swim in is pretty brackish (quite salty), making it extremely easy to swim. This tour includes some punch, and you can bet there will be someone close by who will take high-quality photos of you in the water – for a small fee of course ;). It's a unique experience to check out, especially if you enjoy a night swim.
Book your Bioluminescent Lake excursion Today!
Excursion 3 | Rose Hall & Montego Bay City Tour
Get out and explore the city of Montego Bay, including the main downtown area as well as residential areas. You'll get the chance to do a little souvenir shopping as well, and grab a bite of some delicious Jamaican food. After you see the city, next you get a chance to explore the "haunted" home of Rose Hall, one of the most well-known locations on the island. There is a bit of folklore around Rose and she is known as being a sort of "black widow".
Book your Montego Bay And Rose Hall Tour Now!
Excursion 4 | Chukka Horseback Ride N' Swim: Montego Bay and Negril
Take a ride on horseback through the tropical rainforest in Jamaica. While on your journey, you'll get the opportunity to take your horses for a swim / ride your horses through the Caribbean Sea! Also, no worries if you haven't ridden a horse before – this excursion is definitely suitable for beginners.
Book your unique Horseback ride Today!
Excursion 5 | Reggae Catamaran Cruise
Do you want to go on an excursion that just offers a relaxing, party atmosphere? Well, the Reggae Catamaran Cruise may be just what you're looking for! On this excursion you'll sail to great snorkeling spots, visit "Margaritaville" where you can do lots of fun water activities and continue experience great food and drinks. And, of course, you'll have a DJ to bring you Reggae tunes on the whole journey.
Book your Reggae Catamaran Cruise Today!
In Summary | Montego Bay Excursions
That completes my list of the best Montego Bay Excursions. I hope that this helps as you plan your trip! You can go to Montego Bay experience sailing, swimming, horseback rides, waterfall climbing, and more! For those of you who have visited this city before, let me know if there are any other excursions you recommend in the comments below.
#travelwandergrow
Related Posts: