4 Days in New York Itinerary | The Ultimate First-Timers Guide

New York City is one of the most international in the world; you'd be hard-pressed to find many cities as diverse as this one. I think that this is the reason that I love New York. There really isn't any place like it anywhere else, and you can quite literally do anything your heart desires here. From touring massive skyscrapers, to Broadway, to unique museums to the incredible restaurant scene, NYC is just buzzing with activity.
It is because of this that I personally make it a point to visit this great city at least a few times a year. If you are heading to the city for your first trip, I know that even knowing where to begin can be challenging. This comprehensive travel guide to the city will provide details on the best things to do, where to eat, and where to stay if you have 4 days in New York City.
It is geared for the first-time visitor, but as someone who has visited the city over 15 times, I hope others will find some good nuggets in here too.
Brief City History | New York
There is not a great deal known about the area now known as New York before the initial arrival of the Dutch settlers in 1613. What is known is that there were several groups of Native Americans that inhabited the region for thousands of years before the Europeans arrived. The last native inhabitants were the Lenape Indians, who employed advanced farming techniques for sustenance. Interestingly enough, many of the paths created by the indigenous people here have become some of the major street in the city today, such as Broadway in Manhattan and the Bronx. The Lenape had a population of about 5000 before the Europeans made settlement there.
The first European to arrive in the area was the Italian Giovanni da Verrazzano in 1524. He (re)named the area La Nouvelle-Angoulême in honor of King Francis I. In 1609, Englishman Henry Hudson visited and while there, he made a report on the large beaver population in the area. Given that beaver pellets were popular in Europe at the time, this report is at least partially why the Dutch East India Company set up trading posts there.
The Dutch renamed the area New Amsterdam, and remained under their control for almost 60 years. The arrival of the Dutch brought about the decline in the native population, due to war, economic reasons, as well as disease and starvation – by 1700 their population was just 200. Remnants of their time there can be seen in some of the Dutch place names that still exist in the city today, such as Harlem (Haarlem), Brooklyn (Bruekelen), and Flushing (Vlissingen).
The early days of the European settlement also meant that the slave trade was also active here. Over 40% of all residents had slaves in the early 1700s, however this percentage decreased to about 20% after the American Enlightenment. Dutch rule in the area ended in 1664, when the English arrived and conquered the area after a few battles. During the American Revolution, New York served as a haven for British Loyalists. But following the end of the war, it became the first capital of the United States of America in 1789.
The 19th century brought about a period of immigration, millions arriving to Ellis Island from many European countries. This continued on until the early 1900s, with the greatest number of immigrants arriving between 1892 – 1924. For example, during this time the population of the Bronx grew from 200,000 to 1.3 million! It was around this time (1899) that the modern City of New York was founded.
This means the consolidation of Manhattan, Brooklyn, Queens, the Bronx, and Staten Island. In the 20th century, New York became known for its race to have the tallest building in the world. Additionally, the city became the center of communications, finance, trade, and high culture for the US around this time. And this still holds pretty true of the city today.
Today New York is the largest city in the United States, with over 8.5 million inhabitants. It is the financial capital of the world, and home to Wall Street and the Stock Exchange. And today, In terms of tourism, New York is the most visited city in the US, and the sixth most visited city in the world.
Know Before You Go | New York
Getting to New York City
New York is probably the easiest city to visit in the US, as there are many options for getting into the city:
FLIGHTS
The city is serviced by three major airports; John F. Kennedy International Airport (JFK), LaGuardia Airport, and Newark Liberty International Airport. The first two are both in Queens, NYC; and Newark airport is just across the bridge in New Jersey. Given the volume of flights into the city each day, it's not terribly hard to find a good deal into the city. If you live outside the Mid-Atlantic region or outside of the US, this is the best option to get here. Once you fly in, here are some recommendations for getting back to Manhattan:
JFK: Take the AirTrain to the Howard Beach station where you can catch the A line on the subway that will take you to Manhattan. You might consider a shared van to Manhattan as well.
LaGuardia: The M60-SBS bus will take you from the airport to the Harlem 125th Metro-North station. Note it does take several stops along the way. There is also the option to take a Shared Transfer to or from LaGuardia Airport.
Newark: Take the AirTrain from Newark airport to and connect either to the Amtrak or Path to catch your ride into the city. Once again, you could take a shared van into the city from Newark as well.
TRAIN
New York is serviced by Penn Station, which is the busiest station in the Western Hemisphere! Amtrak trains run in and out of the station daily, and it is also connected to the subway system. If you live in the Mid-Atlantic region, this is the least hassle way to get into the city. The only thing to watch for is the Amtrak prices, which can be high if you don't book a month out or more.
BUS
This is another great option for those living in the Mid-Atlantic region, and the most cost-effective. If you live in the DC metro region, I recommend BestBus. They have great customer service and reliable arrival and departure times. I can't speak for all bus companies in the region, as there are many, but I recommend you do the research to figure out which would work best for you. Some buses will take you to the well-known Grand Central Terminal, but others, like BestBus, plan drop-offs in strategic places in Manhattan.
Where to Stay in NYC
Staying in New York can be expensive. It's one of the most expensive cities I've ever stayed in, honestly (thank God for friends who live in the area!). Whether or not price is super important depends on the person, so here are a few options of neighborhoods you should check out in Manhattan, with cost considerations
Lower Manhattan: This is the area close to the One World Trade Center, and where you can catch a ferry to see popular attractions like the Statue of Liberty. Check out these budget-friendly hotels:
Hilton Garden Inn Tribeca: This hotel is close to a lot of great shopping, and walking distance to the Chinatown and Little Italy neighborhoods. Rooms run from the $150s – $250s.
Hotel on Rivington: Close to SoHo and the East Village, this hotel also offers great amenities to guests. The costs are around the upper $100s to $200s typically.
Chelsea: This neighborhood can be found from 14th to 34th street (north to south); bordered on the east by the Hudson and the west by 6th Ave. It is a more residential part of town, and features the Highline Park! I love the vibe here, and definitely recommend it if you want to experience quieter evenings. I recommend trying an Airbnb here, and love these options:
*If you are a first time Airbnb user, use my link to get $40 off your first stay!*
Times Square: This is the area folks usually think of when they picture New York. It is where you'll find all the shiny billboards, Broadway plays, and…tourist traps. I don't love it, but I do think everyone should stay there at least once for the experience.
I recommend these hotels, as they are just far enough away from the lights for a little bit of quiet, and won't break the bank:
Row NYC: This hotel can be found on 44th and 8th, and is a short block to the busiest section of the Times Square. Rooms run from about $150 – $250, and they run rate specials often. It caters to the young adult crowd and has great eating options inside and close by.
Courtyard Marriott Times Square West: This hotel is located on 37th and 8th, and is also close to everything in Times Square. Rooms are a bit cheaper, but the vibe is less unique than it is at Row NYC. Rooms here run as low as $110 and go to the mid-$200's typically.
Getting Around New York City
I recommend using the subway to getting around in the city. It is VERY efficient, and will certainly be faster / cheaper than trying to taxi everywhere. If you have never ridden a subway before, it can be a little overwhelming. To avoid this, get acquainted with the subway system maps and mark down where you plan to go / which stops to take before you leave. Check out this NYC Subway Map, and download the NYC Subway App before you go!
In addition, both Apple Maps and Google Maps provide an option for transit directions now, which simplifies the process. Regarding paying for your ride, as of 2022, its is easy to pay as well – there is no longer a need to buy a metro card. You can pay with your preferred mobile payment on your iPhone or Android, which really helps get around the sometimes faulty Metro Card machines. Learn more here.
Taxis and ubers are always around too, but if you are short on time I recommend you check to see whether the subway or walking will save you time. When time allows, I recommend walking as much as possible to experience as much of the city as possible.
When to Go to NYC
Figuring out when to go will really be based on your temperature tolerance. Spring and Fall are both unpredictable, with weather ranging from chilly to warm, depending on the day. Summers are hot and humid, while Winter is just cold. I personally prefer to travel there in late Spring or early Fall as there are smaller crowds than in the summer and the weather is generally good.
Money Situation In Washington, DC
Let's just talk about how far your dollar goes in the city a bit here. According to expert estimates, you need about $238 per person/ per day here. So for 4 days in New York, you may spend close to $1000. Of course this would vary by how you chose to eat or what activities you plan to do, however. I have personally never spent that much – I usually spend about half of that, but $1000 would be average. A good way to keep your costs lower is to plan your budget ahead. Check out this post for tips on how to do just that!
Where to Eat in NYC
My main recommendation is that I would avoid eating in any of the chain restaurants that you find near Times Square. These will not be any different than the restaurant you can find at home. Instead, focus on trying something new and different. I've woven some of my favorite restaurants in the itinerary below.
---
The Itinerary | 4 Days in New York
Day 1 | Midtown Manhattan
Your first day in New York should be focused on really getting acquainted with the big apple and seeing as much as you can of the city skyline. As you well know, New York is a massive city, which is why I've broken down this guide by neighborhood. Day one is primarily focused on midtown manhattan, with a few additional locations spattered in this day.
Given the sheer size of the city, I recommend taking taking the Big Bus Hop-On Hop-Off bus to see as much as possible. This bus tour provides a little overview of the city while offering transport to key landmarks and open-air seating. If the weather is nice, it is a great way to see the city for the first time. This bus operates in two loops – the Red Downtown Loop and the Blue Uptown Loop. In details that follow, I'll list the sites you should visit in the order that you'd find them on the tour using the Red Downtown Loop.
MORNING TO EARLY AFTERNOON
Start your day off early (try not to start later than 10AM) to pack in as much as you can. If you travel by the by the bus, you will at least "see" most of these sites from a distance. You can opt to get down and visit most of them, or take them in from above. This is completely up to you!
1. Times Square: This is the main commercial and tourist sector of the city, famed for the huge advertisement screens that are featured on the buildings in the area. This area is the most visited place globally, taking in 360,000 people a day or 131 million a year. Most visitors to the city spend a good portion of their money here, but I do recommend you try to get out of this area after you see it initially.
Take a short walk around the area to see street performers – perhaps you may run into the well-known "Naked Cowboy" or the lesser versions of Elmo and the Avengers. Take in the many shiny billboards and the large flagship stores as well. In this area you will also see the well-known Times Square TKTS ticket stand – there is usually a substantial queue, so it is hard to miss. This stand is where you can buy last minute tickets to shows, often for a reduced price. Know Times Square generally is very, very touristy, so I don't recommend you stay for too long.
Times Square is Stop #2 for BigBus, but also where most people begin their journey.
2. Chrysler Building: Known for it's Art Deco style, this is one of the most famous skyscrapers in the city. For a bit of additional information on this one, it is the tallest brick building in the world, and was built in 1930 during a time of great change in this country. As you might guess it was built by the same Chrysler who owned founded the car company, and for a short 11 months, had the title of "Tallest Building in the World". Note, unlike the other tall buildings on this list, the Chrysler building does not have an observation deck – yet! Once it does, I will certainly update this post!
To get up close to the building's exterior from Times Square, take 42nd Street down to Lexington Avenue. It's just a short 5 block walk from the center of Times Square.
3. The Empire State Building: This building reigned as the tallest building in the United States for over 50 years, and is one of the main attractions in the city. Like the Chrysler, it is also built in the Art Deco style, and is really beautiful both outside and inside. It also functions as a little bit of a museum inside, providing a history of the building's construction. Take a visit to the top to get impressive, open-air views of the city skyline – this building has two observation decks, one on the 86th floor and the 102nd floor. And, to avoid the often long lines outside the building, I recommend you get a Skip-the-Line Ticket.
Around the Empire State Building you will also find Koreatown, with a number of Korean restaurants, shops and services in the neighborhood. A great place to try Korean BBQ if you haven't done so before – it's wonderful. My recommendation is that you try Jongro for lunch, it is really one of the best Korean BBQ joints that I've ever been to before.
The Empire State Building is Stop #3 for BigBus.
Also, to avoid the often long lines outside the building, I recommend you get a Skip-the-Line Ticket. You won't regret it!
4 . Flatiron District: This neighborhood is named for the Flatiron building that looks…like a flatiron. This area is also home to Madison Square Park, also known as home to the original Shake Shack, as well as a place to catch public art installations and free concerts. From this area you can pretty easily walk or subway to Greenwich Village, West Village, and Union Square.
If you did not stop to enjoy food in Koreatown, I recommend getting out here to find lunch before getting back on the bus. I recommend checking out the Bombay Sandwich Co. for Indian or Maman for French fare. Click here for more Flatiron lunch recommendations. The Flatiron District is Stop #4 for BigBus.
5. SoHo: This neighborhood gets its name for being "South of Houston Street" and marks your decent into Lower Manhattan. This is my personal favorite part of the city to shop, as there are a variety of stores here, but it is often much less crowded than shopping in Times Square, for example. From this point onward on the bus, I recommend just observing from above as we have more time allocated for these neighborhoods later in the itinerary (except for the Brooklyn Bridge). SoHo is Stop #5 for BigBus.
6. Brooklyn Bridge: The bridge connects Manhattan to Brooklyn and was once the longest suspension bridge in the world when it opened in 1883. The bridge has an elevated pedestrian walkway and offers great photo ops. It is accessible from a starcase leading to Park Row or crosswalks at the intersection of the bridge and Centre Street. The Brooklyn Bridge is Stop #7 for BigBus.
7. Wall Street: A major part of the Financial District, the name of this area derives from the Dutch "de Waalstraat". An wall did actually exist on the street in the late 1600s, and during this time this area acted as a slave trading and securities trading market. Over time, this area has become the home to the New York Stock Exchange (NYSE) and the Federal Reserve Bank of New York. It is home to both the New World Trade Center and the Charging Bull. Rubbing the "cojones" of the latter is said to provide good luck. Wall Street / Charging Bull is Stop #8 for BigBus.
8. Battery Park: Also known as "The Battery" this public park is at the most southern part of Manhattan, and is where you can catch ferries to Staten Island, the Statue of Liberty, and Ellis Island. Battery Park is Step #9 for BigBus.
9. Circle Line Sightseeing: There are many cruises that you can take around the Hudson River to take in the views of the city from the water. If you opt to do this, I recommend purchasing your tickets in advance if you can. You can do that here. Know that you can also do Boat Tours in New Jersey, if you'd like to see the city from the other side, or explore more of the NJ coastline.
Circle Line Sightseeing is stop #10 for BigBus and technically the last stop on the Red Downtown Loop.
10. The Rockefeller Center: This commercial center, affectionately known as "30 Rock", is home to NBC and many other well-known corporations. If you are getting hungry, you will find a pretty decent food court inside the center to grab a bite. To get here from the Theater District, just head down W 50th and turn onto Rockefeller Plaza. In addition, you can visit the Top of the Rock Observation Deck here for some of the best views of the city. This building is also very well known for the huge Christmas tree that stands out in front during the holiday season.
The Rockefeller Center is the first Big Bus stop. I recommend stopping your tour here and walking from this point if you can.
Close to Rockefeller Center you'll find plenty of shopping on 5th Avenue. This area does have a reputation of being quite ritzy, but you will find all types of shopping here, from Tiffany's to Victoria's Secret.
11. St. Patrick's Cathedral is also in this area as well. This Catholic cathedral was built in the late 1800s and today offers tours of the interior and a nice line up of concerts as well. Book your tour here and learn more about the concerts here.
12. Theater District: As the name suggests, this area is full of theaters that house Broadway shows. To get here from the Rockefeller Center, head down 50th Street to Broadway. If you have not already decided on a play to see, this will give you a few ideas. As of 2022, some of the most popular shows on Broadway include:
SIX
Wicked
Hamilton
The Lion King
Aladdin
MJ the Musical
The Book of Mormon
More information on how to purchase tickets can be found in Day 2 of this 4-day New York City itinerary.
Note – Depending on how many stops you take while riding the bus, it's likely you'll be on the bus around 2-4 hours. 2 hours if you make no stops at all, 4 hours if you stop for lunch and 2 or so other locations.
Click here to book your BestBus Tour!
Late Afternoon
After you finish your tour of the city, I recommend that you visit the High Line Park in Chelsea. This park is an elevated park that has been built over the top of railroad tracks for the now defunct train line that used to bring supplies into the city. The park is 1.45 miles long and offers nice views of both the water and the unique architecture of the buildings that line it. There are several ways that you can enter the park, and here are the options:
30th Street and 10th Avenue
23rd Street and 10th Avenue
14th Street and 10th Avenue
Gansevoort Street and Washington Street
Evening:
To wrap up your first day, I recommend that you head to Chelsea Market for dinner after you stroll the Highline Park. This market is a mix of a traditional market and food hall, and there are many options for eating here.
As an alternative, you could spend this time taking one of the best food tours in NYC. This is a great option if you prefer to try a variety of different foods.
I just want to point out, if the bus does not interest you, you can certainly stroll all of the midtown locations (Times Square through Flatiron + Rockefeller Center) on your own. Depending on how fast or slow that you walk, and the number of stops you take, this stroll will take you 4 or so hours. If you are not interested in doing this alone, check out this Free Midtown Walking Tour, which covers all the sites listed above.
Day 2 | Central Park, Museums & Broadway
As day one of this itinerary is a pretty intense and full day, I recommend slowing things down a bit for your second day in NYC.
Morning:
Start out your day with a stroll through Central Park. This will give you a bit of a break from the hustle and bustle of the city, as the park is huge and full of lush greenery. This park is well known for being huge, but surprisingly it is only the 5th largest park in the city, with a span of 843 acres. In addition to the plants, there are many sculptures and exhibitions inside the park as well. If you'd like a fun (and light) breakfast option while there, stop at Wafels and Dinges for fun waffle options. While in the park, you can also visit the small Central Park Zoo. Tickets there run at $19.95 for adults and $16.95 for kids.
Afternoon:
Consider checking out one of the 100 museums in New York City – there really is something for everyone here. On your first visit to the city, I recommend that you visit the American Museum of Natural History. It houses a fabulous collection of artifacts from places around the world, and one could spend hours there soaking up all the information in the exhibits. Tickets are $23 for adults and $13 for kids.
If you are more of an art person, visit the Metropolitan Museum of Art – often known simply as "the Met". And yes, this is the same Met where that famous gala is held every year. This museum offers rotating exhibits that feature art from different time periods and locations. Current exhibits include the Art of Native America and Dutch Masterpieces at the Met. Tickets are $25 for adults, and kids 12 and under get in for free.
Additional Museum Ideas Include:
Evening:
If you have not seen one before, I highly recommend that you see at least one Broadway show while you are in the city. If you don't know which ones to see, I can vouch for the excellence of Aladdin, The Lion King, and Wicked :). All Broadway tickets do not have to be expensive, and here are a few ways that you can get some deals:
TKTS Discount Booths: You can use this system to get deals on same-day tickets. You should be aware that you will have to wait awhile to get them (in Times Square).
Broadway Box: An online marketplace for cheap Broadway tickets.
Broadway for Broke People: Another online marketplace with a fun name that lists the cheapest tickets available for each show that is currently playing.
Depending on when you have tickets and when you prefer to eat dinner, I recommend planning your meal either right before or after the show. For a nice treat that is also not too touristy, try Donburiya, a Japanese restaurant not too far from Times Square.
Day 3 | A Little NYC History: Chinatown, Little Italy, & More
On your third day in the city, I recommend you spend time getting acquainted with some more of the city's well-known Neighborhoods.
Morning:
Start out your day by checking out the Tenement Museum. Here you can go back in time to life in the Lower East Side during the time of mass immigration to New York. There are several exhibits here, all providing a glimpse into the often terrible situations the lower class had to endure. The guides are great storytellers, and walk you through real stories of people who lived in the buildings – all with the appropriate level of suspense.
I went to an exhibit that told the story of a woman who had to face life as a single mother once her husband disappeared. This was interspersed with the building owners who ran a German bar at the entrance and information about the whole neighborhood in the late 1800s. I cannot wait to go back to try another tour. This museum is accessible by the Delancy St, Grand St, or Bowery subway stations. Note, when you arrive, you should start at the storefront / checkin area first, instead of the building where your tour is.
Afternoon:
After your time at the museum concludes, take a short walk over to Little Italy (or hitch a ride via the Spring St. subway station, and walk east two blocks to Mulberry St.) This area is full of Italian eateries, and is the perfect place to stop and grab food. For an extra special treat, check out the first pizzeria in the United State: Lombardi's. I absolutely LOVE their pizza – it's simple but perfect. They do not take reservations here, so try to arrive a little before or a little after the usual lunch hour to try to avoid the crowds.
If you prefer a more robust meal, I highly recommend you go to Emilio's Ballato. This restaurant is known for welcoming a variety of celebrities and feels almost like a living room when you go inside. It offers very authentic Italian in a small setting. Know that this restaurant also does not offer reservations, so try to plan around busy times if you can.
After lunch, continue your stroll towards Chinatown. All you really have to do is walk down Mulberry St. until Little Italy ends (3 blocks) and you won't miss it. Chinatown is a lot bigger than Little Italy, and here you can find lots of street vendors to bargain with. Also, if you'd like a sweet treat, check out Eggloo. They have the best waffle cones I've ever tasted and lots of flavor / topping options.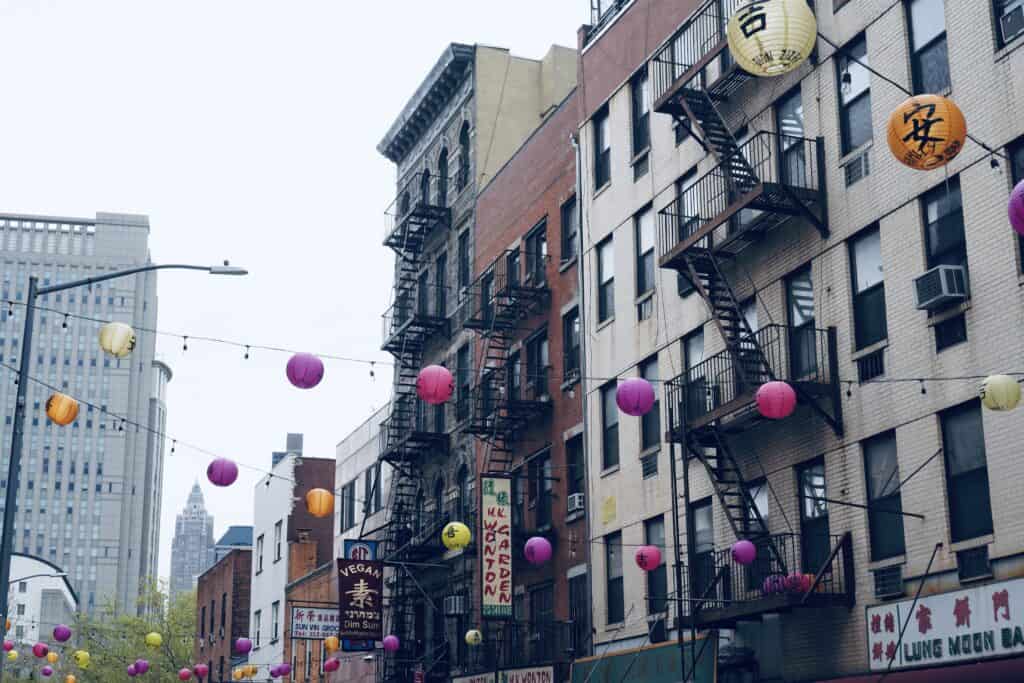 If you'd like to visit these neighborhoods with the help of a guide, check out the SoHo, Little Italy, and Chinatown free walking tour. (You can download a walking guide too, if you prefer that instead.)
Evening:
In the evening, spend your time taking in evening views of the city from a nice rooftop in SoHo. I recommend trying JIMMY or the A.R.T. SoHo – both offer excellent cityscapes.
Day 4 | Lower Manhattan & The Statue of Liberty
Morning:
On your final day in the city, you should visit the One World Trade Center. If you plan to go to the top, don't forget your Skip-The-Line Ticket! I won't give any spoilers, but the elevator ride is probably one of the coolest that I've been on, and certainly worth the ride! The closest subway station are the World Trade Center and Fulton Street.
While you are close by, I recommend visiting the 9/11 Memorial Museum, which provides the history of both the 9/11 attacks and the 1993 bombing that occurred at the same site. If you do visit both, you can opt for a combined ticket, which will save you a little bit of money. For a special experience, this option also comes with a guided tour.
Click here to purchase your One World Trade Center and 9/11 Memorial Ticket + Tour!
After your visit to the World Trade Center, I recommend passing a little time just walking through the Financial District. Walk down Wall Street. Find the New York Stock Exchange. Rub the Charging Bull for good luck. All things that are part of feeling the "money" just a little.
Next, use your priority tickets to visit the Statue of Liberty and Ellis Island. Because, what is a trip to New York without a visit to it's most iconic attraction? This visit will keep you busy into the early afternoon, ~4 hours or so. To get to those islands you'll need to meet your tour in Battery Park, accessible by the Bowling Green and South Ferry stations. Some people will prioritize the Statue of Liberty over Ellis Island, but I do recommend doing both as the latter offers a highly realistic view into what it was like to be "processed" through the island before receiving citizenship.
Afternoon:
It's now time to…shop! I recommend shopping in SoHo – it is simply the best. You'll find big chain stores such as Bloomingdale's and more boutique shops like the French Connection. I almost never leave NYC without taking a few minutes to see what new styles are out. The closest subway stations are Canal Street and Prince Street.
Evening:
If you want to go all out for your last meal in the city, I recommend Dirty French. This is a French-fusion restaurant with unique but delectable appetizers, main courses, and drinks. My mouth is salivating just thinking about it…mmm.
New York City Map
Just to bring all the locations and neighborhoods to life, here is a map of the key landmarks mentioned in this post:
Central Park
Central Park Zoo
American Museum of Natural History
Rockefeller Center
St. Patrick's Cathedral
Theater District
Times Square
Chrysler Building
Empire State Building
The High Line
Flatiron Building
SoHo
Tenement Museum
Little Italy
Chinatown
Brooklyn Bridge
Wall Stret
One World Trade Center
The Battery (Batter Park)
New York City Pass
If you are planning to visit a lot of attractions and want to save a few dollars, you should consider looking into the New York City Pass. For a flat fee, you can get access to many of the attractions listed in the post, such as:
The Empire State Building
The Statue of Liberty and Ellis Island
The MET
The American Museum of Natural History
…and more!
If you do plan to visit at least 5-6 attractions, you'll save about 42% of the cost! Check out the New York City Pass here.
Is 4 Days in New York Enough?
Now I'm going to be really honest and say that 4 days in New York is not enough time. But there really is never enough time for New York, is there? The city is massive! BUT, 4 days is enough for you to get a really good feel for the city. AND whet your appetite enough so that you'll want to come back. I mean, you have to explore all those other boroughs outside of Manhattan too, right?
What to Do if You Have More Time in New York
If you are in the city for longer than 4 days, I recommend considering the following tours and places of interest:
Final Thoughts | 4 Days in New York
I hope that you feel ready for your 4 days in New York now that you've read this post. As you may be able to tell, I'm just slightly obsessed with the city :).
If you've visited NYC before, let me know in the comments below! What else would you recommend for the first-timer?
Looking for more US Travel Guides?
---