2 Days in Split: The Ultimate Itinerary

Split was the first city that I landed in Croatia, and let's just say that I fell in love instantly. It's full of that medieval charm that so many of the cities on the Dalmatian coast have. It's also surrounded by beautiful waters, has great dining options, and a rich and unique history. In this travel guide, I'll give you tips for the best 2 days in Split. This city is an absolute must if you are planning to travel through Croatia, and I hope this post shows you exactly why I feel that way.
Brief City History | Split, Croatia
Settlement in the area where Split is located began with a Greek settlement during the 3rd and 4th centuries B.C. What made the city what it is today, however, is the building of the Roman emperor Diocletian's palace in 295 A.D. Diocletian was the last pagan emperor of the great Roman empire, and figured that he'd rather retire from rule than be killed by his competition. So, he spent 10 years building a massive palace to serve as his home, as well as home to the army and his servants. Following his death, following emperors used the palace as a place for retreat up until the 500s A.D.
Following the collapse of the Roman empire, the residents who remained in the city began to live within the city's walls, building out apartments and other important city buildings. For this reason, the entire city of Split remained pretty much entirely within the walls of the old palace for centuries. Over the centuries, Split spent time being independent and also being ruled by area superpowers, such as Venice, Austria, and France.
During the 1900s, Split was again ruled by a variety of countries, including Germany, Italy, and the Serb Kingdom. Following WWII, it became part of Yugoslavia, and finally gained independance within the country of Croatia. The city currently is facing some decline in population due to the state of the economy. There have been some recent improvements, however, due to the rise in tourism. The 20th century also gave great rise to the size of the city's population and it has grown substantially outside the palace area. There are nearly 300,000 people in the urban Split area, making it the second largest city in Croatia after Zagreb. For more information on this history of Split, click here.
RELATED: Ultimate Travel Guides
Know Before You Go | Split
Lodging and Logistics
Getting There: Split is serviced by the Resnik Airport, which is about 12 miles outside of the city. This is an international airport, offering transportation to many nearby destinations such as Athens, Paris, and London. If you are coming from the US, you can expect to transfer before arriving in the country.
Where to Stay: Split has many great stay options, and I highly recommend that you stay near the old city on your visit. Here here are a few of my favorite locations:
If you like to stay in places with a "local" feel, try Livo Disno 12. This cute apartment is owned by a lively woman, who has decorated her apartments beautifully. I stayed here when in Split, and LOVED it!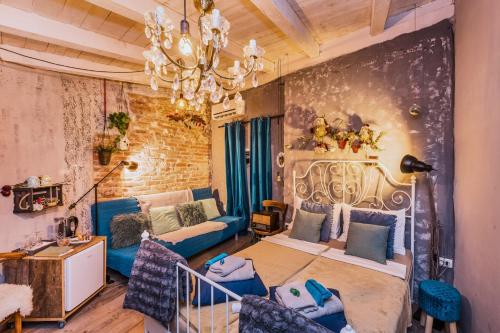 Similarly, the Split Inn Apartments are located very closely located to to Diocletian's Palace, and are great for providing that "local feel".
If hotels are more of your thing, try the Prima Luce Hotel. It is also located in the city center, and has a very affordable price.
Getting Around: If you are staying in the old city, you really don't need any transport except for you two feet. For traveling longer distances, you can find taxis nearby and uber works in the city too.
When to Go: I recommend going around the May/June or August / September timeframes as the weather is lovely, and their are not as many tourists around. However, tourism is just starting to grow here, so it is not quite as busy as other locations in Europe, such as Rome or Barcelona.
Daily Considerations
Language Considerations: The language spoken in Croatia is Croatian, a Serbian language with some Italian influences. However, English is widely spoken, so you should have no issues. I do recommend trying to learn at least some words in Croatian – check out this list for more!
Money Situation: The currency used in Croatia is the Croatian Kuna. At the time of writing this post, $1 = 6.67 Kuna. Click here for the latest conversion.
Health: It is absolutely safe for you to drink the tap water in Croatia. You should be relatively safe from major issues with food safety as well here.
RELATED: Adventure Sailweek Croatia Review
The Ultimate Split Croatia Itinerary
Day 1 | Get to Know the City
Morning
Start your day with some delicious food from Brasserie on 7. Specialities here include french toast, fresh pastries, and omelettes. After breakfast is done, it's time to get to know the city!
I recommend doing this by starting out with a city tour of Split. This tour provides a hands-on opportunity to learn about the city's history from antiquity to the present day. Explore the city walls, churches, and town squares before heading up the stairs to Marjan Hill. The climb can feel long if you are traveling in the heat, but the views definitely make it worth it!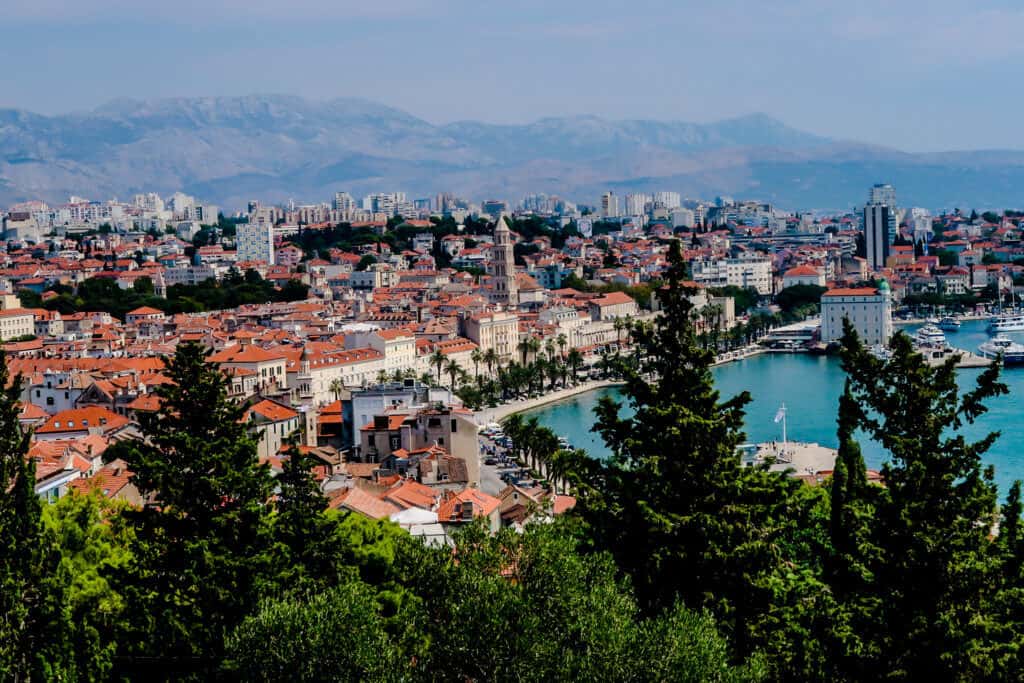 Evening
After you wrap up your tour, I recommend spending some time shopping :). There are several shops lining Mormontova street – which reminds me so much of the street leading to the Praça do Comércio in Lisbon. You'll also find a Fish Market right off of Marmontova as well – a great find if you are stayin somewhere that you can cook. If you have time, there is a Green Market nearby the palace that you can explore as well. This market has produce as well as clothing that is on the cheaper side.
After shopping, close out your evening by having dinner at Fife, known for delicious seafood and pastas.
RELATED: Lisbon Travel Guide
Day 2 | Game of Thrones + The Beach
Morning
Whether you are a Game of Thrones fan or not, these tours are a lot of fun. I recommend starting your day taking a different view of the city by living TV/the movies and doing a GoT tour. This tour includes a big breakfast – one that perhaps someone like Tyrion would have eaten in the movies. See sites from locations such as Meereen and the underground of King's Landing as the show comes to life.
Book your Game of Thrones Tour – Split now!
Afternoon
The waters that surround the Dalmatian coast are some of the best I've ever seen, so a trip to the beach is an absolute must! Ovčice Beach is known for providing a tranquil beach experience for those looking for a bit of quite. If you prefer a more lively experience, Bačvice Beach is probably your best bet.
Day Trips from Split
If you decide to visit Split for more than 2 days, you have a variety of options for booking day trips from Split. Some favorites include:
Krka Waterfalls Tour from Split – Venture out an hour from the city to see the largest Travertine waterfall in Europe. Spend time swimming in the crystal clear waters surrounding the waterfall, and take a 30 minute river cruise.
Blue Cave and Hvar from Split – Sail to the famous Blue Cave and then to the ever-popular Hvar on a full-day tour experience. You'll stop at the Palenki Islands on your way to Hvar, where you can stop and snorkel for a bit.
From Split: Plitvice Lakes Full-Day Tour – Drive outside of the city to explore and swim through the beautiful lakes that can be found throughout Croatia.
As you can see, there are quite a few options that you can take to explore areas nearby to Split. Most involve water in some way, which is why traveling there in the warmer months is recommended.
RELATED: Barcelona Travel Guide
Final Tips | 2 Days in Split
That concludes my travel guide for 2 days in Split. As you can see, Split offers plenty to do for those who choose to visit this medieval town and its surrounding areas. In summary, here are a few tips to keep in mind when visiting the city:
Stay near the city center / by Diocletians Palace for the optimal experience
Wear good walking shoes as most places are only accessible by foot (and it doesn't hurt to start getting a bit more active before your trip either :))
Expect to eat a diet of mostly pasta and seafood while in Croatia. The food is actually quite similar to what you'd find in Italy, which means there are lots of great Gelato options as well
Learn some basic Croatian greetings before you travel to Split, it will definitely gain your favor with the locals
For those of you who have visited before, let me know what else you'd recommend in the comments below!
Related Posts: