2 Days in Split: The Ultimate Itinerary

Split was the first city that I landed in Croatia, and let's just say that I fell in love instantly. It's full of that medieval charm that so many of the cities on Croatia's Dalmatian coast have. Nestled along the Dalmatian coast, this ancient city boasts a rich heritage dating back thousands of years, captivating travelers with its sun-kissed beaches, labyrinthine streets, and Roman ruins that stand as a testament to its storied past. In this travel guide, I'll give you tips for the best 2 days in Split. This city is an absolute must if you are planning to travel through Croatia, and I hope this post shows you exactly why I feel that way.
Brief City History | Split, Croatia
Settlement in the area where Split is located began with a Greek settlement during the 3rd and 4th centuries B.C. What made the city what it is today, however, is the building of the Roman emperor Diocletian's palace in 295 A.D. The grand Diocletian's Palace remains the beating heart of Split to this day, a UNESCO World Heritage site that seamlessly blends ancient ruins with a bustling modern city.
Diocletian was the last pagan emperor of the great Roman empire, and figured that he'd rather retire from rule than be killed by his competition. So, he spent 10 years building a massive palace to serve as his home, as well as home to the army and his servants. Following his death, following emperors used the palace as a place for retreat up until the 500s A.D.
Following the collapse of the Roman empire, the residents who remained in the city began to live within the city's walls, building out apartments and other important city buildings. For this reason, the entire city of Split remained pretty much entirely within the walls of the old palace for centuries.
During this time, Split endured numerous challenges and invasions by various forces, including Avars, Slavs, and Venetians. However, its strategic location as a gateway between the Mediterranean and the Balkans ensured its significance as a trading hub throughout the Middle Ages. The Byzantine Empire later ruled over the region, followed by the rule of the Croatian Kingdom, until the Venetians regained control in the 15th century. Austria and France also held domain over the city during the medieval time period.
In the 19th century, Split experienced significant changes as it became part of the Austro-Hungarian Empire. The city began to modernize, and its maritime industry thrived. The industrial and economic progress brought with it an influx of diverse cultural influences, further enriching Split's identity.
In the early 20th century, Croatia became part of the Kingdom of Yugoslavia, and Split played a pivotal role in the country's cultural and political life. Traces of its history as a maritime center are evident in the beautiful architecture along its waterfront, reflecting the city's deep connection with the sea.
Split endured significant challenges during World War II, experiencing both occupation and liberation. After the war, Croatia became part of the Socialist Federal Republic of Yugoslavia. Despite the political changes and turmoil, Split remained resilient, preserving its unique cultural heritage and traditions.
In the 1990s, the disintegration of Yugoslavia led to Croatia gaining its independence, and Split emerged as a vital city in the newly formed nation. With its picturesque landscapes and historical treasures, the city became a popular tourist destination, attracting visitors from all corners of the globe.
The city currently is facing some decline in population due to the state of the economy. There have been some recent improvements, however, due to the rise in tourism. The 20th century also gave great rise to the size of the city's population and it has grown substantially outside the palace area. There are nearly 300,000 people in the urban Split area, making it Croatia's second-largest city after Zagreb.
Split is especially popular as it is often the starting point or ending point for yacht tours in Croatia. For more information on this history of Split, click here.
⭐️⭐️⭐️⭐️⭐️
See all the top city highlights of Split with a local guide, while learning about the city's 1,700 years of history. Explore sites such as:
Riva Promenade
Diocletian's Palace
Saint Domnius Cathedral
Marjan Hill
…and much, much more!
The Ultimate Split Croatia Itinerary
Day 1 | Get to Know the City
MORNING
Start your first day with a delicious breakfast from Brasserie on 7. Led by talented chefs with a passion for locally sourced ingredients, the dishes showcase the best of Dalmatian and Mediterranean cuisine. From freshly caught seafood to succulent meats and an array of seasonal vegetables, each plate is an artful presentation of flavors, textures, and colors that tantalize the senses. Specialities here include french toast, fresh pastries, and omelettes.
After breakfast is done, it's time to get to know the city! I recommend doing this by starting out with a walking tour of Split. This tour provides a hands-on opportunity to learn about the city's history from antiquity to the present day. Stops on this tour include:
DIOCLETIAN'S PALACE
As mentioned above, this palace is the literal heart of Split. The palace complex covers an area of approximately 7.5 acres and is one of the most well-preserved examples of Roman architecture in the world. The palace's design reflects the emperor's vision of a lavish and fortified abode, featuring impressive gates, imposing walls, and a grid-like layout that accommodated various functions, from residential quarters to military facilities.
Within the walls of Diocletian's Palace, visitors can wander through a labyrinth of narrow streets, lined with charming stone buildings and a rich array of shops, restaurants, and galleries. The Peristyle, the central courtyard surrounded by grand columns, serves as the heart of the palace and is a captivating spot where tourists and locals alike gather to soak in the historical ambiance. Exploring the underground cellars, you can discover an intricate network of passages that were once used for storage and defense, now offering a unique insight into the palace's engineering ingenuity.
Over the centuries, Diocletian's Palace has evolved from a regal abode to a living city within a city. In fact, it literally IS the old town of Split. It is a living testament to the continuity of life and culture, as many of the original structures have been adapted and repurposed over the ages. Today, the palace's fusion of ancient and modern elements creates an enchanting juxtaposition, making it not only a UNESCO World Heritage site but also a vibrant hub where history, culture, and contemporary life converge in a remarkable synthesis.
THE GOLDEN GATE
The Golden Gate was the main entrance to Diocletian's Palace. It serves as the northern entrance to the palace and is adorned with intricate carvings and decorative motifs. The name "Golden Gate" is derived from its radiant appearance, as the limestone used in its construction reflects the sunlight, creating a golden hue that adds to its enchanting allure.
CATHEDRAL OF SAINT DOMNIUS
Saint Domnius Cathedral is one of the many important structures located within the heart of Diocletian's Palace. Originally built as a mausoleum for the Roman Emperor Diocletian in the 4th century AD, the cathedral was later converted into a Christian place of worship, dedicated to Saint Domnius, the city's patron saint. Its awe-inspiring architecture showcases a captivating blend of Roman, Byzantine, and Gothic styles, boasting an exquisite bell tower that offers panoramic views of the city and the azure Adriatic Sea. The interior of the cathedral is adorned with ornate altars, beautiful mosaics, and intricate carvings, transporting visitors into a realm of spiritual and artistic brilliance.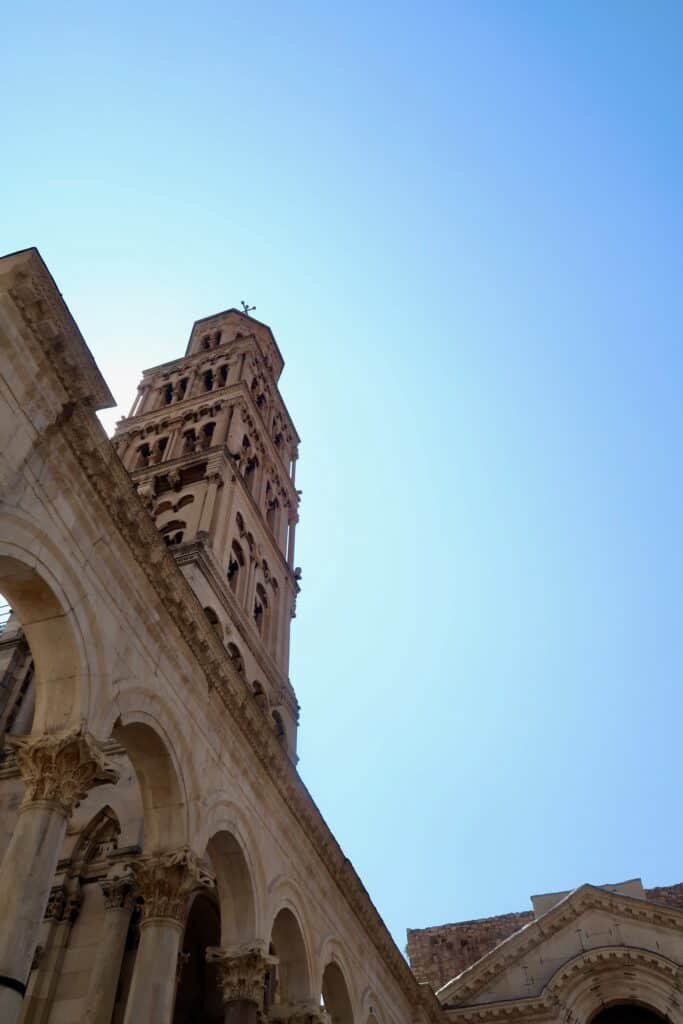 PERISTYLE SQUARE
This square, located at the heart of Diocletian's Palace, serves as the grand focal point of the palace. Surrounded by awe-inspiring Roman columns, you immediately feel as though you are back in the times of the Roman Empire when you step into the square. Originally designed as a central courtyard for the Emperor Diocletian's residential quarters, Peristyle Square is now a bustling hub where history, culture, and modern life intertwine.
The square's grandeur is enhanced by the majestic Saint Dominus Cathedral, dedicated to the city's patron saint, which stands at one end of the Peristyle. Its towering bell tower provides a captivating view of the surrounding area. As you explore the square, you can admire the intricate architecture, including Corinthian columns, adorned with exquisite carvings and detailed capitals.
Peristyle Square serves as the heart of the vibrant city of Split, where locals and tourists gather to enjoy live performances, cultural events, and the lively atmosphere. If you visit at the right time, you can even be present for an appearance by the "Emperor". I was lucky enough to see him visit, and it is just a fun affair.
STATUE OF GREGORY NIN
The Gregory of Nin statue in Split, Croatia, crafted by sculptor Ivan Meštrović in 1929, stands as a significant symbol of Croatia's cultural heritage. Located near Diocletian's Palace, this imposing bronze statue commemorates the medieval bishop Gregory of Nin, known for advocating the use of the Slavic language in religious services and preserving Croatian culture. Beyond its historical importance, the statue has become a beloved attraction, as visitors participate in the tradition of rubbing its toe for good luck and blessings. Illuminated at night, the Gregory of Nin statue provides a magical backdrop for various events and festivals, offering both a connection to the past and a celebration of national pride in the vibrant city of Split.
RIVA PROMENADE
Walk this beautiful promenade, which is known as the "living room" of Split. This area stretches across the eastern edge of the Palace and is a popular place for tourists and locals. Palm trees line the promenade to beautiful effect. There is always something going on here, from open-air concerts, to bustling markets, and more.
MARJAN HILL
Located on the western peninsula of Split, this lush parkland offers a refreshing escape from the bustling urban environment, making it an ideal retreat for nature lovers and outdoor enthusiasts. Rising 178 meters (584 feet) above sea level, Marjan Hill provides stunning panoramic views of the sparkling Adriatic Coast, the historic cityscape, and the surrounding islands.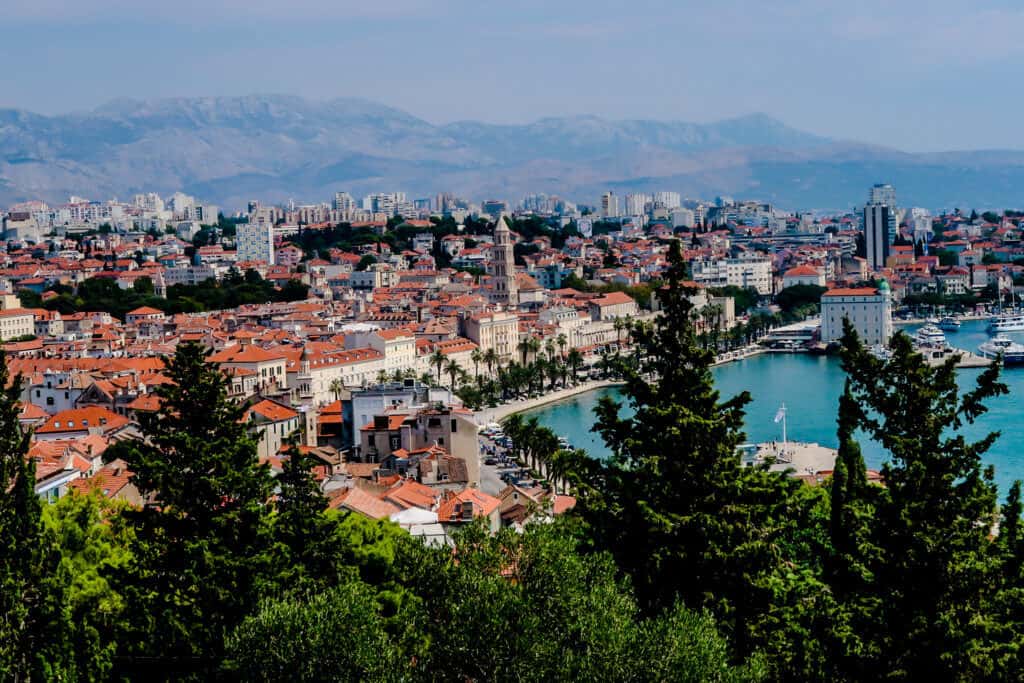 The hill is crisscrossed by a network of walking and cycling trails, leading to several scenic viewpoints and charming chapels that dot the landscape. One of the highlights of Marjan Hill is the 13th-century St. Nicholas Church, nestled among the trees, offering a glimpse into the region's religious history. Its lush forests, pine groves, and Mediterranean vegetation create a serene environment perfect for leisurely strolls, jogging, or picnicking with family and friends.
Book your Split city tour now!
Evening
After you wrap up your tour, I recommend spending some time shopping :). There are several shops lining Mormontova street – which reminds me so much of the street leading to the Praça do Comércio in Lisbon. Marmontova Street is a vibrant and bustling thoroughfare that embodies the city's cosmopolitan charm and lively atmosphere.
Named after the French military leader, Marshal Auguste de Marmont, who served as the Governor of Dalmatia during the early 19th century, the street is a pedestrian-only zone, making it a delightful haven for pedestrians and shoppers.Lined with an array of shops, boutiques, cafes, and restaurants, Marmontova Street is a paradise for those seeking to indulge in retail therapy, savor local cuisine, or simply soak in the vibrant street scene. From trendy fashion outlets to artisanal craft stores, the street offers a diverse shopping experience that caters to a wide range of tastes and preferences.
You'll also find a Fish Market right off of Marmontova as well – a great find if you are staying somewhere that you can cook. If you have time, there is a Green Market nearby the palace that you can explore as well. This market has produce as well as clothing that is on the cheaper side.
After shopping, close out your evening by having dinner at Fife. This beloved culinary institution is a gastronomic haven that has delighted locals and tourists for decades. Located near the bustling Pazar Market, this family-owned restaurant is renowned for serving authentic Dalmatian cuisine in a warm and welcoming setting. With a name derived from the Croatian word for "grandfather," Fife exudes a charming and nostalgic ambiance that harks back to traditional values and time-honored recipes.
Day 2 | Game of Thrones + The Beach
MORNING
On your second day in Split, I recommend starting things off with a Game of Thrones Tour. Whether you are one of the many Game of Thrones fans or not, these tours are a lot of fun. This tour will give the opportunity to see many filming locations that were used over the course of filming the show, such as:
Diocletian Palace Cellars: This labyrinth of underground chambers exudes an air of mystery and historical intrigue. These vast cellars once served as the foundation of the Emperor Diocletian's retirement palace. Today, they have been ingeniously repurposed to house a vibrant market and a cultural hub that showcases local artisans and craftsmen. As visitors descend into the dimly lit chambers, they are transported through time, marveling at the well-preserved Roman architecture and the impressive vaulted ceilings. The cellars will look familiar to you, as this is where the Mereneese slaves were housed in the show.
Diocletian Palace Walls and Alleys: The show did a lot of filming in Split's old town. Here you will also see where they filmed things like where Daenaerys kept her dragons while imprisoned, the corridor where the Sons of the Harpy waited for the Unsullied, and where Tyrion made his escape from King's Landing.
Book your Game of Thrones Tour – Split now!
Afternoon
The waters that surround the Dalmatian coast are some of the best I've ever seen, so a trip to the beach is an absolute must! Split is blessed with a plethora of stunning beaches that cater to all types of beachgoers, from families seeking calm waters to adventure seekers and party enthusiasts. Among the best beaches in and around Split, a few stand out for their pristine beauty and captivating surroundings.
Bacvice Beach: Located just a short walk from the city center, Bacvice Beach is one of the most famous and popular beaches in Split. Its sandy shores and shallow waters make it ideal for families and those who enjoy relaxed swimming. The beach is also renowned for being the birthplace of the traditional Croatian ball game called picigin, which attracts both participants and spectators.
Kasjuni Beach: Situated on the southern slope of Marjan Hill, Kasjuni Beach offers a more secluded and tranquil escape from the city's bustle. Surrounded by lush pine trees, the pebble beach offers crystal-clear waters that are perfect for snorkeling and diving. Additionally, there are beach bars and restaurants nearby for those seeking refreshments and snacks.
Bene Beach: Another gem nestled within Marjan Hill's embrace, Bene Beach is a family-friendly destination with various amenities like playgrounds, restaurants, and sports facilities. The beach features both sandy and rocky areas, allowing visitors to choose their preferred spot for lounging by the sea. Nature lovers can explore the nearby walking trails and admire the enchanting landscapes of Marjan's pine forest.
Znjan Beach: A bit farther from the city center, Znjan Beach is a long and pebbly coastline with several beach clubs and water sports activities. This beach is particularly popular among young locals and travelers looking for a lively atmosphere and beach parties during the summer months.
Stobrec Beach: Situated in the town of Stobrec, just a short drive from Split, this picturesque beach offers a mix of sandy and pebbly sections. Surrounded by charming restaurants and cafes, Stobrec Beach is a wonderful spot to enjoy a leisurely day by the sea and indulge in local delicacies.
With an array of stunning beaches to choose from, Split provides an unforgettable coastal experience for all beach enthusiasts, ensuring a memorable and sun-soaked vacation on the shores of the Adriatic. Spend the rest of your last day in Split soaking in the sun and eating dinner while watching the waves.
Day Trips from Split
If you decide to visit Split for more than 2 days, you have a variety of options for booking day trips from Split. Some favorites include:
Krka Waterfalls Tour from Split – Venture out an hour from the city to see the largest Travertine waterfall in Europe. Krka Waterfalls is a natural wonder located in the Krka National Park in Croatia, approximately 90 kilometers from Split. The cascading waterfalls, formed by the Krka River, create a breathtaking spectacle as they flow over a series of limestone rocks and form enchanting pools below. Visitors to Krka Waterfalls can explore wooden pathways and bridges that allow for up-close views of the falls, swim in the refreshing waters at designated areas, and enjoy the park's lush greenery and diverse wildlife, making it a popular destination for nature lovers and outdoor enthusiasts. Spend time swimming in the crystal clear waters surrounding the waterfall, and take a 30 minute river cruise.
Blue Cave and Hvar from Split – Sail to the famous Blue Cave and then to the ever-popular Hvar on a full-day tour experience. The Blue Cave, located on the island of Biševo, is a natural wonder that enchants visitors with its radiant blue hues. The cave's unique luminous effect is created by the sun's rays passing through an underwater entrance, casting a mesmerizing blue light on the cave's walls and waters. This tour also includes a stop at the Palenki Islands on your way to Hvar, where you can stop and snorkel for a bit. Hvar island is one of the nearby islands, and is known as a popular tourist spot due it storybook-like charms. It is also known for live music and for being a party town.
From Split: Plitvice Lakes National Park Full-Day Tour – Drive outside of the city to explore and swim through the beautiful lakes that can be found throughout Croatia.
Plitvice Lakes National Park is renowned for its cascading waterfalls, crystal-clear lakes, and lush greenery, creating a picturesque landscape that seems like a scene from a fairytale. With wooden walkways and trails winding through the park, visitors can explore the enchanting scenery and observe the diverse flora and fauna that call Plitvice Lakes their home.
As you can see, there are quite a few options that you can take to explore areas nearby to Split. Most involve water in some way, which is why I recommend traveling there in the warmer months.
Split Airport Information
Split is serviced by the Resnik Airport, which is about 12 miles outside of the city. The Split airport is an international airport, offering transportation to many nearby destinations such as Athens, Paris, and London. If you are coming from the US, you can expect to transfer before arriving in the country.
Where to Stay in Split
Split has many great stay options, and I highly recommend that you stay near the old city on your visit. Here here are a few of my favorite locations:
Hotel recommendation
If you like to stay in places with a "local" feel, this is the place. This cute apartment is owned by a lively woman, who has decorated her apartments beautifully. I stayed here when in Split, and LOVED it!
Hotel recommendation
Similarly, the Split Inn Apartments are located very closely located near to Diocletian's Palace, and are great for providing that "local feel".
Hotel recommendation
If hotels are more of your thing, try the Prima Luce Hotel. It is also located in the city center, and has a very affordable price.
Getting around split
If you are staying in the old city, you really don't need any public transport except for you two feet. For traveling longer distances, you can find taxis nearby and uber works in the city too.
When to go to Split
I recommend going around the May/June or August / September timeframes as the weather is lovely, and their are not as many tourists around. However, tourism is just starting to grow here, so it is not quite as busy as other locations in Europe, such as Rome or Barcelona. I personally would avoid visiting in the winter months, as you will not be able to enjoy many of the water activities that are found all around the city.
Language Considerations for Split
The language spoken in Croatia is Croatian, a Serbian language with some Italian influences. However, English is widely spoken, so you should have no issues. I do recommend trying to learn at least some words in Croatian – check out this list for more!
Money in Split
The currency used in Croatia is the Croatian Kuna. At the time of writing this post, $1 = 6.77 Kuna. Click here for the latest conversion.
Health Considerations in Split
It is absolutely safe for you to drink the tap water in Croatia. You should be relatively safe from major issues with food safety as well here.
Split FAQs
Is 2 days enough in Split Croatia?

While two days in Split will give you a solid taste of this captivating city, it may not be enough to fully explore all its highlights and nearby attractions. If you have more time, extending your stay to 3-4 days or longer will allow you to delve deeper into the city's offerings and also explore its surrounding treasures.

Is Split Croatia Worth Visiting?

Absolutely! Split is worth visiting for a multitude of reason. This coastal gem offers a unique blend of historical charm, natural beauty, and a vibrant culture. In addition to important historical sites like Diocletian's Palace, Split offers bustling markets, beautiful beaches, and exquisite restaurants.
Is Split as beautiful as Dubrovnik?

Both Split and Dubrovnik are stunning cities, each with its own unique charm. Split's beauty lies in its historical significance, centered around the awe-inspiring Diocletian's Palace and the Adriatic Sea. Meanwhile, Dubrovnik captivates visitors with its perfectly preserved medieval city walls and coastal setting, making both cities equally appealing but in different ways.

What is the best time to visit Split?

The best time to visit Split is during the shoulder seasons of spring (April to May) and fall (September to October). These months offer pleasant weather, fewer crowds, and a chance to explore the city comfortably. Summer (June to August) is also popular, but it can be crowded, especially in July and August, making spring and fall ideal for a more relaxed visit.


Final Tips | 2 Days in Split
That concludes my travel guide for 2 days in Split. As you can see, Split offers plenty to do for those who choose to visit this medieval town and its surrounding areas. In summary, here are a few tips to keep in mind when visiting the city:
Stay near the city center / by Diocletian's Palace for the optimal experience
Wear good walking shoes as most places are only accessible by foot (and it doesn't hurt to start getting a bit more active before your trip either :))
Expect to eat a diet of mostly pasta and seafood while in Croatia. The food is actually quite similar to what you'd find in Italy, which means there are lots of great Gelato options as well
Learn some basic Croatian greetings before you travel to Split, it will definitely gain your favor with the locals
For those of you who have visited before, let me know what else you'd recommend in the comments below!
Related Posts on Croatia:
More Europe Travel Guides: