2 Days in Dubai | The Ultimate Itinerary

Dubai is perhaps best known as being something like the Las Vegas of the Middle East. It is a place full of real glitz and glamor. What's most fascinating, most of what you'll see there did not even exist 20 years ago. Believe it or not, Dubai is now the 4th most visited city in the WORLD. Likely due to its very extensive tourist infrastructure. Since you've landed on this page, odds are that you only have a limited amount of time in Dubai. Perhaps it's just one stop on your tour of the Middle East. Keep reading for information on what to do, what to see, and where to stay while traveling for 2 days in Dubai.
Brief City History | Dubai
The area where Dubai currently resides has been inhabited on and off since roughly 2500 B.C. Archaeological records suggest that most of the inhabitants before the 17th century were nomadic, given the desert landscape of the area. There is evidence that there was some link to the ancient Magan civilization in this region until 500 B.C. This civilization is largely unknown to us, but referenced by the Sumarians for their copper resources and superb shipbuilding capabilities.
In more recent years, Dubai's latest permanent settlement began in the 17th century. The Ummayids bought Islam to the area during this time, and by the 18th century, this area was known as a fishing village. As Dubai is located close to Iran, it also came to be an important trade location by the start of the 20th century. During this time, Dubai was primarily known for pearl exports (until the Great Depression).
In the 1960's oil was discovered off the coast of Dubai, which led to Sheikh Rashid's continued focus on infrastructure development in the area. Once at odds with the other emirates, such as Abu Dhabi, Dubai saw further changes in 1971 when seven emirates joined to form the United Arab Emirates (UAE). (This was to be a 9-state union, including Bahrain and Qatar, but significant British involvement stopped these plans).
Since the formation of the UAE, Dubai has continued to grow from revenues in oil and trade, especially with the increase in gas prices after the Gulf War. It should be noted that gas only accounts for roughly 5% of Dubai's GDP. Dubai's main economic growth comes from real estate, transportation, and tourism.
Know Before You Go
Lodging and Logistics:
Getting There: Dubai is serviced by two airports: Dubai Aiport (DXB) and Al Maktoum Airport (DWC). If you are coming from a great distance, it's most likely you will fly into DXB, which is also known for being the world's busiest airport by international passenger traffic. It's the hub of the Emirates airline as well. DXB is quite a large airport, so I recommend getting there 3 hours early when heading out of Dubai.
Al Maktoum Airport (DWC) only operates a few passenger airlines as of 2021, but the intent is for this airport to one day be the biggest part of Dubai World Central. With this designation, its goal is to be the largest airport in size and passenger volume. As of today, it is unlikely that you would fly into this airport, unless you are coming from a nearby country.
Where to Stay:
Al Seef Heritage Hotel Dubai – For a very local feel, stay at the Al Seef hotel, which is a boutique hotel located within the Al Seef heritage district, near the spice and gold souks. As for the stay, the rooms have a rustic and authentic vibe and there is an onsite restaurant as well.
XVA Art Hotel – Another boutique hotel worth considering is the XVA Art Hotel. The hotel features bespoke rooms that display art from local artists. Onsite, you'll also find a full art gallery and a boutique shop that sells crafts from local artisans.
Intercontinental Dubai Marina – This is a beautiful hotel located right in the Dubai Marina (as the name suggests), and is actually where I stayed when I was in Dubai. The hotel is quite huge, and offers a place to sleep as well as venues for entertainment. Of course, the schedule will vary on a regular basis, but when we were there we saw a comedy show on site.
Getting Around: The easiest way to get around Dubai is most certainly by Uber. Given the layout of the city, there are some areas you can walk to, but car travel is easiest.
Daily Considerations:
Language Considerations: English is widely spoken in Dubai, but I do recommend you learn how to speak basic greetings, to say yes/no, and thank you in Arabic out of respect for the local culture.
Money Situation: The local currency in Dubai is the United Arab Emirates Dirham (AED). At the time of writing this post, the exchange rate is $1 USD = 3.67 AED. Please don't let the seemingly "good" exchange rate fool you though, you can expect prices for food and activities in Dubai to be relatively similar to any large city in the United States.
Dubai Itinerary: Two Days
Day 1
On your first day in Dubai, you should spend time getting to know the city well and exploring some of the major local sites.
Morning
Dubai Old Town and Spice Souk
I think that the best way to start your morning is to explore the real, local culture and history of Dubai. It's something that is not always easy to find there, so it is an interesting and more unique way to get the trip started. Visiting the Old Town and/or Souk is best done with the help of a local guide who can provide context on the day-to-day life for Dubai locals.
I recommend taking the Old Town, Dubai Creek, Souks, and Street Food Tour, which as the name suggests, takes you to both the sites I mentioned before, and also includes a visit to a local mosque, a boat ride to the souk, and the chance to try local street food.
Click here to book your tour of Dubai Old Town and the Spice Souk!
Afternoon
Dubai Mall
A great way to start the day is with a visit to the Dubai Mall. The Dubai Mall is known for being the 2nd largest mall (by area) in the world. It has 5.4 MILLION square feet. Yeah, let that sink in for a bit. Inside you'll find many international brands like Bloomingale's, Jimmy Choo, and H&M. You'll of course see many local and regional stores inside as well.
In addition to retail, there are a plethora of restaurants, as well as activities and entertainment. The latter of which includes things like the Dubai Aquarium, a Trampoline Park, and most notably, the entrance to the top of the Burj Khalifa (more on this below).
To get a bit of fresh air while visiting the mall, I recommend eating in the little plaza outside the mall / below the Burj Khalifa. Here, you can grab a bite in the open air. You'll also have a chance to catch the Dubai Fountain show, which is featured right in the center of the plaza. It is a light and water show that is set to some classic Arabian music; set in the world's tallest performing fountain.
Burj Khalifa
If there is one site that Dubai is known for it is most certainly Burj Khalifa, currently the tallest building in the world. It stands at 2,722 feet – or over half of a mile tall! Before visiting the tower, I highly recommend you purchase your ticket in advance. It will save you from having to wait in two lines on your visit. (One line to purchase the tickets and another to get to the top).
Click here to get your Burj Khalifa Entry Ticket!
If interested in visiting the Dubai Aquarium that is also located in the mall, you can combine the entry to the Burj Khalifa and the Aquarium in a single discounted ticket.
Click here to get your Aquarium and Burj Khalifa Combo Ticket!
Evening
Moving on to the evening, you'll likely be hungry – so why not go for Dinner in the Sky? I'll note, you definitely need to be okay with heights of course, but if being suspended over the city while you eat, you should certainly check this out. When booking, you'll make your 3-course menu selection in advance (and yes, there are vegetarian options). While eating you will be able to check out fabulous views of the Dubai skyline while sitting in a special floating (and open) room.
Click here to make your Dinner in the Sky reservations!
If you have more time, head to the Dubai Marina at night for more impressive views. And also take in the cooler desert air while there.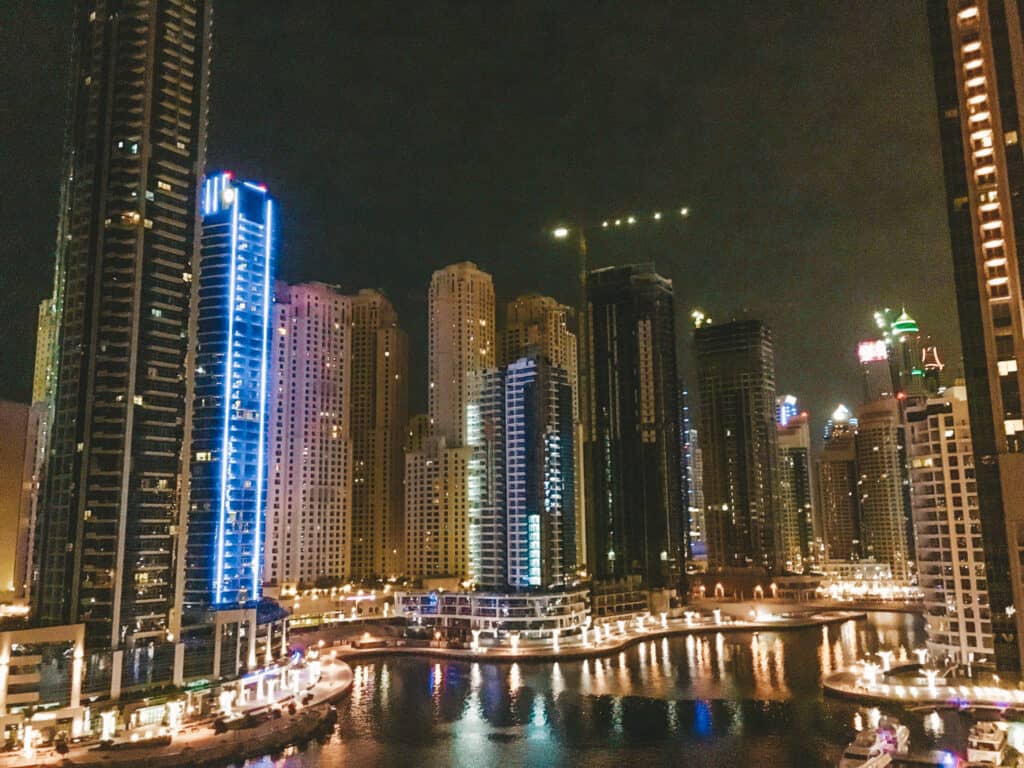 Day 2
Morning
For your second day in Dubai, I recommend starting your day out a little different (or maybe better said, in typical Dubai fashion), by having breakfast on a yacht! While you sail, take in the Dubai skyline and sail by famous sites such as the Burj Al Arab, the Dubai Eye, and the Dubai Marina.
Click here to book your morning Yacht Tour!
Early Afternoon to Evening
For the second part of your day, head out of the city for a desert excursion. The available excursions typically start with a "safari" through the sand dunes. I was a bit confused at the word safari when I first heard it, as you won't encounter any wildlife (except for the occasional scorpion). But what it really means is that you'll ride the sand dunes in an all-wheel drive car. It can really be a bit of a wild ride!
After you venture through the desert, you'll stop at a remote desert camp that is full of activities and experiences such as camel riding, belly dancers, falconers, and more. And of course, a large BBQ spread for dinner.
One thing I'll note is that this experience is not the most authentic you'll find in the Middle East, when you compare it to what you'd find in Jordan, for example. As I mentioned earlier, Dubai is really more about the adult Disney World or Las Vegas feel, so this definitely has that vibe to it. It will, however, be quite entertaining!
Click here to book your Desert Safari excursion!
Note, if you are interested in driving an ATV to the Bedouin camp experience, here is an option that may make more sense. In this option, you won't be driven at all, but will instead get instruction on how to drive your ATV and then you'll face the dunes in the open air. If you are not an experienced ATV driver, this option can be quite challenging and maybe a little nerve-wracking. (At least that was my experience). But it's perfect for those of you who are adventure seekers!
Click here to book your excursion with a ATV ride!
What to Do if You Have More Time
Abu Dhabi Full-Day Trip from Dubai
If you have more time in the area, I think a great option to consider is to take a day trip to Abu Dhabi. The two are only a little over an hour from each other by car, so it's a fairly easy trip to take. And you'll also get a chance to experience a little more of the local culture in the UAE as well.
You could always coordinate yourself, but if you are not interested in that, consider taking a tour that will take care of all the coordination from your hotel to Abu Dhabi and back.
Click here to book your 1-Day trip to Abu Dhabi!
Dubai City Map
The map below gives you a good idea on where each of the locations mentioned in this guide are located. It should be helpful when planning out your day and confirming where you want to stay.
Dubai Old City
Al Seef
Dubai Creek
The Dubai Mall
Burj Khalifa
Burj Al Arab
Dinner in the Sky
Dubai Marina
Final Tips | 2 Days in Dubai
That concludes this itinerary for a 2 day trip to Dubai. I hope that you found the tips in this guide useful, and that they are helpful as you plan your trip. If only stopping in Dubai for a short time, do not forget to consider seeing other countries that are close by such as Egypt, Joran, or Kuwait. I think that the Middle East is generally underrated when it comes to travel. In my opinion, the hospitality that you'll find in the area is nearly unmatched. If you have already visited Dubai and have other ideas for what to do there, please share in the comments below!
Related Posts:
#travelwandergrow